One of the great truisms in sport is that you are what your record says you are. Since joining Hendrick Motorsports in 2008, Dale Earnhardt Jr.'s record has been hugely disappointing - just one points race victory (Michigan in '08); just one top-10 points finish (seventh last year). And just nine top-five race finishes from 2009-'11 - fewer than mid-pack runners like Marcos Ambrose, Joey Logano and David Reutimann over the same period.
Much was expected when Earnhardt joined NASCAR's most elite team, but precious little has been delivered so far, at least on track. Everyone has a theory as to why Earnhardt has underachieved: There have been suggestions that Junior is too nice a guy and needs to race with more aggression, while others say that with an estimated net worth of about $300 million, Earnhardt isn't especially motivated.
And then there is NASCAR's equivalent of the Single Bullet Theory, espoused by the fanatical elements of the Earnhardt Nation - that Jimmie Johnson and Jeff Gordon get the "good" Hendrick cars, while Junior gets the lesser goods. All at Hendrick Motorsports, from Rick Hendrick down, vehemently deny this.
Still, whatever the reason, Earnhardt's record in recent years has just been OK, not anywhere near the lofty heights expected by Earnhardt, his Hendrick Motorsports team, his sponsors or his fans. And yet there are encouraging signs that this year he may be poised to make his most serious title run since 2004, when he finished fifth in points and with five races to go was second, just 24 points behind eventual champion Kurt Busch.
Prior to the start of the 2011 season, team owner Rick Hendrick juggled his crew chiefs, sending Steve Letarte and crew from Jeff Gordon's car to Earnhardt's, and Alan Gustafson moved from Mark Martin's car to Gordon's. While Earnhardt went winless in '11, he ended the year seventh in points, his best showing with Hendrick and his highest finish since '06. He came within a quarter of a lap of winning the Coca-Cola 600 before running out of gas, and he nearly won at Martinsville, too. A lot of that success was due to the chemistry between Earnhardt and Letarte.
Letarte, who started his affiliation with Hendrick Motorsports by cutting the grass at Ray Evernham's house as a teenager, is equal parts cheerleader and task master, giving Earnhardt some needed encouragement and some much needed tough love. For the first time in his entire racing career, Earnhardt is now being required to keep the kind of detailed notes of his race weekend that other top drivers do and Letarte has also pushed Earnhardt from a fitness and discipline standpoint.
"He wanted me on time, he wanted me early, he wanted me here, there, doing things," says Earnhardt of his first year with Letarte. "He wanted me giving feedback, written forms of how I think the race went. I'd never done those things before. I was glad to conform and do whatever he needed me to do. And hopefully this year, his expectations of me don't change and he stays vocal about it."
As for motivation, Letarte insists Earnhardt has all he needs. "I can honestly say for the 15 months that I have officially been his crew chief, there has yet to be a day when I've ever questioned his desire to go out, run well and win races," Letarte says.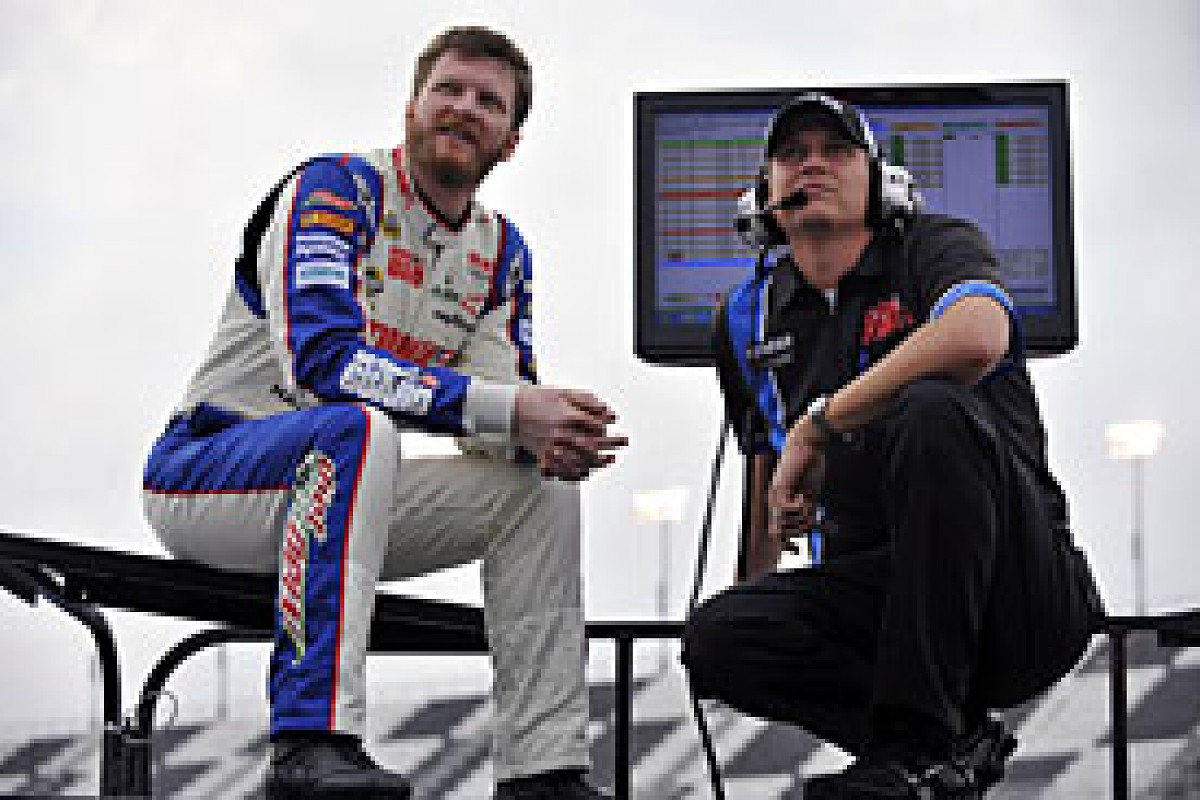 Steve Letarte has changed Earnhardt's approach © LAT
Now, when Earnhardt and Letarte go to a track, they have a comprehensive record about what happened the last time they were there. "All those little things count," says Earnhardt. "Now, this year, they can go back and look at those notes I provided and have a better idea of what to expect for the race. It's all about preparation and I just think it helps Steve do his job better."
It goes beyond that, though. While Earnhardt's fans have always had high expectations, the people he worked with didn't necessarily hold him to the standards they would a lesser name, and that worked to his detriment at times.
"I never really had a crew chief ask much of me," admits Earnhardt. "I just had to be there with my helmet and be ready to drive when it's time. But Steve has expectations of me, things I need to do as a driver to help him become a better crew chief."
Earnhardt admits his work ethic thus changed radically for the better last year. "As soon as I got in the truck in the morning, I never left until the day was over," he says. "I'd never done that my entire career. I'd always go back to the bus between practices. I was never there early, never did any of those things in the 10 years I'd raced before that. I think that held me back. I don't think I was realizing my full potential."
It also helps that he and Letarte are kindred spirits, personality-wise, a sharp contrast between Earnhardt and former crew chief, the dour Lance McGrew.
"Steve's an easy guy to be around," agrees Earnhardt. "None of this would work if he didn't have the right personality. He deserves a lot of credit. He's a good guy who's taken on a difficult job and he's done well with it so far."
For his part, Earnhardt admits he needs to be held to a high standard and that he'd told Letarte as much. "I just told him this off-season, 'I worry that you're gonna relax a little bit,'" says Earnhardt. "The more we're together, the more we become friends and the more he might let me off the hook and I don't want that to happen."
Earnhardt is expecting that last year's hard work and good notes will allow the team to improve, perhaps substantially. "The past season gave us a lot of information that we'll be able to work with," he says. "We can go into a lot of races with expectations we didn't have this past year - a lot of anticipation with our cars regarding what we were fighting and what our problems were all race long."
Another sign of encouragement for Earnhardt is the arrival of Kasey Kahne's secret weapon, crew chief Kenny Francis who wrenched on the Gillett Evernham Dodges, Richard Petty Motorsports Fords built by Roush Fenway Racing and even Red Bull Toyotas. That's a wide and deep knowledge base to bring to Hendrick.
"He's a true talent," Earnhardt says of Francis, "and has different ideas. He builds a car completely different, he sets it up completely different, and it'll drive differently and have advantages to it and disadvantages to it. But they go certain places and they're really, really fast - we want to tap into that."
As a driver, Earnhardt is convinced he's improved. "I don't think I'm deficient in anything. I think I've gotten better about being particular in my feedback," says Earnhardt. "I know I did get better in my communication with my crew chief and being particular in the problems I'm facing. In the past I would get frustrated and my comments would be broad and generic and not assisting anyone in any real manner."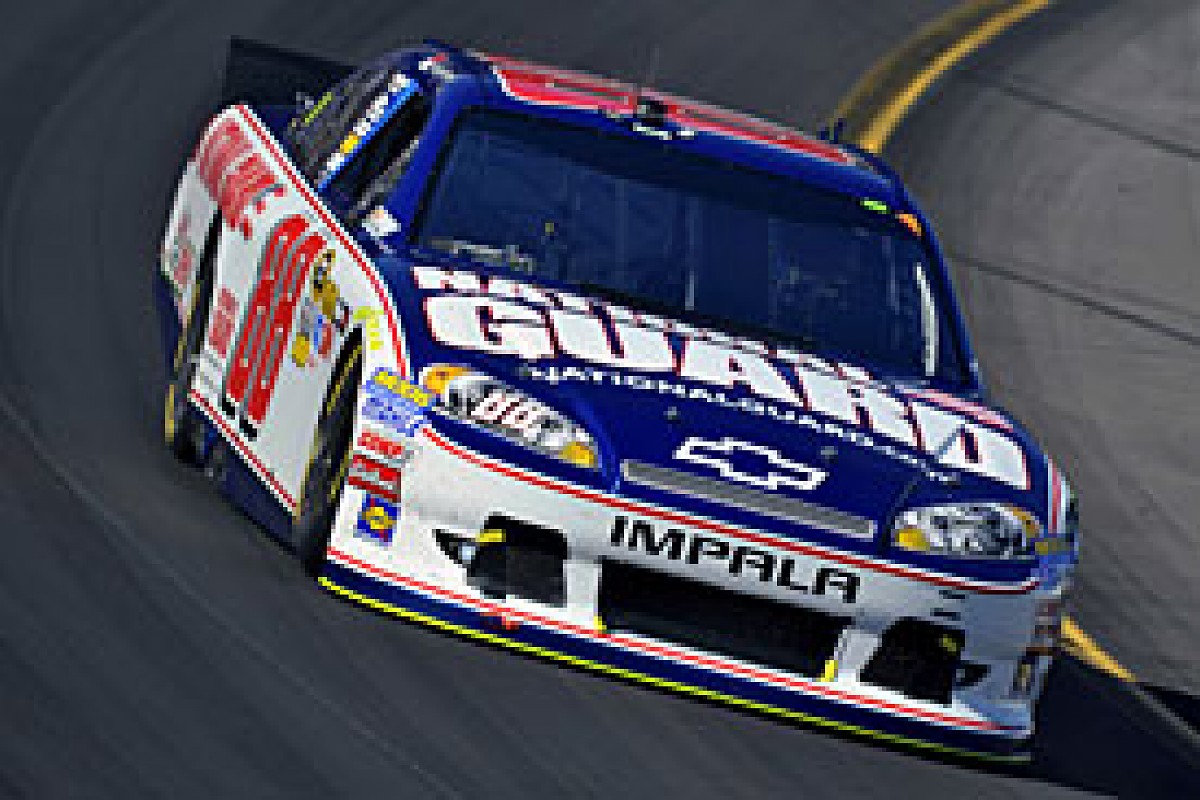 Earnhardt has been a steady top ten runner for most of the year so far © LAT
All of the above, of course, must be taken with a large grain of salt. At the beginning of each season, most teams sound optimistic about their prospects. The proof will come over the long grind that is the NASCAR Sprint Cup Series season. At least the year got off to a great start for the No. 88, with a hugely encouraging Daytona Speedweeks in which Earnhardt was far and away the best of the four Hendrick Chevrolet drivers throughout - faster than Jimmie Johnson, Jeff Gordon and Kasey Kahne during Daytona 500 qualifying, second in his Gatorade Duel and second in the Daytona 500. He backed that up with a third-place finish in Fontana so that he now lies third in the championship standings. Maybe, just maybe, this is Earnhardt's year to run to the front.
"We came pretty close to winning a race last year and we had a pretty successful season and we hadn't done that in the past," says Earnhardt. "So I feel like the potential is there for us to get wins, and that's a good feeling. It gives me a lot of confidence that this year could be the year we get it done."
For his part, Letarte is ready, too. "As a crew chief, I haven't won a race since 2009," he says. "My race team, that deserves to win races - they haven't won a race. We want to win races. I can't answer for Dale, but I know without a doubt, it's important for him to get to Victory Lane, too. And it's going to be one heck of a fun day when it happens."
Subscribe here to read Racer magazine online every month.
You can also keep up to date with US motorsports news by signing up to Racer's daily newsletter.