The Joe Gibbs Racing team's president is JD Gibbs - son of three-time NFL Superbowl-winning coach Joe Gibbs.
He talked to AUTOSPORT magazine deputy editor Charles Bradley about his team's plans to topple Jimmie Johnson from his five-year winning streak in the NASCAR Sprint Cup.
Q. How is JGR shaping up for the 2011 NASCAR Sprint Cup?
JD Gibbs: We're always optimistic. We've prepared well, but you never know until you hit the track to see who's done their homework the best. Our guys have done a good job, stretching right back over the 20 years we've been in NASCAR, so we're looking forward to a great season. It's been fun watching Denny [Hamlin] and Kyle [Busch] invest in Joey [Logano] and now we can watch Joey invest in them some, and that's helpful for all our teams.
Q. JGR won three titles in 15 years and then Jimmie Johnson came along and has been unbeatable for the past five seasons. Is this the year you can topple the Hendrick/Johnson axis?
JG: Last year was just frustrating. When my dad coached in the NFL he went to four Superbowls. He won three, but the one he lost, he's like: "I wish we didn't even go." It was just miserable, you know? We were leading going into Homestead, the last race, and didn't win it. It takes a while to get over that. But the reality is those guys have confidence in each other. Jimmie and Chad [Knaus, his crew chief], they're good. Hats off to them. You have to be on your game to beat 'em, but I think our guys can do that.
Q. Have you been able to analyse what went wrong in those last two races last year?
JG: There were a few small things. We came up short on fuel at Phoenix, and the #48 car gambled a little bit which paid off, and we were trying to be conservative. Obviously at Homestead we got into a spin and damaged the car. You can't fix it in the middle of a race. There was no one thing, it was cumulative. But it was exciting, you had Jimmie, Kevin Harvick and Denny in there. Three guys racing hard for the title, we haven't had that for a while, and it was close at the finish. I think we'll see more of that in the future.
Q. You put more pressure on Hendrick Motorsports than any team previously, and had them struggling at Texas...
JG: Yeah, but again Jimmie and Chad do a good job at having a good gameplan. You know they're going to have that going forward. We won three championships, the last one before Jimmie's five. So it's been a while! We'd like to check that box again. It would mean a lot for the whole team. What makes us special is that all our guys at the shop work on all three cars. The guys on the #11 [Hamlin] work on the #20 [Logano] and the #18 [Busch]; they're not split up. They all get a bonus, so they pull together for all the team. I hope that pays off in years to come.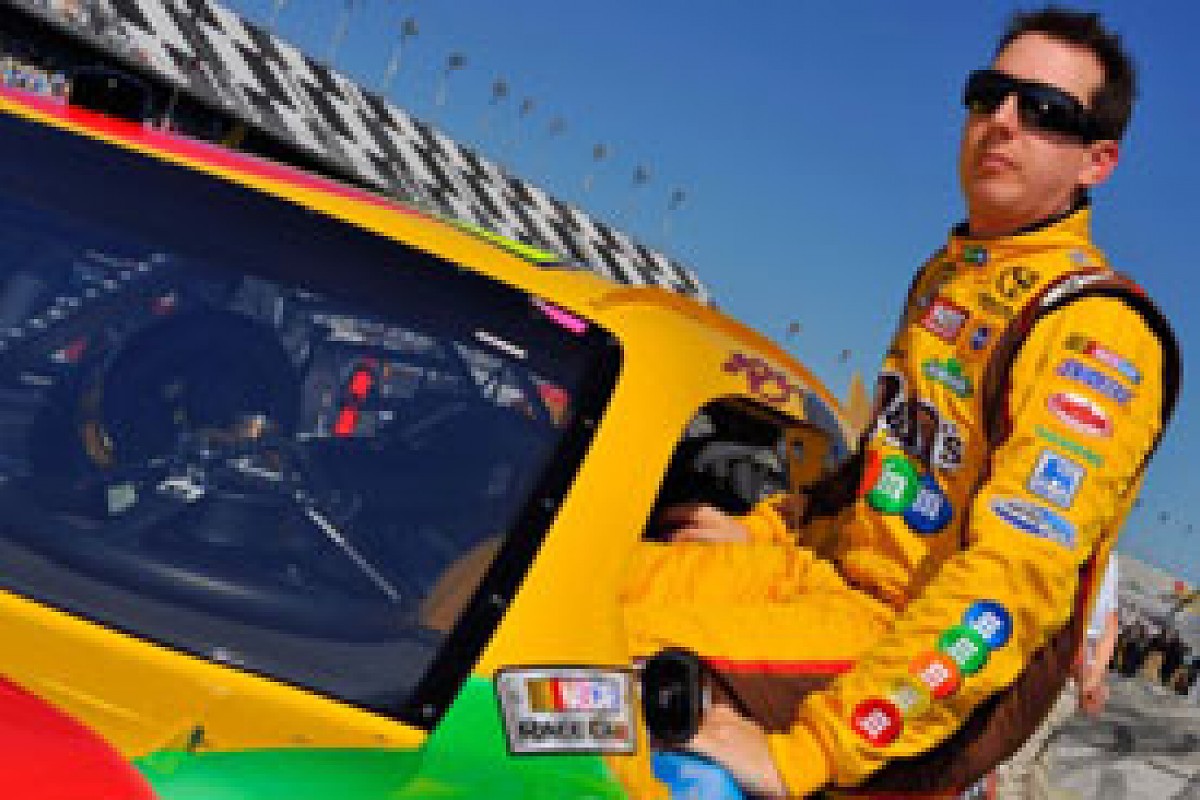 Kyle Busch © LAT
Q. Unlike Hendrick, which pairs its cars together?
JG: They do, in their shops. It's just the way we've been from day one. One day you work on the #20, then it's the #11 then it's the #18. There's no favourites.
Q. How Chase-centric is the Cup becoming? There seems to be so much pressure on those final 10 races.
JG: You have to come into it with momentum. Part of the plan is having all of your testing and R&D put to bed before it starts. But you might try a few things that you wouldn't normally consider before the Chase, because when you start that Chase you've got to bring your A-game. And you can't afford failures; all bugs need to be worked out. We've had motor failures in the past; you have to be consistent because the guys you are racing against are that good. There's no room for error.
Q. How important is Toyota in this equation? Did you shift away from General Motors to try to get an advantage?
JG: It's extremely important. We were with GM for a long, long time, but the reality over there was you're always going to be behind Hendrick, behind Childress, so you're going to be either third or fourth. Toyota gave us a tremendous opportunity to be the main team in the camp.
In terms of our relationship, they don't come to our team and write us a cheque and say "do what you want with this". They say: "We're going to invest in you as a group, but all the Toyota teams are going to be a part of it." So it took our guys a lot figuring out how to share and team up, and it's a great model of how to make things stronger. It's special, and what they say they want to do, they just do.
Q. Do your three drivers work together at the track in terms of set-up, or not?
JG: Yeah, they do. They have debrief meetings together after practice. They sit down and brainstorm with their crew chiefs and engineers, then the drivers take off and figure out what to do with the info. They've been doing it long enough - they've got a pretty good feel for how to adjust to what's been discussed.
Q. Putting the right driver with the right crew chief, to get that golden relationship, must be a tricky management decision?
JG: It is. Your crew chief is like [in NFL terms] your head coach; the driver is the quarterback. You have to have that relationship there that's built on trust. That's not always easy. The crew chiefs put in so many hours, the drivers have to realise the huge sacrifice they make to help them. It's what makes a strong team.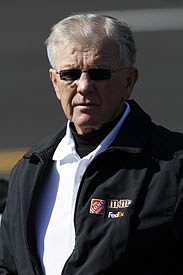 Joe Gibbs © LAT
Q. Is there anything you're doing differently as opposed to last year?
JG: The sport changes every year. If you don't change a lot, you're going to get left behind. There's constant change. Is there anything major that's different this year? Not really. It's basic chassis, aero work, engineering work - all that stuff. It's evolution, and it's like any form of motorsports, you've got to stay on top of it. The one who does the best at that has the best product to go racing with.
Q. So what are those 2011 expectations? Is Johnson beatable at last?
JG: I think so. Last year was a good example. We were close, but they were good. And they're going to be good for quite a while. Other guys are going to pop up with momentum. As far as we're concerned, we have our foundation laid. Now it's up to the driver, crew chief and pit crews to get the job done in the races. I'll back our guys against anybody.
Q. And in Hamlin, Busch and Logano you have three good bullets in your gun?
JG: They are. I came out of school playing stick and ball sports, and thought "how hard can driving race cars be?" I drove for five years, then my dad fired me. The reality is what they do is very, very hard. But our guys are good, they're young and I think that bodes very well for our future.
Q. So is it harder behind the desk than behind the wheel?
JG: I wish I could say that! Behind the wheel you can't blame anybody else. From behind my desk, I can blame all sorts of people!"