This year there were no 11th-hour problems or dramas for Dale Earnhardt. At his 20th attempt, the seven-time Winston Cup champion finally won NASCAR's blue riband, the Daytona 500.
As well as breaking his duck, the victory terminated a 59-race winless streak, so you can imagine the 46-year-old North Carolina native was a very happy and fulfilled man on Sunday evening.
Although Earnhardt has won everything there is to win in stock car racing, including no fewer than 30 lesser races at Daytona, he had never produced a victory in the big one. More than once he had led the race and been in a position to win, only to hit trouble in the closing stages. Once again, he ran near the front and led more than half the race, including the last 150 miles. This time, though, there was no heartbreak, only relief...
At the finish, the 'Intimidator' held off a determined charge from poleman Bobby Labonte as the race reached its dramatic conclusion under a yellow flag following an incident involving Lake Speed and John Andretti at the west banking. Labonte tried desperately to overhaul Earnhardt on the sprint to the yellow, but his chase was in vain. One lap under the flag and Earnhardt duly claimed NASCAR's most prized chequered flag.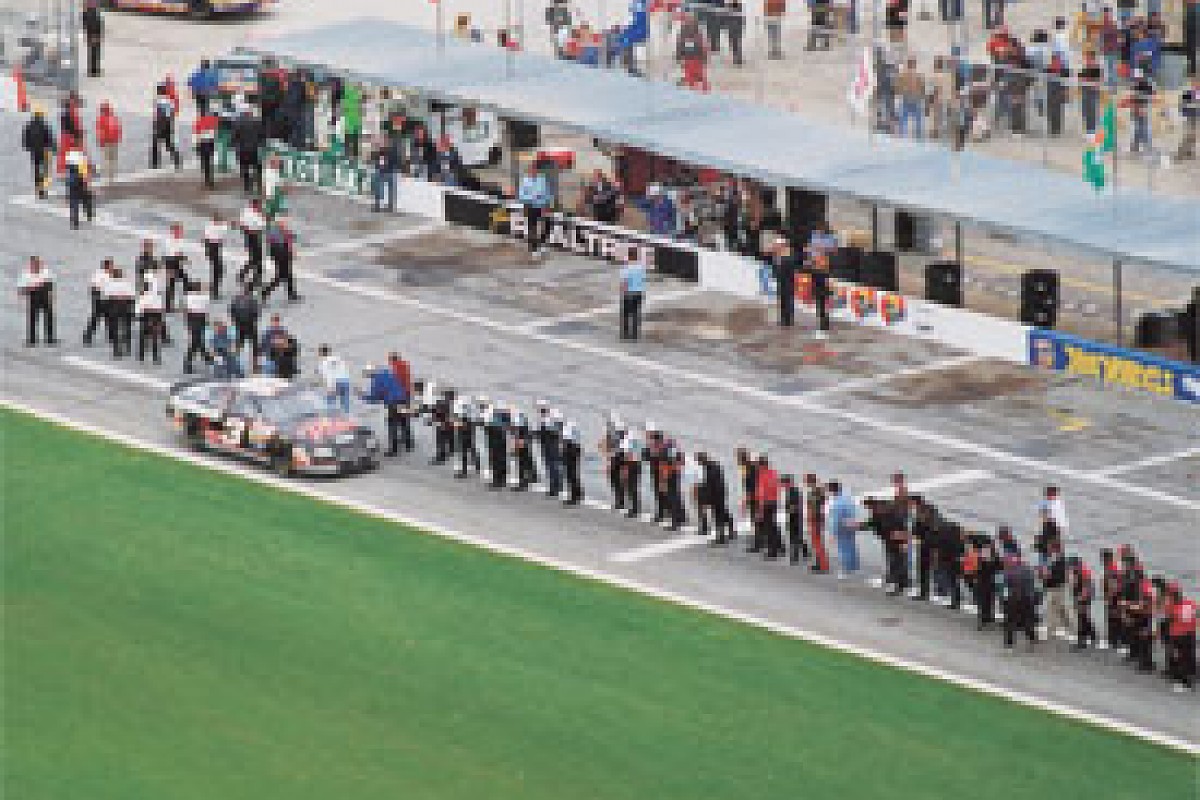 Rival teams great Earnhardt as he makes his way to victory lane © NASCAR
The fact that rival crewmen in the pitlane queued to shake Earnhardt's hand as he entered proved just what a popular victory it was.
"Can you believe it?" Earnhardt grinned in amazement after making it through the crowd into victory lane. "I've got an awesome race car and an awesome team and we worked so hard to win this race. For all those race fans who had been saying 'this is your year', I'm just so happy. Now we're going to win the championship this year."
In the week leading up to the event, countless punters had told Earnhardt this would be his year to win the 500. Their faith seemed well-placed, too. Competitive through practice, he won his 125-mile qualifying race for the ninth straight year.
Certainly, Earnhardt was the man to beat last Sunday. He started fourth, then quickly grabbed the lead, running at or near the front all day. He fell to 10th after his first pitstop, but again worked his way back into contention, taking the lead from Jeff Gordon shortly after the second round of pitstops. Thereafter, he led 73 of the final 78 laps, tenaciously thwarting challenges from Jeff Gordon, Labonte, Rusty Wallace and the impressive Jeremy Mayfield.
"I'm here, I'm here," Earnhardt grinned as he walked into the press box following his victory. "I've finally got the damned monkey off my back!" As he said that, he pulled a toy monkey out of his driving suit as tossed it across the room. Pure class!
"My eyes watered up on that lap coming to get the chequered. I knew then that I was going to win it no matter what," he continued. "It was pretty awesome with everyone congratulating me, giving me high fives and shaking my hand. It was just unbelievable."
Earnhardt admitted he had been a little wary going into the 500 after being told all week he was going to win the race.
"So many people told me, 'this is your year' - even people you wouldn't think would say that, from the owners to the guys who work on the cars, and people like (Robert Yates' crew chief) Todd Parrott and Bill France. Somebody knew something I didn't, I reckon. I just wish I (could have) had the confidence going into it they had.
"But we proved we could win the Daytona 500, and we won't have to answer that question anymore."
Earnhardt added: "I want to thank all the people who helped win this race and touched my life to get where I am, such as my wife Teresa and all my family. It took 20 years for me to win this race. Richard Childress and all the guys on this race team are so close to me and put so much effort in. It's just tremendous."
Earnhardt's enthusiasm was by now bubbling over and he continued apace: "It was my time, that's all I can say. I've been passed here, run out of gas, cut down with a tyre. I've had it all. I wrote the book and this is the last chapter in this book."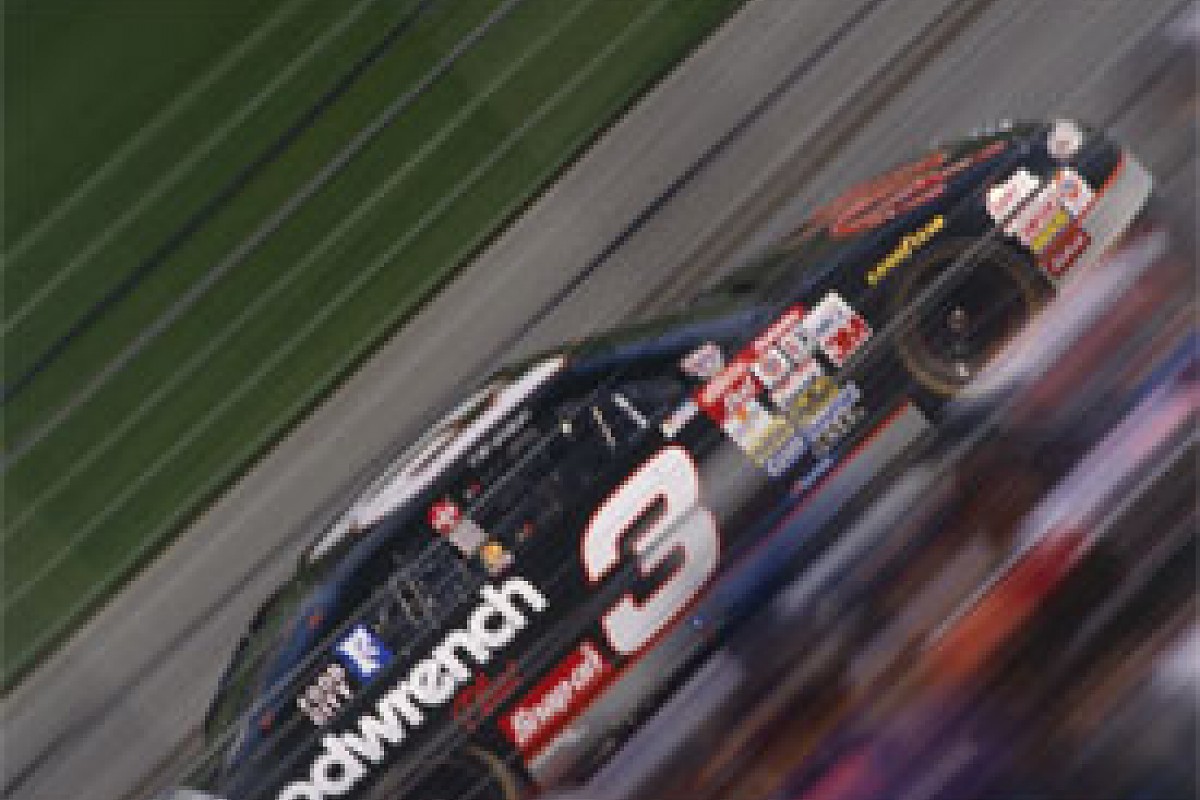 Dale Earnhardt leads in his Childress Chevrolet © LAT
Labonte drove a strong race to finish second and, in the end, he was the only man who looked capable of a serious challenge to Earnhardt.
Mayfield, one of the youngest newcomers in NASCAR at 28, also drove an excellent race, banging doors with Labonte as the two battled side-by-side to the chequered flag.
Mayfield ran second for much of the closing stages aboard the Penske-Kranefuss Ford, usually in company with Wallace's similar Penske-South Ford. Wallace slipped to fifth at the finish behind Kenny Schrader, who came from the back of the field to bravely scrap with the leaders despite pain from a cracked sternum suffered in a big accident during Thursday's qualifying race.
Defending NASCAR champion and last year's Daytona winner Gordon worked his way into the hunt from a midfield starting position and led twice for 56 laps. In the closing stages he was running third, jockeying for position to attack Earnhardt, but just three laps from the flag his engine lost a cylinder and he tumbled down to 16th, third-last of the cars to run the full 200 laps.
In the last three years, Gordon has won two Winston Cup titles, with Hendrick Motorsports team-mate Terry Labonte winning the other. Earnhardt's seventh and last championship came in 1994, but with the Daytona monkey now off his back and a two-year winless streak broken, he is intent on pushing back the Gordon/Hendrick tide.
Asked if he felt his career was now complete he scowled: "Hell, no! Another championship is going to help make it complete. We've definitely got the race team to do the job this year. Our career will not be complete until we've won an eighth championship."
If he can pull off the feat, the 'Intimidator' will surpass 'King' Richard Petty as the most titled driver in NASCAR history.