The start of the new millennium will always be remembered for the day NASCAR lost its Elvis.
When Dale Earnhardt was killed on February 18 2001, in an innocuous-looking trip into the wall at Turn 4 with Ken Schrader as tried to protect a 1-2 for his own team of Michael Waltrip and Dale Jr on the final lap of the Daytona 500, NASCAR's leading light was extinguished. His end was as quick as the man himself, and the resonance of his loss was felt just as Ayrton Senna's had been in Formula 1 at Imola in 1994.
Earnhardt went by many names. Old Ironhead. The Intimidator. The man in black. Call him what you will, but he was undeniably the quintessential southern stock car driver of his generation; a true NASCAR driving genius.
There were many reasons he was special. When it came to drafting, he could "see the air" they said. He could worry people off the track, and didn't mind to put his fender on another car to help it out of the way either. When F1 driver Martin Brundle took on the challenge of racing against him in IROC, Earnhardt famously drawled four chilling words as he walked past before a race: "Don't forget your kids." He could back up his unearthly persona off the track as well as on it.
The seven-time Cup champion's legacy was safety: use of the HANS device quickly became standard. The Car of Tomorrow that's in use today has its roots in his passing. After all, when Dale died, the sport was never going to be the same.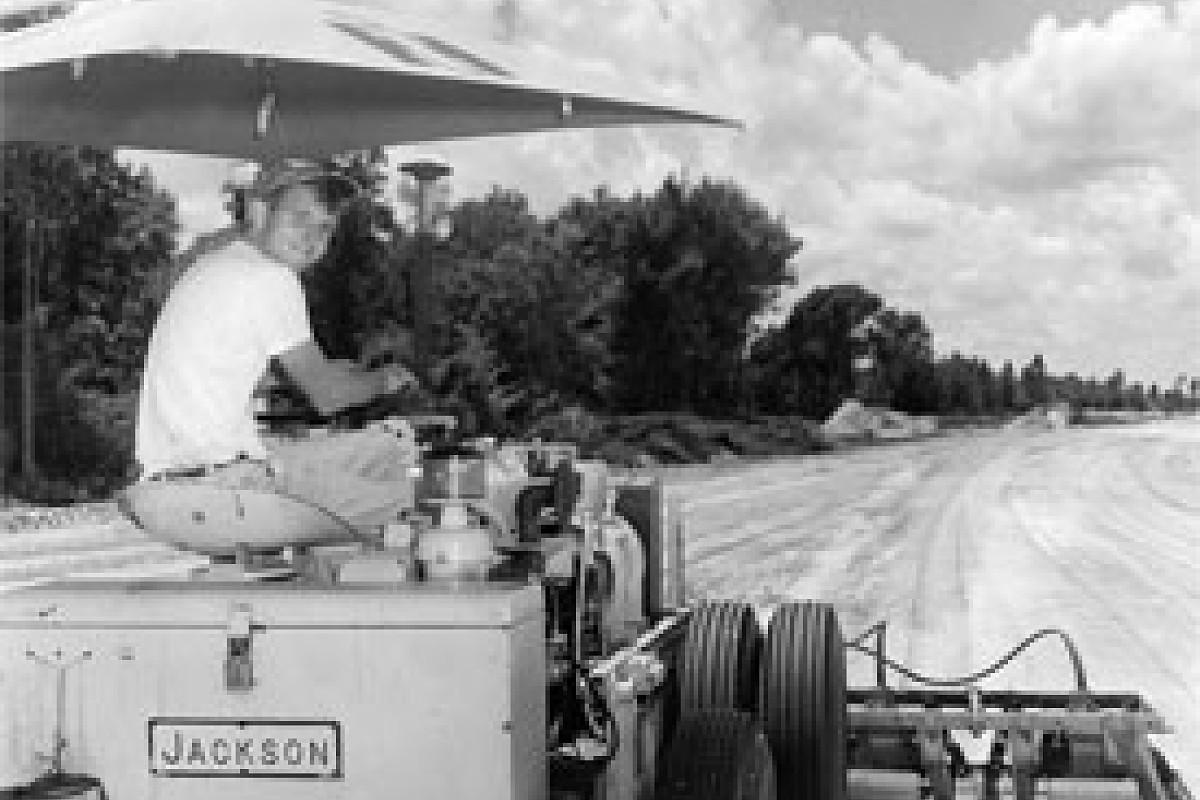 Bill France building Daytona in 1958
If Earnhardt was NASCAR's Elvis, then the sport also lost its Roy Orbison this decade too. Bill France Jr, who ran US stock car racing between 1972 and 2000, steered it through its most successful era thanks to the deals he struck to have his sport broadcast on network television.
NASCAR had always drawn large on-site crowds, but it was its breakthrough onto the small screen that gave it a nationwide audience, leading to the commercial giant it is today. A lot of people have made a lot of money on the back of France's vision.
When he died of lung cancer in 2007, it was fitting that "Little Bill's" passing occurred during a rain-delayed race at Dover, so FOX Sports could hold a moment of silence for him.
Swings of fortune
This decade was defined by the domination of the powerhouse teams. Only three of NASCAR's many outfits - Hendrick Motorsports, Joe Gibbs Racing and Roush (since 2007 Roush Fenway) Racing - won at Cup level, and locked out the majority of the race wins between them. Their three- and four-car operations tended to dwarf the opposition, and the advent of the Car of Tomorrow - which was supposed to level the playing field for the smaller teams - in fact had an adverse effect.
Many landmarks were reached in the noughties: Jeff Gordon won his fourth Cup title (in 2001) only for 'new' team-mate Jimmie Johnson, whose car Gordon co-owns with Rick Hendrick, to trump his feat with a record-breaking stretch of four back-to-back titles.
However, the Hendrick team's five titles weren't without huge loss: a tragic plane crash, on the morning of a race in Martinsville in October 2004, claimed the lives of 10 people. They were Ricky Hendrick, Rick Hendrick's son; John Hendrick, Rick Hendrick's brother and team president; Kimberly and Jennifer Hendrick, John's 22-year-old twin daughters; Joe Jackson, a DuPont executive; Jeff Turner, Hendrick Motorsports' general manager; Randy Dorton, chief engine builder; Scott Lathram, a pilot for Tony Stewart; and pilots Dick Tracy and Liz Morrison.
The team's strength to win, it appears, comes from its ability to endure; after a four-year barren patch in terms of the Cup crown, Johnson's amazing run began in 2006 as he, and his team run by crew chief Chad Knaus, mastered the new Chase for the Championship.
Rewritting the rulebook
NASCAR's long (36 races) and complicated scoring system (185 for a win but with a maximum of 10 bonus points on offer too) meant that its title battles were often decided before the final race of the season. From 2004, to coincide with the first year of Nextel sponsorship (from '08 it switched to sister brand Sprint), a 10-race play-off system was introduced. Points for the top 10 (12 from '07) were reset at race 26 to 5000 (well ahead of the rest) but with previous wins that season rewarded with 10-point bonuses. Then the scoring resumes as usual.
In its six years of existence, the winning margin has grown each season (save for a blip in '07) from just eight points in 2004 (not helped by victor Kurt Busch's wheel falling off in the season finale!) to Johnson's 141-margin in '09.
The advent of the Chase has assigned a new champion on two occasions: in '07 it would have been Jeff Gordon who would have triumphed in 'classic' point standings; in '08 it would have been Carl Edwards.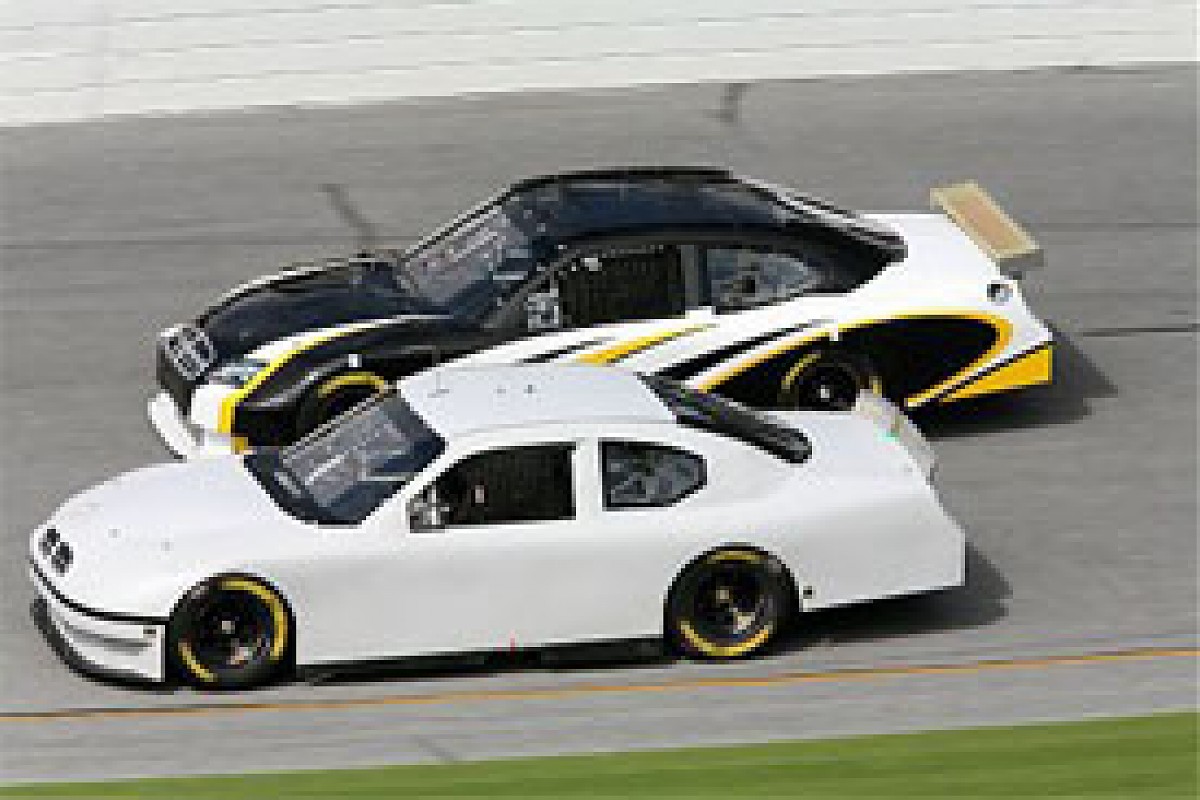 Car of Tomorrow prototype testing at Daytona © LAT
The series' technical regulations were also rewritten, in the name of safety but with by-products of equalising the field and making the cars easier to police. From 2007, NASCAR's Car of Tomorrow came of age in 16 races - its introduction phased to allow teams time to build the new chassis - and its fulltime introduction came in the '08 season.
The new car was not universally well received: its boxy shape has been criticised as "ugly" and its characteristics in traffic have also been unpopular among drivers and fans alike. Its nadir came in the Brickyard 400 in '08, when the race had to be run in nine-lap segments due to unexpectedly high tyre wear which led to a high number of explosive punctures (think the 2005 US GP, but with more than six cars).
One aspect that hasn't been criticised is its safety improvements. Its first major test was Michael McDowell's crash in qualifying at Texas in '08, where he walked away after slamming the barrier and somersaulting eight times at almost 200mph. Other spectacular crashes, including Talladega 'big ones' for Carl Edwards and Ryan Newman, have been survived without injury.
Toyota also arrived, replacing Pontiac as the fourth manufacturer. It didn't make too much fuss, despite predictions to the contrary, although a 'jet fuel' controversy in its maiden race weekend at Daytona in '07 that enveloped Michael Waltrip and his team wasn't exactly what it needed.
The drivers by the numbers
As you'd expect, Jimmie Johnson is the NASCAR decade's most successful driver. His 47 wins are 13 clear of Tony Stewart, and Johnson won two more Cup titles than 'Smoke' too. His average finish is the highest too, at 11.66 (over a position higher than all rivals). He also has the most wins in a season (10 in '07).
But, perhaps surprisingly, he doesn't top all the stats. Team-mate Jeff Gordon led the most laps (10445 to Johnson's 9681) and he also has the most runner-up spots, the most top 5s and top 10s (Stewart is second in all three, with Johnson third). Gordon also tops the stats for most top 5s and top 10s in a season (21 and 30 respectively in '07).
What this doesn't highlight is Johnson's mastery of the Chase - he's the only man to have made NASCAR's play-off in each of its six years, and his ability to reel off victories in the final 10 races is unsurpassed.
The next decade
The accusation that is levelled at NASCAR is this: has it strayed too far from its Deep South roots? Dwindling spectator attendances and, perhaps more importantly, falling TV audiences in recent years have caused concern.
On the track, the Car of Tomorrow platform has undoubtedly created a new age in terms of safety, but the restrictor plate debate rumbles on, with drivers complaining that NASCAR has "put them in a box" with regards racing at Daytona and Talladega, which leads to the inevitable huge accidents.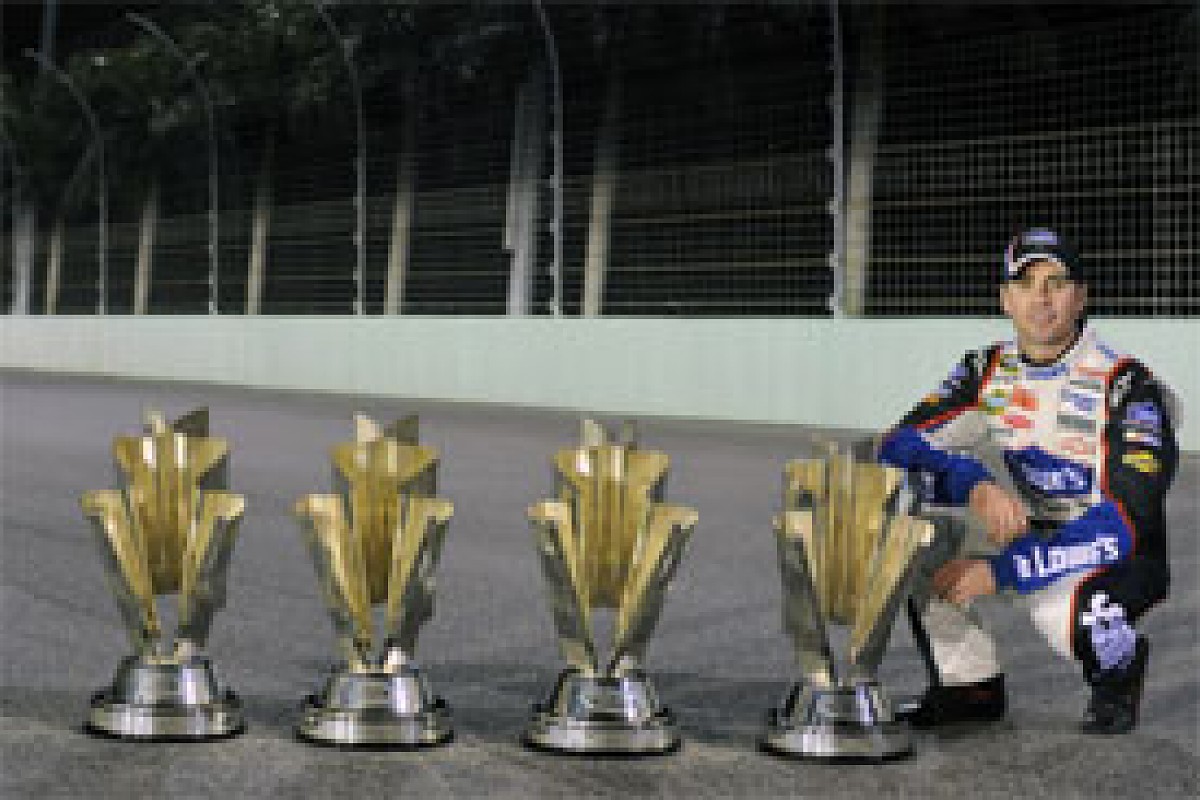 Jimmie Johnson with his four championship trophies © LAT
This was the decade where NASCAR crushed its self-destructing open-wheel rival, and while IndyCar has been relegated to the fringes, it should be prospering. But with Johnson's Schumacher-like dominance, the continuing underperformance of fan favourite Dale Earnhardt Jr, and a recession to deal with, it isn't firing on all cylinders. Even the good ol' on-track (and sometimes off-track) rivalries between drivers appear to have fizzled out.
With no Elvis or Orbison to fall back on, the sport needs a 'new' hero. Could Mark Martin be its first over-50s champion? Can Juan Pablo Montoya be the first Hispanic champ? Will Danica Patrick make the fulltime switch and succeed where she's failed in IndyCars? Will Dale Earnhardt Jr ever be any good again?
Just one of those things happening would be enough to throw the spotlight back on the sport.