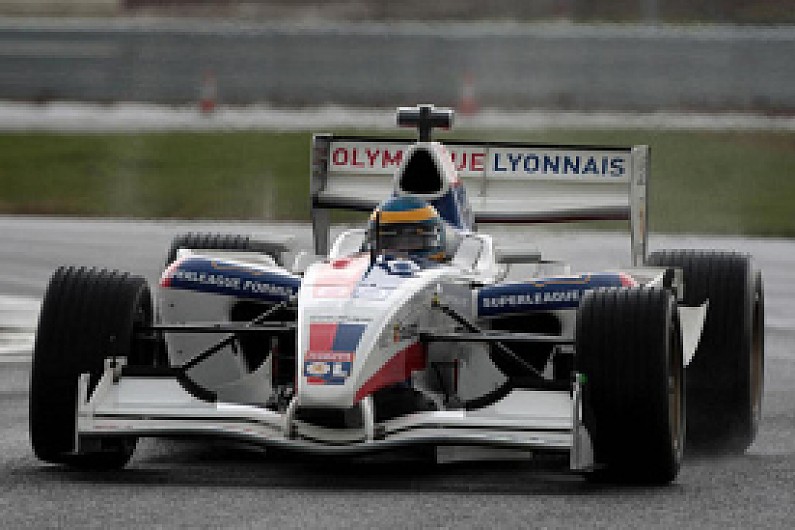 Former Formula 1 racer Sebastien Bourdais overcame a woefully slow pitstop to win the second Superleague Formula race for Lyon at Silverstone on Sunday.

Bourdais, who finished 15th in the first race after losing a lap in a disastrous pitstop when his car stalled and the starter motor broke, rocketed past poleman James Walker (Liverpool) on the Hangar Straight on the opening lap. He pulled out a huge advantage, knowing that his LRS team's pit abilities were limited in comparison to their rivals in the pitlane.

Although he didn't stall this time by keeping the revs high as he pitted, the right-rear wheel jammed, causing a big delay to him returning to the race. That allowed Chris van der Drift to lead for Olympiacos, with Bourdais dropping to third behind Tristan Gommendy (Galatasaray). Even though Gommendy had pitted outside the window, and would have to serve a drive-through penalty, Bourdais battled past him on the approach to Stowe.

Bourdais then hunted down van der Drift and passed the Kiwi with six laps to go by boosting on the Hangar Straight. He went on to win by over 10 seconds.

"I knew we weren't going to be perfect in the pits because the guys worked really late and are very tired," said Bourdais. "But the car was really great."

Behind van der Drift, John Martin (Atletico Madrid) held off first race winner Craig Dolby, who charged his Tottenham Hotspur car through the field from his last position on the reversed grid to fourth.
Alvaro Parente was fifth for Porto, ahead of Max Wissel (FC Basel). A great scrap between ex-F1 racers Robert Doornbos (Corinthians) and Franck Montagny (Bordeaux) was waged for seventh, with Doornbos holding the Frenchman at bay.

Poleman Walker spun off at Abbey, and would eventually retire in the pits.
Pos Driver                 Team                             Time/Gap
 1. Sebastien Bourdais     Olympique Lyonnais             40m27.836s
 2. Chris van der Drift    Olympiacos                        +10.872
 3. John Martin            Atletico de Madrid                +14.402
 4. Craig Dolby            Tottenham Hotspur                 +15.103
 5. Alvaro Parente         FC Porto                          +16.604
 6. Max Wissel             FC Basel                          +17.241
 7. Robert Doornbos        Corinthians                       +21.113
 8. Franck Montagny        Girondins de Bordeaux             +22.081
 9. Marcos Martinez        Sevilla FC                        +32.380
10. Davide Rigon           RSC Anderlecht                    +33.065
11. Borja Garcia           Sporting Clube de Portugal        +33.611
12. Duncan Tappy           Flamengo                          +36.582
13. Julien Jousse          AS Roma                           +38.211
14. Tristan Gommendy       Galatasaray                     +1:14.894


Not classified

    Narain Karthikeyan     PSV Eindhoven                     23 laps
    Yelmer Buurman         AC Milan                          23 laps
    James Walker           Liverpool FC                      13 laps