Nirei Fukuzumi beat his ART Grand Prix team-mates Jack Aitken and George Russell to pole position in GP3 qualifying at Jerez.
The Honda Formula 1 junior driver claimed his first on-track pole in the third-tier category - he was handed the top grid spot in Monza after qualifying was washed-out - by jumping to the top of the times in the dying moments of qualifying.
Red Bull-backed British driver and McLaren Autosport BRDC Award finalist Dan Ticktum finished fourth, ahead of the fourth ART driver, Anthoine Hubert.
The ART squad left the pits with the rest of the pack at the beginning of the 30-minute session but all four drivers quickly returned to their garages.
Dorian Boccolacci and Giuliano Alesi therefore topped the times during the early running, with the former surviving a brush with the barriers on the outside of the Turn 10 right-hander at the bottom of the circuit, after bumping over the kerbs at the exit of the previous corner.
Another driver to take a trip through the gravel during the opening exchanges was DAMS driver Bruno Baptista, who swept around the outside of the long Turn 4 left-hander.
Ticktum, who is making just his second GP3 appearance after making his debut last time out at Monza, briefly held the lead before the ART drivers vaulted to the head of the pack.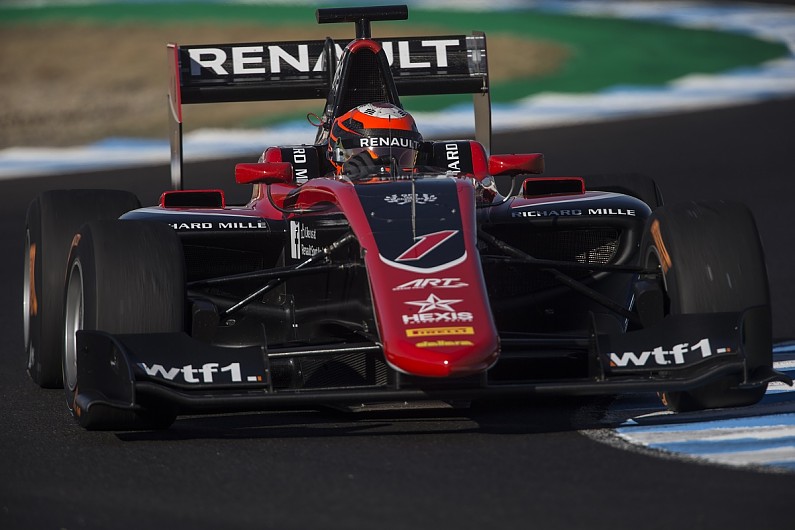 Renault F1 academy member Aitken put in a time of 1m31.249s that left him just under 0.1 seconds ahead of Russell and Hubert as the pack came in to make last-minute adjustments ahead of the final efforts.
When the action resumed, championship leader Russell - a Mercedes F1 junior - stole the top spot from Aitken, his nearest challenger in the standings.
But Russell didn't improve on his final lap and Aitken briefly reclaimed first place, only to be displaced by Fukuzumi, who put in a best time of 1m30.678s to end up 0.169s and 0.211s in front of his team-mates respectively.
Ticktum wound up 0.353s behind Fukuzumi, but ahead of Hubert.
Alessio Lorandi qualified sixth for Jenzer Motorsport, just in front of Boccolacci, Arden International's Niko Kari and Tatiana Calderon.
Steijn Schothorst rounded out the top 10 for Arden, ahead of Alesi and his Trident team-mates Kevin Jorg and Ryan Tveter.
Race one grid
| Pos | Driver | Team | Time | Gap |
| --- | --- | --- | --- | --- |
| 1 | Nirei Fukuzumi | ART Grand Prix | 1m30.678s | - |
| 2 | Jack Aitken | ART Grand Prix | 1m30.847s | 0.169s |
| 3 | George Russell | ART Grand Prix | 1m30.889s | 0.211s |
| 4 | Dan Ticktum | DAMS | 1m31.031s | 0.353s |
| 5 | Anthoine Hubert | ART Grand Prix | 1m31.140s | 0.462s |
| 6 | Dorian Boccolacci | Trident | 1m31.389s | 0.711s |
| 7 | Niko Kari | Arden International | 1m31.404s | 0.726s |
| 8 | Tatiana Calderon | DAMS | 1m31.478s | 0.800s |
| 9 | Alessio Lorandi | Jenzer Motorsport | 1m31.334s | 0.656s |
| 10 | Steijn Schothorst | Arden International | 1m31.507s | 0.829s |
| 11 | Giuliano Alesi | Trident | 1m31.593s | 0.915s |
| 12 | Kevin Jorg | Trident | 1m31.661s | 0.983s |
| 13 | Ryan Tveter | Trident | 1m31.689s | 1.011s |
| 14 | Julien Falchero | Campos Racing | 1m31.707s | 1.029s |
| 15 | Marcos Siebert | Campos Racing | 1m31.707s | 1.029s |
| 16 | Leonardo Pulcini | Arden International | 1m31.726s | 1.048s |
| 17 | Raoul Hyman | Campos Racing | 1m31.984s | 1.306s |
| 18 | Juan Manuel Correa | Jenzer Motorsport | 1m32.019s | 1.341s |
| 19 | Arjun Maini | Jenzer Motorsport | 1m32.139s | 1.461s |
| 20 | Bruno Baptista | DAMS | 1m32.161s | 1.483s |