GP3 racer Niko Kari will leave the Red Bull junior team at the end of the year, but will complete the 2017 season in the company's colours.
Kari, who won the 2015 SMP Formula 4 championship and was a race winner in European Formula 3 last season, joined the Red Bull programme at the start of 2016.
He moved into GP3 with Arden for 2017 and is currently 10th in the standings on 28 points, with a best result of third coming in the second race at Silverstone.
Asked at Monza, where GP3 will race on the support bill for the Italian Grand Prix this weekend, if rumours that he would leave the Red Bull set-up were true, Kari confirmed that they were.
"Yeah it is true - I'm leaving the Red Bull junior team," he told Autosport.
"But it is motorsport, I've just got to focus on my own job, keep getting better and just try to find good sponsors and companionships for next year and try to find the money and then see what happens.
"He [Helmut Marko] has made the decision, but I can keep the colours of Red Bull until the end of the season and see what happens next year.
"[I've] just got to focus on my own job getting good results from the last races of the year, and that's my main target."
Kari added that he hoped to secure backing to continue his motorsport career beyond 2017, and said he was open to competing in any category, but did not say if this meant staying in GP3.
"I haven't got an idea yet," he said.
"We should have some good partners which have already been with me [for] a long time, and I also hope that we can find some more so I can continue my dream and go ahead from there.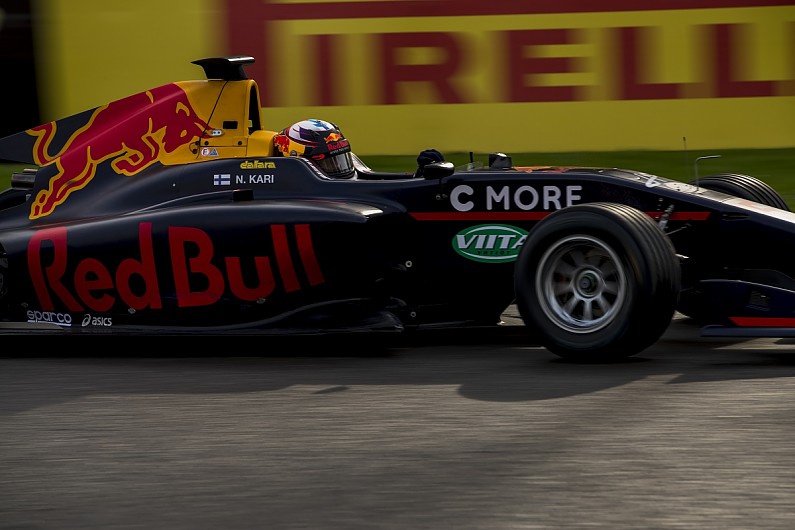 "Obviously it would be really nice to get the money for next year and try to find a good team, [with] which I can set my targets as high as possible."
Kari stated that he had been hampered by technical issues and incidents so far in 2017, and added that he was intent on securing good results before the end of the season.
"[There have been] some technical issues and this kind of thing as well [unfortunate incidents]," he said.
"It's racing - we can't really do anything for those and [I] just need to focus on my own job and my driving.
"[I'm] trying to just improve on every different area a tiny bit, so I think then everything will come together and go from there.
"I'm focused now on just getting good results for the end of the season and trying to really be on the top, that's the main focus for us."
Another Red Bull-backed driver, Briton Daniel Ticktum, will make his GP3 debut at Monza this weekend with the DAMS squad.