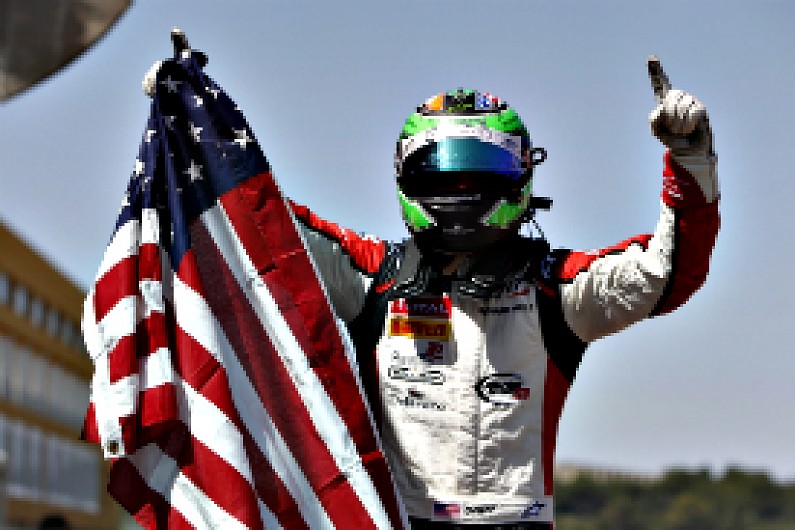 Conor Daly scored a lights-to-flag victory at Valencia to head home an ART Grand Prix one-two in GP3 on Sunday morning.
The American resisted the early challenge from his team-mate Facu Regalia to record a 1.2 second victory.
Stewards are reviewing his post-victory celebrations, however, for "driving the wrong direction after the chequered flag".
Koiranen GP's Kevin Korjus finished third after front row starter Daniil Kvyat (MW Arden) ran wide at Turn 4 on the opening lap, losing his second place. He rejoined in fourth, and chased Korjus to the end, missing out by just 0.3s.
Arden's Carlos Sainz Jr finished fifth from eighth on the grid, with points leader Tio Ellinas in sixth for Manor.
Aaro Vainio lost ground off the startline, slipping from fourth to seventh.
Robert Visoiu grabbed the coveted eighth spot, and reversed-grid pole position, from Dino Zamaparelli with five laps remaining. Zamparelli and fellow Brit Jack Harvey rounded out the top 10.
Results - 18 laps:

Pos Driver                Team       Time/Gap
 1. Conor Daly            ART      25m54.812s
 2. Facu Regalia          ART        + 1.210s
 3. Kevin Korjus          Koiranen   + 3.401s
 4. Daniil Kyvat          MW Arden   + 3.773s
 5. Carlos Sainz          MW Arden   + 4.413s
 6. Tio Ellinas           Manor      + 6.196s
 7. Aaro Vainio           Koiranen   + 9.084s
 8. Robert Visoiu         MW Arden  + 13.504s
 9. Dino Zamparelli       Manor     + 14.145s
10. Jack Harvey           ART       + 14.547s
11. Melville McKee        Bamboo    + 20.883s
12. Nick Yelloly          Carlin    + 20.965s
13. Patric Niederhauser   Jenzer    + 21.342s
14. Alex Fontana          Jenzer    + 21.626s
15. Giovanni Venturini    Trident   + 21.927s
16. Emanuele Zonzini      Trident   + 22.070s
17. Josh Webster          Status    + 26.458s
18. Jimmy Eriksson        Status    + 26.978s
19. Lewis Williamson      Bamboo    + 27.387s
20. Ryan Cullen           Manor     + 36.843s
21. Patrick Kujala        Koiranen  + 46.218s

Retirements

     Luis Sa Silva         Carlin      2 laps
     Samin Gomez           Jenzer       1 lap
     David Fumanelli       Trident     0 laps
     Adderly Fong          Status      0 laps
     Eric Lichtenstein     Carlin      0 laps
     Carmen Jorda          Bamboo      0 laps