The 2005 Spanish Grand Prix Review

---
By Will Gray, England
Autosport-Atlas GP Correspondent
Despite a record crowd of 115,000 fans flocking to the Barcelona circuit to cheer their local hero, Fernando Alonso was unable to continue with his winning streak, as a dominant Kimi Raikkonen gave McLaren their first win of the season while Ferrari continued to struggle and Toyota to shine. Will Gray reviews the events and results from the fifth race of the 2005 season
Just when Formula One was in danger of becoming boring with Renault's dominance over the opening few races, BAR-Honda stumbled into Barcelona with a trail of intrigue, allegation and espionage befitting the 007 car that had just been belatedly thrown out of the San Marino Grand Prix.
Of course, Renault's impressive performances so far this season have far from reached the status of dull, but compared to the excitement going on in the courtrooms of Paris and behind the closed motorhome doors in Barcelona, the action on the track was temporarily turned into an aside.
The rights and wrongs of the whole affair are best left, of course, to elsewhere, but the enforced departure of BAR-Honda from the Spanish Grand Prix was as important for the race as the team's subsequent waltz through the political minefield was for their involvement in the rest of the season.
Jenson Button truly believed he could put in a strong performance at the Circuit de Catalunya, having secured his first podium of the year in San Marino before having it taken back for running illegally. But now we will never know quite how much of a factor was lost from the race.
That fact remains, though, that McLaren were never likely to lose, with or without the BAR cars, because Kimi Raikkonen's performance was so dominant that he was able to play it cool throughout the race and take what he openly described as "an easy win". Renault, take note.
Fernando Alonso, for the first time since the beginning of the season, was outclassed. As would possibly have been the case in San Marino, where Raikkonen was forced out with a driveshaft problem, McLaren's race car was faster than Renault's, and although they did need to be asked more than once, they finally delivered.
Since getting to Europe, Renault's dominant grip on the front has somewhat diminished. But it is not their fault; their rivals have stepped up to the challenge and no team in the top five can be discounted now that the advantage Renault were quick to play down early on has indeed disappeared.
That is a good thing for Formula One, because while it was nice to see a different winner to Michael Schumacher, Alonso's name on top of the pile could soon have become a little too familiar. Nobody would have begrudged him victory at home in Spain, but that now will have to come at a later date.
The fans certainly flocked in their droves to the circuit to see the young Asturian in action, a good proportion of the 115,000 of them waving their blue and yellow flags in equal patriotic and team-supporting fervour as their hero pedalled as fast as he could.
Toyota, again, showed form in qualifying and a good enough race speed to secure another podium, but they are still a bit far off winning pace. More problems for the front-runners allowed Red Bull Racing to capitalise again, with BAR's absence a crucial help for them to gain more points.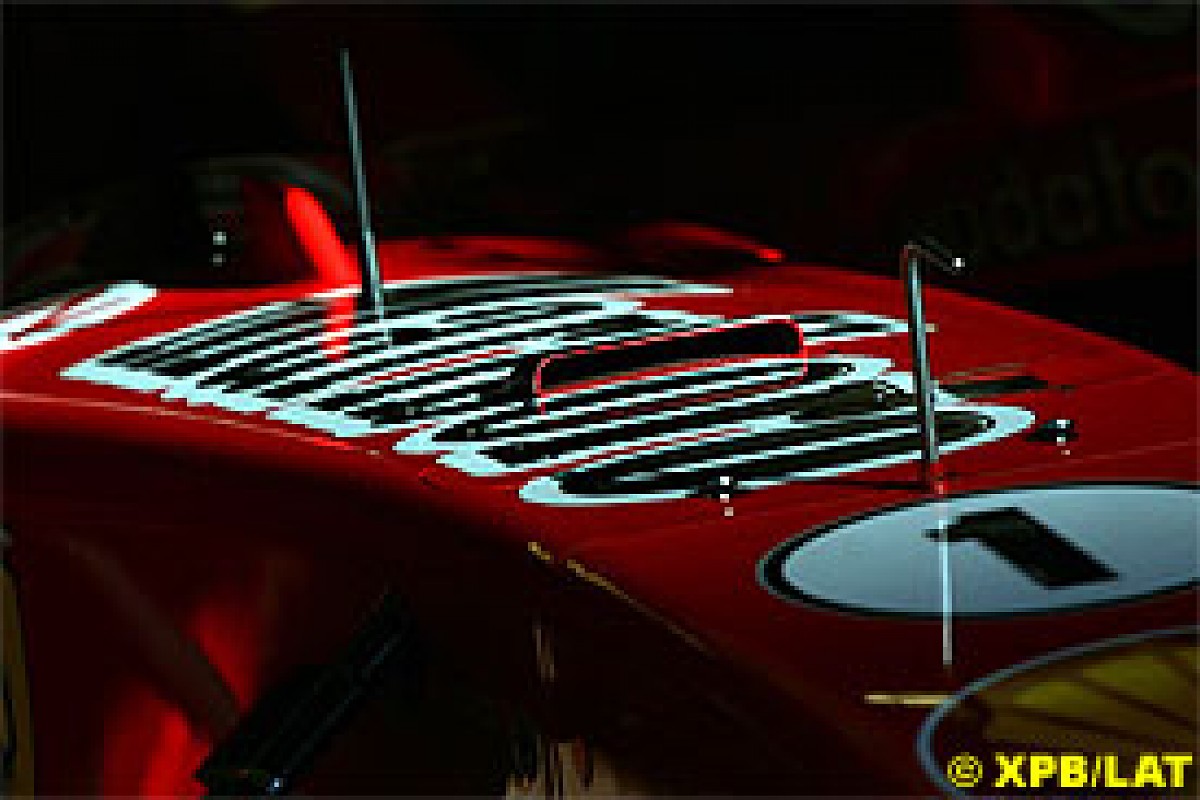 And then there was Ferrari. Once again, the pace in single lap runs was slow and the durability over the race was poor. There is work to be done at Maranello and now will be a real test for that all-harmonious team, and the qualities of its leader Jean Todt, as he sails it over some choppy waters.
Overall, Barcelona showed there is plenty in store for Formula One with Renault and McLaren both on the pace and Ferrari playing a key role as the lame stallion trying to become the comeback hero, all watched by a BAR team who are champing at the bit to break into the fight. Bring on Monte Carlo.
Qualifying
There were ups and downs for the top players through the practice and qualifying sessions as Williams limited running with engine problems and Ferrari driver Rubens Barrichello encountered more troubles in his preparations as he suffered engine failures.
But the excitement was well and truly at the front end of the grid as the lead drivers went into the second session with four possible true contenders for pole and, once again, the controversial new aggregate qualifying system created excitement right to the end.
1. Kimi Raikkonen (McLaren)
2:31.421 First session 1:14.819; second session 1:16.602
A small mistake at turn two in the first session proved costly and Raikkonen was disappointed to finish third behind Alonso and Jarno Trulli. But with just 0.024 seconds covering the top three, it was clear there was a strong chance the pole man might change on Sunday morning and, sure enough, it did. Raikkonen put in a stunning lap, 0.278 seconds faster than Alonso and 0.598 seconds ahead of Trulli, to secure his second consecutive pole.
2. Mark Webber (Williams)
2:31.668 First session 1:15.042; second session 1:16.626
Webber was forced to sit out the entire Friday practice so that he could change an engine to a new spec that arrived from Germany overnight with no penalty. He did well to set the sixth fastest time in first qualifying, considering his lack of practice, and was only 0.247 seconds off the pace. The team took a gamble and ran Webber with relatively low fuel, which secured him second fastest lap in the second session, 0.024 seconds slower than Raikkonen, and pushed him up four places and onto the front row.
3. Fernando Alonso (Renault)
2:31.691 First session 1:14.811 ; second session 1:16.880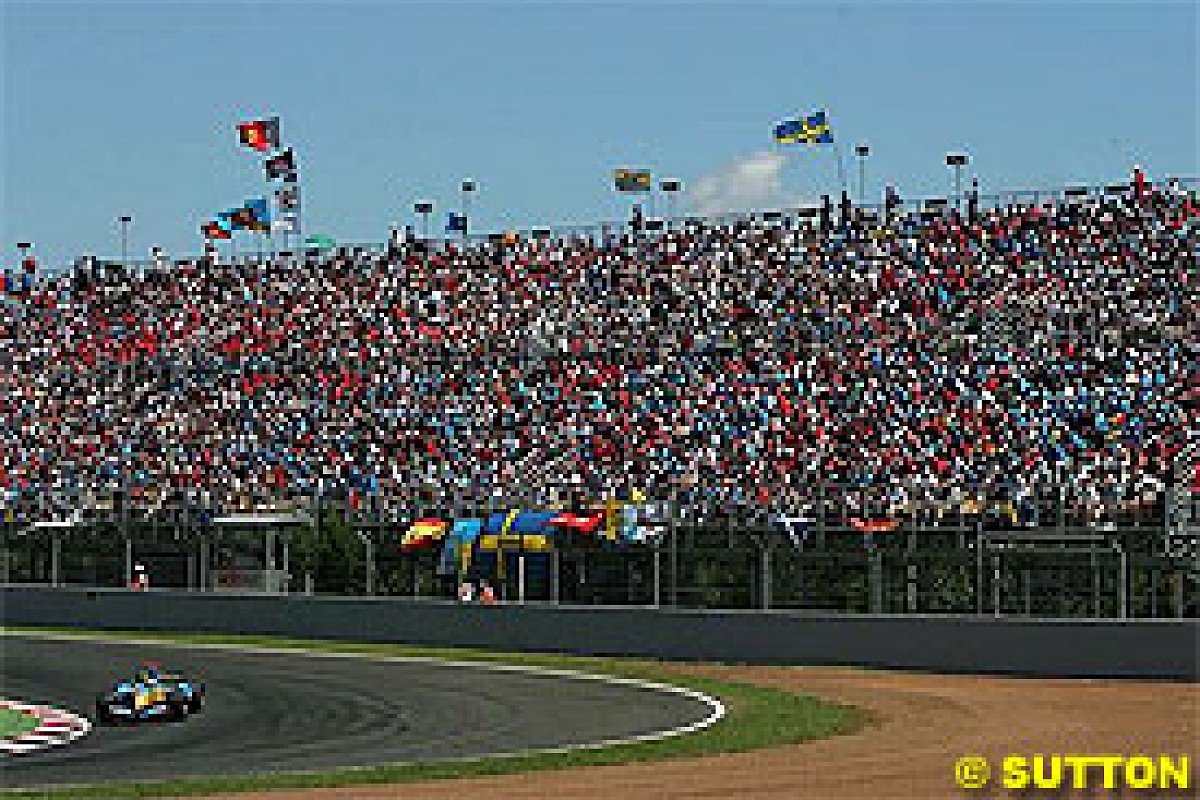 After limited running on Friday, as usual, Alonso absorbed the atmosphere from the crowd but missed out on the top spot in first qualifying by just 0.016 seconds. The gap was so small that he looked almost certain to climb into pole, for the crowd, in the second session, but his lap was a conservative 0.278 seconds off Raikkonen and he dropped one place to third.
4. Ralf Schumacher (Toyota)
2:31.917 First session 1:14.870; second session 1: 17.047
Young Schumacher, who has struggled to get close to Trulli's pace for much of the season, produced a stunning lap to claim fourth in the first session, just 0.075 seconds behind his session-leading teammate and only missing out on pole because of a cautious final sector. His second session effort was strong, too, and good enough to maintain his second-row grid place.
5. Jarno Trulli (Toyota)
2:31.995 First session 1:14.795; second session 1: 17.200
Trulli struggled for grip in the practice sessions but it all came together for first qualifying as he surprised even himself by shooting to Toyota's first provisional pole position since Japan last year. But it all went wrong on Sunday morning as the unpredictable Barcelona circuit made the car difficult to drive and he finished with the fifth fastest lap in second qualifying and dropped four places to fifth on the grid.
6. Giancarlo Fisichella (Renault)
2: 32.830 First session 1:15.601; second session 1:17.229
Once again Fisichella was forced to come out early in the first session, second after Juan Pablo Montoya in this case, as the legacy of the previous race continued to give him a tough time. He managed to set the eighth fastest time, compared to Montoya's 12th fastest, and with the sixth fastest time in the second session he climbed up to a satisfying sixth on the grid.
7. Juan Pablo Montoya (McLaren)
2:33.472 First session 1: 15.902; second session 1:17.570
Montoya did little to help himself, as he returned from two races on the sidelines with a shoulder injury, when he crashed heavily in Friday practice. He also had to start first in the first qualifying session, struggled with understeer on a slippery track, and could only manage the 12th fastest time. The second session saw him finish seventh, more than half a second faster than eighth-placed Michael Schumacher, and climbed five places to seventh on the grid.
8. Michael Schumacher (Ferrari)
2:33.551 First session 1:15.398; second session 1:18.153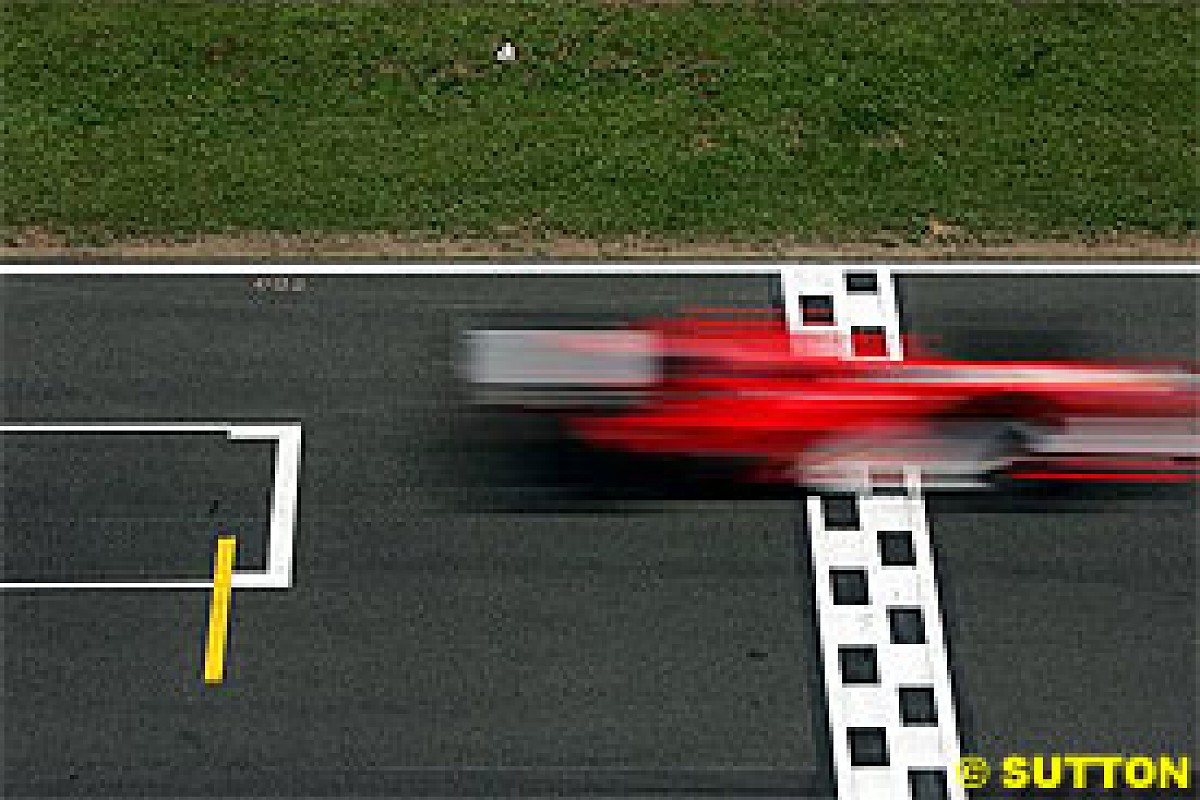 Schumacher put in a strong first sector on his first qualifying lap but then lost four tenths over the final two and had already admitted his hopes were pinned on race pace. His second session lap was even worse than his first and he slumped one more place to a sorry eighth, 2.755 seconds behind Raikkonen over the two laps.
9. David Coulthard (Red Bull Racing)
2: 34.168 First session 1:15.795; second session 1:18.373
Coulthard finished exactly one second off the lead pace in the first session to secure tenth spot but claimed that had he not been so cautious on the final sector he could have improved by half a second and climbed up to seventh. When fuelled for the race, however, he was 1.771 seconds back and climbed one spot thanks to Nick Heidfeld's decision not to run in the second session.
10. Felipe Massa (Sauber)
2:34.224 First session 1:15.865; second session 1:18.359
Massa was hampered by the wind in the first session, his car unpredictably understeering in some places and oversteering in others, but he finished just 0.070 seconds behind Coulthard. He was faster than the Scot in the second session but still finished narrowly behind him on aggregate and had to settle for 10th place.
11. Vitantonio Liuzzi (Red Bull Racing)
2: 35.302 First session 1:16.288; second session 1:19.014
Liuzzi was 13th, almost half a second slower than teammate Coulthard, in the first session and blamed it on a braking problem in turn 10 and also on messing up the hairpin. He was even further off Coulthard's pace in the second session and ended up in 11th thanks only to the demise of both Heidfeld and Rubens Barrichello through engine-change penalties.
12. Jacques Villeneuve (Sauber)
2: 36.480 First session 1:16.794; second session 1:19.686
Villeneuve arrived with boosted confidence after seeing his seventh place finish in San Marino become fourth with the disqualification of the BAR cars and Ralf Schumacher. But the Canadian was soon knocked down by his performance in qualifying. He was almost one second slower than Massa and it baffled him. So, too, did the fact he was 1.3 seconds slower than Massa in the second session, and he had to settle for 12th place.
13. Narain Karthikeyan (Jordan)
2: 39.268 First session 1:18.557; second session 1:20.711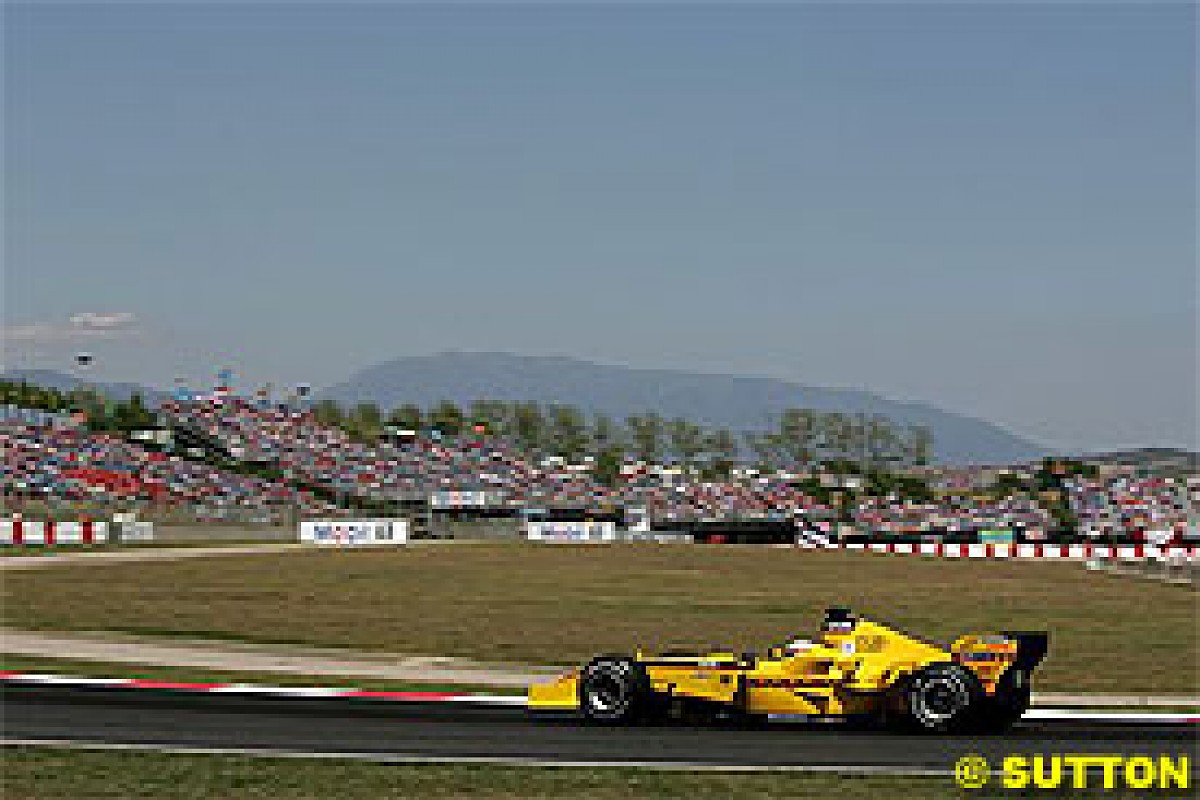 Karthikeyan is used to starting from 17th on the grid, the fastest of the four slow cars, so with Heidfeld and Barrichello's engine-change penalties and the exclusion of the two BAR-Hondas, it was no surprise to see him 13th. He was half a second faster than Tiago Monteiro in the first run and two tenths faster in the second, once again proving he might just have some talent.
14. Tiago Monteiro (Jordan)
2:39.943 First session 1: 19.040; second session 1:20.903
Monteiro struggled with the change in temperature from morning practice to afternoon qualifying and blamed that for finishing half a second behind Karthikeyan and only half a second ahead of Christijan Albers. He did better in the second session to secure 14th place, almost seven tenths ahead of the lead Minardi. His hard work was all in vein, however, as a Sunday morning engine change dropped him to the back.
15. Christijan Albers (Minardi)
2: 41.141 First session 1:19.563; second session 1:21.578
Albers was upbeat after his first session lap was just half a second slower than the Jordan of Monteiro, proving Minardi have made a step forward with the PS05. He did enough to secure his 15th spot with a solid lap in the second run.
16. Patrick Friesacher (Minardi)
2:42.759 First session 1:20.306; second session 1:22.453
Friesacher blamed understeer for finishing a second slower in first qualifying than the time he set on his best morning practice run and eight tenths of a second slower than Albers. But he was a similar amount slower than his teammate in the second session and finished a massive 11.338 seconds off the pace over the two-lap aggregate time.
17. Nick Heidfeld (Williams)
no time First session 1:15.038; second session no time
Heidfeld knew he was going to drop 10 places on the grid when he started the first qualifying session but he was still determined to put on a show and set the fifth fastest time, 0.243 seconds slower than leader Raikkonen and, satisfyingly, 0.004 seconds faster than teammate Webber. He did not go out for his second run and subsequently dropped to 17th.
18. Rubens Barrichello (Ferrari)
no time First session 1:15.746; second session no time
There was little joy again for Barrichello as everything conspired against him in qualifying. He already had to start the session fifth after retiring early from the last race but suffered what was understood to be a cracked cylinder block and changed the engine before the start, so knew he would lose 10 places on the grid. He then struggled with a car that could not handle running for just a single lap. He did well, therefore, to finish in the top ten in ninth, but, like Heidfeld, chose not to run in the second session and so dropped to the back.
The Race
The crowd roared in support of Alonso as the lights went out to start the race, but he could not use the vocal turbo-boost to pass Raikkonen and had to settle for second after passing a slow-starting Webber.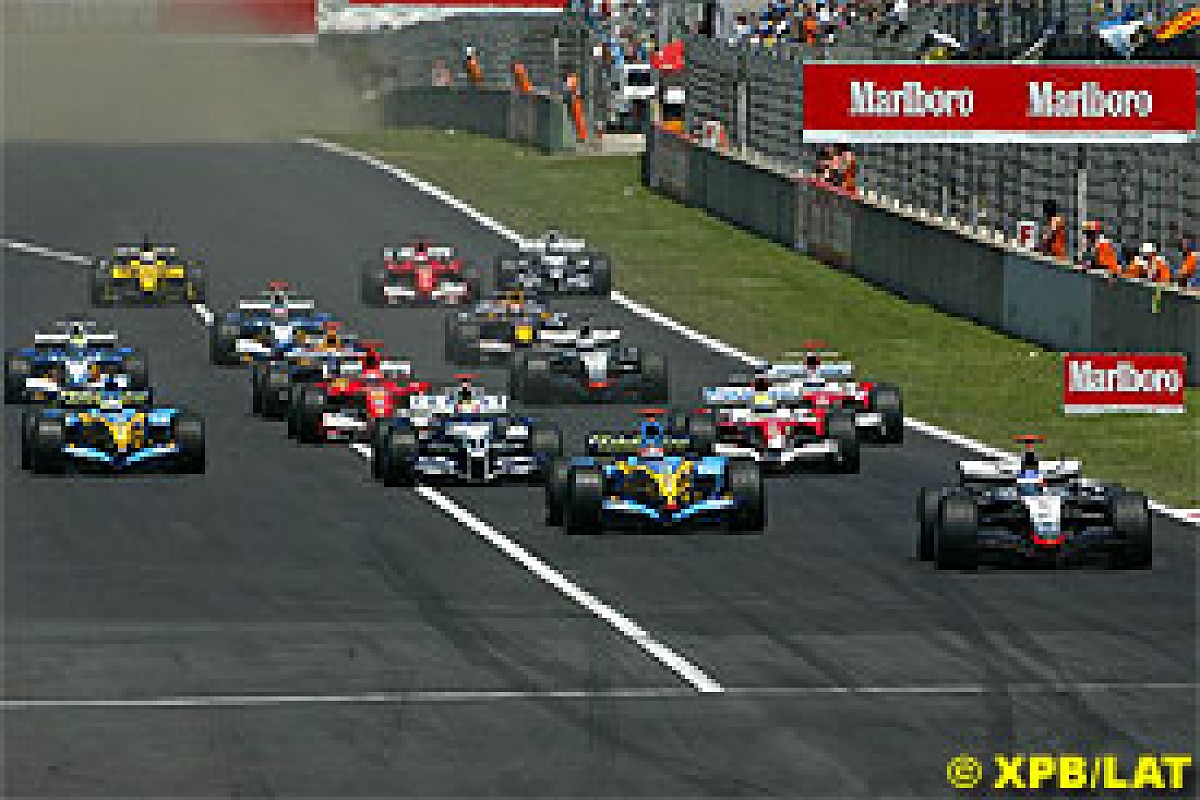 Webber continued to struggle with the starting system on his Williams machine and dropped another place when Ralf Schumacher shot past to claim third into the first corner in his Toyota.
Webber said: "The start was tricky because I was on the dirty side of the track and I lost one position there. Then I didn't want to risk too much with Ralf Schumacher at the first corner to protect my position so lost another."
The other Schumacher, Michael, will have had a big grin on his face heading into the first corner as he out-dragged his archival Montoya to climb into seventh despite starting from the traditionally bad side of the grid in eighth.
Further back, the two Minardi cars, now 14th and 15th on the grid after Monteiro had to change an engine, stalled due to software problems and it was a miracle that Heidfeld and Barrichello avoided a collision.
It was like a beautifully choreographed move from the Red Arrows as the fast-starting pair jinked around the stationary black and white cars and the confusion allowed Heidfeld to jump a massive four places.
Heidfeld, understated as ever, admitted: "I had a reasonable start but the Minardi in front of me stalled and I had to avoid it. That was very close and it cost me a bit of time, but then I managed to overtake a couple of cars."
Heidfeld got past Karthikeyan and Liuzzi to climb to twelfth, with Barrichello following him into 14th but unable to get past the Red Bull Racing car while Minardi eventually got both their cars into the race.
"I don't know exactly what happened at the start," said Friesacher. "I just let out the clutch and suddenly the engine shut down. We couldn't get the car into neutral but the problem was sorted out and we were able to join the race."
The safety car was deployed while Minardi were sorting out their problems, to allow the cars to be moved safely from the grid, and its brief outing effectively created a second, rolling, start.
The safety car went in at the end of lap two and Alonso immediately dropped back as he failed to maximise his chance of attacking Raikkonen, who timed the re-start to perfection.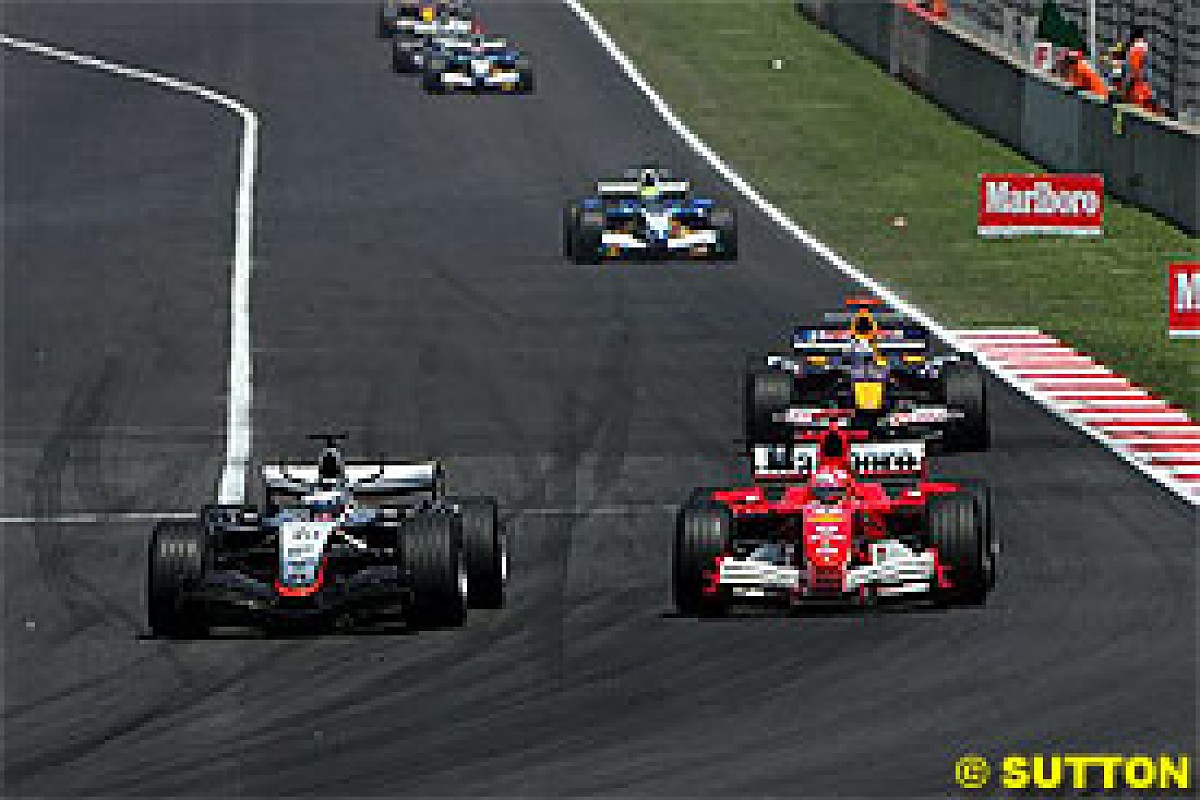 Montoya, a veteran of the rolling start from his days in the United States where that is the norm, made the most of his chance to get one back on Schumacher and put a frown back on the World Champion's face as he passed him back for seventh.
Raikkonen was determined to build a big cushion right from the start and over the first ten laps he averaged 0.664 seconds perlap faster than second-placed Alonso and almost a second per lap faster than Ralf Schumacher in third.
Montoya made a mistake on lap seven when he spun through 360 degrees at turn eight but he was able to collect the car quickly enough to avoid dropping any places and only lost a few seconds on the car in front.
Recovery was not an option for Liuzzi three laps later, when he spun out one turn earlier, at turn seven, and, rather freshly for Formula One, he admitted: "I was all over the place!"
Balance problems were making life tricky for the Italian, though, and he added: "I down-shifted and the rear locked, and when I applied the throttle the traction control did not work so I spun and ended up in the gravel."
Liuzzi was the first retirement, but there was soon to be a second when Patrick Friesacher made a mistake at turn three. "I turned in normally but the car understeered," he said. "I got onto a dirty part of the track, and that was it."
Karthikeyan lost 14th place to Monteiro on lap 13 and admitted: "I was pushing hard as Tiago was catching, and I made a mistake in running a bit too wide in a chicane. I went in the dirt and he overtook me."
Back at the front, which had remained static in position with the gaps between each car slowly increasing, Webber was always going to be the first to stop and, sure enough, he was in on lap 18 for fuel.
The Williams driver was running light, choosing to gamble on a better grid position for the sacrifice of stopping early, but it did not pay off because of his poor start and it forced them into a rethink.
"I was stuck for a while behind Ralf and Alonso, which was a shame, because I was lighter than them," explained Webber. "So we decided to change strategy and go for two stops instead of three."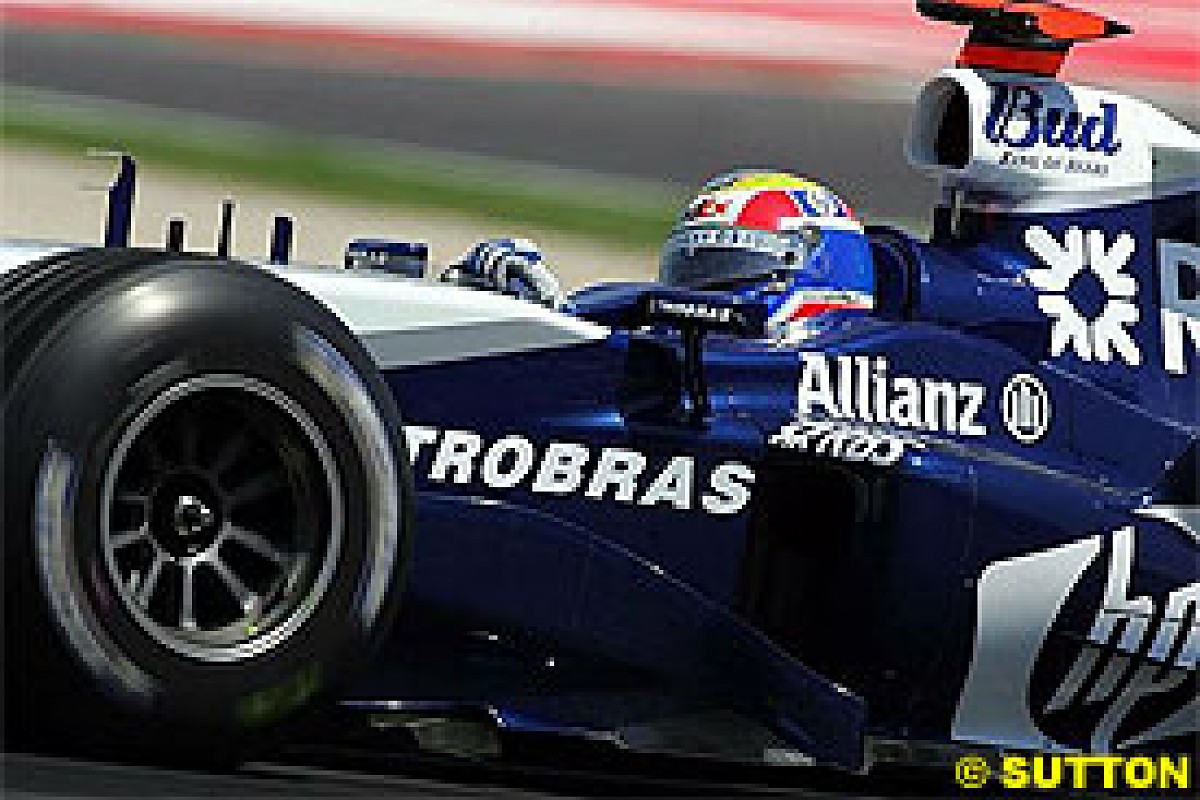 It soon became clear that Williams' loss was bigger than first believed as the rest of Webber's rivals continued to race around without even the hint of activity in their respective pits as he pushed on with an extremely heavy car.
Meanwhile leader Raikkonen was still running away with the race, taking 1.425 seconds per lap out of Alonso from lap 10 to the lap before he chose to pit, lap 24, and coming in with an advantage of 26.594 seconds.
In fact, the pace of the McLaren was unrivalled and, apart from when the cars were running under the safety car, Raikkonen set the fastest lap of the field on every one of the first 24 laps.
Instead of tailing Raikkonen, Alonso had his attention taken by a very eager Ralf Schumacher, keen to benefit as much as possible from a lighter car and desperate to prove himself after being continually upstaged by Trulli.
He could not find a way past the Renault and, in fact, dropped behind Trulli in a tight train of cars before peeling into the pits on lap 24, a full six laps after Webber had stopped for the first fuel fill-up.
Raikkonen was next in, on the following lap, and his strategy was working to perfection. To add insult to injury for Alonso, the McLaren came out of the pits right in front to prevent the Spaniard from leading for even a single lap.
Trulli stopped on the same lap as Raikkonen and came out still ahead of Schumacher despite a huge scare, which somehow went relatively unnoticed, when the rear of his car erupted in flames in the pits.
Team boss Tsutomo Tomita seemed undeterred and coolly stated: "It was an almost trouble-free race. We had a bit of a moment at Jarno's first pitstop when some fuel caught fire, but there was no damage to the car."
Alonso stopped on lap 27, the same lap as Coulthard and Massa, who were set for another race-long battle, then Fisichella, who had been fuelled two-laps longer than his teammate, stopped on lap 29.
Fisichella's strategy worked and put him ahead of Alonso and into second by the end of the first round of stops, but there was more drama for Montoya when the fuel pump failed on his first stop on lap 29 and he had to pit again on lap 30.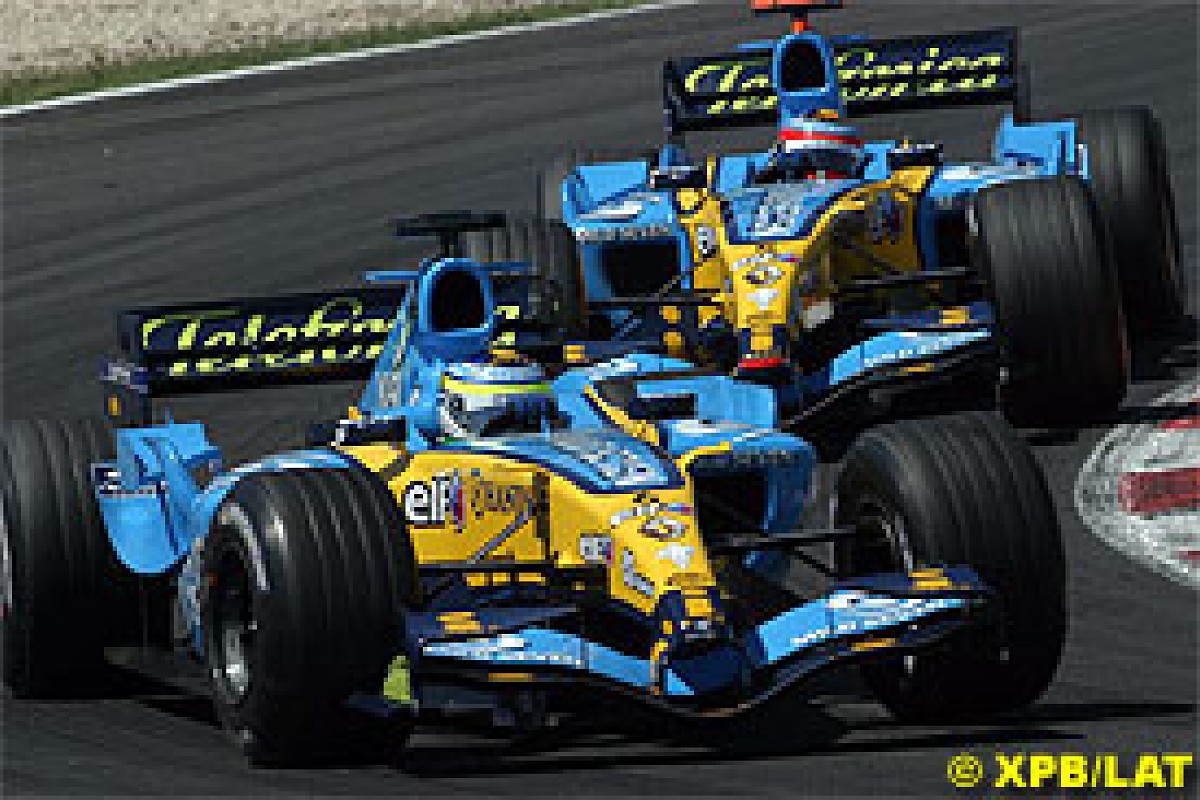 Montoya's tough race was a frustrating contrast to Raikkonen's impressive and controlled pace at the front, and it was hard to take for the McLaren and Mercedes men watching the proceedings from the pitwall.
"Juan Pablo's race could have been so much better," mused McLaren boss Ron Dennis. "He made a mistake, the team made a mistake, and an electrical problem which activated the safety system on the fuel rig certainly cost him."
Mercedes chief Norbert Haug, allowing himself a smile as Raikkonen's impressive performance continued, was also disappointed by their second car and coldly added: "Juan Pablo had the chance for a better result."
All the time, Michael Schumacher was quietly going about his business, taking the same tactics that had worked so well at the last race in San Marino, by running long and hoping to climb through the field during the stops.
On the first lap after Raikkonen pitted, Schumacher was around 1.1 seconds faster. It was the same on the next two, even more on the next and, on lap 31, he was 1.5 seconds faster with fastest lap of the race at the time.
But in San Marino that advantage was more like two seconds per lap and it lasted longer. Schumacher had to stop already on lap 32 and, although his efforts moved him up four places to fourth, he was still more than 35 seconds off the lead.
Barrichello went even longer, stopping on lap 34, but it did little to move him up the field and by lap 38 he had been lapped by Raikkonen. "The tyres developed blisters and I could not do any more," the Brazilian admitted.
Fisichella tried to chase after leader Raikkonen but the McLaren driver kept a consistent 25-second gap over the Renault throughout the middle stage of the race until bad luck hit Fisichella once again.
"I suddenly felt a loss of front downforce," explained Fisichella, who was in the pits again on lap 40. "The team changed the nose as a precaution and fixed a problem down by the floor of the car."
The team also fuelled the car to the end but while they improved its handling, the strategy change left Fisichella with a heavy car and he admitted: "From then it was a case of picking off the cars in front when they stopped."
That left Raikkonen with a 28-second gap to maintain over Alonso, who now assumed second, and the McLaren driver maintained it to the second pitstop, showing supreme consistency and composure up front.
Webber made his second stop on lap 43, peeling in from sixth place, while Schumacher pitted from fourth on the next lap, but it was not for a conventional fuel stop. He had a problem.
"On lap 44, a loss of pressure in the left rear tyre meant Michael had to pit to change it," explained team boss Jean Todt. Schumacher's tyre failure put him a lap down on Raikkonen, but that was not the end of it.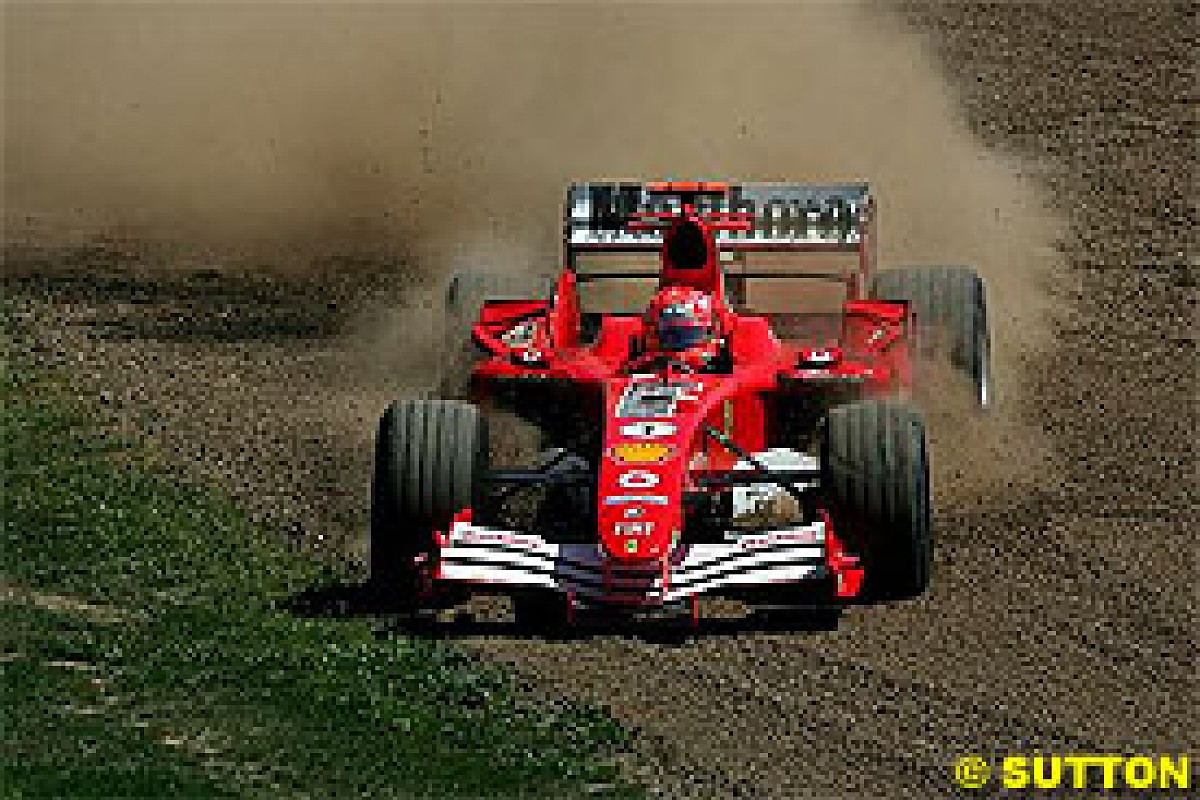 "A similar problem, this time to the left front, occurred on lap 46," Todt added. This one happened at the start of the lap and by the time Schumacher made it round to the pits, the team decided there was little point in him carrying on.
It seemed that his tyres were not up to the job and, while Bridgestone immediately began an investigation, their technical manager Hisao Suganuma insisted: "The wear on Michael's rear tyres was within acceptable boundaries."
The lead two drivers, Raikkonen and Alonso, had no such problems. Both pitted for a conventional fuel stop on lap 49 and, despite the crowd hoping Montoya's fuel problems might strike Raikkonen, McLaren's stop was perfectly smooth.
Ralf Schumacher pressurised Trulli as the two Toyota drivers closed in on their second stops but again he failed to find a way past the car in front and stopped on lap 51, the same lap as Coulthard, who had been in a scrap with Massa.
Massa's teammate Villeneuve, struggling with an overheating engine throughout the race, finally retired on lap on lap 51. "In the end the engine failed because of the water loss," he said disappointedly.
Massa pitted on the lap after Villeneuve retired, the same lap as Trulli, who came out right in front of Ralf Schumacher again and began a fight to the finish for the final podium place.
Montoya made the final stop of the race on lap 56 and the field remained static until lap 64, when Fisichella found a way past a struggling Webber to snatch fifth from Williams.
Webber complained of vibrations, and Fisichella said: "I was pleased to be able to pass him. I could see I was quicker and I got a run on him out of the last corner and did a good manoeuvre into turn one."
Massa's race was as good as ended when he suffered a tyre deflation, caused by a cracked wheel rim, but there were no such problems for Raikkonen, who cruised on to an easy victory.
"We have been close to victory a few times and today it finally happened," said Raikkonen. "I made a point of pushing really hard until the first pitstop, when I saw how big the gap actually was, then I just took it easy."
It was a disappointment for the thousands of fans who flocked in to watch the home hero, but for Alonso himself it was a more than satisfactory result. He knows, there will always be a next time.
Race Results
Pos  Driver        Team-Engine                Time
 1.  Raikkonen     McLaren-Mercedes (M)  1h27:16.830
 2.  Alonso        Renault          (M)  +    27.652
 3.  Trulli        Toyota           (M)  +    45.947
 4.  R.Schumacher  Toyota           (M)  +    46.719
 5.  Fisichella    Renault          (M)  +    57.936
 6.  Webber        Williams-BMW     (M)  +  1:08.542
 7.  Montoya       McLaren-Mercedes (M)  +     1 lap
 8.  Coulthard     Red Bull-Cosworth(M)  +     1 lap
 9.  Barrichello   Ferrari          (B)  +     1 lap
10.  Heidfeld      Williams-BMW     (M)  +     1 lap
11.  Massa         Sauber-Petronas  (M)  +    3 laps
12.  Monteiro      Jordan-Toyota    (B)  +    3 laps
13.  Karthikeyan   Jordan-Toyota    (B)  +    3 laps

Fastest Lap: Fisichella, 1:15.641

Not Classified/Retirements:

Driver        Team                  On Lap
Villeneuve    Sauber-Petronas  (M)    51
M.Schumacher  Ferrari          (B)    46
Albers        Minardi-Cosworth (B)    19
Friesacher    Minardi-Cosworth (B)    11
Liuzzi        Red Bull-Cosworth(M)     9


World Championship Standing, Round 5:

Drivers:                    Constructors:            
 1.  Alonso        44        1.  Renault           58
 2.  Trulli        26        2.  Toyota            40
 3.  Raikkonen     17        3.  McLaren-Mercedes  37
 4.  Fisichella    14        4.  Williams-BMW      21
 5.  R.Schumacher  14        5.  Ferrari           18
 6.  Webber        12        6.  Red Bull-Cosworth 14
 7.  Coulthard     10        7.  Sauber-Petronas    7
 8.  Montoya       10
 9.  M.Schumacher  10
10.  Heidfeld       9
11.  Barrichello    8
12.  Wurz           6
13.  Villeneuve     5
14.  de la Rosa     4
15.  Klien          3
16.  Massa          2
17.  Liuzzi         1


Fastest race laps: Click here
Pitstop times: Click here
Lap by Lap
Lap 1: After qualifying on pole position for the second time in as many races - and the fifth in his Formula One career - Kimi Raikkonen makes a sharp start, although local hero Fernando Alonso is away even more briskly and outdrags front-row starter Mark Webber to snatch second. Ralf Schumacher passes Webber at the first corner, too, while Jarno Trulli settles into fifth ahead of, Giancarlo Fisichella, Michael Schumacher, Juan Pablo Montoya, David Coulthard, Felipe Massa, Jacques Villeneuve, Nick Heidfeld (up from 17th on the grid), Vitantonio Liuzzi, Rubens Barrichello, Narain Karthikeyan and Tiago Monteiro. The Minardis of Christijan Albers and Patrick Friesacher are left on the grid - Heidfeld almost collects the latter - and the Safety Car is deployed.
Lap 3: The race resumes and Raikkonen immediately pulls away, leaving Alonso 1.9s behind. Montoya passes Michael Schumacher under braking for Turn One. The Minardis join in from the pit lane.
Lap 4: Raikkonen extends his lead to 2.6s...
Lap 5: ..and 3.1s. He is getting faster by the lap and Alonso has no answer, although he is comfortably clear of the pack.
Lap 7: Montoya spins at Turn Eight but doesn't lose any positions.
Lap 8: Raikkonen ups his pace to 1m16.982s. His lead grows to 4.6s.
Lap 10: Liuzzi spins out of 13th and into the gravel at Turn Seven. He goes no further. Raikkonen - still increasing his speed by the lap - leads by 6.6s.
Lap 13: Raikkonen laps in 1m16.345s. Karthikeyan runs wide at Turn Eight and loses 14th place to teammate Monteiro, who runs slightly less wide to pass him.
Lap 14: For the first time, Raikkonen fails to go faster than he did on the previous lap.
Lap 15: The distant Friesacher, running a couple of laps down, spins into retirement at Turn Three.
Lap 17: Raikkonen laps in 1m16.104s to stretch his lead to 15.4s. Ralf Schumacher is catching Alonso.
Lap 18: Webber pits from fourth and resumes in 10th.
Lap 19: Albers pulls off.
Lap 20: Raikkonen laps in 1m16.059s. Ralf Schumacher is right on Alonso's tail.
Lap 24: Ralf Schumacher refuels.
Lap 25: Raikkonen and Trulli pit, as does the lapped Monteiro. Raikkonen is still ahead when he rejoins - about half a second clear of Alonso.
Lap 27: Alonso, Coulthard and Massa stop.
Lap 29: Fisichella and Montoya pit - and the Italian rejoins ahead of Alonso. Gifted a clear track, for the first time all race, Michael Schumacher laps in 1m16.3s - almost Raikkonen territory. Heidfeld and Karthikeyan refuel.
Lap 30: Michael Schumacher sets a new fastest lap - 1m 16.019s. Montoya pits for the second consecutive lap.
Lap 31: Michael Schumacher laps in 1m15.648s. Villeneuve comes in for fuel.
Lap 32: Michael Schumacher peels in to the pits and vaults to fourth on his return to the track.
Lap 34: Webber runs wide and loses momentum. Barrichello passes him but pits immediately.
Lap 35: With the stops over, Raikkonen leads by 25 seconds from Fisichella, Alonso, Michael Schumacher, Trulli, Ralf Schumacher (the Toyotas running in close company), Webber, Coulthard, Massa, Montoya, Heidfeld, Barrichello, Villeneuve, Monteiro and Karthikeyan.
Lap 38: Raikkonen laps Barrichello.
Lap 40: Alonso closes right up on Fisichella, who pits at the end of the lap for a new nose section. He slumps to 11th.
Lap 43: Webber makes his second scheduled stop.
Lap 44: Michael Schumacher makes an unscheduled second stop and has a fresh left rear tyre fitted.
Lap 47: Raikkonen laps Michael Schumacher - who immediately slides wide at the first corner with an apparently soft front left. The German crawls back to the pits to retire.
Lap 49: Raikkonen and Alonso pit and resume as they were, 25 seconds apart at the head of the field.
Lap 51: Ralf Schumacher and Coulthard stop to refuel. Villeneuve pits to retire.
Lap 52: Trulli pits and rejoins ahead of his teammate. Massa refuels.
Lap 55: Heidfeld makes his second stop after harrying teammate Webber for several laps.
Lap 56: Montoya refuels.
Lap 57: As the race enters its final stint, Raikkonen is streets ahead of Alonso, who is equally well clear of the Toyotas (Trulli just shading Ralf Schumacher). Webber lies fifth, from the closing Fisichella, with Montoya and Coulthard completing the top eight. Barrichello, Heidfeld, Massa and the Jordans are all lapped.
Lap 63: Massa runs wide at the final corner with a deflated left rear tyre and pulls off.
Lap 64: Fisichella passes Webber on the way into Turn One.
Lap 66: Raikkonen completes the third victory of his grand prix career, 27.6s clear of Alonso. Trulli and Ralf Schumacher take third and fourth, from Fisichella - who sets the race's fastest lap, 1m15.641s, right at the end - and Webber. Montoya is a lapped seventh, from Coulthard, Barrichello, Heidfeld, Massa (classified, despite not finishing), Monteiro and Karthikeyan.