Ann Bradshaw: Point of View

---
By Ann Bradshaw, England
Autosport-Atlas Special Columnist
In this week's colum, Ann Bradshaw writes about her weekend at the Nurburgring 24 Hours race with the BMW Motorsport team, far away from all the Formula One political wranglings which took place in at the same time in Barcelona
I have just spent a weekend with the most amazing group of people. It was my second visit to the Nurburgring 24 Hour race with BMW Motorsport, and a greater set of characters you could not find to spend a night out of bed with. Every single one of them - from the mechanics and engineers to the girls making the sandwiches and the seven drivers - was the sort of person who you would happily spend time with away from a race track.
While by the sheer nature of the team's name you would deduce it was mainly peopled by Germans, also in the mix were a variety of drivers from the UK, Portugal, the Netherlands and the USA. One amazing character among this eclectic set of people was Boris Said, a laid back Californian who I first met when I was living in Georgia and working for Panoz Motorsport back in 1999.
You just have to look at Boris, who happens to work for No Fear, and realise that the name of the company is what he is about. Since I last saw him in 2003, he has become a dad and was happy to show anyone and everyone pictures of Boris junior. Like his dad, he had a ready smile and a mop of curls. Boris has a great sense of humour and at 07:50 on Sunday morning, when the race had been running for nearly 17 hours, he was about to jump in the car, taking over from Guernsey's best export after carnations and bankers, Andy Priaulx. Andy was ready to tell him about the car and how the surface of the 25-kilometre long track was with light rain falling, but Boris was too keen to tell him he had discovered a new website - and it was not one showing the same content as Autosport-Atlas. As I said Boris signifies all No Fear is about.
It was refreshing to work again alongside the legendary Charly Lamm, who has been running successful teams for BMW since before the younger of the current Formula One drivers was born. It is amazing that Charly has never been tempted away from the small Bavarian town of Freilassing, from where the mighty Schnitzer Motorsport team has set out since Charly was a teenager to win touring car titles in the four corners of the world. He would make a perfect Formula One team manager, but I think this likeable German, who has a strangely melodic high-pitched voice, may find the politics just too tedious.
Charly loves to sit and shoot the breeze with me about the happenings in F1, but he loves his sports cars and touring cars and it is soon obvious why BMW entrusted him with their entries into the Le Mans 24 Hours and the American Le Mans Series back in 1999. I was there to see him in both these environments, although I did not know him personally until 2002, but even so his was a name to respect.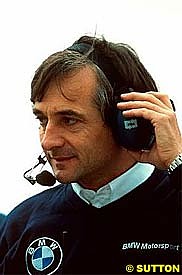 He also had a great time in the UK when, based out of Brackley, he ran BMWs in the British Touring Car Championship. He talks with great fondness of those days, and if you ask him what he learnt from that experience it is usually to wear Wellington boots in the UK when it is wet. In those days he had a bright yellow pair. It is obvious he became very fond of them and they travelled the world with him until they finally gave up the ghost and the rubber perished.
I remember a very good friend of mine, who I shall not name to spare her blushes, telling me about one of the very few men she fancied in motorsport was this handsome German who ran cars for BMW. She described him as having the mannerisms of a ballet dancer. Let me assure you this is not because he is effeminate, but rather because he is quick and alert and is never in the wrong place when the action is taking place.
Charly was very busy over the weekend, as the team notched up a one-two in the race, so we were not able to have one of our usual 'state of the nation' chats about F1. However, I think if we had he would have been slightly perplexed about a sport that keeps shooting itself in the foot. We have a governing body, a set of officials appointed by them, and then cases where the FIA is appealing against the decision of those very people. We watched with dismay on our TV sets as the BAR trucks rolled out of the Barcelona paddock.
I found this sad. We have some of the best technical brains in the business working in F1 and they still cannot come up with a set of regulations that are 'black and white' and not 'subject to interpretation'.
Back to Boris. He is usually a NASCAR driver in the US, and he spent some time explaining to me what happens in this series. Okay, we call them the 'good old boys' and their cars are often viewed as rather crude in technical terms, but they put on a hell of a show. He gets in his car, drives it as fast as he can, entertains the crowd in the process and then within minutes of the end of the race can be on his way. Also the crew usually have the whole thing packed up in the trucks within about 20 minutes. Mind you, as they have to do this nearly 40 times a year, they need to be quick.
I am not advocating this happening in F1, as this is supposed to be the pinnacle of motorsport in every sense, but it would be nice to get back to stories about racing rather than politics.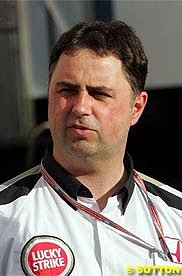 I know BAR team manager, Ron Meadows, quite well and see him at the Formula BMW UK Championship races with his son Michael. At the Thruxton race, a few days before the Paris and Barcelona debacle, he was relieved to get away from the dramas for a couple of days, but I could sense it was not out of his mind. I could also sense his frustration, and it made me remember that the guys who feel this keenly are those like Ron and the mechanics, both at the factory and the races, who work day and night and make the whole thing happen.
It was at this same Thruxton race meeting where I was able to chat with Ron that some very important motorsport dignitaries came to watch my youngsters. For the second year running, Frank Williams and Mario Theissen had given up their weekends off to cast an eye over the drivers who they could perhaps be employing in a few years' time. It was also very refreshing to have Mark Webber there doing the same thing. No one had told him he had to go.
BMW was not 'using' up one of his driver days. He just wanted to have a look at the young whipper snappers who might be trying to get his job soon. I was scratching my head trying to remember when I last heard of a driver doing something like this that was not written in his contract. Like Vitantonio Liuzzi, who turned up at Donington, Mark just wanted to see what was going on. It is nice to know that there are still people in F1 who remember that there is more to motorsport than 19 Grands Prix a year.