The 'launch season' is all but on us again. Great news if you've had your fill of Christmas pud, you're a duffer at fixing broken toys and you'd really like to see your mates again and talk F1. Not so good if you've lost your can of bullshit repellent and are quite happy taking your steers from the Melbourne timing screens.
Formula One being what it is, launches are much more 'corporate' these days, which means people are more nervous about getting up in public and making rash statements. They know that some smart arse journalist is going to keep a note of any predictions/expectations and trot them out nine months down the road.
In days gone by, when a race team was a race team, they didn't care. Generally, there was no one to answer to, save perhaps a couple of sponsors. But these days you have board members and bean counters listening. Caution seems to be the watchword.
There have been some good laughs in the past. Turn the clock back 30 years and there was Robin Herd and Martin Walters revealing the March 240. Early December this was, because in those days the Argentine Grand Prix kicked off the new season in January.
The front end wheel and suspension set up of the Tyrrell P34 © LAT
The 240 was a six-wheeler. Nothing new there, as Tyrrell had already run their P34 the previous season. But the March had four driven wheels at the back. The Autosport account at the time began with the line "You couldn't help but wonder if they were being serious."
Which, as things turned out, was pretty perceptive.
The 240 was basically a bog standard March 761, which the late Ronnie Peterson had used to win the Italian Grand Prix a couple of months previously, fitted with an extra set of rear wheels that, incidentally, were the same size as the fronts, making for a very strange looking device indeed.
On the back of the gearbox, March had bolted a further casing that housed an extended pinion shaft and another differential. This second shaft was driven by the first via a 'muff coupling', the press was told. Herd always had a great sense of humour.
The frontal area of the rear tyres being half the norm, the car was going to be super-quick in a straight line and the rear wing, mounted significantly further back, was going to be highly effective - if they could actually persuade the thing into a corner in the first place. But there was no chance of getting it anywhere near the minimum weight, Herd admitted.
Nobody knew quite what to make of it. A bunch of hacks dutifully descended on Silverstone, where the car ran - very briefly. Later - much later - March admitted that the second set of rears had never been connected to anything in any case...
A week or so later, Louis Stanley revealed the BRM P207 in Rotary Watches livery at his usual haunt, London's Dorchester hotel. The glory days had been some time ago, but Stanley and Aussie driver Larry Perkins talked a good yarn.
Despite the monstrosity that the hacks saw before them, they were informed that the P207 was not in fact big, it was not overweight, its V12 would produce very close to 500bhp and that, in Perkins, the team had a driver in the same mould as Pedro (Rodriguez), Jo (Siffert) and Niki (Lauda). Yeah, right. Pass that bullshit spray!
And then there's the Frank Williams way. Formula One legend has it that back in the seventies Frank launched a car in Saudi livery before the Saudis knew they were even sponsoring it - by parking it outside a Prince's office in Riyadh! A half-truth with a bit of embellishment, that.
What in fact happened was that Frank's sidekick, Charlie Crichton-Stuart, a former RAF Vampire pilot, had been scheduled to take on the role of private pilot for Alexander Hesketh when the good Lord decided against buying the plane after all.
And so off went 'Charlie Stu' to sell cars for HR Owen in Kensington, where he flogged a Ferrari to 22-year-old Prince Sultan bin Salman, who happened to be living around the corner, also at the Dorchester.
Clay Regazzoni (Williams FW06 Ford) 1979 Grand Prix of Argentina © LAT
The Prince went off to study in Denver and Frank phoned Charlie Stu and offered to pay his air fare if he'd come to the US and help him sell the Prince some motor racing.
The initial meeting was a success, and the Prince said he'd forward the proposal to his family. Frank then went to Riyadh to meet him again, where the Prince introduced him to his cousin, Prince Muhammad bin Fahd, the second eldest son of King Fahd.
Frank got 10 minutes in the guy's lavish office and left with the promise 'I will help you.' Prince Muhammad's trading company was Albilad, whose British interests were looked after by Tory MP Jonathan Aitken, who had been at Eton with Piers Courage, the brewing heir who had been killed in one of Frank's cars at Zandvoort in 1970.
Frank soon got a call from Aitken and went to meet him in London. Shortly afterwards, he got the news that Prince Muhammad was in London wanting to meet him.
So he loaded up Patrick Head's just finished FW06, decked out in Albilad livery, and proceeded to unload it in the bus lane right outside the Prince's hotel! From that came two hundred grand, with a seven figure sum following on from various Saudi sources in '79. Nothing like initiative. Williams were on their way.
Twenty years later, Frank had built an organisation that was successful, professional, dedicated and respected. But he and convention were still strange bed fellows.
As sponsorship and media coverage increased, launches became less suspensions and gearboxes and more about simply putting company names on TV and into magazines.
The launch was the sure fire way of gaining exposure before, God forbid, you actually had to beat anyone on the track. Which is why there was more than a little surprise when, in 2000, Williams decided to use the occasion to decide its drivers!
The idea was that after one final test, either Jenson Button or Bruno Junqueira got to be an F1 driver. With the world's media in attendance. So, no pressure guys...
It was certainly a good story. The car? Bugger the car! The sponsors? Who gives a damn. Unconventional. Yep. This was Willies, after all!
Button, 20, minutes after being told his childhood dream had just come true, was wheeled out to face the world's media. Previously, he'd encountered the two hacks who might visit a Thruxton F3 race. He looked like the Silverstone hare caught crossing the track at Becketts on the first lap of the British GP. Nothing like chucking them in at the deep end, eh Frank?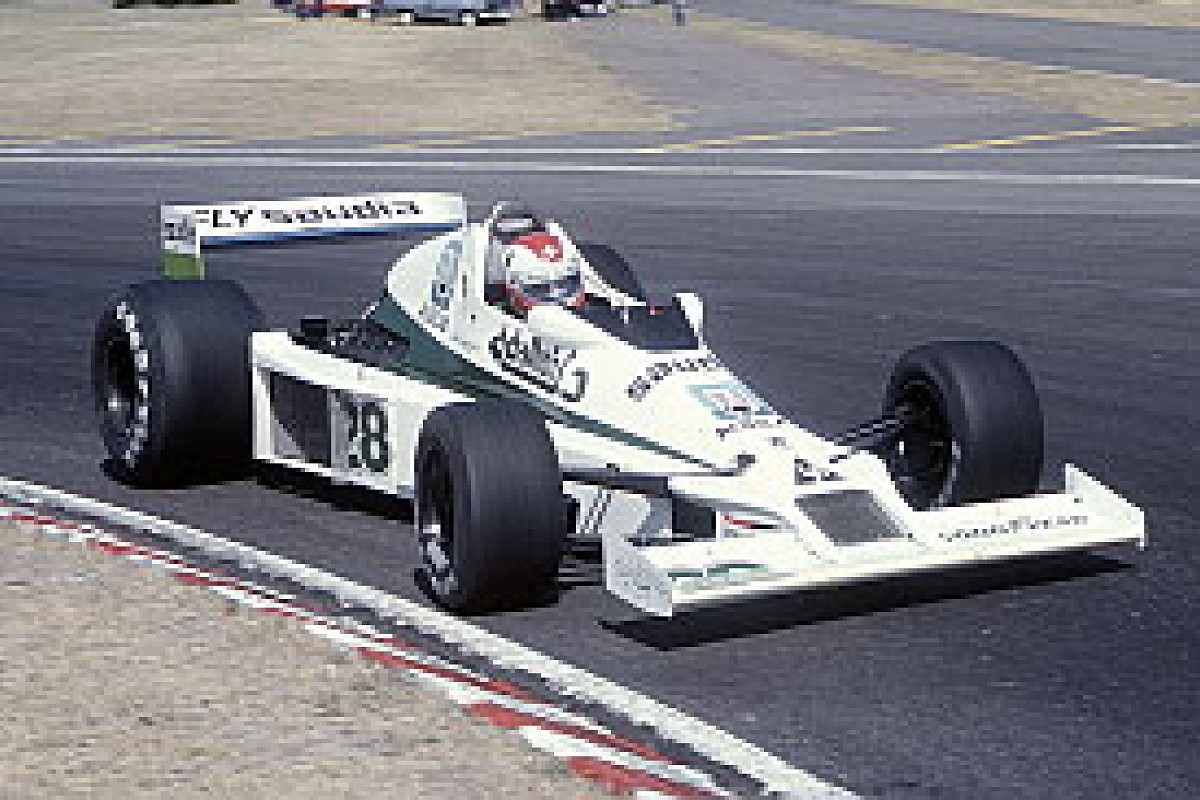 Bruno Junquiera at the 2000 BMW Williams F1 launch © LAT
And then there was poor Junqueira, so near and yet so far. A colleague was working for a paper that decided it was going to chronicle the jubilation and despair of the two guys under the less than original headlines, 'In' and 'Out'.
'Bloody hell," he moaned, "I've drawn the short straw. I've got to talk to poor Junqueira. I feel like the copper who's got to knock on someone's door cradling their dead dog. What the hell can I ask? How does it feel? Maybe I'd better stick to what he got from Santa..."
And sometimes it all goes horribly wrong for us, too. It was dead easy when you had to get to Silverstone or maybe a London hotel. But with the tendency for ever flashier more far-flung venues comes the need of a passport. One hack, travel-free for the previous 10 weeks, was deeply fond of his five-year-old daughter but desperately perturbed to see her face smiling out of his passport as he approached the desk.
"Er, is that a problem?" was about all he could weakly manage.
"I rather think it might be..." replied the check-in girl, while everyone else dissolved. He'd made the mistake of telling his little one that he wanted a picture of her in his jacket pocket when he went away. She wanted one of him too. And being a practical sort, a quick passport swap had seemed entirely logical to a five-year-old.
"We'll send you some quotes, but obviously not any good ones!" hooted his mate as the poor chap headed for a paper, a coffee and the train home.