Sufficiently Confident: Interview with Geoff Willis

---
By Will Gray, England
Autosport-Atlas GP Correspondent
BAR-Honda are on a mission to prove that last season was not a one-off success. The start of 2005, however, has been far from kind to the team from Brackley, and they have yet to get a car across the finish line. But technical director Geoff Willis says he knows what's wrong and how to fix it, and he tells Will Gray why they are confident of bouncing back in the upcoming races
For a team that started the year targeting victories, a no-score after three races is not exactly what BAR-Honda had expected. Smoking engines, slipping clutches and troubled tactics are all to blame for the poor performance of last year's Constructors' Championship runners-up, but recent tests have pointed them back in the right direction and the team's chiefs insist things are not quite as dire as they seemed.
They are not where they want to be, that is for sure. Their third disappointment of the year in Bahrain saw Takuma Sato retire with brake problems before half distance, a few laps before Jenson Button parked up at the end of the pitlane when he could no longer grasp any gears. But technical director Geoff Willis believes the unreliability has masked their true potential.
"The bald facts of the Championship position at the moment are actually much more extreme than we think we are," Willis told Autosport-Atlas. "Actually not running at all after lap three in Malaysia, we suspect we would have picked up a podium place from there and we should really have had some points from Melbourne if it were not for the misfortunes of final qualifying.
"We are not happy with the car's performance and we have a pretty good idea what the problem is. The rest of the car is sufficiently strong, we are sufficiently confident with it, and we are confident of getting ourselves back up to a position where we should be fighting for podium places. Our target this year is to win races and that is what we are going to do.
"Had we got the right spin of the coin, we would have about 15 points and a podium, something like that. That is where we should have been. But we haven't. It is our fault for not finishing the second race. The second race, if we had finished, we would have been on the podium. But the strength of the team is that if we have made a mistake, we can turn it around and fix it.
"The car is lighter than last year, it is stiffer, there is more ballast, we have done all the things that make a car quick. All the things that we knew would make last year's car very quick we have done again but better on this year's car, so I still think it is a very strong package, it is just, I think, we are underperforming in certain areas.
"Certainly Renault, not so much stolen a march, but they have done the job that we should have done before the season started and that we will now have to do fairly quickly to get back. Toyota have clearly done a good job over the winter, and then there is a few others. But it will take a few more races before we find out where it all falls out."
Last year, BAR were on the crest of a wave, taking podiums as a given and hoping to hassle World Champions Michael Schumacher and Ferrari for that elusive race win whenever they could. A total of 11 podiums for Button and one for Sato helped them to finish behind Ferrari in the title race and looked to have set them up for a strong crack at the title this time around.
But something went wrong.
Even when they have not been breaking down, the BAR cars have, despite what Willis claims, not looked close to the pace needed to get on the podium. He, of course, knows all the secret strategies, but there is no getting away from the fact that Renault looked streets ahead of all their rivals in the opening races while BAR looked to have some tough times ahead.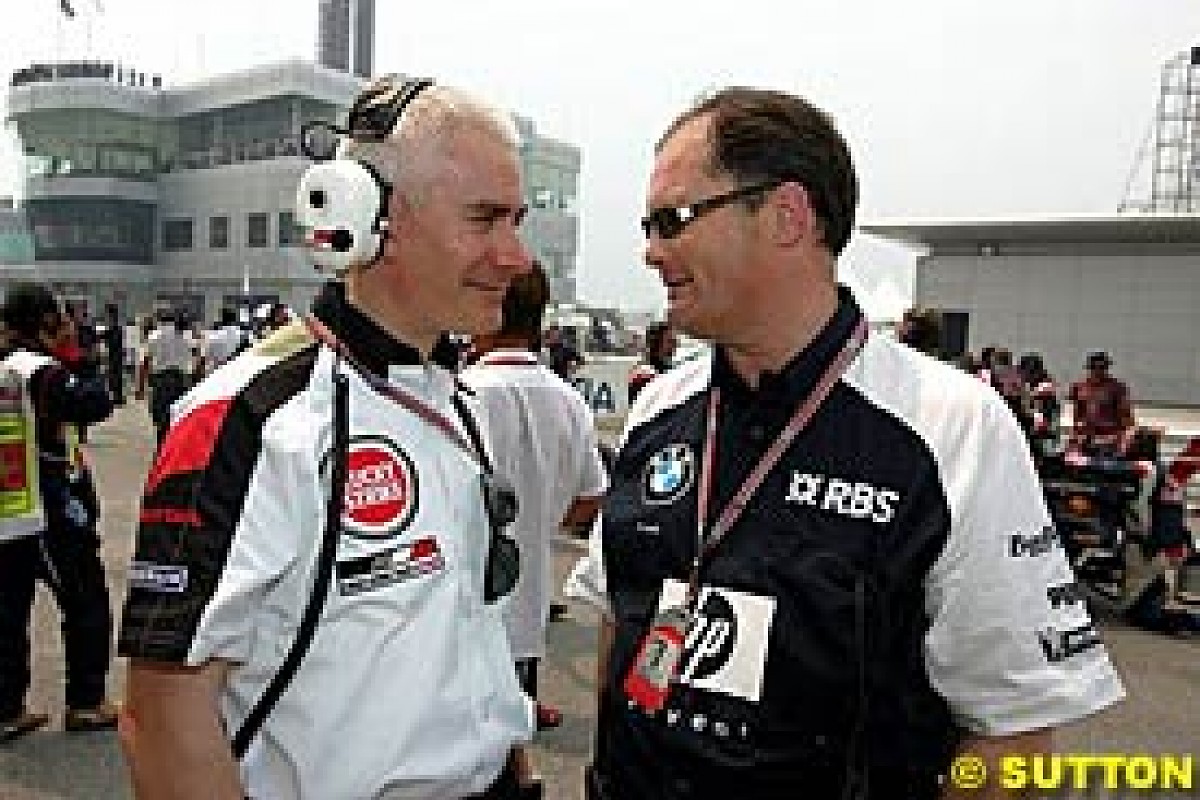 Aside from a lack of reliability, which seems to have hit at different areas of the car in each event, their initial lack of pace in Australia and subsequent failure to match their rivals in Bahrain is mostly, Willis believes, down to some problems with the aerodynamics, one of his specialist areas and one that he honed at previous employers Williams.
The hasty appointment of Gil de Ferran that followed Bahrain, which was in fact in the pipeline for some months, might give Willis some time to stay in the factory and solve the problems, and they already look to have turned the corner after the last two tests in Barcelona and Paul Ricard, the latter which they ended early having apparently been so happy with their results.
Lap records have been falling for the Brackley team in recent weeks and, after the gloom of Bahrain, the testing times, at least, seem to tell a different story. Willis is confident his team have found that problem with the aerodynamics that was holding them back and, if testing is anything to go by, their car is finally about to hit the track running.
Whatever has been achieved so far, Willis will continue to look to the wind tunnel in the coming weeks.
"We are probably a few percent down from where we should be on downforce and that causes problems," he admitted. "You can cure most car handling ills with downforce. We don't have an awful lot of ills but you can see we have been struggling a bit for balance so we could do with a bit more.
"Downforce levels and car performance are quite a non-linear interaction because you can make lots of predictions about it, you get an extra one-percent downforce and go a tenth of a second faster or whatever it is, but if you are not operating tyres that are in the right condition then sometimes you need a bit of downforce to get the tyres working.
"Then you will get an awful lot of performance, so it is quite difficult to make a direct comparison between a car that is not working well and one that is not working well. If you take two cars that are working well and one is faster than the other, usually you can get a reasonably good measure on what their downforce levels are and so on."
In the first three races, the BAR 007 was definitely not working well. Problems with its tyres were flagged up very early in its life - a surprise, considering the team have been able to fully design around the Michelin rubber for the first time this season after being forced to create last year's car on the assumption they would join up with the French manufacturer.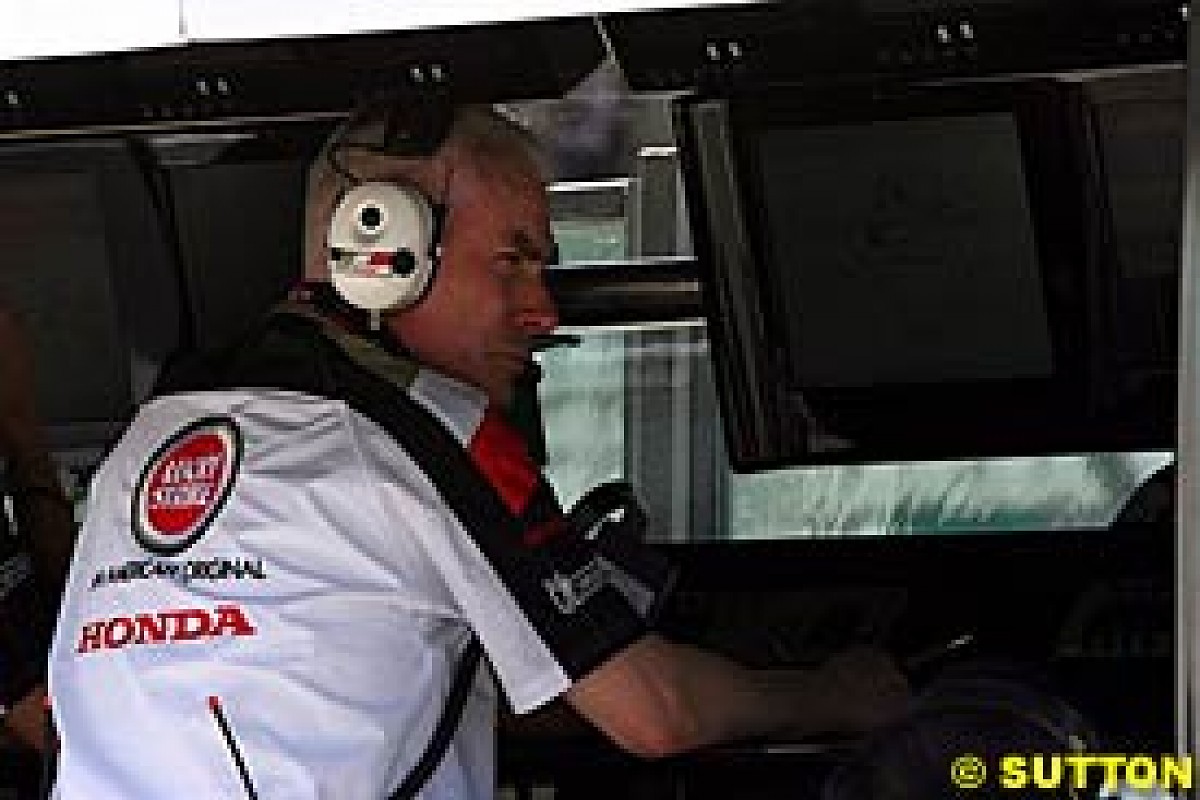 "Well, in 2004 we certainly designed the car hoping that it was going to be on Michelin tyres but we didn't know for certain," Willis explained. "As soon as we became a partner of Michelin we had a lot of technical discussions with them from which we made some changes, particularly to our rear suspension geometry. Since then, we evolved the car over last year.
"So we had a pretty good lead-in to this year. The specific issues for us, I think, are that the tyre companies went fairly conservative for the first few races, simply they could not afford tyre failure and you can completely understand why they would be on the conservative side. As it happened, that turned out to be too conservative for us in Melbourne.
"It is difficult to say because we were not able to demonstrate our pace but we feel they would have been just spot on for us in Sepang, and in Bahrain we were struggling a little bit. I wouldn't make any criticism of the tyre design itself, it is up to us to get the best out of the tyre we get and we certainly have quite a strong partnership with Michelin to do that.
"We had a very busy winter test programme, about 30,000kms of winter testing on the tyres, and I think we have been a large part of bringing on the 2005 tyre development, so certainly we want Michelin to be more challenging and a bit less conservative and I think they will be because after three races they will have built up the experience to say 'right, this is how close we can run'.
"Getting the heat in is not an issue once you are in the race, it is usually just an issue in one lap qualifying. We have had some problems in cooler circuits, but having said that, the car looks after its tyres very well so there is a mixture of pluses and minuses and probably when we improve the aerodynamics of the car a little bit we will be in a much stronger position with the tyres."
The switch to Michelin from Bridgestone played a significant part in BAR's rapid jump up the grid but so, too, did the increasing influence that Willis had on his design team. He is an important part of the jigsaw and his decisions are vital for the team's success, which is why he holds his hands up and admits he may be partially to blame for the difficult start they have had.
As McLaren boss Ron Dennis would say, second place is the first of the losers, but last year BAR saw that position as a good way to show they were headed in the right direction. Politics, including the partnership renewal, and subsequent increased involvement, with Honda demanded the team prove they were the right ones to be with, so for them, the 'best of the rest' was good enough.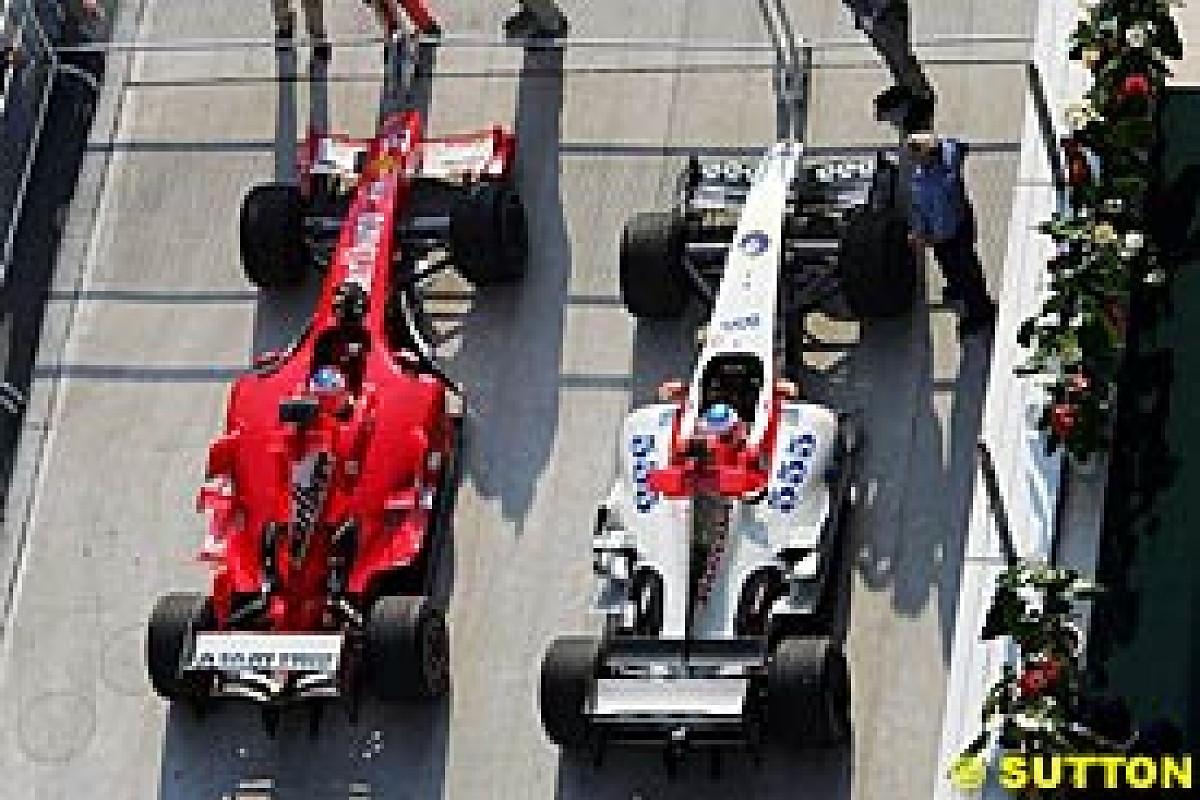 There was no catching dominant World Champions Ferrari, long gone ahead of them, but the challenge of fighting off Renault for the runners-up spot was one worth taking. Sure enough, as the season went on, BAR strengthened while Renault seemed to drop off as they failed to match their rivals and had to settle for third place at a reasonable distance by the final race in Brazil.
But, in retrospect, there was no challenge at all, because Renault, it now appears clear, had already long since piled all their resources into the new machine that has dominated the 2005 season so far. Rather than chasing second place in 2004, the Anglo-French team made the decision to sacrifice that for a strong start in 2005.
Asked if their strategy in the timing of switching focus between 2004 and 2005 was a mistake Willis admitted: "It is possible. It is possible, not so much in resources, but in that you need a slightly different focus for a new car, you know. With a new car, you have to think about rule changes and with developing a car in a season you have to do different things.
"Clearly at the end of a season, with 12 races gone, when you are looking to improve the car that improvement is not going to be easy to find because you have spent the previous six months making it faster, and when you are looking for a new car you do tend to find gains more quickly. I think we also had a number of little problems that cost us a bit of time over Christmas.
"It is one of those things. We concentrated on the critical things, the car, the structure integrity, the weight distribution, the centre of gravity and all the rest of it, and that means we have an extremely strong basis. We are not in a situation where we are worried about a car that underperforms and end up checking everything on the car.
"After Bahrain we are about a month behind what we would like to be, so what we had to do is compress that and catch it up. We know what we are pushing for, we have good resources and we have a lot of clever people that are working very hard. I am not prepared to blame and say it was a mistake, apart from putting my own hand up and saying that maybe I have selected the wrong strategy."
The firm base of a car is vital for improvements, but those extra months at the end of the 2004 season and into the winter testing break could prove vital at the end of the season because the different focus philosophies between Renault and BAR have had a marked contrast on their relative success and failure in the first three races.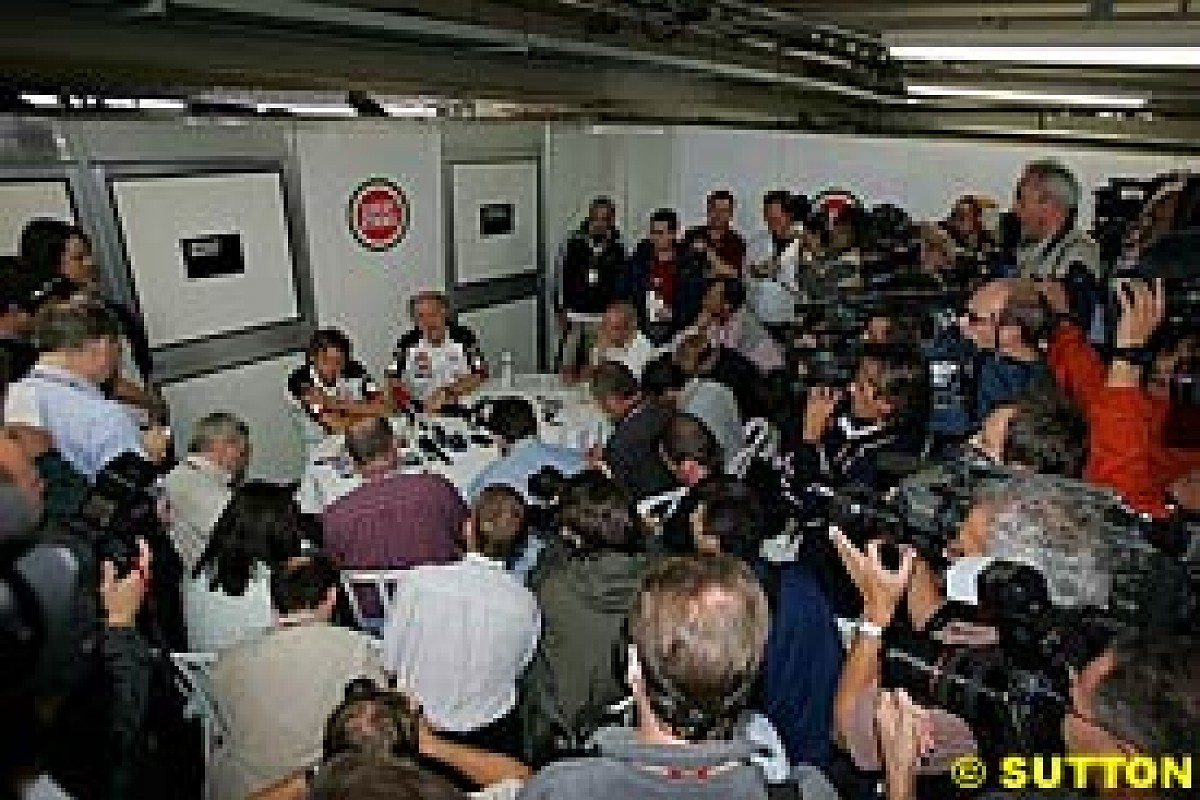 But it is not only on the track that there have been problems. The very public drama surrounding Jenson Button and his want-away to Williams dragged the team through the mud as well as the courts. They won, of course, but the damage had been done. No matter what anyone says, if a driver does not want to be at that team then how can he put in his full 100 percent commitment.
Just ask David Coulthard, who spent last year at McLaren with the knowledge that Juan Pablo Montoya was already signed up to take his seat for 2005. The Scot was simply racing there in 2004 because the team could not get their hands on his Colombian rival soon enough, so it is understandable that he went into a slump and struggled to perform for most of the year.
The same, in a way, could be expected of Button, who clearly displayed his extreme disappointment when he failed to secure his move to Williams at the end of last year and openly confirmed his continued ambition to return in the very near future to the team who gave him his Grand Prix debut in 2000. Many believe it is a given that he will move there at the end of the season.
After BAR blocked Button's move, there was even talk that the Briton, despite being on a roll after his best ever season in Formula One by a long way, would take a sabbatical from the sport because he could not bring himself to race for the team and because he believed that, maybe, their success in 2004 was not sustainable, that it was simply a flash in the pan.
Instead, he committed, however reluctantly, to another season alongside Sato, and BAR were put under pressure to perform. David Richards, who was the team boss during the transfer saga, had put everything in place for the team to take Button to his first world title, and they had to prove that they could do it. So, the first few races came as quite a disappointment.
Button fired off at the team after the early engine blow-out in Malaysia, declaring that the team were "behind where we were last year" and insisting their efforts were "not good enough" to please him. He refused to apologise and retract the comments at the next race in Bahrain and instead insisted his passionate cries showed he was still committed to their cause.
Another take on his outburst, however, could be that it displayed a deepening of his desire to depart, with the team displaying all the signs of what he had feared last year, that their resources were not deep enough to continue their lofty heights and that they would be overtaken by all their chasing rivals at the very time a faltering Ferrari offered the greatest chance of a world title.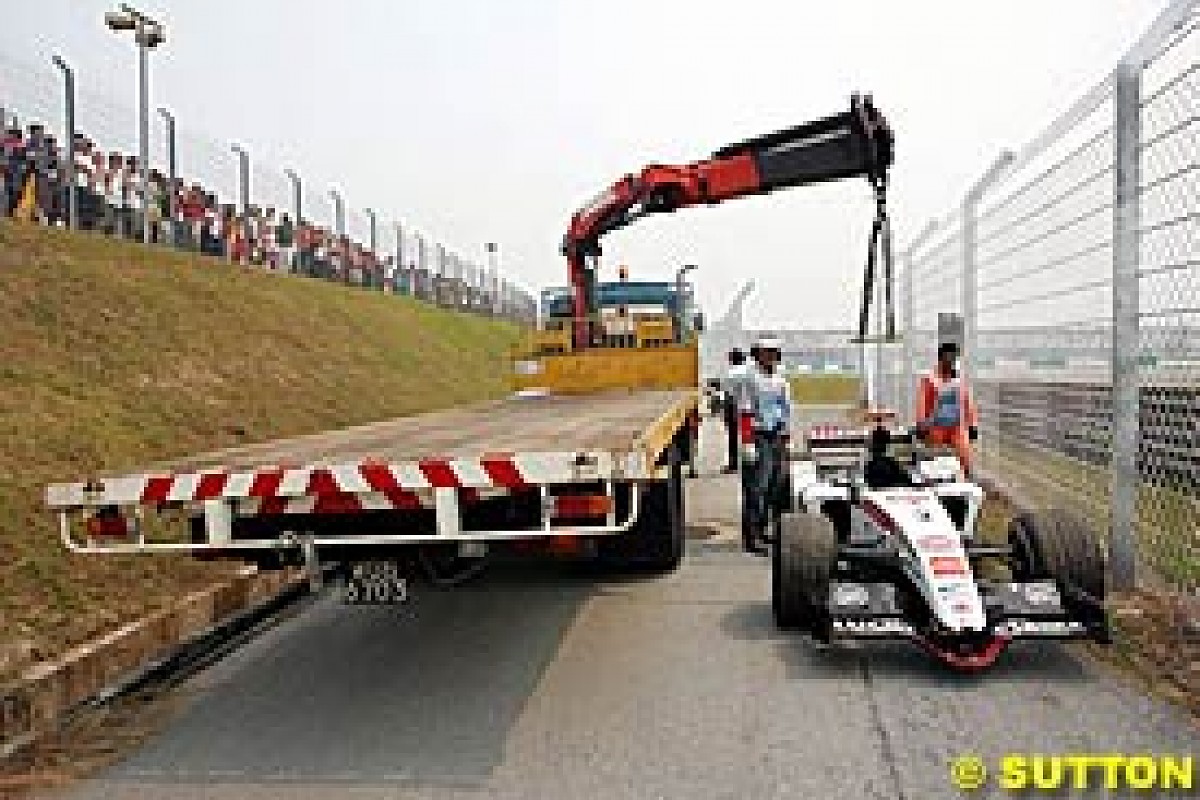 But Willis insists it was not only Button who spat swear words around the Malaysian paddock.
"The entire team had an outburst at itself at Sepang," said Willis. "They don't like it. We have got too many clever people working very hard to let ourselves down like that and BAR-Honda is a team that has very strong aspirations to win races and win Championships.
"It is a serious business we are in. You will get, every now and then, problems that will knock you off balance and it is part of the game, isn't it. You just don't have to be de-stabilised. Media, teams, everyone tries to have a go at you, but if we weren't strong then nobody would be interested. They know it is a good idea to crank the points in while they can because we will be back."
Q. So, is Button's mood...
Willis: "He is very positive, positive, obviously."
Q. He had a bit of a low during the whole Williams thing...
Willis: "He is very, very positive, very positive, very positive indeed.
Q. And then the outburst in Malaysia...
Willis: "Yeah, he knows what's behind the car and the sort of strength in depth of the team and I think that is why he was so frustrated at Sepang. He knew he had a really quick car, he was going to be on the podium, and he didn't get there, so that is bound to make somebody frustrated."
Q. A lot of people seem to see him in a sort of David Coulthard position this year, in that he is a dead cert to go off to Williams next year and so why is he going to bother to try...
Willis: "You have got two questions there that I don't think are related to each other, or one doesn't necessarily follow the other one. Whether or not he goes to Williams will be determined by the mathematics of the season at the point when he has to make a decision, and the better we do the less chance there is that he will move to Williams. Um, I cannot see any reason for him not wanting to try at all times. He is a very competitive young man and I have never had any indication that he is not committed to going out and driving as fast as he can at every race weekend. It has never crossed my mind."
Q. So the clause in his contract...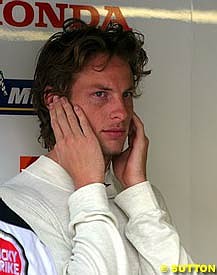 Willis: "I think it is fairly well known what options Williams have over him. It is based on where he is at in the drivers' Championship at that point with a few other clauses on top of that. Providing we can perform at a certain level, there is no question of him going to Williams. If we don't perform to a certain level then there are a number of circumstances where he can go to Williams. Whether he wants to go to Williams is another question, and I suspect that he probably at the moment doesn't. He has a team very much built around him and it is working well. But all drivers have got to think about their careers as much as the teams have got to think about theirs."
Q. He would be a big loss if he did go...
Willis: "A team is always bigger than an individual. We like having Jenson as an important part of the team, if he is not available to us in the future then we will find another driver who is."
BAR are no strangers to losing key team members, having said goodbye to former lead driver Jacques Villeneuve and original team boss Craig Pollock in recent years. Many will, probably justifiably, argue that their loss was a positive in the long run, and the team certainly came on leaps and bounds without them as they focussed on two new individuals in similar places.
Button quite quickly unsettled Villeneuve in his first year with the team in 2003 before going on to great things last year as the team's lead driver, and Richards soon stamped his authority over any remaining Pollock supporters in the ranks as the new team boss by re-shuffling the management structure and simply by getting results.
But now there is an uncertain future. In the middle of last year there was a clear direction for Button and BAR to become not only the new Schumacher and Ferrari but also for Button to become the David Beckham of Formula One. The team were, admit it or not, being built around their lead driver in both their on track activities and their off-track global marketing.
But when Honda committed to Formula One for the long-term and bought a greater share of the team it was the beginning of the end for Richards. The fight for Button spelled the end of what, from the public view at least, was almost a father-son relationship that was destined for great things, and Richards' departure at the end of the year left the ship without a recognised captain.
In stepped Nick Fry, to take over the reigns of the well-respected Richards, with Honda also taking a more active role in the team. It was all part of the plan, they insist, for Richards' Prodrive company to put BAR's house in order ready for the next phase. The recent arrival of new sporting director Gil de Ferran, too, was a scheduled process, not a knee-jerk reaction.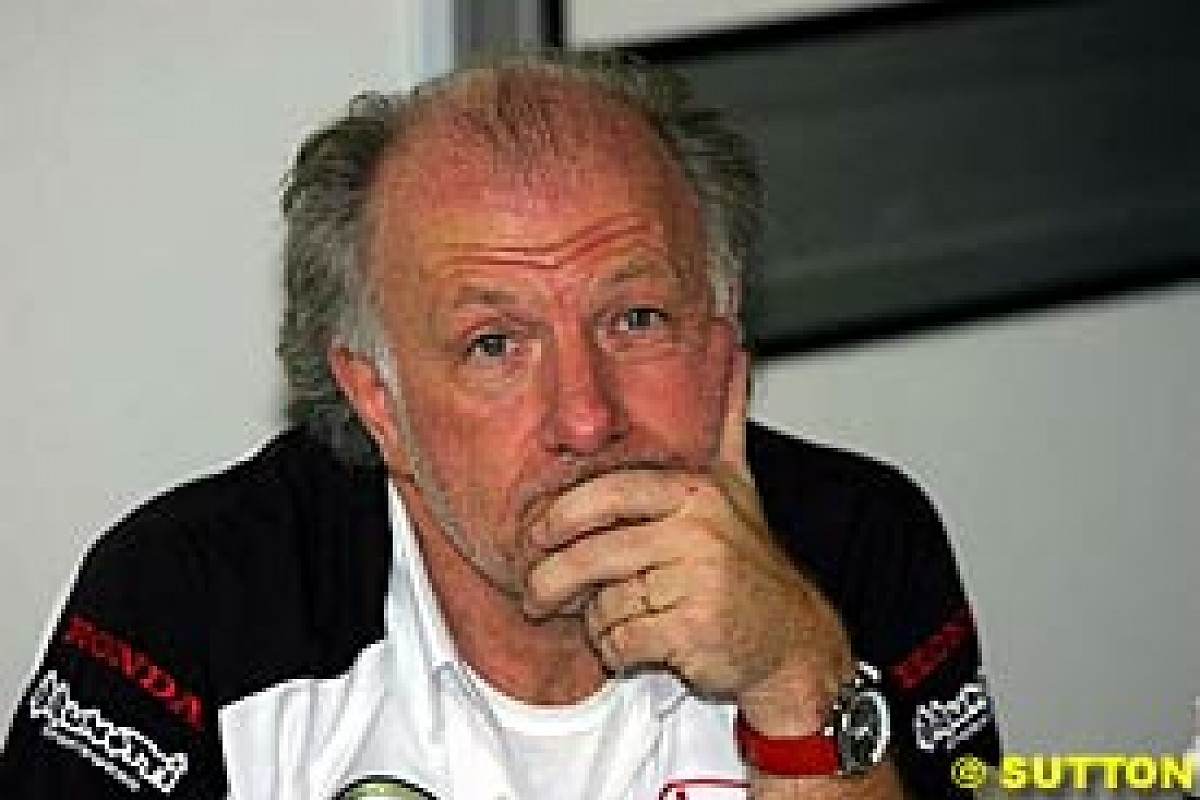 But there is no doubt that Richards' departure and the loss of his bulging amiable personality from the paddock leaves an empty space, with no more cigar-smoking celebrations at the end of races in the BAR hospitality suite, and Willis, who worked well with Richards during the building years, still struggles to pinpoint what its effect will be.
"I find it difficult to answer the question in terms of loss or gain," said Willis. "It is just clear that there was a three year period when the team needed strong, sort of, re-organisation focus skills. David had that, but it is now a different business, with the joint venture with Honda and British American Tobacco, and clearly the nature of the company changes.
"David's time was very much a transition time to turn the team round not just technically but also its whole structure, its relationship with sponsors, the organisational structure inside. That is what he did. Now the team is naturally more corporate, it needs more of a professional managerial position to run it and less of an entrepreneurial position.
"I think therefore that requires a different way of running it. So I think it is just a different phase in the company. Now, we still are in contact with David, it is just a change. I wouldn't say it is a loss. There was a clear need for what David was able to contribute to the team and what he did in turning it around, and having been turned around it now needs a different challenge."
But from the outside, it looked like the transition between the two team styles was less than smooth. Mistakes in commitment of resources and mind power in the latter part of the season, the upset of a redirection in Richards' focus from team development to driver retention, and the subsequent struggles over the winter looked like Richards' departure left confusion in the ranks.
"I don't think so at all," said Willis. "I think it is very clear what went on when the Prodrive management contract came to an end, when the joint venture started. It was quite a big change to the company in terms of its financial structure and all the rest of it, but in terms of what went on inside it has been a very small change.
"The technical teams have been steadily improving their relationships with each other, working more closely, there has not been a big change technically. I think, simply, that what you see on the outside is two things. We are not quick enough, no doubt about that, we would like to be quicker and we are going to be quicker, and we have also had pretty poor luck in the first two rounds."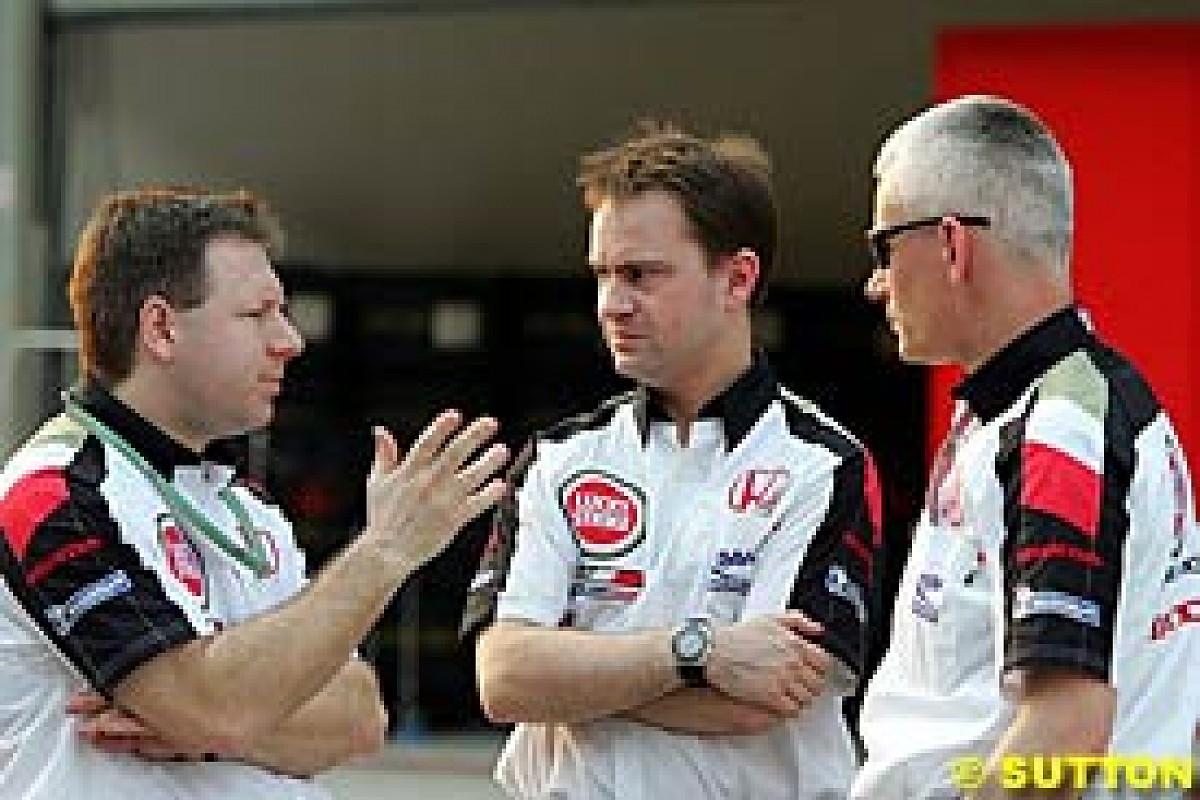 In contrast, Renault have had good luck. So, too, Toyota, to allow them to take a firm position at the top of the Championship table. They already have a strong head-start as the season moves to Europe and while Willis accepts that both teams have done an impressive job to get to the front, he believes the new qualifying regulations are contributing to create an unclear picture.
"I think the qualifying order and the aggregate qualifying time have had the effect of extending a problem race over several races, so you really can't take races in isolation any more," said Willis, who is no fan of the new system of adding times from the Saturday afternoon qualifying session to those from the Sunday morning qualifying session to create the final starting grid.
"Because of that, I think it is going to take us quite a few races to see where things are because the people who have had problems at the beginning of the season still have to recover. That is why, I think, that you see Renault in such a strong position, because they were in a strong position for the start of the season and they have maintained it, at least with one driver.
"I don't know if that is what people expected, people wanted, but that is the consequence of what I see as a mistake in the qualifying format. For instance, in Bahrain, rather than wanting to take a risk on doing well, our focus was that we could not afford to do badly so we wanted to finish in the top eight to get a decent first qualifying start position for Imola.
"Going out second and fourth in first qualifying, and having that penalty traded over to Sunday morning, one mistake will blight you for two races. That's the problem. I think last year's regulations, by round three or round four, you would see quite clearly where the Championship is going, but I think it is going to take a lot longer now.
"The Bahrain race was a character building day for us but it could have been worse. Because of the way the race went, we go into Imola starting seventh and eighth for first qualifying. It is not ideal, but I think we will just have to draw a line under it and hope that with some strong test results we can start to fight back in the first few European races.
"At the moment I would say Renault are performing where you would expect them to be and Toyota are doing better than you would expect them to be. They are certainly above what we thought they were going to be but maybe that is foolish to be surprised by because they are a team with big resources, a good wind tunnel, lots of people, a good engine, so why shouldn't they be?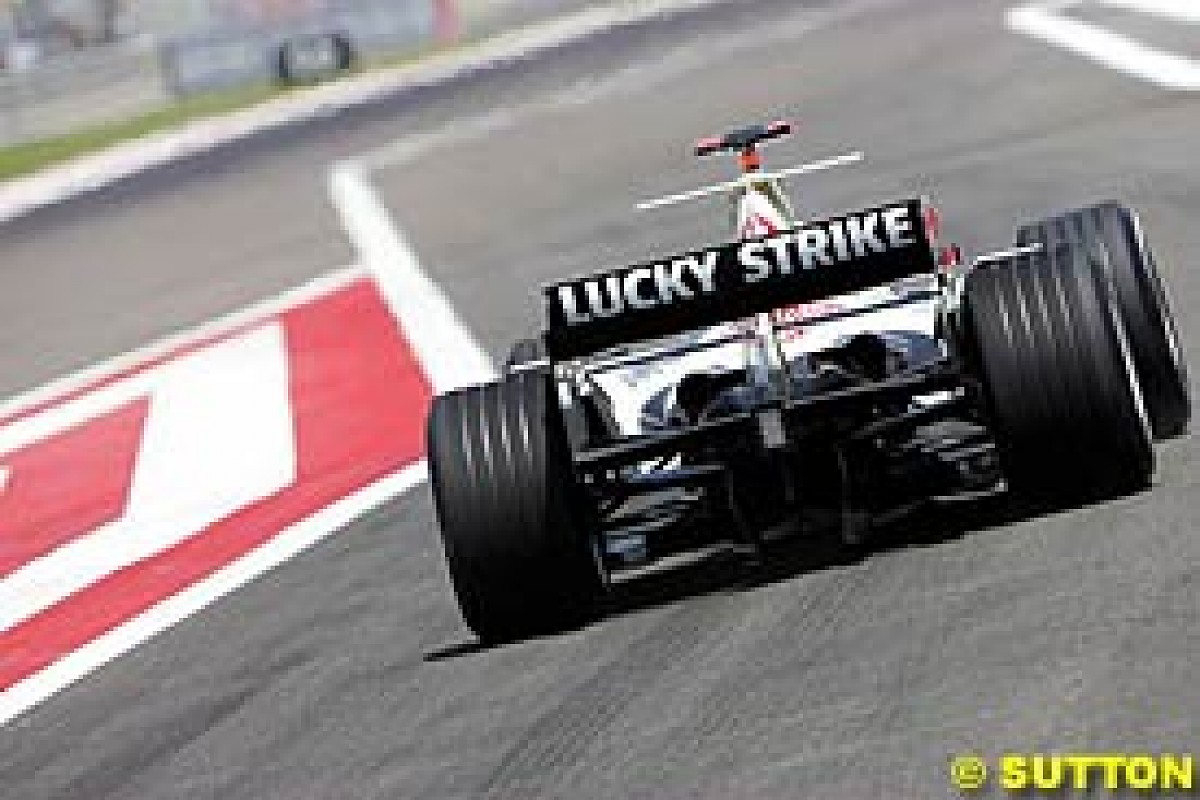 "We are doing worse than we had expected, Williams are doing worse and the one that is a little bit more puzzling is McLaren. They are a strange one because I thought they were going to be strong and they appear to be worse at the moment. We thought this season that they were going to be very strong but maybe it has just been the luck of the draw in the first few races.
"Ferrari appear to be pretty compromised by tyre performance at the moment, but it is a bit difficult to say because it is only two rounds and they had their own problems with the effect of the new qualifying regulations, so I think it is going to take a few more races to find out where they really are, especially with the new car only just arrived.
"We are very confident in our car and we just need a bit more downforce. We have done it before. I don't think we were quick enough out of the box in 2004 and we quickly updated it, put a big update kit on it for Melbourne and we were a lot happier after that, so a lot of it is about how fast you can respond, identifying where your strengths and weaknesses are and hitting the weaknesses."
It is still very early days, with 16 races still to run. This time two years ago, that would have been a full season but, of course, that fact can be seen in both a positive and negative way for BAR: They still have a full 2003-equivalent season to run, but they will be starting it with a massive points handicap on their runaway rivals.
Drawing a line under the first three races is all BAR can do, and their encouraging recent tests will give them hope that the disappointment experienced in the fly-away encounters will not continue for long. What will put a smile on the face of Willis and all at BAR is that Ferrari are in the same boat, and with a quick turnaround the title is still there for anyone's taking.