The Star of David: Deconstructing the Real DC

---
By Will Gray, England
Autosport-Atlas GP Correspondent
As much as he tries to play down the change in his attitude, David Coulthard looks like a different man. His days at McLaren now seem long gone, and the refreshing approach of his Red Bull team seems to have helped the Scot find a new lease on life that he is enjoying. Will Gray talks to Coulthard, his team boss Christian Horner, and his manager Martin Brundle about the new DC
Peeling off the corporate facia that covered and seemingly compressed him for most of his Grand Prix career appears to have done David Coulthard a world of good. Red Bull Racing, to coin a phrase, have given him wings, and his chin now bristles with a goatee while his entire body is brimming with a new easy-going confidence and a drive to deliver.
Coulthard's new team, who themselves are rapidly starting to find their own image and ethos after buying Jaguar Racing from Ford last year, have a freedom of expression like no other. It has taken BAR-Honda's 'Pure Racing' and ripped it up, taken Jordan's 2004 'Sex Pistols' image and thrown it in the bin. It has re-written the way to go racing. And, for Coulthard, it's fun.
Red Bull, run by Christian Horner, the youngest team boss in recent history, are a vibrant team who are as much chasing publicity as they are chasing results. Of course, the better the results the more the publicity can be gained passively rather than actively, but self-promotion, pure entertainment and youth culture is what the energy drinks manufacturer is all about.
Coulthard's jewellery-wearing teammates Christian Klien and Vitantonio Liuzzi fit the mould perfectly, the former listing "web surfing and going out having fun" as his interests and the latter listing "girls, music and dancing, in that order" as his hobbies. Coulthard may be from a different age, but his attraction to musical legends Oasis shows he is still with it.
"They all have an excellent relationship, but David is a bit more mature, you know," laughed Horner, who is more than two-and-a-half years younger than Coulthard. "They refer to him as Uncle David and he refers to them as The Kids! You know, they are both at different stages in their lives. David's seen it all and the other two are out there to see it at the moment."
But that is just why Red Bull owner Dietrich Mateschitz, and whoever he was steered by in the build-up to Christmas last year, chose to sign Coulthard to lead the team. Their needs and Coulthard's mature yet youthful approach made his arrival a no-brainer on all sides and the team's early results, which amount to a total of 12 points including nine from Coulthard, have clearly borne that out.
An over-analytical approach has always been one of Coulthard's weak points, possibly gleaned through years of working with obsessive McLaren boss Ron Dennis, so he is reluctant to analyse just why things are going well for him at Red Bull. With three points' finishes in three races, he must be doing something right, but when pressed, he doesn't actually seem to know what it is.
"I drink a lot of Red Bull," he joked, as he sat in the team's air-conditioned pit building in Bahrain. "No. Actually, to be honest, I don't think I have actually driven that well so far this year. I think there have been periods of doing a reasonable job but I still feel in myself that I know where I can be and I am just enjoying the journey, you know.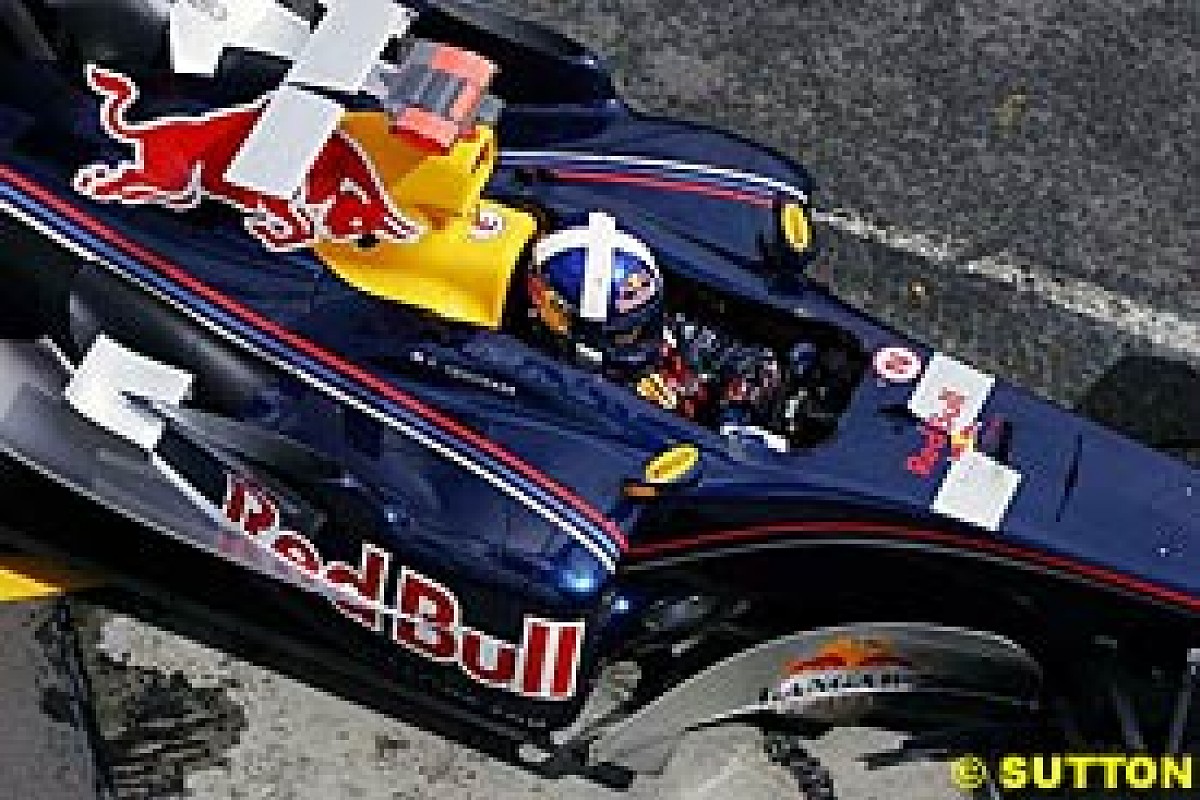 "I am not stressing not having felt like I haven't performed 100 percent so far because it is what it is. I can't change what has happened in the last Grand Prix but I can hopefully aim for the future and when it slips away from me it is gone, let it go and look to tomorrow. I am not going to hold frustrations if it doesn't work out. That is possibly what has changed in me."
In truth, Coulthard has always been easy going, and amiable man to bump into in the paddock, always happy to chat, joke and smile. He has always coped well with the pressure outside the car, only rarely mouthing off at his rivals yet still displaying a public personality in a way that his methodical, austere long-term rival Michael Schumacher has never appeared able to achieve.
It is probably no surprise that Coulthard's good times at McLaren came in the days when the team were working their way up the grid, when they were in transition from the disaster of Peugeot engines during the twilight of their association with Marlboro and building towards the title-winning connection with West and Mercedes. Easy-going racing, it seems, is Coulthard's niche.
"It's strange, because there are certain years I remember him being extremely strong against his teammates but it was in the team's coming-up years," said Horner, who has hailed Coulthard as Red Bull's biggest asset and has actually followed the Scot's career from day one as a rival, as a casual observer and now as his sporting director.
"He went to McLaren in the Marlboro car and I remember him being strong. I remember him giving away a win in Jerez having been the stronger of the two and he was stronger all year. Then when McLaren got it together he had his blip and only he can give you the reason why that was. For whatever reason it didn't come together for him at the right time to get the job done.
"In his first race for us, at Melbourne, he drove impeccably; in Malaysia he extracted the maximum out of the car, certainly during the race; and although Bahrain was a difficult weekend for him, with the car, it was a very determined race and he was there at the end to pick up another point. He is a great racer. I think he is one of the best racers out there.
"I have known David since the karting years - although he was always a couple of years ahead of me! - and his character hasn't changed at all. He is still hugely hungry and motivated and we are probably fortunate to have him at his peak. Red Bull is a smaller environment than McLaren so he is very much the number one, the lead driver here, and he is responding to that challenge."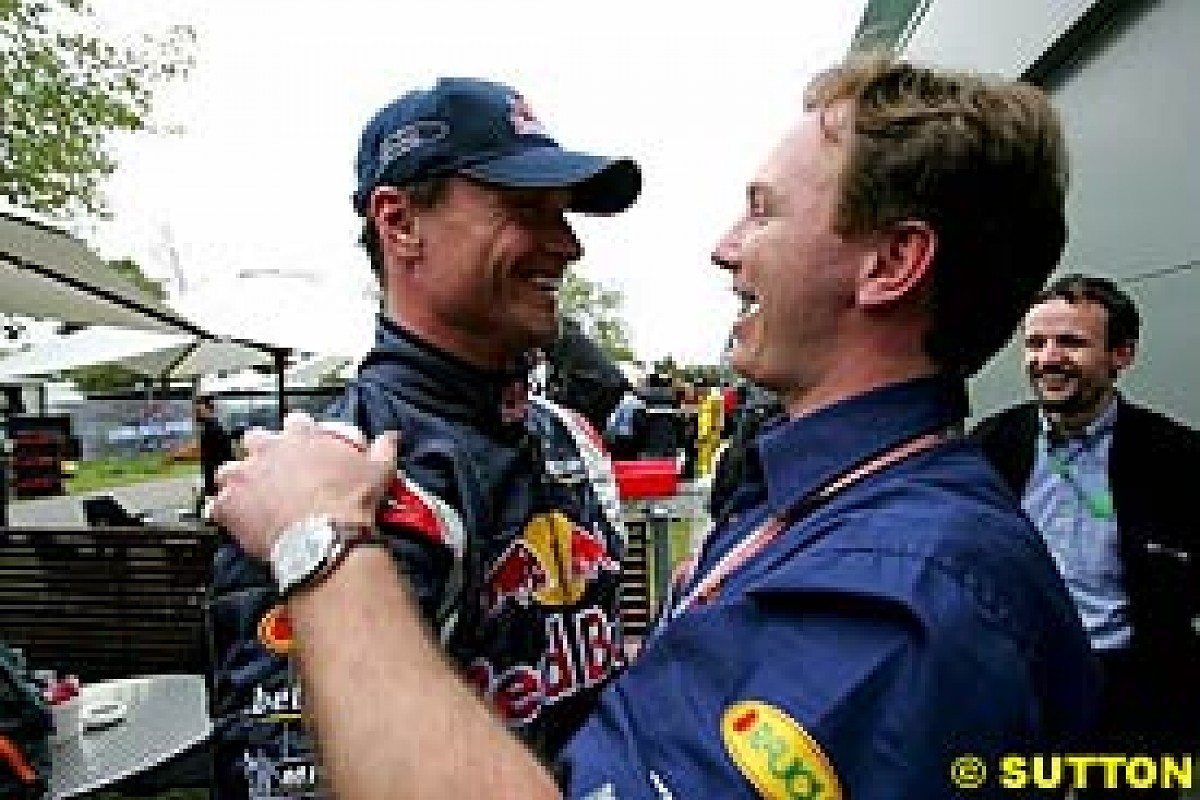 The beaming smile across Coulthard's wide jaw has become quite a fixture this season, ever since he raced at the front in Melbourne to finish fourth after good fortune had put him at the sharp end of the grid. He was able to keep the success running into Malaysia, where he finished sixth, then lady luck gave him a break in Bahrain when he snatched a point at the end.
The results have certainly improved his bank balance thanks to a 'pay-per-points' contract, the details of which, he insists, have been overly reported in a disappointingly inaccurate manner. But it is fair to suggest that a man with a chain of hotels does not need to race for money, and he is happy to testify that these days he is simply racing for fun.
"One of the newspaper guys had gone with a story saying that they had heard that I was racing for charity and that it was a pay-per-points contract," Coulthard said, responding to reports after the opening race that he had scored £500,000 for his five points. "Now, I am not going to talk about the actual details of my contract but I would just like to clarify it.
"I am paid a salary to race for this team, a salary that I find acceptable otherwise I wouldn't have signed the contract, and as with everyone in Formula One I receive a bonus for points scored. It is not unique and it was the same at McLaren. But I drive for fun and I get paid to do everything else, so my salary goes towards doing marketing and media and that sort of thing."
Coulthard is certainly no Mike Tyson, past his prime and just getting into the ring again to make more cash, but his new easy-going nature seems to suggest that results are simply a bonus. Not so, he insists. "I want to do a good job and I don't want to let anyone down any more than I want to let myself down," he said. "I am not scared of the pressure, I just take it as it is.
"I think that because the expectations were probably not that high for the team in general, you know, finishing in fourth or fifth can be thought of as a good result. The reality of that is for someone like Ferrari that would be deemed to be a failure. I know it's all relative. We are a small team and we are happy, but we still have pressure to push forward.
"It is interesting that we don't appear to have slipped back too much on a single lap since the start of the season. But I am here because I want to continue racing, I want to play my part, I want to work with the team and in many ways there is less pressure because there is less expectation, but the team obviously expect high standards and they want results."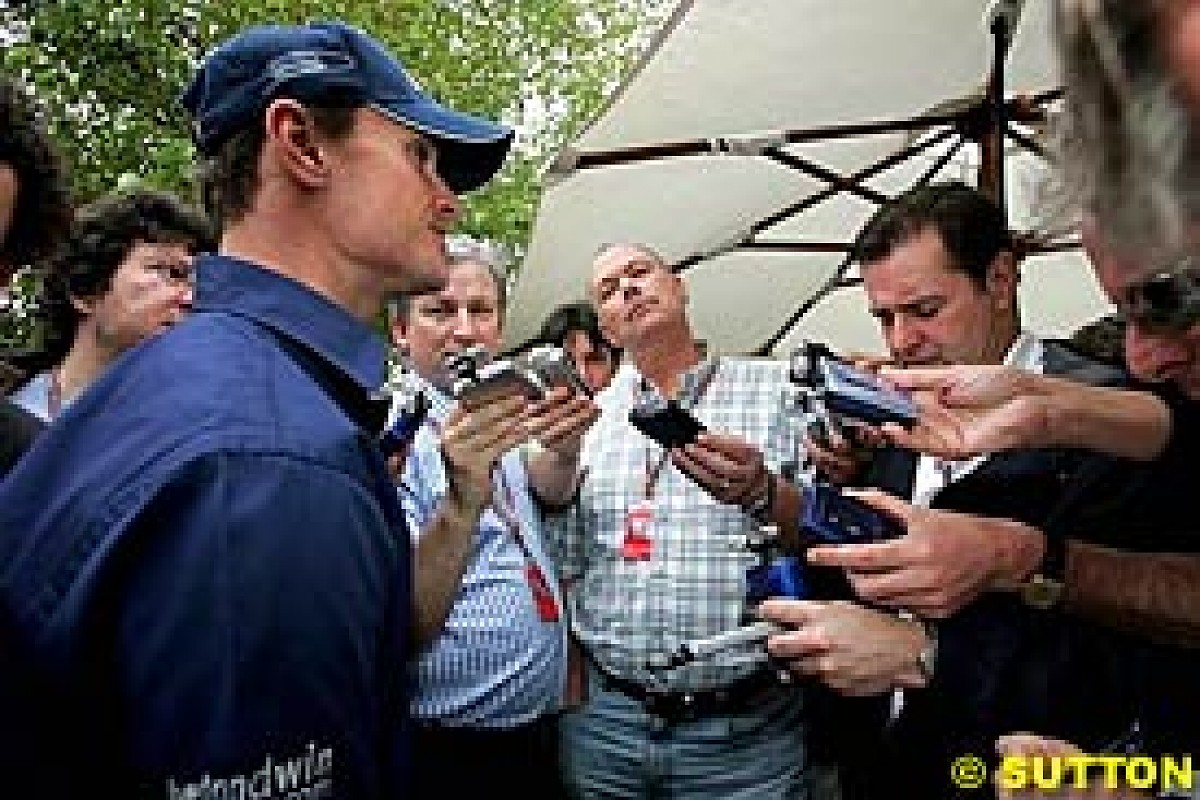 But it is in the paddock and in the outside world where the new level of expectation, and therefore the pressure, is lower. Coulthard sees the media as "a distraction" but it is clearly one that can get to him and he admitted, as he mused over his season so far, that he does not like doing interviews and sees them as just "a necessary part of my job" rather than a pleasure.
That necessary evil had a tendency to put a driver up or down depending on his form and if he lets it get to him then it can cause a root problem. Finishing fourth in the season-opening Grand Prix when he was at McLaren would have been classed at least as a disappointment if not as a failure. This year, with Red Bull, fourth place meant he was back at the top of his game.
"The bit of my job that is enjoyable is going driving, testing and racing the car," said Coulthard. "I have never particularly enjoyed talking about it because I get the opportunity to drive, because I am in a position to do it. Once I am no longer in a position to drive then talking about it will become my outlet because that is all I will have then."
Coulthard's manager, Martin Brundle, is no stranger to the media, being the face of Formula One coverage on Britain's ITV channel. His grid walks are legendary, but they are typical of the intrusive nature of the media, prodding microphones into drivers' helmets just seconds before they climb into their cars to risk their lives in the name of competition.
Brundle always pops to have a word with his driver - any publicity, after all, is good for Coulthard's stock - and he insists that there is no less pressure now than there ever was before. "I think you have always got pressure in a Formula One car," said Brundle. "You can't be off. The expectation level is high, especially for somebody with his track record.
"But I think it is now a different kind of pressure. We are all witnessing a bit more of the real DC - and that is not an anti-McLaren thing, it is just a pro-DC reality. He drove absolutely brilliantly in Australia and very solidly in Malaysia, and Bahrain was probably one of the worst weekends I have seen from him. But overall I think he is experiencing that a change is as good as a rest."
Red Bull is certainly a change, and while "working with youngsters" was added to Coulthard's CV when the then 22-year-old Kimi Raikkonen arrived to replace old Champion Mika Hakkinen at McLaren back in 2002, much has been made of the age difference between him and the key men in his new environment. But Coulthard insists you are only as old as you feel.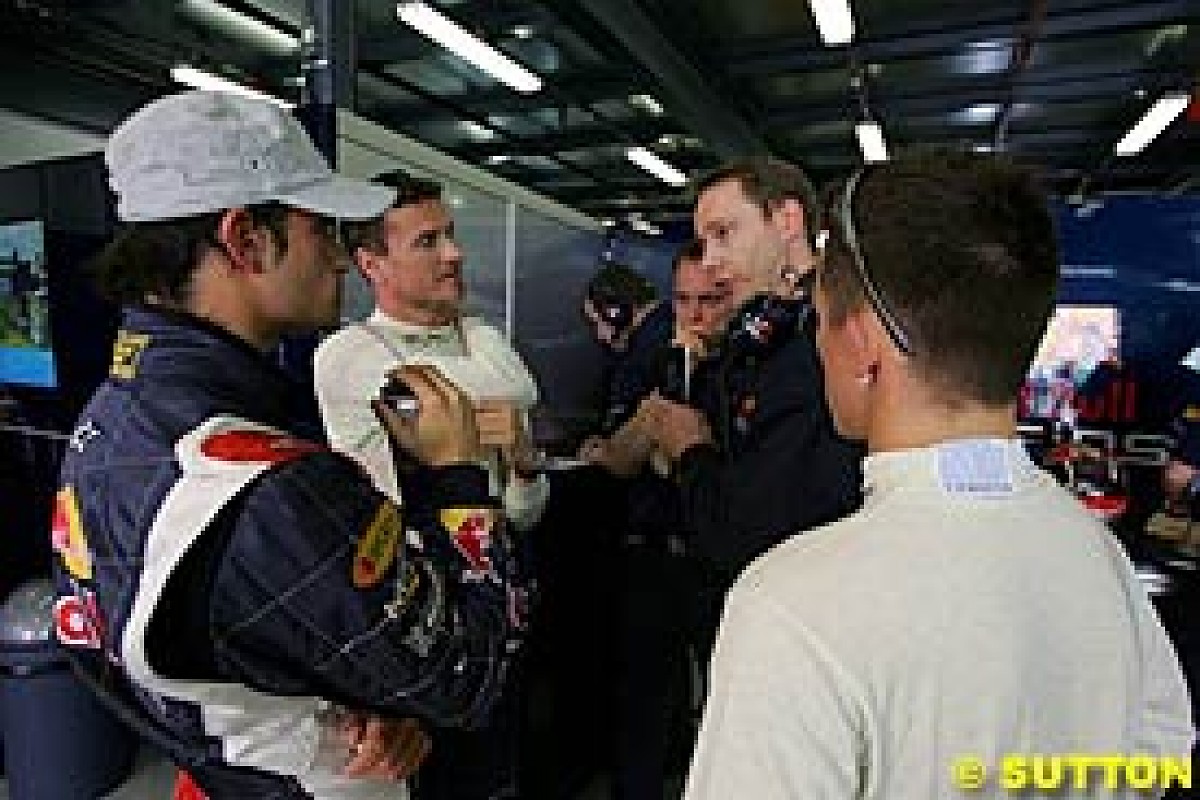 "Age is something that has been mentioned a lot more this year than any other point, but I don't feel anything, I feel me," said Coulthard. "Clearly I can see signs of physical change in that I have got greying hair and this sort of thing, so physically time stands still for no man, but I don't feel as if I am physically limited in the car.
"The reality is once you are an adult, particularly in sport, age is not a factor. You are either competitive or you are not competitive. If you are not an adult, you are in the junior formulae or the junior Olympics or whatever, the under-21 World Cup football and all that sort of thing, but once you are playing with the adults, you have got to get on with it.
"I didn't have any advantage being younger at 24, when I started in Formula One, any more than someone at 22, in Christian's case, has an advantage. In fact, I have gained a lot of experience over my career, it doesn't make you quicker but it does mean that hopefully you can lead the team in a way and make better decisions that will help the team in the future."
Horner's careful management is slowly helping siphon out that experience and Coulthard is relishing being in an environment where his voice is not only heard but reacted upon. His suggestions were taken on board and merged with the experience of many intelligent heads at McLaren, but at the more compact Red Bull outfit he has more influence.
The relationship between Coulthard, Liuzzi and Klien is important and their individual fit in the Red Bull jigsaw is something Horner is trying to develop in the early stages of the season.
"There is a nice balance that we have in the team," Horner explains, "and the three of them have a good relationship. David has worked tremendously well with them, he has been very open with them. He has got two young competitive drivers pushing him and they have learned an awesome amount from him, his experience, his approach, his whole preparation to a race weekend. It is an open relationship and he enjoys it, it is a healthy one, it is encouraging the team and I think it works very well.
Q. And what's going on with David's beard? Is that another effort to stay young?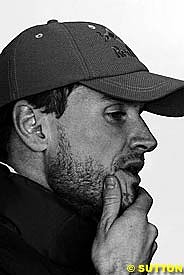 Horner: "Well, I think he grew it over winter testing and looked in the mirror and quite liked it and decided to keep it. It wasn't something he was told to do! It is not policy here that you have to have designer stubble! But, he feels comfortable with it and, you know, it's up to him!"
Q. You weren't part of his signing, as far as I know, but you have since said he is the biggest asset the team has. Why is that?
Horner: "It is clear that David is a Grand Prix winner. He has won 13 Grands Prix, been on the podium more than 50 times, he has a wealth of experience from ten years driving for two of the top teams, and for a team in its debut season David is ideal to lead the team and just put some direction in there."
Q. What specific area is he good at?
Horner: "He obviously knows, having driven a competitive car in Formula One for several years now, he knows the right routes and the wrong routes, and he is very quick to point that out, especially when he is partnered by two drivers with less experience that don't have that wealth of knowledge to draw on, he just short-cuts the problems. He is a major asset in that respect."
Q. So why is it going so well for him at the moment? Is it the release of pressure? Is it the atmosphere in the team? Is it something technical with the car?
Horner: "I think it is all kinds of things, not one single point. He is pretty confident in his surroundings, everyone is going in the same direction and to be such an important voice that people listen to and respond to is good for him. Red Bull doesn't have the corporate constraints of a motor manufacturer and David has a very strong personality. He is an entertaining guy and we just really want him to be himself, and I think he is revelling in that environment."
Horner is keen to steer away from exactly why the Red Bull environment has been cited as a main factor in re-igniting Coulthard, insisting that the Scot has "never commented anything derogatory" about his time at McLaren. But he added: "This is a much smaller team environment and I am just trying to get the right surroundings in place to extract the best from him."
But even before McLaren chose, one year early, to announce that Juan Pablo Montoya would replace Coulthard at the end of 2004, the Scot's long-term Formula One home was becoming a hard environment to deal with. "Obviously, I think he got into a rut," admitted Brundle. "A lot of people say he should have left McLaren years ago, but where to, is what I would always say.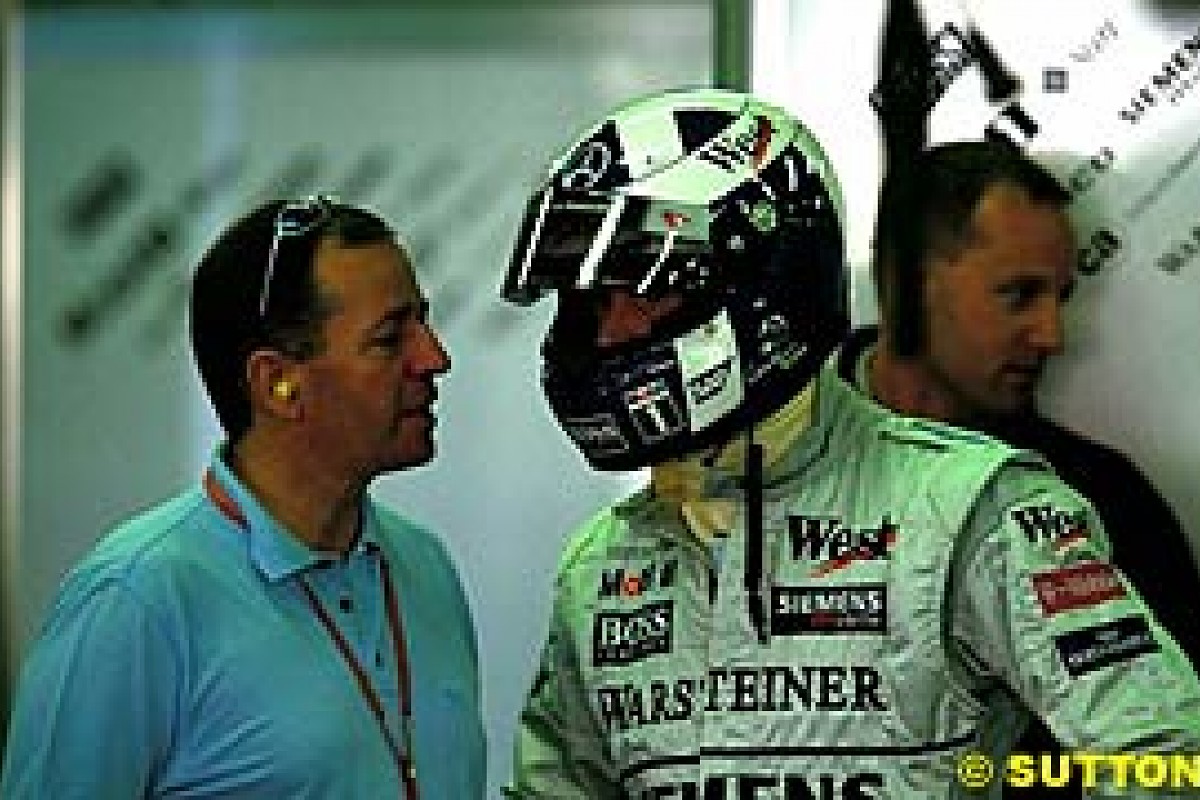 "I was a McLaren driver and I know it is a happy team, well, happy is perhaps not the right word, but they are a good bunch of guys in McLaren and they were the same with me as with DC.
"It is a bit too early to say at the moment what Red Bull is like because although it is fundamentally Jaguar, and some of the Paul Stewart Racing boys morphed into that, it is still new.
"Red Bull have turned up with a clean sheet of paper in terms of how they want to go about Grand Prix racing, and that is actually quite refreshing to see. As a Formula One journalist it is refreshing to see, and also witnessing it from the inside it is actually quite nice too. I like their lateral thinking on all they are doing.
"And I am really impressed with David because this was a gamble coming here. The team was in turmoil, wasn't it? And hindsight is a wonderful thing, you know. We stretched it long and hard over whether he should hang around and wait for somebody to hurt themselves and get a shot, but he said 'nah, I want to go racing, let's go racing'.
"So he tried the car, liked the team, signed the deal, and it has worked out very well. It is ever so easy to look smart but we put a lot of thought into it and a lot of process and a bit of brinkmanship just before Christmas, but all in all it is working beautifully. A fresh opportunity, less pressure, a new environment and a clean sheet of paper has been good for him."
Life had become stale at McLaren, even Formula One boss Bernie Ecclestone said so after Raikkonen came in and blew Coulthard away. And Coulthard became frustrated last year with people insisting that, despite being in an environment where he clearly was not wanted beyond the end of the season, he should be strong enough to give it his all at every possible opportunity.
Anyone knows it is hard to push when your efforts may not ultimately be rewarded and, reflecting on his final year at McLaren, Coulthard admitted: "Driving with a team that you know you are leaving is never good psychologically and people say 'well, you have to be mentally stronger than that'.
"Well, Michael Schumacher doesn't, Kimi doesn't, everyone else doesn't. It is too easy to say you have to be stronger than that. The mind controls the body and if you know a scenario is ultimately leading to nowhere then of course it is going to affect you in some way. Now I have been given another opportunity and I hope the team feel I am delivering."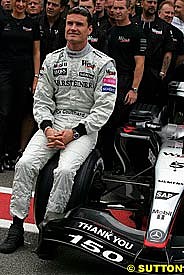 So, was the lack of demand for his vacant services at the end of last year, the constant questioning over whether he would be on the grid in 2005, something that was hard to take? "Not really. It was just the result of how the previous two seasons have gone and also just generally the way other people were moving and they had made their deals earlier.
"I have always been very open to the reality of Formula One, it is a very small group of opportunities for a large amount of drivers and I never took it for granted, the opportunity I was given, and how difficult it would be to remain on the grid. But clearly having won Grands Prix with a World Championship winning team I can make observations as to how that team operated.
"This is a very well managed and organised group of individuals and they are just poised to get a more competitive car; then they will deliver. I don't feel there is much I can contribute in telling them what to do, but having a bit more experience in tyre choice and testing things, I can see beyond the single laptime and see what it is going to be like on lap 50 and issues like that."
That is all a vital part of 'Uncle' Coulthard's role at Red Bull Racing, as is his regular appearance at the factory to discuss the team's performance and the way they can move forward. That said, some insiders are yet to be convinced of his qualities and they were aggrieved to see Klien moved aside for Liuzzi when the Austrian had clearly driven as well if not better than Coulthard.
His play-it-cool attitude of being along for the ride is not cutting it with some factions at the team but it is not for the want of trying and maybe it is just a matter of time. "He has been to the factory pretty regularly," said Horner. "Immediately after Malaysia he was there, we had a debrief after the race with all the staff and he said a few words to them then.
"He will be there between Bahrain and Imola. He is there to comment on what is going on with the car and his direction on that. We have the right people here, everyone at Red Bull has their own responsibilities. He has a very good feeling for the car and he is very articulate in the way he describes what is going on with the car, and that comes with experience."
Red Bull are, of course, not a new team deep down. They have years of experience flowing through the old Jaguar Racing outfit right back to the Paul Stewart Racing team from which they were born. Key men have been drafted in from top teams, including significantly Mark Smith, who joined, via Jordan, from Renault to bolster the design office, and there is a high baseline to work from.
Budget is also there to develop the car, thanks to the drive and ambition of Mateschitz, and his dream, ultimately, must be to promote his brand by emulating the Chelsea-like success that Russian Roman Abramovich has enjoyed in football's English Premiership. But while hard graft over the winter has ensured a good start, it will be even harder to stay where they are for the rest of the year.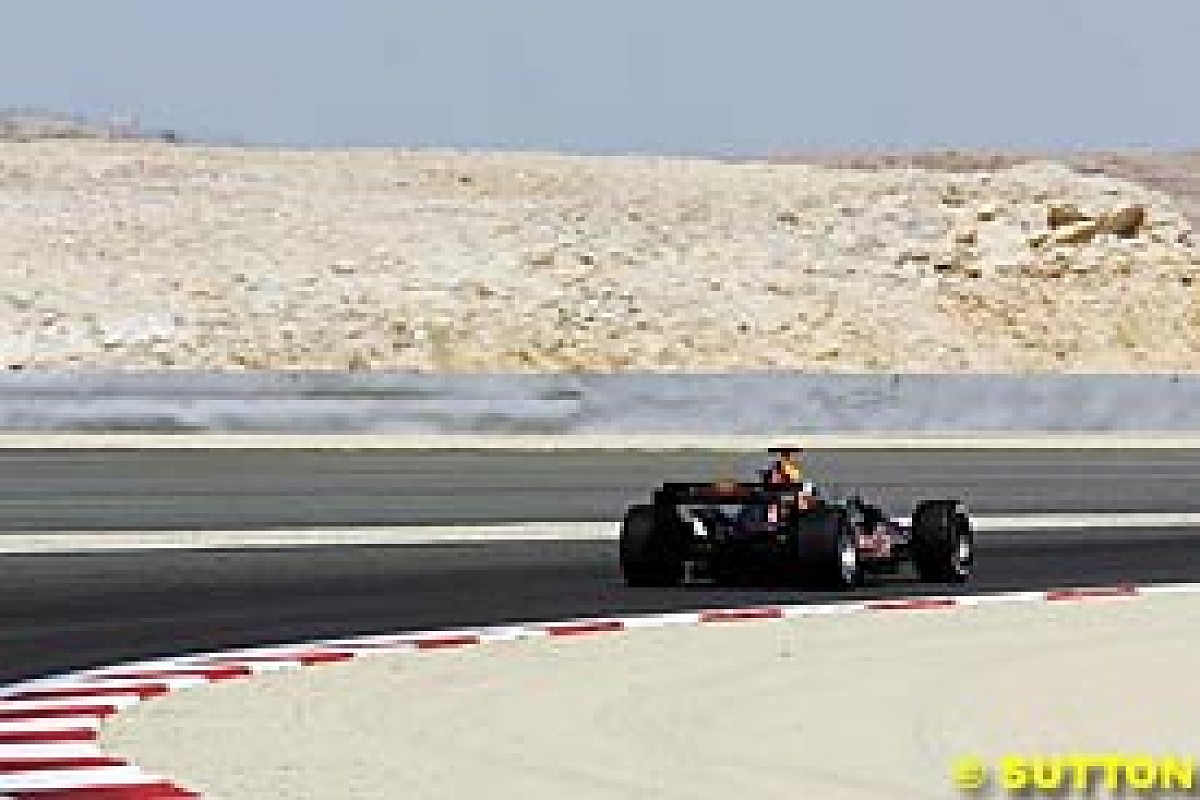 "We have some developments coming through on the car that I am sure will allow us to maintain our current competitiveness," Horner said. "We have an engine upgrade coming for Indianapolis and I think the developments we will make will allow David to have a few more Sunday afternoons like the one he had in Melbourne. That is the target to take to the end of the year."
Brundle added: "They had enough genuine pace to be on the podium in Australia but I wouldn't expect David to be scoring points at every race and neither would he. Obviously the resources are not as big as some of the other teams but they are not going to fall back into obscurity. I think it is inevitable (they will drop off) but there is no reason they cannot stay in the mix."
Being in the mix is good enough for Coulthard. In fact, it is perfect. No expectations but any surprise success will be headline news. A 14th win, even, is not out of the question. "I think it is a long shot in our current situation, but yeah, it's realistic that a victory could happen," he said. "This year? Why not? A lot of things can happen in Grand Prix racing.
"In terms of straight fight and straight performance then you obviously have to say it is unlikely because we are a factor of tenths away from the pace depending on whatever circuit it is. But Stewart Grand Prix won, so you get the odd unusual result. The most important thing we have to do now is develop this car and see the team working in harmony."
So, is this his rebirth, or is it the twilight of his career? "He is only 34 years of age," said Horner. "Damon Hill came in pretty much at that age and then became World Champion. David has a tremendous amount of experience and he still has a great deal of speed so I think there is quite a lot left in him, to be honest. He is tremendously fit and he takes the job extremely seriously.
"Can we make him a Champion? Well, the team is developing, we have some solid foundations to take into the future and we know which direction we are heading. I think David can go wheel-to-wheel with anybody and I have no doubt he would prefer to be up the front. The fire is still burning, but inevitably that will take time because there are some strong opponents out there."
If reports from Italy's Gazzetta dello Sport are to be believed, Red Bull have already made the decision to finally put Coulthard on the Grand Prix scrapheap when this season reaches a close, preferring to fully install their young-gun line-up of Klien and Liuzzi after using the ageing Scot as a vessel to transfer insight from a front-running team into their make-up.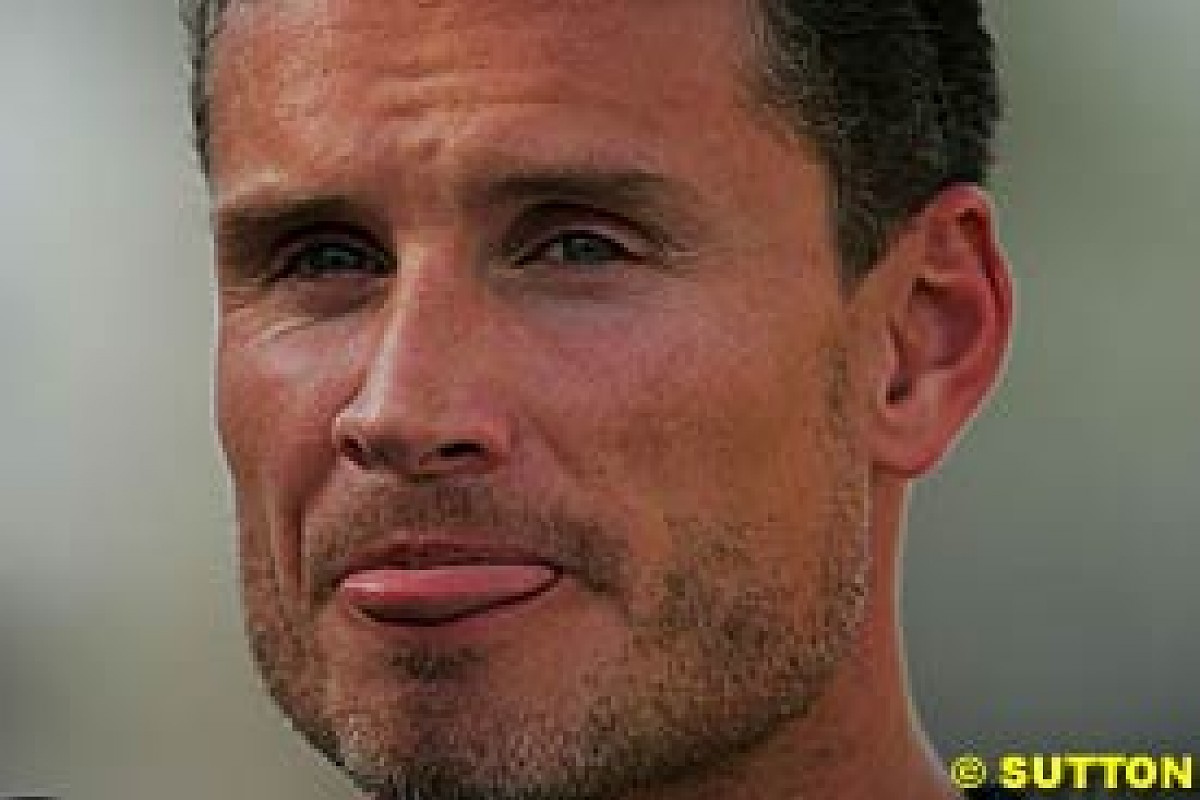 That would put him in the same situation as last year, but this time there are no plans for Coulthard's team to reveal their hand early enough to destabilise him. Horner, joking the rumours aside, said: "That reliable Italian newspaper! There is no point thinking about drivers for next year until at least the second half of the season."
That is ideal, because, for now, Coulthard is happy to think one race at a time, work hard, party hard with his younger teammates, and, most of all, just sit back and enjoy the Red Bull Ride. "I think I probably drink more Red Bull than the rest of the drivers put together," he said. "But it is probably in a nightclub somewhere, which obviously is not promoting the Vodka aspect...
"Red Bull clearly does things differently. McLaren want to appear different, they have to stand out in the paddock, so they have gone with those bright colours," he added, admitting he preferred his Red Bull blue to the glowing orange now sported at McLaren.
"But, you know, what you wear doesn't ultimately matter. The clothes don't make the man." No, it's probably the Red Bull.