The 2005 Malaysian GP Review

---
By Will Gray, England
Autosport-Atlas GP Correspondent
Second race, second Renault victory. This time, however, it was Fernando Alonso who, like Giancarlo Fisichella had done in Australia, dominated the Malaysian Grand Prix weekend from start to finish. Ferrari, meanwhile, continued to struggle. Will Gray reviews the events and results from round two of the 2005 season
If Giancarlo Fisichella's victory in Australia's traditionally unpredictable season-opening event earlier this month gave a strong hint that Renault could be frontrunners this season, Fernando Alonso's win in Malaysia made it blindingly obvious. This year's Renault is World Champion material.
Alonso, like Fisichella in Melbourne, started from pole position after sitting out much of the early practice sessions. He set a blistering pace once he got on track for qualifying and his car seemed so perfect for its environment he was able to cruise to victory without a worry.
He would probably have hardly broken sweat had his drinks bottle not failed to leave him weary and weak by the finish. His personal persistence in racing through the pain barrier was the stuff of champions and it is already clear that he knows the name of the game is consistency. And he has that in abundance.
Indeed, in Malaysia he and Renault proved conclusively that they are flying sky high and can already confidently boast that they are in with a shot of the title. Not so Ferrari, who have dropped to earth with a bump. Australia was a bad start, but their shocking slump got even worse last weekend.
It was a bad weekend for Michael Schumacher, who was forced to apologise to Nick Heidfeld for crashing into him in Australia and who, after uttering the bizarre words "I think I could have passed the Red Bull" at the first race was left to ponder just why he couldn't achieve that feat this time around.
He finished seventh and he doesn't normally do seventh. His reactions have become not excuses but more hard-thought considerations as to why he was so slow, speaking his mind to the media as he ponders just how he can repair his sinking ship and steer it back on course.
There is no escaping it, things are bad for the men from Maranello. Rubens Barrichello declared his car un-driveable and put the perfectly healthy machine back in its garage before the end of the race because his Bridgestone tyres could offer him no grip. But it is more than just tyres that are sliding away.
The team know they must halt their fall and only a fool would bet against them introducing their still unproven new F2005 machine at the next race in Bahrain - it is all well and good to want to get to the finish, but what is the point in trying if you are only going to pick up the scraps when you get there?
It's all or nothing for Ferrari now. A cocky call to take on their rivals' new machines with a modified version of their F2004 has backfired and they now realise that perhaps they were a little too sure of themselves. They always said it could turn in an instant, but nobody could have predicted this.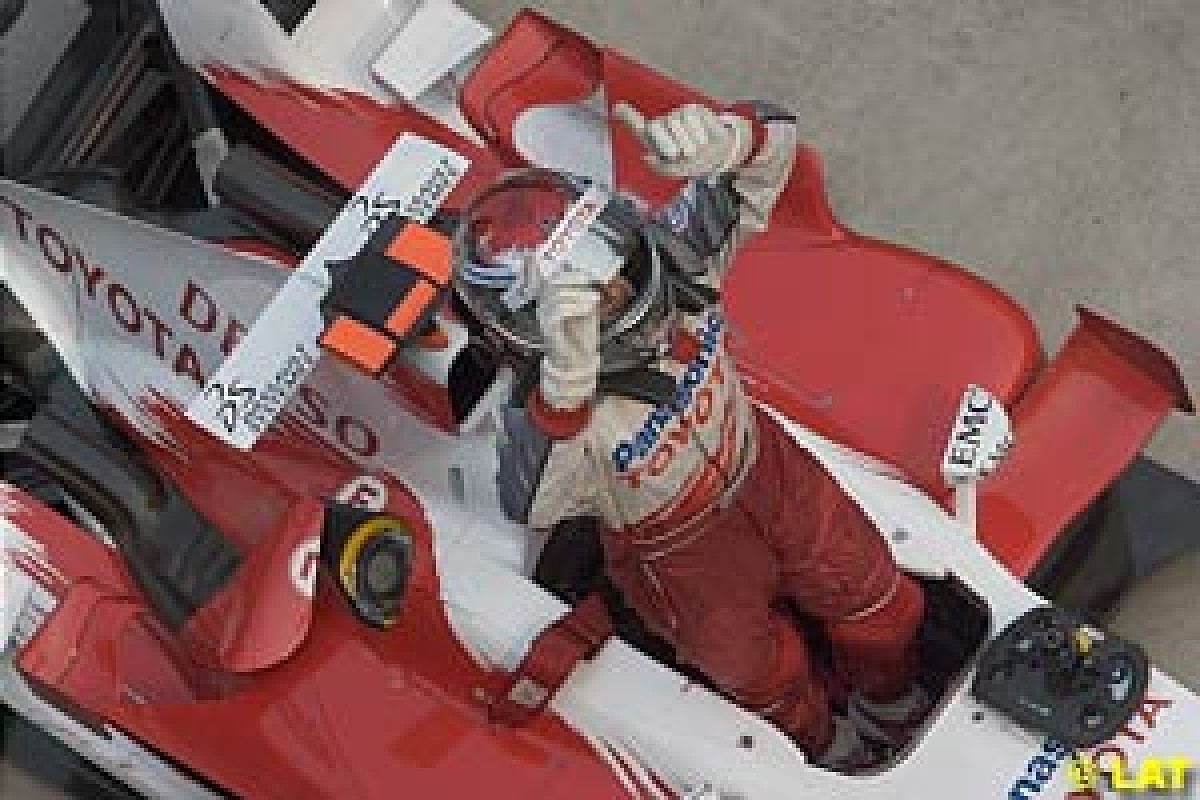 And then there is Toyota. Who would have thought when Jarno Trulli lined up on the grid that his car would finish in the place it started? And when technical director Mike Gascoyne said he would be surprised if the team failed to win this season how many people thought his big head was in the clouds?
It is still hard to believe, but like Renault, Trulli has proved that Toyota are actually rightfully there, out at the front of the pack, on merit and not by fluke. He has started both races from the front this season and while tyre problems stopped him in Australia there were no such maladies this time around.
Toyota's rise, then, is as incredible as Ferrari's slump, but both have been proved fact in the opening two races. Things can, of course, change very quickly again, but the step change made at the start of the season is usually the biggest and both Renault and Toyota seem to have come up trumps.
That step change, of course, is still to come for Ferrari. And while the champions are struggling now, Renault know they must make the most of their early season dominance. Toyota, too, and surprise package Red Bull. Alonso said it himself: Ferrari will be back. It is just a matter of how quickly.
The new qualifying format was finally given a real chance to show what it could do with a dry track for both sessions and although the top three positions did not change there was no shortage of pressure on the leading drivers to balance speed and security on their final flying laps.
Alonso did it perfectly to extend his slight advantage over second place Trulli and secure pole position while the Red Bull Racing drivers were the biggest winners as they opted to drop their fuel levels for the race in a bid to boost their poor grid positions from the Friday session.
The jury is still out on the format, the timing and the move to aggregate times - it is still confusing to see laptimes of more than two minutes deciding the grid positions - but at least this time there was a point to the second session and it offered a pointer towards possible race tactics.
The Grid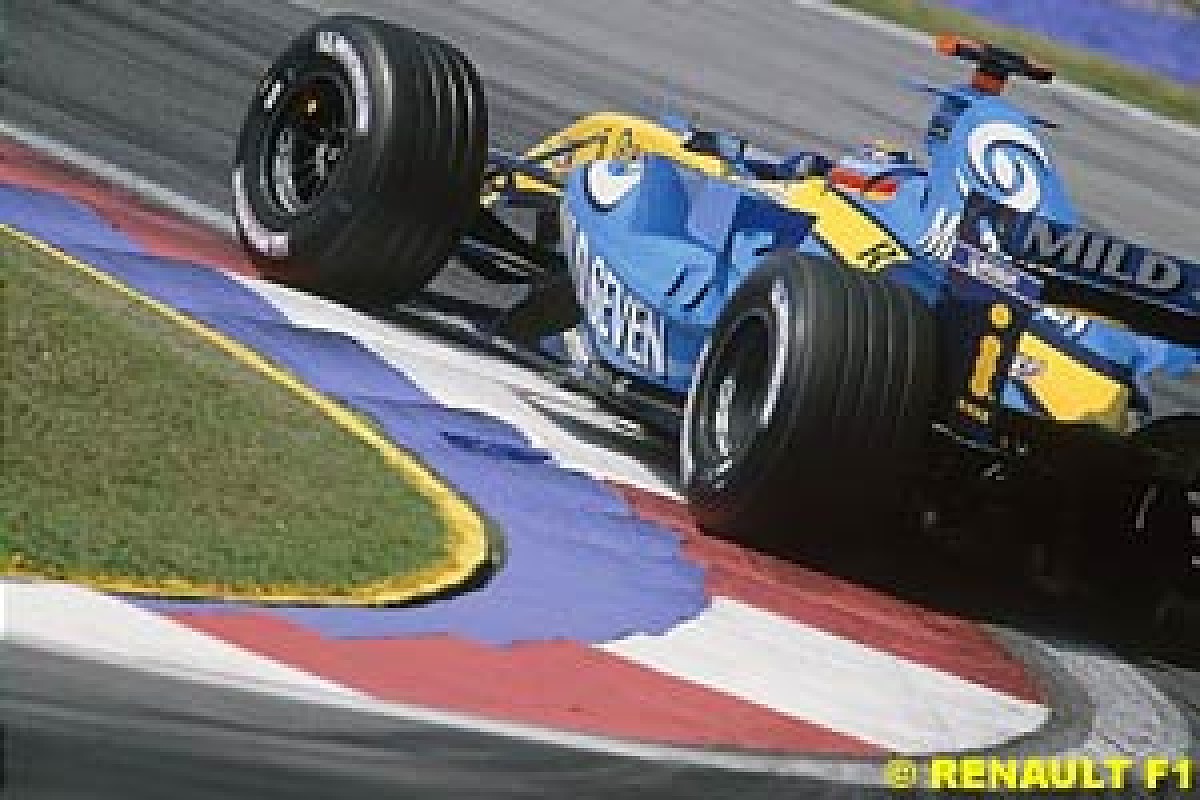 1. Fernando Alonso (Renault)
3:07.672 First session 1:32.582; Second session 1:35.090
Impeccable. Alonso did everything right. He limited his practice running but was still on the pace when it mattered. His first flying lap put him ahead of his biggest opponent, his teammate Fisichella, and his second, helped by the knowledge of second-placed Trulli's time, ensured he did enough to stay ahead of the Toyota.
2. Jarno Trulli (Toyota)
3:07.925 First session: 1:32.672; Second session 1:35.253
Trulli's time in the first session set tongues wagging but Fisichella talked confidently of passing the Toyota on aggregate after the second session. Instead, Trulli extended his advantage but the general opinion was still that the Toyota was fuelled light and would stop early. Not so. Good job.
3. Giancarlo Fisichella
(Renault) 3:08.448 First session: 1:32.765; Second session 1:35.683
Fisichella simply was not fast enough in the first session despite going out last and not only did he fail to beat his teammate he was also slower than Trulli. A lack of preparation, similar to Alonso, will not have helped and his confidence in overhauling Trulli in the second session proved unfounded. After excelling in Australia, he was second best this time around.
4. Mark Webber (Williams)
3:08.904 First session 1:33.204; Second session 1:35.700
It looks as though Webber really is a good driver. Rapidly wiping out any question marks over his much talked about but as yet unproven talents when running at the front, his performances in qualifying were impressive. His first lap was not hugely strong, but his second jumped him two places past Ralf Schumacher and Raikkonen. And that in a car that is not supposed to be much good.
5. Ralf Schumacher (Toyota)
3:09.007 First session: 1:33.106; Second session 1:35.901
Simply not as fast as his teammate Trulli, Schumacher finished his first lap almost half a second slower than the lead Toyota and his second was even more off the required pace. It was still good enough for fifth, but his performances clearly put Trulli in the number one seat.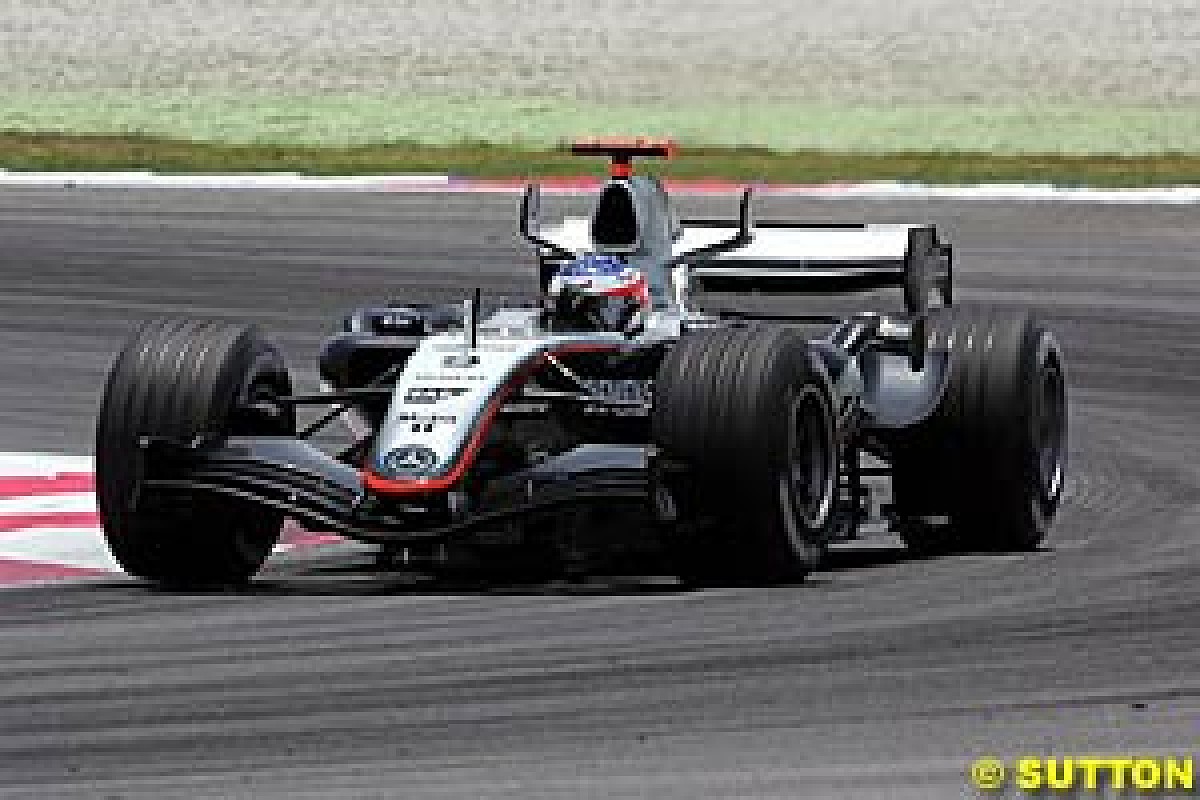 6. Kimi Raikkonen (McLaren)
3:09.483 First session 1:32.839; Second session 1:36.644
It is not yet clear what is happening at McLaren. The expected Championship challenges are yet to shine and while Raikkonen's first lap was good enough to put him in the kind of place he would be expecting in fourth his second saw him drop two places and lose out to a Toyota and a Williams. Surprising and disappointing.
7. Christian Klien (Red Bull Racing)
3:09.589 First session 1:33.724; Second session 1:35.865
Once again Klien beat his teammate in first qualifying, although both Red Bulls were slower than expected based on their Australian performance. The team ran with a light fuel load to jump some positions on Sunday morning and this time, unlike in Melbourne, Klien set a second lap that kept him ahead of Coulthard.
8. David Coulthard (Red Bull Racing)
3:09.700 First session 1:33.809; Second session 1:35.891
The two Red Bull drivers were within eight hundredths of a second and three hundredths of a second of each other in the two sessions. Coulthard finished 11th fastest in the first session and, like his teammate Klien, he jumped three places on the grid in the second run but could not jump past the Austrian.
9. Jenson Button (BAR-Honda)
3:09.832 First session 1:33.616; Second session 1:36.216
Times are hard for Britain's golden boy. After failing to get away from BAR he is stuck with them for this season and he headed to the place where he scored his first Formula One podium last year knowing that he would be off the pace this time around. Sure enough, he finished ninth fastest in the first session and eighth fastest in the second so could only manage ninth on the grid.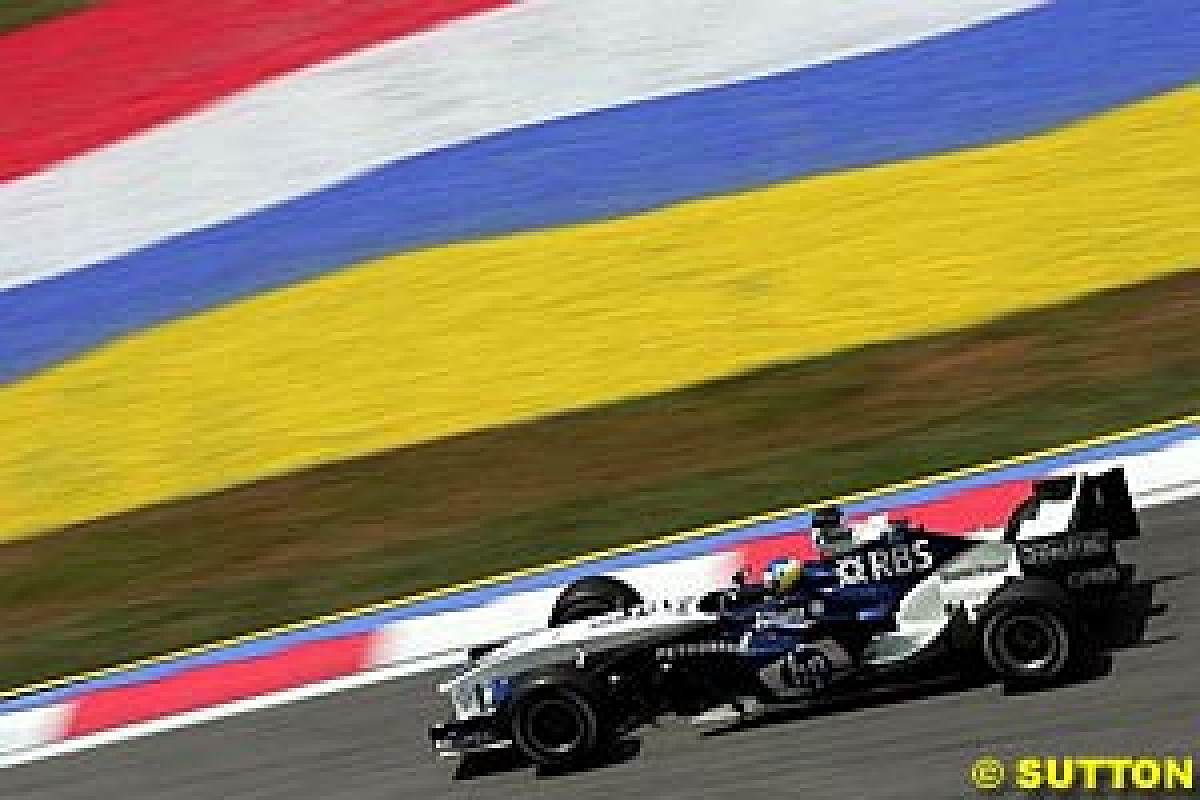 10. Nick Heidfeld (Williams)
3:09.917 First session 1:33.464; Second session 1:36.453
It is hard to keep up with Webber but Heidfeld failed to get close to his teammate and allowed the Australian to stamp down his position as team leader. He was only two tenths of a second slower in the first session but seven tenths slower in the second and that cost him two places on the grid to put him six back from Webber.
11. Juan Pablo Montoya (McLaren)
3:10.090 First session 1:33.333; Second session 1:36.757
When testing the new McLaren in the winter, Montoya could not have expected to be on a grid staring at the back of a car from his old team Williams but that is where he ended up after some ragged laps in qualifying. He was one of the biggest losers in the second session and he ended the two runs almost 2.5 seconds slower than the aggregated pole position time.
12. Rubens Barrichello (Ferrari)
3:11.502 First session 1:34.162; Second session 1:37.340
Barrichello had rain to blame for qualifying in the mid grid in Australia but there were no such excuses this time as his Ferrari simply struggled for pace. The tyres seemed to be unable to provide grip for the hot Sepang surface and he finished 14th in the first run. He went better in the second, though, and will have been satisfied to jump past teammate Schumacher on the grid positions.
13. Michael Schumacher (Ferrari)
3:11.633 First session 1:34.072; Second session 1:37.561
It must be confusing for Schumacher to be down in unlucky 13th but he is going to have to get used to it for now, because that appears to be about where his pace will put him. He insisted there was some race tactics in play that put him down the order but he still only finished 12th fastest on low fuel and dropped a place with a 14th fastest time on the Sunday morning. He was almost four seconds off the aggregate pace. Astonishing.
14. Felipe Massa (Sauber)
3:11.884 First session 1:34.151; Second session 1:37.733
The Sauber was a bit of a dog around the Sepang circuit, a place where the team wanted to put on a good display for their Malaysian sponsors, and Massa finished 13th in the first session. He also failed to shine in the second and had to settle for 14th place. With Villeneuve on the ropes, Massa is fast becoming the team leader at Sauber but there seems to be a big question mark over his ability to handle it.
15. Anthony Davidson (BAR-Honda)
3:11.890 First session 1:34.866; Second session 1:37.024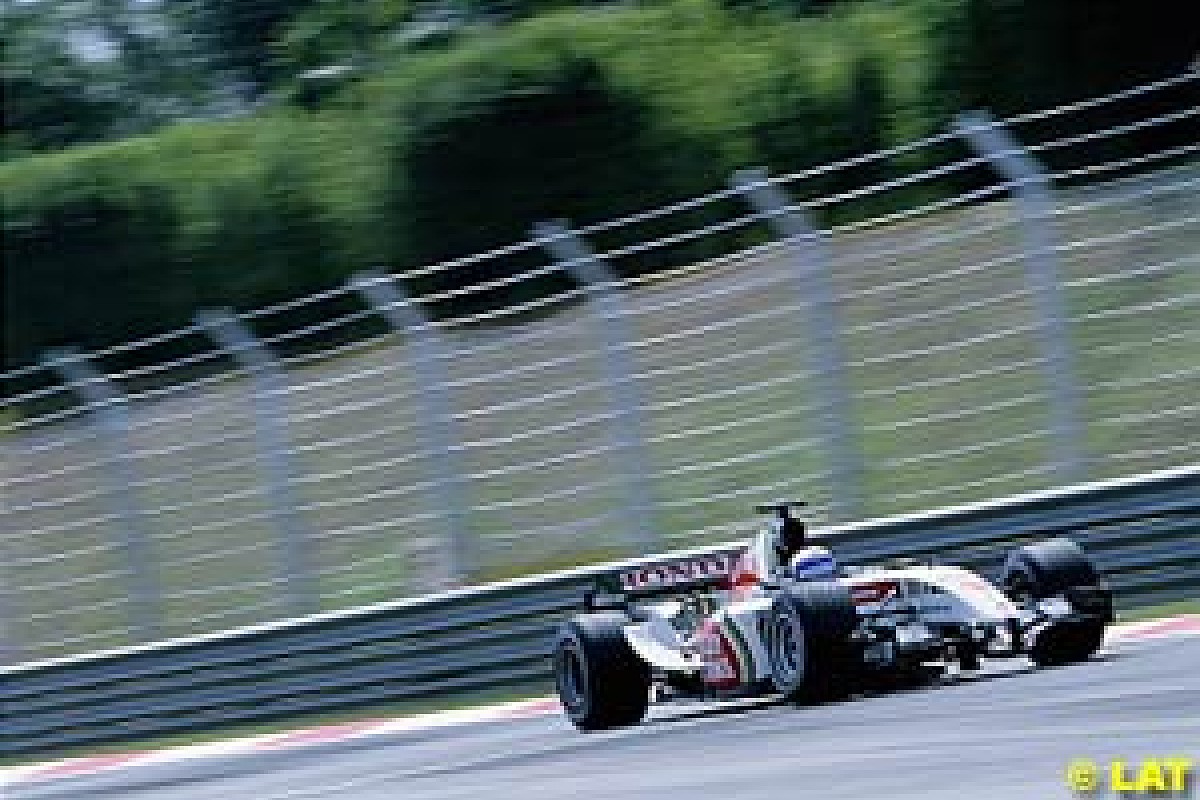 Thrown into the race on Saturday morning after Takuma Sato was taken ill, Davidson, who is no longer allowed to test on a Friday because BAR finished second in the Championship last year, had just two 45-minute sessions to prepare for his run. No excuses, though, he knows the track from testing in Sepang last year, he knows the car from testing it everywhere this year, but he was more than a second off teammate Button's pace. He closed to within eighth tenths in the second session but he will not have been happy with his performance.
16. Jacques Villeneuve (Sauber)
3:12.995 First session 1:34.887; Second session 1:38.108
The former World Champion is under pressure. He fielded questions about plans to replace him with Davidson when he arrived, then admitted that modern technology has left him baffled as to how to handle the car. He proved as much in the first session, finishing more than two seconds off the pace and eight tenths slower than Massa, then finished three seconds off the pace in the second. The self-confessed computer game kid had better start learning the new technology.
17. Narain Karthikeyan (Jordan)
3:17.656 First session 1:37.806; Second session 1:39.850
Carrying the hopes of a nation on his shoulders, Karthikeyan is doing impressively well considering the car he is driving. Or is he? He was three seconds slower than the car in front in the first session and finished almost ten seconds off the aggregate pace. He still beat his teammate Monteiro and the two Minardi rookies, but maybe they are no benchmark to use.
18. Tiago Monteiro (Jordan) 3:17.962 First session 1:37.856; Second session 1:40.106
Monteiro is still learning the ropes in Formula One and it shows. Despite his experience he is still around two or three tenths of a second slower than Karthikeyan, who it is fair to say may not be the best man to compare to, and he did nothing to suggest Jordan can do anything to move up the grid.
19. Patrick Friesacher (Minardi)
3:21.186 First session 1:39.268; Second session 1:41.918
That Minardi's drivers manage to go on, driving a car that was designed several years ago with a botched modification to bring it up to 2005 standard, is impressive in itself. Friesacher was more than six seconds slower in both sessions and simply going through the motions. He is fast realising Formula One is not so glamorous after all.
20. Christijan Albers (Minardi)
3:23.001 First session 1:40.432; Second session 1:42.569
The DTM proved a successful proving ground for Albers so the big question is why is he struggling to keep in touch with Friesacher. Having beaten some top ex-Formula One men in the German series he has not got a handle on Formula One, despite several tests over the years, and he was more than 15 seconds off the aggregate pace. Minardi are painfully slow, and it is not looking good at the blunt end of the grid.
The Race
The cars lined up on the grid in temperatures of 34 degrees Celsius, with Michelin tyre boss Pierre Dupasquier pointing towards the hottest race ever if the track temperature reached 58 degrees. But overcast skies ensured the heat would not reach the levels that had initially been anticipated.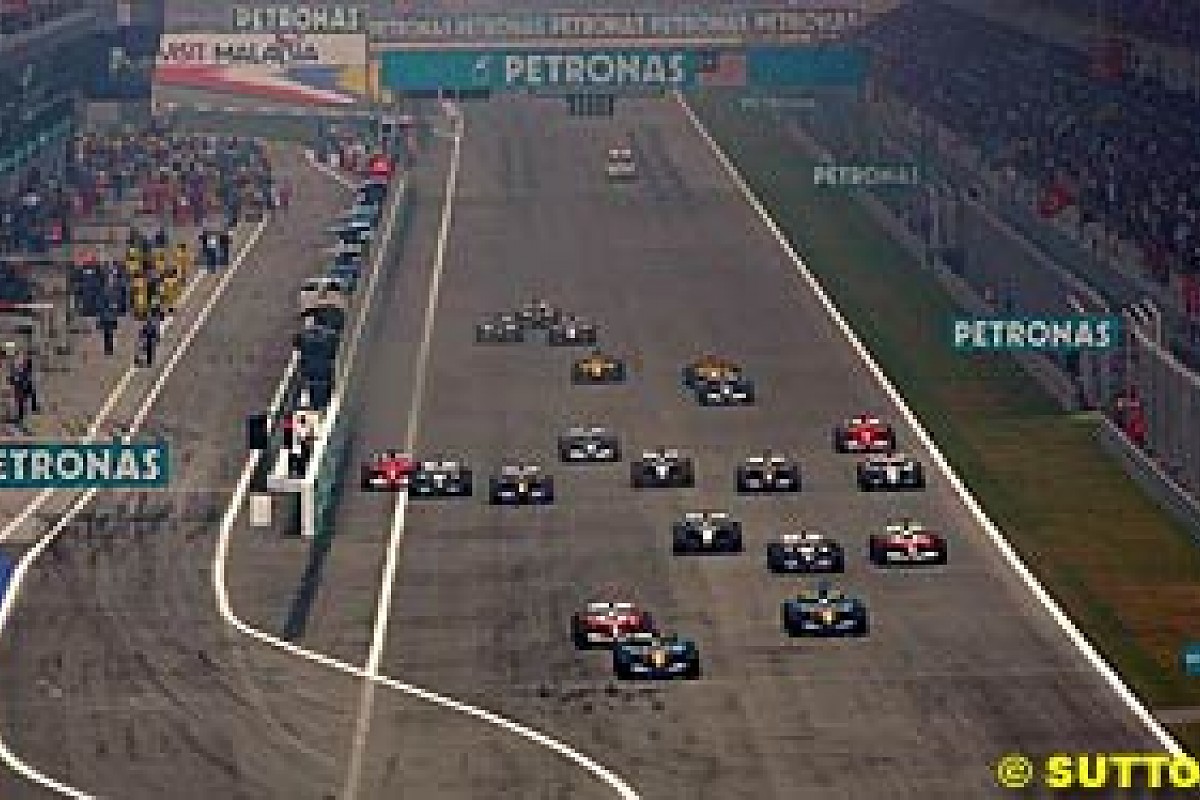 It was Alonso, as expected, who made the fastest start to shoot into the lead. Renault's fast starting system has long been the best on the grid but Trulli managed to virtually match the French cars off the line, probably thanks to some knowledge transfer from Toyota's former Renault technical chief Mike Gascoyne.
Trulli's strong start prevented Fisichella, in the second Renault, from passing the Toyota so he slotted into third and fully expected his teammate Alonso to start heading into the distance while the Toyota driver toured at a slower pace and held up a train of cars behind it. Not so.
The rest of the field piled into the first corner with cars jinking in all directions but they all came out the other side unharmed and most positions stayed the same as the grid, with Webber fourth, Ralf Schumacher fifth and Raikkonen sixth.
Button and Heidfeld made storming starts to move up to seventh and eight respectively as the Red Bull Racing cars of Coulthard and the very slow starting Klien dropped back to the bottom of the top ten. Massa passed Schumacher to put the World Champion down in 14th.
Disaster struck BAR on lap two, as if in some way the Gods were handing out retribution for their 'unsporting' interpretation of the new engine change rules that allowed them to put new units in the back of their cars for this Grand Prix weekend. Both engines blew on lap two and Button exploded with rage soon after.
"It is not good enough," he said. "Compared to last year it looks like we have made a huge step back in every area at the moment. We are quick, that's the annoying thing, we had the pace and we had a good strategy. This has to change and the thing is I know it is not going to change soon. I am very angry."
Davidson, who twice turned down the chance of racing to stay with BAR this season, was more philosophical about his missed chance but all humbled Honda boss Shuhei Nakamoto could say was: "We're sorry to the team and drivers about the engine problems. We will have countermeasures in place for the next race."
Minardi driver Patrick Friesacher went out on the same lap, his retirement making little relevance to the race other than removing a potential obstacle form the path of the leaders before they came upon him. He spun at turn one and ended up beached in the gravel trap.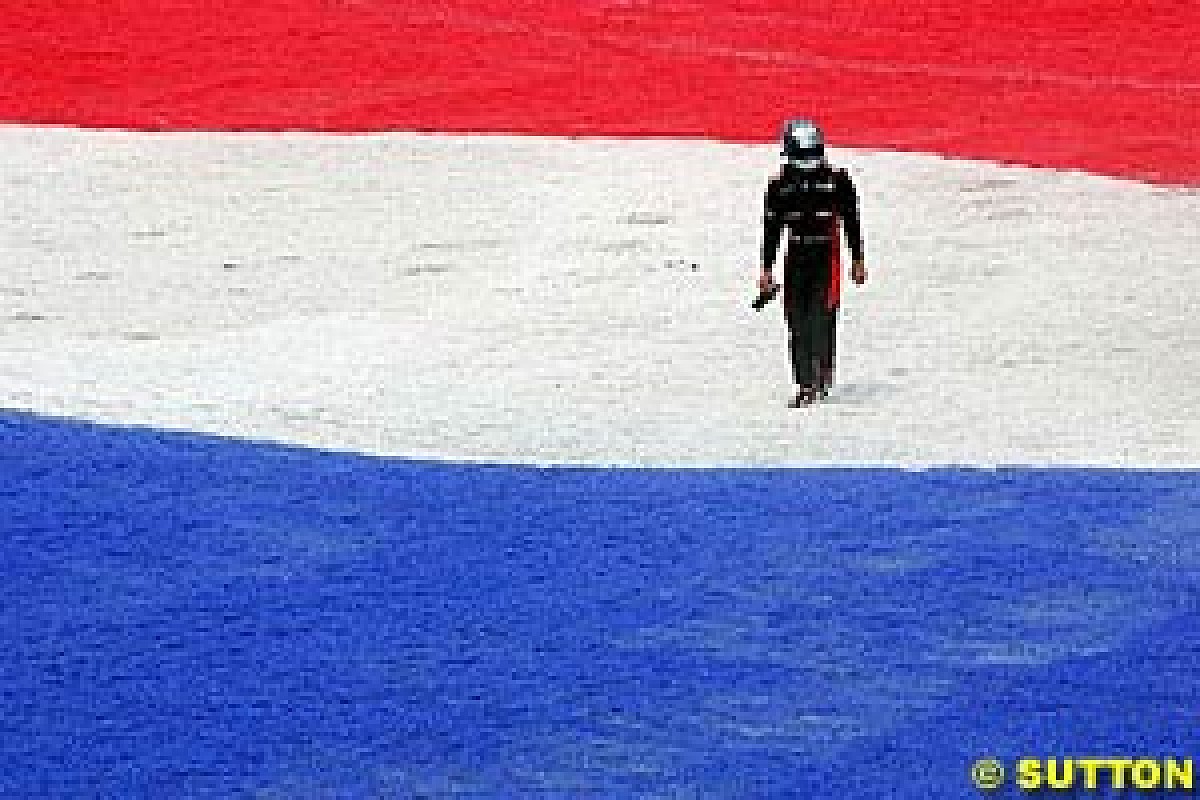 "To be honest I am a little disappointed," admitted Friesacher. "My start was not that good and on the second lap I just touched the brakes going into the first corner and lost the rear of the car on what I guess was oil from the BAR cars. That was it, really."
The order stayed the same until Klien stopped on lap 18 for fuel, revealing what had been clear from qualifying that he was running quite light. By that point Alonso was cushioning his lead from Trulli and Trulli was easing off but keeping Fisichella at bay. Such is the effect of the new engine and tyre rules.
There was no joy in the Ferrari camp, both Schumacher and Barrichello struggling with tyres, aerodynamics, power, you name it. Their confidence in continuing with the F2004 in a modified guise is appearing more and more like the wrong decision. Overconfidence, it seems, has bitten them and it hurts.
Coulthard was the next man in the other lightly-fuelled Red Bull two laps after his teammate, coming in with Heidfeld and Ralf Schumacher, with lead duo Alonso, who by now had a 7.7 advantage, and Trulli coming in on the following lap and Fisichella and Webber on the next.
Montoya and Raikkonen, who had by now assumed the lead thanks to his long first stint, pitted on laps 23 and 24 respectively and World Champion Schumacher also came in on lap 24, one lap before Barrichello after Ferrari ran the longest first stint of any team on the grid.
Then McLaren, who were given some unlucky breaks in the first race in Australia, were struck yet another blow when Raikkonen damaged his tyre on his out lap. It punctured, flattened and stripped and when he finally scraped into the pits, with a damaged floor, he was in an unlucky 13th place.
"Disappointing," said Raikkonen. "It looked quite promising immediately after my first stop where I had gained two positions to take fourth but a tyre valve failure caused a puncture to the right rear and I was forced to go almost a full lap in order to get back to the pits."
With the movers and shakers all settled again after the first set of stops it was status quo in the top five while Heidfeld benefited from Raikkonen's tyre failure to move into sixth and the two Red Bull Racing cars lost out with Montoya and Barrichello getting ahead of them through the stops.
It was another disastrous race for former World Champion Jacques Villeneuve and it is hard to say whether he was thankful or frustrated that it came to an end on lap 27. Probably happy, considering his clear dislike of the Sauber's handling, but certainly dismayed by the way it happened.
He spun into the gravel trap at turn one and cut a forlorn figure as he admitted: "I was gaining more and more confidence with the brakes and locking the fronts momentarily going into turn one, the way I like to. Then I locked the rears braking hard into the corner and spun. I couldn't get restarted."
Then came the exciting part. Up front, it was just like last year only the car ahead was blue and yellow rather than the usual scarlet. But behind the leader, and the chasing Toyota, all hell was about to break loose as Fisichella struggled for grip and dropped into the clutches of three eager rivals.
Webber, in fourth, Schumacher, in fifth, and Heidfeld, in sixth, had to finish their own scrap first, however, and that challenge presented some of the most exciting action we have seen in Formula One for many a year. It lasted almost a lap, and although brief it was nail-biting stuff.
Webber clashed with Schumacher as the Toyota driver tried to pass on the inside of the final corner on lap 31. His car did not stick on the dirty line and he slid into Webber, but the Australian cleverly moved wide to allow Schumacher space, the pair touched wheels, and Schumacher was through.
The incident left Webber a sitting duck as he tried desperately to regain some pace before hitting the long start-finish straight. He failed and Heidfeld took the liberty of passing his teammate and putting the Australian down a second place in a matter of corners. But it was not over yet.
The trio diced with each other at every corner they came upon and it was a miracle they came away unscathed. Somehow, after a little shuffling, it was Webber who got the lucky break and came out ahead with Heidfeld just behind him and Schumacher the loser of the three. And still there was more.
Having satisfactorily shaken off the challenge of his teammate, Webber started to take chunks out of the struggling Fisichella. "The car was not fantastic, the grip was not enough," said Fisichella. "I had lost a bargeboard and lost a lot of downforce so I was losing a couple of seconds per lap."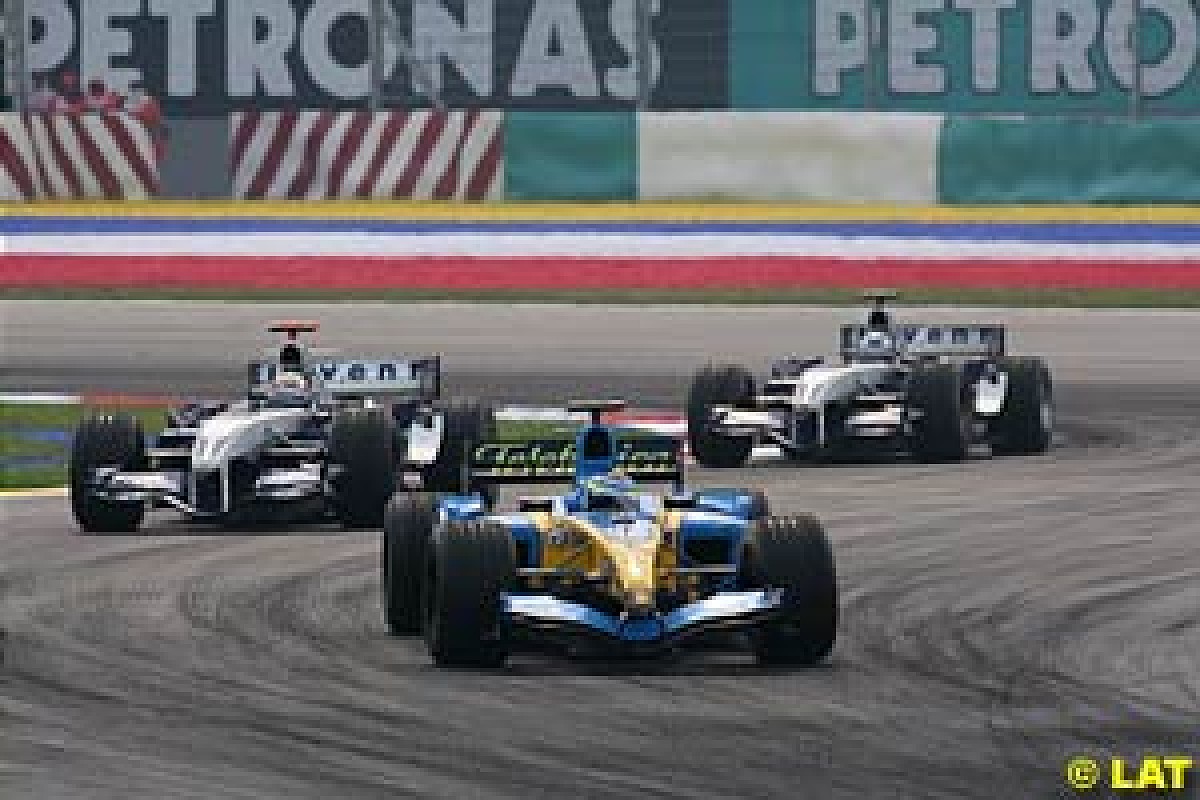 That was enough for the Renault driver to have Webber chomping at his rear wing by the time the cars came around for their 36th lap and the Australian was in no mood to hang around and certainly in no mood to stand back and be blocked from achieving his first ever career podium.
Perhaps that is why, when Fisichella tried the same move as Schumacher had some laps earlier into the final corner, Webber was not so happy to do the sensible thing and give some space. He knew the Renault was there for the taking, having passed it already on that lap, and he seemed to make an error of judgement.
Fisichella admitted: "I overtook him and braked a bit late. Just when I was at the entry of the corner I saw him come across on the outside. It was not my fault. As I was braking the rear of the car slid and Mark left no margin for error. That's all."
Fisichella was at fault for the ensuing accident, which saw his Renault rotate over the nose of the Williams as both cars spun into the pitlane entry zone. He locked up, no question, and the stewards saw it that way when the warned him after the race. But Webber threw his podium away by standing firm.
"If I wasn't there he'd have lost the car anyway," admitted Webber on recollection. "He was in the gravel. His car was finished. It was a low percentage move considering he was in so much trouble. I did the hard work to get past him and should have been on my way."
The podium will come, no question. Webber proved he is an intelligent driver when he gave way to Schumacher to avoid going out of the race earlier but would have proved his racer's brain is firmly in gear had he done the same with Fisichella. Then, maybe, he would have been spraying the post-race champagne.
The incident did, however, put a Williams into the podium positions with Heidfeld the benefactor. It also gave Michael Schumacher the boost he needed to accelerate his climb through the field and put him into a points-scoring position as the race headed towards the final round of stops.
Alonso kicked them off when he pitted from the lead on lap 40 and four laps later the whole of the front-running pack had completed their second stops, with Michael Schumacher jumping up a place to seventh after coming in last and Montoya leap-frogging his old teammate Ralf Schumacher into fourth.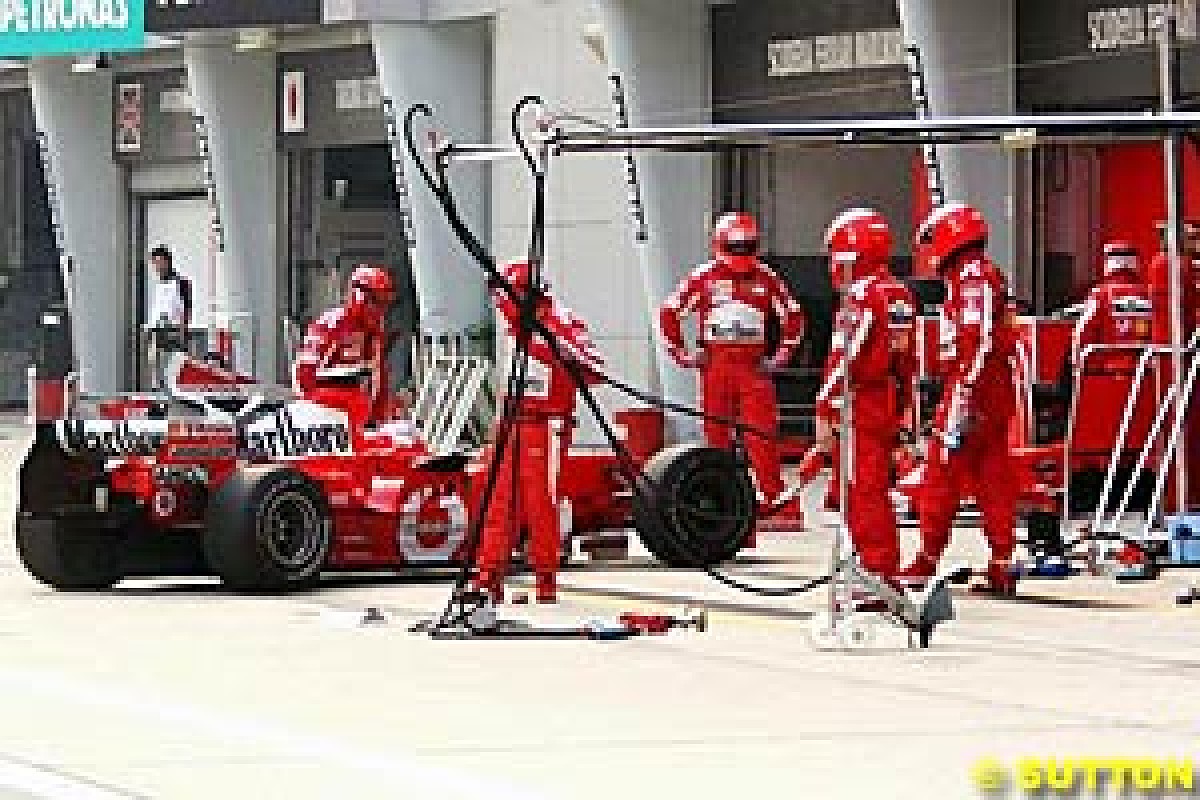 And that is how it stayed. Barrichello gave up after 49 laps with tyres that looked more like blistered old slicks than the modern day grooved versions, and that begged the question of just how far behind their tyre supplier Bridgestone in the race to perfect the new long-life tyres.
But the Japanese company was not completely to blame and Barrichello explained: "The car suddenly developed quite a lot of oversteer and when I pitted the team found that a piece of rubber had got attached to the wing. Because I had run for at least 20 laps with too much oversteer it ruined my rear tyres."
There was still plenty going on in the closing laps. Alonso and Heidfeld, both now suffering heavily from dehydration thanks to malfunctioning water bottles, were feeling the heat while Klien must have been having deja vu as Raikkonen hounded him down for the final point right until the chequered flag was waved.
For Alonso it was a sweet second victory that he savoured in a crouched slump on the podium as the exhaustion turned into a head spin. But when he recollected his thoughts, heard that Spanish anthem playing and pondered his lofty position at the top of the championship he rediscovered the energy to muster a smile.
Race Results
Pos  Driver        Team-Engine                Time        
 1.  Alonso        Renault           (M)  1h31:33.736
 2.  Trulli        Toyota            (M)  +    24.327
 3.  Heidfeld      Williams-BMW      (M)  +    32.188
 4.  Montoya       McLaren-Mercedes  (M)  +    41.631
 5.  R.Schumacher  Toyota            (M)  +    51.854
 6.  Coulthard     Red Bull-Cosworth (M)  +  1:12.543
 7.  M.Schumacher  Ferrari           (B)  +  1:19.988
 8.  Klien         Red Bull-Cosworth (M)  +  1:20.835
 9.  Raikkonen     McLaren-Mercedes  (M)  +  1:21.580
10.  Massa         Sauber-Petronas   (M)  +    1 lap
11.  Karthikeyan   Jordan-Toyota     (B)  +    2 laps
12.  Monteiro      Jordan-Toyota     (B)  +    3 laps
13.  Albers        Minardi-Cosworth  (B)  +    4 laps

Not Classified/Retirements:

Driver        Team                  On Lap
Barrichello   Ferrari          (B)    49
Fisichella    Renault          (M)    36
Webber        Williams-BMW     (M)    36
Villeneuve    Sauber-Petronas  (M)    26
Button        BAR-Honda        (M)    2
Davidson      BAR-Honda        (M)    2
Friesacher    Minardi-Cosworth (B)    2


World Championship Standing, Round 2:

Drivers:                    Constructors:             
 1.  Alonso        16        1.  Renault            26
 2.  Fisichella    10        2.  Toyota             12
 3.  Barrichello    8        3.  Red Bull-Cosworth  11
 4.  Coulthard      8        4.  Ferrari            10
 5.  Montoya        8        5.  Williams-BMW       10
 6.  Trulli         8        6.  McLaren-Mercedes    9
 7.  Heidfeld       6
 8.  Webber         4
 9.  R.Schumacher   4
10.  Klien          3
11.  M.Schumacher   2
12.  Raikkonen      1

Fastest race laps: Click here
Pitstop times: Click here
Lap by Lap
Lap 1: On pole position for the fourth time in his Formula One career, Fernando Alonso makes a clean start to head second- and third-fastest qualifiers Jarno Trulli and Giancarlo Fisichella into the first turn. Mark Webber and Ralf Schumacher settle into fourth and fifth, from Kimi Raikkonen, Jenson Button, Nick Heidfeld - who passes both Red Bulls during the opening lap - David Coulthard, Christian Klien, Juan Pablo Montoya, Rubens Barrichello, Felipe Massa, Michael Schumacher, Jacques Villeneuve, Anthony Davidson, Tiago Monteiro, Narain Karthikeyan, Christian Albers and Patrick Friesacher. Alonso is 0.8s clear by the end of the lap.
Lap 2: Alonso extends his advantage to 1.2s. Button passes Raikkonen for sixth under braking for Turn One. Monteiro runs off the road at Turn 15 and drops to the tail of the field.
Lap 3: Button pulls off in a haze of engine smoke. Precisely 32 seconds later, team-mate Davidson does likewise. Alonso is 2.1s clear. Friesacher spins into retirement at Turn One.
Lap 4: Trulli cuts his deficit to 1.5s.
Lap 5: Alonso pulls away again and is 2.7s to the good.
Lap 7: Alonso moves 4.0s clear.
Lap 9: Alonso leads by 5.8 seconds. Monteiro passes Albers for 16th. All other drivers remain in the order they have held since the B•A•R-Hondas retired.
Lap 10: Alonso posts the race's fastest lap so far, a 1m 36.458s. He leads by 6.3s.
Lap 12: Alonso laps in 1m 36.396s...
Lap 13: ...and 1m 36.036s. He leads by 6.9s.
Lap 14: Alonso laps Albers. World champion Michael Schumacher - 13th - is 40 seconds off the lead.
Lap 15: Albers makes the race's first scheduled stop.
Lap 16: Alonso posts a 1m 36.000s.
Lap 18: The top two both set their fastest laps so far: Trulli is fractionally quicker, in 1m 35.816s. They are separated by 8.0s. Klien pits and drops from ninth to 14th.
Lap 20: Ralf Schumacher, Heidfeld, Coulthard and Karthikeyan make scheduled stops.
Lap 21: Leaders Alonso and Trulli pit, as does Massa.
Lap 22: Promoted to the lead for one lap, Fisichella comes in. Webber follows suit.
Lap 23: Montoya and Villeneuve pit. Raikkonen leads - and reduces the fastest lap to 1m 35.483s.
Lap 24: Raikkonen and Michael Schumacher pit. Alonso resumes the lead.
Lap 25: Raikkonen suffers a blown right rear tyre soon after rejoining and heads back to the pits for a replacement. Barrichello is the last driver to stop.
Lap 26: Alonso leads Trulli by more than 12 seconds. With the first round of stops over, Fisichella retains third from Webber, Ralf Schumacher, Heidfeld, Montoya, Barrichello, Coulthard, Klien, Michael Schumacher, Massa, Villeneuve and the delayed Raikkonen. Karthikeyan, Monteiro and Albers have all been lapped.
Lap 27: Villeneuve spins into retirement at Turn One.
Lap 30: Webber is putting increasing pressure on Fisichella, with Ralf Schumacher keeping a watching brief.
Lap 32: Webber has an unsuccessful pop at Fisichella - and leaves himself exposed to attack from Ralf Schumacher. The German lunges by at Turn 15 - and delays them both enough for Heidfeld to gain two places in an instant. Webber retaliates immediately and repasses Heidfeld.
Lap 33: Ralf S gets by Heidfeld - but the Williams driver hits back and makes the move stick.
Lap 34: Coulthard passes Barrichello for eighth - and team-mate Klien demotes the Brazilian half a lap later.
Lap 35: The Williams twins are closing dramatically on Fisichella. Barrichello comes in early for a second stop.
Lap 37: Webber pitches for third place at Turn 15. Fisichella tries to defend and the two cars enter the corner side by side, with the Italian on the inside. They touch and Fisichella's Renault teeters on two wheels after their wheels interlock. Both drivers retire with suspension damage. Heidfeld moves up to third.
Lap 40: Leading by 17 seconds, Alonso makes his second - and final - scheduled stop. He rejoins second, six seconds adrift of Trulli. Klien and Massa refuel, too.
Lap 41: Ralf Schumacher, Coulthard and Raikkonen pit.
Lap 42: Trulli and Heidfeld peel in. Alonso regains the lead.
Lap 43: Montoya pits.
Lap 44: Michael Schumacher is the last driver to make his final stop. Alonso leads from Trulli, Heidfeld, Montoya (who gained a place during the pit shuffle), Ralf S, Coulthard, Michael S, Klien, Raikkonen and Massa. Barrichello is 11th, a lap in arrears. The Jordans and Albers are still running, too.
Lap 45: Raikkonen passes Massa for ninth place when the Brazilian skates wide under pressure at Turn 15.
Lap 49: Barrichello pulls straight into his pit garage to retire.
Lap 50: Alonso laps tenth-placed Massa. The Spaniard leads by 18.9s.
Lap 56: Alonso wins by 23.4s from Trulli. It is the Spaniard's second grand prix success - and Trulli gives Toyota its first podium finish. Heidfeld takes third - his first podium since Brazil 2001 - from Montoya, Ralf S, Coulthard and Michael S - who finishes with Klien and Raikkonen on his tail. Alonso leads the provisional world championship table: he has 16 points, six more than Fisichella.