Out by not Down:
Interview with Eddie Jordan

---

By Jonathan Noble, England
Autosport-Atlas GP Editor
One of the most colourful characters in the F1 paddock for the last 15 years, Eddie Jordan will be watching next Sunday's Australian GP from the comfort of a lounge chair at home instead of doing it from the pitlane. It will be an odd feeling both for the flamboyant Irishman and for the rest of the F1 circus. Jonathan Noble talked to 'EJ' ahead of his first race as a former team owner

There was a time when Eddie Jordan could have turned his back on motor racing with the click of his fingers and the world of F1 would not have batted an eyelid. He would have returned to banking in Dublin and Eddie Jordan Racing would have gone down as one of the hundreds of teams that never quite made the big time.
In his own words: "In the beginning you have big ambitions but you have to be realistic. At the beginning you felt that this was going to stop fairly soon and you were going to go back to a job somewhere..."
But as EJ moved up the ranks, and the F3 duels of Snetterton and Donington were replaced with F1 battles at Monaco and Spa-Francorchamps and eventually wins, so giving up on all he had achieved became that much harder to realise.
By 2004, with hundreds of staff working for him, a former race-winning team that had hit difficulties under his control, and the privateer teams digging in against the manufacturers, EJ's resolve appeared unwavering: he would do everything he could to return Jordan Grand Prix to the winners' circle.
Yet slowly over the course of the year it became clear the something had to give. F1 had got too expensive and Jordan had to face up to the fact that life could not carry on as it had before. By early January 2005 he sold his team to the Midland Group and almost overnight he became a 'former team boss'.
It is hard to believe that, for the time being at least, all the colour and character that EJ injected into the F1 paddock will now be just memories. The strip of grass behind the pitlane garages at Melbourne will certainly be a lot quieter without him this weekend.
Jordan himself has not let the change of circumstance turn him into a completely different man, though. In fact, there seems very little desire for Jordan to look back and wonder what might have been, and even less for him to take it easy. When Autosport-Atlas caught up with the Irishman in Dubai earlier this week, it had come after a run of days that would likely leave even Michael Schumacher completely exhausted.
Here is his amazing schedule for the last 10 days: Last Monday he returned to his Oxford home from a skiing holiday in Canada with his daughter. On Tuesday he had business meetings followed by an evening at the opera. On Wednesday he flew to Barcelona for the Champions' League clash with Chelsea before jumping on a plane with Bernie Ecclestone on Thursday to head to Moscow for the launch of the new Midland Jordan team and join talks about a future Moscow Grand Prix.
After spending Friday there, he jumped on a plane back to Dublin for rugby player Keith Wood's testimonial dinner before spending Sunday at the Ireland v England Six Nations match followed by an REM concert in the evening.
On Monday he was back on a plane to Dubai for what is supposed to be a holiday with his wife but is proving to be anything but - as he spends time looking at potential business opportunities at the Dubai Desert Classic golf tournament and the Dubai Championships tennis tournament.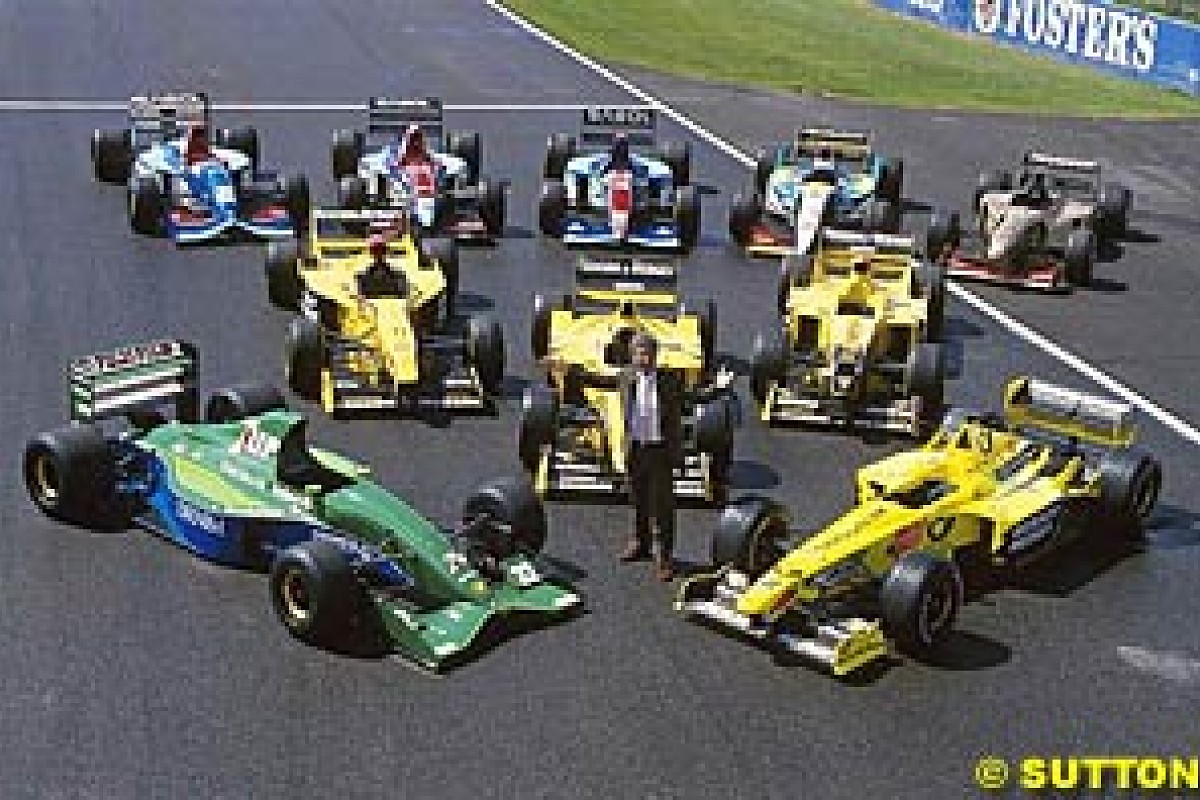 In fact, the only time that EJ will be able to put his feet up for a few hours will be on Sunday, when he watches a Grand Prix from the comfort of a lounge chair, rather than the pitwall, for the first time in years.
The packed schedule itself is very Jordan-like. Spend any time with the man and it is clear he is never happy just sitting back and relaxing. He is very much a doer and a talker. He constantly craves the next deal, the next opportunity, the next bit of gossip and the next bit of fun. And while for years all of that revolved around the world of F1, now he is looking elsewhere.
And it is that crammed schedule, the drive from meeting, to phone call, to private chat to social function, that is making his life away from F1 so bearable. F1 was Eddie Jordan's life for almost 15 years. He cannot just stand back and quietly let the world go by without him.
"It is strange that I am not going to Australia, but it is important the team stands up on its own feet," he explains, during a brief break from his commitments in Dubai. "The team has to stand up and do its own thing.
"I have got to keep myself busy and I am busy, which is great. In fact, I have been incredibly busy over the last couple of weeks so I haven't noticed F1 that much. And there is enough in my diary to keep me going.
"I am here in Dubai doing a few things. I am just having a look at sports and seeing if there is an opportunity of doing a sports management company or various other things. There are so many things to do - and you forget how many things you have not been able to do. Even things like going to Cheltenham for more than one day for example - things like that are important."
Important they may be, but nothing was more important to Jordan over recent years than his F1 team. He worked tirelessly during the 1990s to turn it from midfielders into race winners, and he worked even harder over the past few years just to keep it afloat against the might of the big money manufacturers.
With the financial net closing in, however, and the growing costs of surviving in F1 no longer realistic for an independent team boss, Jordan slowly came to realise throughout 2004 that it was time for a big decision to be made: shut up shop and get out of the sport with dignity intact, or try and fight on and risk bankruptcy and embarrassment.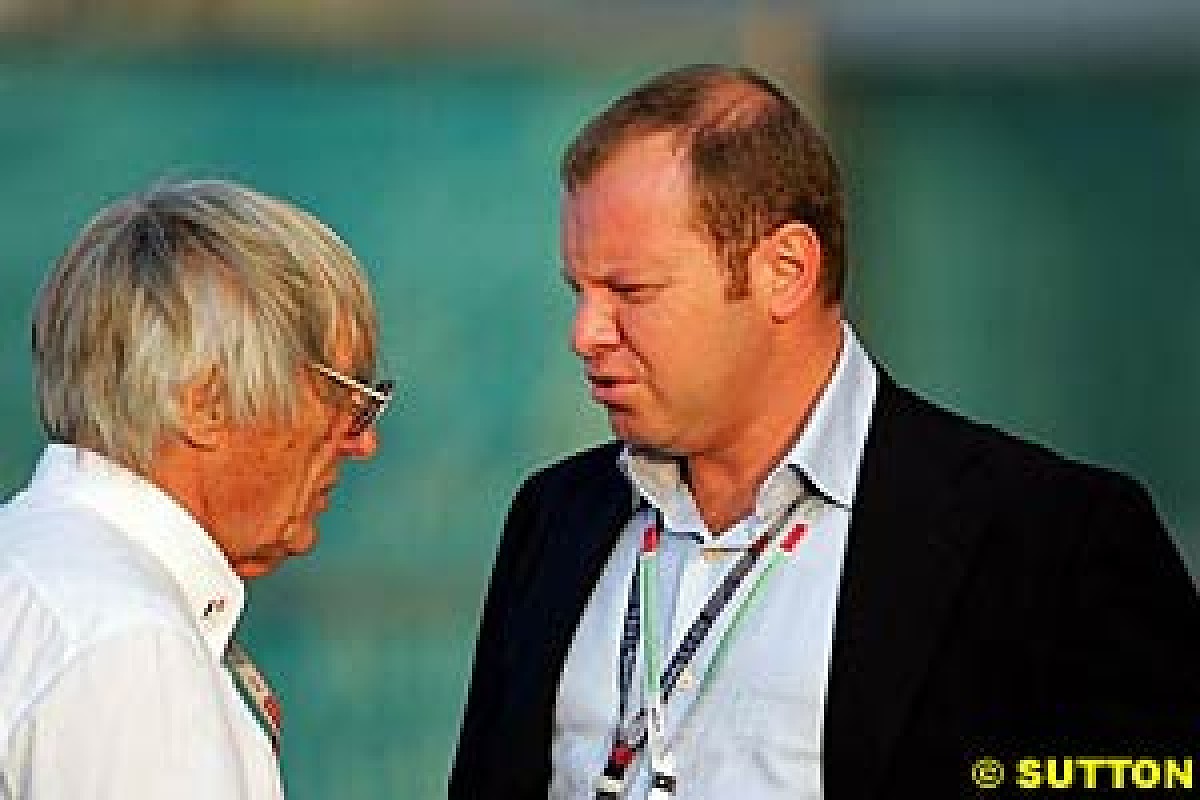 But then, over last winter, a third way became more obvious. With long-time ally Bernie Ecclestone keen to look after those who have supported him, he provided the contact between EJ and Russian entrepreneur Alex Shnaider, who was looking at entering F1 in 2006.
"The last three to four months of 2004 were particularly hard because we didn't have enough money in the team," explains Jordan. "I had some money from the past, so in terms of salaries and keeping people together I thought, 'okay, we can get to Christmas and then there will be the new (financial) structure with Bernie or the GPWC'.
"But then Bernie's (court case) hadn't finished and he called me into his place one day and he said, 'Are you okay? Are you going to survive?' I said I had this problem and that problem and he said he would put me together with this guy who I think will be able to take you out of the sport if that is what you want to do.
"Bernie said, 'It gives you credibility. It means Jordan continues, it means the people are safe, the suppliers are safe and the creditors are safe'. And, when you think about it, I don't know how I could speak to you if that had not been the case.
"So I am immensely proud about that. Forget Spa-Francorchamps (where Jordan won its first race) and forget everything else. If you ask me what was the best thing that happened? It was being able to exit the sport with dignity."
Last autumn, Jordan was clearly agonising for weeks about just what to do if he could not guarantee the financial long-term future of his team. Time and again, over breakfasts at the Jordan motorhome or at press dinners, he would regularly gather opinion about what was the most honourable thing to do.
It was clear that behind the wheeler-dealer team boss exterior, tucked away deep beneath the Eddie Jordan character who would fight, cajole, scheme and gamble for the next deal in the F1 paddock, there was a man who did not want to lead his F1 team into oblivion by running it into the ground and out of business.
"There is a real old Irish saying, which my mother used to say to me, that 'you should make sure that whatever door you enter you have got to be able to exit from the same door.' In other words, what she meant was, make sure you don't fuck things up so bad that you cannot keep the same state of dignity, or style, or presence in going out.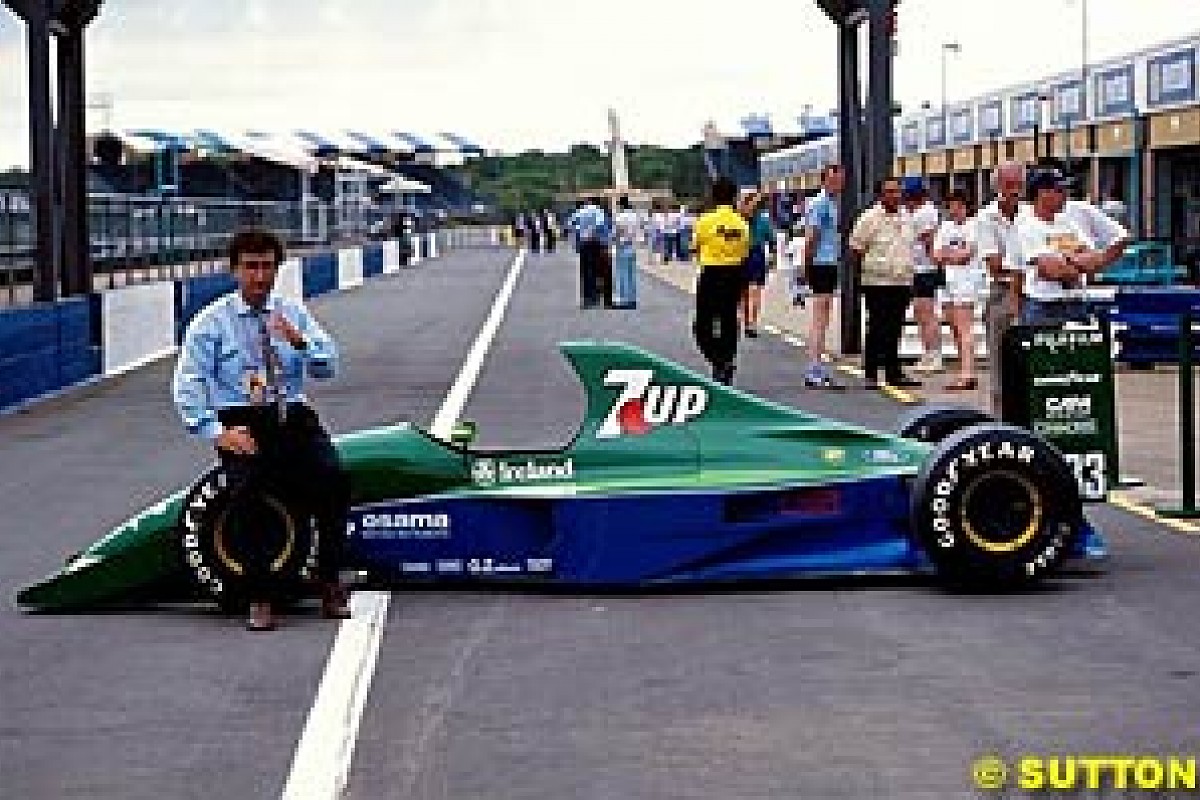 "It may be an old fashioned Irish saying, but it is not just Irish. Most people believe that, and you must not necessarily put this against it, but I was very mindful that the great Alain Prost let the team go down. I was mindful that Arrows went down. I was mindful that Lotus went down, that Brabham went down and even March went down - so even Bernie and Max are not excluded from this. I was determined that Jordan was going to live on. That was important. And Bernie helped me with that."
But despite the desire to keep his team afloat, Jordan was never simply looking for a quick and easy way out. And however much he is enjoying life away from the buzz of F1 at the moment, you can still find a man who is immensely proud of everything he achieved - and a man who would have kept going, who would have kept working 24/7, if there were guarantees that Jordan could be a success again.
"It was hard letting go, but you have to look at reality," continues Jordan. "You have to look at yourself in the mirror and say, where am I going with this? What is happening? You can see very quickly that it is better in the hands of somebody younger, somebody with more financial clout, to keep the team and keep the people.
"As far as I am concerned I left it in a very good condition with Toyota engines, a lot of good people there, and good background and good information, and a good set-up that had won Grands Prix.
"And the other thing is that the Jordan team is my baby, but it is getting married to a Midland baby and, while it is important you give it everything and you are there to support it at the wedding, a good parent doesn't go away to the honeymoon. They had the wedding in Moscow and the honeymoon starts in Australia."
It is an analogy he has made before - but is he not aware that even in the excitement of a honeymoon sometimes the newlyweds will miss the guidance and comfort of a parent? Does Jordan not feel that his plans to attend just three or four races will lead to him being missed? "No," comes his swift response - and he quickly recalls how the sport moved on from the death of Ayrton Senna in 1994.
"One of my saddest days, when people ask me what was the darkest day in my 35 years of motor racing, I would say that it was Ayrton," says Jordan. "Ayrton had driven a Jordan car in F3 and it was the worst weekend of my life in Imola because obviously Roland Ratzenberger got killed as well and Rubens Barrichello, driving my car, was in hospital.
"I remember Bernie called us all together afterwards and he made it very clear. He said: 'Look, no-one person, me, driver, team manager, anyone, is bigger than the sport and it is our obligation to make sure for the fans and everyone who loved Ayrton that we are able to keep it together and grow.'
"Of course, after a race or two, we all lovingly spoke about Ayrton but the fact is that the sport doesn't need anyone. To answer your question, do I think people will miss me? The answer to that question is obviously no..."
One of the recurring themes of any chat nowadays with Jordan is his sense of dislike at the way the big car manufacturers have changed the face of modern F1. Their arrival over the course of the 1990's led not only to increased costs but increased political clout, which eventually led to the formation of the GPWC and all the resulting damage to the sport's image in the mind of media, fans and more importantly sponsors.
You could argue that were Jordan to have had his time again, and the manufacturers had not got involved to the same extent, then it is highly likely he would have carved a far more successful career for himself. In the end, let's face it, Jordan was forced to sell-up purely because, as an independent, he could not afford to raise the budget needed to compete with giants like Toyota, Mercedes-Benz and BMW.
"Look," Jordan quickly butts in. "I have to blame myself firstly and I am not creating any blame for the manufacturers. I don't want to sound as if I was victimised. The fault was mine. I was not able to generate the sponsorship and I am not in the business of apportioning blame to people when the problem is mine.
"There are two manufacturers, Honda and Toyota, that I cannot speak highly enough of. They have been fantastic. But, on the other hand, there was Ford who we paid a lot of money to that I cannot speak badly enough about..."
The Ford affair still clearly grates deeply with Jordan - and he readily confesses now that signing up with the American car giant was the biggest regret of his F1 career. When he pulled off the coup of securing the Blue Oval's return to F1 he clearly felt it was pushing the team back towards the front of the grid - but he could never have imagined the much talked-about politics, the huge expense and the personal hassle that would come with the deal prior to Ford's shock pull-out last year.
"They gave me no notice that they were leaving F1 and they left me completely in limbo at a time in September when you need a partner," says Jordan. "It meant it was impossible to find a sponsor, drivers ran away, saying 'he hasn't got an engine so he is not going to be in business' and people stopped paying attention to us.
"There were deals that we were hoping to talk about - even with people like RBS (the Royal Bank of Scotland) who we were talking to. I am not saying we would have got the deal but I am saying we had a chance, and when you don't have an engine you don't have a chance.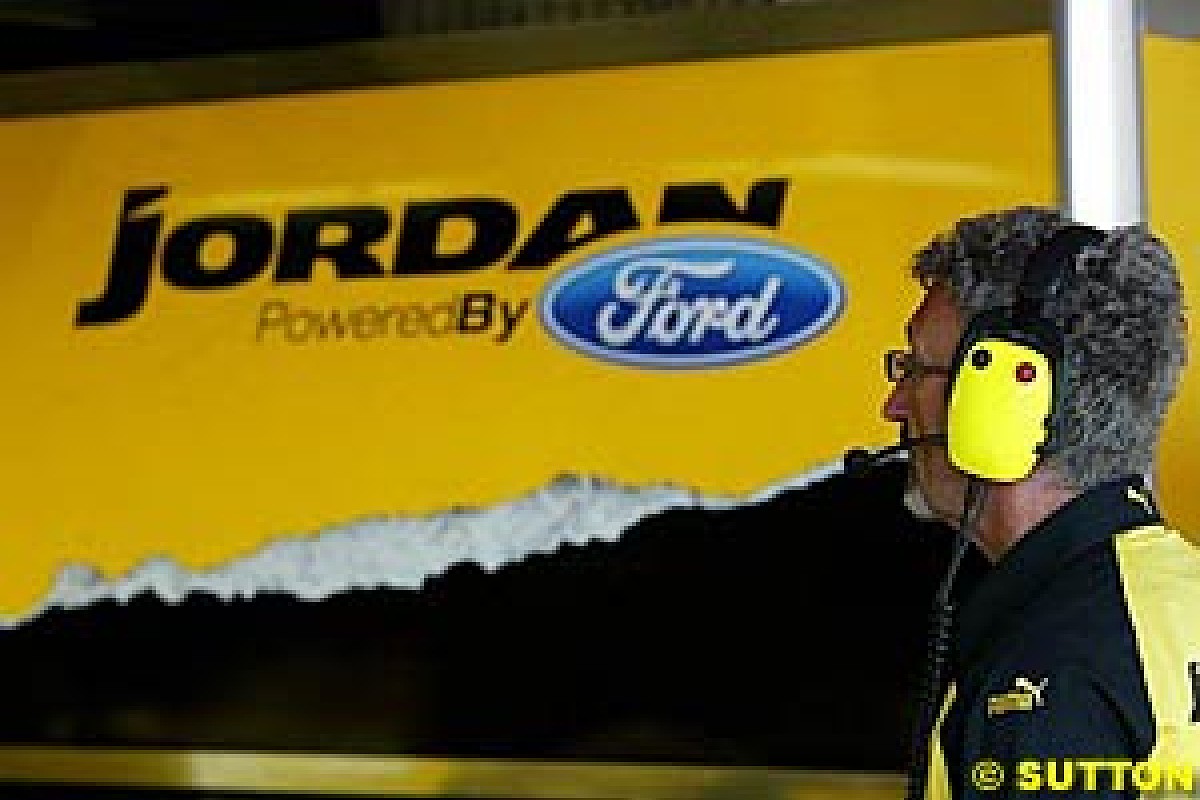 "I feel very let down by (Ford chief Richard) Parry-Jones because he was so into Jaguar. I think he never wanted Jordan in the first place but I wish that had been made obvious because I could have then chosen to stay on board or gone somewhere else."
So knowing how bad things were turning out under Ford, and how the sport was shaping up under the influence of the manufacturers, what was it that kept EJ going over the last 18 months? Did he not know the writing was on the wall for the independent teams?
"Well, the thing that kept me going was that you always believed that things will change and from a private point of view I always felt that the privateers would get looked after, but that is not anyone's fault.
"The problem is the manufacturers have just run away with the costs. They all say they want the costs lower but I am not sure who in the manufacturers is asking them to do that, because you have people like Fiat and Ferrari spending fortunes, McLaren have Mercedes, and BMW is doing deals with other teams. It just costs a fortune.
"I am perturbed, I really am, because I don't see ever in the current situation a private team, like an Eddie Jordan, even somebody currently driving in Formula Ford or Formula Renault, being able to start his own team. I don't see that, and that is a terrible shame for me.
"I really think that is sad and I take no joy from the fact that I might be one of the last people to do that. I find it really upsetting."
Perhaps more worrying than the manufacturers' involvement, however, is the fact that Jordan's departure means the loss of yet another racing enthusiast team boss who has come into F1 after working his way up the ranks. Because however good the intentions of men like Dietrich Mateschitz and Alex Shnaider are, and however much money they are willing to pump into their teams, they will simply act in the same way as the car manufacturers and pull out of the sport the moment it no longer makes financial sense.
It is the men like Jordan, Frank Williams and Ron Dennis who are the lifeblood of the long-term future for the sport. The same passion that drove them on through changing wheel nuts in the mud at Mallory Park, Snetterton and Oulton Park has helped keep the sport and their teams in a semblance of order. Losing those sorts of characters is not good for F1's long-term health.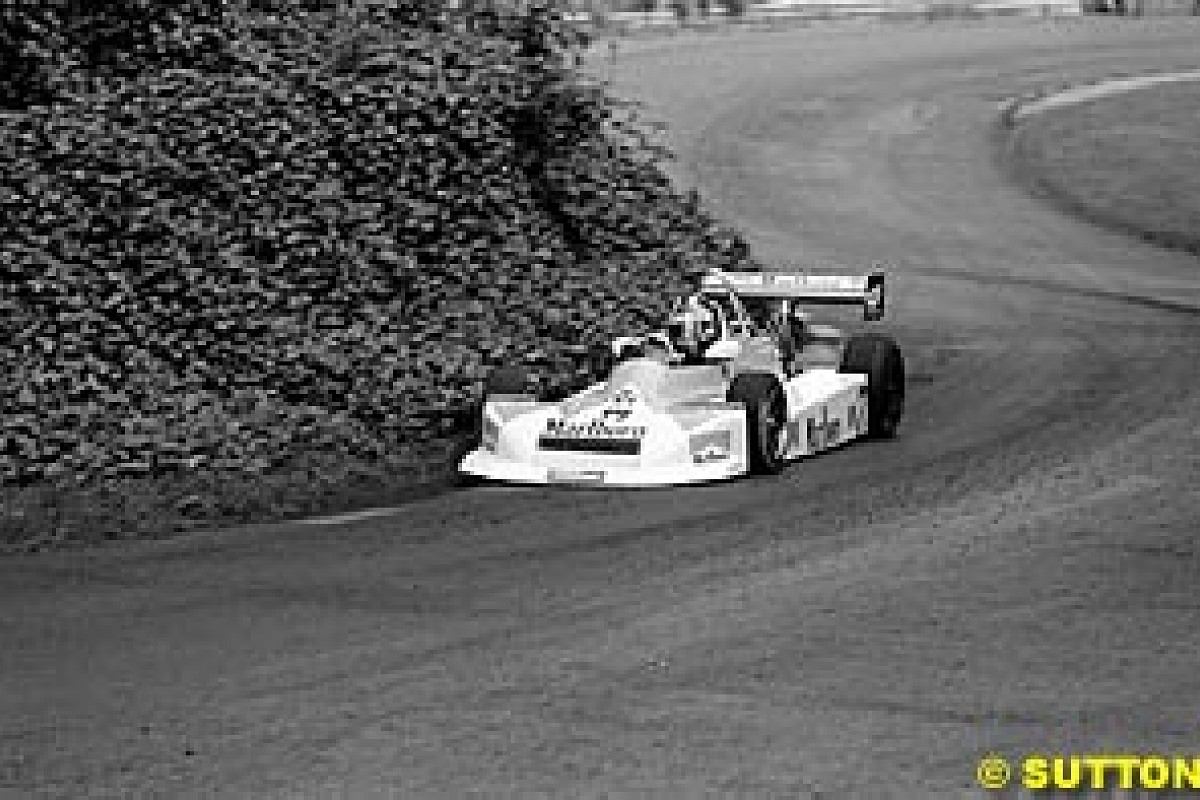 "Don't leave Cadwell Park and Mondello Park out of it," laughs Jordan. "It is true, isn't it? But the important thing is that we are not in this business to cry. We should be very happy that we have the chance to make our living doing what we most wanted to do in life.
"I feel nothing but joy for the people in sport, I absolutely love it and adore it and there are so many people that do as well, and that is what gives me encouragement.
"What I think it that I am so happy that Didi Mateschitz and Alex Shnaider have come in to take over those two teams, rather than manufacturers, because we must not ever let the privateer teams die and these are as close to private teams that you can get in the current situation. Frank Williams must be looking over his shoulder because he has got to think about how he is going to compete against these guys, and the manufacturers. It will be horrible if Frank was lost to the sport...
"In my view I would do it again because I am passionate about it but you have to let a young guy do it. With Alex Shnaider at 36, I see what he is doing and in time he will make it into a really strong team."
The concerns about the changing face of Formula One team bosses are mirrored by still prevailing concerns about the future of the sport itself. Jordan was always adamant that the threat of a breakaway F1 series was badly damaging for the sport - and he remains worried that the matter is still not settled.
"I am anxious, I am very anxious, that Bernie gets a good grip on it. And one way or another it can no longer continue to have two factions like GPWC and Bernie. One has to kill off the other very quickly.
"My bet is that with Ferrari in F1 then I really cannot see even the manufacturers agreeing amongst themselves. I think they have to get on. And go on with Bernie because he is the one sensible option in this procedure. That sounds as if I biased, but actually analyse it.
"You have had a set of situations where (former Fiat boss) Paolo Cantarella came out and said there were going to be two championships without even informing us, which completely scrambled all the sponsors. We had meetings and offers of engines for 10 million Euros from (Mercedes-Benz's) Juergen Hubbert, and that didn't get honoured. Then there was a further meeting about 10 million Euros that if we all agreed to back the manufacturers on traction control, that was on April 29, that never happened. Then they said everything was transparent. Then it transpired that they were giving Ferrari $100 million, and McLaren $20 million and Williams £20 million.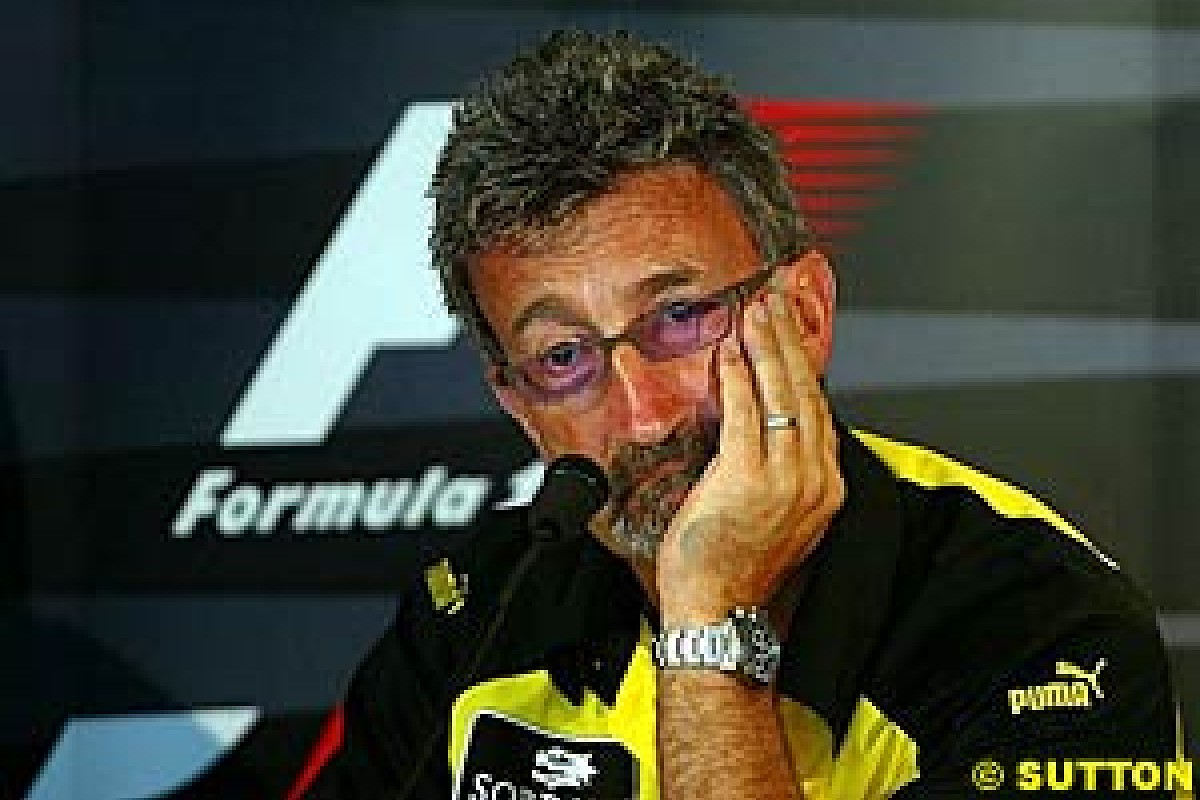 "The sport is not big enough to have two series, forget it, look at what happened in the States. How many times do you have to do this for the people to realise that there needs to be one series, and one strong element? If the manufacturers and Bernie want to get together and make it into one big strong championship then do it, and do it with Bernie and make sure with Bernie that you put a succession plan in place to protect the sport.
"We need to combine those issues, not fight them. In the long term, if we can get those two people to come together then I see nothing but good."
Despite the worries, such matters are beyond Jordan's remit for now. His focus is on finding some business opportunities that are attractive enough to him - whether inside or outside of F1. A return to motorsport is clearly on the cards - but he is quick to point out it will not be with the rumoured Irish team in A1GP, or with anyone else other than Jordan in F1.
However, he does hint at a possible major role that would see him return to grand prix racing - as the man set to with responsibilities for ramping up the glamour and the mass appeal of F1 beyond just the petrol heads.
"We can make F1 more exciting and create a more razzamatazz weekend that will encourage people to come along and say, 'well, wasn't that the most incredible weekend!'. Once I have had a bit of time off and got my head around it, and if I can be a help to Bernie, then that may be something that may or may not happen, I cannot say.
"I don't want it to sound like the razzamatazz is peripheral. I am talking about sensible promotional things that can encourage and make the actual GP race into a much bigger spectacle for the people who are there. And of course there are opportunities in TV that we need to exploit.
"I think that if celebrities come, as I said to Bernie the other day, if celebrities are given passes and are able to come, then the team should tell the promoter, the organiser, and the TV companies what celebrities are coming for the day so we can help them. That happens in other sports.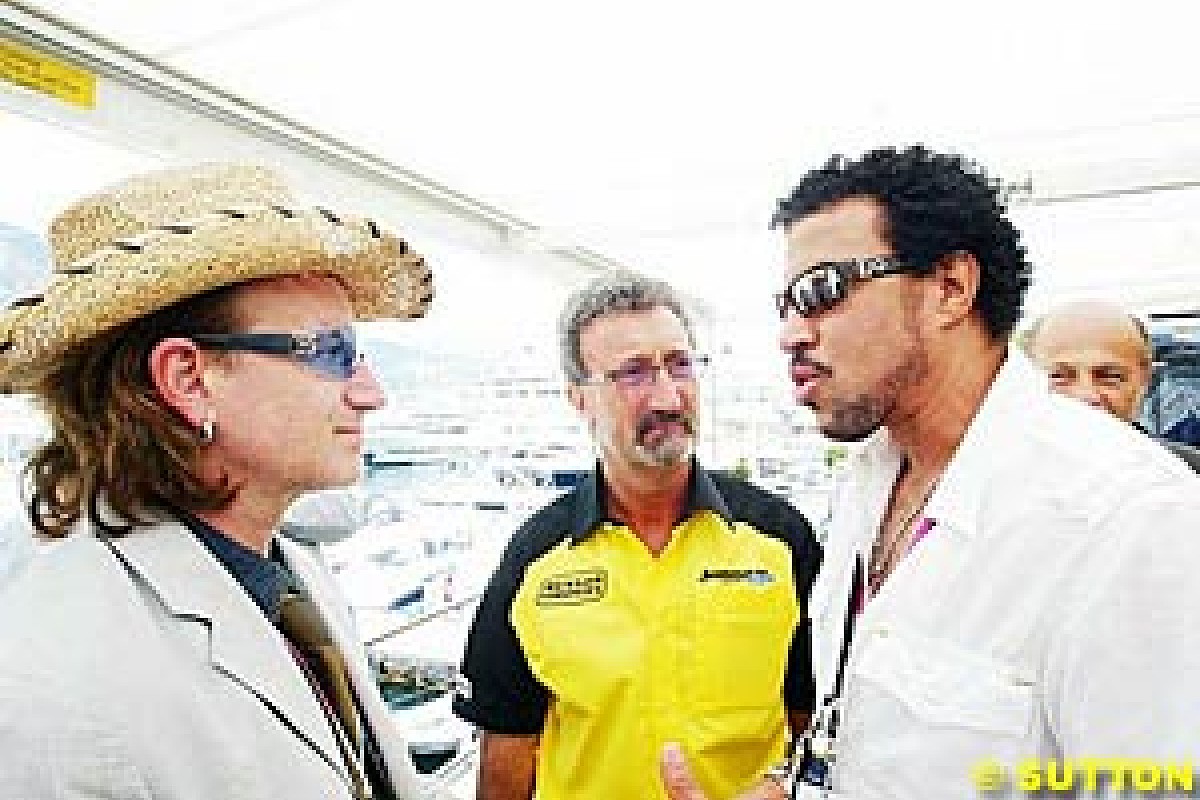 "What happened with Jaguar at Monaco last year was mad. Here was a company, Ford, that had spent a lot of money placing cars in 'Ocean's 12', putting it on the F1 car, and the celebrities were kept away from everybody. I am not getting at Jaguar, don't think I am, but at Monaco last year we had Lionel Ritchie, Bono and Roman Abramovich on the grid. That is our style."
Talking to Jordan these days is like talking to a completely different man to the team boss of last year. Yes he is still frantic, but nowhere near as frantic as he was before. He talks in a more thoughtful and assured way. And, more interestingly, his phrases are not littered with swearwords at every turn.
"I don't know why that is," he responds when asked about whether we should read anything into that latter fact. "I think I've calmed down."
Calmed down? Maybe. But given up? Definitely not.