After racing for Aston Martin at Le Mans last year, former grand prix driver Anthony Davidson has joined reigning winner Peugeot for 2010, and the Briton will be in the thick of the battle between Peugeot and arch rival Audi this summer.
The Le Mans Series season kicks off at Paul Ricard this weekend with an eight-hour enduro. Audi is there to give its updates 'R15 plus' its first race voyage. Peugeot, meanwhile, dominated last month's Sebring 12 Hours and will join the LMS at Spa-Francorchamps for a head-to-head with Audi in preparation for Le Mans.
The two heavy hitters won't complete the full LMS season, leaving the likes of the ORECA Peugeot 908, the Signature Aston Martin, the Mansell family Ginetta-Zytek and the Rebellion Racing Lolas to fight it out for the series crown.
There's also greater depth in the LMP2 class this year and - skipping the one-car GT1 class - a mouth-watering scrap for GT2 honours. There are four Porsches and seven Ferraris, plus single full-time entries from Aston Martin, BMW and Spyker.
Davidson himself won't join the fray until Spa, but he gave AUTOSPORT his rundown on LMS 2010 ahead of this weekend's opener.
Q. We will see Peugeot and Audi go head-to-head at Spa as a precursor to Le Mans. Are you looking forward to it?
Anthony Davidson: Absolutely. They are big rivals but, personally, I haven't been in a racing situation against Audi yet. That's going to be new phase for me when we do it and of course I'm looking forward to it. Everyone involved with the teams on both sides is interested to see how we stand against each other.
My first impressions of Peugeot, from Sebring and from the few tests I've done, is that they're right up there in terms of professionalism and their approach to racing. It's easily Formula 1 quality. There's a great enthusiasm in the team and I'm enjoying being a part of it. I'm just looking forward to every moment I can get back in car.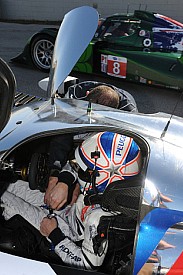 Peugeot already has one race under its belt in 2010 © LAT
Q. Do you have any idea whether the 908 or the R15 will have the edge this year?
AD: Not at all, really. You can only get an idea in testing when we're both in close proximity with each other, but even then you don't know what each is working on - it's testing, not racing, so that's what you're there to do, test different things.
You only know once you're in a racing situation how you fare against each other. The first time we'll meet each other like that is at Spa. But even there we will be running different levels of downforce and different set-ups to what we'll have at Le Mans. That's the race we're all working for, so you never know what anyone is trying at each event coming up to Le Mans.
You can't be 100 per cent sure that you have the edge, even if you've had it in the other races - there's still always a question mark. I have got a feeling that it will be a closer fight than it was last year. Both manufacturers have an eye on 2011 with rule changes, both have been working flat out to get the most out of their cars for this year.
For me, to go to Le Mans this year with a realistic chance of winning is fantastic - that's what I set my mind to after leaving F1 behind. To win one of the three big races in the world is what this is all about for me. I have a chance of winning, and being in the car that won last year, there are almost no excuses. In my mind, it feels as though we have to fend off our other team-mates and make no mistakes, and we should be in a really good position to challenge for the win outright.
Q. What about the rest of the LMP1 class? How do you see Aston Martin, the customer Aston and Peugeot and the likes of Nigel Mansell and the Lolas?
AD: The Aston is a strong car. They do a good job at Prodrive with the limited resources they have and I very much enjoyed doing Le Mans with them. The car features the same principles as the Peugeot, okay it's petrol rather than diesel, but it still gives you a similar feeling as a driver. The car just lacks development, and that's only because of insufficient funding. The team do know what they're doing, but you're limited on what you can do when you don't have the cash to throw at it for wind tunnel time and other developments.
ORECA's Peugeot should be the same speed as works team. I can't see any reason why they shouldn't be a serious threat to the other diesel teams. Saying that, you don't know how the petrol cars will go yet. They bring them closer every year and at Sebring they were really quick in a straight line compared to us, and at the end of the straights as well. It was a really big surprise to all six Peugeot drivers how fast they were on the straights. I think gap has closed again this year, it's always difficult to know how close it will be, but certainly we were surprised by it at Sebring.
And for Nigel Mansell, if his introduction to sportscars is anything like my experience has been, it will be great for him - it has been arguably the best move of my career. At the moment I'm still thoroughly loving it and I hope he gets same pleasure as I have driving these cars.
Who would have thought as a little kid watching him in Formula 1 on TV that one day I would be competing against him in the same race, in the same class.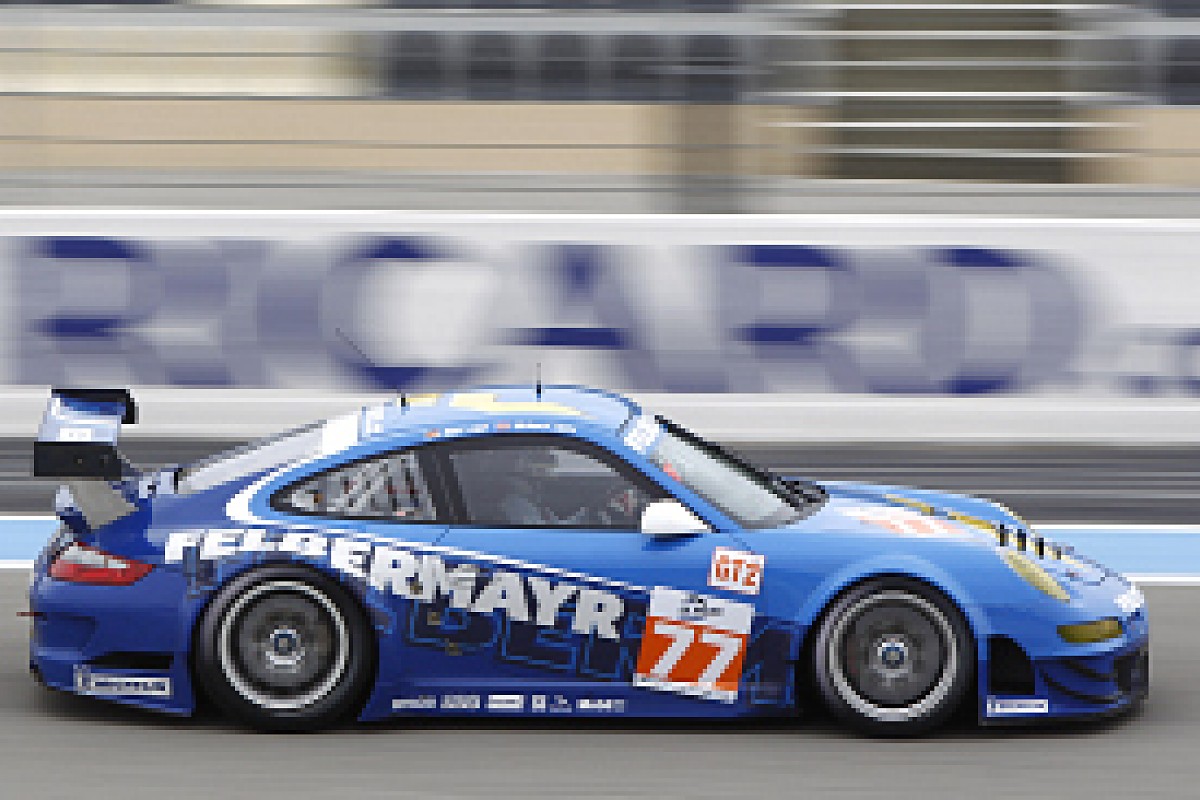 GT2 has 14 full-time entries this year
Q. What are your thoughts on the GT2 class? You'll have seen a bit of it from last year and at Sebring this year.
AD: Yeah, at Sebring it was great. It looked to be the closest fought race of all there and it was great to watch them. Coming up to lap them you get to see how they're getting on, how close they are and which have changed positions. You remember which cars are fighting each other as you lap them and you certainly know when you're among the leading group because they don't want to give up an inch - they're racing each other that closely.
I couldn't tell you which car to bet on this year. There are more of them with BMW and Aston Martin as well as Porsche and more Ferraris too - including Giancarlo Fisichella and Jean Alesi, and they all look so close. I think that's going to be one of the biggest battles of the year and certainly a great one for the fans to watch.
It's different for us, coming through in the P1 cars. The speed difference is crazy. One of the biggest challenges in prototype racing is to get through the traffic. You have to do it quickly and efficiently, but also safely. You can't be too careful because you will lose too much time, but you have to give them consideration at the same time.
Having driven GT cars yourself before, I think really gives you an appreciation of what they're going through. In a way those cars are harder to drive than prototypes. Okay, they're not as quick and they don't have the same G-forces, but they move around more and have to use more of the track. It's easy to forget how hard they're working and if you try to be too pushy, you can easily get into trouble.
I learned a lot about lapping the GT cars at Sebring. Sometimes you have to be more wary in your approach because some of the drivers panic more than others, and do the wrong thing. But most of the time they're very switched on and very good at just driving their own race. Then it's up to you to find a way past them. That's the approach I took when I've driven in GTs, and now that I'm in a prototype.