The 2005 Belgian Grand Prix Review

---
By Will Gray, England.
Autosport-Atlas GP Correspondent
The pattern from the last races seemed to repeat again in Belgium, with McLaren dominating the weekend only to see Fernando Alonso edge closer to the title. In the end, Kimi Raikkonen took his sixth win of the season, but his Renault rival has the title in the pocket with three races remaining. Will Gray reviews the events and results from the sixteenth race of 2005
Sometimes a win is just not good enough.
Kimi Raikkonen had little trouble easing his way to a sixth victory of the season, levelling that score with Fernando Alonso, but a glimpse in his mirrors was all it took to realise the title was slipping further away from his grasp as time ticks away towards a now inevitable conclusion.
The chequered flag waved for Raikkonen but the sight of his Championship rival's yellow and blue Renault behind, completing a hat-trick of second places, stole away the delight of victory as Alonso ensured he can win the title on his own, no matter what happens to Raikkonen, when the field reconvenes in Brazil.
You cannot fault Raikkonen for trying, and succeeding, to take a calm and positive approach to the final Grands Prix of the year. He turns up to each race expecting to win and invariably does just that. But he also turns up expecting Alonso to follow him home, and he also generally follows that rule.
The title gap was left at 25 points with 30 remaining and Alonso's triumphant receipt of the second placed trophy must have been one of the most joyful celebrations for second ever seen. For him, second was as good as a win, his eyes on a more ultimate prize than simply victory in Belgium.
"He could slip over in the bath," said McLaren boss Ron Dennis in response to claims that Alonso had as good as secured the title with his second place finish. "We are here primarily to win races, Championships just demonstrate the cumulative effect of the points system," was his consolation to Raikkonen.
And Dennis is right. Unless Alonso strings a surprise slip up with the aforementioned bathroom blunder, the drivers' title race now seems a formality. But the battle for the Constructors' Championship is well and truly on, with Renault on the defensive but ready to push to claim the double.
The gap closed to just six points after Belgium but it could so easily have seen McLaren four ahead if it were not for an apparently massive mistake from Juan Pablo Montoya which threw away what had expected to be the team's first one-two finish since way back at the San Marino Grand Prix in 2000.
Debate will remain over who was at fault for the incident, which saw Montoya collide with Williams stand-in Antonio Pizzonia, with both parties claiming each was in the wrong, but opinions suggest Montoya's trait of surprising backmarkers by suddenly slowing after making it past them caused the clash.
Whatever it was, it again only delayed the inevitable and McLaren will now have to wait for what seems to be their own fate of climbing past Renault in the Constructors' Championship, something that, as Dennis noted, with eight wins from the last 11 races would certainly be well earned.
BAR-Honda will try to get in Renault's way in the final races after seeing Jenson Button pick up third for the team with the promise of more to come, but in an unusual finish there was an incredible eight different teams in the eight points-scoring positions.
Ironically as Minardi celebrated their sale to Red Bull, it was those two teams that failed to make it into the points and it was Minardi's close rivals Jordan who were cheering their man Tiago Monteiro home to a morale-boosting point that could be the last ever scored in Jordan's history.
Renault's focus, meanwhile, is on the future, with a new improved package on its way for Brazil. But with McLaren's performance at Spa displaying how comfortably they are ahead, it seems that the Anglo-French team will struggle to hold off the late charge from the Woking team as the season flies away to its conclusion.
Qualifying
Spa was unrecognisable on Thursday as sunshine took the place of the usual overcast conditions, but normal service was resumed after heavy overnight rain and a sodden track meant limited running on Friday morning and a complete wash-out on Friday afternoon.
Fans sheltered under awnings or packed tunnels to get out of the rain on Friday, but the weather changed again as Saturday dawned bright and sunny to enable the teams to get in some vital laps, although not as many as expected, to prepare their car set-ups in time for qualifying.
The grid-deciding session was run under cloudy skies, with the usual suspects in the usual places, but there were some hidden secrets within the grid as some teams gambled on a wet weather set-up for the race and the McLaren duo secured the team's first front row lock-out since the San Marino Grand Prix in 2001.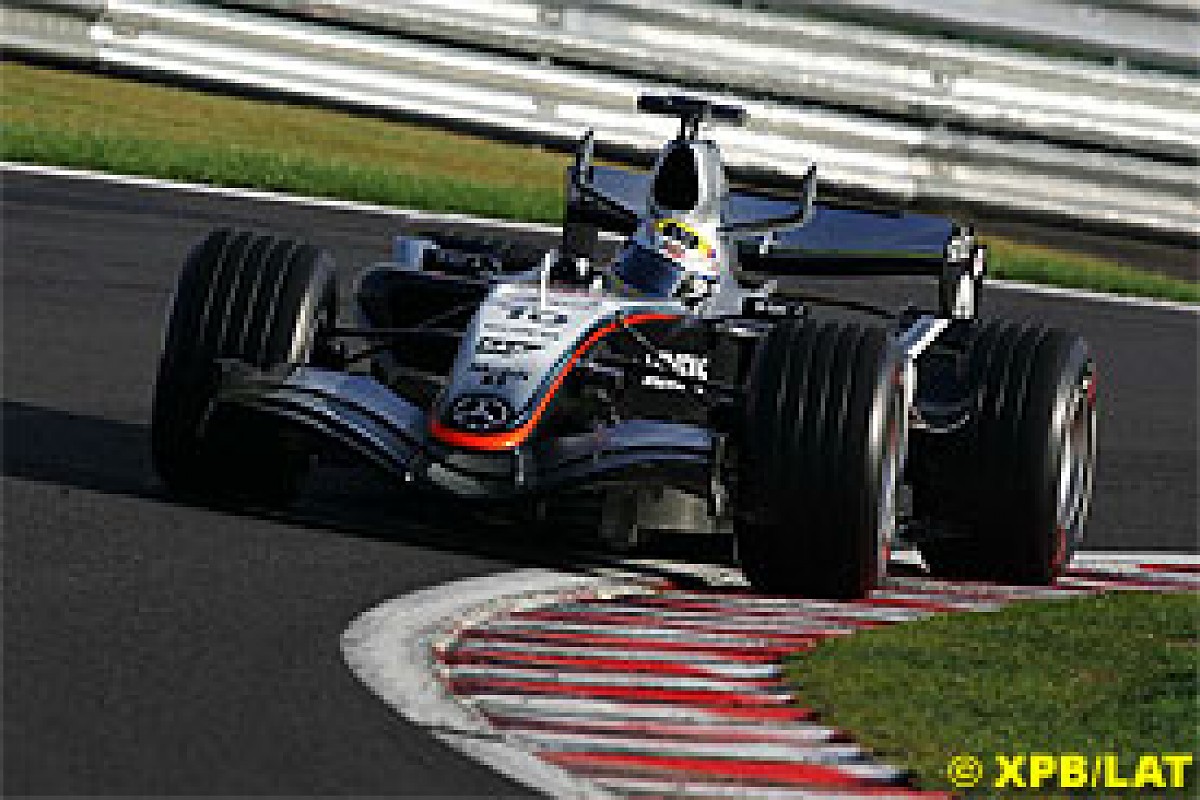 1. Juan Pablo Montoya (McLaren-Mercedes) 1: 46.391
Montoya proved his cool as the final runner in the session when he shot to the top of the times to secure McLaren's one-two, upsetting Championship challenging teammate Raikkonen by claiming the pole. He was faster than Raikkonen in two of the three sectors and even eased off in the final one when he knew he had ample time to take the top spot.
2. Kimi Raikkonen (McLaren-Mercedes) 1:46.440
Raikkonen, out fourth from last, looked to have put himself on pole thanks to a strong lap, but a few drops of rain may have been the difference between him and his teammate Montoya. He was not on the limit, he admitted, but a strong second sector, in which he was faster than all but Trulli's Toyota, secured him the top spot.
3. Giancarlo Fisichella (Renault) 1:46.497
It was clear that Renault had gone a different way in the set-up balance between speed and downforce than McLaren. The yellow and blue cars set the top two sector times in the first and third sectors but they suffered a disastrous second sector with Fisichella down in sixth and Alonso eighth. Strategy clearly played a part in the Italian's lap, however, as he already knew he would be dropping ten places due to an earlier engine change.
4. Jarno Trulli (Toyota) 1:46.596
The Toyota driver appeared to be running light after setting an impressive time, but Trulli declared his effort "a great lap" and said he could have gone even faster if he had not had to cope with a few drops of rain that fell during his lap. He was fastest in the second sector but seventh and fifth times in the first and last dropped him down to fourth.
5. Fernando Alonso (Renault) 1:46.760
Alonso made some set-up changes right before qualifying and they worked as he set the fastest time in the third sector and second fastest, to teammate Fisichella, in the first. His middle sector time was not good enough but overall, considering Renault had not expected to be so fast, he was happy to secure a second-row grid spot but wary of having to find a way past Trulli in front.
6. Ralf Schumacher (Toyota) 1:47.401
After changing tyres just before going out in the session, Schumacher was unsettled and was relieved to set a clean lap and secure himself a place high up on the grid, assuring himself of a clear view if the race turned out to be a wet one.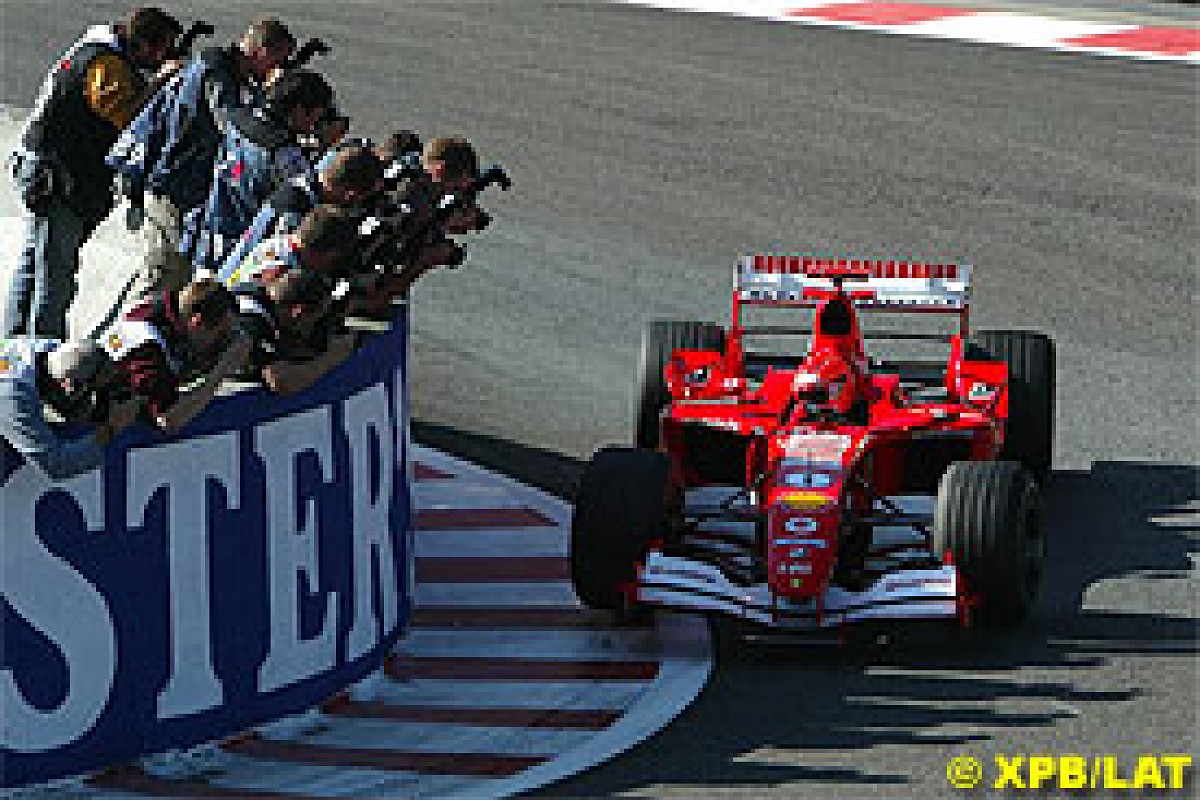 7. Michael Schumacher (Ferrari) 1:47.476
Two slow sectors, the first and third, dropped Schumacher down the order and left him hoping for rain to upset the usual trends in the race. He was 11th in the first sector and 13th in the third, but fourth place pushed him up towards the front. He was disappointed, however, to move up a place to sixth with Fisichella's demotion because it put him on the slippery side of the grid.
8. Felipe Massa (Sauber) 1:47.867
Massa thought he got the best out of his lap, setting the fifth, tenth and seventh fastest laps on his lap following a set-up gamble that had to be made because a lack of running left him struggling with his car's balance in the practice sessions.
9. Jenson Button (BAR-Honda) 1:47.978
After suffering problems with locking brakes into La Source and at the Bus Stop in the morning practice sessions, Button was cautions on his qualifying lap. It showed as he was 18th fastest in the first sector, faster only than the two Jordans, and 12th fastest in the final sector, but a seventh fastest time in the middle part of the lap dragged him up into the top ten.
10. Mark Webber (Williams) 1:48.071
Unlike most of the runners, who were either fast at the start and end of the lap and slow in the middle or vice versa, Webber proved consistent in all sectors as he set the eighth, ninth and tenth fastest sector times, but ultimately had to settle for tenth.
11. Takuma Sato (BAR-Honda) 1:48.353
Sato suffered from an early start in the session and could only manage the 17th fastest time in the first sector, faster only than the two Jordans and his teammate Button, but he recovered to climb up to a reasonable 11th by the end of his lap, four tenths behind Button.
12. David Coulthard (Red Bull) 1:48.508
Coulthard admitted he did not have enough confidence in his car to push it hard and said he could have found more time in the Red Bull machine given a bit more practice. He struggled in the mid-speed corners but still managed to outqualify his teammate Klien by almost half a second.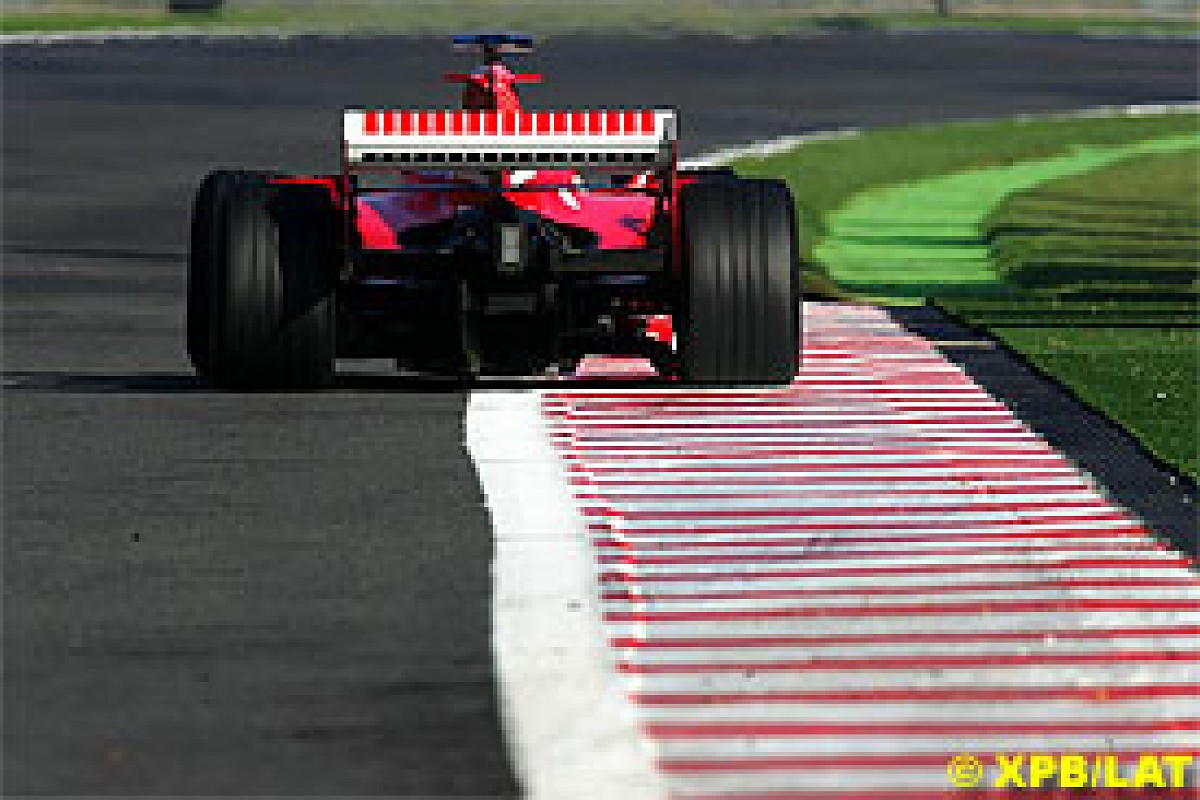 13. Rubens Barrichello (Ferrari) 1:48.550
After securing 12th place on the grid, Barrichello hinted he had compromised his qualifying performance to maximise his race challenge based on the team's expectations of wet weather. He finished more than a second slower than teammate Schumacher but remained confident of securing a points finish.
14. Jacques Villeneuve (Sauber) 1:48.889
Villeneuve finished around one second slower than teammate Massa and blamed his disappointing performance on locking rear brakes, which troubled him all the way around his lap. He was baffled by his lack of pace but still managed to set the sixth fastest time in the first sector to give him some encouragement for the race.
15. Antonio Pizzonia (Williams) 1:48.898
Replacing the injured Nick Heidfeld for the second race in a row, Pizzonia needed all the practice he could get, so the lack of running on Friday will have hampered him more than most. Having not sat in the car for three months before the preceding week's Italian Grand Prix he was still out of practice but remained hopeful wet weather could hand him a birthday present on race day.
16. Christian Klien (Red Bull) 1:48.994
Klien struggled with understeer in the morning practices and made some significant changes before qualifying, but he was left thinking he had gone in the wrong direction when he hit the track for his crucial lap and struggled to push the car to its limits.
17. Robert Doornbos (Minardi) 1:49.779
Spurred on by his Dutch fans, who had flocked across the border to Belgium, Doornbos was delighted to beat countryman teammate Albers and also the two Jordans to claim the best of the backmarkers' crown. Despite being compromised by a wet set-up in preparation for rain on race day, he was faster than the two BAR-Honda cars in the first sector and a strong performance in the final two put him ahead of his closest rivals.
18. Christijan Albers (Minardi) 1:49.842
Albers, also on a wet set-up, set a stunning 12th fastest time in the first sector and 15th fastest time in the third, but with those sectors quite tight between the drivers, the middle sector proved more important and he lost half a second to teammate Doornbos to drop just behind him by less than a tenth. Their early stops in the race, however, showed the Minardis were fuelled light, with cynical comments in the paddock suggesting their strong performance was designed to convince Red Bull to complete their buy-out.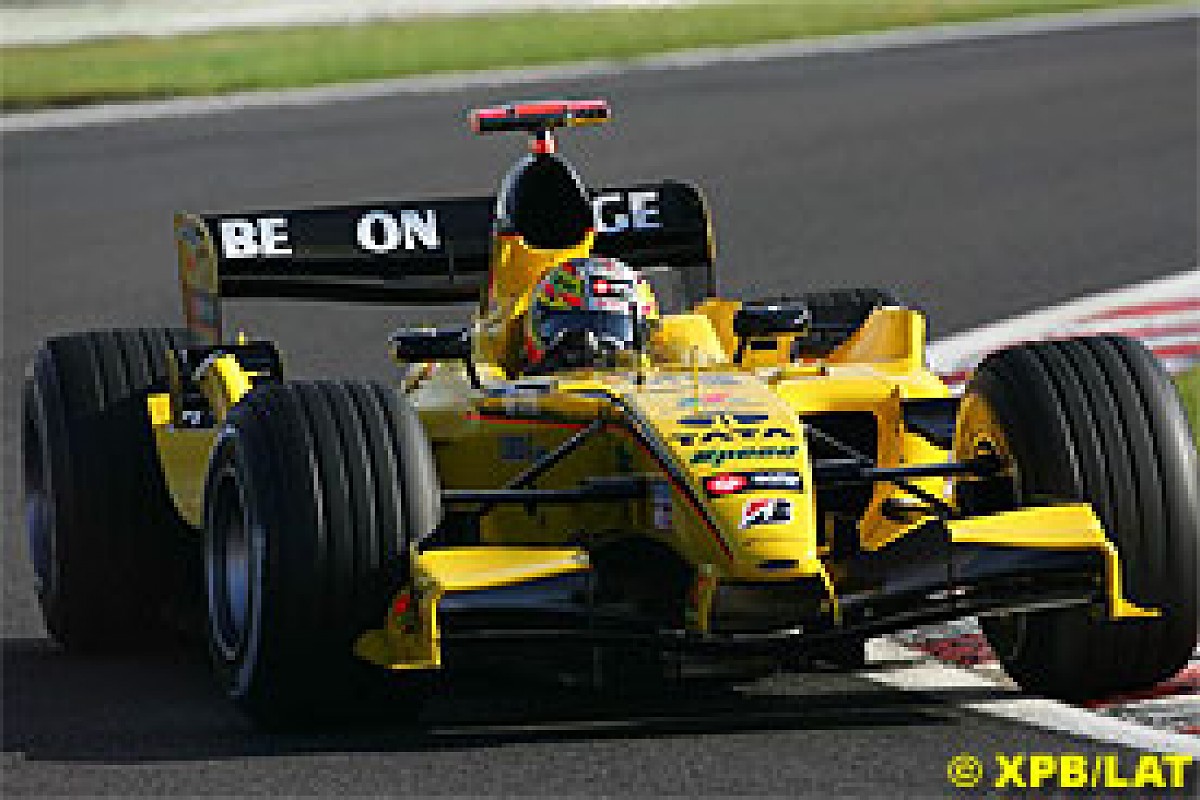 19. Tiago Monteiro (Jordan) 1:51.498
Both Jordan drivers were still getting used to the new EJ15B machine, with Monteiro at an advantage. having used it already in Italy. Both cars were slowest in all sectors but Monteiro's faster times in the first and third sectors put him ahead of Karthikeyan.
20. Narain Karthikeyan (Jordan) 1:51.675
Karthikeyan said he was hampered by a lack of running, considering he only got his hands on the new car for this race, and it showed as he finished slowest in two of the three sectors. He lost one tenth on Monteiro in the first sector and two tenths in the second and that was enough to put him down at the back of the grid.
The Race
Torrential rain on Sunday morning, so heavy that it trapped team members in paddock motorhomes for more than half an hour, set up the potential of a race behind the safety car...but thankfully the rain abated.
By the time the start time approached, the track was wet but the rain held off to allow a normal grid get-away for all except Minardi drivers Albers and Doornbos, who both chose to start from the pitlane.
Montoya made no mistakes when the lights went out and enjoyed a clear get-away into the La Source hairpin, with Raikkonen easing into second as the rest of the field flowed through the tight corner unscathed.
Trulli held onto third ahead of Alonso's Renault while Michael Schumacher moved up one place when his brother Ralf suffered a disastrous start and dropped down three places to eighth.
Sato shot up four places during the opening lap to claim sixth, putting him one place ahead of teammate Button by the start of the second lap while Massa dropped two places to ninth and Webber dropped one to tenth.
There was plenty of shuffling further down the order, with Fisichella and Klien winning one and three places respectively and Villeneuve and Barrichello losers, dropping two places each.
The Williams pair suffered varying fortunes on the second lap as Webber dropped two more places to 12th while Pizzonia found a way past Barrichello to move up to 14th.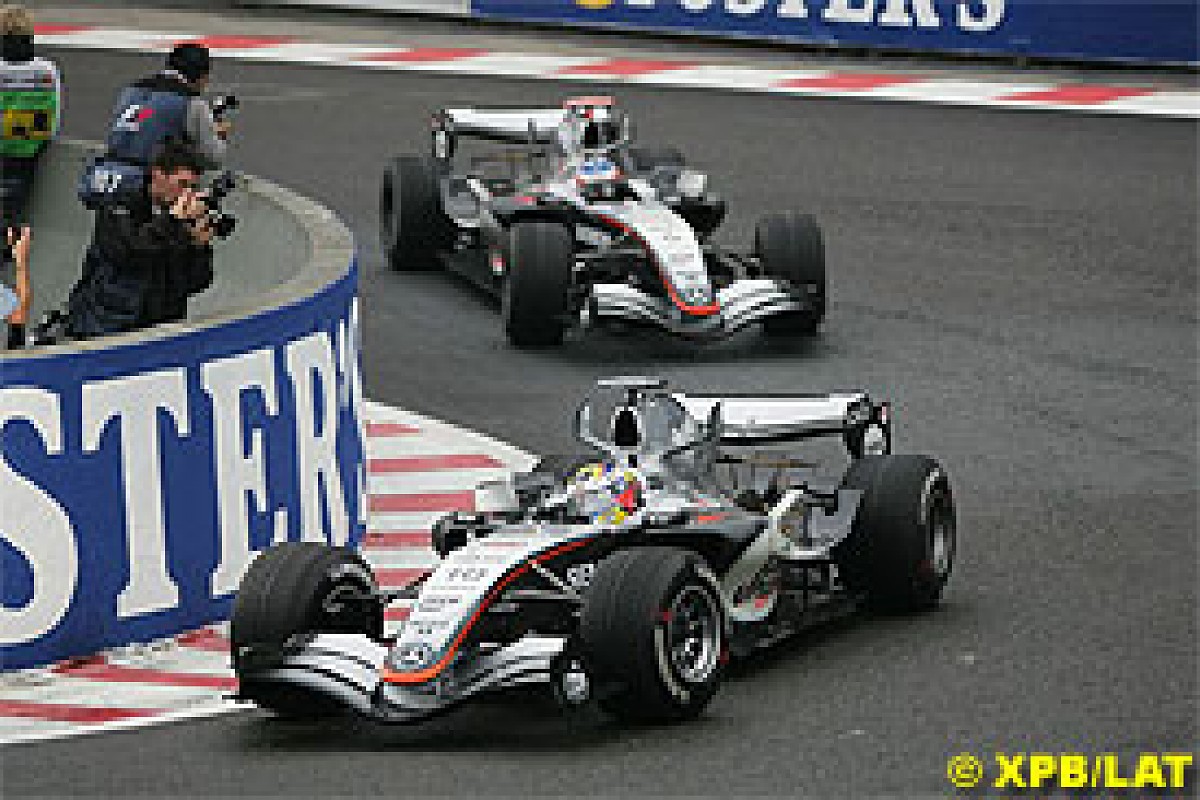 Montoya and Raikkonen raced into the distance nose-to-tail in the opening laps, Montoya easing out a five-second lead over Alonso by the fourth lap, at which point Albers made the first pitstop, incredibly early, in his Minardi.
Fisichella moved into the top ten when he made it past Coulthard on the sixth lap, then passed Massa on lap seven and immediately put pressure on Button, who had dropped behind Ralf Schumacher on lap seven.
Button fell behind Fisichella on lap nine and explained: "The first part of the race was very difficult. We did set the car up wrong, I had much too much oversteer with the car.
"I was really, really struggling with oversteer at the start and I didn't even need to turn into the corners because the rear end was coming round and that left the door wide open for the people behind me."
Ralf Schumacher pitted on lap 10 to put Fisichella up into seventh but the Italian's flying challenge came to an end just one lap later when he lost control heading up the hill out of the notorious Eau Rouge.
"The car was just flying and I was much faster than everybody around me," he said. "I was just picking off the positions but I was running low downforce so the handling was tricky and I lost the car in Eau Rouge."
The back end of the Renault snapped out and Fisichella became a passenger as his car spun a full 360 degrees before the right-hand side piled heavily into the barriers to bring his charge to an end.
The incident brought out the safety car and saw every driver peel into the pits except Ralf Schumacher and the two Minardis, who had already pitted, and Jacques Villeneuve, who gambled on staying out.
Montoya shot into his McLaren pit and Raikkonen played it clever as he slowed right down, with the train of cars frustrated behind him, to give the team time to clear his pit without him losing time to his rivals.
It was both an opportunity to take a fuel stop and to change tyres but some who gambled on drys - Michael Schumacher, Coulthard and the BAR and Williams cars - made a wrong decision and returned to change back one lap later.
BAR sporting director Gil de Ferran said: "The strategy became quite complex and we underestimated now low the level of grip was so having put drys on at our first stop we came back in for wets and fell to the back of the pack."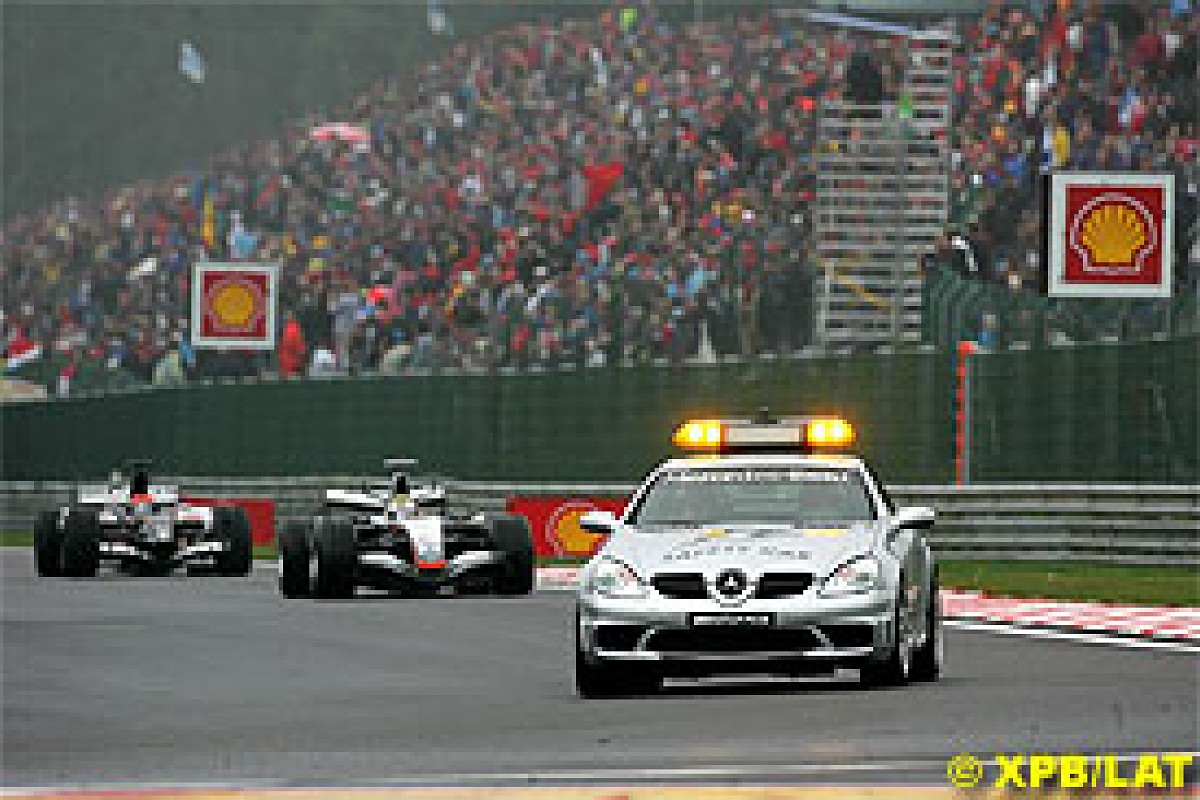 Ferrari technical director Ross Brawn added: "The lap times seemed to indicate dries would work so we took a chance to try them on Michael's car but he soon realised there was no way he could drive on them."
Coulthard tried to explain why he had taken the gamble and said: "We thought the safety car would be out for a long time, which would give the slicks a chance to get up to temperature.
"As we must now use one slick tyre for the race, it has to be a hard compound to last the distance and that makes it more difficult to get it into its operating window in terms of temperature.
"Putting a slick tyre on a damp track doesn't work but intermediate tyres on a dry track will overheat so you end up with this no-man's-land area where no tyres fit. The wets were burning up but slicks didn't work in these conditions."
Trulli and Klien, who also gambled on drys, came in to change tyres one lap later and Trulli admitted: "I had asked to stay on wets but the team put me on dry tyres and I was barely able to maintain the pace of the safety car!"
The safety car did not stay out long, coming in at the start of lap 14, with Montoya leading but Villeneuve and Ralf Schumacher splitting the two McLarens as the cars roared in towards La Source at the re-start.
Villeneuve ran wide and dropped to fourth, almost collecting the Renault of Alonso as he jerked sharp right to get back onto the track before the wide run-off area at the first turn came to an end.
Further down the field, Sato made a massive misjudgement on the speed of the cars around him and explained that with cold tyres and brakes it was "very difficult to stop the car" heading into La Source.
That fact that was borne out when he clattered into the back of Michael Schumacher, putting both cars out the race immediately and inciting the seven-time World Champion into a rage.
Schumacher said it was "stupid" the race had ended that way and rushed up to Sato before the Japanese driver could get out the car to give him a barrel-load of abuse before slapping his visor down to prevent any retort.
Ferrari team boss Jean Todt said: "Michael is normally quite cool but the way he reacted is quite significant because he missed an opportunity, and we know that we haven't had so many opportunities this year."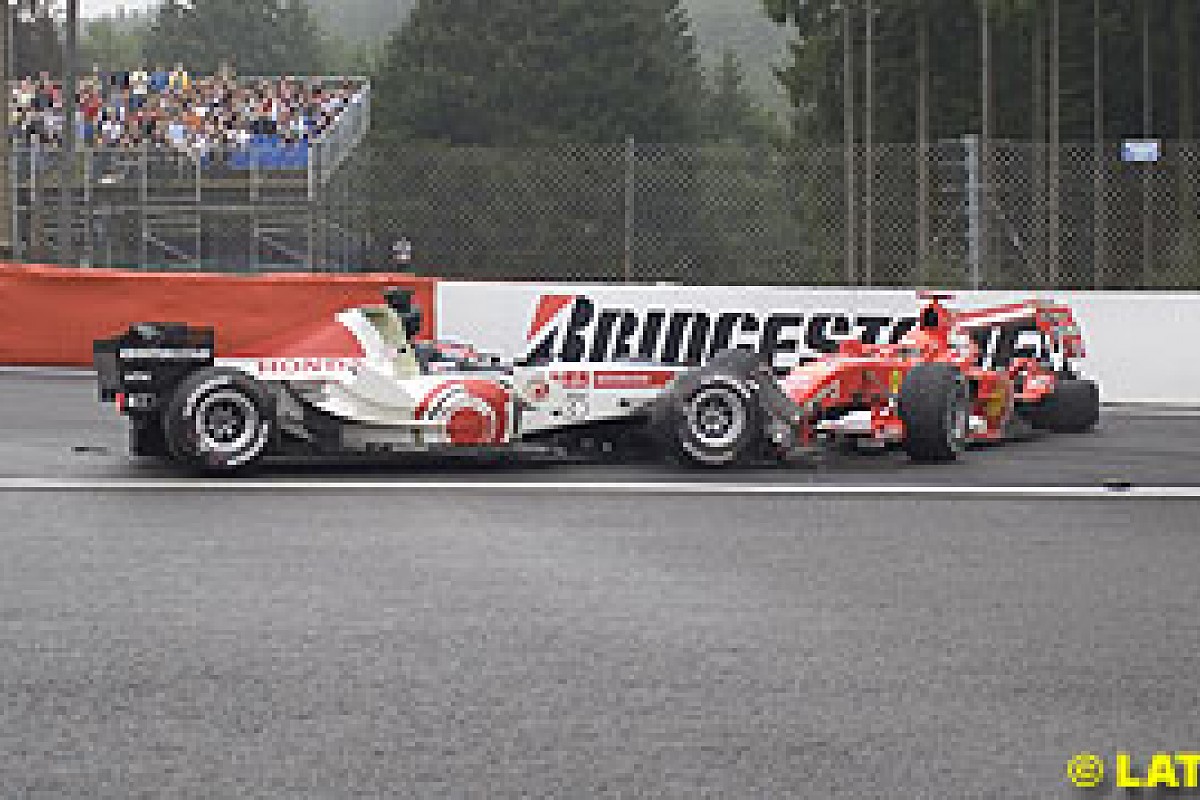 With the race back underway, Montoya led from Ralf Schumacher with Raikkonen third, Villeneuve down in fourth and Alonso, Massa, Barrichello and Monteiro completing the top eight.
Webber was ninth, but he soon got past Monteiro as did Button, on lap 18, by which time Montoya was under serious pressure from Ralf Schumacher at the front as the Toyota driver pushed hard and closed right up.
Raikkonen could not keep up and explained: "Ralf was quite a bit lighter because he didn't stop so I didn't push because the tyres were really bad straight away and I tried to look after them."
Coulthard's race came to an end on lap 19 when he stopped just after the pitlane with his first engine failure since last December. Then Villeneuve pitted one lap later for his first stop of the race.
Ralf Schumacher came in for his second stop at the end of the 24th lap and chose to change to dry tyres, but it proved to be a mistake as he slid off at Les Combes in the slippery conditions and immediately pitted to change back.
"We just decided to go onto dry tyres too early," explained Schumacher, who dropped to 12th. "We expected the track to dry out a lot faster than it did. It was a very close decision but we took it together and we got it wrong."
Ralf Schumacher began his chase through the field, passing Klien on lap 27, the same lap as Monteiro passed Villeneuve, who then dropped behind Pizzonia on lap 28, Karthikeyan on lap 29 and Trulli and Ralf Schumacher on lap 30.
"I had plenty of adventures," said Villeneuve. "I was completely sideways in Eau Rouge on one lap and I really thought that was it, but I saved it and then had some wheel-banging with Karthikeyan up at Les Combes."
In contrast, Villeneuve's teammate Massa was up to fourth when he stopped on lap 29, with Monteiro pitting on lap 30, Barrichello and Klien on 31 and Alonso, Webber, Karthikeyan and Trulli all stopping on lap 32.
Massa peeled back into the pits for more tyres soon after his stop and said: "My engineer Mike Krack asked me should we stay on wets before my second stop but the track was a bit like it was on Friday when grooved tyres had worked okay.
"I figured it was worth the risk and said let's change to dry tyres. If it had worked we would have been heroes but as it was the car just became undriveable and I had to pit again."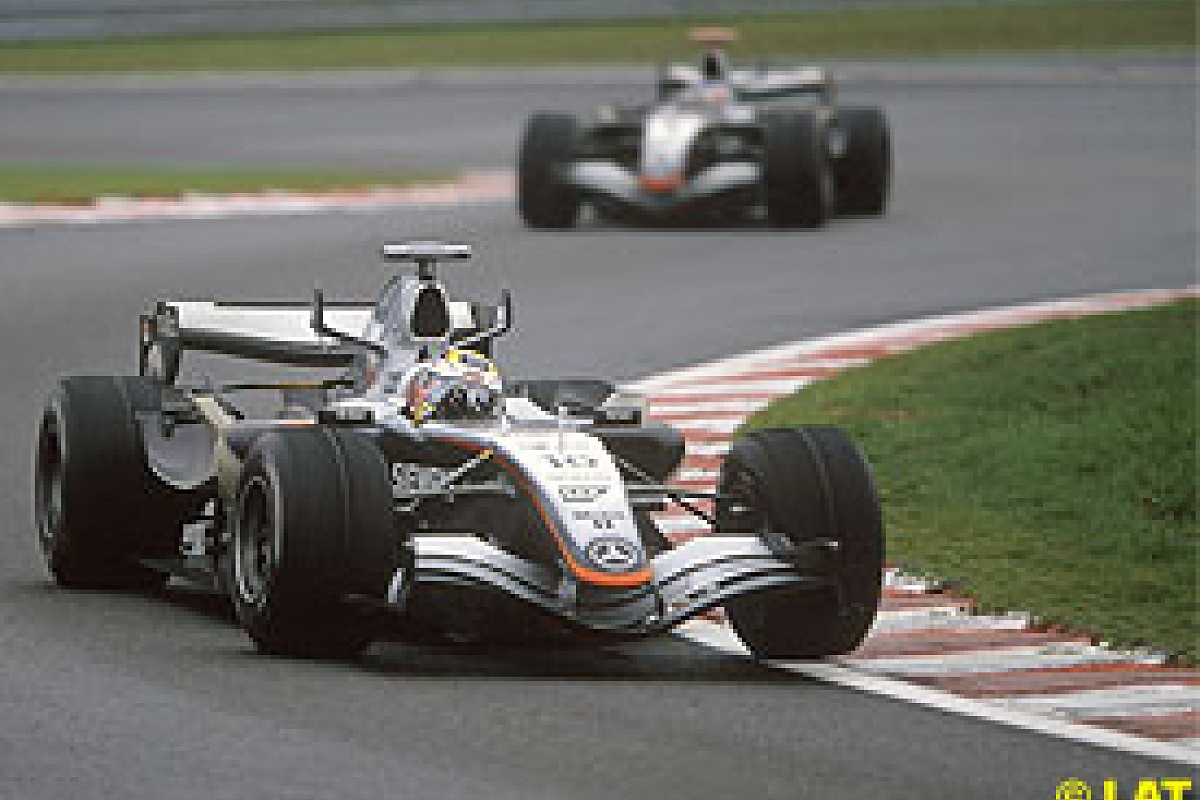 While all this midfield action going on, the two McLarens were carefully orchestrating a switch of positions up front with Montoya slowly allowing Raikkonen to close between laps 25 and lap 33, when the Colombian made his stop.
"We had a decision that we don't want to race against each other too much because there is no point as long as we can pull ahead of the rest and then we see what happens at the end of the race," explained Raikkonen.
"He was very quick after the re-start but then I caught him up in the end. I think it was a different way of driving and maybe a different set-up so it was a slightly different speed at that point."
Button and Pizzonia also stopped on lap 33, but Raikkonen put in two fast laps before pitting on lap 35 and come out with a six-second lead with the 'subtle' team tactics accomplished to perfection.
Trulli's race ended in the tyre barriers on lap 35 when he hit Monteiro and he explained: "He accidentally hit the pit limiter button. I had no way of avoiding him and I hit him, losing my front wing and going off into the wall."
Up front, Raikkonen and Montoya were left with a clear run to a one-two, with Alonso sitting comfortably in third and Barrichello fourth, but the Brazilian was passed by Button, who had earlier taken Webber in a late charge up the field.
Button's impressive pace came down to a call on tyres and he explained: "In the last stop we left the (same) tyres on and that made a big difference. I think that was why we had so much better pace than the cars around us.
"It was possible to overtake everywhere because my tyres were in much better shape. I didn't have the blocks to be rolling around on so it was a good choice by the team and myself to stay on those tyres."
In the end, Button need not have overtaken either Webber or Barrichello as they pitted again on laps 38 and 40 respectively, with Ralf Schumacher also stopping on lap 40 and losing a place to Villeneuve.
Then, just as it looked like McLaren had their first one-two in more than five years in the bag, it went thanks to Montoya's late collision with Pizzonia, his second late-race collision with a backmarker in three events.
"Pizzonia was trying to unlap himself on dry tyres and then hit me from behind whilst trying to do so," said Montoya, but Pizzonia saw it differently and claimed the Colombian was trying to let him past.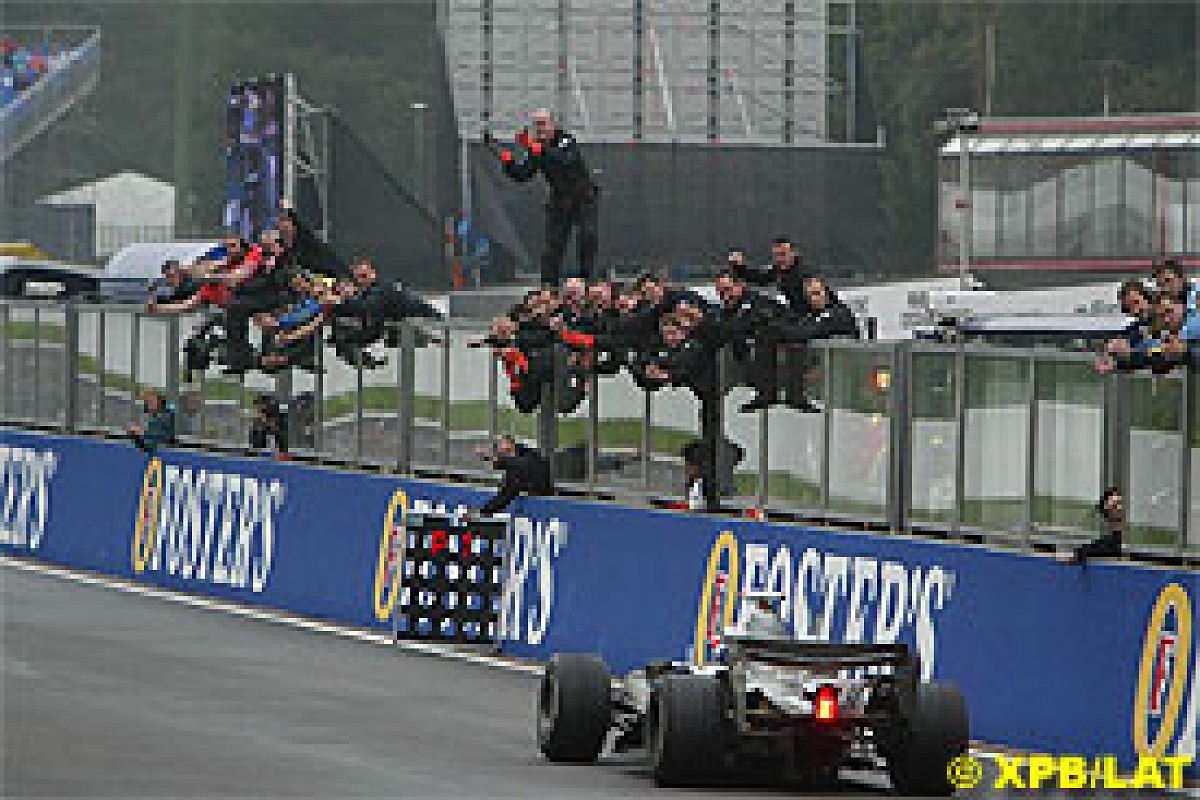 "I was on dry tyres and lapping quicker than him," said Pizzonia. "He was quite slow maybe because his tyres were not good anymore or maybe he was just cruising to the end of the race.
"I thought he saw me and when he braked really early I thought he was trying to let me by. I put my car next to him but obviously he hadn't seen me because he turned into his normal line and I couldn't avoid the crash."
Raikkonen eased to a win, but Alonso was once again gifted a handy second with Button in third. "A win is always a win," stated Raikkonen afterwards. "All the wins count, that is why we are here." But sometimes second counts for even more.
Race Results
Pos  Driver        Team                  Time   
 1.  Raikkonen     McLaren-Mercedes (M)  1h30.01.295
 2.  Alonso        Renault          (M)  +    28.394
 3.  Button        BAR-Honda        (M)  +    32.077
 4.  Webber        Williams-BMW     (M)  +  1:09.167
 5.  Barrichello   Ferrari          (B)  +  1:18.136
 6.  Villeneuve    Sauber-Petronas  (M)  +  1:27.435
 7.  R.Schumacher  Toyota           (M)  +  1:27.574
 8.  Monteiro      Jordan-Toyota    (B)  +     1 lap
 9.  Klien         Red Bull-Cosworth(M)  +     1 lap
10.  Massa         Sauber-Petronas  (M)  +     1 lap
11.  Karthikeyan   Jordan-Toyota    (B)  +     1 lap
12.  Albers        Minardi-Cosworth (B)  +    2 laps
13.  Doornbos      Minardi-Cosworth (B)  +    3 laps
14.  Montoya       McLaren-Mercedes (M)  +    3 laps
15.  Pizzonia      Williams-BMW     (M)  +    4 laps

Fastest Lap: R.Schumacher, 1:52.177

Not Classified/Retirements:

Driver        Team                  On Lap
Trulli        Toyota           (M)    35
Coulthard     Red Bull-Cosworth(M)    19
M.Schumacher  Ferrari          (B)    14
Sato          BAR-Honda        (M)    14
Fisichella    Renault          (M)    11


World Championship Standing, Round 16:                

Drivers:                    Constructors:             
 1.  Alonso       111        1.  Renault          152
 2.  Raikkonen     86        2.  McLaren-Mercedes 146
 3.  M.Schumacher  55        3.  Ferrari           90
 4.  Montoya       50        4.  Toyota            80
 5.  Trulli        43        5.  Williams-BMW      59
 6.  Fisichella    41        6.  BAR-Honda         31
 7.  R.Schumacher  37        7.  Red Bull-Cosworth 27
 8.  Barrichello   35        8.  Sauber-Petronas   17
 9.  Button        30        9.  Jordan-Toyota     12
10.  Webber        29       10.  Minardi-Cosworth   7
11.  Heidfeld      28       
12.  Coulthard     21       
13.  Villeneuve     9       
14.  Massa          8       
15.  Monteiro       7       
16.  Wurz           6       
17.  Karthikeyan    5       
18.  Klien          5       
19.  Albers         4       
20.  de la Rosa     4       
21.  Friesacher     3       
22.  Pizzonia       2       
23.  Sato           1       
24.  Liuzzi         1          


Fastest race laps: Click here
Pitstop times: Click here
Lap by Lap
Pre-race: A change in climatic conditions is announced. Teams are allowed to adjust their cars to suit the damp conditions, if they wish. Minardi drivers Robert Doornbos and Christijan Albers opt to start from the pits rather than 18th and 19th positions. Intermediate tyres are the order of the day.
Lap 1: Pole-sitter Juan Pablo Montoya makes a clean start to lead Kimi Raikkonen into La Source. Jarno Trulli briefly threatens the Finn, but slots into third. World Championship leader Fernando Alonso runs fourth ahead of Michael Schumacher, Takuma Sato (up from 10th), Jenson Button, Ralf Schumacher, Felipe Massa, Mark Webber, David Coulthard, Giancarlo Fisichella (relegated from third to 13th on the grid in the wake of an unscheduled engine change), Christian Klien, Rubens Barrichello, Antonio Pizzonia, Jacques Villeneuve, Tiago Monteiro, Narain Karthikeyan and the Minardis, Doornbos ahead of Albers. Montoya opens up a 1,4s lead.
Lap 2: Raikkonen cuts his deficit by 0.2s. Coulthard and Fisichella pass Webber.
Lap 3: Raikkonen closes again: 0.7s. Trulli and the others are drifting slowly.
Lap 4: Montoya eases away: 1,5s. Albers pits and rejoins.
Lap 6: Fisichella passes Coulthard for 10th on the run from La Source to Eau Rouge.
Lap 7: Ralf Schumacher passes Button for seventh; Fisichella makes short work of Massa and moves up to ninth. Doornbos pits and rejoins.
Lap 9: The gap between the top two stabilises at 1.0s. Trulli is 4.6s further adrift. Ralf Schumacher is harassing Sato. Fisichella pinches eighth from Button. Montoya laps Doornbos.
Lap 10: Ralf Schumacher makes a scheduled stop.
Lap 11: Fisichella makes an unscheduled one, against the tyre wall at Raidillon. He hops out but the Safety Car is deployed and everybody bar Villeneuve heads for the pits. While Montoya stops, Raikkonen slows the remainder of the field to avoid being stacked up in the pits. Webber takes a punt on dry-weather tyres.
Lap 12: Post stops, Montoya leads Villeneuve, Ralf Schumacher, Raikkonen, Alonso, Trulli, Massa, Barrichello, Monteiro, Michael Schumacher, Sato, Klien, Coulthard, Karthikeyan, Webber, Button, Pizzonia, Albers and Doornbos. Michael Schumacher, Sato, Coulthard, Webber, Button and Pizzonia make second stops.
Lap 13: Trulli and Klien come in again.
Lap 14: Restart. Villeneuve runs wide at La Source and slips to fourth. Sato rams Michael Schumacher at the same spot and both retire. The German swipes a glove in his assailant's general direction. The crowd jeers the Japanese driver. Montoya pulls 4.7s out on Ralf Schumacher. Raikkonen is another 2.9s in arrears.
Lap 15: The order reads: Montoya, Ralf Schumacher, Raikkonen, Villeneuve, Alonso, Massa, Barrichello, Massa, Barrichello, Webber, Monteiro, Button, Coulthard, Pizzonia, Karthikeyan, Trulli, Klien and the lapped Minardis, Albers ahead of Doornbos.
Lap 16: Ralf Schumacher is reeling the leader in: the gap is down to 2.8s.
Lap 17: Montoya's advantage is further shredded: it's just 1.9s. The yet-to-stop Villeneuve is still ahead of Alonso - by 2.3s - and Monteiro is clinging onto ninth, although Button is right on his tail.
Lap 18: Button passes Monteiro.
Lap 19: Coulthard retires from 11th place at La Source, with a plume of smoke visible from his engine bay. Oil is spotted on the track. Ralf Schumacher gets to within 0.7s of Montoya. Raikkonen is half a dozen seconds behind.
Lap 20: Villeneuve makes his first stop and drops from fourth to eighth, just ahead of Button. Raikkonen edges a couple of tenths nearer the top two. Alonso is all on his own in fourth.
Lap 21: Montoya stretches his legs a little and pulls 1.1s clear. Albers makes his second stop.
Lap 23: Doornbos pits.
Lap 24: Ralf Schumacher pits and gambles on dries. Montoya leads Raikkonen by 6.5s. Button passes Villeneuve for eighth around the outside of Pouhon. Doornbos runs wide onto the grass and pits at the end of the lap.
Lap 25: Ralf Schumacher spins at Les Combes. Cue another pit stop. The wets go back on. Raikkonen cuts Montoya's lead by 0.5s.
Lap 26: Only 4.9 seconds separate the leaders. Webber is challenging Barrichello for fifth. A queue is developing behind Villeneuve: Monteiro, Pizzonia and Karthikeyan are in it.
Lap 27: Raikkonen closes in again: 4.5s. Monteiro passes Villeneuve.
Lap 28: Raikkonen is within 2.8s of Montoya. Pizzonia passes Villeneuve.
Lap 29: Raikkonen laps in 1m55.964s - the race's fastest yet - and closes to within 2.2s. Massa pits from fourth and rejoins on dry tyres. Villeneuve survives a sideways moment at Eau Rouge, but Karthikeyan passes him as they approach Les Combes. The Indian runs wide and bounds across the grass but stays ahead of his quarry.
Lap 30: Raikkonen laps in 1m55.848s: the gap is 1.6s. Monteiro pits.
Lap 31: The McLarens are closer still: 1.1s. Barrichello peels in from fourth. Massa spins at the Bus Stop: dries are not yet the way forward.
Lap 32: Montoya leads by 0.4s. Alonso, Webber, Karthikeyan and Trulli pit.
Lap 33: Montoya peels in and rejoins on intermediates. Button and Pizzonia stop, too.
Lap 34: Raikkonen laps in 1m53.810s. Montoya is second, 26.4s adrift, with Alonso still a solitary third.
Lap 35: Raikkonen makes his final scheduled stop and rejoins ahead of Montoya. Trulli crashes out of 11th place at Les Combes. Button passes Webber for fifth at the Bus Stop.
Lap 36: Raikkonen leads Montoya by 6.7s. Alonso is third from Barrichello, Button, Webber, Ralf S, Pizzonia, Villeneuve and Monteiro. Massa, Klien, Karthikeyan, Albers and Doornbos are lapped.
Lap 37: Klien passes Massa for 11th at La Source.
Lap 38: Button slices past Barrichello at the Bus Stop to take fourth. Webber pits from sixth and fits dry tyres.
Lap 39: Klien - 11th and on dry tyres - is lapping faster than almost anyone bar Raikkonen. Pizzonia pits for dries.
Lap 40: Barrichello and Pizzonia pit for dries.
Lap 41: Webber sets fastest lap - 1m52.370s. Pizzonia rams Montoya at Les Combes and punts him out of the race. Alonso moves up to second. Ralf Schumacher pits.
Lap 43: Ralf Schumacher laps in 1m 51.943s.
Lap 44: Raikkonen wins by 28.3s from Alonso, who needs just six more points to clinch the world title. Button is only 3.4s shy of second place by the end. Webber, Barrichello, Villeneuve and Ralf Schumacher - almost as one across the line - and Monteiro complete the top eight, ahead of Klien, Massa, Karthikeyan, Albers and Doornbos.