The Calm Before the Storm:
Formula One's Political Climate

---
By Tony Dodgins, England
Autosport-Atlas Contributing Writer
What stands behind the gestures of goodwill and diplomatic talk that dominated Max Mosley's press appearance at the Italian Grand Prix? Did the controversial FIA president win over his staunch enemies in the F1 paddock, and is the sport really heading for days of peace and harmony? Tony Dodgins looked deeper, and he analyses the current state of affairs
I admit to being a little confused. Speak to the majority of F1 team principals a couple of short months ago, and Max Mosley was the Antichrist. Privately anyway. Publicly they all hid behind appointed shop steward Paul Stoddart, who was happy to blast away in all directions. Suicidal? Maybe, but Stoddy didn't care.
Then, just as suddenly, it all quietened down. I was suspicious. You're right to be, one team principal told me. So in Monza I asked Stoddart how the land lay. And in particular about last week's pre-Monza meeting at the Automobile Club of Milan.
"It was good," he said. "Everyone was there, a full house, with all 10 teams, all the manufacturers, and Bernie [Ecclestone] and Max. It's the first time ever we've had that gathering."
And?
"Well, I haven't fully read Max's press conference transcript yet but I gather he was pretty level-headed and sensible. If that's the case then I'm confident, because my fear is that there's a fragile peace that could easily be fractured by one person, either side, being silly. I'm encouraged enormously that it doesn't look like that has happened.
"It was a positive meeting and we did make progress. A slightly frosty start but it settled down pretty well and ended up, I thought, on a positive note. There are still differences, but we've made up an awful lot of territory and I can't see us not sorting out the sporting and technical regulations before the end of this year. So, on that basis, I think it's good news for F1, never mind any individual. Go right back to Melbourne and that wasn't about me running an old car; it was about getting the regulations sorted out. And we're pretty close to doing that."
What about the notion, widely peddled a few weeks back, that the F1 ship could no longer sail with Mosley at its helm?
"Well," Stoddy said, "Max created that idea himself by the way he was doing things. But if the Max we've got today is the Max that stays, then I don't see a real problem. Because it's not the Max we had from February to July."
Quite a change there. And you do wonder what you're missing.
Perhaps it's enough that suddenly Dietrich Mateschitz is waving his Red Bull chequebook in Minardi's direction. According to Stoddart, there have been 41 parties interested in buying his team over the past five years.
"Many of them time-wasting arseholes..." as he so delicately put it.
Mateschitz, quite obviously, is not categorised as such.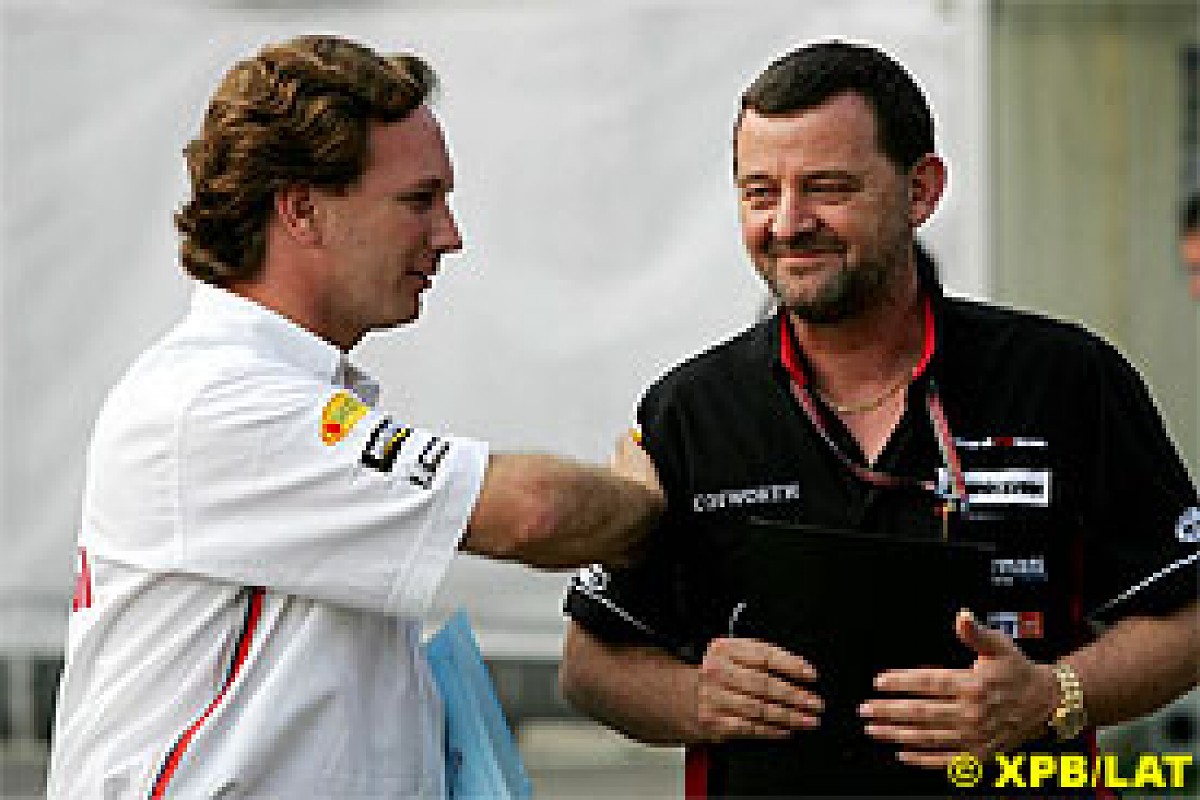 At Monza, Eddie Irvine was floating around again on behalf of his Russian backer and was back in the Minardi motorhome on Sunday night having, we understand, already conducted due diligence.
When I asked Stoddart on Friday about rumours of Mateschitz and a Red Bull America team, he was a little coy.
"No," he said, "Red Bull is another party we have spoken to in the past and might be talking to in the future but, as we sit here right now, the answer is no. They have expressed an interest but I'm probably better to say nothing. It's too early. It's an interesting story but it hasn't got legs yet. But it might get some soon..."
By Sunday night it was positively running. Mateschitz has apparently paid a €1 million Euro deposit for the right to look at the Minardi business this week, with a right-to-purchase option expiring on Saturday night at Spa. The word is that the energy drinks magnate is willing to pay €30 million Euros but Stoddart wants €35 million.
The Red Bull America idea was first mooted around the purchase of Arrows but didn't happen. And whether or not Mateschitz plans to turn Minardi into that doesn't really matter. Red Bull certainly has no shortage of young drivers in the sport and announced an extension of its deal with American GP2 runner Scott Speed at Monza. Mateschitz will want outlets for his guys in F1 although, as Stoddart explained, a Red Bull involvement with Minardi could just be about driver placement.
But probably not. Stoddart has always said he will sell if the numbers make sense and the future of the team is guaranteed. He's an enthusiast but he's also a businessman. And €35 million Euros is loose change to Mateschitz.
The political implications are very interesting.
The reason that any peace is fragile is that there is the commercial future of Formula One to sort out before 2008. The manufacturer-backed teams are anxious not to be split, so as to maintain unity when the negotiating is done. The teams want a better financial deal from Bernie and the manufacturers want a say in the sport's governance and more transparency.
Ferrari, of course, have committed to FIA/FOM and signed up to a new Concorde Agreement. Mateschitz has already followed suit with Red Bull and so have Jordan/Midland.
Discussing 2008 and the rest of the teams at Monza, Mosley let slip a little gem: "Currently there are three teams that have signed up to compete and there are another three that are on the verge of signing up," he dropped in. That was news to most people. "I think it's only a matter of time before more follow but only they can decide."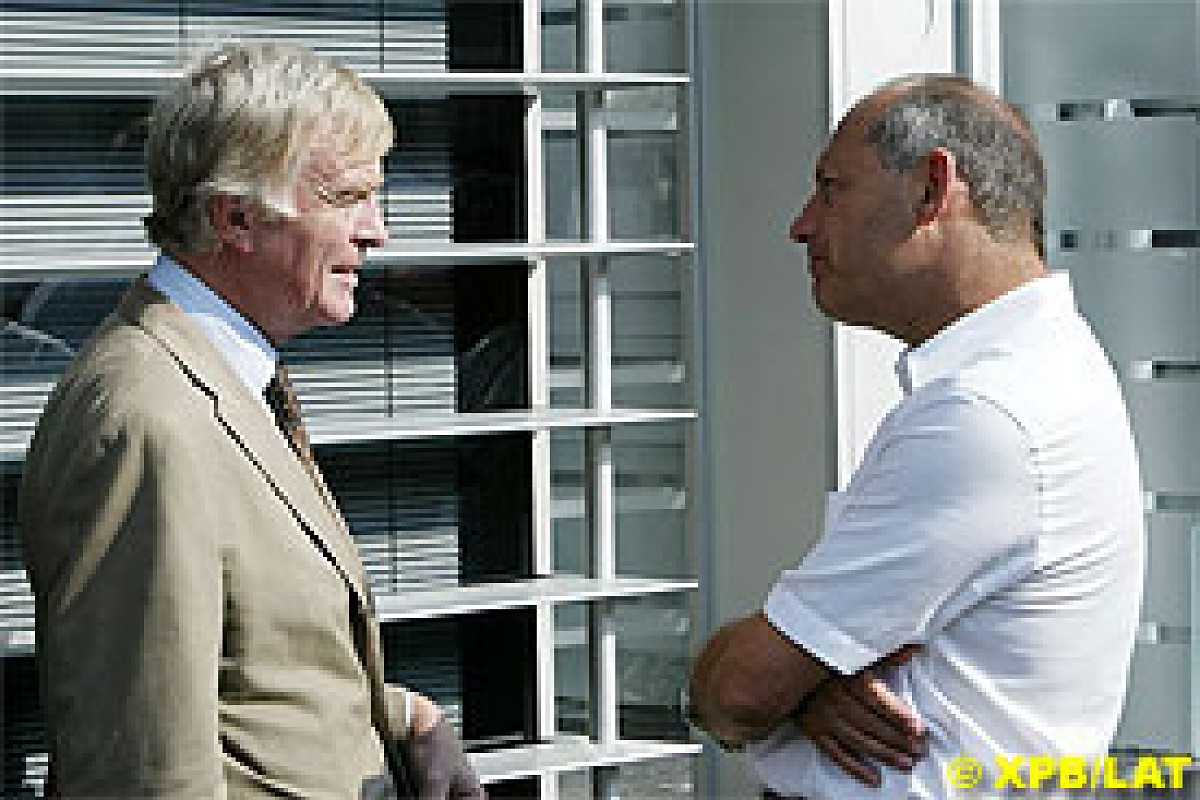 He went on: "It's not our (the FIA's) concern what the teams say to Bernie's companies. One of his jobs is to get the cars to the tracks. If he can't, then he'll get other cars there instead. We want to encourage the teams to agree to stay with his companies and with Formula One, but there will be a Championship in 2008 whether they are there or not."
Is that clear enough?
Mateschitz and Mosley are buddies. They go skiing together. A Mateschitz-owned Minardi is another team in the FIA/FOM camp.
Mosley was also asked about the future of the $48 million bond that currently has to be lodged by any new team wanting to come into F1.
"The current Concorde Agreement runs until the end of the 2007 season," Mosley reiterated, "and it says that you have to be a manufacturer - you have to build your own car. In our set of rules for 2008, that stipulation has been left out, so that the current teams will be able to sell their old car and engines to new teams who can enter much more cheaply.
"As to the $48 million bond, that is part of the sporting regulations, not the technical regulations. If that requirement is put in a new Concorde Agreement, then we won't sign it. We put it in when there were too many teams and some were running 15 seconds a lap slower than the leaders. We had to ensure that only serious entries could compete. But, over the last few years we have seen a reduction down to 10 teams primarily due to cost issues."
Are you starting to see where this is going?
Formula One's Concorde Agreement, the pit allocation, everything, was originally based around 12 teams. With three teams signed up and two, apparently, as good as signed, there's still two vacancies. And as soon as the barriers to entry are lifted, there will soon be two new teams - Arden, Jenkins, Sears, Carlin, Todt Jr, whomever. There will be no shortage of takers. And you can probably bet on Bernie making money available for 24 cars. He's got a big enough kitty, after all.
Suddenly, FIA/FOM would have critical mass. Then you get a very interesting situation because you've got seven teams in the Bernie camp and five teams with the manufacturers. As soon as another team asks for an entry and the FIA says yes, there's only four vacancies left...
The moment that happens, Bernie's negotiating position changes somewhat. It becomes not how much is he going to pay, but how much will he be paid!
Fanciful? The teams, surely, would run off to Brussels and complain about anti-competition issues. Wouldn't they?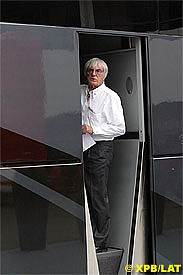 Well they might, but if they do, the FIA will say yes, well, they've been threatening to run their own series and we were going to help them, we were just waiting for their calendar. What's the problem?
Without wanting to stir, you can almost see the smile on Max's face. Oh what a shame, Ron. The music appears to have stopped and you don't seem to be sitting down...
Ron Dennis, Frank Williams and Ken Tyrrell refused to sign up to a new Concorde Agreement in 1997, but the difference then was that there were a number of outstanding regulatory issues with the EU that have now apparently been cleared.
Some were initially sceptical when Ferrari switched camps from the manufacturers to side with FIA/FOM. Of what relevance was it that they had signed up for something that didn't yet exist? Weren't they just cleverly keeping a foot in both camps, to see what developed?
One reason for the scepticism was that Ferrari had for some time been the best-funded team on the grid and Mosley was heading towards cost-cutting initiatives. What interest of theirs was it to restrict engine technology and so forth?
Well, today Toyota is in town, Fiat is in trouble and pan-European tobacco bans are not promising for an outfit that draws a sizeable portion of its budget from Marlboro, notwithstanding that Philip Morris renewed its commitment to the team until 2011 at Monza last weekend.
One very good source told me in Monza that Ferrari now understands all about costs.
"Some people are saying it's because they haven't got any money but I think they have," he said. "I think they are well sorted with money for the foreseeable future. But Jean Todt is running the entire company, not just the race team. If he can save $100 million dollars on the racing and stick it on the bottom line of the road car business, then that's really significant. They produce only 4,000 cars a year and so it adds up to about $25,000 for every car they build. Todt can see the strength of that, which is why he's on the FIA/FOM side."
With every team wanting cost cuts in difficult times for F1, Mosley has introduced highly restrictive engine regulations. Which is potentially difficult for the manufacturers.
What will happen next year if a Cosworth costing less than $20 million dollars is more powerful than some of those manufacturer engines on which they are spending ten times as much? More than a little squirming and some awkward boardroom questions no doubt.
Which is also why the manufacturers have been getting a little jumpy about the V10/V8 equivalence formula, of which there is currently no news. It's worth pointing out that in the Italian Grand Prix last weekend, Michael Schumacher's Ferrari lapped less than 1.5 seconds quicker than Christijan Albers' Minardi. Mosley, right from the start, has said that the equivalence formula will allow the little teams to have engines that are very nearly competitive without spending a fortune. And he hinted that if the equivalency is not quite right initially, it can be tinkered.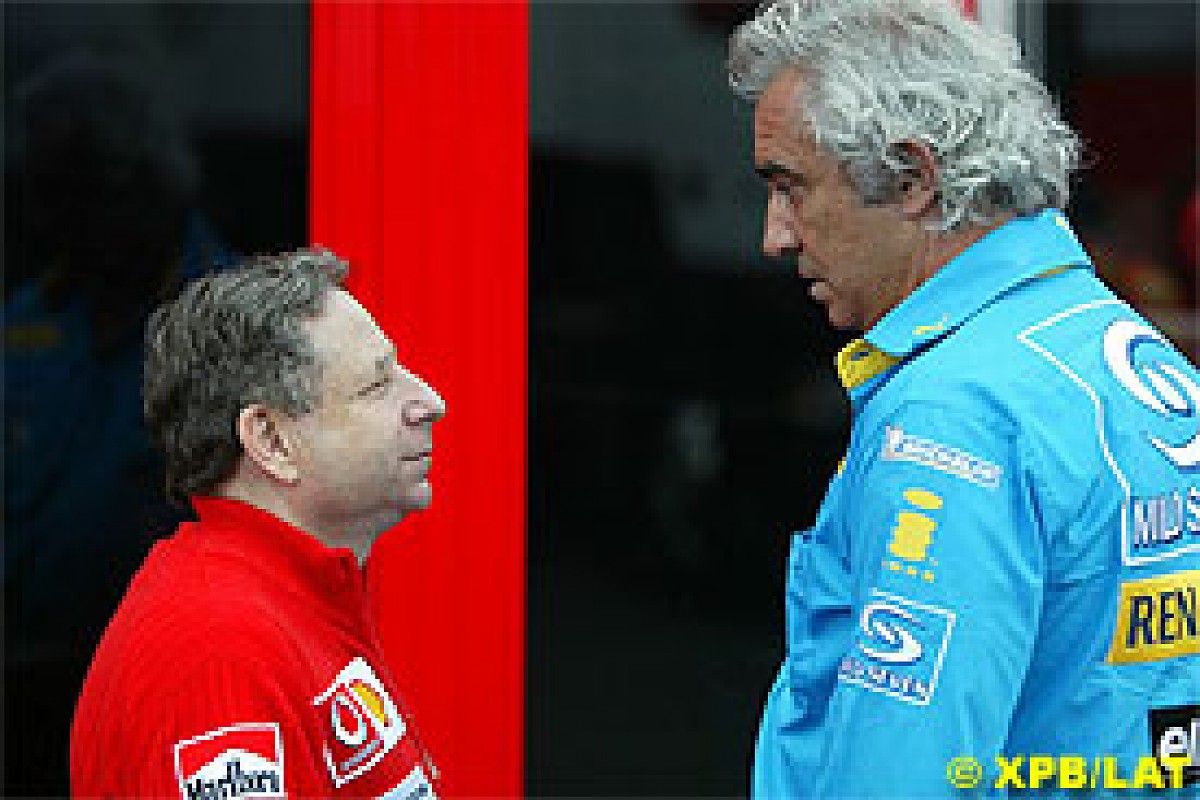 Just imagine, Tonio Liuzzi turns up at the first race of 2006 and buggers off into the far blue yonder in a nice, smooth Cosworth V10-powered Minardi (Red Bull), while some of the new vibrating V8s go 'pop' and the rest trail home half a minute behind. Scott Speed finishes second. Jenson Button, Emma Bunton or whomever finishes third in Frank's new Willliams-Cossie.
Sitting watching the telly at home, Max Mosley dare not enjoy a drink because he's already struggling not to wet himself. In board rooms across Japan, men fall on swords and axes dangle above F1 programmes. Extreme, I know, but you get my drift. Max turns up at race two, magnanimously holds up his hands and says, Oops, sorry chaps, we will of course address the situation with appropriate haste but it will take a race or two because we want to be sure to get it right this time...
Nobody should be too surprised. Mosley has already made it clear that although he is happy for manufacturers to be involved in Grand Prix racing, he has no desire to preside over the FIA Formula One World Spending Championship. A recently calculated statistic showed that running a season in GP2 costs 0.87% of a year's F1 budget! Not directly comparable, perhaps, but pretty mind-boggling all the same.
"What we are trying to do with the regulations is reduce the cost/benefit ratio," Mosley says. "Because if someone's got a budget in excess of €400 million Euros, and I'm sorry to say some of them have, then you can't stop them spending that money but what you can do is try to arrange it so that it's not going to make a lot of difference."
Mosley well understands the fragile nature of manufacturer Formula One programmes. And he's right. One episode illustrates it perfectly.
For some time, there have been whisperings about the FIA president playing hardball with a couple of the manufacturers over the engine regulations in a manner that, if true, would have done him no favours had it been talked about on the record. I figured that these allegations were either untrue or unproven but asked a key figure in one of the disaffected teams about the deafening silence.
"Well", he said, "this paddock tends to operate in its own little world. People read the Rich List and they bluster around feeling that they are very important. But the reality is that we're not. No matter what anybody tells you, it is very hard to prove the return from Formula One. On any manufacturer board at any time, there are people who would love to strike a pen through the F1 budget. The idea of taking on the head of the automobile federation, a very intelligent and well-connected man who could hurt them, is far more likely to hasten that pen stroke than anything else. That's the reality."
I won't say whose sentiments those are, but if they are echoed by his fellows then, forgetting the know-how, what are the realistic chances of the manufactures having the will, resilience and stamina to set up a rival series?
But just in case they have, what is the world going to watch - Michael Schumacher versus Valentino Rossi or Ralf Schumacher versus Nick Heidfeld?
As someone said to me last weekend, Formula One could get pretty interesting between now and 2008. So long as it doesn't go bust in the meantime. Because the TV audiences are down, the sponsors are nervous and there were gaping holes in the Monza grandstands.