In its second season, the football club-based Superleague Formula took another step towards recognition as a serious high-powered single-seater series, and not just a gimmick. Five-time European Cup champions Liverpool added another trophy to its cabinet, thanks to Adrian Valles and his Hitech Junior Team-run squad. And here's how...
Round 1 Magny-Cours, June 27-28
Champion Valles started the year as he meant to go on, dominating the opening round as Superleague took the vacant French GP slot at Magny-Cours. He romped clear in race one, ahead of Anderlecht's Yelmer Buurman and Tottenham's Craig Dolby. Antonio Pizzonia of Corinthians had led from pole but suffered a woefully slow pitstop soon after Valles had passed him.
GP2 champion Giorgio Pantano won race two, having retired with fuel pressure problems near the end of race one, which gave him an artificially-high slot on the reversed-grid. Reigning champ Davide Rigon finished second for Olympiacos, ahead of FC Basel's Max Wissel.
The first-ever superfinal was a Valles walkover after he floored it at the last chicane before the rolling start and streaked away from Pantano and Pizzonia, who only made the six-car grid when Dolby's gearbox failed but pulled off some great moves on Rigon and Buurman.
Round 2 Zolder, July 18-19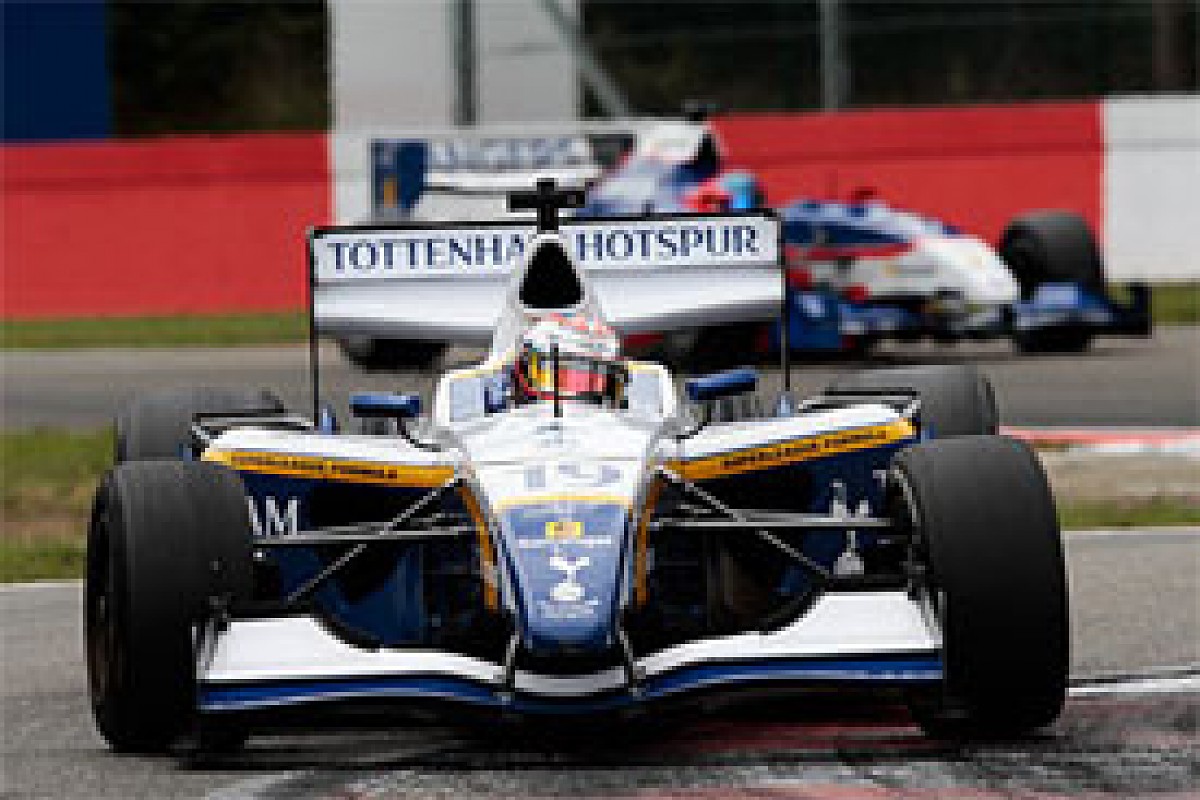 Craig Dolby leads at Zolder for Tottenham Hotspur
Dolby scored his first-ever Superleague victory, despite a first corner clash with Sporting Lisbon's Pedro Petiz. Battling against a damaged diffuser, an early pit strategy was the key to Dolby's success and he beat Rangers' John Martin and Valles to the flag.
Although he missed the opening round, Esteban Guerrieri returned to the series with Al-Ain and won race two by passing Ho-Pin Tung (Atletico Madrid) with six laps to go after Pizzonia and Pantano retired from race-winning positions with technical failures.
Round 3 Donington Park, August 1-2
Pizzonia scored another pole, but once again failed to convert it due to a tardy pitstop. Martin was no on course for top spot, but wayward backmarker Dominick Muermans ruined his race, allowing Wissel to score Basel's first Superleague win.
Race two was won by Porto's Tristan Gommendy after early leader Enrique Bernoldi kept stalling during his pitstop and Guerrieri, who had transferred to Sevilla, retired with a flat battery. Gommendy had to pass Petiz to win, while Wissel came through from 17th to third.
In the superfinal, which now featured a standing start, Wissel led until a hydraulic failure stranded him in fourth gear, allowing Martin and Dolby to sweep past him.
Round 4 Estoril, September 5-6
Guerrieri made his third move of the season, this time from Sevilla to Olympiacos, and won straight away for his new team in race one. Guerrieri cleverly kept his tyres alive for the latter stages, and passed both Valles and Pizzonia.
The man who replaced Guerrieri at Sevilla, F1 reject Sebastien Bourdais, finished a close second to Alvaro Parente (who subbed for Gommendy at Porto in a one-off appearance) in race two.
Bourdais went one better in the superfinal, beating Guerrieri and a brake-troubled Valles to take a famous win on his return to racing.
Round 5 Monza, October 3-4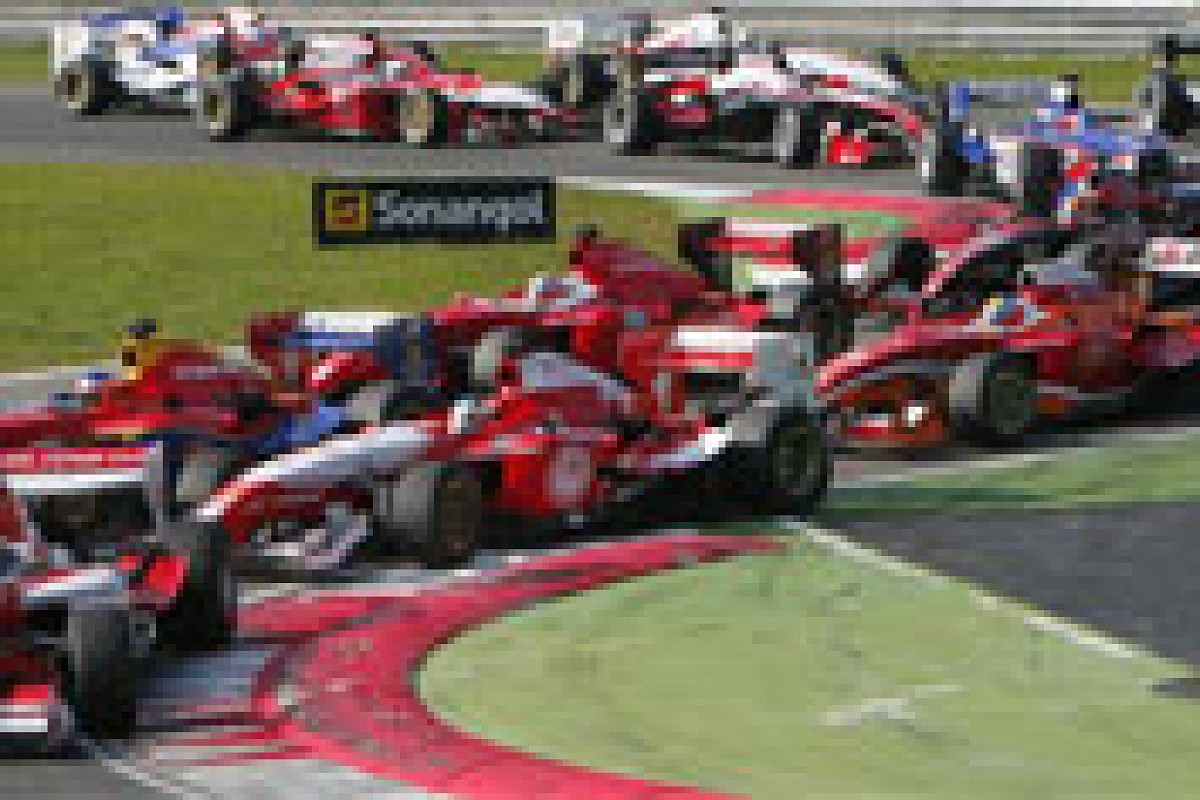 Sebastien Bourdais leads the field at Monza for Sevilla FC
Bourdais was a winner again at the Italian GP venue, despite a scare between races when the Ultimate Motorsport team had a change of ownership, and team manager Anthony Reid stepped in to save the day. Bourdais pipped Guerrieri in one of the closest finishes of the season (0.3secs), with Julien Jousse starring on his series debut to score third for Roma.
There was a surprise in race two as Petiz scored Sporting Lisbon's first Superleague victory, the former Porsche and SEAT racer beating Dolby and Bourdais to the finish. The race will be remembered for a bizarre sequence of events in the pitlane.
Round 6 Jarama, November 7-8
Buurman scored his first race win of the season in race one, dominating proceedings ahead of Bourdais after the ex-F1 man had spun while leading early on. Pantano finished third, ahead of Dolby which kept the latter's slim title hopes alive.
Race two was decided when Tung (now driving for Galatasary) passed poleman Kasper Andersen at the restart following an early safety car period. Dolby was the star of the race, however, charging through from 13th to second which included him passing Valles and Bourdais in one spectacular move at Turn 1. Valles finished fourth, which was easily enough for Valles to clinch the title.
The superfinal was won by Buurman (who'd crashed entering the pits in race two!) ahead of Bourdais and Valles. Poleman Dolby burnt-out his clutch at the start, and Tung struggled with handling issues.