The 2005 Turkish Grand Prix Review

---
By Will Gray, England.
Autosport-Atlas GP Correspondent
The inaugural Turkish GP proved to be a success, with the Istanbul circuit proving a real challenge for the drivers. Not so much for Kimi Raikkonen, however, who dominated the weekend on the way to his fifth victory of the season. Will Gray reviews the events and results from the fourteenth race of the 2005 season
Turkey made it clear the title will be a tough ask for Kimi Raikkonen.
McLaren's Championship challenger turned up the heat on title race leader Fernando Alonso again when he mastered the undulating Istanbul Park Circuit and made the most of his car's superior performance to win at ease. But the unflappable Spaniard is still refusing to crack.
Raikkonen displayed his cool composure as Turkey, save for its inescapable traffic problems, made a spectacularly successful arrival on the Formula One calendar. But while Alonso was not a match for the Finn he was there in the end to pick up the points he needs to stop the gap closing too quickly.
Alonso is becoming increasingly thankful for his superior performance in the opening few races, when he took three wins from four, and he is also thankful for the impressive reliability that has seen him finish on the podium in all but three of the 12 races he has started this year.
If things continue as they were in Istanbul, Raikkonen will have it all his own way for the rest of the season. His McLaren finally held itself together for two races in succession, but he is still suffering from the crucial early failures that left him firmly on the fightback.
Alonso and his Renault team have now accepted that they must rely on their past performances to sail home and they know that even if Raikkonen leads McLaren to one-two finishes in the remaining five races Alonso simply has to settle for third each time and he will still be Champion.
Turkey was a case in point as McLaren put on a masterclass while Renault remained satisfied with second best because, at the end of the day, that is just enough to get the job done and win Alonso the title. But it is not enough for them to take their own coveted constructors' crown.
That will go to McLaren if Renault are not careful and their once impressive lead has now been whittled away to just nine points, which could have been seven had Juan Pablo Montoya not had a moment of madness with backmarker Tiago Monteiro, the blame apparently settled as equal, in the closing stages.
But Alonso is the man Raikkonen needs to be doing that, not his own teammate.
It seemed clearer than ever in Turkey that this year's title fight is becoming a battle of nerves and that both men involved are apparently unshakeable. Neither has made many mistakes this season and the only thing that has split them has been the pace and reliability of their respective racing machines.
Unfortunately for McLaren, the points system in Formula One favours reliability, something that has been a bit of an Achilles heel down at Woking this year, with Raikkonen suffering four crucial failures while chasing likely victories and time is now ticking fast to gather that back.
Reigning Champions Ferrari, meanwhile, like the rest of the field, are not even in the game. They may still mathematically in with a chance of the title but there is now no way they will be able to retain a crown they have held ever since the end of 1999 after they proved embarrassingly slow in Turkey.
Reigning Champion Michael Schumacher will have to relinquish his title to either Raikkonen or Alonso by the time the field reaches the Far East if not before and the German must be wondering what he has to do to find some consistency from his Maranello steed this year.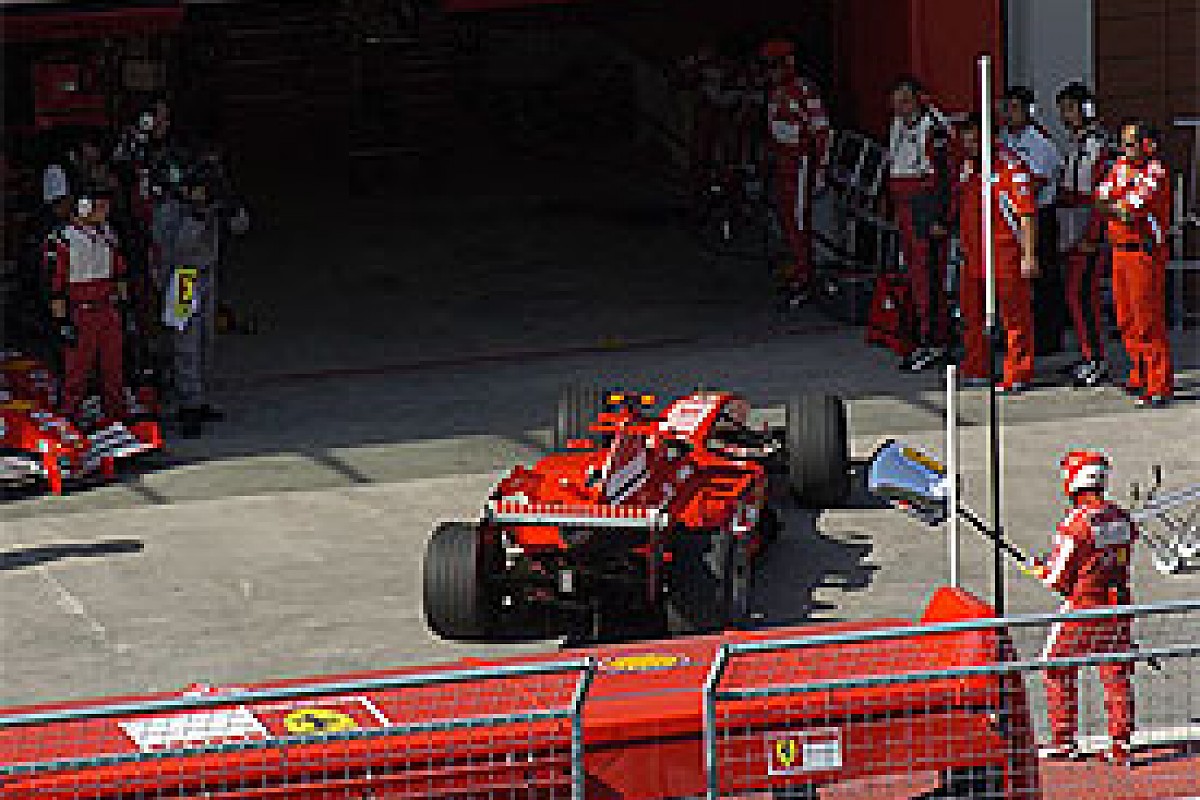 From being down in Silverstone and Germany he was up in Hungary, racing to second place and finally declaring their brief mid-season blip, which pushed them far too far down the order for their liking, was over, leaving them to possibly even fight for wins come the end of the year.
Think again. Ferrari languished down around the rearward mid-grid again in Turkey, looking like they had made some crucial miscalculations in their pre-race preparation simulations or that they simply had lost the plot for the umpteenth time this season.
It is a sad time for the Italian team, especially as they seem not to know exactly what is going wrong, and while Schumacher proudly declared he did not do any practice for the race on a PlayStation, as many of his rivals had, even he could not have had realised how little difference that would ultimately make.
BAR-Honda were the best of the rest as Jenson Button shook off his contract concerns for 2006 (he is, by now, well practiced at putting them to the back of his mind after all) and continued his return to form with fifth place following a disastrous first part of the season for the team as a whole.
He could have even been fighting higher were it not for a mistake in qualifying, but that could have been said for around 25 percent of the field, who were all caught out by a mix of slippery surface and gusty wind in the grid-deciding session. But there was nothing stopping him in the race.
He overhauled Jarno Trulli to push Toyota down to sixth but the big-money outfit were satisfied to continue picking up points in another building year while Red Bull Racing once again proved they can do an above average job on a below average budget by snatching the rest of the points.
So after Turkey those seasons of dull dominance from Ferrari seem a distant memory. The real action is back at the front. Both titles are delicately poised and with Italy, Belgium, Brazil, Japan and China on the horizon there are plenty more twists in the tale yet to come between the Finn and the Spaniard.
Qualifying
One of the most thrilling qualifying hours since the whole one-lap runs began, the session was packed with spins, burning brakes and big mistakes but there was only ever going to be one man on top of the pile.
Raikkonen ran last having won last and he proved how fast McLaren are compared to their opposition when he eased to the top spot by a quarter of a second despite running a much heavier fuel load than much of the pack.
But while his lap was ultra smooth many were not and Schumacher, Button, Sato and Villeneuve were all caught out by turn eight, a turn that has quickly been established as one of the most challenging to be found on any track.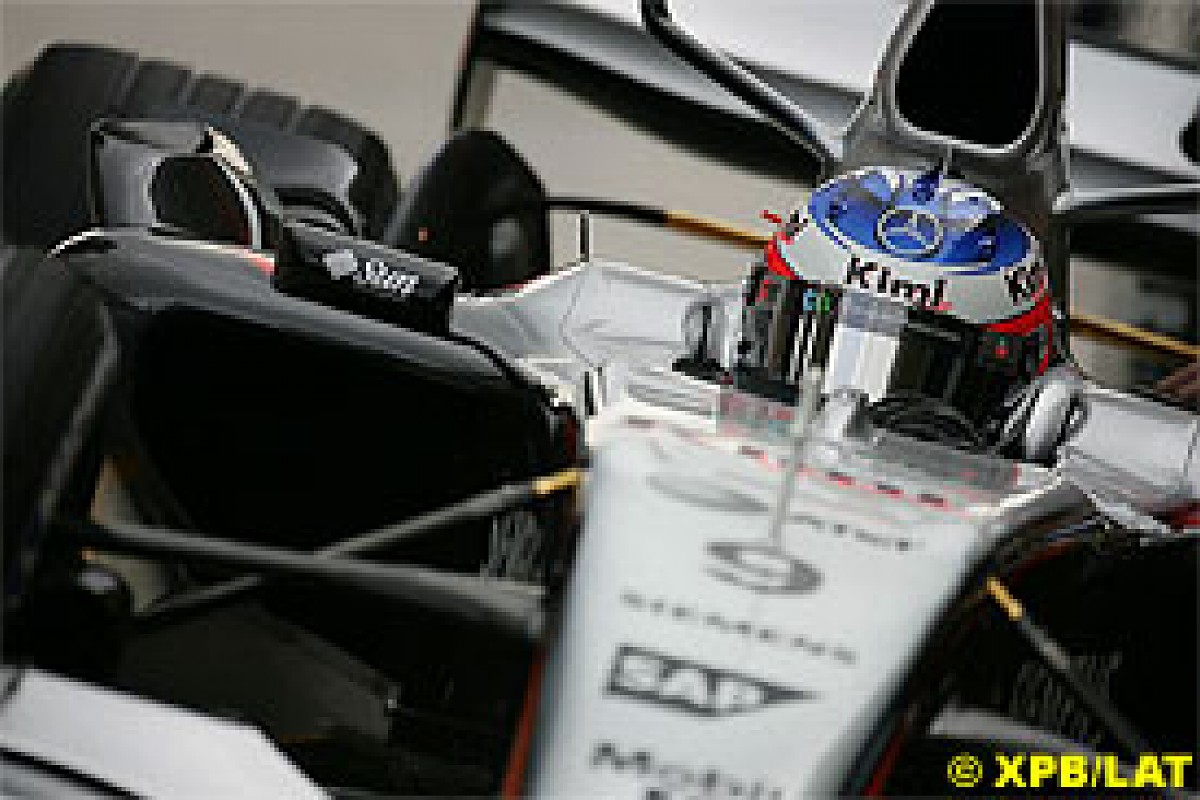 1. Kimi Raikkonen (McLaren-Mercedes) 1:26.797
Taking a heavy fuel load and a mistake in the final sector into account made Raikkonen's effort more than impressive. He set the fastest sector time in both the first two sectors and kept composed while others lost their heads at turns eight and ten to ease his way to a fifth pole of the year and the first ever in Turkey.
2. Giancarlo Fisichella (Renault) 1:27.039 + 0.242
Fisichella admitted to taking it cautious in the first two sectors, which was a shame because had he not he could well have claimed pole for Renault considering his stunning effort in the final sector. He was distracted by a slow Rubens Barrichello in the 13th and 14th corners and his already fine lap could have been even better.
3. Fernando Alonso (Renault) 1:27.050 + 0.253
Alonso did what he needed to: secure what was set to be the next best grid position after pole, considering how dirty the track was off line. He finished with the third, second and fourth fastest times in the three sectors after throwing caution to the wind, literally, and pushing hard but was almost caught out at the end of the back straight when a gust blew him off the apex and cost him time.
4. Juan Pablo Montoya (McLaren-Mercedes) 1:27.352 + 0.555
Montoya was happy with his car but unhappy with starting early in the session and felt he could have been much closer to his teammate Raikkonen had he not failed to finish in Hungary. He set the second fastest time in the final part of the lap but suffered for fifth fastest times in the first two.
5. Jarno Trulli (Toyota) 1:27.501 + 0.704
The qualifying master accomplished again after a complete set-up gamble for the qualifying session. After failing to find anything that worked in practice he went into qualifying with no knowledge of how his car would react but the risk proved worthwhile as he managed the third quickest time in the middle sector to add to reasonable sixth fastest times in the other two.
6. Nick Heidfeld (Williams) 1:27.929 + 1.132
Heidfeld had complained of "small annoying" problems in every practice session so he was delighted to have a trouble-free qualifying that claimed him a third-row grid spot. He was just 0.015 seconds ahead of his teammate Webber and there was little to choose between them on any of the sectors.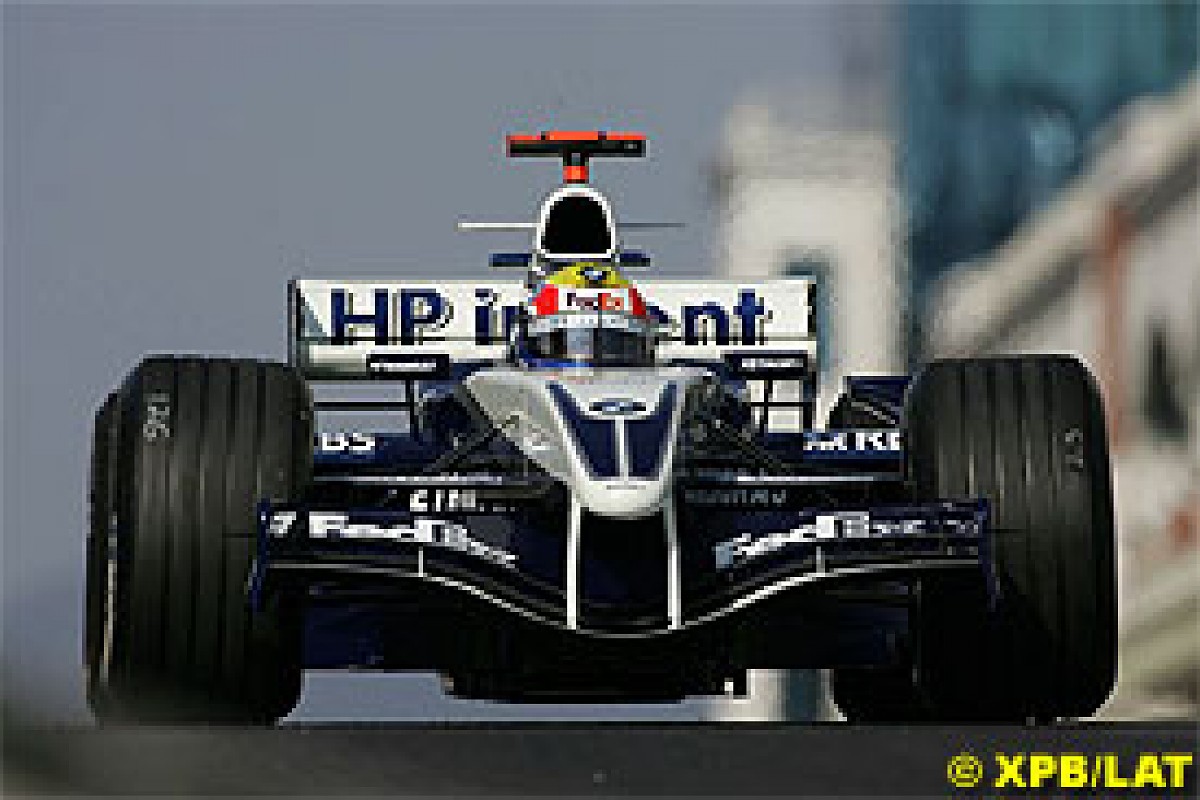 7. Mark Webber (Williams) 1:27.944 + 1.147
Webber stormed into his garage after seeing his qualifying ruined by the slow-moving BAR-Honda of Takuma Sato, who had coasted around after his flying lap to conserve fuel for the race. Webber found the Japanese driver heading into turn ten as the Australian plunged down the inside, losing precious tenths as he went.
8. Felipe Massa (Sauber) 1:28.419 + 1.622
After a composed lap to claim a fourth-row grid spot, something that his teammate Jacques Villeneuve was far from achieving, Massa was able to target a points finish in the race itself. His pace in the first sector, just a 13th fastest time, let him down but it was a solid lap overall.
9. Ralf Schumacher (Toyota) 1:28.594 + 1.797
Schumacher was one of the many drivers to make a mistake betweens turn eight and ten and his trip over the kerbs cost him vital time on teammate Trulli, who was more than one second ahead of him over the single lap run. The German set the seventh fastest time on the first and last sectors but his mistake showed in the middle part of the lap, where he managed the 12th fastest lap and lost the full second from Trulli in that section.
10. Christian Klien (Red Bull) 1:28.963 + 2.166
As one of the first starters following his upside down experience at the start of the Hungarian Grand Prix, Klien was always going to suffer from a dusty track but an impressive middle sector, in which he set the eighth fastest time, pushed him up the order and enabled him to beat teammate Coulthard by eighth tenths of a second.
11. Rubens Barrichello (Ferrari) 1:29.369 + 2.572
Ferrari adopted a conservative approach to qualifying but Barrichello was still struggling to get his tyres to grip the surface of the Istanbul track, suffering graining issues in the final corner. He said he was on the limit, and fortunately for him and his team he managed to avoid going over it.
12. David Coulthard (Red Bull) 1:29.764 + 2.967
Coulthard admitted he was "lucky to get away with it" after a tough qualifying lap. He was the first car out on track so took it easy on the opening part of the lap but ran wide at turns eight and nine as he began to push and consequently lost around seven tenths to his teammate Klien in the middle sector.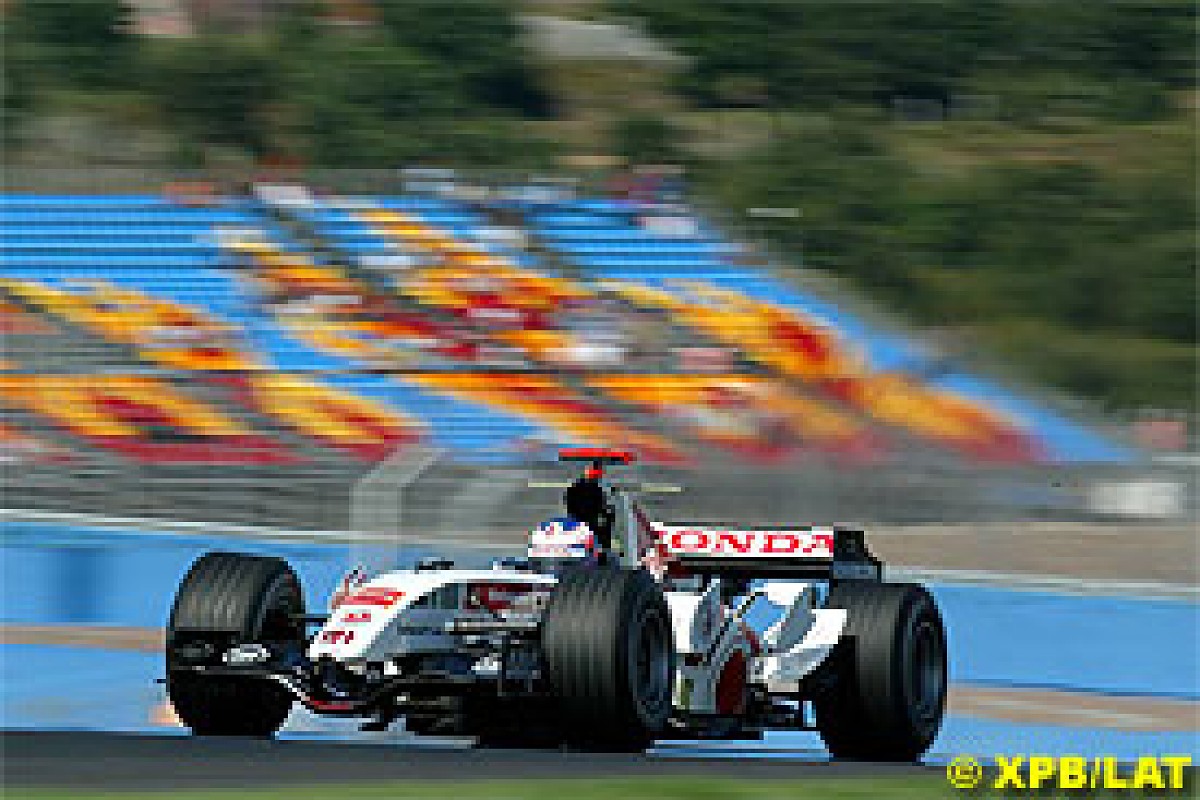 13. Jenson Button (BAR-Honda) 1:30.063 + 3.266
Button was on for beating Fisichella's time after setting the second fastest time in the first split but he threw it all away in the second sector when he hit a bump during the multi-apex turn eight, which he had coped with well before in practice. He carried the mistake all the way through to turn ten, where he went over the kerbs and in total cost himself 1.6 seconds on Raikkonen's best sector time and a further 0.6 on the best time in the final part of the lap.
14. Takuma Sato (BAR-Honda) 1:30.175 + 3.378
Sato went out just before Button and ran wide at turn eight when his car bottomed out and created a significant amount of understeer. He was then dragged into more trouble when he ran slowly to conserve fuel on his run-down lap and blocked Webber, causing the officials to subsequently strip him of his hard-earned qualifying time.
15. Tiago Monteiro (Jordan) 1:30.710 + 3.913
Monteiro had a clean and consistent qualifying lap and was satisfied with his effort, despite being almost four seconds slower than the lead time.
16. Christijan Albers (Minardi) 1:32.186 + 5.389
After suffering with a loose rear end on his Minardi and a gear shifting problem, Albers was quite happy to finish 16th, beating Monteiro in the second sector, and capitalise on the mistakes made by others in their qualifying laps.
17. Michael Schumacher (Ferrari) No Time
Schumacher had been uncompetitive in every practice session so the team fuelled his car up and took a conservative run in qualifying, but the World Champion threw their strategy in the air when he made a mistake at turn nine. He admitted he made an error of judgement on the strength of the wind and that caused him to spin, after which he chose to drive straight into the pits and not set a time. The team then changed his engine, which put him further back on the grid.
18. Narain Karthikeyan (Jordan) No Time
Jordan changed Karthikeyan's engine after third practice, then changed it again after fourth practice, which prevented him from running on Saturday so the team chose to simply put him out for the installation lap then bring him back in without setting a time.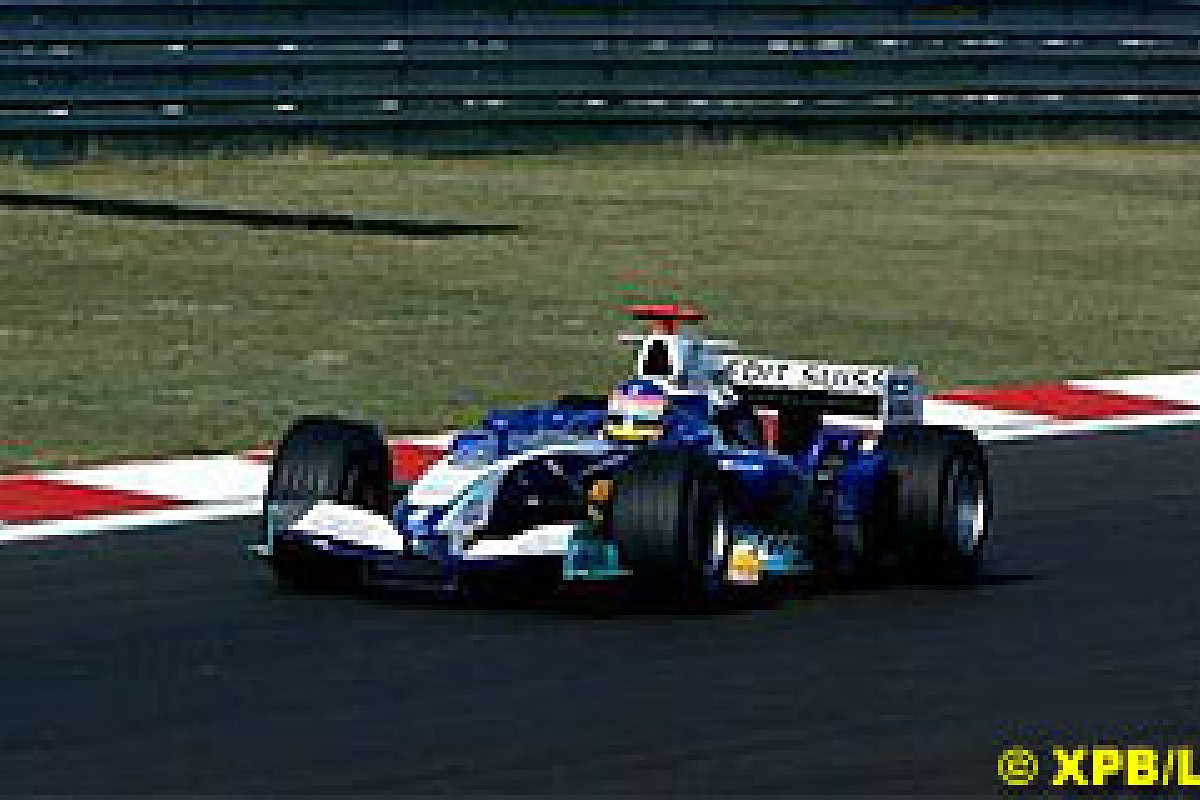 19. Jacques Villeneuve (Sauber) No Time
Villeneuve found the track to be slippier than it had been in the morning practice sessions and he was caught out in the infamous turn eight, which he described as "a real challenge" before admitting he should have pushed less on his qualifying lap.
20. Robert Doornbos (Minardi) No Time
Despite noticing a problem with his brakes on the out-lap Doornbos continued on to try and set a flying lap. The brake pressure problem caused the rear brakes to be applied throughout the lap and by the final corners the heat was so intense they erupted in flames and he failed to complete the lap.
The Race
The first ever race in Turkey was always going to be a thriller thanks to Hermann Tilke's undulating track design and as the grid lined up they faced a large void that is the invisible turn one, all hoping to get through it unscathed when the lights went out.
Takuma Sato was in the clear already after his BAR-Honda team elected to start him from the pitlane to modify his strategy and fill his car up to the brim with fuel so that left Michael Schumacher with the indignity of being the last man in line on the grid before the green flag was waved to get things underway.
Raikkonen had a slow start and saw Fisichella fly past into turn one while Alonso, not quite able to do the same, slotted in right behind the Finn. The start was key to the Renault strategy and, so far, it had gone rather well for the Anglo-French outfit.
"I think the first lap was okay with Fisi (Giancarlo Fisichella) in front," said Alonso. "We knew that we were going to be quicker than Kimi in the first stint because we were lighter so we tried to do our best in the first corners and we did. But then came turn 12."
Alonso almost made it past Raikkonen for second in the early part of the opening lap but instead it was the McLaren out in front. "Fisichella ran wide at the exit of turn nine and I got beside him but I didn't pass him because they were much faster on the straight line.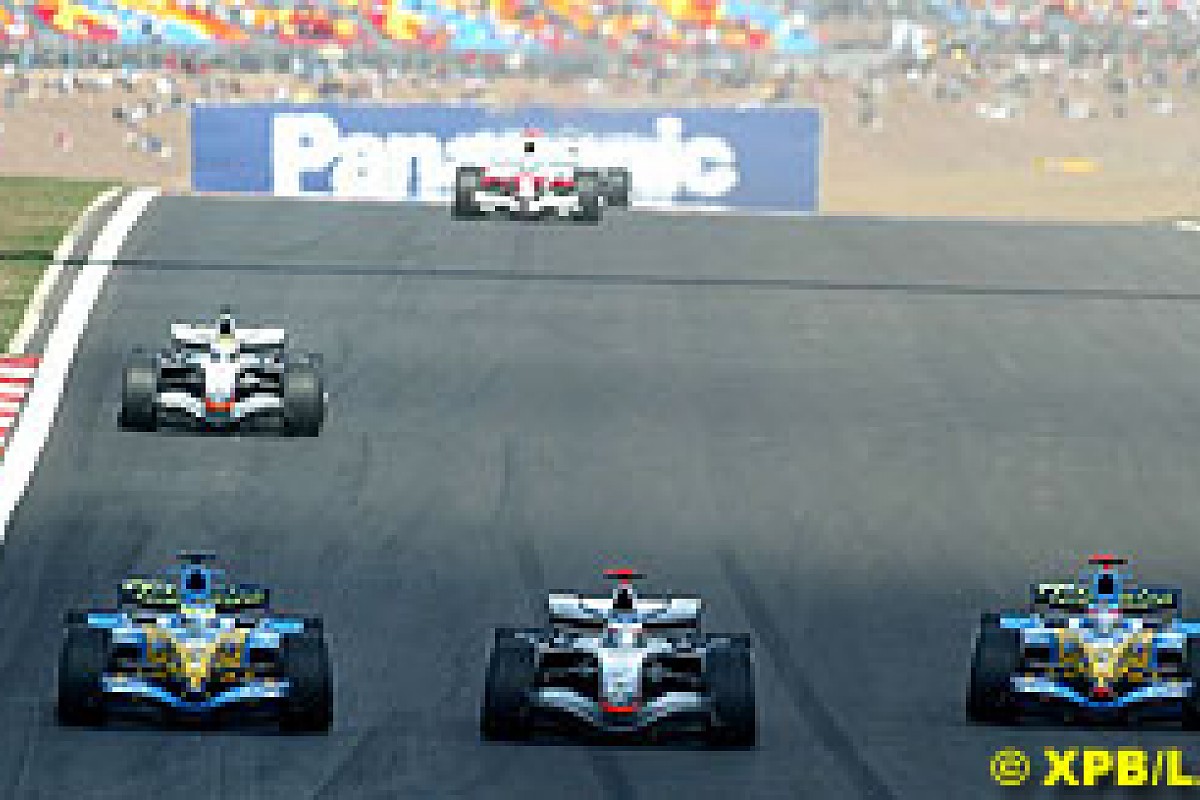 "So I was actually behind both of them braking into turn 12 but then from the middle I could brake later and got the first place. I was quite confident that we would have the speed and we would have enough fuel in the car but you never know so you have to go for it if you have the chance."
Further down the grid Schumacher was lucky to avoid contact with debris from Felipe Massa's Sauber at the start. Massa explained: "I tried to get down the inside of Nick but when he moved left to defend I had to go off the circuit and he just caught my front wing, which I then ran over."
Schumacher escaped unscathed but Massa pitted for a new nose and Webber also lost out when he was distracted by the incident, dropping two places, while the Red Bull duo of Klien and Coulthard climbed up to seventh and eighth from from 10th and 12th respectively.
Ralf Schumacher was another big loser at the start, dropping from ninth place to 18th. "I was pushed wide trying to avoid an incident and I found myself at the back of the field," said Schumacher. "So I basically lost it all then. Then I ran over Massa's front wing as I rejoined the track."
The other Schumacher, Michael, meanwhile, made a stunning start, climbing from 19th place on the grid all the way up to 11th while Karthikeyan also had a strong start when he moved up from 18th to 14th, passing Albers, Villeneuve and Doornbos off the line.
On lap two the call came to Alonso, telling him he was faster than Fisichella due to a lighter fuel load and should go past. Needless to say, the Spaniard's obedient Italian teammate did not need any more than a suggestion to move over and calmly shifted aside as they headed to the end of the back straight.
That left Raikkonen ahead of Alonso, with Fisichella in third holding off fourth-placed Montoya, Trulli in fifth and Heidfeld sixth, while Button made it past the slow Ferraris of Schumacher, on lap three, and Barrichello, on lap four, to claim seventh place.
The troubles soon began for Williams, however, when the Heidfeld suffered a right rear puncture on lap five and Webber, who had just passed Klien on the seventh lap to claim sixth place, went off the track at turn three with the same problem on lap nine.
Button continued his climb up the field when he passed Coulthard on lap nine, then made it past Klien one lap later. Then Alonso stopped for fuel at the end of lap 13, much earlier than McLaren had expected and one lap before his teammate Fisichella.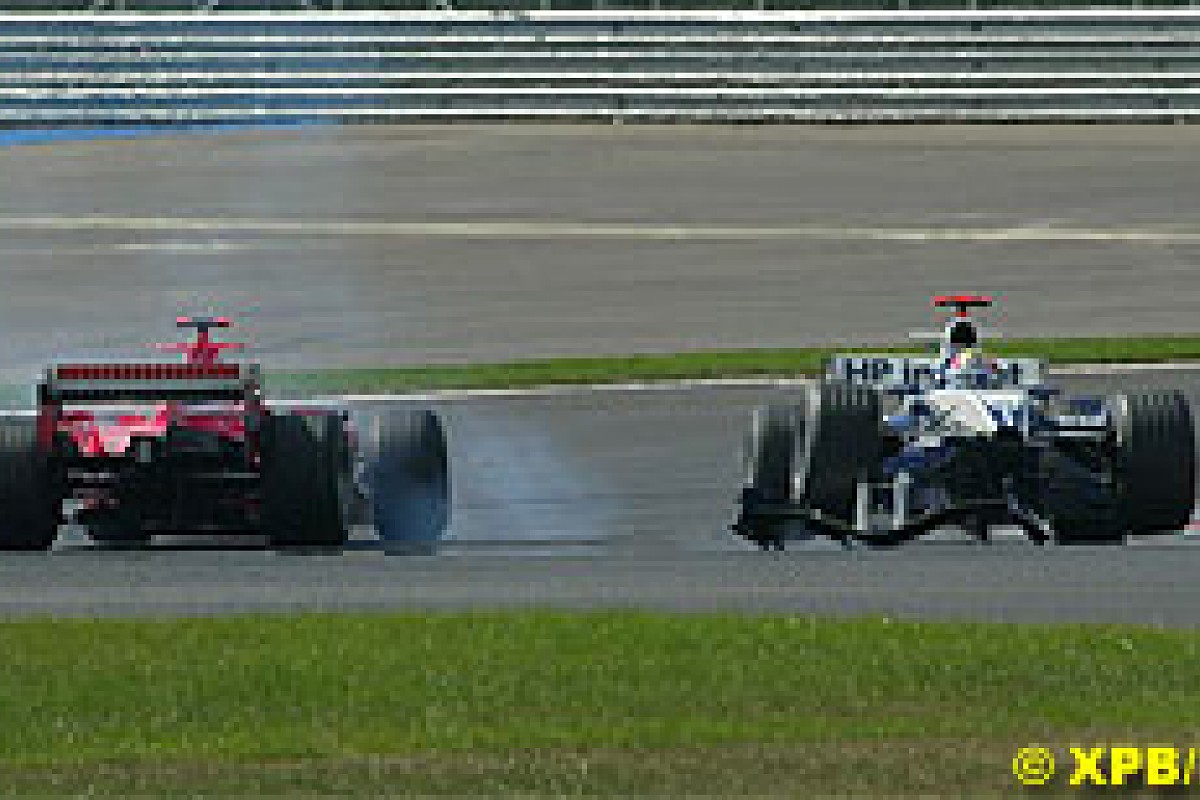 Schumacher and Webber then collided while racing for the same piece of track at turn 14. Schumacher had just lapped Webber but the Australian felt he was faster and decided to muscle his way back through. "Michael was incredibly slow," said Webber. "I pulled out his slipstream but he moved across in the braking area."
Schumacher defended his actions, claiming: "I saw him coming close as we headed down the straight and he went to the right. I started to brake and I couldn't see him, I didn't know where he was, and going into the corner I got a bang in the rear. I would suspect he was not really next to me."
Schumacher spun, Webber lost his nosecone and both headed into the pits for rapid repairs before returning to the track, albeit briefly for Schumacher, who then returned to his garage unhappy with his car and waited for his team to perform the required repairs to get him back out on track.
The two Toyotas pitted on lap 18 while Button hounded the heavier Renault of Alonso and finally got past on lap 20, just before his first stop on lap 21, the same lap Montoya stopped and had a minor delay when he was released from his pit with the fuel hose in and harmlessly knocked over a mechanic.
"They lifted the lollypop and they brought it back down," explained Montoya. "It was good that when I left I didn't take my hands completely off the clutch and I was able to bring it back in straight away." Fortunately, the mishap cost him and the team little in the great scheme of things.
Webber's terrible race continued when he left the track again on lap 22, this time at turn 12, and he came in at the end of that lap to park in the garage and retire, a second unexplained failure on the right rear once again causing the team to choose not to send him out again.
Leader Raikkonen pitted on the same lap for his first fuel fill, an impressive long sting considering he had been able to put his car on pole, and he came out with a 13.2-second lead over Montoya, who was just ahead of Alonso having made it past the Renault through the stops.
The Red Bull cars were running heavy and Klien did not stop until lap 23 with Coulthard pitting on lap 24, the same lap as Barrichello chose to come in, while Sato was the final stopper when his long first stint finally came to an end when he needed more fuel on lap 28.
Massa's race had come to an end one lap earlier when he pulled into the garage with a smoking engine at the end of lap 28 after losing power. Then Williams were at it again with Heidfeld being pitched into a big spin on lap 29 after another tyre failure and yes, it was the right rear that went once again.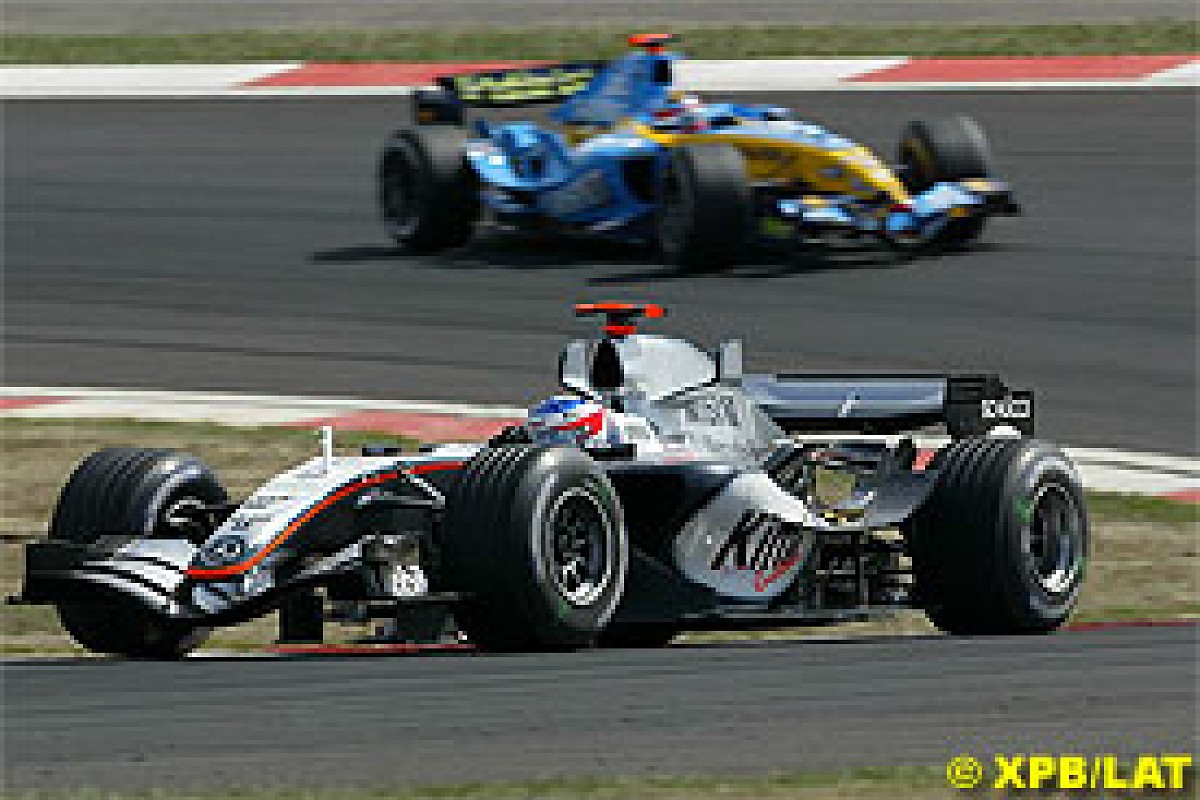 Raikkonen maintained a comfortable gap over Montoya with the Alonso starting to challenge the Colombian simply to put him under pressure. "I was not really fast enough to try to overtake him," he explained. "I just tried to take a good pace and to make no mistakes during that part of the race."
Schumacher then returned to the track after "incredibly quick" repairs to his power steering, but with an 18-laps deficit to the leaders his re-emergence was simply to try and gain position in the running order for the next race in Ferrari's homeland.
Alonso and Fisichella made their second stops on laps 34 and 36 respectively, much earlier than the two McLarens, with Montoya the next front-runner to come in at the end of lap 41, Trulli in on lap 43, Klien lap 44 and Coulthard on lap 45, the same lap as leader Raikkonen completed the stops for the top three.
Barrichello stopped on lap 46 with Button coming in one lap later and benefiting from the extra four laps on lighter fuel than Trulli to jump the Toyota and gain a place, moving up to fifth, just four second behind Fisichella, while Schumacher finally retired on the leaders' lap 52.
But just as McLaren's first one-two for more than five years seemed a certainty their bad luck struck again as Montoya got in a mix-up with Monteiro with just three laps left. "He overtook me and shut the door in a braking zone," said Monteiro. "I could not avoid pushing him. I was blind and lost all downforce."
While Monteiro was critical, Montoya seemed to brush of the incident as an annoyance and retorted: "I was cruising, just getting it to the end. I had three laps to go and I had six seconds. I could lose two seconds a lap and still finished second. He just braked too late I think."
The collision, at turn 12, punted Montoya into a spin but a quick systems check told him in his mind he could continue to push to the end. "I looked in the mirror the rear wing was there, I went through the first few corners and the car felt alright so I went as I did every lap into turn eight."
But with a heavily damaged diffuser failing to provide the expected downforce at the rear of his car there was nothing Montoya could do to avoid sweeping wide off the circuit, across the tarmac run-off area and rejoining the track behind Alonso and down in third.
"It was a nice surprise," said Alonso. "I saw the yellow flags on the straight but you cannot see the corner because it is a little bit uphill and it surprised me when I saw Montoya and the Jordan there but it was still not possible to overtake him."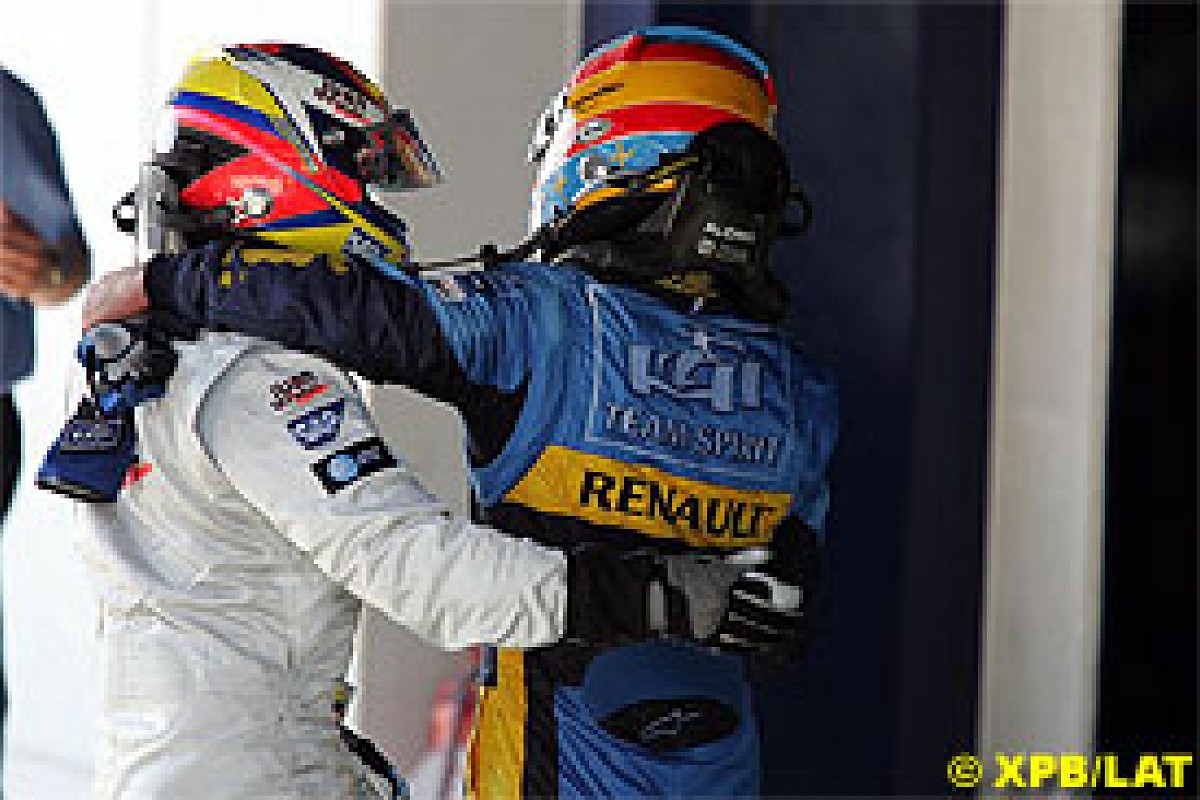 According to reports, his team were virtually unanimous in warning him to still settle for third but team chief Flavio Briatore threw caution to the wind and told him to push. "It came to turn eight and he went wide and I overtook him," said Alonso, a two-point bonus firmly grasped.
McLaren could be rueing Montoya's mishap for that penultimate lap incident, which could make a difference if the title goes down to the wire. And all along it seems that even when Raikkonen can do nothing wrong, the bad luck will continue to strike him in any way it can.
Race Results
Pos  Driver        Team                  Time   
 1.  Raikkonen     McLaren-Mercedes  (M)  1h24:34.454
 2.  Alonso        Renault           (M)  +    18.609
 3.  Montoya       McLaren-Mercedes  (M)  +    19.635
 4.  Fisichella    Renault           (M)  +    37.973
 5.  Button        BAR-Honda         (M)  +    39.304
 6.  Trulli        Toyota            (M)  +    55.420
 7.  Coulthard     Red Bull-Cosworth (M)  +  1:09.296
 8.  Klien         Red Bull-Cosworth (M)  +  1:11.623
 9.  Sato          BAR-Honda         (M)  +  1:49.987
10.  Barrichello   Ferrari          (B)   +     1 lap
11.  Villeneuve    Sauber-Petronas  (M)   +     1 lap
12.  R.Schumacher  Toyota           (M)   +     1 lap
13.  Doornbos      Minardi-Cosworth (B)   +    3 laps
14.  Karthikeyan   Jordan-Toyota    (B)   +    3 laps
15.  Monteiro      Jordan-Toyota    (B)   +    3 laps

Fastest Lap: Montoya, 1:24.770

Not Classified/Retirements:

Driver        Team                  On Lap
Albers        Minardi-Cosworth (B)     48
M.Schumacher  Ferrari          (B)     31
Heidfeld      Williams-BMW     (M)     29
Massa         Sauber-Petronas  (M)     27
Webber        Williams-BMW     (M)     20


World Championship Standing, Round 14:

Drivers:                    Constructors:             
 1.  Alonso        95        1.  Renault          130
 2.  Raikkonen     71        2.  McLaren-Mercedes 121
 3.  M.Schumacher  55        3.  Ferrari           86
 4.  Montoya       40        4.  Toyota            71
 5.  Trulli        39        5.  Williams-BMW      52
 6.  Fisichella    35        6.  Red Bull-Cosworth 27
 7.  R.Schumacher  32        7.  BAR-Honda         24
 8.  Barrichello   31        8.  Sauber-Petronas   14
 9.  Heidfeld      28        9.  Jordan-Toyota     11
10.  Webber        24       10.  Minardi-Cosworth   7
11.  Button        23
12.  Coulthard     21
13.  Massa          8
14.  Wurz           6
15.  Monteiro       6
16.  Villeneuve     6
17.  Karthikeyan    5
18.  Klien          5
19.  Albers         4
20.  de la Rosa     4
21.  Friesacher     3
22.  Sato           1
23.  Liuzzi         1


Fastest race laps: Click here
Pitstop times: Click here
Lap by Lap
Lap 1: Pole-sitter Kimi Raikkonen is beaten away by Giancarlo Fisichella at the start, with World Championship leader Fernando Alonso in close attendance. The Finn retakes the lead approaching Turn 12, after Fisichella runs fractionally wide, and the three are 0.8s apart at the end of the lap. Juan Pablo Montoya settles into fourth, ahead of Jarno Trulli, Nick Heidfeld, Christian Klien (up from 10th), David Coulthard (up from 12th), Mark Webber, Rubens Barrichello, Michael Schumacher (who started last after failing to register a qualifying time and then having a fresh V10 fitted for the race), Jenson Button, Tiago Monteiro, Narain Karthikeyan (two engine changes before qualifying), Christijan Albers, Jacques Villeneuve, Robert Doornbos, Ralf Schumacher (forced off at the first corner when Felipe Massa runs wide), Takuma Sato (condemned to the back of the grid for impeding Webber during qualifying, he makes a quick pit stop at the end of the formation lap) and Massa, who pits for a fresh front wing.
Lap 2: Alonso passes Fisichella, who offers no defence. Raikkonen leads by 1.4s. Sato vaults Ralf Schumacher.
Lap 3: Alonso cuts his deficit to 1.0s. Button passes Michael Schumacher for 11th.
Lap 4: Button bags another Ferrari to move up to ninth.
Lap 5: Alonso laps in 1m 27.105s. Heidfeld pits with a deflated right rear.
Lap 7: Webber passes Klien for sixth. Sato takes 13th from Karthikeyan.
Lap 8: Fisichella laps in 1m 26.579s.
Lap 9: Button passes Coulthard for seventh. Webber chalks up Williams-BMW's third right-rear deflation of the weekend and crawls to the pits to have it replaced.
Lap 10: Button zaps Klien. Sato passes Monteiro for 11th.
Lap 11: Raikkonen laps in 1m 26.102s.
Lap 12: Raikkonen ups the ante again: 1m 26.013s. Alonso and Heidfeld make scheduled stops.
Lap 14: Michael Schumacher and the lapped Webber tangle at Turn 12. Both pit. Fisichella and Monteiro come in for more conventional reasons.
Lap 15: Doornbos pits.
Lap 16: Raikkonen leads Montoya by 9.2s. Albers refuels. Michael Schumacher pulls into his garage. He will rejoin on lap 34.
Lap 17: The leader posts a 1m 25.520s. Karthikeyan and Albers pit.
Lap 18: Montoya: 1m 25.420s. Trulli and Ralf S pit.
Lap 20: Yet to stop, Button passes Alonso for third on the road.
Lap 21: Raikkonen laps in 1m 25.073s. Montoya pits but stalls briefly before rejoining. Button refuels, too. Webber suffers another flat right rear and retires.
Lap 22: Raikkonen peels in.
Lap 23: Raikkonen leads Montoya by 13.6s, with Alonso third. Klien and Villeneuve pit.
Lap 24: Coulthard and Barrichello refuel.
Lap 28: Albers makes a lengthy pit stop that costs a couple of laps.
Lap 29: Sato is the last driver to refuel. Massa retires to the pits in a cloud of smoke. Heidfeld spins at Turn 8 - yet another right rear goes pop - and finally calls it a day.
Lap 30: Raikkonen leads Montoya, Alonso, Fisichella, Trulli, Button, Coulthard, Klien, Barrichello, Sato, Villeneuve, Ralf Schumacher, Karthikeyan (who pits), Doornbos, Monteiro and Albers.
Lap 34: Alonso makes his second stop.
Lap 35: Fisichella follows suit.
Lap 38: Montoya laps in 1m 24.997s...
Lap 39: ...and 1m 24.770s. His teammate leads by 7.8s.
Lap 40: Doornbos and Monteiro touch at the first corner while squabbling over 13th. Neither is seriously delayed.
Lap 41: Montoya pits.
Lap 43: Trulli refuels.
Lap 44: Ditto Klien.
Lap 45: Leading by more than half a minute, Raikkonen peels in. Sixth-placed Coulthard also stops.
Lap 46: Barrichello pits.
Lap 47: Button comes in.
Lap 48: The field settles down in the order Raikkonen, Montoya, Alonso, Fisichella, Button, Trulli, Coulthard and Klien still on the lead lap, then Sato, Barrichello, Villeneuve, Ralf Schumacher, Doornbos, Karthikeyan, Monteiro and Albers. Michael Schumacher is still plugging around the best part of 20 laps off the pace, ostensibly in a bid to gain a more advantageous qualifying slot in Italy. He finally gives up when the leaders are on their 52nd lap. Albers is pushed into the pits and retires.
Lap 53: Almost everyone is evenly spread out, although Button is 3.0s from Fisichella and Ralf S is only 0.5s behind Villeneuve.
Lap 54: Sato unlaps himself. Raikkonen appears to be cruising to the flag.
Lap 55: Montoya spins at Turn 12 - possibly with a nudge from the lapped Monteiro, who locks up just behind. The Colombian rejoins just ahead of Alonso.
Lap 56: Montoya runs wide at Turn 8 and Alonso takes second.
Lap 58: Raikkonen scores his second straight win - and the seventh of his career. He becomes the first man to win an F1 race in Turkey. Championship leader Alonso is second, 18.6s adrift, with Montoya, Fisichella, Button, Trulli, Coulthard, Klien, Sato, Barrichello, Villeneuve, Ralf Schumacher, Doornbos, Karthikeyan and Monteiro completing the list of finishers.