Turkish GP Facts, Stats & Memoirs

---
By Marcel Schot, the Netherlands
Autosport-Atlas Writer
Why are Ferrari's chances looking better for Turkey? Who has been the surprising strongest driver over the past six races? Who made a promising debut with Ferrari 14 years ago, and what happened 20 years ago this week? Marcel Schot brings the answers and more anecdotes on the fourteenth round of the season
With the race in Turkey we are seeing the fourth new Grand Prix in six years time, after Malaysia in 1999 and both Bahrain and China last year. The previous three were all dominated by Ferrari, as was the first race at Indianapolis, which marked the return of the US Grand Prix in 2000 after a long absence.
The 1999 Malaysian Grand Prix saw the return of Michael Schumacher after his broken leg. The German scored pole position nearly a second faster than anyone else and heavily assisted his teammate Eddie Irvine in making the race a one-two.
In last year's Bahrain Grand Prix Schumacher didn't have to assist anyone and made it his own victory, ahead of teammate Rubens Barrichello and with BAR driver Jenson Button a distant third.
While Shanghai later last year was a complete disaster for Schumacher, Barrichello rose to the occasion and scored a hard fought win from pole with Button and Kimi Raikkonen closely behind him.
All in all, three wins on three new circuits show Ferrari have been strong in the unknown in recent years. Whether it will be the same in this far from ideal year for the Scuderia is still up in the air, but fact is that the team are getting stronger and stronger.
In fact, over the last six races Michael Schumacher scored 39 points, making him the best scoring driver over that period, while Ferrari outscored McLaren and Renault with 55 against respectively 52 and 41.
Drivers:

Michael Schumacher  39
Raikkonen           34
Alonso              28
Button              19
Montoya             18
Barrichello         16
Ralf Schumacher     15
Fisichella          13

Teams:

Ferrari             55
McLaren             52
Renault             41


The semi-downfall of Renault is certainly casting doubt on whether Fernando Alonso will actually be able to take home the Championship that statistically seems his for the taking.
Il Nuovo Cavallino
The new horse. With Felipe Massa going to Ferrari next season, it's time to have a look at that driver who walked the same path in 1991 after a few promising years in the midfield, just like Massa. Jean Alesi's debut race for Ferrari came in the 1991 US Grand Prix in Phoenix. After a winter of very successful testing, Ferrari were one of the favourites for the new season and thus the team went to the Arizona desert with high hopes in early March.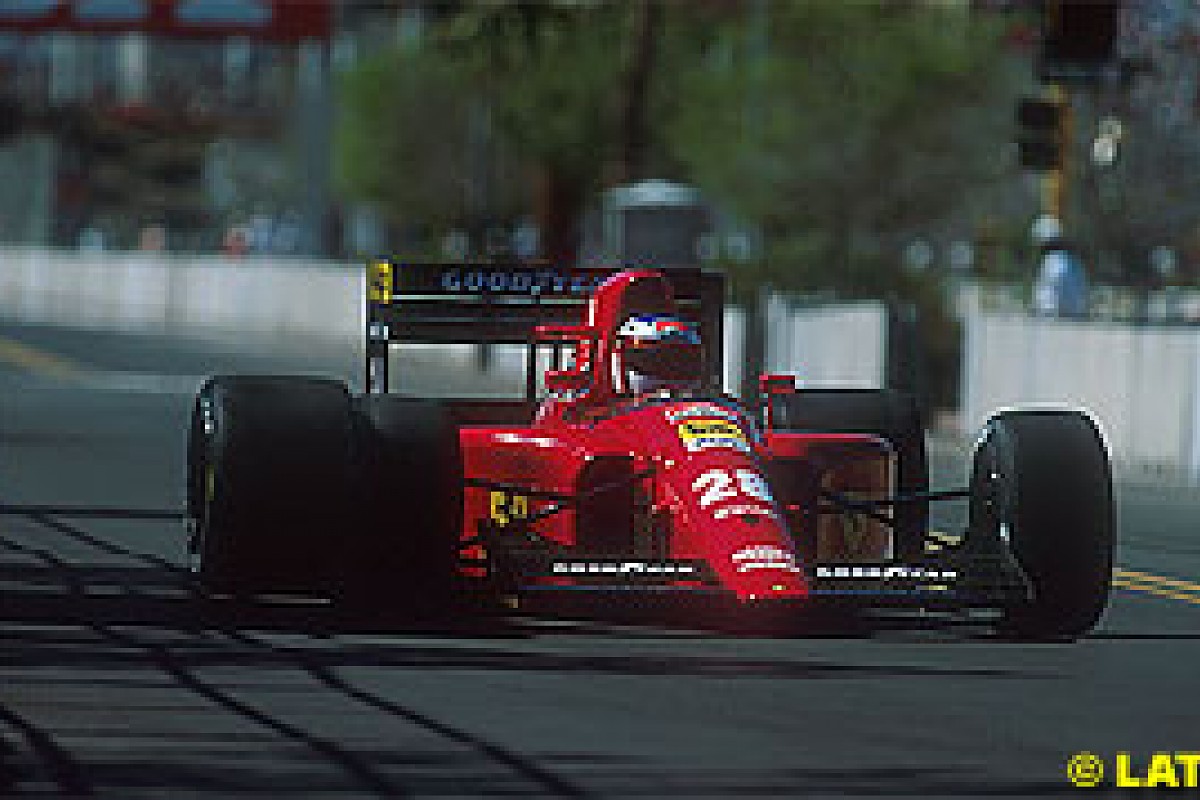 qCome first qualifying, Alesi completely lived up to the hype by posting the fastest time. With only minutes to spare, the Frenchman circled the circuit where he had battled Ayrton Senna in the Tyrrell the year before, in 1:23.519. Without time for a counter attack, Senna found himself eleven thousands behind the Ferrari. The rest of the field was far away, with Alesi's teammate Alain Prost grabbing third a full second slower than the other Ferrari. Two tenths behind Prost it was Riccardo Patrese in the Williams, just ahead of the surprising Emanuelle Pirro in the Dallara.
Unfortunately for Alesi, things didn't stay this way. On Saturday, the track was clear of dust and much faster, with Senna posting a 1:21.434 for pole position. Alesi was one of only three drivers who didn't improve their times, going three tenths slower than the day before. Thanks to his spectacular effort on Friday, the new Ferrari driver still managed a sixth spot on the grid, behind Senna, Prost, Patrese, Nigel Mansell in the second Williams and Benetton veteran Nelson Piquet. Towards the end of the session Alesi made one more desperate attempt, but it was all a little too wild and the end result was an encounter with one of the many concrete walls.
When the race started on Sunday, Alesi showed his good side once again. At the start, the Ferrari driver made his way past both Patrese and Piquet to claim fourth, behind Senna, Prost and Mansell. In the opening phase Alesi had his hands full with Patrese. The experienced Williams driver was all over the back of the Ferrari, while in front the leaders struck a gap. After seven laps, the gap to Mansell stabilised at around four seconds, but by lap 16 Alesi saw Patrese finally passing him.
The Williams driver immediately moved away from Alesi at a second per lap, the same pace with which McLaren's Gerhard Berger was catching up with the Frenchman. Six laps later, Alesi found himself back in fourth place as Patrese went off after a somewhat overoptimistic attempt to overtake his teammate. The Italian was without damage, but dropped back behind Alesi and Berger.
While Senna was leading comfortably, Alesi was unable to catch up with Prost and Mansell and instead found himself under constant pressure from Berger and Patrese. Then, after 36 laps, everything became different. Within minutes both Mansell and Berger retired from the race, elevating Alesi to third place. Six laps later it was time for fresh tyres, the pitstop throwing Alesi back to seventh place, just behind Tyrrell driver Stefano Modena. Three laps later Alain Prost's pitstop took a lot longer than average, allowing Alesi past his teammate and into sixth.
Another two laps later Modena became Alesi's next victim on the way up. However, on lap 50 Alesi suddenly jumped into third. The first retirement ahead of him was Patrese, whose gearbox failed and left him stranded on the track. While Piquet barely managed to avoid the Williams, his teammate Roberto Moreno didn't and went straight into the stranded vehicle, its driver still in it.
Three laps later Alesi even occupied second place behind Senna, when he made his way past Piquet. However, with teammate and clear first driver Alain Prost rapidly catching up, Alesi played the team game. In one move he blocked Piquet and let Prost past into second. Unfortunately for Alesi, Piquet was an old fox and managed to slipstream Prost and demoted Alesi to fourth place. As if this sacrifice wasn't enough, Alesi's first race ended with a broken gearbox three laps later.
This Week in History
Twenty years ago this week the Austrian Grand Prix was run. Going into round ten of the Championship, Ferrari's Michele Alboreto was the leader with 46 points against 41 for McLaren driver Alain Prost. Third was Lotus driver Elio de Angelis, who had fallen behind after two consecutive no scores in Britain and Germany, having started the season with seven consecutive points finishes. In the Constructors' Championship Ferrari were leading comfortably, 19 points ahead of McLaren and 30 ahead of Lotus. The Williams of Keke Rosberg and Nigel Mansell were fast, but reliability issues meant they didn't play any part in the Championship.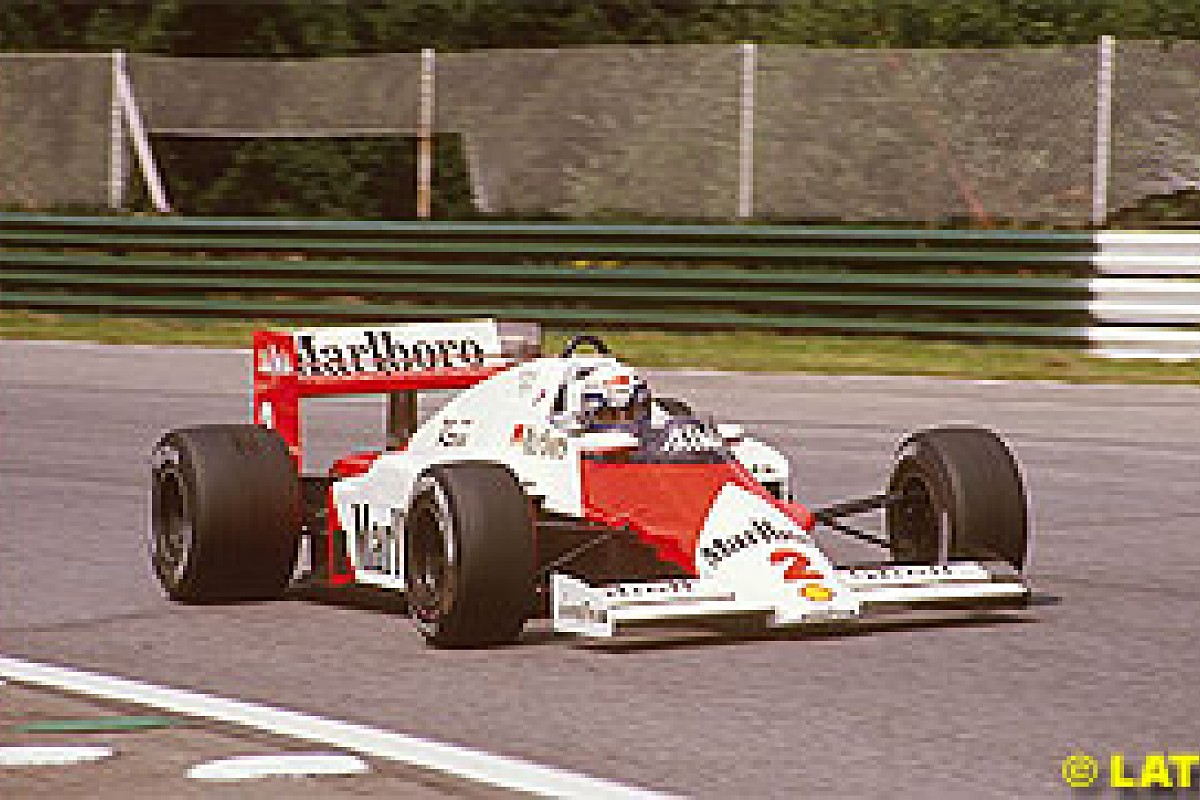 In the first qualifying session on Friday, Alain Prost dominated. The Frenchman drove by far the quickest time, leaving teammate Niki Lauda nearly eight tenths behind, with both Williams the only other cars within a second. For Ferrari the weekend started horribly. Stefan Johansson qualified only eleventh, while Championship leader Alboreto was down in 19th after having used no less than three cars.
On Saturday the big news came early. What had been expected now became reality, as Niki Lauda announced his retirement once again. The Austrian veteran decided to concentrate on his airline, rather than continue to race unmotivated. The press was having a field day, not only with the news of Lauda's retirement, but also with Ron Dennis' decision to not thank Niki Lauda for his performances in the press conference, but instead thanking John Barnard for making it all possible.
In the afternoon, qualifying suffered from rain. Provisional polesitter Alain Prost didn't bother going out as his time was never threatened. On a drying track some drivers did in fact make progress and thus the grid wasn't exactly the same as after Friday qualifying. Nigel Mansell managed to get past Lauda to claim a spot on the front row, while Alboreto limited the damage by turning 19th into ninth.
After qualifying the silly season erupted. Keke Rosberg announced his departure from Williams to fill Lauda's seat at McLaren, Williams signed Nelson Piquet from Brabham, where in turn Riccardo Patrese signed.
On Sunday Niki Lauda spectacularly grabbed the lead from third in his final home Grand Prix. However, behind him it was total mayhem when Arrows driver Gerhard Berger, Toleman's Teo Fabi, Alboreto and de Angelis crashed. With the road blocked, the race was red flagged and Lauda's lead null and void.
At the restart Lauda took it easy, while Mansell simply screwed up. Prost took the lead, with his future teammate Keke Rosberg on his tail. After the first lap, the duo was over two seconds clear of Lauda in third and already five ahead of number four, Nelson Piquet. Three laps later, Prost was leading all alone as Rosberg retired with an oil pressure problem. With Lauda second at four seconds and Piquet already 14 seconds behind in third, it appeared to become an easy afternoon for Prost. Behind Piquet a train of cars had already formed, with de Angelis, Mansell, Renault's Patrick Tambay, Fabi, Alboreto and Lotus driver Ayrton Senna within 4.5 seconds.
In the 14th lap the focus was temporarily shifted away from the front as Ligier's Andrea de Cesaris understeered off and sommersaulted about seven times when he hit the banking sideways. Fortunately the Italian was fine as the wreck landed the right way up. By then the pace of both McLarens was about the same, with Lauda five seconds behind Prost. Piquet's train was also still going, although the gap between front and back had increased to ten seconds and Stefan Johansson had taken Tambay's place as the Frenchman had already pitted for fresh tyres. However, with Piquet already 28 adrift of Prost, it was ultimately a battle for third.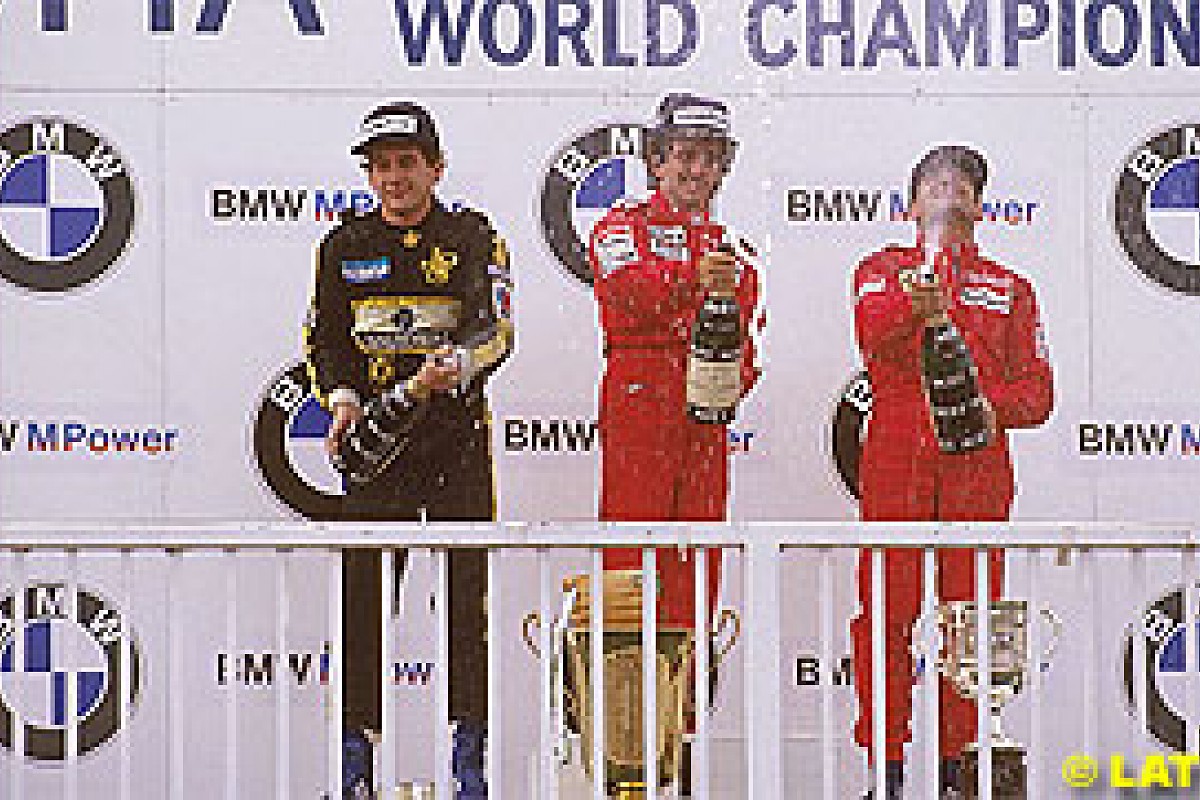 As the McLarens continued to increase the gap to the rest of the field, Lauda went into the attack in order to try and score a victory in his final home Grand Prix. On lap 26, the Austrian made his way past his teammate, who pitted for fresh tyres a lap later. At this time Piquet's train was starting to come apart, as Mansell and Piquet retired. And thus when Prost came out of the pits, he was 29 seconds behind Lauda, but still 18 ahead of new number three Ayrton Senna, who was now followed by his teammate Elio de Angelis and the Ferrari duo of Alboreto and Johansson.
On new tyres Prost rapidly closed in on Lauda. Over ten laps time the Frenchman halved the gap to 15 seconds, but after 37 laps the gap stabilised and Lauda seemed set for victory.
However, to make the weekend's drama complete, Lauda's turbo dropped out without warning on the 41st lap. This signaled the end of the race, as Prost cruised to victory with Senna second and Alboreto limiting his damage with a third place. Lauda went on to score his final victory in the next race at Zandvoort, while Prost continued the season strong to claim the Championship twenty points clear of Alboreto. At the end of the season, Lauda's retirement was his final one.