Measuring My Mojo

---
By Karl Ludvigsen, England
Autosport-Atlas Senior Writer
Kimi Raikkonen continues with his impressive form as he tries to catch Fernando Alonso, taking a dominant victory in Hungary. The Finn, however, is failing to make Karl Ludvigsen change his mind about his chances of taking the title this season
I didn't have anything to do with Kimi Raikkonen's stalling at the start of the first race of the year at Melbourne, finishing eighth as a result. I take no credit for that at all. Only after that did I write my Atlas-Autosport column on the subject of World Champion drivers, pointing out the many who have served their sport extremely well and the others â€" blessedly few â€" who haven't. It was then that I said that I feared Kimi Raikkonen would fall into the latter camp. For the 2005 season I was willing to back lots of other drivers for the top spot. Indeed, Anyone But Kimi.
So, how have I been doing? Frankly, pretty darn well, considering that I have to fight the considerable might of the combined McLaren and Mercedes-Benz organisations. My campaign started well at the next race, with a failed tyre valve at Malaysia that dropped Kimi from fourth to ninth at the finish. I couldn't keep the Finn off the podium in Bahrain, where he was third, but I did arrange for him to take it easy on his engine there. This meant that it had plenty of torque left for Imola, where his Mercedes V10 was stout enough to fracture a CV joint on the eighth lap while he was in the lead.
Looking back, I'm not so sure it was a good idea to put the hex on Juan Pablo Montoya, provoking his "tennis injury". The idea was to destabilise the monolithic McLaren organisation, but fortunately Kimi wasn't able to take advantage of his rival's absence for two races. Instead both Pedro de la Rosa and Alex Wurz had their chances to show that Woking has some pretty handy drivers under contract.
There was naught to be done about Kimi's race from pole to win at Barcelona. In Spain the 8th of May is a powerful date. It was the 1895 birth date of Jose Gomez Ortega, better known as Joselito, and the 1988 death date of Domingo Lopez Ortega. Both Ortegas were among Spain's finest bullfighters of all time. If Fernando Alonso couldn't turn that to his advantage, what hope did I have? But Alonso did at least succeed in snagging second to keep his lead in the Championship.
Then at Monaco Kimi won again, adding to his tally the Grand Prix that many consider the most prestigious of all. I well remember the excitement in the Mercedes camp in 1998 when Mika Hakkinen led the Monte Carlo merry-go-round from start to finish. He joined the pantheon of other Mercedes-Benz drivers who had won on this historic track: Fagioli (1935), Caracciola (1936) and von Brauchitsch (1937). "Monaco for me was the best," he said, "really good fun. The perfect race." Seven years later all Kimi could muster was "To win is always fantastic, but Monaco is a special challenge." Not a lot of emotion from the Iceman.
I hope that somewhere in the extensive McLaren collection the engine that won at Monaco will be preserved on a special plinth. It is, after all, the same engine that won at Barcelona. Two victories in a row from the same identical engine â€" we haven't seen the likes of that for a long time. This is an aspect of the new season that most of the teams and their engine builders have mastered with some considerable style.
It would have been hard to top the fate I then engineered for Kimi at the Nurburgring. Getting his suspension to collapse while he was in the lead on the very last lap wasn't easy. It's little consolation to him that the FIA has since clarified the rule on what constitutes a "dangerous" tyre condition in a way that would have allowed him to make a quick stop to change his flat-spotted right front tyre â€" as long as he didn't refuel at the same time. Had that understanding been clear at the time, Kimi would have collected some valuable points in the European GP.
In Canada I tried tugging on Kimi's steering wheel to discombobulate his drive, but to his credit he shrugged off my efforts and won. Of course, I had the race on the bag for Renault until Fisichella's car failed and Alonso slid into the barriers. I even had Montoya positioned to take the win until McLaren muffed the pitstops and Juan Pablo forgot he wasn't back in Colombia where red lights have only an advisory function.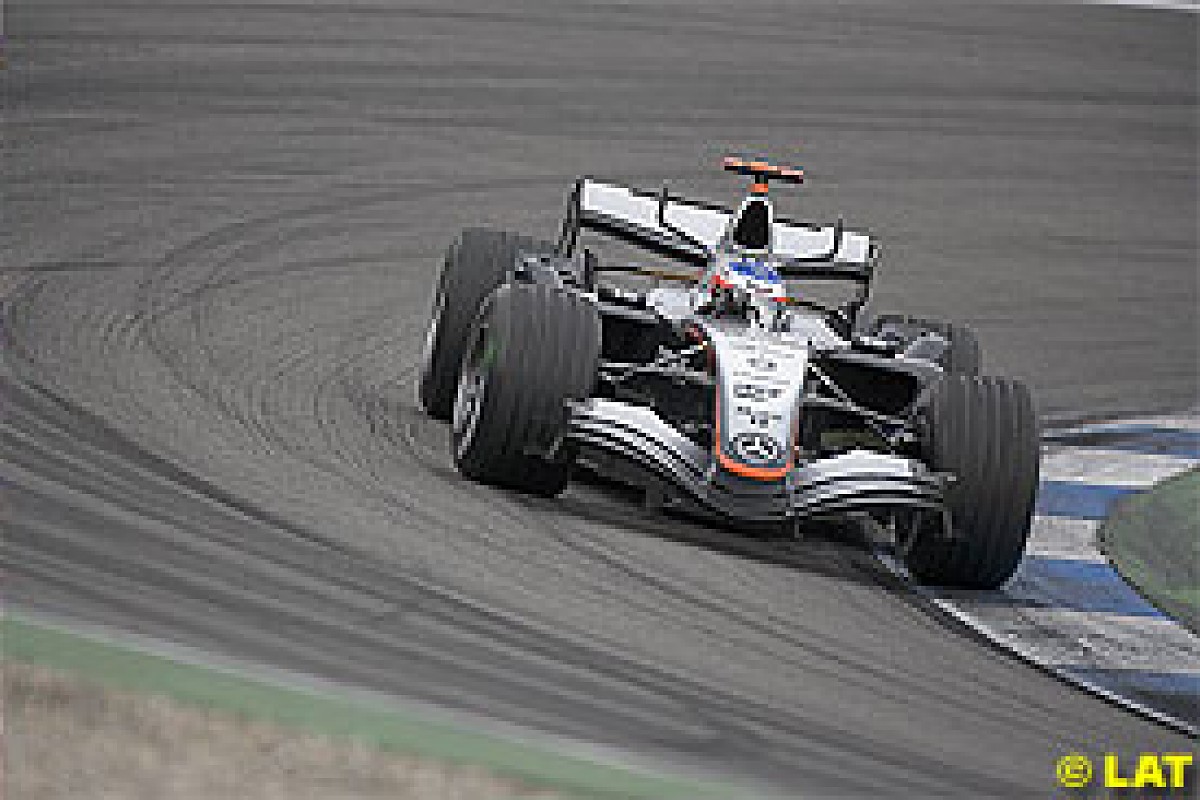 Although Kimi's next Mercedes engine didn't get much of a workout at Indianapolis, it cried "Enough!" at the start of the Friday's second practice for the French Grand Prix. I thought this was a pretty subtle way of putting a spanner in his works and I vowed to remember this for the future. The cheeky Finn confounded my scheme, however, by finishing second at Magny Cours and setting the fastest lap. Luckily they no longer award a point for that. With Mister Alonso winning, things were looking good.
The engine-breaking-during-practice idea worked well at the British GP, this time writing off a fresh engine on the Saturday. The dreaded Kimi set fastest lap again, on his final tour, and placed third behind Alonso. He took his race engine to Hockenheim, which in its new format no longer metes out the power-train punishment it used to. But a hydraulic-system failure marked a nice change of pace in my efforts to hex the Finn's season. Afterward he said, "It seems like I have had my fair share of bad luck this season." Darn right!
With a factory-fresh Mercedes V10 plugged into the back of his McLaren, there wasn't a lot I could do to queer the Iceman's pitch in Hungary, where he lived up to his name in a hot race to take the victory. My efforts erred in taking out Montoya instead with another drive-shaft failure. Sorry 'bout that, Juan Pablo! Now during the three-week break until Turkey I'll have to be thinking about ways to put the kibosh on his engine, which will be idle while awaiting its second outing. At the Nurburgring, BAR showed that a five-week layoff doesn't necessarily harm an engine's reliability, but then I wasn't targeting them!
"We will not sacrifice pace for reliability," was Ron Dennis's take on his team's embarrassing failure rate during the season. That's reassuring, for a team that balances pace and reliability, like Renault, looks most likely to take the drivers' crown this year.
Another team that has the same reputation, Ferrari, seems to have found its feet â€" or its tyres â€" at last. And BAR-Honda are generating some momentum after the appalling start to their season. For the rest of the year my anti-Kimi campaign won't need much attention. The other guys will be taking care of it for me.