Here's Johnny

---
By Will Gray, England
Autosport-Atlas GP Correspondent
It was somewhat surprising to see Johnny Herbert make a return to the Formula One paddock as the newly appointed 'Sporting Relations Manager' for Jordan Grand Prix. Will Gray caught up with the affable Briton for a chat on his new role, his racing career and what he'll be doing next weekend at Turkey
Q: So, how did your new appointment with Jordan Grand Prix all come about?
Johnny Herbert: "It basically came through a friend of mine, who came up with the idea. Unfortunately at the beginning of the season Jordan didn't have the sweetest start, it was a bit difficult to get any proper information, it was a difficult situation. So they thought it would be a good idea to have someone who people could chat to, a friendly face, someone who they could talk to quite easily, so that was the idea."
Q: And when did it fall into place?
Herbert: "Just a little bit before the British Grand Prix, but the first proper meeting was at Silverstone, where I met Colin [Kolles]. He thought it was a good idea that the team have someone who is a little bit more that way inclined, someone else who could take that role. So basically it was an idea to take that role from Colin."
Q: Had you ever thought of doing something like this before?
Herbert: "I did, but because I was still enjoying driving - which I still am and I still haven't decided to stop - it was something I hadn't really looked at. With Formula One, it is when the window of opportunity opens and then when this weekend came up I thought, yes."
Q: And what is in it for you?
Herbert: "This is a good thing for me to do because I'm on the other side. As a driver, when I was asked a silly question by a journalist, I could just tell them to get lost, don't be so stupid. I have got to cope with that but as a driver if there's any difficult questions being asked there's always someone looking over your shoulder. This is different, because you lot are going to ask the difficult questions which I too have got to ask. But it's good for me. It gives me an understanding of what it's like on the other side."
Q: But were you not concerned about the way the team was going?
Herbert: "Well, at the end of the day, Formula One changes all the time and at the moment there is a blue and white car that is struggling considering what they should be doing, and with Alex Shnaider, who I met on Thursday night, and his explanation of what they want to do, how they want to do it and where they want to go - it is not anything like all the rumours you hear about it. You know, someone coming in to buy the team and so on, where they come from is another matter, but then there was no comeback and no denial of this thing, the rumours were not being addressed. Hopefully now they can be addressed."
Q: So you are not Eddie Irvine's mole then?
Herbert: "No, no, no! I don't have a Russian who is there behind me. But again that goes on, you know, that he is trying to buy next door, and so on, no idea!"
Q: Colin says his ambition and drive in Formula One has been completely ruined by the fact nobody believes him or listens to it. How important is your role in sorting that out?
Herbert: "It is really terribly important. Part of moving that process forward is obviously if you get the best understanding of what the situation is. I could tell you a lot of stuff about the future, wanting to get up the grid and so on, but you have to do that, you can't just say it. Unfortunately in this game it is not just talk, you have to do it at the same time and this year we are not going to see it because we have a car that is two years old and you could paint it in gold leaf but the gold leaf would never stick, it would always fall off!
"So the investment has really got to go towards what they are going to do next year. Everything is not going to come from Alex so they have got to get some sponsors that will carry through at the same time. Alex is aiming towards the start of Midland F1 next year."
Q: Have you seen enough yet to believe Colin's promises are true?
Herbert: "I know there are things that are going to make it change, we all know that we can not guarantee it is going to be a more successful season. It is getting the structure, and all the people who had left has left a hole. Once that is filled you then need to get the structure sorted and all gelled together to move forward.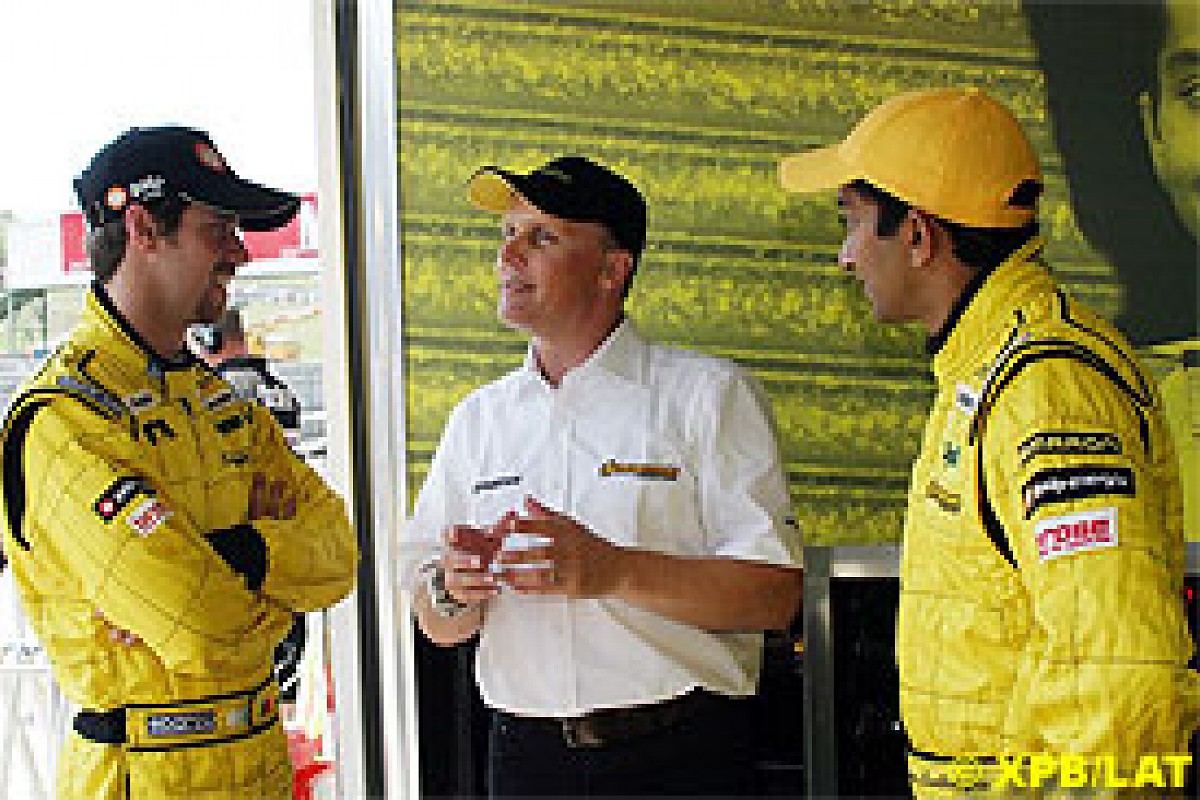 "But we have still got to fill that hole and that is going to take time, but that time starts now. They have got the car started, it is not going to be a complete and utter Dallara, and at the moment they are working together with the guys at Jordan. That will take time as well, it is not going to be an instant thing that next year they are going to be in the top six."
Q: So what are the aims on track for this year?
Herbert: "Well, it would be lovely if the B car, which should come out in a month's time, if it can nip the heels of Sauber, which is the next team ahead. But realistically we have got to aim around that mark for next year."
Q: Is there any news on when next year's car will be ready?
Herbert: "No, the earlier the better but I don't know a date at the moment. Now the engine [deal] is done it is another step, knowing that it is a Toyota back-end."
Q: Are you in for the long term or is it just this year?
Herbert: "No, I am in it for the long term. I am still wanting to race and I've got something coming on. I've always had an interest in NASCAR and it's something I have been working on for a year and I don't know where that's going to end up. If it does happen, that will restrict a little bit what I do but I am still going to be involved with it whatever happens.
The racing is still a part of my life; it is something I can still do. If they have other sponsors that they are trying to get, they might drag me along to that to give an understanding of what the whole thing is about."
Q: So you can miss some Formula One races then?
Herbert: "It's not that I have to come to every race."
Q: And you are not involved in the running of the team?
Herbert: "No, no, no. I have some input. I can tell them what I think. I am not going to say 'we should do this', 'we should do that'."
Q: I assume Colin will still be going to the manufacturer and team meetings and so on?
Herbert: "Yeah."
Q: Do you have ambitions to step up beyond this role and actually run a team at some point?
Herbert: "If it appeals, only if I enjoy it. But at the moment I don't think I am the right character to take control of a team."
Q: Have you moved back to the UK or are you still living in Monaco?
Herbert: "Still in Monaco, but I go to Silverstone maybe once a week, but only if there is something going on, I don't need to be there."
Q: So it's not a day-to-day role?
Herbert: "No."
Q: Have you been to the factory already?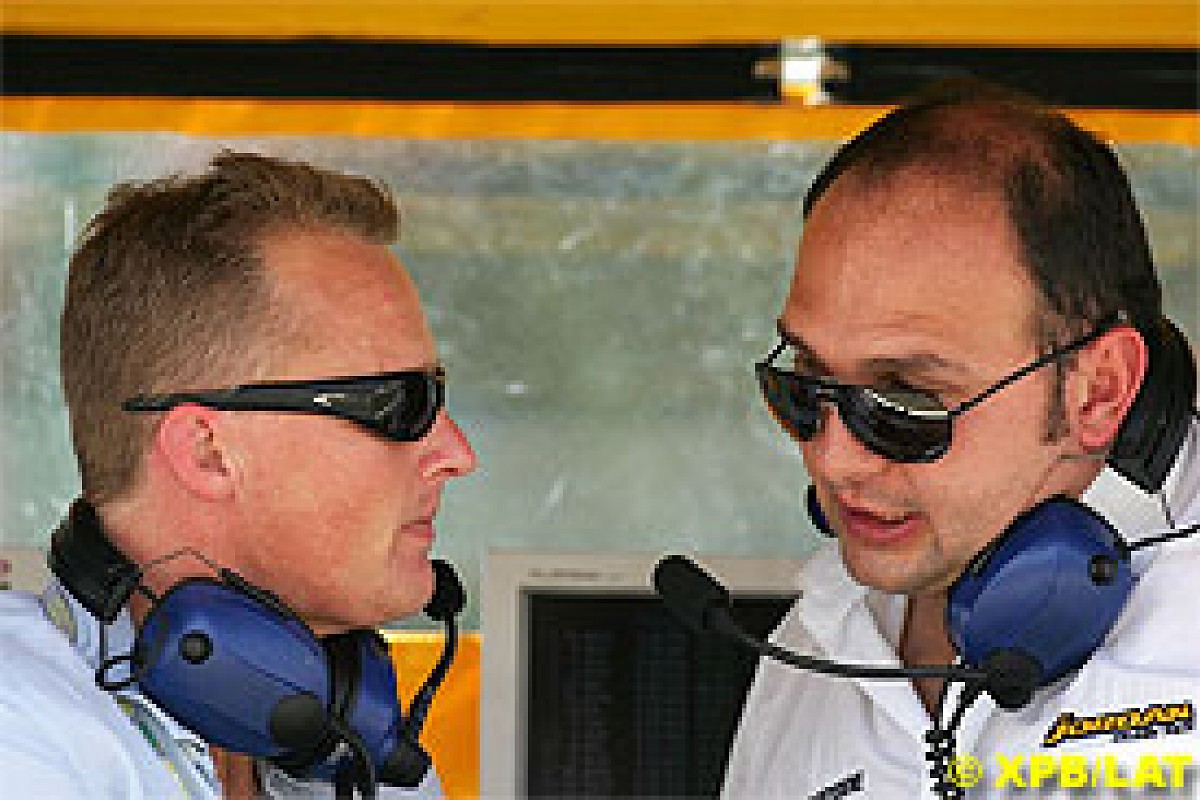 Herbert: "Yes. I know all the guys anyway, there are still some who were there when I was in F3000 and F3."
Q: Many have left by now, though.
Herbert: "Yeah. I think a lot of people didn't know what was going on, when it was Jordan, it was completely up in the air. Eddie [Jordan] was probably telling them it was not looking good. It was looking dire. I think most of them probably left before it all happened."
Q: The morale at that stage must has been really bad. How is it now?
Herbert: "The morale was pretty down and it's a horrible feeling. They were winning four or five years ago and then they get into this position where there's no light at the end of the tunnel. Unfortunately with this car, there is no light at the end of the tunnel until the end of the year. We have the B-spec but it's not going to be a revolution.
"It's got to get some stability in the team again because at the moment it has been a bit disrupted because of all that has happened and the people who have left. There are holes that need to be filled and it's getting all that stability back. It takes time. You can throw money at it but we've seen that happen before and it doesn't always fix the problem."
Q: Will you drive the car at all?
Herbert: "It's been spoken about, but I don't think it should be the role that I am trying to do. I don't think I should be the guy that's getting in it just because I have more experience than these guys to tell them what I think they should do. That's not my role. It would be nice to have a go in one, though I haven't had a go for a while."
Q: Are you advising the drivers? They are both Formula One rookies, are you helping them along?
Herbert: "A little bit. Narain [Karthikeyan] is a little bit wild at the moment and I have just said to him 'calm down, be smooth, don't overdrive the thing'. I think that's what happened at Hockenheim and a couple of times before. With Tiago [Montiero], he is a lot calmer, a lot more confident with himself. They are quite different."
Q: Narain looks like he needs an arm around his shoulder?
Herbert: "He has 1.5 billion people on his shoulder! I think the problem is the way the Indian media see Formula One is that if a driver gets into Formula One and doesn't win it's because he is not quick enough. They don't realise about there's a McLaren fastest. At the moment the majority don't really grasp that. The car is never going to be there unfortunately - unless you have six cars in the race. He's doing the best job he can in the circumstances that he has got to try and get the drive or a drive again next year."
Q: Are you taking any role in terms of advising on drivers for next season?
Herbert: "Yes, there are ideas that they have and they do ask me what do I think about him. They do ask. I can say I think you should sign him based on what they have done before. But decisions or anything, I'm not going to be the guy who's calling them in here saying here's your contract I want you to sign it. Colin still has control."
Q: So, what are your thoughts on the paddock now you are back?
Herbert: "Same as I remember it was in 2000 really. I think there's a bit more politics but I think that is just about the Formula One group they have formed. Obviously with the manufacturers down there, there is a lot more pressure down here. You have Toyota who have spent a lot of money and are finally making the move forward. There's a lot of things going on just because there are manufacturers here. They are all geared up to win and they will do what it takes to do it."
Q: And will you be in Turkey?
Herbert: "I will be in Turkey, you will probably find me in a Turkish bath somewhere...