The 2005 Hungarian Grand Prix Review

---
By Will Gray, England.
Autosport-Atlas GP Correspondent
Formula One goes into the summer break with revived hopes of a having a fight for this year's title after Kimi Raikkonen eased to victory in the Hungarian Grand Prix as his main rival Fernando Alonso failed to score. Will Gray reviews the events and results from the fourteenth race of the 2005 season
After three disasters, Hungary was a dream result for Kimi Raikkonen.
The Finn started the weekend claiming, as World Champion Michael Schumacher had earlier in the week, that he had little chance in the title race, but he left Budapest for the summer break with renewed confidence of a fightback.
He did what he needed to do by becoming the first driver to start first in qualifying and go on to win the race, albeit thanks to yet another McLaren failure taking his teammate Juan Pablo Montoya out of the equation.
But his title rival Fernando Alonso also gave him the perfect present when he suffered a minor collision on the first lap that was a major knock on his Championship lead, putting him down the order and out of the points at the end.
Renault declared the weekend their worst of the season after starting off the pace on Friday, qualified in the low top ten on Saturday and then failed to get either car in the points in the race.
Technical chief Pat Symonds insisted their struggles at the Hungaroring were a one-off and they now have just six races left to defend Alonso's 26-point advantage and their 12-point Constructors' Championship lead.
Asked whether he still expects Raikkonen will have a tough time reeling in Alonso, Symonds added: "Oh yeah, absolutely. It now comes down to finishing races, even if we are behind him, and that is it."
But Raikkonen is not listening. He stole back ten points in the continually yo-yoing title race to reduce the deficit and while it is still difficult, McLaren are fast and, with a bit of luck, it certainly is an achievable target.
Team boss Ron Dennis declared: "The Championship is back within our sights."
Raikkonen not only won, he took the win by 35 seconds from second-placed Michael Schumacher, who enjoyed a rejuvenation in his Ferrari but remained cautious of their confidence for the rest of the year.
The only thing that can stop McLaren is reliability problems, but those occur with alarming frequency and the team have only had one double finish in the last five races. The title race will be over if they do the same in the next five.
Engine and hydraulics problems hit Raikkonen hard over the last three races but this time it was Montoya's turn to take over the bad luck as he was stopped with a driveshaft failure.
Renault's reliability has been excellent in recent races, with both cars finishing in all of the last four events, but the Hungary weekend marked a switch in the fortunes between Alonso and Raikkonen.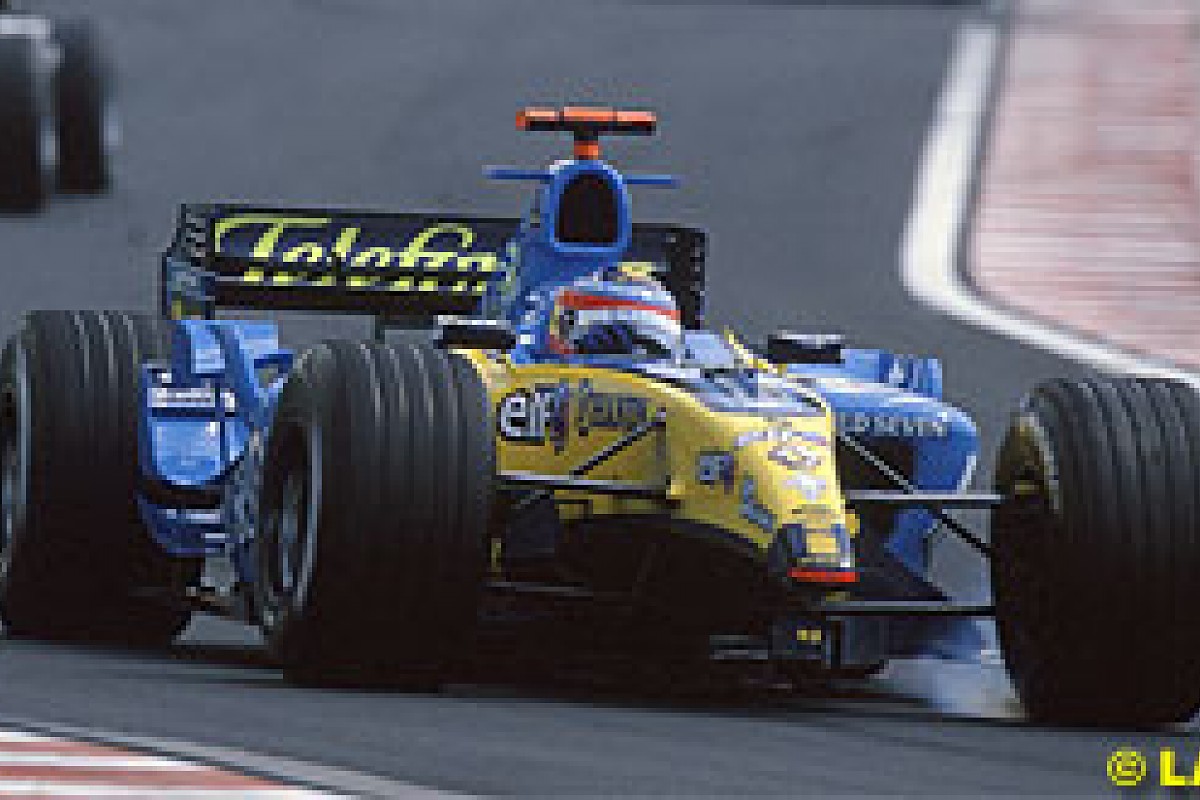 That switch also happened in Canada, when Raikkonen raced to a confident win as Alonso crashed into the wall, but that victory only put the title race back to where it had been two races previously. The same happened in Hungary.
Raikkonen has been stopped from securing a certain victory on three occasions this year, Montoya on two, and McLaren bosses accept that those failures must be stopped if they are to mount a serious late challenge for the title.
As for the rest of the teams, Ferrari strode forward tentatively as German Schumacher extended his run of points-scoring finishes to an impressive eight but teammate Barrichello came home tenth due to a first lap collision.
After three low-scoring races, however, Schumacher used the lack of overtaking chances at the Hungaroring to his advantage by qualifying strongly, claiming his first pole of the year and making the track as wide as possible in the race.
It gave the team hope of a rise in form in the closing races but they remained cautious over predicting the future, preferring to wait and make sure the marked improvement from their Bridgestone tyres can carry over to other races.
BAR continued to challenge for points and finally saw both drivers finish in the top eight as Takuma Sato claimed his first score of the season with eighth, but both cars were lower than they had expected to be.
Toyota were strong and extended their advantage over Williams, who had a poor race but also took a double points finish, while it was a weekend to forget for Red Bull as both cars were out before the end of a lap.
It was also a weekend to forget for Renault, but that is what they will do as Formula One goes on holiday for three weeks before the title race reconvenes in Turkey with Alonso focusing on damage limitation to secure the title.
Qualifying
Schumacher sprung the biggest surprise of the weekend when he plonked his much-improved Ferrari on pole position by a country mile in the sweltering heat of the Hungaroring.
New tyres from partners Bridgestone helped push Schumacher forward but McLaren boss Ron Dennis said he had no doubt the World Champion was fastest because he had opted for a three-stop strategy in the race.
Raikkonen had too, and he set the fourth fastest time, but Schumacher was eight tenths faster than Montoya after the Colombian, on a two-stop weight, made another mistake, this time in the first corner, and missed out on pole.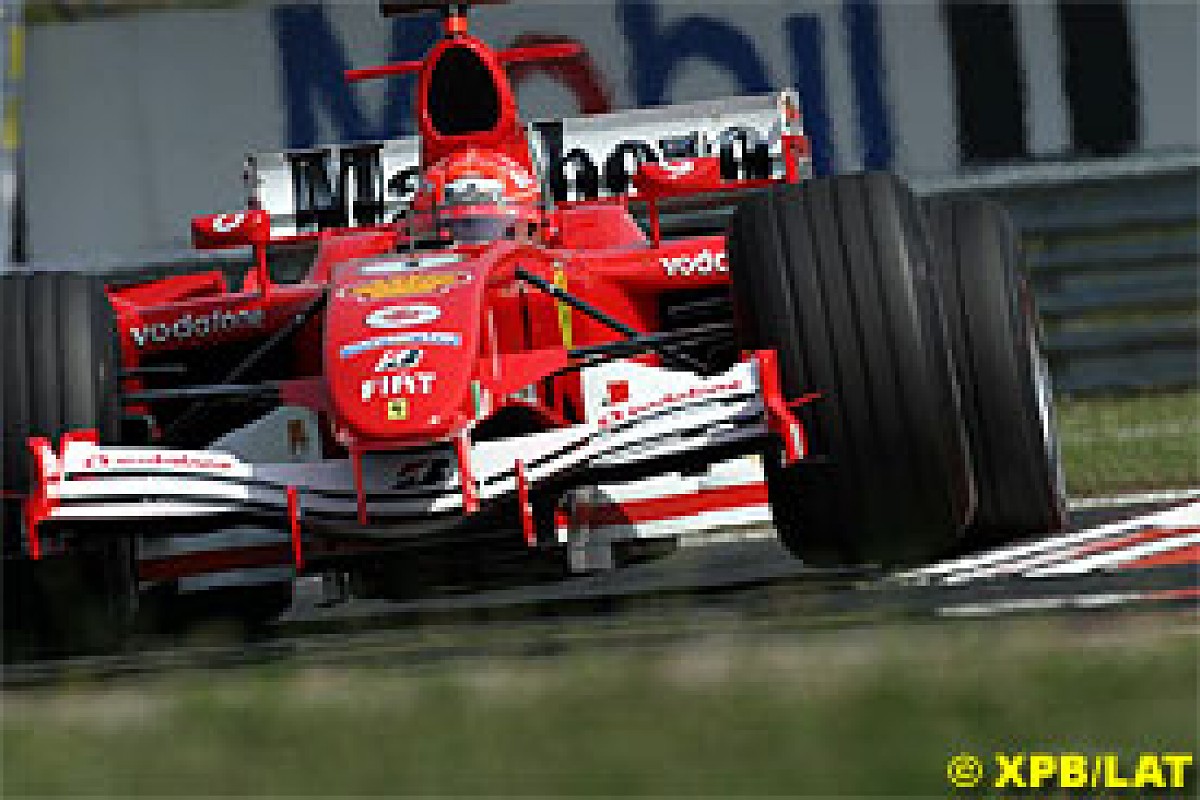 1. Michael Schumacher (Ferrari) 1:19.882
Clearly choosing a light-fuelled strategy worked for Schumacher as he scorched to his first pole position of the year by an astonishing margin. The German also praised his new tyres for giving him the extra pace and the combination enabled him to set the fastest time in every sector, gaining a massive five tenths of a second in the second part of the lap.
2. Juan Pablo Montoya (McLaren) 1:20.779 + 0.897
Montoya made a mistake in the first corner and eased off to make sure he secured second on the grid after realising he would not beat Schumacher for pole. Despite his error he was less than a tenth of a second slower than the German in the first sector but, with Schumacher's stunning second sector time too tough to beat, Montoya made sure he avoided the same mistake he made at the last race and was pleased to finish the lap.
3. Jarno Trulli (Toyota) 1:20.839 + 0.957
After starting seventh in the session, Trulli managed to surprise even himself with his qualifying run. He was the 11th fastest car through the speed trap on his lap and set disappointing first and second sector times but his time in the third sector, second fastest of all the drivers, was good enough to push him up from what would have been sixth place into a second row grid spot.
4. Kimi Raikkonen (McLaren) 1:20.891 + 1.009
Raikkonen was out first in the session, something that should have hampered him more than it appeared to. He was fastest through the speed trap by some margin, almost six km/h faster than the second fastest car of teammate Montoya and he set the third fastest time in the first sector of his run. He continued to push and although he only managed fifth fastest time in the second and third sectors he was still just more than one tenth slower than Montoya. It was a fantastic effort.
5. Ralf Schumacher (Toyota) 1:20.964 + 1.082
Starting 15th in the session enabled Schumacher to make the most of the pace in his Toyota but he still finished a tenth slower than teammate Trulli in a tightly bunched group of frontrunners. Third fastest times in the final two sectors were the basis of his lap but a poor first sector, only 11th fastest thanks to a bit of oversteer, ruined his efforts.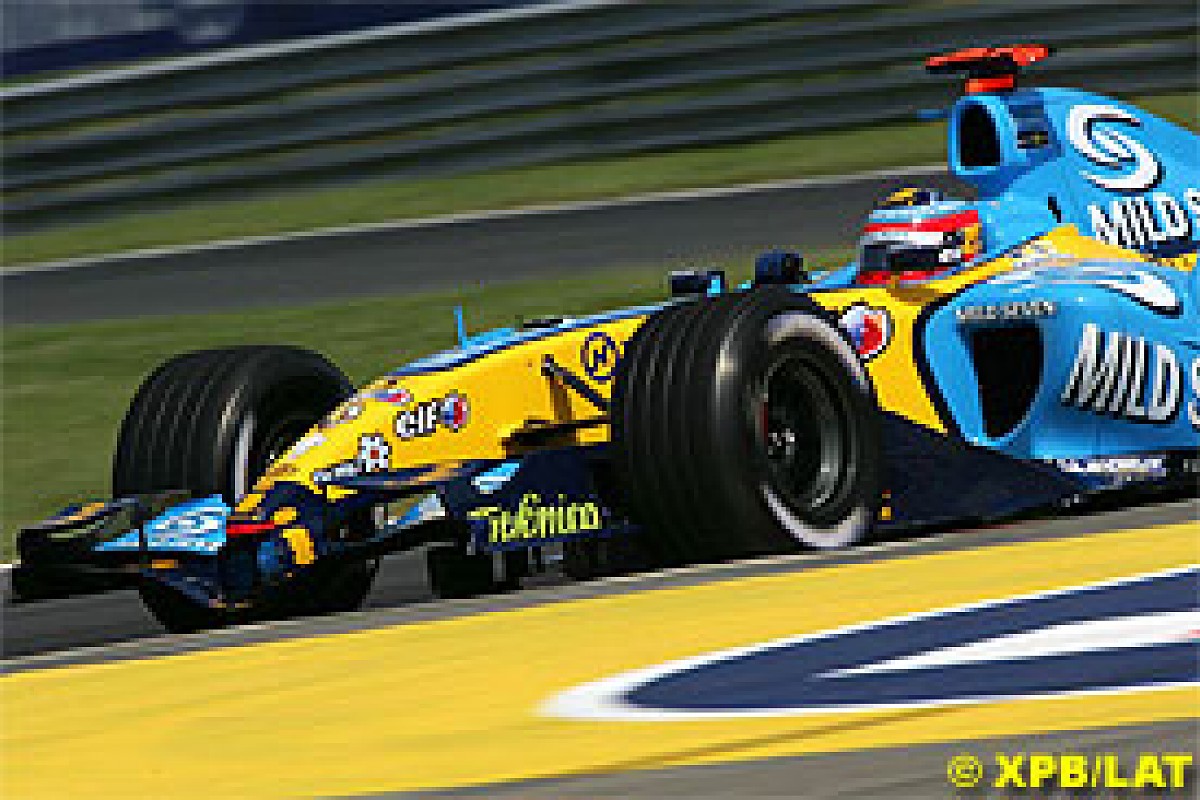 6. Fernando Alonso (Renault) 1:21.141 + 1.259
Alonso was hampered by his car's understeering performance and, therefore, its pace over all of the practice sessions and that continued into qualifying as he was outqualified by title rival Raikkonen despite starting last in the session. He was fourth fastest in the first sector and second fastest in the second, but his straight-line speed was poor, 13th fastest through the speed trap, and he was 12th fastest out of 20 in the final sector, seven tenths slower than Schumacher, because he put a wheel on the grass at the last corner.
7. Rubens Barrichello (Ferrari) 1:21.158 + 1.276
Barrichello lost out in the first sector because he was not used to his brakes after a pre-qualifying modification and that cost him two tenths on teammate Schumacher, putting him eighth fastest. He was even slower in the second but made up the average with a sixth fastest time in the final sector and praised his Bridgestone tyres for giving him the performance to put him on the fourth row.
8. Jenson Button (BAR-Honda) 1:21.302 + 1.420
BAR-Honda were fast through the speed trap but suffered from a lack of grip due to the hot weather and, despite starting third from last in the session, he could not manage a strong performance, setting the seventh, eighth and ninth fastest times in the three sectors.
9. Giancarlo Fisichella (Renault) 1:21.333 + 1.451
Fisichella was able to start late in the session but he failed to make it count as he struggled for pace. He blamed himself for being too conservative in the final sector and admitted it cost him time, which it did, and could have been the 0.032 seconds that would have put him ahead of Button.
10. Takuma Sato (BAR-Honda) 1:21.787 + 1.905
Starting much earlier than Button, ninth in the session, Sato was faster through the speed trap, the fastest car other than the two McLarens. He was closely matched to Button in the first and final sectors but lost out more than half a second to his teammate in the middle part of the lap due to an oversteer problem.
11. Christian Klien (Red Bull) 1:21.937 + 2.055
Klien was happy with improved balance on his Red Bull machine in the qualifying session, having struggled in practice but he was slower than all but Albers' Minardi through the speed trap. He was slow in the first sector but improved through the lap and ended up outqualifying Coulthard for the fifth time in eight races this season.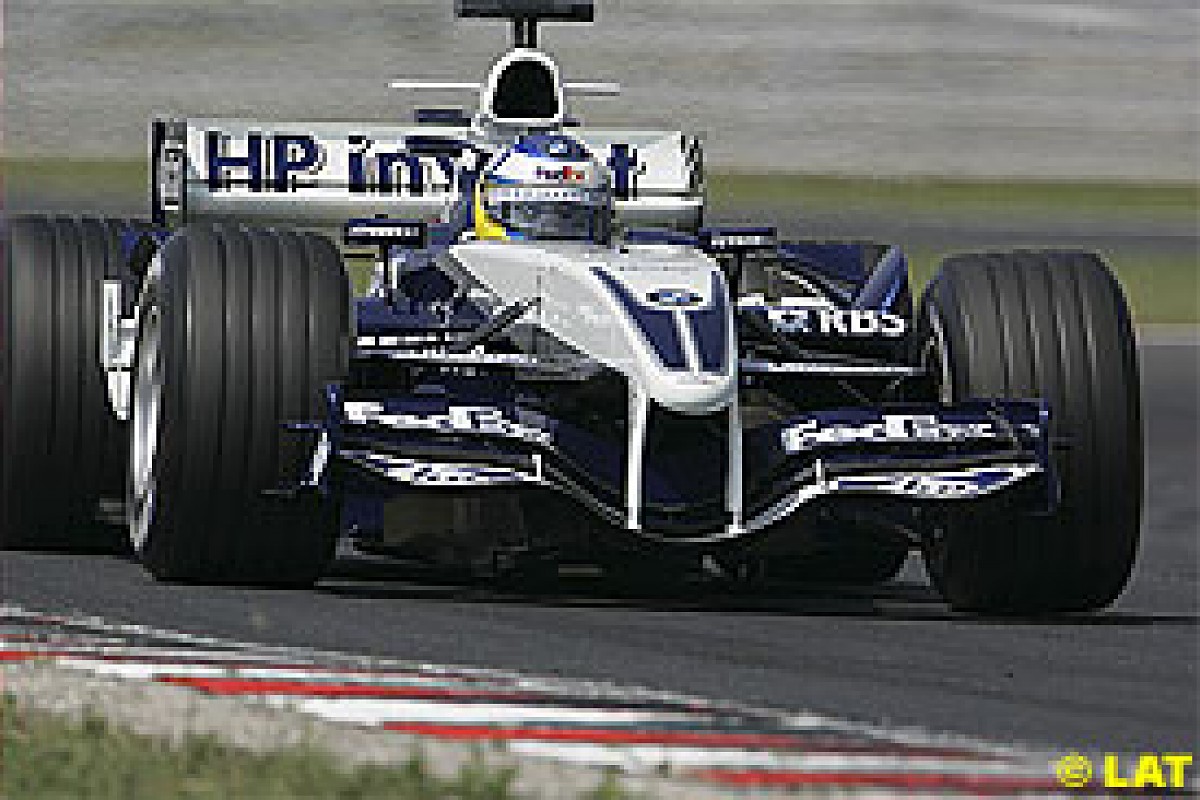 12. Nick Heidfeld (Williams) 1:22.086 + 2.204
Worsening balance on his Williams during the lap cost Heidfeld time on his run and with his first sector time only good enough for ninth fastest spot it could only get worse. He set the slowest speed, apart from Albers' Minardi, in the middle sector on his way to the 12th fastest time and managed only 14th fastest in the final sector.
13. David Coulthard (Red Bull) 1:22.279 + 2.397
Coulthard's "bit of a wobble" at turn one cost him time, putting him 12th fastest in the first sector, and he admitted he could have extracted more from his car in the middle section after setting the 13th fastest sector time. He finished the lap with the 11th fastest sector time but it all combined to leave him more than three tenths slower than Klien.
14. Felipe Massa (Sauber) 1:22.565 + 2.683
Massa had no complaints over his lap, suggesting that strategy or struggles for pace had put him so low in the running order. He improved over the lap having started with the 15th fastest sector time, just two thousandths slower than teammate Villeneuve, but took one-and-a-half tenths and two tenths out of the Canadian in the final two sectors.
15. Jacques Villeneuve (Sauber) 1:22.866 + 2.984
Villeneuve was outqualified by teammate Massa for the eighth time this season but claimed he had expected to be even slower having been the sixth car out in the session, compared to Massa, who was 13th, and said that strategy for the race was what put the team so low down the order.
16. Mark Webber (Williams) 1:23.495 + 3.613
Webber had a shocker. He stated the obvious when he said the car's performance was "still not where we want to be", but only strategy could explain when he was more than 1.4 seconds slower than teammate Heidfeld. He was the second car out on track in the session but admitted that affected him little, but claims that his first two sectors "weren't too bad" failed to stand up when the timesheets showed him 16th in the each, faster only than the Minardis and Jordans and he also followed that trend in the final sector to complete a terrible time.
17. Christijan Albers (Minardi) 1:24.443 + 4.561
Cheers from the Minardi pit greeted Albers when he crossed the line after his run put him ahead of Karthikeyan's Jordan as the team proved once again that they are now battling with the yellow cars. He lost a lot of time in practice on Friday but was able to develop the set-up sufficiently on Saturday. He was the slowest car through the speed trap but secured a half-second advantage over Karthikeyan in the first sector and another two tenths in the final part of the lap after giving away two in the middle sector.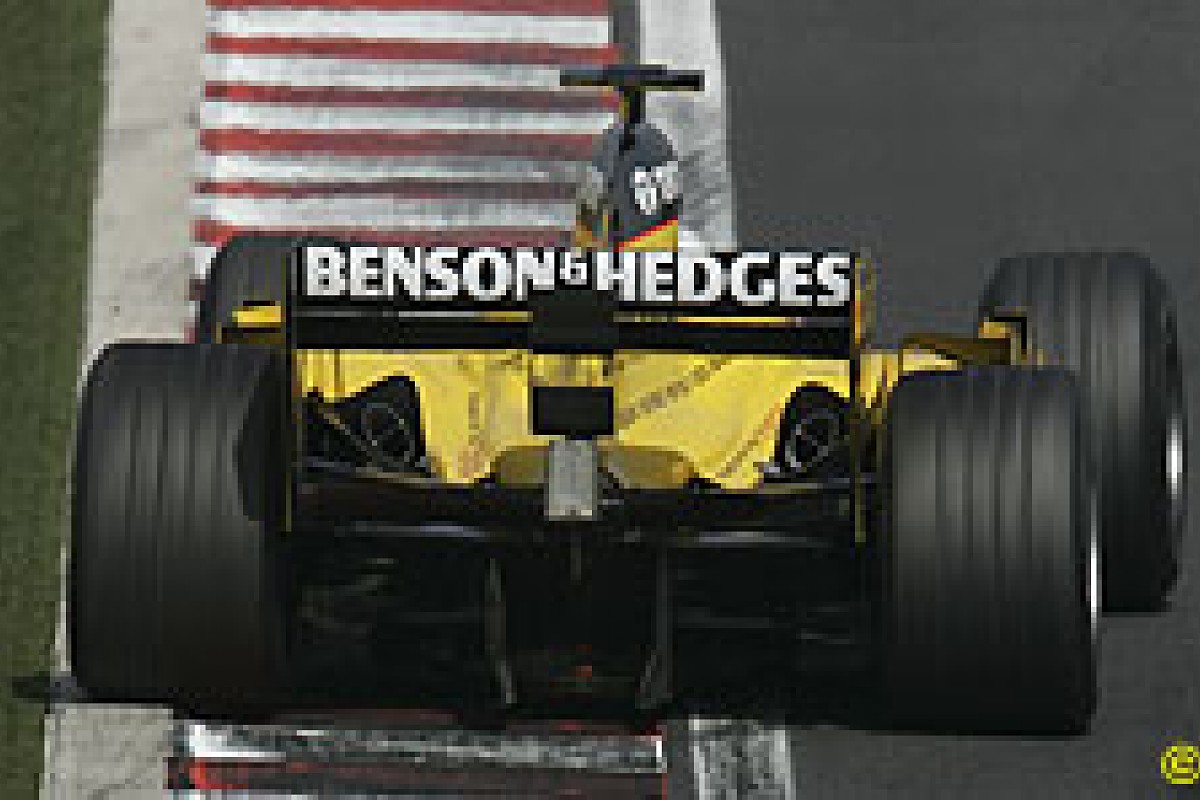 18. Narain Karthikeyan (Jordan) 1:25.057 + 5.175
Karthikeyan had to be disappointed with his run after failing to achieve his one aim, to beat the Minardi cars. He had a strong sector, but that was the only plus point of his lap and he was left hoping a good strategy and strong race pace would get him past his rivals.
19. Robert Doornbos (Minardi) 1:25.484 + 5.602
Doornbos' lap was ruined almost immediately when he ran wide in turn one and, pushing hard to recover the time, he also made a mistake in the final sector which lost him six tenths to teammate Albers and ensure he finished as the slowest car in the session.
20. Tiago Monteiro (Jordan) No Time
After changing an engine following the morning practice there was little point in Monteiro setting a lap, so he didn't.
The Race
Schumacher was able to get off the line quickly and took a clear lead into the first corner as Montoya held onto second and Raikkonen moved up to third, right behind his Colombian teammate.
But behind them there was chaos as Trulli made a slow start, dropped down the order and, as the field bunched up around him, Barrichello failed to stop and clattered into the back of the Toyota.
"There was a big fight at the end of the straight and all of a sudden the pack almost stopped," said Barrichello. "As I tried to slow down I locked a wheel and went straight into the back of Trulli."
The incident badly damaged the rear of Trulli's car and forced Barrichello to pit for a new nosecone at the end of the lap, but that was just the start of the troubles that concertinaed down the field.
Alonso had a collision with Ralf Schumacher and said: "I was very surprised by how many movements he was making and he just didn't give me any room at all. I was right up on the kerb, nearly in the grass."
The impact was only slight but the consequences were great as Alonso suffered a broken wing and a damaged Championship advantage in an instant, pitting for repairs and proving bad luck can strike him on the odd occasion.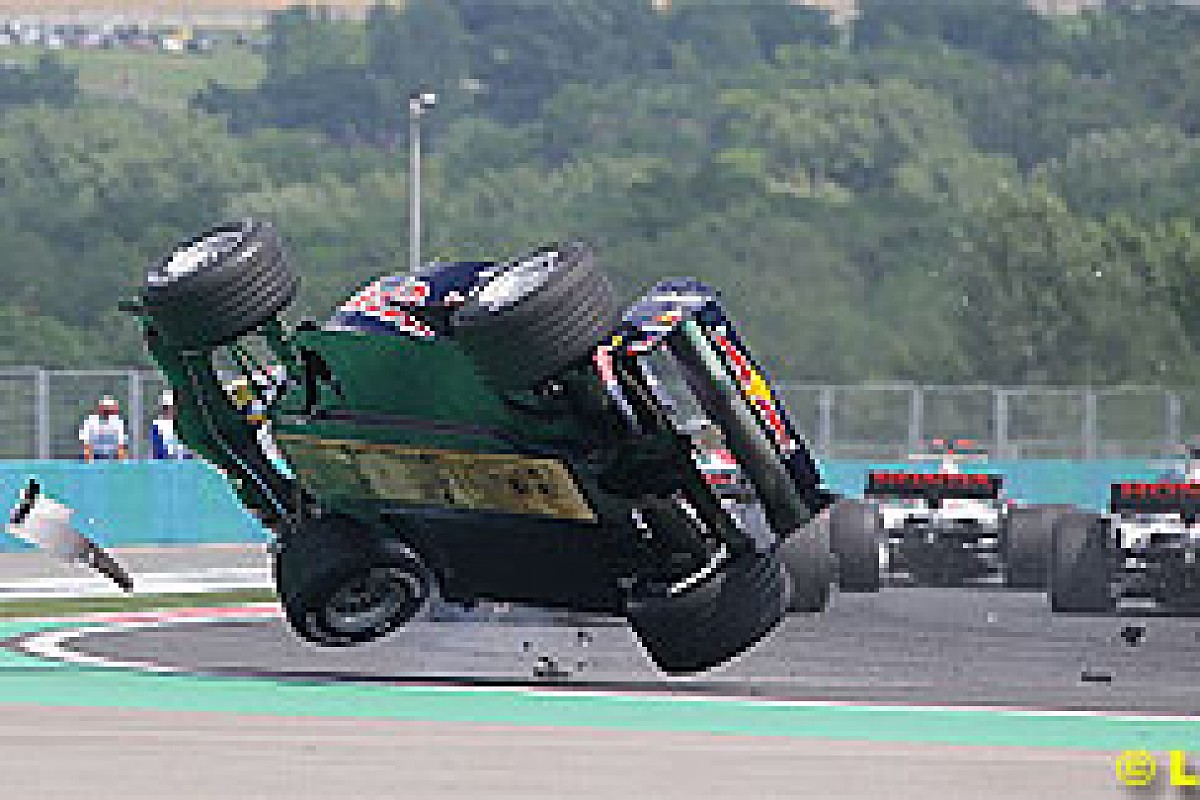 Behind that, Klien was the next victim in an over-excited start when his car was clipped by Villeneuve, and his Red Bull machine did a complete 360-degree barrel roll onto the run-off area.
"It all happened so quickly," he said. "A Sauber and Williams were behind me, one of them hit my car on the first corner and I rolled mid-air. I came to land on four wheels and luckily nothing happened, but that was not a good feeling."
Albers then hit Monteiro and blamed Mark Webber for the incident, explaining: "I had a great start but Webber tapped me, I touched Monteiro, and my car went up in the air, shedding quite a few aerodynamic pieces as it landed."
Monteiro had to pit for repairs and said: "We paid the price for having kamikaze drivers around us at the beginning. I had a great start, gained three positions and then someone punched my rear tyre at the braking point."
Then, as the field jostled its way around the opening lap, Alonso's problems had crucial consequences for David Coulthard after the front wing of the Renault was ripped off by the airflow in the latter part of the lap.
Coulthard hit it as he headed towards turn 12 and ended up as a passenger in a violent accident. "I didn't see anything until it was too late," he said. "I had just enough time to react, but not nearly enough to get out of the way.
"It smashed the front corner of my car. I couldn't distinguish the shape of the debris and was going too fast to react to it and I was lucky not to have had a bigger accident really."
When Alonso came out of the pits he was down in 17th place, one place behind Barrichello, while the McLaren pair had switched at the front.
Montoya had allowed his teammate to pass and explained: "I knew Kimi was three stopping so there was no need to be in his way considering he was on a different strategy to me."
Schumacher could not get away from Raikkonen, who tailed the German in the opening laps, but the Ferrari stayed out longer than expected and Raikkonen was the first to pit on lap 11, fuelling up for a long second stint.
Barrichello passed Doornbos on lap nine, Albers on lap 11 and only just avoided hitting Karthikeyan as he passed the Jordan on lap 14. Alonso followed suit, passing Doornbos on lap 10, Albers on lap 13 and Karthikeyan on lap 15.
Trulli stopped on lap 13, then Schumacher finally pitted on lap 15, the same lap as his brother. The World Champion came out still ahead of Raikkonen and re-assumed the lead when Montoya pitted on lap 22.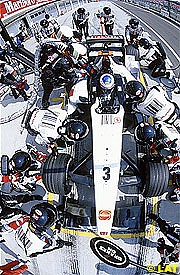 Sato had stopped one lap earlier, and Button and Fisichella pitted at the end of the 23rd lap, the latter having been stuck behind the much slower Williams of Heidfeld since the start.
Massa stopped on lap 25 with Alonso pitting on lap 26, Heidfeld and Villeneuve both pitting on lap 27 and Webber, the heaviest fuel on track, finally stopping for fuel on 29 laps.
Robert Doornbos became the third race retirement when he parked up his Minardi with hydraulic failure and said: "I was catching the Jordans and I'm sure I could have passed them and finished in front of them but it wasn't to be."
At the sharp end Schumacher was continuing to absorb the pressure from Raikkonen, who stayed within a second of Schumacher for lap after lap but could not find a way past.
"At the start of the race I was maybe a similar speed but after the first stops I was a bit quicker," said Raikkonen. "I got closer but I couldn't get past, I got close but then some traffic came.
By the time Trulli and Barrichello started the second round of stops, Schumacher was ahead of Raikkonen with Montoya third, but on a two-stopper compared to the three-stopping pair ahead of him.
Ralf Schumacher led teammate Trulli in fourth with Button, Heidfeld, Sato and Fisichella filling the remaining eight points scoring positions, Barrichello just outside in tenth and Alonso down in 14th.
Schumacher pitted from the lead on lap 36 and Raikkonen stopped just one lap later, but that lap was enough to give him the advantage he needed to get ahead of the German while Montoya regained the lead.
"We stopped the first time then the team changed my strategy for the second pitstop to what they thought was the best time to stop the second time," said Raikkonen. "I had one lap longer and passed him, then we were away.
The pitstop timings were crucial for the outcome of the race and Schumacher added: "If I could have come in at the same time or later than Kimi, then maybe, given how hard it is to overtake here, I might have been able to stay ahead."
The race was turned on its head on lap 41 when Montoya suddenly slowed. "A driveshaft broke, which is just one of those things that happen when you are pushing everything to the limit like we are at the moment."
The unlucky Colombian, who was on his way to victory, returned to the pits to post his second retirement of the year and left Raikkonen with a comfortable 18-second lead over Schumacher.
Ralf Schumacher was in third, Trulli fourth, Button fifth, Heidfeld sixth, Sato seventh and Fisichella eighth, but Fisichella was struggling with his car's handling and lost the place to Webber on lap 43 when he went off at turn four.
Massa went into the pits on the same lap and was pushed into the garage with a smoking engine. "Three laps before my second scheduled pit stop the car went on to what felt to me like eight cylinders," said Massa.
"When I was called into the pits on lap 43 there was a small fire but that was okay, my crew put it out very quickly. What caused the delay was having a set of new spark coils fitted and after that I went back out."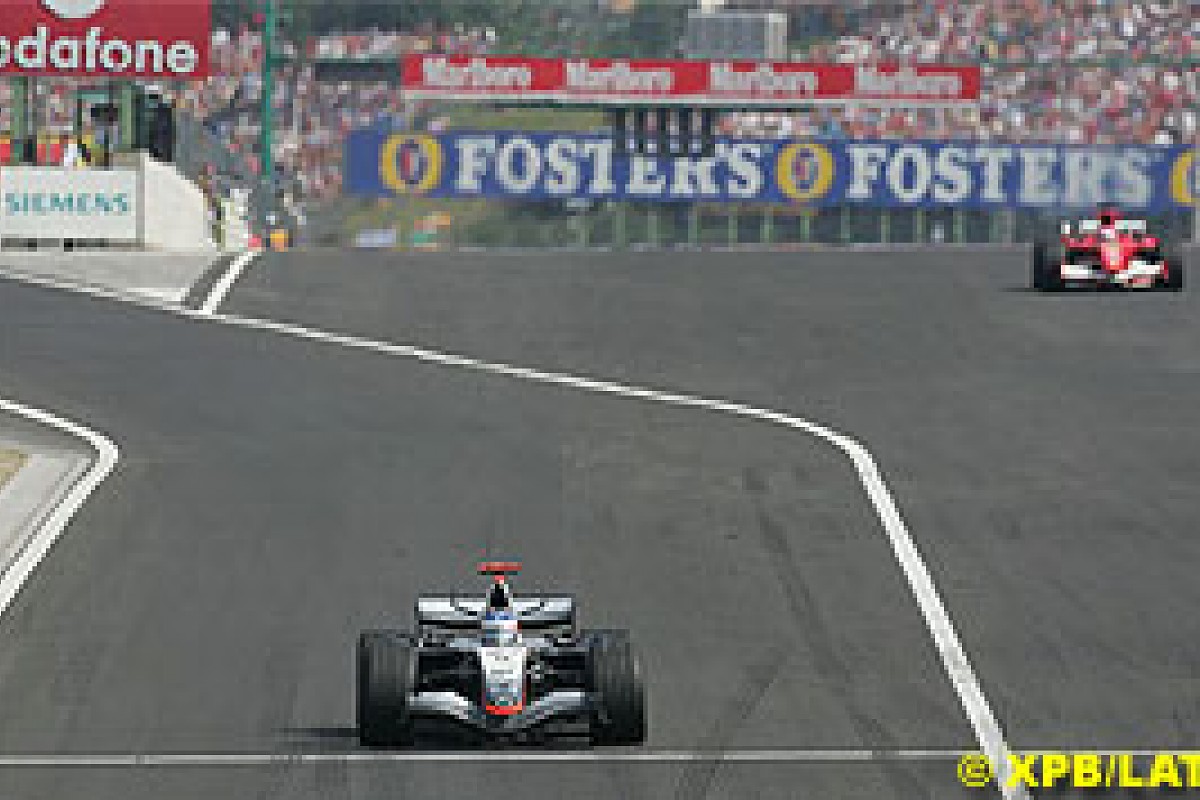 Button pitted for his second stop on lap 47 then Raikkonen pitted one lap later for his third and final stop and retained his lead as he came out comfortably ahead of Schumacher, who still had to make his final stop.
Sato stopped on lap 50, Fisichella on lap 51, Trulli on lap 52 then Webber, Barrichello and Alonso all came in on lap 56 before Fisichella made an identical mistake to his previous one at turn four but did not lose a place.
Schumacher made his final stop on lap 57 and came out five seconds ahead of his brother Ralf, who had a 13-second advantage over Trulli while Button was forced to fend off Heidfeld for fifth.
The order remained the same for the rest of the race but there was still plenty of action to watch as Ralf Schumacher closed in on his brother and pushed hard to try to grab second. But he could not get by.
"In the end Michael had a bit too much exit speed to get past, so I was waiting for a mistake which he never made," said Ralf. Schumacher added: "I was just looking after my tyres and only went as quick as I needed to keep him behind."
Fisichella was forced to stop on the final lap to make sure he got to the end and explained: "The engine was losing power because of a problem with the fuel pressure so they called me in to add some fuel and get to the finish."
There were, for a change, no problems for Raikkonen, who started his summer break, on his first wedding anniversary, in perfect style. "I'm more than happy," said the Finn "It's the best way to go on holiday."
Race Results
Pos  Driver        Team                  Time   
 1.  Raikkonen     McLaren-Mercedes (M)  1h37.25.552
 2.  M.Schumacher  Ferrari          (B)  +    35.581
 3.  R.Schumacher  Toyota           (M)  +    36.129
 4.  Trulli        Toyota           (M)  +    54.221
 5.  Button        BAR-Honda        (M)  +    58.832
 6.  Heidfeld      Williams-BMW     (M)  +  1:08.375
 7.  Webber        Williams-BMW     (M)  +     1 lap
 8.  Sato          BAR-Honda        (M)  +     1 lap
 9.  Fisichella    Renault          (M)  +     1 lap
10.  Barrichello   Ferrari          (B)  +     1 lap
11.  Alonso        Renault          (M)  +     1 lap
12.  Karthikeyan   Jordan-Toyota    (B)  +    3 laps
13.  Monteiro      Jordan-Toyota    (B)  +    4 laps
14.  Massa         Sauber-Petronas  (M)  +    7 laps

Fastest Lap: Raikkonen, 1:21.200

Not Classified/Retirements:

Driver        Team                  On Lap
Albers        Minardi-Cosworth (B)    60
Villeneuve    Sauber-Petronas  (M)    57
Montoya       McLaren-Mercedes (M)    42
Doornbos      Minardi-Cosworth (B)    27
Coulthard     Red Bull-Cosworth (M)    1
Klien         Red Bull-Cosworth (M)    1


World Championship Standing, Round 13:

Drivers:                    Constructors:            
 1.  Alonso        87        1.  Renault          117
 2.  Raikkonen     61        2.  McLaren-Mercedes 105
 3.  M.Schumacher  55        3.  Ferrari           86
 4.  Trulli        36        4.  Toyota            68
 5.  Montoya       34        5.  Williams-BMW      52
 6.  R.Schumacher  32        6.  Red Bull-Cosworth 24
 7.  Barrichello   31        7.  BAR-Honda         20
 8.  Fisichella    30        8.  Sauber-Petronas   14
 9.  Heidfeld      28        9.  Jordan-Toyota     11
10.  Webber        24       10.  Minardi-Cosworth   7
11.  Coulthard     19
12.  Button        19
13.  Massa          8
14.  Villeneuve     6
15.  Wurz           6
16.  Monteiro       6
17.  Karthikeyan    5
18.  Klien          4
19.  de la Rosa     4
20.  Albers         4
21.  Friesacher     3
22.  Sato           1
23.  Liuzzi         1


Fastest race laps: Click here
Pitstop times: Click here
Lap by Lap
Lap 1: On pole position for the first time this season - but the 64th in his career, just one short of Ayrton Senna's all-time record - Michael Schumacher makes a clean start to beat fellow front-row Juan Pablo Montoya into the first corner. Kimi Raikkonen is up from fourth to third - despite starting, like Montoya, from the dirtier side of the track. The Finn then makes short work of Montoya to take second. Behind, Alonso all but runs into Ralf Schumacher and is forced over the kerbs, Rubens Barrichello crunches into Jarno Trulli and Christian Klien rolls - without injury - after riding over one of Jacques Villeneuve's wheels. Later in the lap, Alonso's front wing flies off. David Coulthard hits it, loses his right-front wheel and spins into retirement at Turn 12. Alonso and Barrichello pit for repairs at the end of the lap, which Trulli completes in fourth place ahead of Ralf Schumacher, Jenson Button, Takuma Sato, Nick Heidfeld, Giancarlo Fisichella, Felipe Massa, Jacques Villeneuve, Mark Webber, Narain Karthikeyan, Christijan Albers, Robert Doornbos and Tiago Monteiro, who also makes a quick pit stop.
Lap 2: Michael Schumacher leads Raikkonen by 1.4s.
Lap 3: Raikkonen laps in 1m22.309s and cuts his deficit to 1.0s. The leaders lap Monteiro.
Lap 4: Raikkonen is 0.9s adrift. The top three are dropping the Toyota-led pursuit.
Lap 5: Michael Schumacher laps in 1m21.673s.
Lap 6: Raikkonen responds - 1m21.610s. The gap is 1.2s.
Lap 8: Raikkonen laps in 1m21.419s.
Lap 9: Barrichello passes Doornbos.
Lap 11: Raikkonen pits. Barrichello passes Albers. Alonso passes Doornbos.
Lap 12: Michael Schumacher leads Montoya by 9.6s.
Lap 13: Trulli pits. Alonso passes Albers.
Lap 14: Barrichello passes Karthikeyan.
Lap 15: Michael Schumacher and Ralf Schumacher pit, as does Albers.
Lap 16: Montoya leads Michael Schumacher by 13.9s...
Lap 17: ...and extends it to 16.8s. Doornbos pits.
Lap 18: Karthikeyan refuels.
Lap 20: Monteiro pits.
Lap 22: Montoya peels in and rejoins third, behind Michael Schumacher and Raikkonen. Button is fourth, ahead of Ralf Schumacher and Trulli.
Lap 23: Button and Fisichella pit. Raikkonen is haring after Michael Schumacher.
Lap 24: The leaders are separated by only 0.7s. Montoya is 6.0s further adrift.
Lap 25: Massa refuels.
Lap 26: Alonso does likewise. Massa's exhaust is sounding a bit rough.
Lap 27: Heidfeld and Villeneuve pit. Doornbos pulls off to retire.
Lap 29: Webber is last of the scheduled stoppers.
Lap 30: Michael Schumacher leads Raikkonen by 0.6s. Montoya is third from Ralf Schumacher, Trulli, Button, Heidfeld, Sato, Fisichella, Barrichello, Webber, Villeneuve - his exhaust also now sounding rough - and Massa. Alonso, Karthikeyan, Albers and Monteiro are lapped.
Lap 33: Trulli and Barrichello pit.
Lap 35: Ralf Schumacher refuels.
Lap 36: With a cushion of only half a second Michael Schumacher pits.
Lap 37: Raikkonen comes in and gets ahead of his German rival. Montoya leads again, 9.0s ahead of Raikkonen and another 7.1s clear of Michael Schumacher.
Lap 40: Raikkonen laps in 1m21.219s - the race's fastest yet.
Lap 41: Montoya slows to a crawl and pits at the end of the lap. He's out. Raikkonen has a comfortable lead. Ralf Schumacher moves up to third.
Lap 42: Massa peels in and spends several laps in the pits.
Lap 43: Fisichella runs wide at Turn 4 and loses eighth to Webber.
Lap 44: Raikkonen is streaking away from Michael Schumacher. The gap is more than 20s.
Lap 47: Button makes his second stop.
Lap 48: Raikkonen lead is such that he's able to make his third stop and rejoin with Michael Schumacher still behind. On a heavier fuel load, he starts to pull away again immediately.
Lap 50: Sato pits.
Lap 51: Fisichella pits. Albers makes a lengthy stop. He will rejoin eventually, but only for a couple more laps.
Lap 52: Trulli pits.
Lap 54: Ralf Schumacher, Heidfeld and Villeneuve pit.
Lap 55: Webber, Barrichello and Alonso stop.
Lap 57: Michael Schumacher pits and rejoins a distant second. He rejoins 4.4s clear of brother Ralf, who is closing. Villeneuve pulls off to retire.
Lap 62: Raikkonen leads by more than half a minute. Ralf Schumacher is 2.9s adrift of his brother.
Lap 65: The Schumachers are 1.2s apart. Trulli is fourth from Button and Heidfeld. Webber is a lapped seventh from Sato, Fisichella, Barrichello, Alonso, Karthikeyan and Monteiro.
Lap 68: Fisichella makes a quick late stop.
Lap 70: Raikkonen scores his fourth win of the year, 35.5s clear of the Schumachers - Michael still ahead of Ralf. Trulli, Button, Heidfeld, Webber, Sato (his first point of the year), Fisichella, Barrichello, Alonso, Karthikeyan, Monteiro and Massa complete the classified finishers. The winner cuts Alonso's World Championship lead to 26 points.