Round two of the Le Mans Series at Spa was Aston Martin Racing's first chance to compare our LMP1 to Peugeot's 908 HDi FAP - and the result was pretty much as we expected.
We always knew that Peugeot and Audi will be very tough to beat this year, but that's not going to stop us trying. The gap at Spa was about 1.5 seconds, and thinking about the difference between the diesels and the top petrol cars last year, I thought we might still be over 2s off.
The Peugeot 908s lead the 1000km of Spa © LAT
So it's good that the gap's closed, but there's still a gap, and that's the reality of it now. You just don't know if Peugeot were holding back, keeping something in reserve and trying not to show their hand before Le Mans, which would be understandable. They don't want to be 5s a lap quicker and win the race at Spa and then get hit with more restrictions.
While Peugeot took pole and won the race, I think we can be very pleased with our third on the grid and fifth in the race in the #009 car, and our team-mates' podium finish in the #007, despite starting from the back.
I took third on the grid with my first qualifying run. The next lap was actually up on the Peugeots in the first sector, but I aborted because I caught traffic and could see the lap was going to be compromised. Then there was a red flag, and I just waited to see if people went quicker, and thankfully no one did so we just saved our tyres. It was better to do a banker then save the cars and tyres for the start of the race than to pound round trying to get just one place higher.
In the end, qualifying wasn't important at all because I got a puncture at the first corner and went straight to the back.
I was surprised that it went green because as we came through the Bus Stop my engineer said on the radio that a car had gone off on the green flag lap, and the start might be aborted. So I was basically chilling out. We got around to the start/finish straight and you can sense when the anticipation's there and I thought 'this isn't being aborted, this is going green'.
Obviously the tyre pressures were quite low and everyone was a bit cautious. Unfortunately Jean-Christophe Boullion behind me in the Pescarolo gave me a gentle tap - and I know it was just getting a bit of understeer and sliding into me, it wasn't like he was trying to overtake. It must be been absolutely bang on the edge of the tyre, because I don't think I've ever had a tyre go down so quickly.
Thankfully for us they did throw a safety car and that really helped because it meant that we didn't lose a lap, we just went right to the back of the field.
I had a lovely time coming through the pack after that, absolutely fantastic. There was another safety car as well, which helped, and also an incident at the first corner that a couple of prototypes got jumbled up in. I'd already caught that pack, but I lost one place and gained about three at once in that incident, which saved me a few laps of overtaking. It was really nice to get out of the car in third at the end of the stint.
We had a lighting issue later on and had to change the nose section, but without that we would've been third. Unfortunately we dropped to fifth, but all three of us had a good race. The #007 car was able to get back up to third and that's really good for their championship position.
Darren Turner hurtles through Eau Rouge © LAT
I think it all bodes very well for Le Mans, although it certainly won't be easy there.
After seeing the Peugeot's performance at Spa, and I can only imagine after seeing what they were like at Sebring that Audi is going to be equally as strong, if not stronger, it's going to be a case of having to perform absolutely at the maximum to be able to pick up on their mistakes.
If any of their cars run cleanly all the way through, then we're not going to be able to challenge for the win. But if we can have an absolutely trouble-free run, as we did with the GT1 car for the past two years, then who knows what's possible. Can we win? I'd say it's unlikely, but stranger things have happened. Can we get a very good result? Yeah, I'd say that's likely.
One of the things that Aston Martin Racing is good at is ensuring we don't give away easy time in things like pitstops. If you shave off 3-4s at each pitstop, that can gain you half a lap on track by the end of the race. It doesn't cost money, it's about getting the best out of all the guys in the pits and having the right strategy for when the car comes in. I think the #009 GT1 car spent less time in the pits than any other car in the race at Le Mans for the past two years, so if we can do that again with the LMP1, it's time that's easy to find.
Reliability has been reasonable, not perfect, but it's becoming less of an issue. All the problems that we're having at the moment are niggly ones. The problem we had at Spa is being rectified and won't happen again at Le Mans, but that doesn't mean we haven't got some other thing about to surface.
Since my last column, I also took part in the Nissan GT-R's first FIA GT Championship race at Silverstone, although my involvement was pretty brief...
I was ready to get in the car, when on the TV we saw a couple of puffs of smoke as my team-mate Michael Krumm went through Becketts and then the tyre let go on the Hangar Straight. We thought 'that's okay, we're ready to do a pitstop anyway, it's not going to cost us much time'. So the car came in, we went through the whole normal pitstop procedure, I got strapped in and ready to go. The fuel was finished, the tyres came off - and that's when they could see the damage to the rear suspension. So my race was basically going up in the air and coming back down again! The good thing was, our pitstop was quick!
But that's what this year's about: finding out what makes the car work, getting the best performance out of it, and making sure it's as reliable as a racing car can be. We're just trying to improve the car every time, ultimately it's a testing year and some of the testing we're doing is during race weekends as that shows up different problems. You push as hard as you can as if it's a normal racing situation, but I didn't really keep an eye on what anyone else was doing.
I've had three races back to back this month - and the first of them was something a bit different, as I ran the London Marathon for the first time to raise money for the Motor Neurone Disease Association.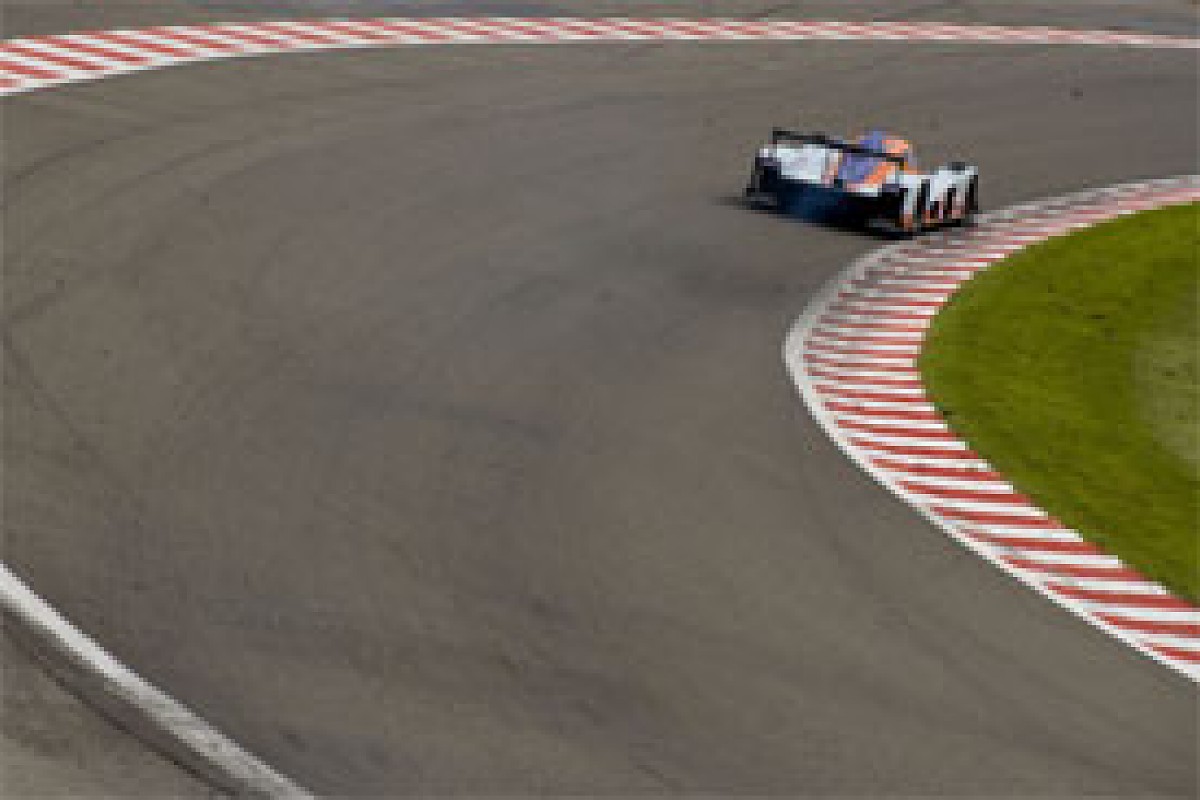 Darren Turner completes the London Marathon
My training programme was pretty non-existent. I did 13 miles in February, and that was the longest run I managed because with all the testing from then right up until the week of the marathon, I couldn't really put the miles in. I did a run on the Wednesday before, and after five or six miles I was knackered and thinking 'this isn't looking good...' I was also very aware of not screwing myself up for the following week's major Aston test and the FIA GT race, because obviously the marathon was only a personal challenge and a bit of fun.
Ollie Gavin helped me a bit with training - although I didn't take much notice of what he said - and he asked what time I was going to get down there. He'd said it sometimes takes 40 minutes to get over the line, so I was going to get there for 10.00 because I didn't think there was any point hanging around when the start was at 9.45. He said 'no, that's not how you do it, be there at 8.00'. I thought 'that's a bit keen' and rocked up at 9.20...
We were in the celebrity start, so there was me, Ollie and Andy Priaulx, plus people like Gordon Ramsay, Jordan and her fella, Nell McAndrew, and loads of people I wouldn't recognise.
Andy and I were both aiming for about four hours, so we ran together. Within about four seconds of the start, Ollie was gone through the crowd and we didn't see him again.
The first 10 miles were fantastic, we had a lot of banter. When I reached Tower Bridge I knew I'd got halfway, matched my longest practice run, and that everything else was new territory. But after 18 miles I told Andy to carry on without me because I needed a walk and an energy capsule.
I made it to the end though, which was fantastic. As a personal achievement it felt as rewarding as winning Le Mans in GT1, it was that sort of inner feeling.
I loved the whole experience, even at 18 miles when all I wanted to do was stop, get over the barrier and go for a pint. It was just the best day. I'm hooked on it now and I definitely want to go back and do it next year. My 4h12m wasn't the best time, but if I do some proper training next year maybe I can get down to 3h30m, 3h40m. That's the aim.