Hungarian GP Facts, Stats & Memoirs

---
By Marcel Schot, the Netherlands
Autosport-Atlas Writer
Which drivers have taken a step backwards and who has leaped forward since last year? What milestone was set at the Hungaroring eleven years ago, and what happened 18 years ago this week? Marcel Schot brings the answers and more anecdotes on the thirteenth round of the season
On two thirds of the season, it's a good time to have a look at what the moves in the off-season have brought the drivers.
Driver       2005 Team  Points  2004 Team  Points   Difference
Heidfeld     Williams    25     Jordan       3      +22
Fisichella   Renault     30     Sauber      13      +17
Webber       Williams    22     Jaguar       7      +15
R.Schumacher Toyota      26     Williams    12      +14 
Montoya      McLaren     35     Williams    33      + 2 
Coulthard    Red Bull    19     McLaren     19        0
Trulli       Toyota      31     Renault     46      -15


When we look at the pure difference in points, the big winners are Heidfeld, Fisichella, Webber and Ralf Schumacher, while the big loser is Jarno Trulli. This is rather surprising, as the general consent seems to be that three of the four winners aren't exactly having stellar seasons, while the big loser is generally regarded as one of the drivers going through a good year.
For the teams, it's actually interesting to see that despite all the criticism, Williams are exactly as strong as they were last year. Only problem for them is that McLaren and Toyota have made up substantial ground. Ferrari are obviously the big losers with 106 points less than after twelve races a year ago.
Team       2005 2004  Difference
McLaren     95   37    +58
Toyota      57    8    +49
Renault    117   85    +32
Red Bull    24    7    +17
Jordan      11    5     +6
Minardi      7    1     +6
Williams    47   47      0
Sauber      14   18     -4
BAR         15   76    -61
Ferrari     78   184  -106


By now, all statistics won't interest Kimi Raikkonen. After an astonishing amount of bad luck, the Finn finds himself an almost unsurmountable 36 points behind Fernando Alonso. Coming to Hungary won't exactly raise Raikkonen's hopes as he suffered an engine failure there last year, whereas his rival bears the sweetest of memories from his maiden victory at the same track two years ago.
Milestone
Eleven years ago, the Hungarian Grand Prix was the first and only time Dutchman Jos Verstappen climbed onto the podium. Verstappen achieved another third place at Belgium that year, but on that occasion he never actually climbed onto the podium as race winner and teammate Michael Schumacher was disqualified after the race.
For Verstappen it had been a difficult debut season. After having stepped in for the injured JJ Lehto at the last minute, the Dutchman found himself in a team with a very strong teammate and a car that was notoriously difficult to drive. His first few races were eventful to say the least. In his debut race the Dutchman was roughly hit by Jordan's Eddie Irvine in a three-way collision. This was followed by a spin off in Aida, after which Lehto was back. With the Finn underperforming, Verstappen was given another shot from France onward, spinning off again, then being disqualified at Silverstone and becoming the subject of the photo of the season in Germany, where his car was engulfed in flames during a pitstop.
Having endured all of that, Verstappen made his way to the Hungaroring for his sixth race. Friday started out wet, but in the afternoon it was dry for the first qualifying session. This went very good for Verstappen, who set the sixth fastest time. With only his teammate, the Williams of Damon Hill and David Coulthard, McLaren driver Martin Brundle and Ferrari veteran Gerhard Berger ahead of him, it was a satisfying session.
While free practice on Saturday morning showed promises of improvement with a fifth quickest time, the second qualifying session turned out a drama. In his first timed lap, Verstappen spun off, damaging the rear of the car as well as the gearbox, ending his session without any hope for improvement. In a very frustrating hour, the Benetton driver saw one car after the other beat his Friday time, eventually putting him twelfth on the grid.
Verstappen got away from the grid fine on Sunday and was helped massively by the Jordans of Eddie Irvine and Rubens Barrichello colliding with Tyrrell driver Ukyo Katayama before the race was two corners old. All three had qualified ahead of Verstappen and retired on the spot. This lifted the Benetton driver to ninth as he overtook Katayama's teammate Mark Blundell and was overtaken by Ferrari driver Jean Alesi himself.
Soon a train of cars led by Ligier's Olivier Panis and further consisting of Alesi, Sauber driver Heinz-Harald Frentzen and Verstappen formed in the battle for sixth. However, the tight and twisty circuit allowed for few overtaking and the group rounded lap after lap in the same order with barely space between them. Only Alesi managed to get away very slightly once he overtook compatriot Panis, but by lap 18 Panis, Frentzen and Verstappen were still within two seconds of each other. The stops of Martin Brundle and David Coulthard briefly messed up the order, but the three remained close until Verstappen's pitstop after 25 laps.
This, of course, was his first pitstop since the Hockenheim fire and thus all attention was on the Benetton pitbox. No fire erupted this time and in fact it was a perfect stop. In just over 29 seconds Verstappen had made it into the pits and out again. A lap later Frentzen went into the pits. The German's pitstop was two seconds slower, which was enough for Verstappen to move ahead. The next lap it was Panis' turn, but despite making as fast a stop as Verstappen had done, the Frenchman got out of the pits well behind the Benetton. So when all three of them had pitted, it was Verstappen ahead, now occupying eight place, with Panis five seconds behind and Frentzen another second and a half adrift.
After 33 laps the Dutchman moved into sixth place as both Blundell and Berger pitted. Verstappen was rapidly catching up with Jean Alesi again. Between laps 30 and 34, the Benetton driver took five seconds off his gap to Alesi. However, the Frenchman responded by lap 41 when the Dutchman had closed the gap to less than a second. Alesi made his experience count and made his way through backmarkers Eric Bernard, Olivier Beretta and David Brabham faster than Verstappen, and with a clear track ahead immediately went down into low 1:23s, to which Verstappen could not respond.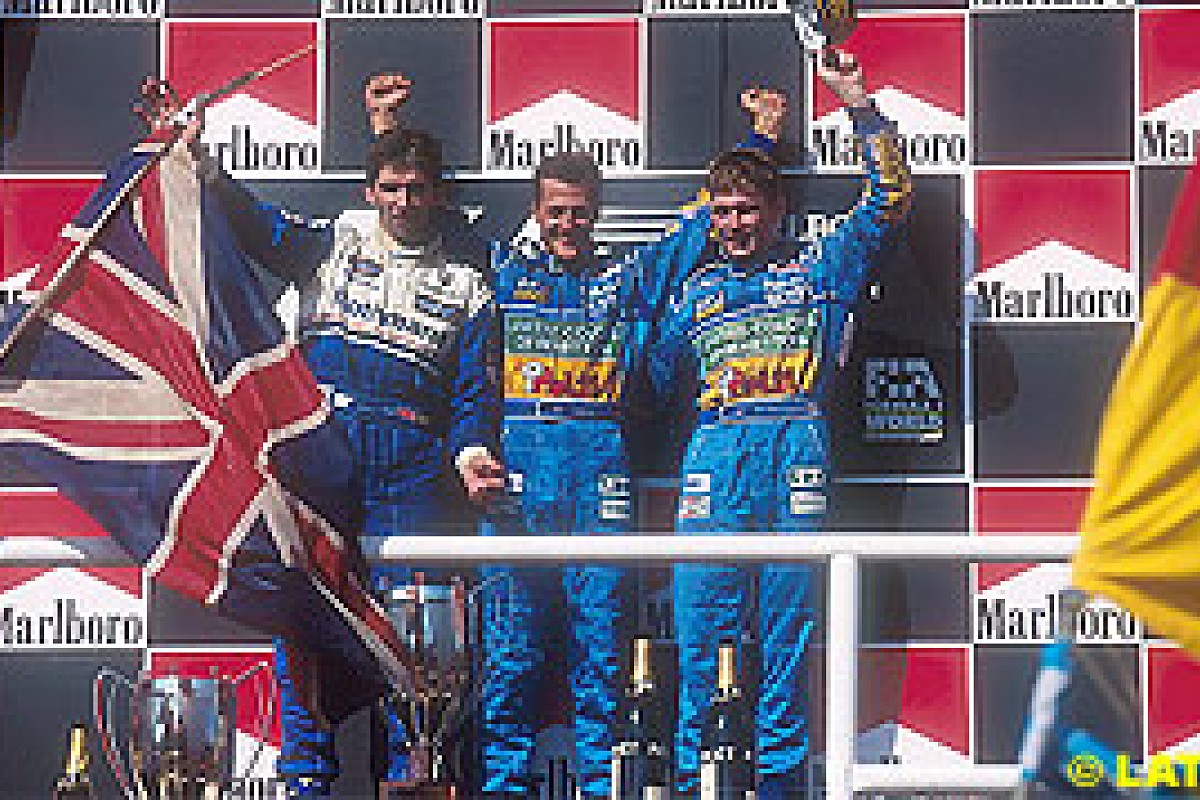 Verstappen had been able to keep a good pace and thus when Brundle and Coulthard pitted again, the Benetton driver was able to move up into fourth position until it was time for his own second stop. In the 58th lap, Jean Alesi provided Verstappen's luck. The Ferrari driver retired with an engine failure, promoting the Dutchman to fifth place and a lap later David Coulthard crashed out on Alesi's oil, lifting Verstappen back into fourth again.
For Verstappen this appeared to be the best possible result and he continued to try and fend off Gerhard Berger, who was closely behind him. However, the Austrian slowly lost touch and five laps from the end retired with an engine failure, taking the pressure off Verstappen. Verstappen was obviously pleased with his first points up for grabs, but an unexpected bonus followed in the final laps.
In fact, it started just before Berger's retirement as Brundle's McLaren began to lose speed. Verstappen was catching the Briton at a second per lap, but starting from a 16-second gap, it was nearly impossible to grab third. On lap 71, leader Schumacher came up to Brundle to lap the McLaren driver, who was only too happy to have to drive a lap less, as his battery was dying. With Verstappen closing in on Brundle and Hill well behind himself, Schumacher then made the tactical move of slowing down and letting Brundle unlap himself in order to give Verstappen the extra lap to catch the McLaren and claim third.
Going into the final lap, Verstappen was still eight seconds behind Brundle, but in a dramatic finish, the Briton's engine finally gave up the ghost in the final corner, allowing Verstappen past to score his first podium.
This Week in History
In 1987 around this time the battle for the Championship was still wide open. Going to Hockenheim, Ayrton Senna was leading with 31 points, driving for Lotus. Both Williams driver Nigel Mansell and Nelson Piquet were just one point behind, with reigning champion and McLaren driver Alain Prost just five adrift of Senna. However, while Prost was the man of the early rounds and Senna had won both street circuit races at Monaco and Detroit, the Williams boys were really getting up to speed towards the halfway point of the season. Mansell had won the last two races, while Piquet had scored four consecutive second places.
On Friday things started out with Mansell ahead in the first qualifying session. The Briton managed a time almost three tenths quicker than Senna, with Prost third over half a second behind and Piquet in fourth a full second behind his teammate. Michele Alboreto in the Ferrari was surprisingly quick in fifth, 1.3 seconds off pole. Number six Thierry Boutsen (Benetton) was the best of the rest, well over a second slower than Alboreto.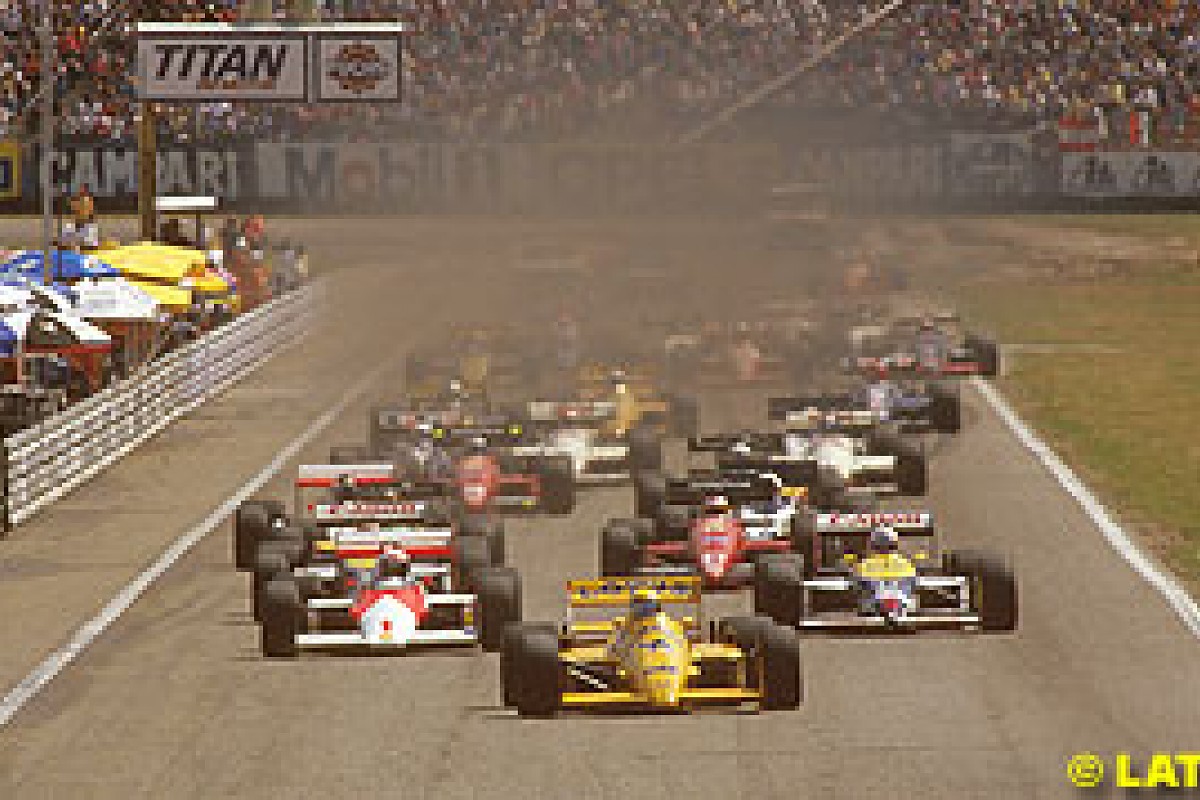 Overnight rain meant that Saturday morning practice was run on a drying track, which clearly suited Ayrton Senna better than anyone. The Brazilian was no less than eight tenths quicker than Mansell, with Teo Fabi in the Benetton in third and Piquet in fourth, well ahead of the rest of the field. The fourth Championship contender, Alain Prost, found himself down in ninth place, a massive 4.4 seconds behind Senna. The outlook on a showdown between Senna and Mansell for pole was brutally disrupted by more rain before qualifying. In fact, when the second qualifying session started, conditions were appalling and visibility was near zero, sealing Mansell's sixth pole of the season.
And thus the race started in the order the drivers qualified on Friday. At the start, it was Ayrton Senna who grabbed the lead ahead of Mansell and Prost, with Piquet in fourth. Far behind them, Martin Brundle in the Zakspeed was the unlucky guy. The Briton only got underway after a push from the marshals, immediately looking at a big deficit.
A lap later, Senna had already lost his lead, with both Mansell and Prost passing the Championship leader on the damp track. After three laps, Piquet had also made his way past Senna and thus the four Championship contenders slowly started to move away from the rest of the field. By lap eight Prost took the lead from Mansell, who didn't seem to mind it too much. The Briton was following the McLaren without losing it from sight, while he was gaining on Piquet, who in turn was gaining on Senna.
By lap 18, just before the pitstops, Prost was leading Mansell by three seconds. Piquet in the meantime was ten behind Mansell, while Senna was pretty much out of the picture, nearly half a minute behind the leader. In the meantime, the cold conditions had taken their toll as one engine after the other failed. After 18 laps, there were already ten retirements, of which only Satoru Nakajima's suspension failure was not engine related.
The next lap saw the eleventh car retire as Gerhard Berger's Ferrari suffered a turbo failure. However, more importantly, Alain Prost's pitstop ended up a bit of a mess. A slightly too rapid reaction from the lollipop man had the Frenchman move out while the jack was still in front of his car. The contraption got jammed under the McLaren's nose, the removal of which cost several important seconds.
Luckily for Prost he was able to really step on it and thus when Mansell pitted two laps later, the Frenchman was able to maintain his lead. It was looking like the fight was on, but barely two laps later the engine failure virus also made its way amongst the front-runners. Nigel Mansell was forced to park his car next to the track, becoming the 13th retirement of the afternoon.
Engines kept failing left and right and within minutes of Mansell, Alessandro Nannini's Minardi, Thierry Boutsen's Benetton and the second Minardi of Adrian Campos also fell victim, with Zakspeed's Christian Danner stopping with a halfshaft failure. Barely an hour into the race, only nine cars were left on the track of which Martin Brundle was so far away that he wouldn't be classified.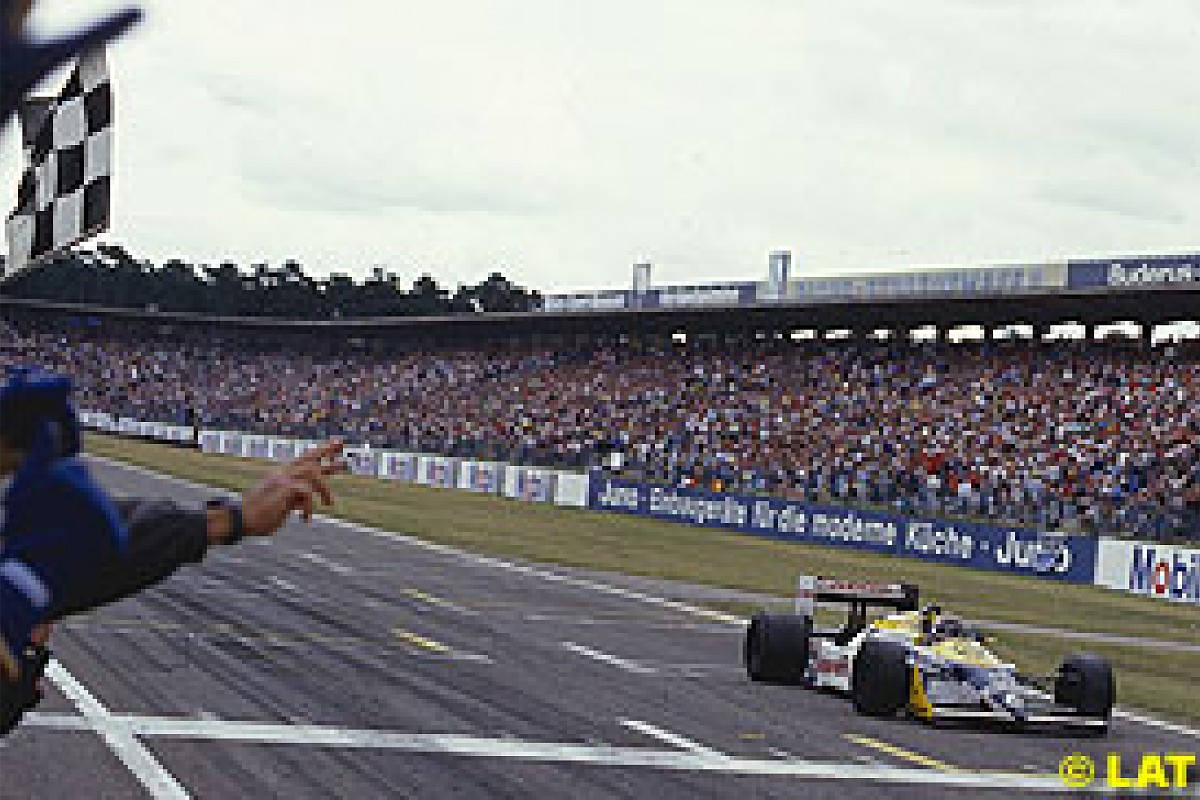 Prost was leading comfortably by over thirty seconds, with Piquet in second, some 50 seconds ahead of Stefan Johansson in the second McLaren. The rest of the field had already been lapped, including the struggling Senna. Unfortunately for Prost it wasn't to be the day where he took his record 28th victory. With just five laps to go, Prost pulled over with a broken alternator, a problem that had been plaguing McLaren throughout the season.
This left the win and the Championship lead for Nelson Piquet, who happily acknowledged that this was a very lucky win indeed. Prost's teammate Stefan Johansson made it to second place, but only barely. The Swede suffered a puncture in the final lap, but carried on over the line with bits of tyre flying everywhere.
Despite huge problems, mainly caused by an altercation with Thierry Boutsen, Senna made it to third place, ahead of the Tyrrell's of Philippe Streiff and Jonathan Palmer. Philippe Alliot in the Lola claimed the final point, while Alain Prost was classified seventh despite his retirement and Martin Brundle not classified despite his finish, as he was no less than ten laps down.