From the Pulpit

---
By Matt Bishop, England
F1 Racing Editor in Chief
As Peter Sauber ponders how to spend his well earned millions, from selling his team to Munich giant BMW, Frank Williams wonders how to take his outfit back to the glory days of winning multiple Championship titles. Matt Bishop analyses the current situation at Grove
When, in 1993, Peter Sauber made the brave decision to upgrade his little racing team, based as it was (and still is) in the sleepy Swiss town of Hinwil, from the World Sports Car Championship to Formula One, he must have regarded Frank Williams as an invincible demi-god from another world.
As Herr Sauber strolled fretfully down the Kyalami pitlane in the days leading up to the season's opening Grand Prix, hoping against hope that his novice drivers - JJ Lehto and Karl Wendlinger, who had scored only one (attrition-aided) podium finish in F1 between them - would not let the enormity of the occasion overwhelm them, he might not have dared to wander too close to the Williams garage.
For, resplendent on the nose cones of Frank's brace of Renault-powered supercars were numbers '0' and '2', and they were to be driven by the promising and well-born Damon Hill and the already-legendary Alain Prost, who had by that point in his glittering career already notched up a monumental 44 Grand Prix wins (and would add seven more, and his fourth World Drivers' Championship, to that impressive tally by season's end). And remember, please, that before the 'Schumi' era, 44 Grand Prix wins was one hell of a lot.
Now, though, 12 eventful years later, things are rather different. Granted, since Sauber arrived in F1, Williams have won four Constructors' Championships and three Drivers' Championships, whereas Sauber have never looked like winning even a single Grand Prix (let alone a World Championship). But, as everyone knows, statistics can be lies or even damn lies.
For what, apart from providing the basis of a motorsport history lesson, does the contrasting previous form of the two teams give us to go on now? What, in terms of the two teams' current situations, does it mean? Because, now, Frank Williams, balding 63-year-old boss of his eponymous F1 team, has allowed that bluest of blue-chip engine partners, BMW AG, to slip through his fingers... while Peter Sauber, balding 61-year-old boss of his eponymous F1 team, has persuaded the aforementioned Munich giant to write out a cheque payable to his goodself in the sum of US$95 million (allegedly) and thereby take up a controlling interest in Sauber Motorsport AG. Funny old world, innit?
If it is a 24-carat certainty that the team formerly known as Sauber will run BMW engines next year, it is much less certain whose V8s (or, conceivably, but I doubt it, V10s) might power Williams' cars in 2006. The short-list is: Cosworth, Honda, Toyota and, I suppose, BMW.
It is never a nice thing for a newly-divorced couple to have to continue to live together for financial or other pragmatic reasons, and undoubtedly Williams and BMW both now want shot of each other. Even so, if there is truly no other viable alternative, they could end up sharing digs, so to speak, for another 12 months. But it would undoubtedly be ugly - and, for both their sakes, I hope another solution is found.
So what about Cosworth? An almost-done deal, I'm repeatedly informed. Indeed, some Williams employees are whispering that their director of engineering, Patrick Head, has spoken openly in the factory about gearing-up to design chassis to accept Cosworth V8s for 2006. Perhaps it's true. In fact, I fancy it might well be - and, if it is, I wish both parties well. But almost-done deals have a habit of becoming undone deals in F1, so I will only believe it once and for all when I read the press release that confirms it.
Besides, would Cosworth engines be good enough for a team of Williams' traditional might? Well, yes, they just might. F1 Racing recently ran a feature in which a respected journalist described having seen, with his own eyes at Cosworth's Northampton plant, a 2006-spec 2.4-litre V8 being revved to a dizzy 20,000rpm. The understandably upbeat Cosworth engineers who supervised this stirring demonstration were understandably reluctant to talk bhp with F1 Racing's man, but I'm told their mood was palpably - no, make that infectiously - bullish.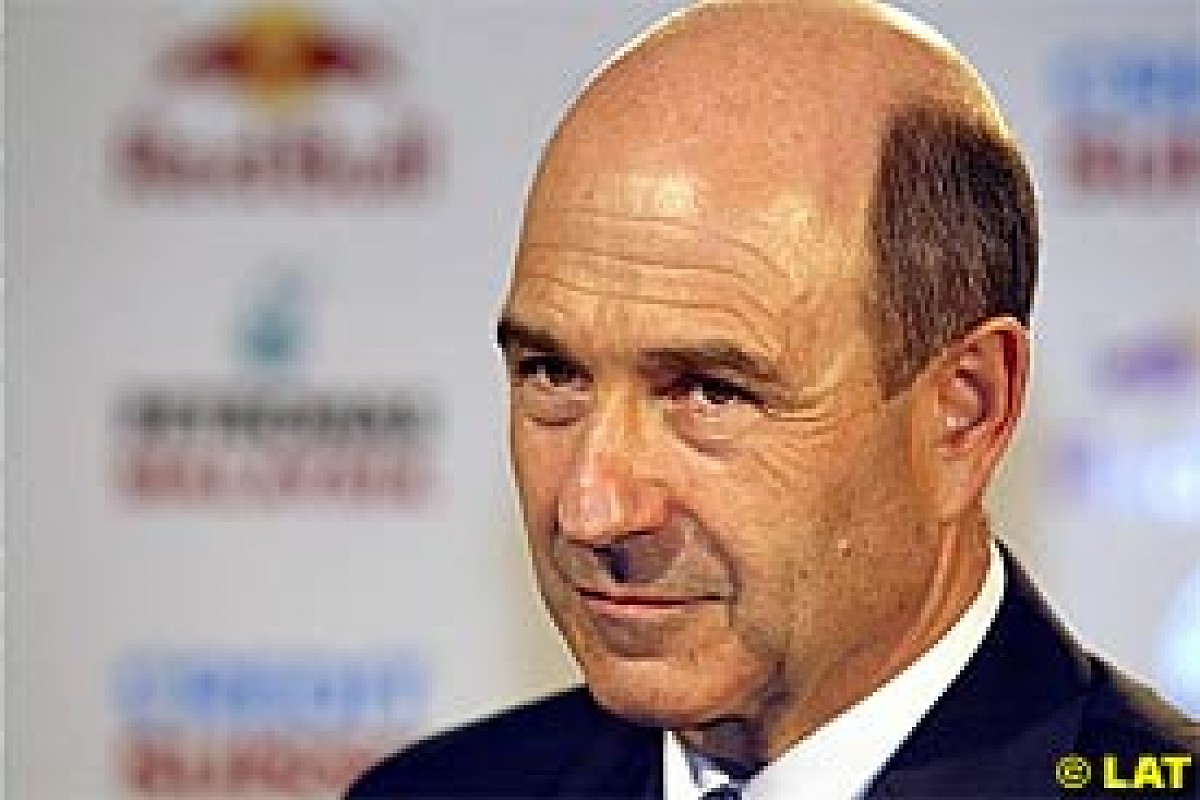 And why not? Cosworth have exponentially more experience of designing, building and running F1 V8s than any other engine constructor in the history of the sport, and there is no reason to be pessimistic about their offering for 2006. If you doubt me, log on to Cosworth.com and look at - and, more remarkable still, listen to - their in-house video of it running at 20,000rpm on the dyno.
But would Cosworth engines be good enough for Williams commercially? Would Sir Frank be able to stomach forking out US$15 million (or thereabouts) per annum for a humble Cossie, however powerful it might be, when for year upon year he has been used to using free-of-charge engines supplied by prestigious big-name manufacturers (like BMW, yes, but also Renault and Honda before), whose household-name logos act as sponsor-magnets to other multinationals such as, to take here-and-now as an example, HP, RBS, Fedex, Budweiser, Allianz, Petrobras, Oris, Reuters, Castrol, Accenture, etc?
Well, he might have to. And, yes, his commercial people might indeed miss the lustre that BMW's famous corporate propeller-logo gave their sales pitches to prospective sponsors. But if he does have to, it might be no bad thing from a performance point of view. And, when all's said and done, in F1 nothing succeeds commercially like on-track success. Besides, this year's BMW V10 is but a pale shadow of its recent ancestors, such as the 2001 unit, which was a whole order of magnitude gruntier than its peers.
Moreover, do not discount the possibility that Williams might perhaps run rebranded Cosworths next year - just as Benetton's Mecachrome engines used to be known as Playlife (who?) and Sauber's Ferrari engines carry the legend 'Petronas' etched proudly on their cam covers. Indeed, a couple of months ago, F1 Racing suggested that Williams might run Hyundai-branded Cosworth V8s in 2006. Okay, it might well not happen - deals of such ambition and magnitude are notoriously difficult to nail in a hurry - but that doesn't mean it isn't being talked about in very high places.
Toyota? Well, yes, perhaps. Undoubtedly, the Toyota board could think of better places to put their engines than in the back of a 2006 Midland, but it would appear that this is what they are contracted to do. By 2007, of course, they might have had second thoughts, and those second thoughts might indeed involve Williams.
Honda? Ah, Honda. Honda desperately wants to retain Jenson Button, who is contracted for 2006 to... Williams. (Yes, life really is stranger than fiction sometimes, isn't it?!) Clearly, that situation presents a series of very tempting possibilities which, if Sir Frank were so minded, he could well exploit to his very great advantage. When questioned on the subject, however, he blandly insists, with uncharacteristic asperity, that Jenson will be driving for Williams next year come hell or high water.
That may be so. However, if Sir Frank were in truth merely playing hard-ball with Honda in order to secure a supply of free-of-charge engines for 2006 (and perhaps beyond), then he would be doing two things: (1) telling everyone who would listen that Jenson would be driving for Williams next year come hell or high water, and (2) instructing Patrick to leak to the press via a couple of notoriously indiscreet engineers the news that a deal with Cosworth was already inked, or all-but inked.
That way, when in a few weeks' time Honda's Nick Fry wakes up to the fact that his money-no-object super-team will have to field two B-listers next year - say, the disappointingly erratic Takuma Sato and the promising but still-raw Anthony Davidson, or some other underwhelming combo - then panics, jumps into his Accord 2.4i-VTEC, drives over to Grove, and gets on bended knee before the world's most famous wheelchair, muttering, "A Jenson! A Jenson! My kingdom for a Jenson!"... Sir Frank will direct a disdainful poker-face in his direction and reply, "Okay. But in return I want free-of-charge Honda V8s and US$15 million by way of compensation in respect of allowing Jenson to break his contract." And Fry will have no choice other than to agree.
Is Frank as crafty as that? To be honest, no, he isn't. And that's where my theory therefore breaks down. But if he were as crafty as that, then what he is currently saying is entirely consistent with such a game-plan.
It's tough at Grove these days. But they're a tough lot. They'll pull through. At Hinwil, by contrast, things are wonderfully smooth. Peter Sauber is smoking big Havanas, saying his goodbyes (though he will act as a consultant to BMW next year, he will no longer have an office at the factory) and poring over glossy catalogues, the better to spec-up his brand-new 545i Sport. Kyalami 1993 must seem like a lifetime away.