From the Pulpit

---
By Matt Bishop, England
F1 Racing Editor in Chief
It's that time of the year, when the drivers' market is stirred with rumours and fresh possibilities for next year's line up. And in 2006, some key changes could reshuffle the pecking order, with engine supplies a significant factor in determining who stays and who goes. Matt Bishop looks at the recent rumours and speculates on who could be moving up or down the grid
As a young reporter, I was once told by a sage old hack, "Never believe anything until it's been officially denied, dear boy." It was with great interest, therefore, and keen anticipation, that I read Rubens Barrichello's official denial of the rumour that he might join B.A.R-Honda for 2006.
Now, before you misconstrue the thrust of this column, and assume that I'm predicting that Rubinho will certainly line up in white, black and red next year... I'm not. Chances are he'll start his seventh consecutive season in rosso corsa.
But, if he doesn't join B.A.R-Honda next year, it doesn't mean he hasn't thought about it, or chatted long into the night with his manager Fred della Noce about it, or even had talks with B.A.R-Honda boss Nick Fry about it, does it? Granted, he might well not join B.A.R-Honda next year, but you can be pretty sure that there are plenty of people at B.A.R-Honda who would like him to do precisely that.
If, as seems probable (but perhaps not yet certain), Williams manage to land a Honda engine-supply deal some time soon - maybe for 2006, maybe only for 2007 (with a one-year stopgap 2006 deal with BMW or perhaps Cosworth) - then the Japanese will surely want to ensure that their works team (ie, B.A.R-Honda) are perceived very much as their numero uno outfit, with Williams-Honda as their B-team.
As such, though, since the size of Williams's workforce, their factory, their wind tunnel(s), their track record and their reputation eclipse those of B.A.R by a not insubstantial margin, that numero uno outfit will have to have at its disposal a seriously hefty operational budget, and field a driver line-up of demonstrably greater stature and prestige than that which the B-team can boast.
The budget will be sorted by the stroke of a pen in Japan - for Honda will do anything, and spend anything, to beat Toyota... who are currently doing everything, and spending everything, to beat Honda. The driver angle is more convoluted. Nick Heidfeld, who has done a very solid job for BMW-Williams this year, will likely head up the new BMW-Sauber team next year, alongside A N Other (but more about the possible identity of that A N Other later), leaving Mark Webber and another A N Other at Williams.
That other A N Other just might be Takuma Sato - who, despite having now started 43 Grands Prix (ie, 10 more than Alberto Ascari and only eight fewer than Juan Manuel Fangio), still has the vibe of a learner-driver about him. Since even Honda's ultra-patriotic bigwigs may finally therefore have accepted the limitations of their sometimes-quick but too-often-maladroit protege, and bearing in mind that their appearing to toss him on the scrap-heap would not play well, PR-wise, at home... a seat in one of their B-team cars might well represent the perfect solution.
Jenson Button will move heaven and earth to avoid having to go to Williams in 2006 - and, since Honda are hell-bent on keeping him, and will presumably make a 'hands off our Jens' policy part-and-parcel of any offer to supply V8s to Williams next year, he will probably not have to do so. And since Mark Webber is already contracted to Williams for 2006 and is managed by a man (Flavio Briatore) whose contracts teams are usually loath to mess with, Mark will almost certainly get another bite at the Williams cherry next year. My bet, therefore, is that Sir Frank will run Honda-engined FW28s in 2006, driven by Webber and Sato.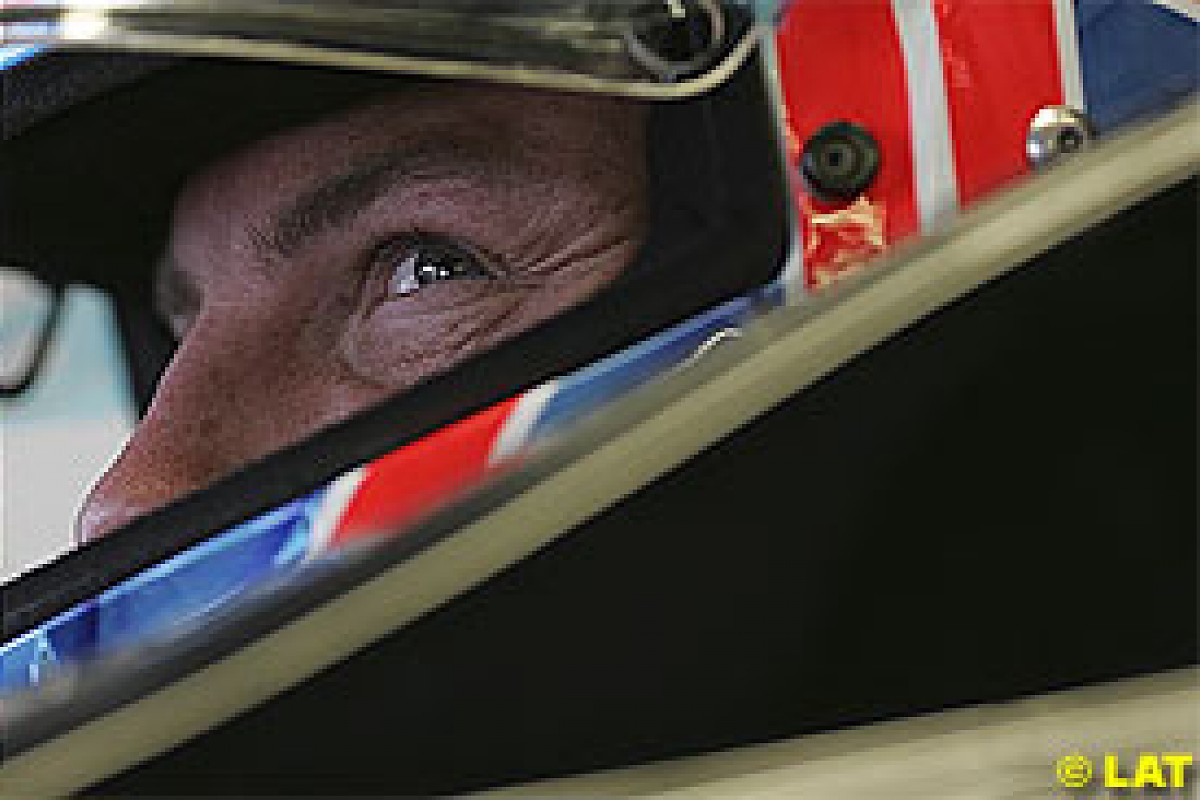 Even so, for many reasons (including reasons relating to managing the inevitable media outcry in Japan), B.A.R-Honda would want to replace Sato with a genuine superstar - for swapping him for a promising youngster (say, an Adam Carroll or a James Rossiter or even an Anthony Davidson) would be a very difficult yarn to spin in the Land of the Rising Sun.
Who could that superstar be? Giancarlo Fisichella might privately fancy another chance to pit his talent against that of Button five years after vanquishing him so comprehensively at Benetton - he isn't happy at Renault, and he doesn't really know why he isn't happy at Renault - and, although Fisico is contracted to Renault for 2006, Briatore just might prefer to slide his very own star-in-the-making, Heikki Kovalainen (the leading light of the new GP2 series), into his very own team, alongside his very own megastar (Fernando Alonso), in place of Giancarlo. Such a strategy, though risky, would be easier to justify to Renault boss Carlos Ghosn if the Championship(s) had been won this year (as they most likely will have been), leaving Fernando and Heikki with, respectively, numbers '1' and '2' resplendent on their R26s' shiny blue-and-yellow nosecones.
Or, failing that... Barrichello, which is where we came in. Yes, he's contracted to Ferrari for next year - but, just as Briatore would relish the opportunity to place his protege, Kovalainen, alongside Alonso, the better to learn at the feet of a master... so also would Felipe Massa's manager, Nicolas Todt, who manages his driver in close-ish co-operation with his father Jean (of Maranello fame), be equally keen that Felipe be given the chance to learn from the one 'n' only Schumi, at Ferrari (to which team Felipe is still contracted, albeit obliquely, remember) before such a time as the great man has finally decided to hang up his famous Schuberth helmet and call it a day. You don't believe me? Well, let me repeat: it's only a theory. But don't forget that official denial...
The final piece of the jigsaw would then be the number-two BMW-Sauber drive, alongside Heidfeld. The choice will be Mario Theissen's, for Peter Sauber will have no operational role, despite still retaining a 20 per cent stake in 'his' team, beyond December 31st this year.
Antonio Pizzonia? Maybe, but what could he possibly bring in terms of speed and racecraft, let alone experience and expertise, that Nick could not anyway supply in very much greater quantity?
Davidson? Maybe, yes - but maybe, also, Ant's best chance of a BMW-engined drive passed him by when, through no fault of his own, he failed to land a BMW-Williams seat for this year.
Kovalainen? Maybe, but would Renault allow such a potentially hot property to fall into the avaricious hands of BMW's ambitious Dr Theissen? Who else then?
Good question. A safe bet, surely, and far more satisfying for Theissen than risking his reputation so early on a young but unproven hotshoe, would be for BMW to celebrate their elevation to full team (rather than mere engine-supplier) status by poaching a fast, experienced and valued member of the team whom their deadly rivals Mercedes-Benz supply with engines (i.e., McLaren).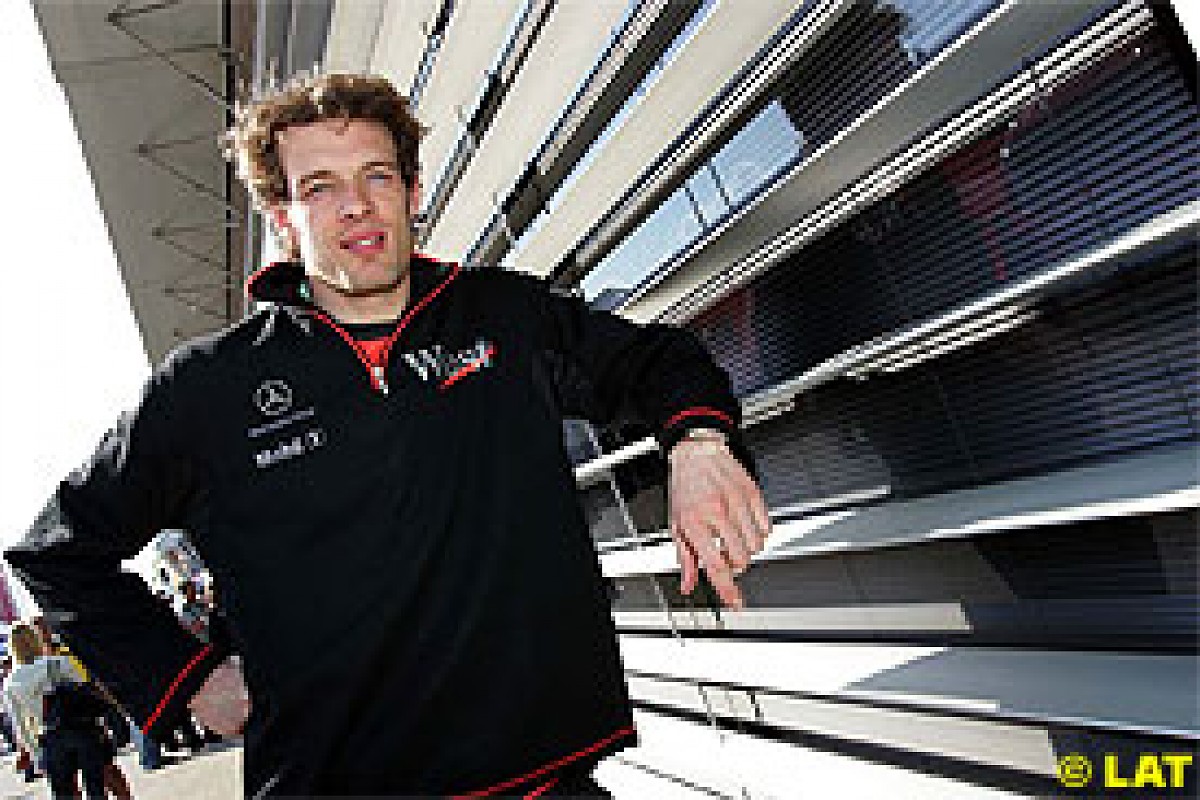 With that thought in mind, stats-lovers might be interested to know the identity of the man who, of all McLaren's drivers since Bruce McLaren started the marque's very first Grand Prix 39 long years ago, has scored more World Championship points per McLaren GP start than any other. As Eric Morley, of Miss World fame, used famously to say, I'll give you the names of the three highest achievers in this arcane index "in reverse order".
In third position... is Alain Prost, on 4.29 points per start. In second position... is Ayrton Senna, on 4.70 points per start. But well clear of both those magnificent multi-Champions, on a heady 6.00 World Championship points per McLaren Grand Prix start, is Alex Wurz.
Lies? Damned lies? Well, no, neither, actually - but, since Alex scored those six World Championship points in just one Grand Prix start for McLaren (at Imola this year), that 6.00 is a very skewed statistic, I'll admit. But it's kinda neat all the same, don't you think? Besides, Alex would be a sound choice for BMW-Sauber, wouldn't he?
Theissen will be one of four panellists in the official Friday FIA press conference at Hockenheim this weekend. It might be worth one of us hacks asking him about Alex. You never know, we just might get given an official denial...