Spain '86: the runners & riders
The thrill of the chase
By Nigel Roebuck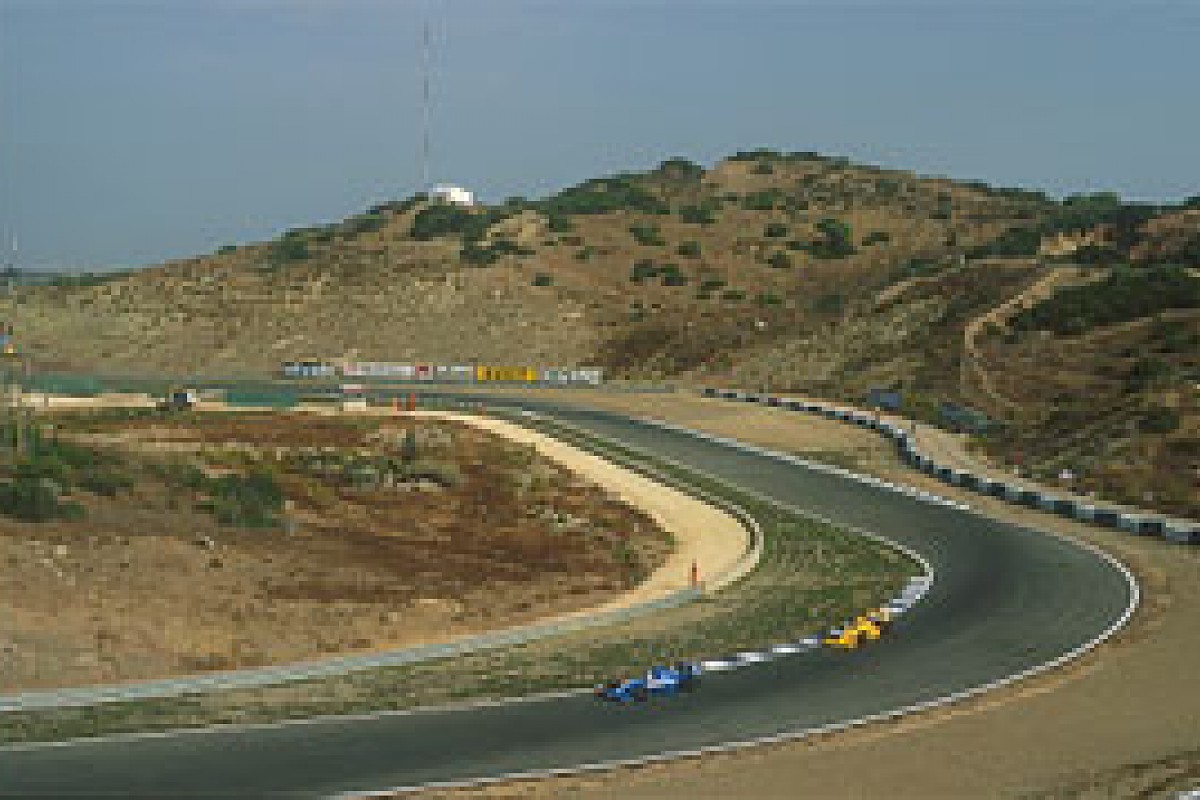 It began as a five-car race and in the end it came down to just two. Ayrton Senna and Nigel Mansell enthralled the sparse crowd at Jerez, the Lotus and Williams drivers finally crossing the line perhaps a foot apart - two at the most. Each had led, Senna first, then Mansell in the middle section of the race. As Nigel's tyres began to go away, Ayrton moved by once more, followed by the McLaren-TAG of Alain Prost.
But the world champion could do nothing to hold Senna and it was up to Mansell, on fresh Goodyears now, to make up nearly 20 seconds in the final eight laps. If they had painted the finish line another five yards up the track he would have made it. Both men were superbly aggressive in their work and this time there was no animosity afterwards.
"It's not quite as bad as I expected," Jonathan Palmer said on Wednesday evening. "I just managed to do a few laps in the hire car this afternoon and there seem to be one or two quite good corners. Mind you, it's pretty narrow - about the legal minimum, I'm sure. There's no straight worth the name and overtaking will be a problem for the quick guys. Looks like a Lotus track to me."
New season, new circuit. Having passed up Muggersville as usual, my first sight of Formula 1 car since last autumn was at Jerez, and turned out to be a pleasant surprise. Recent photographs suggested a tatty Spanish building site, and with a ribbon of sinewy tarmac coursing through it, but the track is actually in pleasant countryside - and a good deal more attractive and welcoming than Jarama, scene of the last Gran Premio de Espana five years ago.
It is also rather more challenging than we had been led to expect - and considerably faster too. Advance publicity from Jerez gave me a computer forecast of expected lap time and speeds: around 1:52, it said, for an average speed in the low-middle 80s - about the same as, say, Detroit. Computers, however, can act only on human information received - and the human who fed this one had plainly never seen a modern grand prix car. Within half an hour of the start of Thursday's acclimatisation session, Elio de Angelis was down to 1:36, and by the end of the first period of qualifying Senna had recorded 1:21.605, an average speed of 115.623mph.
For that matter, the computer had also spewed out a theoretical maximum speeds of about 165mph. Ayrton went through the trap at the end of the short pit straight at over 182.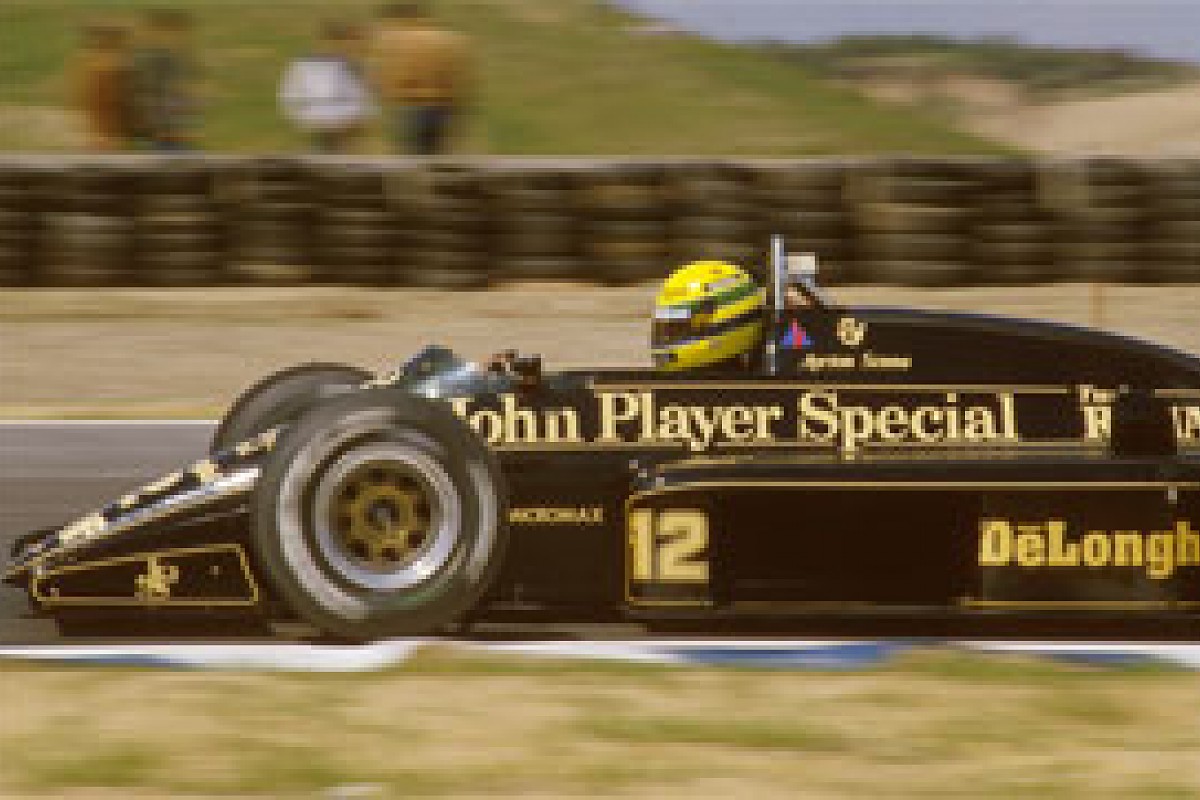 The freshly opened Jerez circuit © LAT
For those of us watching, then, Jerez was not at all bad - particularly at the long and very quick right-hander before the final hairpin, which amplified cars' strengths and failings very clearly.
I will not say that the drivers were in ecstasy about the place, but they didn't, for the most part, condemn it. In one or two places the run-off area looked a trifle marginal and the kerbs coming out of the turns were a little short of vicious. But clearly a lot of effort has gone into finishing off the race track. Why, they even spent time cleaning the surface, which is what happens at most established circuits.
Not all was sweetness and light though. Much of the organisational side of the meeting was chaotic. The opening session began on Friday morning, for example, an hour and three quarters late. Usually to blame on these occasions is the non-arrival of the medical helicopter, for Professor Watkins quite rightly refuses to allow cars out until it is in place.
But such was not the case this time. Keen to make a good impression in this, their first grand prix, some of the marshals were threatening to strike until more free paddock passes were issued to them. Seems that a great many had fallen into the hands of friends of friends. As well as that, someone had forgotten to change the batteries for the intercoms which link the marshals' posts By the end of the day, the good Prof and FISA circuit inspector Derek Ongaro were looking more than a little jaded with the Spanish way of doing things.
Not so the members of Team Lotus - or most of them anyway. True, Johnny Dumfries was down in 23rd spot after a troubled time, but there, atop the list, was the inevitable name of Senna. After only a handful of laps in the qualifying car during the morning, Ayrton smokily made his way out of the pits. An oil filter seal had failed, obliging him to go out in the race car, which set the fourth best time in the session.
He then missed the first half-hour of the timed session. While the Williams and McLaren drivers squabbled over pole, the Lotus mechanics were completing the engine change in the 98T qualifying car. Senna then took to the track.
Jerez proved - for most of the Goodyear runners at least - to be one of those quirky tyre circuits. As we have previously seen at Montreal and elsewhere, getting the best from a set of qualifiers was almost impossible, the rear tyres starting to go off before the fronts had 'come in' properly. As well as that, Goodyear's 'B' compound race tyre was producing an unexpected amount of grip, and doing it for some time. Some drivers were opting for one set of qualifiers, one of them Bs, and some were even mixing them.
Lotus technique on Friday was this: out on a set of Bs, get them up to temperature, into the pits, slap on a pair of rear qualifiers, double quick, out again. This Ayrton did, at the very end of the session and the result was stunning. While Nelson, Keke and the rest were running in the 1:23s, the Brazilian posted his 1:21.605.
It was a remarkably dramatic lap, visibly quicker than anything we had seen before, a black car in what seemed to be a constant whelter of sparks. "That," a colleague remarked, "has got to be the pole lap."
We, the journalists, were probably more impressed than the rival teams. "If Lotus want to race on Friday and Saturday," remarked Jo Ramirez of McLaren, "then that's up to them. We save our race for Sunday."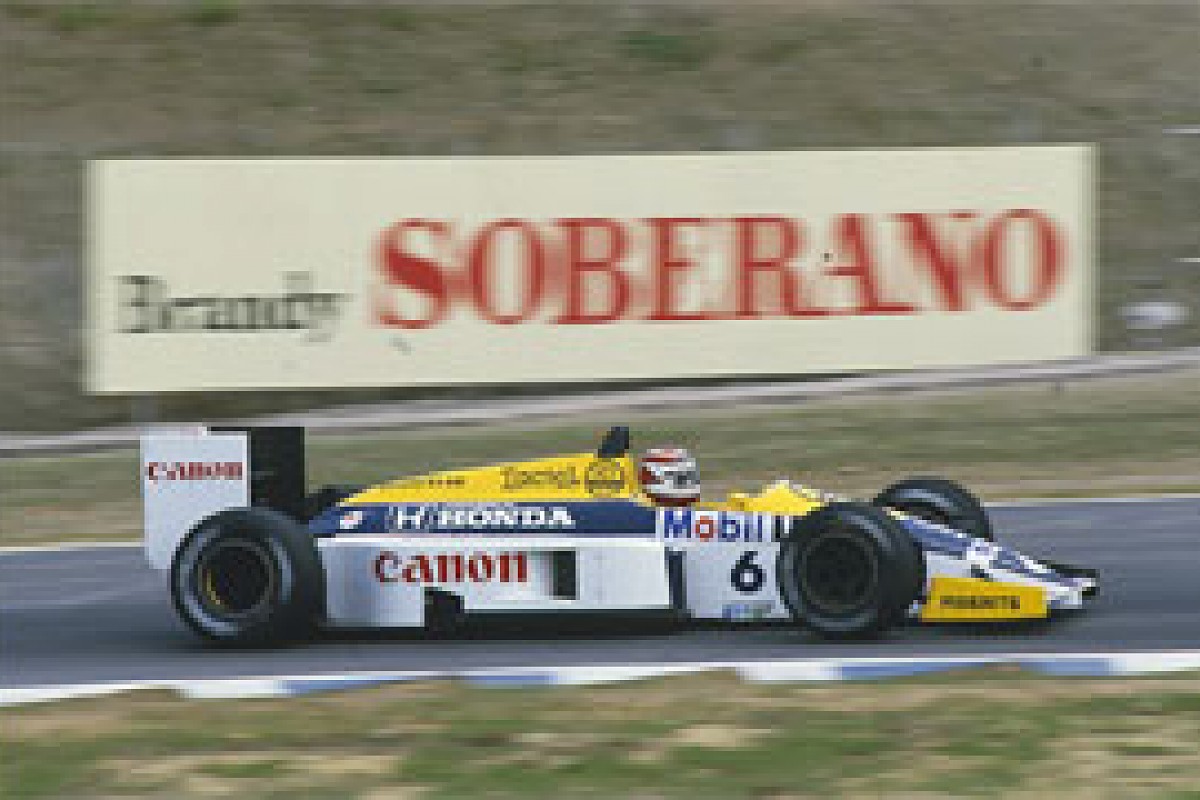 Ayrton Senna, Lotus 98T Renault © LAT
Senna said that it had been difficult: "The car was far, far too low to the ground. The track is very bumpy for a new circuit and the car was bottoming out almost everywhere."
So, too, it was. Indeed, there were engineers from other teams who speculated darkly that it might have been bottoming too much - almost like a skirt car from the ground effect era.
For most of the final session, Ayrton was not even in the pits, let alone his car. Instead he stood by the fence near the Lotus motorhome, watching the rest and keeping an eye on the TV monitor, waiting for someone to threaten his time. At 1:40pm, with 20 minutes left, Mansell got down to 1:22.7, and instantly Senna was on his feet and striding towards the pits.
This time he recorded 1m21.924, not so quick as his Friday time, but still fastest of the session. "Today I had problems with traffic on both runs, but otherwise I would have been quicker because the car was much better set up than yesterday." This was the 100th pole position for Lotus, the sequence being started by Stirling Moss in Rob Walker's Lotus 18 at Monte Carlo in 1960.
Ayrton, of course, used Renault's 'valve spring-less' V6. Indeed the French company had qualifying engines of this type for all their customers at Jerez. The race engines of this type are, however, in short supply: "We have only three here," Jean Sage said. "One for Senna, one for Senna's spare, and one for Ligier. Their drivers will flip a coin for that."
On Saturday, however, Peter Warr said he thought Senna's standby engine (in the T-car) might finds its way into Dumfries's race car.
Certainly there seems no doubt that Bernard Dudot's advance has been a very significant one, giving the drivers another thousand revs or so, which is good not only for power (Senna was quickest in the speed trap, remember, by five miles per hour), but also for ease, enabling a driver to hold a gear that much longer.
"They all say it means they don't have to change up in awkward places - like in the middle of a corner - so much," Sage said. "And we're pleased by the way Senna's ran in Rio. So far we haven't blown one up, which is also encouraging." That was it's first race, of course, I said. Jean smiles: "Well, not exactly. Work started on this engine in 1984, but it was very secret. Last year we didn't tell the drivers. Actually Patrick Tambay ran one at Monza, but he never knew it. We intended keeping very quiet about it, but Jacques Laffite got to know about it, and told someone at the Rio tests. So then we had to announce it."
The latest qualifying engine gives prodigious power, perhaps 300bhp more than the race motor, and for this reason Williams and McLaren drivers were far from disheartened after practice. "We're not prepared to build a chassis specially for qualifying," Mansell commented. "And Honda are not interested in making qualifying engines. Put it this way: my car had an engine change the night before the race in Rio. It did the morning warm-up there, then my admittedly brief race, then Thursday afternoon here, all Friday and all today. We used the same engine for qualifying and racing, which I think shows what a fantastic engine it is. It's still going beautifully and I'm sorry in a way that it's being changed because of the mileage it has on it."
As in Rio, Mansell qualified third, a tenth slower than teammate Nelson Piquet, and was in very determined mood on Saturday afternoon: "I should have been quicker this afternoon, but the traffic was worse than usual because so many people were using race tyres and doing more laps, and on my quickest lap I got put off-line by another car. But I'm quite happy. I did a 1:27 dead on full tanks this morning and I believe we're in fine shape for the race."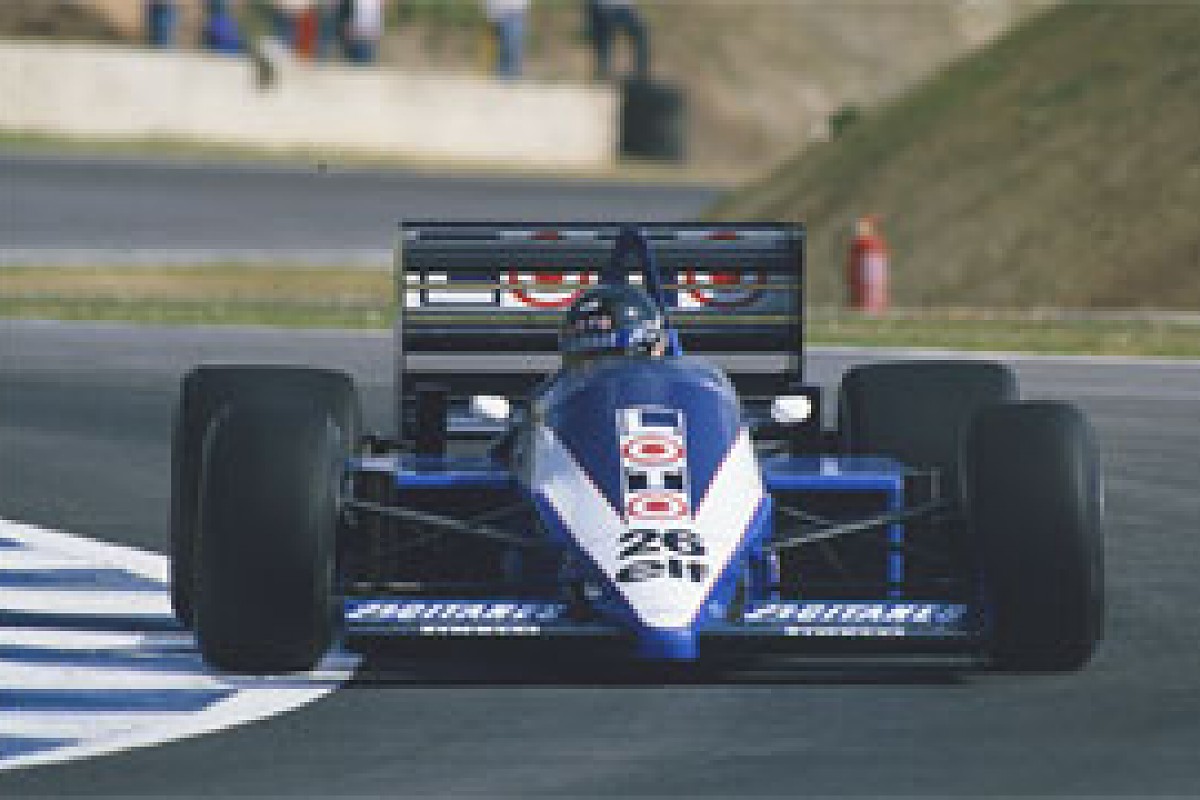 Nelson Piquet, Williams FW11 Honda © LAT
On Friday morning, Nelson discovered how unforgiving the Jerez kerbs could be. After a spin over one of them, the Williams FW11's monocoque was found to have severe underside damage. At first it looked like Nelson would be in the T-car for the balance of the weekend, and some thought was given to getting a fresh tub out from England. Overnight though, the mechanics set to work, and by Saturday morning the repairs were complete. Mansell, indeed, gave the car a run and set the fastest time of the session in it. Piquet, however, stayed in the spare for the afternoon, and, after some delay with an electronic problem, improved his Friday time by more than half a second to join his countryman on the front row. Rio once more?
After the Williams pair, the two McLarens. "I think it's a five-car race, isn't it?" Keke Rosberg remarked. "I've got no idea what shape Senna is in for the race, but it won't be like it has been on the last two days, that's for sure! Yes, it's a bit frustrating to be short of qualifying horsepower, but really it's just a bit of a foolish game isn't it? I've had no major problems - I lost some time with a gearbox problem on the first morning, and had to use the spare a little bit. Little things. But I'm starting to get used to the McLaren and I think we'll be good in the race. I'll be amazed if the winner doesn't come from the first five - the two McLarens, two Williams and Senna's Lotus.
"One thing I must say. Anyone who says we should get rid of qualifying tyres and use race tyres in practice should have been out there by now. Instead of going balls-out for two laps, you are on the limit for 20 or so. I lost count of the number of times I scared myself stupid with people that way."
In each of the official sessions Keke was a couple of tenths slower than Alain Prost. The world champion set the pace in Thursday's exploratory session and was again quickest the following morning. When boost came into play each afternoon, Alain knew his car couldn't live with Senna's Lotus. "All the same," he said, "I'm a bit disappointed not to be on the front row with him. I don't believe I had a clear lap at all during the timed sessions, but I suppose it was the same for everyone."
Prost was another to use the 'warm Bs on the front, new qualifiers on the back,' mix, and was content with his prospects for the race: "My car is fantastic on full tanks, perfect, but as the car lightens, it understeers more and more in the fast corners."
Tyres for the race? "Oh, I think for once it's decided for everyone - Bs." Was he planning to stop? "No, but we are allowing for it. I hope we'll go the race on one set, but maybe not. For sure, this place is a bit different from Rio."
The big five, then. And, as Keke said, you had to look for the winner in there. Behind him there was well over a second before you found the sixth man Rene Arnoux. No two ways about it, Rene is every bit the driver he was before his Ferrari-enforced sabbatical in 1985, and at Jerez - as in Rio - he was the fastest Pirelli man in practice. He is still capable of that instant and explosive pace we saw so often in 1983, his first year at Maranello.
"The electronic settings were very bad on my car today," he said on Friday afternoon. "So I had to use Jacques's car to set a time." His first flying lap was good for seventh fastest and on Saturday, in his own car again now, he pared away another three tenths.
Immediately behind Arnoux on the grid was his teammate, eighth fastest. Laffite was virtually a match for Arnoux on the opening day and reckoned he should have been higher: "Traffic? Yes, of course, it's a problem for everyone here. But I was disappointed with my second set of qualifiers. They were supposed to be the same, but..."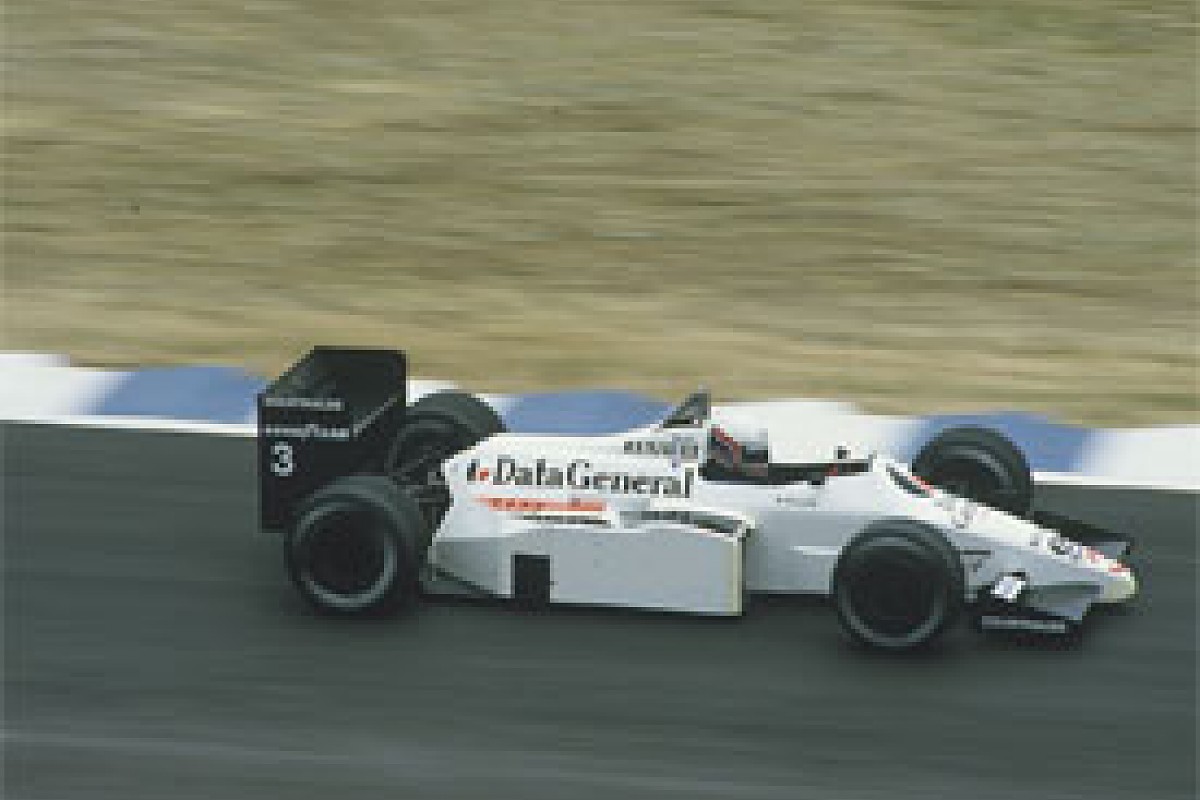 Rene Arnoux, Ligier JS27 Renault © LAT
Jacques sat out most of Saturday morning, his car beset with a serious misfire. And in the afternoon he was a second slower than before, sandwiched between the Benettons.
Gerhard Berger was second to Prost during the Friday morning session, commenting that the car was much improved since Rio: "We tested at Jarama on the way down here and I think we learned a lot." Unfortunately, a misfire on Saturday kept him from lowering his time, and Teo Fabi, who complained of a long brake pedal on Friday, also failed to improve, thanks to poor pick-up out of slow corners. Nevertheless, both cars, complete with Jackson Pollock paint jobs, were in the top 10.
So too was Dumfries, who rather startled everyone with his performance after a fraught opening day. After only a handful of laps on Friday morning, the Scot was out with a broken gearbox input shaft. One of Senna's cars was already out of commission (having an engine change), so that made Johnny a spectator until lunchtime.
"The afternoon was a bit of a bodge-up," said team boss Warr. "After we finished the work on the gearbox, we found that the frame holding the rear undertray didn't fit properly. Short-term, therefore, we had to fall back on the mechanics' friend, lockwire. And it just wasn't up to the job." On Dumfries's qualifying run, the undertray fell down, which created a somewhat novel aerodynamic balance and left the No.11 Lotus down in 23rd spot.
Johnny had been impressively quick during the Thursday test session, however, and lost no time in improving his position on Saturday, vaulting up to 10th with his first qualifying run. On his second, a driveshaft broke.
Driveshafts were also a problem for Michele Alboreto, who had two go during practice: "I'm convinced that one of the reasons for it is that the cars jump around so much over the bumps - much more than most of the other cars. Half the time, it seems like the wheels are off the ground. Horsepower? Well, I think that we are not the best, for sure, but the power is okay, not the biggest problem. What we need is a track with no corners."
Ferrari were indeed hardly front-runners, with Michele down in 13th position, two behind teammate Stefan Johansson. "It's a bit depressing," Stefan grimaced. "We've got terrible understeer on turn-in, and then when the power comes in the tail just snaps away from you. I think we're simply short on downforce and that's all there is to it. In the middle of a corner the front end just washes away - there's no grip at all. The car's actually at its best on full tanks - I did virtually the same time as on empty tanks. That can't be right."
Between the Ferraris on the grid was Martin Brundle's Tyrell-Renault, but not, alas, the new 015 which actually set the time. On its first run in the final session, the new car snapped out of control at the quick right-hander towards the end of the lap, slid across the sands and into the guardrail.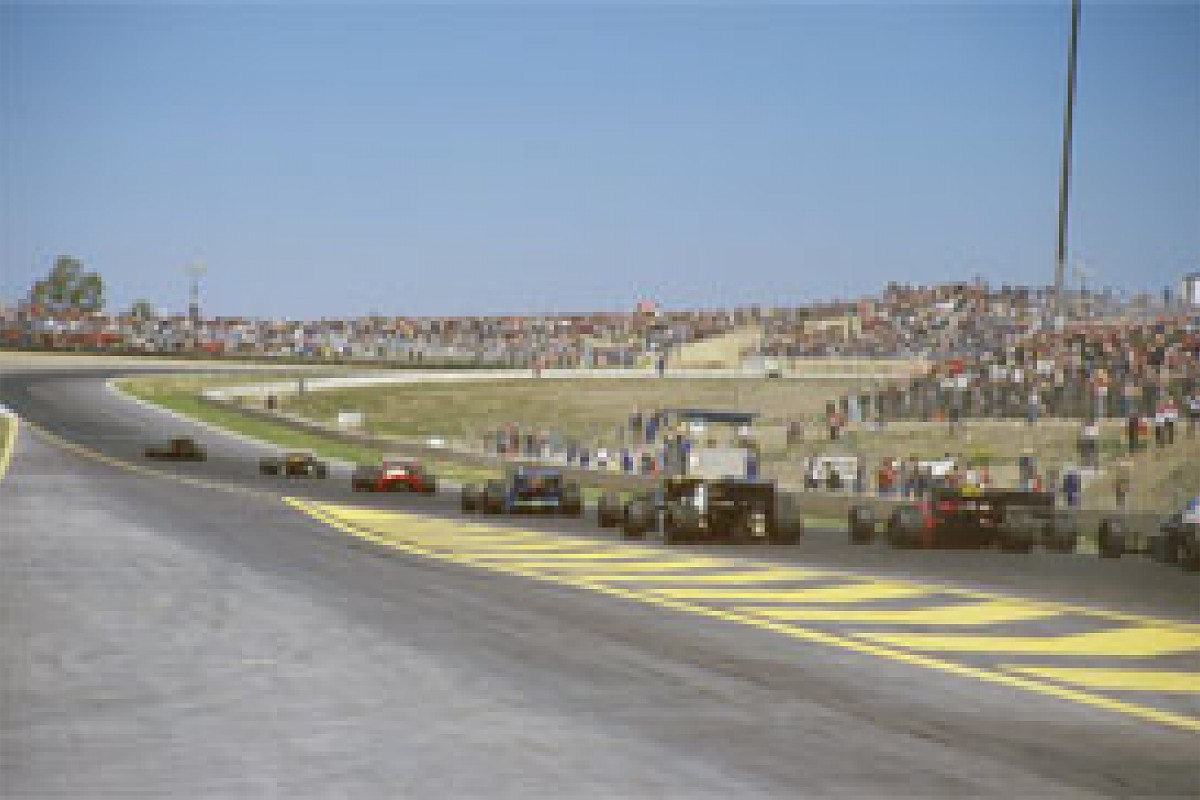 Martin Brundle, Tyrrell 014 Renault © LAT
"It's pulled the top wishbone out of the monocoque, which is a complete bloody disaster," Martin related sadly. "The boss isn't too pleased. Not surprisingly.
I just don't know what happened. It got away from me out of the corner, which was strange. I was clear of the corner and thought I'd got away with it, but as soon as it hit the dust that was it. It was really odd, like hitting oil. Whether or not it was my mistake I don't know, but I certainly made a mistake in going in too hard on my first set of qualifiers."
It was cruel. The day before Brundle had set the 11th fastest time and was thrilled with the new car - particularly as it has been running with the latest pneumatic Renault qualifying engine. That was being saved for Saturday, and with another 200/300bhp on the way, Martin had been confident of making the first 10. Now he was back to the old 014.
Such was already the lot of Philippe Streiff, for only one of the new cars was ready for Jerez. "I had two spins this afternoon," he smiled on Saturday. "You know, it's not really an easy car to drive. I should have the 015 for Monaco - I hope so anyway." The Frenchman was 20th on the grid.
Brabham were not in good shape. With new intercoolers since Rio, they were noticeably impressive on straightline speed, despite the skateboard shape. The suggestion now is that the disappointing engine performance may stem from an oil scavenging problem in the laydown BMW four-cylinder.
On Saturday morning, mid-session, I found de Angelis sitting disconsolately on the floor at the back of his garage. His car was marooned out on the circuit: "Seven gears," he said. "And I can't find any of them."
There was also revised rear suspension geometry for Jerez and the cars looked flat and stable through the turns - if not the equal of the McLaren, Williams or Lotus. When it was all over, Elio and Riccardo Patrese had the eighth row to themselves. One story in pit lane suggests that the BT56 is already drawn.
Palmer's Zakspeed was almost on a par with the Brabhams: "We've made a lot of the turbo-related changes since Rio," he said. "And they've certainly improved the throttle response. Also, we tried a new double-wing set-up yesterday and that's given us quite a bit more downforce. Before we did that, I had more oversteer than I wanted. In fact, I should have been quicker than I was. On my best lap in the last session, the engine went onto three cylinders as I came up to the line and apparently I crossed the line 10mph slower than I had been doing."
The same could not be truly said of Carl Haas's men, who filled row nine, Alan Jones fractionally quicker than Patrick Tambay. Both Lola-Harts were troubled throughout by pick-up problems, although each was quite impressed with the Hart engine's top-end punch. There have been suggestions that the Lola chassis could use a little more downforce. "Maybe so," Tambay said. "But I tell you, it's a lot better than the Renault ever was." For Imola the team will have one car - almost certainly for Alan with Ford V6 power, but Tambay must wait a little longer.
The practice days were expensive ones for Arrows, Thierry Boutsen accounting for four engines, Marc Surer for one. So badly were the ageing A8s jumping that neither driver could help but 'buzz' their engines once in a while. Thierry and Marc look to Spa - where the A9s will make their debuts.
At the back, not surprisingly, were the Osellas of Piercarlo Ghinzani and Christian Danner, which at least circulated with reasonable regularity, and the Minardis of de Cesaris and Nannini, which did not. Andrea and Alessandro each missed a timed session with terminal misfires.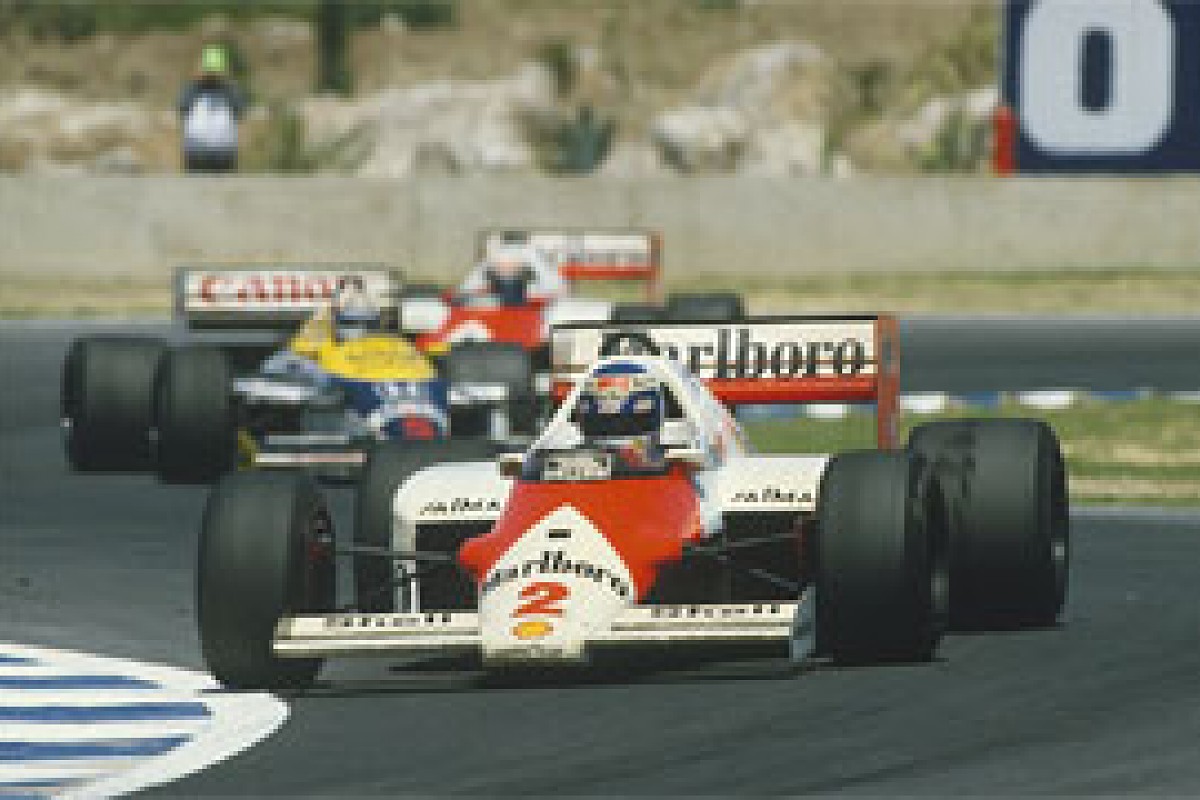 The start of the 1986 Spanish Grand Prix © LAT
Race
We sensed on Sunday morning that something special might be in the offing. Ayrton Senna, it is hardly a secret, has a somewhat exclusive fan club when it comes to his fellow drivers and immediately behind him on the grid were four men very keen indeed to foil him. More, he alone faced a pair of teams.
Undoubtedly the competition at the top of F1 currently has a degree of 'edge' I have not known before. Ayrton is up there and a lot of people are aiming to shoot him down. These are not mad men, of course, and they want to risk a huge accident no more than anyone else. But I detected in more than one pit a hardening of attitudes. "Senna seems to make his own rules," one driver muttered to me, "so perhaps we'll all have to play by them."
After the Rio controversy, Nigel Mansell was perhaps calmer and more reflective than might have been expected. "All I'll say is that I had a small accident there on my own to avoid a big one involving both of us. I won't do that again."
There were no clouds to blank off the sun on race morning, but again it was brisk sweater weather for those who watched - those few who watched. At the first race in Adelaide they closed the gates and shut folks out. Jerez's inaugural grand prix was what Mario Andretti would call "still." Spectators dotted the grandstands, no more, and those on the hillsides had apparently got in for nothing. Driving in on Sunday was therefore a breeze.
From 9:30 to 10, though, the track at least was busy. Now came the practice session which, after three days, finally meant something. The warm-up. Racing cars in racing specification no less. And there, first and second at the end of it, were the McLarens of Prost and Rosberg, with Senna next, then Piquet, Alboreto! and Mansell. Alain's time was nearly six seconds slower than Ayrton's pole.
For once there was no dithering or gamesmanship over tyre choice - not among the Goodyear runners anyway. It was Bs all round for everyone. On Jerez's particularly non-abrasive surface, the drivers were hoping to go the distance on one set. The Pirelli runners were rather less certain. "I am worried about it," Arnoux admitted. "In practice the Goodyear Bs were nearly as quick as the qualifiers and if they can also last the race, we are in trouble maybe." Was he planning a stop? "Mmmm, yes. I expect to stop."
So to the start. It seemed reasonable to expect a certain amount of drama at the first corner, but in the event Ayrton smoked perfectly away from the line and had a clear run into the tight right-hander. Behind the Lotus, Piquet, Mansell, Rosberg and Prost fell into line, and then came the Ligiers. The only altercation came as Fabi tried to nip inside Laffite and had his left front wing whisked away by Jacques's right rear wheel. Teo pitted for a new nose at the end of lap one.
Nannini we never even saw, for the second Minardi had not left pit lane, its differential having expired. De Cesaris's only lasted a few more laps.
Out on the track were Jones and Palmer, who made contact at the hairpin halfway round, and left the track very oily and treacherous for a while. Jonathan was angry: "I think he must have booked a flight out for two o'clock or something. I'd passed a couple of cars and thought about having a go at Fabi, decided against it and bang! He comes straight into the back of me." Alan had made a typically charging start, got on the dirt and lost it. After the race he was long gone, but had apparently admitted that perhaps he had been a bit ambitious.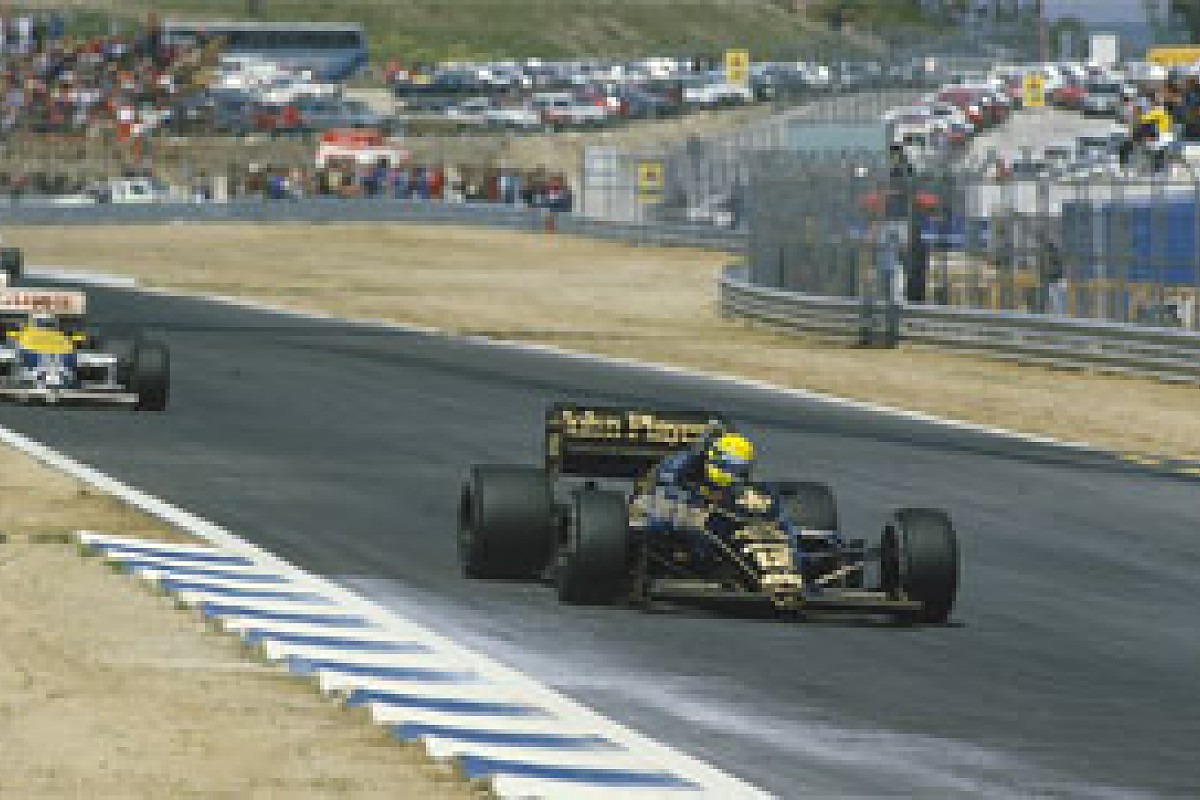 Keke Rosberg (McLaren MP4-2C TAG) leads Nigel Mansell (Williams FW11 Honda) and Alain Prost (McLaren MP4-2C TAG) early in the race © LAT
Charging too was Rosberg, who passed Mansell at the first turn on the second lap. And four laps later Prost was also by the Williams. Was Nigel in trouble already?
"In those opening laps, my computer read-out was giving me messages I didn't like - for some reason I was using more fuel than I should have been," he said. "It was early days, and I thought about full tanks and tyre wear and decided to sit back for a bit. Later, the fuel calculations were showing the right side, which gave me a bit in hand."
The opening spell of the race did indeed promise much. Senna, Piquet, Rosberg, Prost, Mansell, Arnoux and Laffite were running as a bunch, and not very far behind were the Ferraris of Johansson and Alboreto. As Stefan had said, the red cars were at their best on full tanks. Then there was a sizeable gap before we found Berger, Dumfries falling into the clutches of Brundle's clumsy Tyrrell 014, and the Arrows pair.
Patrese's Brabham ran in company with Martin at first, but after only eight laps the Italian pulled off: gearbox. The same problem would later account for de Angelis. These are not good days in Chessington.
On lap 12 there was no Johansson. Complete brake failure at the top hairpin had sent him head on into the single layer tyre barrier lining the guardrail. The impact was considerable and, although Stefan got himself out, he fell down next to the car and had to be stretchered away. An inspection at the track hospital thankfully revealed nothing seriously amiss, but he had been wrenched hard by the belts and the Swede was in agony with back pains on the evening flight back home to London.
"There was no warning at all," he said. "The brakes had been perfect until then, but this time I pressed the pedal and there was nothing. It spun so I hit absolutely head on. One bloody layer of tyres," he added bitterly. "About as much good as a napkin."
Reassuring at least was the way the Ferrari stood up to the impact, the nose doing its job perfectly. "From the crash test results," said Harvey Postlethwaite," I can tell you that Stefan was subjected to deceleration of 19-20g. So I'm not surprised he's sore." It seems certain that the brake fluid had leaked away through an incorrectly-machined bleed nipple.
Alboreto's race did not last much longer, the No.27 Ferrari stopping at the pits after 22 laps. The left-front wheel bearing had failed and eventually the brake disc began to break up. These are not good days in Maranello either.
After a pit-stop on lap 16, de Angelis came back out in front of the leading pack. Would this give Piquet a chance to get on terms with Senna? No way. At the second turn, a tight downhill right-hander it was clear that Elio has not seen him - either that or he was remembering their incidente at Kyalami last year. Whatever, the Lotus scrabbled dustily by, inside wheels on the grass, and the Brazilian lost no time at all.
With the Brabham momentarily between him and his pursuers, Ayrton picked up the pace, pulling away from Nelson in that tell-tale black haze which says 'boost up.' His lead went out from a little under a second to almost two, but thereafter Piquet began to trim it once more.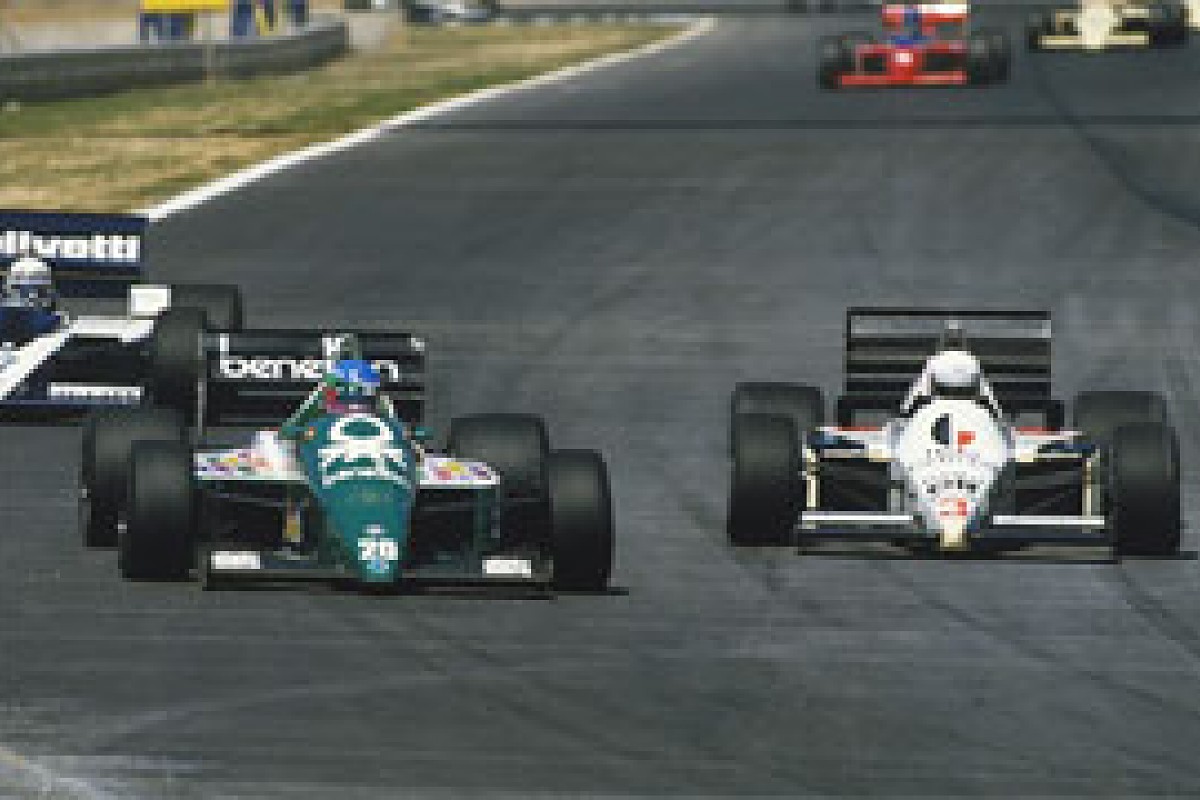 Ayrtona Senna (Lotus 98T Renault) pulls away from the field early in the race © LAT
Nelson, though, was hardly playing cat and mouse. His intention had been to pressure Ayrton hard from the start, either to get the Williams into the lead or hurt the Lotus-Renault's fuel consumption, but worsening understeer prevented him from getting on terms. "I think that won the race for Senna," Laffite suggested afterwards. "For a long time he was able to run quite slowly, dictating the pace, saving fuel."
Now, however, the man on the move was Mansell. Happy with his fuel figures again, he went past Prost for fourth on lap 19 and took up station behind Rosberg for a while. The gap from first to fifth was still only three seconds, but now the Ligiers had fallen away. Arnoux was into the pits after 24 laps for attention to the Renault's injection system. He rejoined - and ran very fast for a while - but was soon out with a broken driveshaft.
Laffite later had the same problem: "I was held up lapping de Angelis and put my wheels off the road to get past him. When you do that here, it's finished. I had a bad vibration afterwards and came in, thinking it was the tyres. In fact they were OK - it was the driveshaft beginning to go. Pity, all was going very well. And the new Renault was perfect! First time for a long time we run with the leaders, no?"
Lap 30: Mansell up to third, ahead of Rosberg. And at the same time Senna was beginning to stretch his lead over Piquet - 1.2, 1.9, 2.6, 3.0 on successive laps. As the two Williams went over the line to begin lap 33, however, Nigel ducked to Nelson's right and neatly went by into the turn. Next time round Senna's lead was down to 1.7 seconds.
At about the same time, the two McLarens swapped places, Prost ahead of Rosberg. Keke, in fact, began to fall back and afterwards was somewhat noncommittal about his problems. Members of his team were not so: "He ran with too much boost for too long, that's all, and was way short of fuel. Also he'd ruined his tyres." One rather had the impression that they were less thrilled with him. Much later, after many slow laps, Rosberg did come in for a new set of Goodyears.
The world champion was in much better shape with his McLaren, having driven with his usual strict discipline. Was he driving what he likes to call 'a tactique race,' or was he actually working very hard to stay with Lotus and Williams? With Prost no one ever knows. "In fact, I intended to come in for tyres on lap 45. I tapped my helmet to let them know, but at that point they seemed to be perfect and I decided to stay out. My mistake! I tell you, if any of the leaders had done that they would have won easily, no problem."
More than at any race I can remember since the last Spanish Grand Prix, we were mesmerised by the leaders to the virtual exclusion of the rest. Almost from the start it had seemed like a handicap; the select first group, and the others.
This is not to say, however, that there was nothing of moment further down the field. Berger's Benetton had consistently headed the second group (although it later lost time with a tyre stop) and especially praiseworthy was Brundle's performance with the old Tyrrell, which passed Dumfries's Lotus and was closing on Berger until retiring with an oil system problem.
"We don't know what it is," Martin glumly remarked. "We've had the same system on 014 since the start and it's never given any trouble. Now, suddenly, the same problem crops up on both my car and Streiff's. It's a shame, because the old bus was going quite well."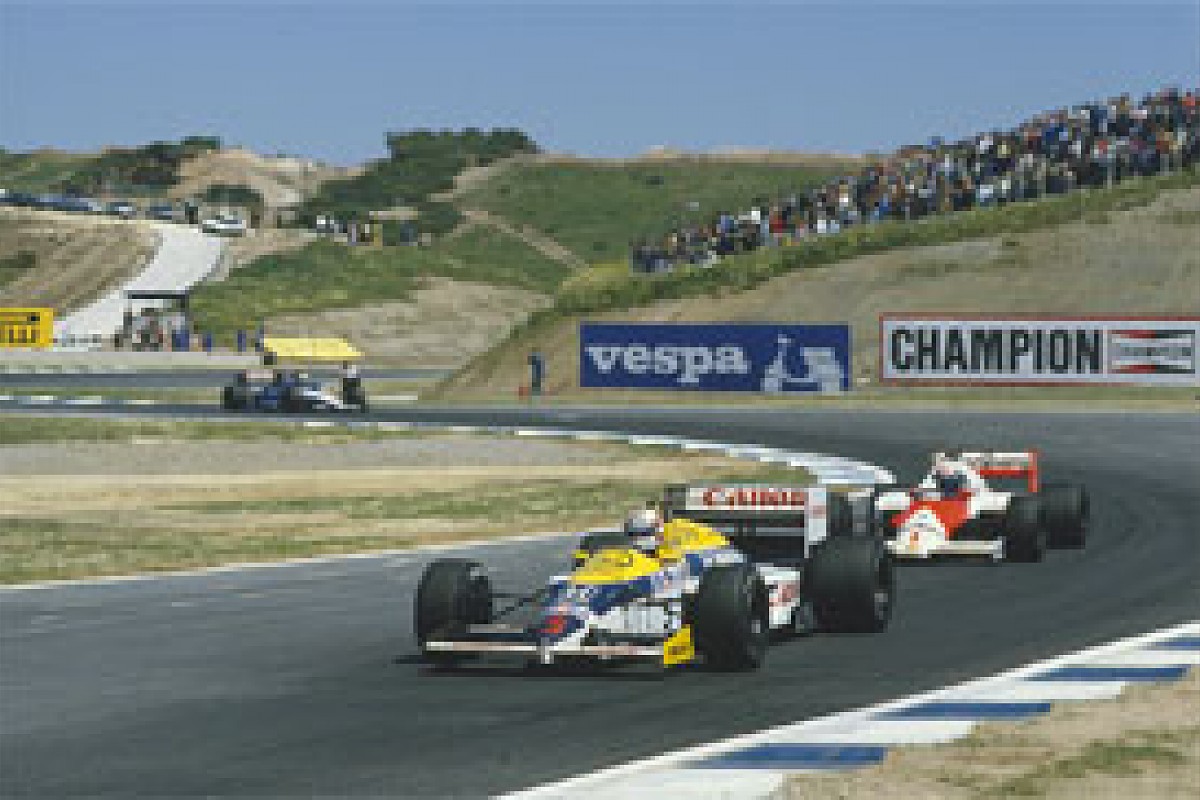 Gerhard Berger (Benetton B186 BMW) battles with Martin Brundle (Tyrrell 014 Renault) © LAT
Dumfries's race had begun rather hesitantly. From eighth on the opening lap he was down three places in as many tours. Once settled however, he put in a good drive and the high attrition rate elevated him to fifth by lap 46. A few minutes later though, he lost his first championship points when the gearbox quit.
In the Lotus pit, mind you, they had other things to worry about, for Senna had lost the lead to Mansell on the 40th lap. Nigel had caught Ayrton and saw his opportunity as they came up to lap Brundle past the pits. Surprisingly, the Lotus held to the left side of the track, behind the Tyrrell, and by the time Senna wanted to tow past it he found himself boxed in. To his right was Mansell, who snicked by both of them into the first turn.
Afterwards, Ayrton reacted angrily to the suggestion that he made an error of judgement: "Martin did not hold me up. I was flat out - I just didn't have enough power. Mansell had much more power than I did and he took me just on acceleration."
Whatever, the Williams was now ahead of the Lotus and for a few laps Nigel went away, clear. For the Williams pit there were mixed emotions, for Piquet did not materialise at the end of lap 40. He had pulled off, engine blown, so now we were down to a three-car fight.
For 10 laps Mansell seemed to have it locked away. Driving beautifully he pulled four seconds clear of Senna, with the ever-present Prost a couple of seconds behind the Lotus. But with both tyre and fuel consumption to keep in mind, who knew what was the true situation? By lap 52 Ayrton had halved the gap, and Alain was matching him. By the 59th, they were up with Nigel once more.
Ten laps to go and Senna took a run at the Williams past the pits, trying to snatch the lead on the outside into t he first turn. Mansell, unimpressed, held his line, and the Lotus plumed its tyres as it was often to do in the next few miles. This was hard, exhilarating, upper-case grand prix racing, and as Prost looked on from a discreet distance he must have fancied his chances of landing those nine points.
Ayrton finally made it at the uphill hairpin, forcing through on the inside in a superbly judged move. And Nigel, not conceding until the very last, had to lift off momentarily, which allowed Prost an opportunist's second place.
At the end of the lap the Williams hurtled into the pits. There was nothing to lose now and perhaps still time to benefit from a tyre change. As usual, the Williams crew did their work to perfection and when Mansell resumed he was but 20 seconds behind Senna - with nine laps left.
Already we knew that this was a race between the two, for Prost could offer no threat to the Lotus. So it was a matter of Senna, tyres failing, defending himself against Mansell, tyres new and fuel apparently to spare. That meant Nigel could give the boost a tweak for the last 20 miles or so.
Lap 66: 14.2, lap 67: 10.7, lap 68: 6.5! He was going to do it at that rate, surely? But he was now up with Prost and getting by immediately was vital. As they went into lap 69 the Williams looked set to pass the McLaren on the pit straight - but no! Alain, too, had a boost switch and was defending second place in a grand prix. As they speared off into the first turn, he was still in front, and that, as it turned out, had crucially affected Nigel's chances.
Nigel Mansell (Williams FW11 Honda) overtakes Alain Prost (McLaren MP4-2C TAG and begins to close on the leader © LAT
"He came up and apologised to me afterwards," Mansell grinned. "He said he thought Senna was too far ahead for either of us to catch him and if he'd known he'd have let me through. I don't blame him for it at all - it was a matter of fighting for a place and in his position, I'd have done the same thing myself."
In the course of the lap the Williams did get by, but by the end of it Mansell had actually lost three quarters of a second to Senna. But it wasn't over by any means. After 70 laps the gap was down to 4.6, and as they went onto their last Ayrton was only 1.5 seconds ahead and well in Nigel's sights.
All the way round Mansell was gaining, but down through the quick right-handers towards the end of the lap, Senna looked to have done enough. Under braking for the final hairpin though, the Williams took yards off the Lotus, and coming out of it was right on its gearbox. Nothing mattered now except boost and right foot, and if the line had been 10 yards - maybe even five - further down the road, Nigel would have taken an astounding victory. As it was Ayrton had got there first - by 0.014s.
In a great burst of acceleration, Mansell flew past Senna (fractionally past the line) and at first believed he might have won - "I won't believe it until I see the video."
Senna though, was in no doubt, and had his arm in the air almost at once."Nigel was very strong in the final part of the race," he said. "He was in the lead and going away, but what decided the race was that his tyres were finished before mine, and he stopped. Right from the start I was very concerned about fuel - for a while I didn't think I would finish, but later in the race the situation improved and I made it. For sure the Honda consumption is fantastic - and they have more power than we have."
Mansell saw it a bit differently: "He definitely had more acceleration than I had out of the slow corners. Where I think the Williams really scored was on braking. Of course the circumstances in the last few laps were different because I was on fresh tyres and was able to run a bit of boost."
On the day both men drove brilliant races, and Prost - in the picture, as ever - should not be forgotten either. But are we, in the year of the 195-litre fuel limit, into a new era of F1, where the real race begins only in the closing laps? The first three cars - with Renault, Honda and TAG-Porsche engines - were virtually empty at the end. And next comes Imola, where consumption is higher than anywhere else.
View results, stats, quotes and images from the 1986 Spanish GP at FORIX