The 2005 British Grand Prix Review

---
By Will Gray, England.
Autosport-Atlas GP Correspondent
As expected, McLaren won the British Grand Prix. But the driver who took victory was not their Championship contender, as Juan Pablo Montoya scored an overdue maiden win with the British team while Fernando Alonso extended his Championship lead. Will Gray reviews the events and results from the eleventh race of the 2005 season
A McLaren won, but it was the wrong McLaren.
Juan Pablo Montoya claimed victory but teammate Kimi Raikkonen now looks destined to miss out on the title unless the Gods switch to the silver side after smiling once again upon the blue and yellow corner of Fernando Alonso and Renault during the British Grand Prix.
In what now appears to have turned into a two-horse race for the world title with Michael Schumacher all but admitting he must now relinquish his crown, Raikkonen may just look back on nine days in July as the moment his Championship faded away.
Just one week after being crushed by an engine failure in France that put victory in the hands of Alonso, it was advantage Renault again at Silverstone when an oil pump failure rendered Raikkonen's engine useless and forced him back down the grid once again.
Montoya put a smile on his face by sealing the victory, but with Alonso's engineers suddenly finding a surprise turn of pace in his car, forcing his Renault team to adjust their expectations ahead of the race itself, all Raikkonen could achieve was a lowly third.
It was a vital third; vital to keep his points total ticking up, but not as vital as Alonso's second, which kept his points tally ticking up faster. Another two-point extension to his lead is not enough to guarantee the title, but it seems the finger of fate is slowly nudging it in his direction.
Raikkonen was not the only one feeling the heat at a sweltering Silverstone as World Champions Ferrari were also in trouble with their cars finishing more than one minute behind race winner Montoya, proving once again that they are not anywhere close to the pace Schumacher needs to retain his title.
This time last year Schumacher had the Championship virtually in his pocket, but on Sunday he took a disappointing sixth place finish, just ahead of his teammate Rubens Barrichello, as he secured a personal worst, his lowest finish at the track since he crashed out of the race in 1999.
He is becoming frustrated that the team, who have not lost a constructors' title since 1998, are struggling so much for pace and the crown which has been pinned to his head since 2000 looks like being taken away as he lies a distant third in the title race, 34 points behind Alonso.
The race itself saw an astonishing 19 of the 20 cars reach the finish, a reliability record even in recent times, as only local driver Narain Karthikeyan, who lives so close to Silverstone he could walk back to his home, failed to reach the finish.
But despite a virtually full field of cars for the entire race there was little more action than seen when just six cars took to the track at the United States Grand Prix, where seven of the ten teams were forced to pull out on safety grounds.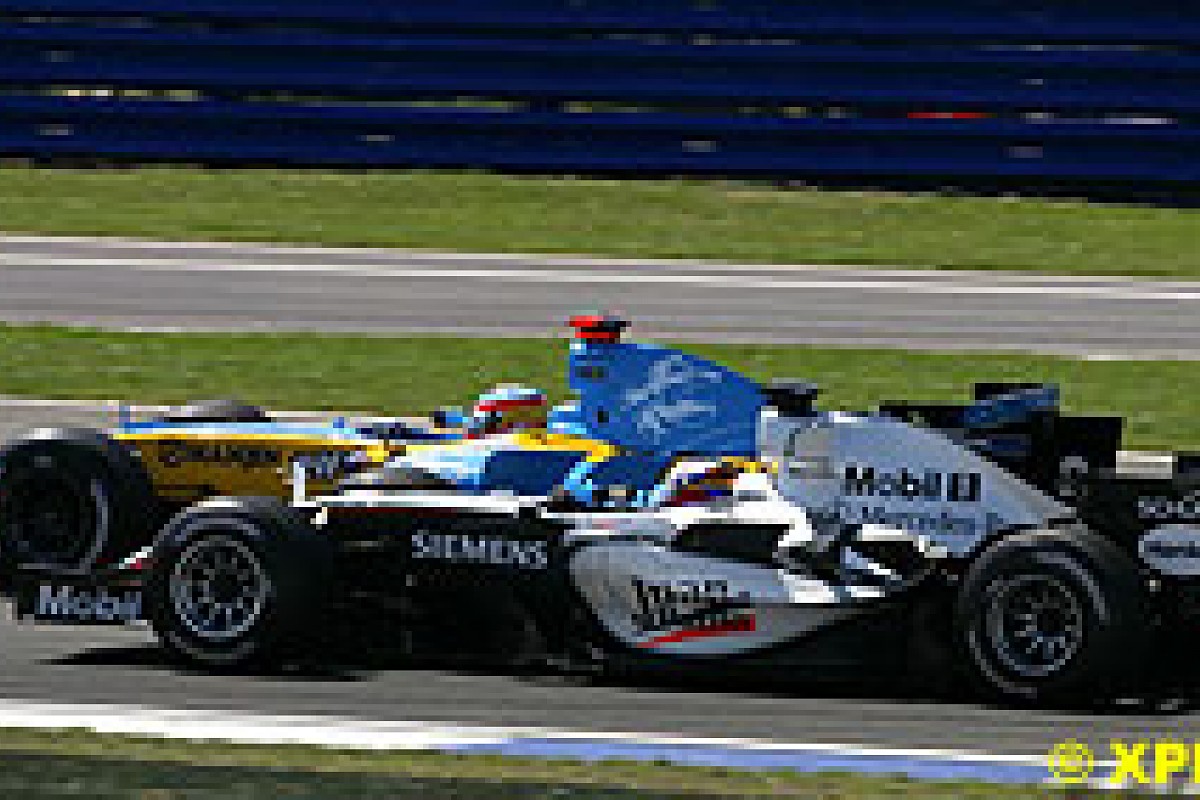 Montoya, who is all but out of the title race, won it in the first corner after gambling that Alonso would back off in a wheel-to-wheel battle for the sake of his title campaign and in the end McLaren and Renault proved they are the top teams as they filled the top four places.
BAR-Honda showed they are back on form after securing the 'best-of-the-rest' title with Jenson Button in fifth, a disappointment for his flag-waving home supporters as they had hoped he would secure a podium finish having started from the front row of the grid.
But at least he wasn't in a Williams.
Their struggles continued as Mark Webber and Nick Heidfeld finished in 11th and 12th places respectively and they will be undertaking some serious testing before the next race after being so confused by the lack of performance from their new aerodynamics that they used one old car and one new one in the race.
So the France-Britain double-header gave Alonso a four-point gain on Raikkonen and, with two engine failures in two weekends, the Finn will be hoping to avoid a hat-trick in Germany while wondering just what he can do to make fortune start smiling on him as the title battle rolls on down the home straight.
Qualifying
For the second race in succession Raikkonen's almost guaranteed pole position was taken away through an engine failure in practice, which through handing him a ten position grid penalty forced him to run a heavy fuel load strategy to maximise his race potential.
Despite that, the Finn put in a stunning time to claim provisional pole position from Button in the closing stages of the qualifying session, but he was just bettered by Alonso, who would not have claimed pole had he and his rival been on the same fuel loads.
1. Fernando Alonso (Renault) 1:19.905
Alonso ended Friday practice with little confidence of reaching the podium but after some major changes to the car overnight it was much improved on Saturday. He knew he had a shot at pole after Raikkonen's engine failure and, although it was touch and go, with Alonso only setting the fastest time in one of three sectors, he sneaked it by 27 thousandths.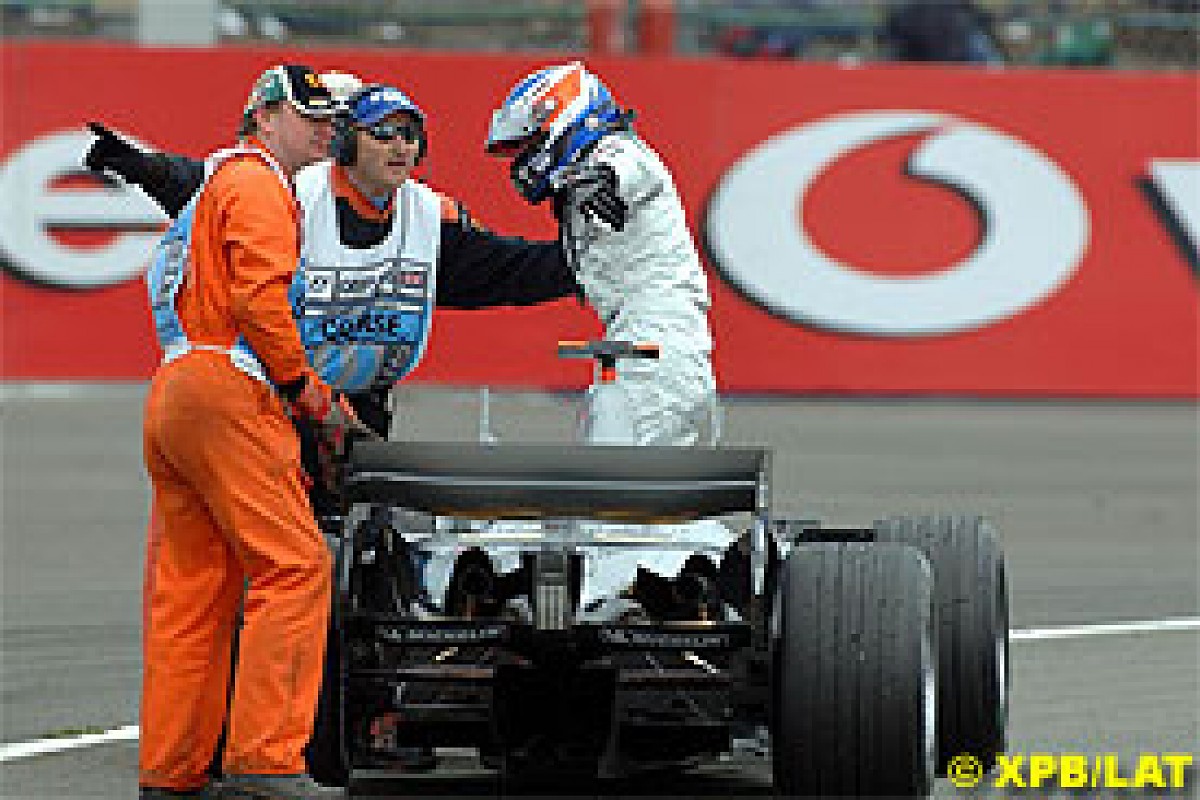 2. Kimi Raikkonen (McLaren) 1:19.932 + 0.027
An engine failure in the final practice session on Saturday forced McLaren to rethink Raikkonen's strategy plans and fuelled him heavy. Despite that, he still set the fastest time in the first sector but was only third fastest in the second sector and fourth fastest in the final twisty section of the lap. It all added up to second best time, but that became 12th on the grid because of the penalty.
3. Jenson Button (BAR-Honda) 1:20.207 + 0.302
A terrible first sector, on the fastest part of the track, which saw Button post the seventh fastest time, cost the Briton the three tenths between him and the top two, but his second fastest time in the second sector, and his fastest time in the final part of the lap, ensured he was there to snatch the front-row starting spot when Raikkonen was demoted.
4. Juan Pablo Montoya (McLaren) 1:20.382 + 0.477
A steady consistent lap from Montoya put him more than four tenths off the pace of Raikkonen, despite running a lighter fuel load, but he was hampered by running fifth in the session, 14 cars before Raikkonen, and did a good job to secure the fourth fastest time.
5. Jarno Trulli (Toyota) 1:20.459 + 0.554
After claiming pole in the United States and then second in France, fifth was a little disappointing for Trulli who, like Button, had a car set up more for the twisty parts of the circuit than the high-speed sections. Consequently he set the second fastest time in the final sector but sixth and seventh fastest times in one and two left him down in fifth.
6. Rubens Barrichello (Ferrari) 1:20.906 + 1.001
Barrichello outqualified Schumacher for a change when he set the fifth fastest times in the first two sectors, but he ended up half a second slower than Trulli's Toyota in front of him after a poor final sector that saw him set the 10th best time.
7. Giancarlo Fisichella (Renault) 1:21.010 + 1.105
After a good result in France, Fisichella was finally able to start late in qualifying, with only five cars going out after him. But he was still slower than Barrichello and Montoya, who both went out before him, and he admitted to making several mistakes because of poor grip levels on his car.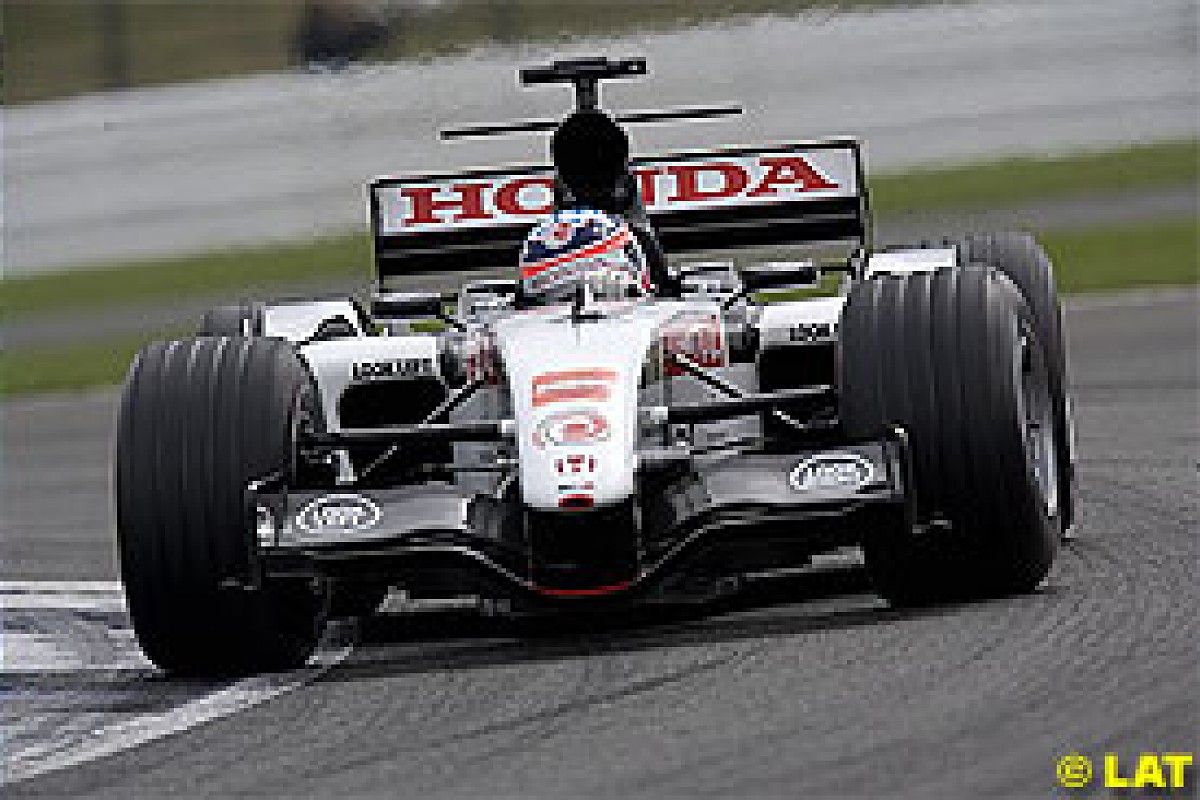 8. Takuma Sato (BAR-Honda) 1:21.114 + 1.209
Sato was faster than Button through the speed trap but despite a strong middle sector, the sixth best, he lost time in all parts of the lap and failed to maximise the car's potential. He struggled, however, because a balance problem prevented him from running new tyres in the morning practice so he was a little lost in terms of set-up for qualifying.
9. Ralf Schumacher (Toyota) 1:21.191 + 1.286
Despite a clean lap, Schumacher admitted his effort was "nothing special" as he finished around seven tenths of a second slower than his teammate Trulli. He lost four tenths of a second in the final sector to Trulli and that put him all the way down to ninth.
10. Michael Schumacher (Ferrari) 1:21.275 + 1.370
Schumacher complained of tyre pressure problems after his lap, which saw him finish at a disappointing distance off the leaders' pace. He suffered excessive sliding because of the increased pressures in his rear tyres and his final sector saw him a massive half a second slower than fastest man Button. His Ferrari just was not fast enough.
11. Jacques Villeneuve (Sauber) 1:21.352 + 1.447
A stunning lap from Villeneuve put him well ahead of teammate Massa and secured him a top-ten grid spot with Raikkonen demoted to 12th. He set a poor time in the first sector, faster only than Massa and the back-marking Jordan and Minardi teams thanks to cool tyres heading into Copse, but he was then able to attack and claimed eighth and seventh fastest in the final two parts of the lap.
12. Mark Webber (Williams) 1:21.997 + 2.092
Williams suffered an awful time at Silverstone, continuing on from their disappointing times in France. They were so confused, they chose the weekend to analyse their new aerodynamics package, which they introduced unsuccessfully in France, by leaving it on Webber's car and taking it off Heidfeld's. Webber was the winner, but by little more than one tenth.
13. David Coulthard (Red Bull) 1:22.108 + 2.203
Coulthard was surprised in the first corner when his gearbox chose not to shift into the gear he wanted, but he did not lose too much time on the first sector and it was a poor time in the final part of the lap that cost him most. But he still outqualified teammate Klien by 0.099 seconds.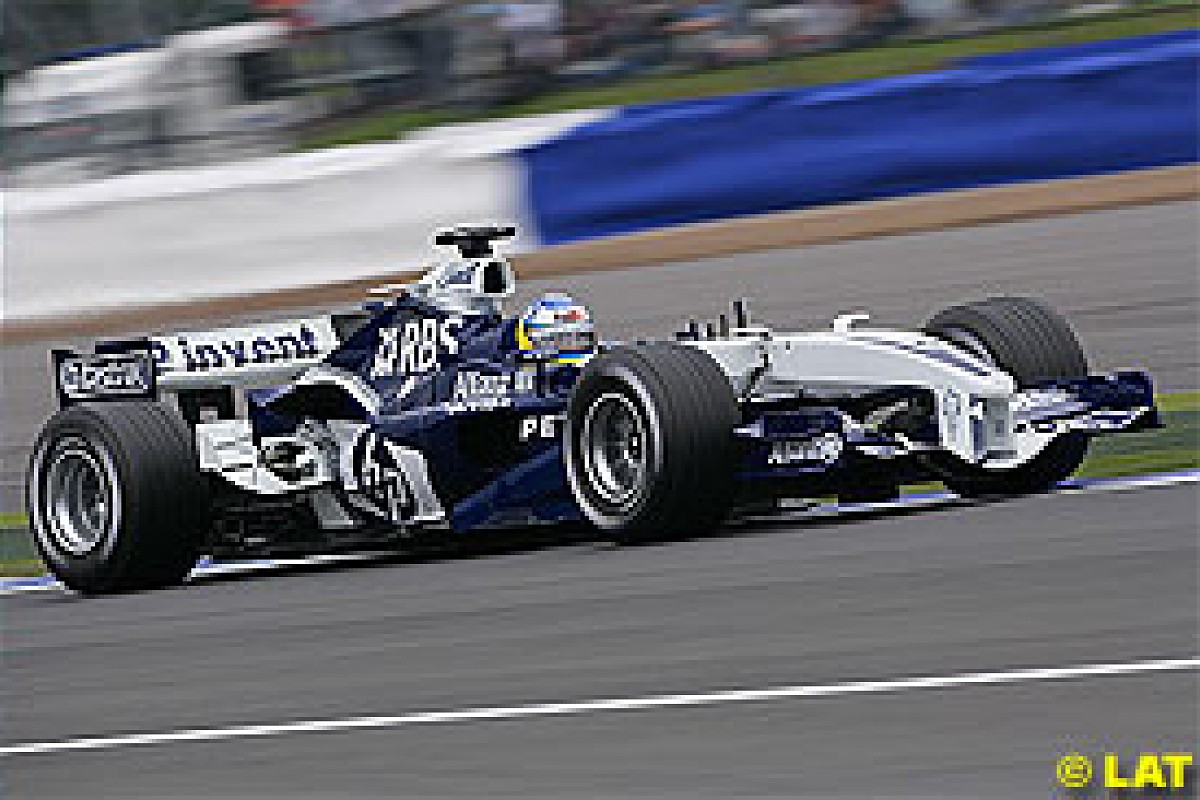 14. Nick Heidfeld (Williams) 1:22.117 + 2.212
Heidfeld took a "drastic decision" to change to the old Williams and, despite the late switch, he was still on the right set-up to secure a time within one-and-a-half tenths of teammate Webber. He was one tenth faster than Webber in the first sector, two-and-a-half tenths slower in the second and just two thousandths faster in the third.
15. Christian Klien (Red Bull) 1:22.207 + 2.302
As the first driver out in the session, Klien had to cope with a cooler track with minimum grip. The cooler weather also made it more difficult to get speed out of the track and he made a mistake going into one of the chicanes, which ultimately cost him the tenth he needed to climb past teammate Coulthard.
16. Felipe Massa (Sauber) 1:22.495 + 2.590
Massa's team decided to optimise his race strategy around his early place in the qualifying running order so, although he was another driver to struggle with the slippery track early in the session, he was happy with his lap.
17. Narain Karthikeyan (Jordan) 1:23.583 + 3.678
The Silverstone resident complained of the windy circuit which hampered his ability to fine-tune the balance of his car for the qualifying session, but he was consistently faster than the Minardis and secured his team the position of top backmarker.
18. Christijan Albers (Minardi) 1:24.576 + 4.671
Albers won the battle between the Minardi drivers this time, by more than one second, even though he struggled to get the heat into his tyres in cold conditions when running fourth in the session.
19. Patrick Friesacher (Minardi) 1:25.566 + 5.661
After a confidence-boosting practice, Friesacher was disappointed by his qualifying performance. He lost around three tenths to Albers in the first sector, four in the second and four in the third and complained of problems with his car's brakes and his balance, due to the slightly increased heat in the afternoon.
20. Tiago Monteiro (Jordan) No Time
After changing his car's engine on Friday, Monteiro chose not to do a flying lap to allow his team to work on his car before the race and adapt it if required so he simply peeled into the pits after his installation lap.
The Race
The sight of a slowing BAR-Honda as the field headed to the grid put many of the hearts of the 100,000 spectators in their mouths with fears that home hope Jenson Button's dreams of victory had been dashed before the start.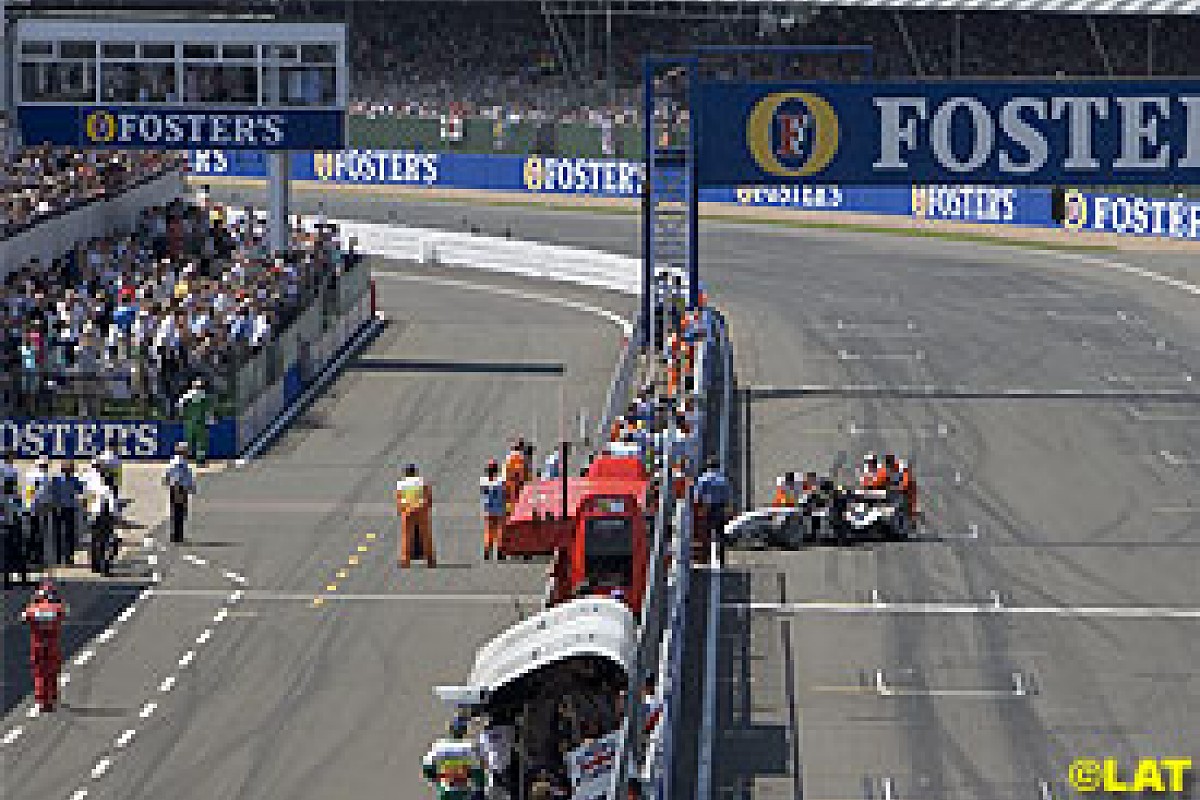 Relief soon came to find out that the unfortunate driver was not the front-row Briton but his teammate Takuma Sato, who had coasted to a halt in Luffield and failed to make it to his seventh-placed grid spot.
Team boss Nick Fry explained: "There is a button which, on approaching the grid, puts on the right fuel mixture for starting the race. That is what he was meant to hit, but unfortunately he didn't.
"He hit the wrong button - he hit 'kill', the safety button to kill the engine. On Taku's wheel the two buttons are adjacent but the kill switch is in a collar, you can't brush against it, so, yeah, poor guy, he just made a mistake."
Alonso looked to have made a clean getaway as Button, who had admitted previously to concerns over starting on the dirty side of the grid, failed to make the most of his front row start and was slow to get away.
But Montoya flew past him and attacked Alonso into Copse, running around the outside through the entire corner before setting himself up for a do-or-die move heading into Becketts. And Alonso backed off.
Montoya said: "Side by side into Becketts, one of us was going to back off or we were going to go off. The chances were that he was going to back off before me because he's got a fight for the Championship.
"I told the guys I can either get a run into turn one or if I don't then hopefully I can get a better run into turn two or whatever. It got to a point where we were quite close, I thought we were going to touch but he bailed out."
Montoya's all-or-nothing technique was a gamble but it was one that was always going to see McLaren come out a winner ­ either he would take the lead or he would eliminate his teammate Raikkonen's Championship rival.
Alonso was wise to it all, however, and admitted: "Obviously it was not worth taking a risk in the first two corners in a 60 lap race. I knew that Juan Pablo was not going to lift, so it was better to lift off than to crash."
So Montoya raced into the lead with Alonso in second and Button in third while Trulli, who started fourth, had a disappointing start and dropped to sixth as Barrichello claimed fourth and Fisichella fifth.
With Sato gone from the grid, Schumacher had a clear track in front of him and, starting from the clean side, he easily made it past his brother Ralf, another slow-starting Toyota, to claim seventh.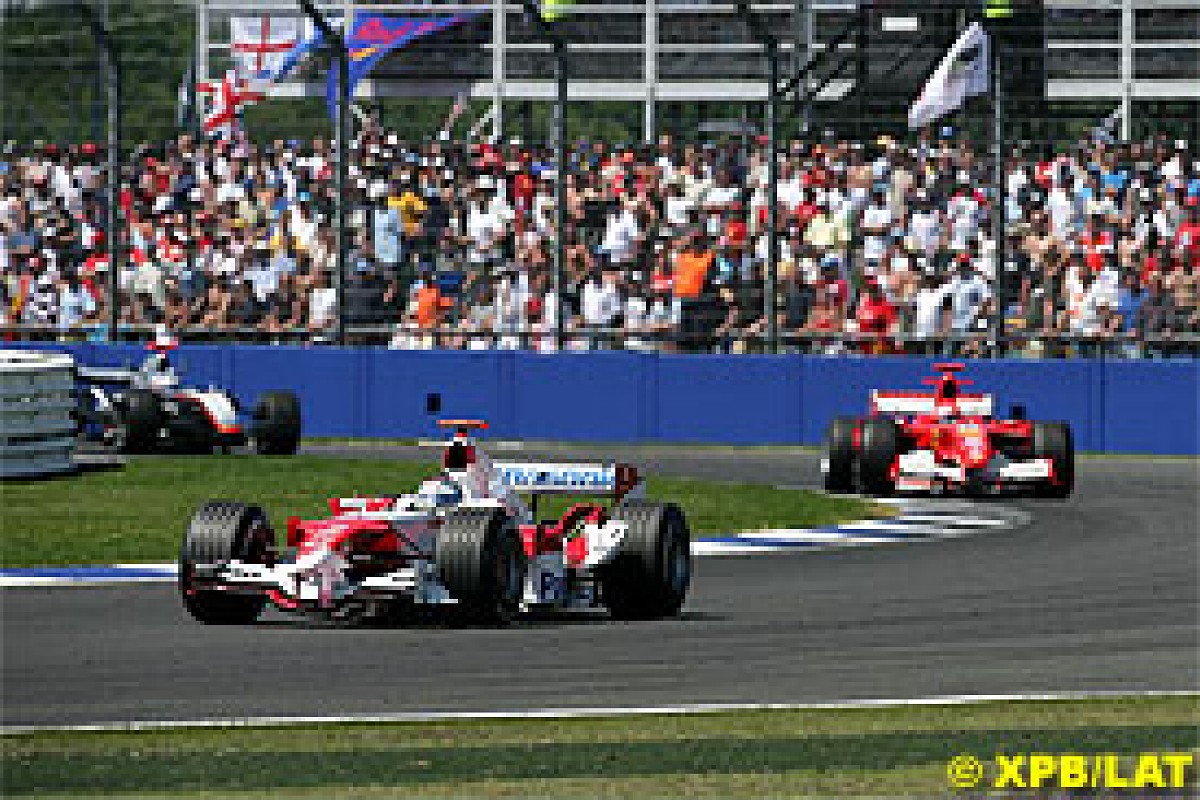 Raikkonen had to contend with a heavy car and the dirty side of the track but he still made a stunning start to move from 12th on the grid, past three cars and right onto the back of World Champion Schumacher.
Christian Klien made the most of a light car to climb past teammate Coulthard and Williams driver Heidfeld, who also passed Coulthard while Monteiro made it past both Minardis at the start after starting from the back.
With Sato's BAR still stranded on the track after the lights went out, there was frantic action to remove it before the field came round, but the marshals failed to react quick enough and the safety car was deployed.
Fry explained: "He stopped in a place where you don't normally stop so it took a while for the marshals to get to him. Then we can't touch the car until it is pushed into the pits.
"It took a bit of time and then we had to get it back and start it up and the marshals rightly pressed the button to kick the car into neutral but we had to re-set it and that takes a bit of time."
The race was underway again after just one lap, however, with no movement in the order other than the addition of Sato at the back, who was sent on his way one lap down after his engine was restarted.
The first and ultimately only retirement of the race came on lap 11 when Narain Karthikeyan, who was keeping pace with Massa, Coulthard and Heidfeld coasted to a halt with an electrical failure on his car.
The lead order remained the same for lap after lap with the only passing move in the first 15 laps coming from Heidfeld, who on lap nine made it back past the very light Red Bull of Klien, who then pitted two laps later.
Barrichello stopped at the end of lap 17 as Montoya maintained a one-second gap over Alonso and Button dropped to around eight seconds behind before pitting from third at the end of lap 20.
Montoya made his first stop at the end of lap 22 to put Alonso into the lead; then Alonso pitted one lap later and came out right alongside Montoya to set up another race into turn two.
Alonso said: "It was very close. We did a good job in the first stint, tried to keep close to Juan Pablo and hopefully have more laps of fuel than him. We had just one and that was close, but not enough."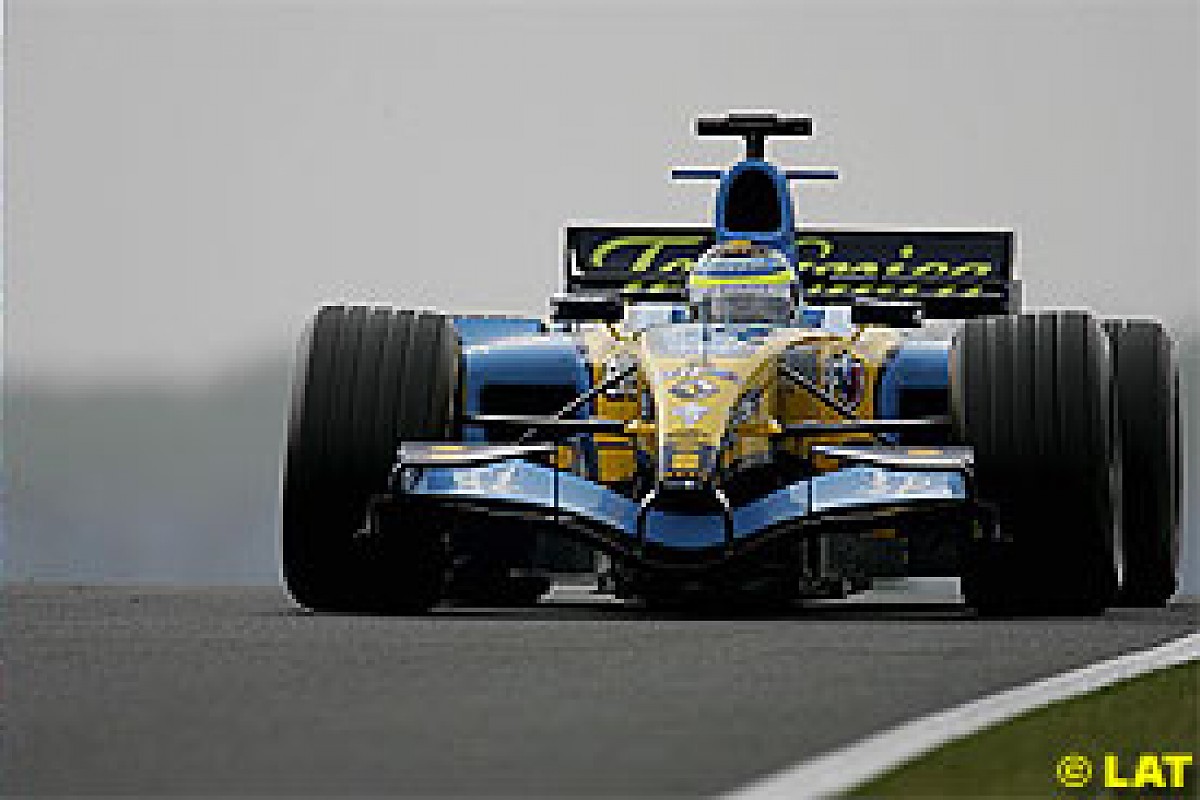 Fisichella was left in the lead but pitted at the end of lap 25, one lap after Michael Schumacher, and his strategy enabled him to jump past Button and push the Briton out of the podium positions and into fourth.
Raikkonen made a clean but ultimately meaningless pass on Alonso, who had stopped earlier and was therefore heavier, before pitting at the end of lap 26 and his long first stint enabled him to climb up to sixth.
The stops left the order with Montoya ahead of Alonso by 2.5 seconds with Fisichella third, Button fourth, Barrichello fifth, Raikkonen sixth, Schumacher seventh and Trulli in the final points scoring position.
Barrichello made a surprisingly early second stop, pitting again on lap 32 having chosen a three-stop strategy, so the remaining drivers all stayed out and Button was the first lead runner to make his second stop.
He came in from at the end of lap 43 by which time Montoya had a 7.1-second lead over Alonso with Fisichella 10.5 seconds back and Raikkonen, promoted to fourth, 21.8 seconds off the lead.
Montoya pitted on the following lap, putting Alonso back in the lead and leaving him with an open track. "The first pit stop we put a lot of fuel on board to go very long in the second stint.
"Before he went in, I kept a two second gap with Juan Pablo in the second stint and then I had four or five laps longer in the second stint which should have helped me to win the race."
While Alonso was trying to go as fast as possible to get the jump over Montoya, his Championship rival Raikkonen pitted on lap 45 along with Barrichello, making his third and final stop.
Alonso's teammate Fisichella then pitted on lap 46 but the unfortunate Italian suffered a repeat of the disaster he experienced in France when his car stalled as he tried to exit the pits.
The team were sheepish and kept very quiet on the cause of the failure, but ultimately it allowed Raikkonen to capitalise and move into an otherwise unachievable podium position in third.
Alonso then stopped at the end of lap 49, having had five laps to gain enough time to overhaul Montoya, but, thanks to some ill-time traffic, he came out close, but behind once again.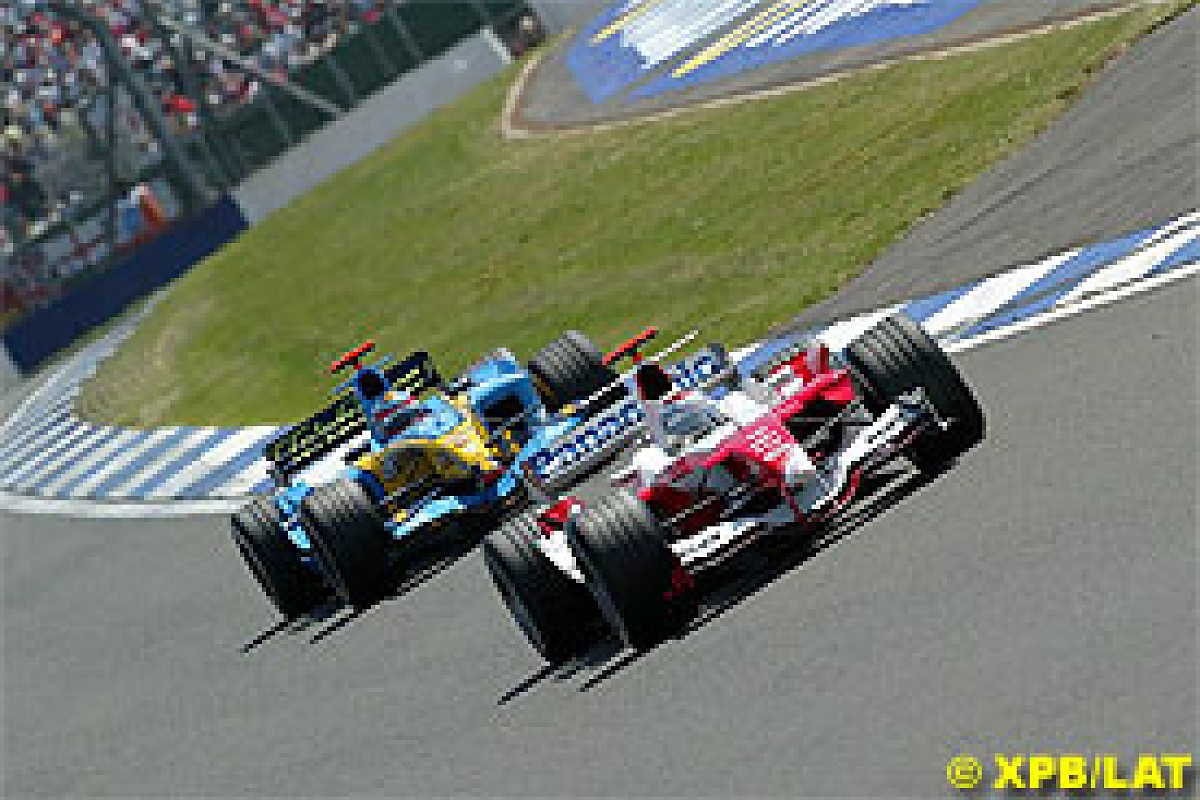 "Those few laps I had to really push but I lost two or three seconds with two guys because the blue flags didn't work at all," said Alonso. "Even with that we were so close at the pit exit."
From then on, Alonso knew that Montoya's habit of making mistakes under pressure was his only hope of victory. "Yeah, I tried after the second stop to push him a bit," he said. "But it was really difficult to overtake.
"I knew the pace of Juan Pablo and me was very similar because all the first stint I was with him, so the last three or four laps Kimi was quite far away so I just relaxed to get the second place."
Montoya made no mistakes and he was able to cruise home for his first victory in the silver colours of McLaren-Mercedes, his first in front of his newborn son, and put a smile back on his face after half a season of torment.
But on the final lap Raikkonen decided to put his foot down to set the fastest lap of the race, two tenths faster than Montoya's best effort, just to make a point. Enough said.
Race Results
Pos  Driver        Team                  Time   
 1.  Montoya       McLaren-Mercedes  (M)  1h24:29.588
 2.  Alonso        Renault           (M)  +     2.739
 3.  Raikkonen     McLaren-Mercedes  (M)  +    14.436
 4.  Fisichella    Renault           (M)  +    17.914
 5.  Button        BAR-Honda         (M)  +    40.264
 6.  M.Schumacher  Ferrari           (B)  +  1:15.322
 7.  Barrichello   Ferrari           (B)  +  1:16.567
 8.  R.Schumacher  Toyota            (M)  +  1:19.212
 9.  Trulli        Toyota            (M)  +  1:20.851
10.  Massa         Sauber-Petronas   (M)  +     1 lap
11.  Webber        Williams-BMW      (M)  +     1 lap
12.  Heidfeld      Williams-BMW      (M)  +     1 lap
13.  Coulthard     Red Bull-Cosworth (M)  +     1 lap
14.  Villeneuve    Sauber-Petronas   (M)  +     1 lap
15.  Klien         Red Bull-Cosworth (M)  +     1 lap
16.  Sato          BAR-Honda         (M)  +    2 laps
17.  Monteiro      Jordan-Toyota     (B)  +    2 laps
18.  Albers        Minardi-Cosworth  (B)  +    3 laps
19.  Friesacher    Minardi-Cosworth  (B)  +    4 laps

Fastest Lap: Raikkonen, 1:20.502

Not Classified/Retirements:

Driver        Team                  On Lap
Karthikeyan   Jordan-Toyota    (B)    11


World Championship Standing, Round 11:

Drivers:                    Constructors:             
 1.  Alonso        77        1.  Renault           102
 2.  Raikkonen     51        2.  McLaren-Mercedes   87
 3.  M.Schumacher  43        3.  Ferrari            74
 4.  Barrichello   31        4.  Toyota             54
 5.  Trulli        31        5.  Williams-BMW       47
 6.  Montoya       26        6.  Red Bull-Cosworth  22
 7.  Fisichella    25        7.  Sauber-Petronas    13
 8.  Heidfeld      25        8.  Jordan-Toyota      11
 9.  R.Schumacher  23        9.  BAR-Honda           9
10.  Webber        22       10.  Minardi-Cosworth    7
11.  Coulthard     17
12.  Button         9
13.  Massa          7
14.  Villeneuve     6
15.  Wurz           6
16.  Monteiro       6
17.  Karthikeyan    5
18.  Albers         4
19.  Klien          4
20.  de la Rosa     4
21.  Friesacher     3
22.  Liuzzi         1


Fastest race laps: Click here
Pitstop times: Click here
Lap by Lap
Pre-race:
Seventh-placed starter Takuma Sato stops coming onto the grid. The race begins without him, although his car remains on the track.

Lap 1: After qualifying on pole position for the fourth time this season - and the seventh in his Formula One career - world championship leader Fernando Alonso is fastest off the line, but Juan Pablo Montoya scorches through from third on the grid, passes Jenson Button before Copse and streaks into the lead at Maggotts. Button settles into third from Rubens Barrichello, Giancarlo Fisichella, Jarno Trulli, Michael Schumacher, Kimi Raikkonen (who started 12th after picking up a 10-position grid penalty in the wake of an unscheduled engine swap), Ralf Schumacher, Jacques Villeneuve, Mark Webber, Christian Klien, Nick Heidfeld, David Coulthard, Felipe Massa, Narain Karthikeyan, Tiago Monteiro (who started last after opting not to complete a qualifying lap following his Friday engine failure), Christijan Albers and Patrick Friesacher. The Safety Car is deployed before the end of the lap, however, to allow Sato's car to be retrieved safely.
Lap 2: Sato joins in, a lap in arrears.
Lap 3: Race restarts and Montoya immediately edges away from Alonso and opens up a 1.3s advantage.
Lap 4: Alonso laps in 1m 22.651s - the race's briskest yet - and cuts his arrears to 1,2s.
Lap 5: Alonso goes around in 1m 22.545s: the gap is 1.0s. Sixth-placed Trulli is being cast adrift from the top five. Raikkonen is all over Michael Schumacher.
Lap 6: Raikkonen lunges at Michael Schumacher into Becketts but slides wide.
Lap 9: Klien runs onto the grass at Stowe and loses 12th place to Heidfeld.
Lap 11: Karthikeyan pulls off to retire. Klien refuels.
Lap 14: Alonso laps in 1m 22.143s and gets within 0.9s of the leader.
Lap 15: Montoya responds: 1m 22.091s...
Lap 16: ...and 1m 21.918s. Albers refuels.
Lap 17: Barrichello (and, farther back, Friesacher) come in.
Lap 18: Alonso laps in 1m 21.840s: the gap is 0.7s.
Lap 19: Villeneuve, Heidfeld and Coulthard all pit.
Lap 20: Button, Trulli and Webber peel into the pit lane.
Lap 21: Ralf Schumacher pits.
Lap 22: Leader Montoya and Monteiro come in. Fisichella laps in 1m 21.509s.
Lap 23: Alonso pits. Fisichella sets a new fastest lap: 1m 21.344s. Villeneuve passes Coulthard at Abbey and Klien follows him through as the Scot runs wide.
Lap 24: Alonso rejoins wheel to wheel with Montoya, but the Colombian edges ahead as they approach Maggotts. Michael Schumacher and Massa pit.
Lap 25: Fisichella pits.
Lap 26: Raikkonen passes Alonso for second on the road, delays the Spaniard for a couple of seconds and then heads for the pits.
Lap 27: With every driver bar Sato having pitted, Montoya leads Alonso, Fisichella, Button, Barrichello, Raikkonen, Michael Schumacher, Trulli, Ralf Schumacher, Webber, Massa, Heidfeld, Villeneuve, Klien, Coulthard, Monteiro, Albers, Friesacher and Sato.
Lap 28: Montoya leads by 3.0s - and he's pulling away.
Lap 31: Sato passes Friesacher.
Lap 32: Barrichello makes his second stop. Sato makes his first.
Lap 35: Montoya loses time behind soon-to-be-lapped Heidfeld, Klien and Villeneuve.
Lap 37: Raikkonen laps in 1m 21.303s.
Lap 38: Villeneuve, Klien and Albers pit.
Lap 39: Raikkonen does a 1m 21.204s. He's taking one second per lap out of Button. Monteiro pits.
Lap 40: Montoya goes faster: 1m 20.732s... Lap 41: ...and 1m 20.700s. Heidfeld pits.
Lap 42: Trulli pits.
Lap 43: Button and Webber come in,.
Lap 44: Montoya pits.
Lap 45: Alonso loses about 1,.8s behind Trulli. Raikkonen and Barrichello - again - come in.
Lap 46: Fisichella and Michael Schumacher pit. Fisichella stalls before rejoining.
Lap 47: Final stops for Ralf Schumacher, Massa and Coulthard.
Lap 49: With about 19s in hand, Alonso comes in.
Lap 50: Montoya sweeps ahead as Alonso rejoins. They end the lap 1.8s apart. Raikkonen, Fisichella, Button, Michael Schumacher, Barrichello, Ralf Schumacher and Trulli are on the same lap. Massa, Webber, Heidfeld, Coulthard, Villeneuve, Klien, Sato, Monteiro and Albers aren't.
Lap 52: Alonso cuts the deficit to 0.9s.
Lap 53: Alonso appears to throttle off and settle for second.
Lap 60: Montoya scores the fifth win of his F1 career - and his first for McLaren - by 2.7s from Alonso. Raikkonen saves his best - 1m 20.502s - until last. Fisichella takes fourth from home favourite Button, Michael Schumacher, Barrichello, Ralf Schumacher and Trulli. Massa is a lapped 10th ahead of Webber, Heidfeld, Coulthard, Villeneuve, Klien, Sato, Monteiro, Albers and Friesacher.