The 2005 Australian GP Review

---
By Will Gray, England
Autosport-Atlas GP Correspondent
The 2005 Formula One season kicked off in Australia, with controversy, confusion and, maybe importantly, a non-Ferrari winner as Giancarlo Fisichella could finally celebrate a Grand Prix victory on the same day he took the chequered flag. Will Gray reviews the events and results from the first race of 2005

Formula One's many parts took a collective deep breath in Australia last week as the sport prepared for what is going to be one of the most intense seasons ever experienced. To play catch-up in a season like this is something all teams would desperately want to avoid so it was vital to make an impact on the very first day of the new season. Vital, too, for the sport, that the impact was made by someone other than Michael Schumacher.
And so the sight of Giancarlo Fisichella standing in his cockpit, arms aloft while his team pushed him down the pitlane and into the winners' enclosure, brought a beam to many faces. All the efforts of the governing body to contrive an odd result by playing around with qualifying were made good by a brief burst of monsoon weather. And while the race may not have been a thriller, the result was all that Formula One could have wanted.
Not that a Renault victory was odd at all. They had expected to be on the pace, it is just that most of their rivals were knocked out in qualifying. But it is just one of 19. And with more races, each single one could be said to count for less, a fact that could explain the reactions of Michael Schumacher when he said his Australian experience had been a positive one. Positive? More like positively awful.
The champion has already admitted he might need the assistance of a tube of superglue to ensure the crown that has become part of his uniform at Ferrari remains firmly stuck to his head when this 19-race roadshow grinds to a halt in Shanghai in mid-October. But his experiences in Melbourne will have left him, a man who does not believe in fate, admitting that fortune might actually be a factor in Formula One after all.
The words good luck do not usually factor in the Schumacher vocabulary and he often steers away from any suggestion that destiny is involved with success or failure, but this time, surely, he could accept that the Gods were at work. Because the Australian Grand Prix was, of course, turned into pure chaos, as Melbourne's famous four seasons arrived together in one of what is now two vital hours of qualifying.
The weekend's results and timesheets offered about as much indication of who will shake out where in the seasonal re-shuffle as do those interesting but ultimately meaningless times read out at the end of each pre-season testing session. What it did say, though, was that there will be, without any shadow of a doubt, a challenge to Ferrari and, quite probably, a new order in the offing.
The results may have displayed little, but the times, the performances and the movers and shakers gave some indication of the way things are headed. Renault looked awesome, their drivers failing to put a wheel out of place with Fisichella winning from pole and Fernando Alonso climbing from 13th on the grid up to third. But Ferrari kept them in check with Rubens Barrichello keeping ahead of Alonso all the way up to second.
The performance of Red Bull Racing was extremely exciting, perhaps one of the most intriguing aspects of the race weekend. Sure, David Coulthard started in fourth thanks to a lucky spin on the weather wheel, but he also finished in fourth, which is no mean feat. Insiders at the team, which is already a whole lot different to its former guise Jaguar, had been confident all along, even if they were hesitant to show it for fear of heightening hopes before the season kicked into action.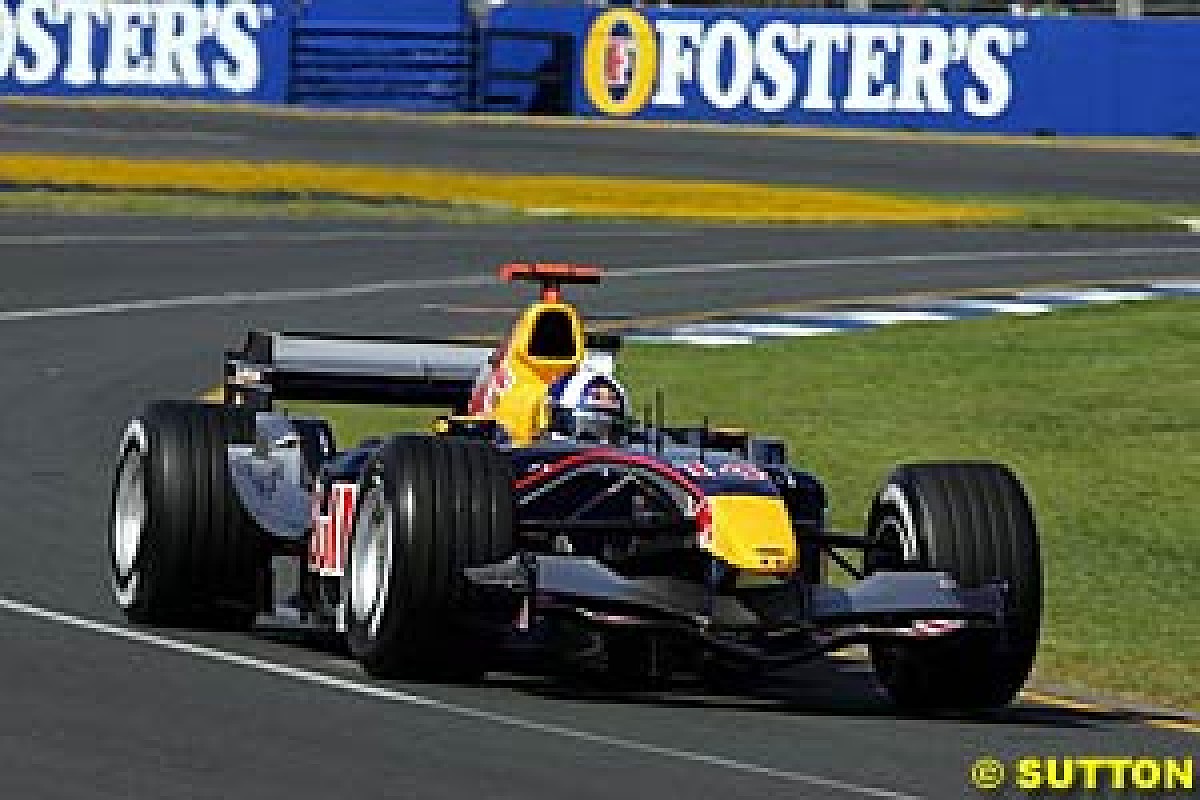 The design team in the wind tunnel have worked hard over the winter, doing so for months with no hopes of even seeing the car they were working on make it to the grid. "We have got a championship to win," one joked when asked last year how they could keep going as Jaguar's bosses wafted hopeful but apparently groundless mumblings of a saviour into the ether. Sure, the Championship is beyond them, but Australia showed that points and maybe even podiums may not be.
Red Bull just seem to have that something that Jaguar did not, that corporate expectation has been replaced with a bubbling desire to do something different and upset the establishment. Of course, though, it is never a good idea to throw pre-season predictions out of the window after the first Grand Prix and tip one team over another on the basis of a single race. Especially considering the topsy-turvy nature of the grid in Australia.
Likewise, although right at the sharp end of the grid, cautious predictions could already put Renault up to challenge the champions. Many mumbled towards the end of last year that the team was fading away and that the end of 2004, when they let BAR-Honda slip right past them, was not at all the way to head into 2005. Not so. It is now perfectly clear that the team were concentrated on making the absolute best this time around rather than getting second best from last year.
The result is a sleek machine, which looks fast and has now proved as much. But Renault technical chief Pat Symonds, while admitting the pace is there for all to see, has already warned against over the top predictions of imminent championships. And right he is. McLaren boss Ron Dennis would have a point to argue on that one after his team failed to shine because of qualifying problems. And so, when the F2005 roars onto the grid, will Ferrari.
The only thing that is clear in trying to set the order for the season is that the teams that had expected to be up there, in the most part, were there. Renault, McLaren, Ferrari, Williams, all of them scored points. BAR did not, again as expected, and Toyota looked to be searching for inspiration yet again despite their new all-star line-up. Red Bull sprung a surprise, but it could be a one-off, Sauber were middle of the road, as ever, Jordan were nowhere and Minardi were heard but not often seen.
It is now impossible to stay away from politics after any Grand Prix event, now more than ever. The Championship is being torn apart by people who cannot agree to put the good of the sport ahead of personal gains and, once again, Minardi's big mouthed boss Paul Stoddart was right in the middle of it. The stubble-chinned chain-smoking Australian is always up for a scuffle but with a paddock made of eggshells these days perhaps his actions were a bit of a mistake.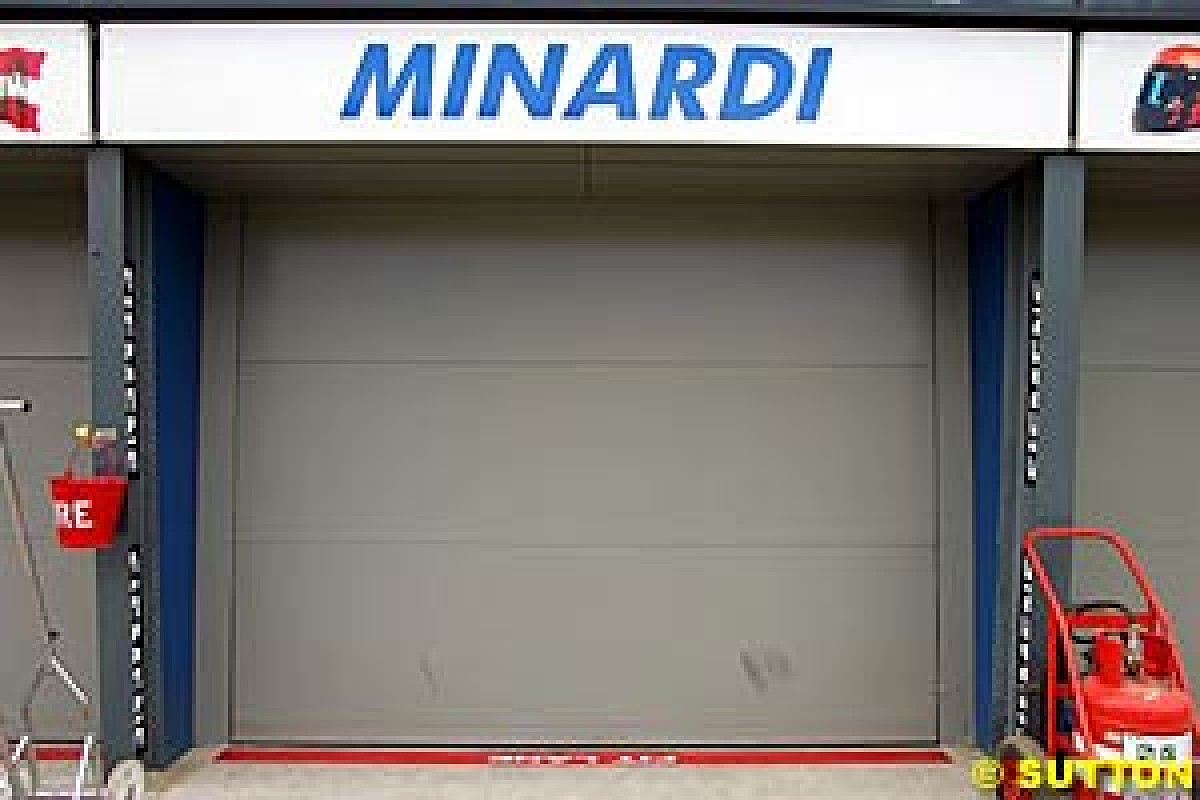 Asking to run illegal cars, no matter how far back you are, because you did not have time to prepare is like an athlete asking, if his fellow athletes would not mind, whether he could possibly just use a few drugs to get him back up to speed because he woke up late in the morning and didn't have time to train. For a man who has always played the card of putting the sport first, this ask was a little too much for many to bear and it helped dirty the image even more.
So what can be read from the opening race of the year? Well, perhaps the single most glaringly obvious revelation from Albert Park was displayed on race day. It has been building up for a while, bubbling over on occasion, but the bickering in the paddock before the race proved that all is far from well with the cogs in Formula One's commercial gearbox. At least though, now, it looks like they might have a decent product to sell.
Another year, another qualifying format. The jury is still out on the new aggregate solution to sorting the grid after rain in the first session ruined any chance of the times changing in the second. The unpredictability of Melbourne's famous 'four seasons in one day' left a jumbled mess of a grid and ultimately affected the race results. Some won, some lost, some liked it, some did not, but it seems that no matter what changes are made to qualifying there will always be something to complain about. That said, with the wild weather it would have made little difference if 'king' Bernie had come out with a top hat, a magic wand and a pack of cards to decide the grid.
Yes, we shall have to wait until that horrible word "aggregate" becomes the accepted norm, and how long the Sunday session will last is anyone's guess, but what the two sessions did prove is that adding two times up is not as complicated as many believed and that, given stable conditions over the two key days of a Grand Prix weekend, the sight of some drivers pushing hard to make up those few tenths that they missed out on in their previous day's run is a mouth-watering prospect.
The Grid
1. Giancarlo Fisichella (Renault)
3:01.460 First qualifying: 1:33.171; Second qualifying: 1:28.289
It was not pure luck that put Fisichella on top of the timesheets at the end of Friday qualifying but it was not without incredible good fortune that he all-but secured his second career pole position with his Saturday afternoon run. On a drying track Fisichella gambled on grooved tyres rather than the intermediates most had been running earlier in the session and, as expected from pre-season testing predictions, his Renault was more than adequate to put him ahead of Jarno Trulli's Toyota. Just how good his lap was would remain unknown, however, as the heavens opened for the next man out and the track was slower for the rest of the session. Rather than taking it easy on Sunday morning, however, Fisichella proved he was on it by setting the second fastest lap and easily held onto the prized pole position.
2. Jarno Trulli (Toyota)
3:04.429 + 2.969 First qualifying: 1:35.270; Second qualifying 1:29.159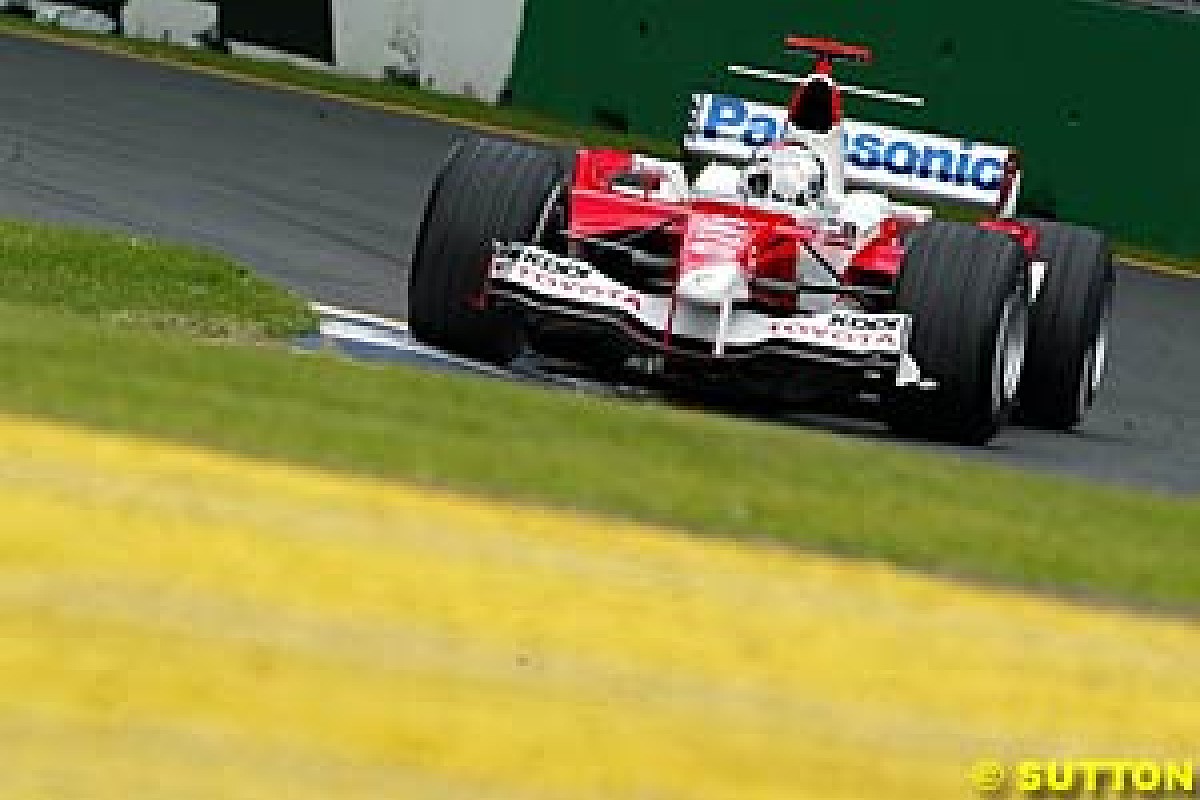 Trulli will openly admit his second place was a lofty height helped purely by the wet weather that prevented the later runners from getting anywhere close to his time. It was an impressive performance, none the less, on the drying track and the fourth-fastest time he set on the following day showed that he was rightfully there - until an early stop in the race proved he was running light in the second session to keep hold of his grid spot. The jury is still out for Toyota and his teammate Ralf Schumacher's time in the dry was probably more representative of their true form.
3. Mark Webber (Williams)
3:04.996 + 3.536 First qualifying: 1:36.717; Second qualifying: 1:28.279
Webber was another driver to admit his time was not representative of his true pace. He did all asked of him in the first session and set a lap better than any that had gone before. The fact he dropped to third was mainly indicative of the rate at which the track was drying and he got the job done in Sunday qualifying when he pushed hard and set the fastest time of the session.
4. Jacques Villeneuve (Sauber)
3:06.846 + 5.386 First qualifying: 1:36.984; Second qualifying: 1:29.862
Villeneuve had to test the water, literally, after being the first driver to opt for dry tyres and after an off on his out-lap he took things cautiously on the wetter corners at the start of his flying run. The balancing act between preciseness and pace was almost painful to watch and he had to settle for fourth having failed to beat Webber and Trulli's earlier times. Then he spun again on his way in. With the gap to Webber too large to overcome he took things easy in his second run and made sure he just did enough to maintain his fourth position.
5. David Coulthard (Red Bull)
3:07.212 + 5.752 First qualifying: 1:38.320; Second qualifying: 1:28.892
A disappointingly cautious run in first qualifying left Coulthard's old critics bemoaning his lack of confidence in the single-lap qualifying runs, which he openly admitted a hatred of throughout last season. But his sensationally committed Sunday morning run, which was bettered only by Webber and Fisichella, jumped him ahead of his teammate Christian Klien and set him up for a sensational debut race with his new team.
6. Christian Klien (Red Bull)
3:07.477 + 6.017 First qualifying: 1:37.486; Second qualifying: 1:29.991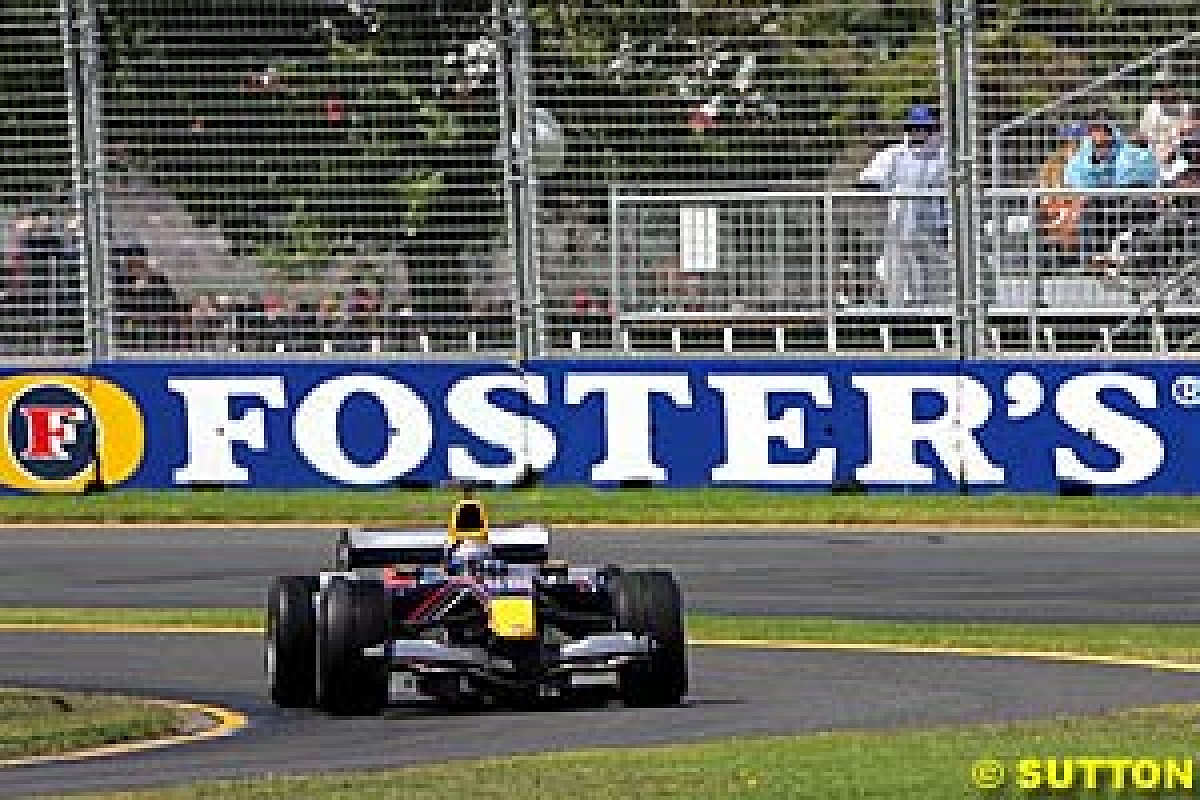 Klien was satisfied when he beat his more experienced teammate David Coulthard by about nine tenths of a second on his first run but was left red faced with a second run that was far too cautious and, with a ninth-best session time that was more than one second slower than the Scot, he became one of only two drivers in the top ten to drop a grid spot on aggregate.
7. Nick Heidfeld (Williams)
3:09.130 + 7.670 First qualifying: 1:39.717; Second qualifying: 1:29.413
Heidfeld was the sixth car on track in the first session and although he put in a solid first run he was almost a second behind teammate Mark Webber when the Australian set his time on the very next lap. His time in the second session was good enough to hold station but once again, compared to Webber, who went out on the supposedly slower track earlier in the session, he finished more than 1.2 seconds behind. Verdict? Must do better.
8. Jenson Button (BAR-Honda)
3:12.128 + 10.668 First qualifying: 1:41.512; Second qualifying: 1:30.616
After all the morbid talk of slow testing times in the build up to the season Button was desperate to get on track and see how his car would truly compare to his rivals. What he saw would not have pleased him. The Saturday session gave him little clue, with the state of the circuit continually changing, but the Sunday run made it perfectly clear - more than two seconds slower than Webber and down in 13th.
9. Juan Pablo Montoya (McLaren)
3:14.645 + 13.185 First qualifying: 1:45.325; Second qualifying: 1:29.320
After winning the last race Montoya was given the honour of running last in first qualifying, but it did him few favours after the mid-session deluge and not only was he only able to post a mid-grid time his cautious lap was not good enough to beat Raikkonen, who had gone before him on a wetter track. First blood to the Finn then, but not for long. A strong run, which was good enough for the fifth fastest time of the morning, left the Colombian beaming as he jumped his teammate and took the ninth place on the grid.
10. Kimi Raikkonen (McLaren)
3:15.558 + 14.098 First qualifying: 1:44.997; Second qualifying: 1:30.561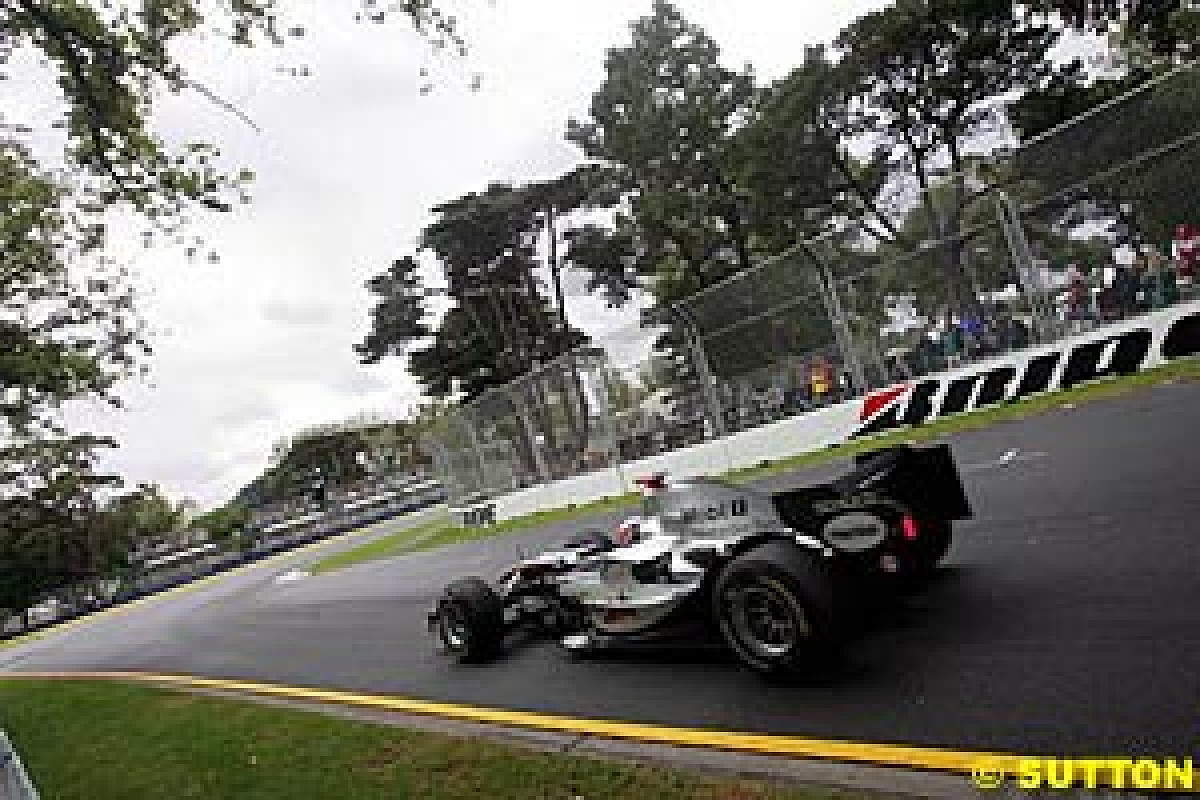 Raikkonen's qualifying experience was almost the same as Juan Pablo Montoya's, only the other way around. The pair were closely matched and while Raikkonen got the better of Montoya in the first session he buckled under the pressure on Sunday morning, made a mistake and gallingly handed the position to his teammate.
11. Rubens Barrichello (Ferrari)
3:16.822 + 15.362 First qualifying: 1:45.481; Second qualifying: 1:31.341
Barrichello was one of the drivers to be badly hit by the weather in the opening session and he did a good job to finish 12th after going out 18th. But his Sunday morning lap was more than three seconds off the pace and interestingly two seconds slower than Montoya in the fastest McLaren. Ferrari were, indeed, no longer the team at the top.
12. Narain Karthikeyan (Jordan)
3:17.092 + 15.632 First qualifying: 1:44.357; Second qualifying: 1:32.735
Rookie Karthikeyan insisted he was not nervous as he prepared for his first ever single-shot qualifying session and he soon proved as much by setting a lap that was more than 2.5 seconds faster than his teammate Tiago Monteiro and good enough to put him ninth in the weather-affected results. His second run was still faster than Monteiro, but in 'true' conditions he was, of course, not able to match the two McLarens and Barrichello, who lurked behind him after the first session and shot past to demote him to 12th.
13. Fernando Alonso (Renault)
3:17.466 + 16.006 First qualifying: 1:47.708; Second qualifying: 1:29.758
Alonso was one of the most disappointed men in the paddock on Saturday. His teammate Giancarlo Fisichella topped the times with a car that was clearly faster than the rest of the grid but when it came to Alonso's turn the track was soaking wet after the mid-session rainstorm and there was little he could do. His time in the second session was good enough to jump him ahead of Jordan's Tiago Monteiro but the second Jordan of Narain Karthikeyan was too far ahead.
14. Tiago Monteiro (Jordan)
3:20.329 + 18.869 First qualifying: 1:46.846; Second qualifying: 1:33.483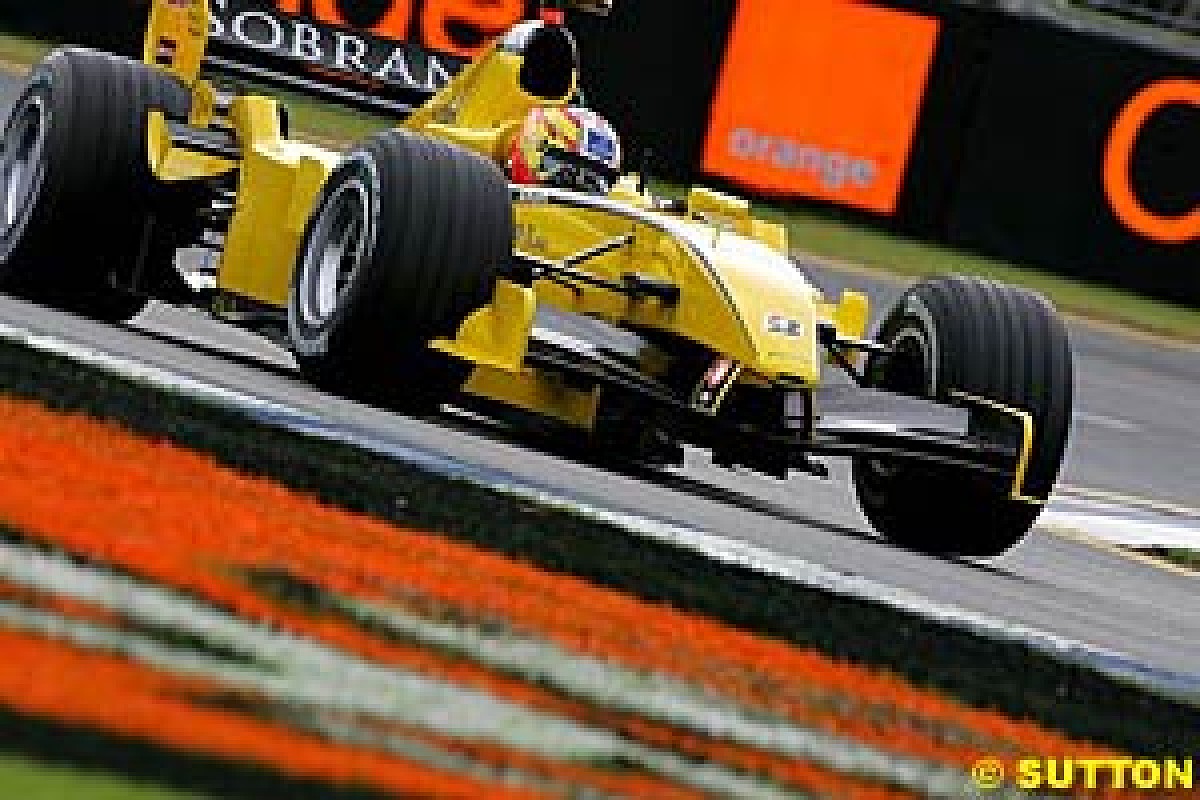 A disappointing lap on his debut for Jordan saw Monteiro finish well behind his teammate Narain Karthikeyan and although he got closer in the second session he still could not beat the Indian and had to settle for 14th on the grid.
15. Ralf Schumacher (Toyota)
3:22.717 + 21.257 First qualifying: 1:51.495; Second qualifying: 1:31.222
Schumacher was the first driver to head out on track after the session had been stopped to clear up the debris of Takuma Sato's crash and the wet track prevented him from setting anything close to a competitive time. He was more than 18 seconds off the pace - although only around six tenths of a second slower than the lap set by Minardi driver Patrick Friesacher on the damp track at the start of the session! He was quick enough to pass the two Minardi cars above him on the timesheets on the Sunday run but still three seconds off the pace.
16. Patrick Friesacher (Minardi)
3:28.363 + 26.903 First qualifying: 1:50.864; Second qualifying: 1:37.499
The Austrian had limited time to prepare after his Minardi team was not allowed to run on Friday because they did not comply with the regulations. After overnight modifications, the cars were not up to speed and, coupled with a moist track at the start of the session, Friesacher was more than 16 seconds off the pace. He was 16th of the 16 runners on Sunday morning, almost ten seconds off the leaders' pace, but he was not helped by his team's political manoeuvering.
17. Christijan Albers (Minardi)
No time; First qualifying: 1:49.230; Second qualifying: -
Dutch driver Albers set the 15th fastest time in the first session, hampered by a moist track and an unprepared car and he dropped two places on Sunday after a problem prevented him from getting out in time to beat the red light when his pit departure window timed out.
18. Michael Schumacher (Ferrari)
No time; First qualifying: 1:57.931; Second qualifying: -
World Champion Schumacher knew he was going to struggle for pace in Australia, but he could not have expected this. Of course, it was down to bad luck - a rarity for Formula One's golden child - and many jibed that it was about time the German got an unlucky break. His time, set as heavy rain was teaming down around the circuit, was so bad he did not bother coming out for the second session and changed his engine for the race instead.
19. Felipe Massa (Sauber)
No time; First qualifying: -; Second qualifying: -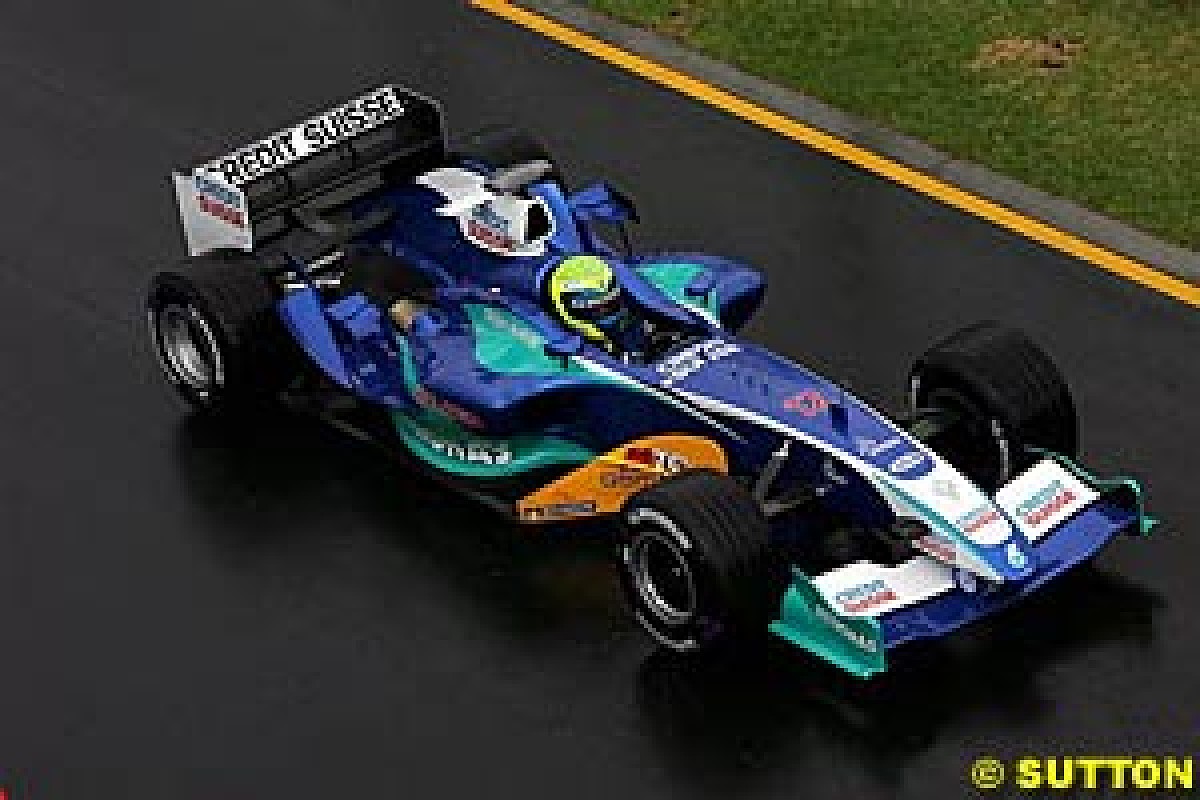 Brazilian Massa was the unluckiest man on the circuit on Saturday, although he was actually lucky to stay on it! Following Fisichella, he was out on dry tyres when the rain began right at the start of his flying lap and he was so slow that Michael Schumacher, who had the benefit of a few seconds to change to intermediate tyres before he went out, overtook him on his out lap as Massa pootled through his 'flying' lap before giving up and pulling into the pits. With no time in the first session, there was no point setting one in the second, so he chose to stay in the garage and have an engine change instead.
20. Takuma Sato (BAR-Honda)
No time; First qualifying: -; Second qualifying: -
Sato followed Schumacher out as the rain that had soaked the track in seconds began to ease up. His team radioed him to warn him of the rain, asking him to take it easy on his out-lap and get the feel of the track. His reply? Simple. "It's too late." And what is worse for the red-faced Japanese driver was that the decision to allow more pit-to-car radio broadcasting enabled this excruciating exchange to be heard by the world! Like the other runners with slow or no times, Sato chose to take an engine change and a lazy Sunday morning rather than set a time in the second session.
The Race
After the unpredictability of the first qualifying session on Saturday and the routine but relatively pointless second run on Sunday morning there was great anticipation of overtaking aplenty as the cars and drivers lined up to take the start.
New faces were still hard to fit in new places, particularly Italian Jarno Trulli, who lined up in second place in the Toyota but whose name would more appropriately still fit with his old Renault team considering the position he was in.
The excitement was soon dimmed when the lights flashed orange as Kimi Raikkonen sat in his McLaren waving his arms. The Finn had stalled and, thanks to a new regulation aimed at reducing delays from false starts, he had just thrown away his top ten grid spot.
Rather than stopping the start sequence and giving teams five minutes to prepare for a second start, the cars were set away immediately for their second installation lap and Raikkonen's car was pushed to the pits after the rest of the field had snaked their way around him.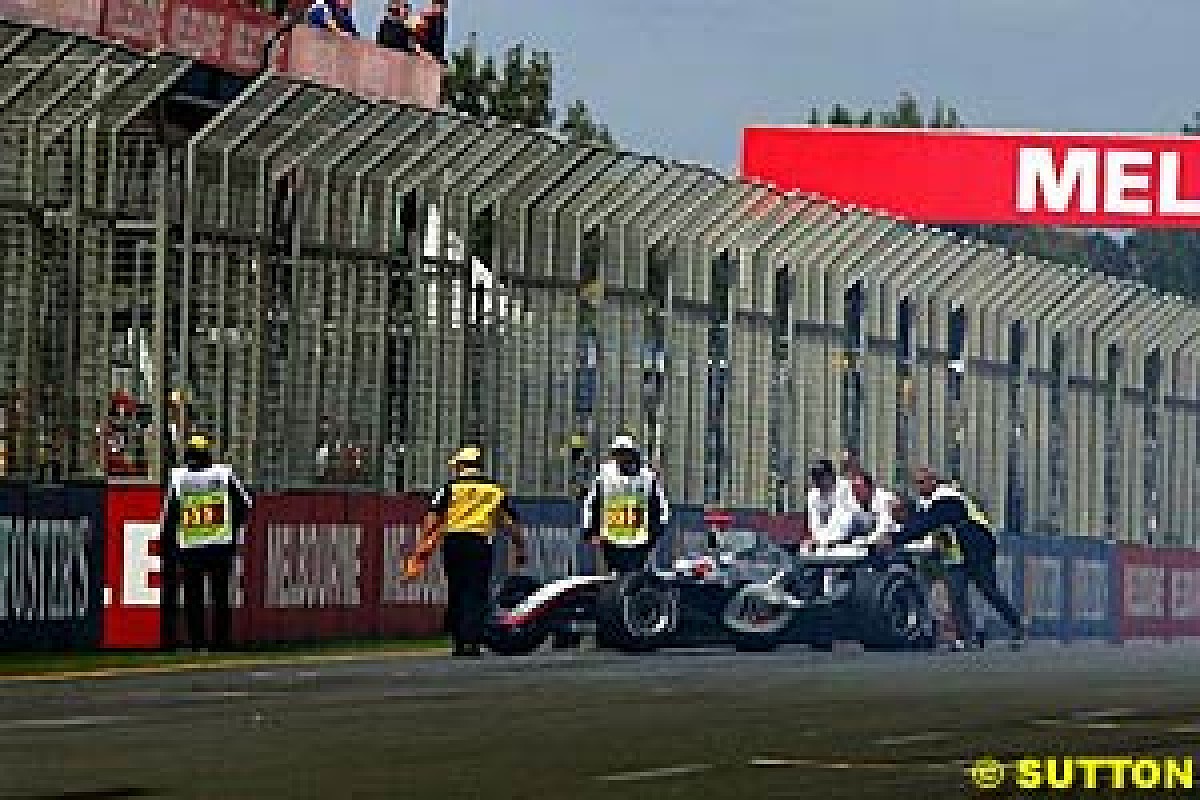 And so, a potential championship challenger was left in the pitlane as the rest of the cars on the grid watched the red lights slowly disappear until the race, and the 2005 season was go and the 19 cars roared into the first corner.
Fisichella and his fast-starting Renault machine made a perfect get-away to make it into the first corner well ahead of Trulli in second while David Coulthard, in his Red Bull Racing car, took an inadvertent gamble and shot past Jacques Villeneuve and Mark Webber to steal third.
Coulthard was thankful Webber had given him room but he admitted: "That first corner? Well, what surprised me was that I intended to be cautious! But when you see a gap you go for it. Afterwards, I thought it was a bit more risky than I was intending."
Behind Coulthard, Villeneuve dropped like a stone and was down in ninth at the end of the first lap after starting fourth. Nick Heidfeld jumped Christian Klien to latch onto the back of his teammate Webber, and Jenson Button was a big loser, dropping from eighth to 11th.
Juan Pablo Montoya moved up two to eighth thanks, in part, to his teammate Raikkonen's enforced pitlane move while Fernando Alonso also benefited and slipped immediately into the top ten after starting from 13th spot on the grid.
Meanwhile, at the back, World Champion Michael Schumacher started from 18th and was up to 15th by the end of the first lap while Raikkonen was right behind him, clearly had the faster car, and was hounding him for to find an overtaking spot throughout the opening laps.
Raikkonen's pressure and Schumacher's attention on his mirrors rather than the road ahead ensured the pair failed to progress any further through the field and the Finn admitted: "In the opening stages I was stuck behind Michael Schumacher. I was faster, and that lost me some time."
The positions remained static throughout the entire field as the race laps ticked over and over but Alonso was trying hard to change that as he weaved around the back of Villeneuve's Sauber trying to find a way past as his teammate stretched out the lead.
He finally got past on lap six but Villeneuve is not a former World Champion for nothing, and he does not like being overtaken. He launched straight back at the Renault and retook his position to leave the Spaniard fuming inside his helmet.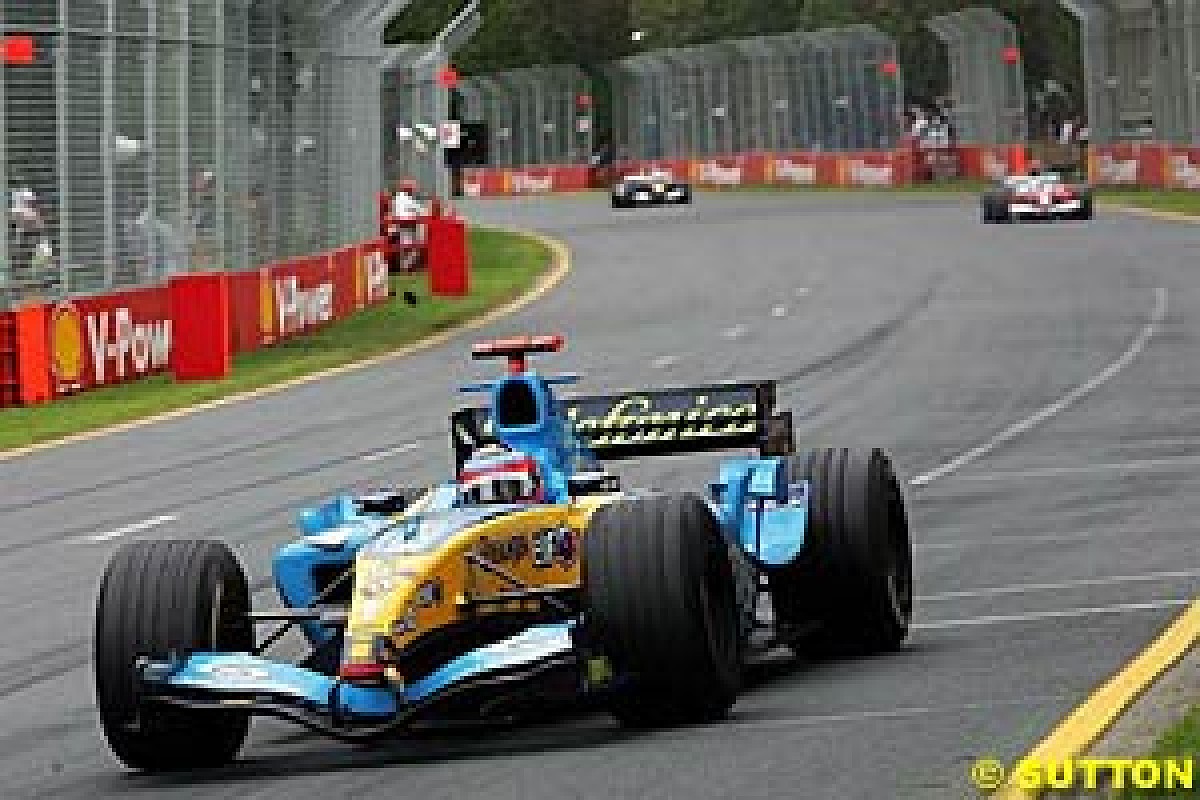 Alonso went across the grass and damaged his car slightly as he continued his efforts to pass three laps later but it was all to no avail and he had to wait a further eight laps before he finally found a way past the slower car.
"I was two or three times in the grass because I knew it was an important part of the race, those laps behind Jacques," said Alonso. "I was really pushing very hard with maximum fuel load. It was difficult to drive but the car was getting quicker on each lap."
Meanwhile, back at the front, Coulthard did his best to throw away his fourth place when he clipped Minardi backmarker Patrick Friesacher as he went to pass him on lap 16 and that mistake or confusion, call it what you will, opened the door for Webber to make a move.
Coulthard almost pushed Webber off the track and admitted: "I nearly ran Mark off the circuit, which was not intentional. I was just so uncertain where I was on the track. It broke a winglet off the car, which helped reduce the front downforce and that was actually good because the car had been oversteering."
But Webber admitted he had to go for the gap and explained: "I lost my position to Coulthard at the first corner, when I was looking after my tyres and trying not to lock my wheels, and after that I was stuck behind him, which was a bit frustrating."
Dutch Minardi driver Christijan Albers became the first retirement of the year on lap 16 after losing first and second gears while Ralf Schumacher appeared to be struggling with a loose seatbelt as he made two stops to fix the problem while teammate Trulli sat in second.
Trulli, unsurprisingly, was the first of the lead bunch to make his pitstop for fuel (but not tyres, due to the new regulations) on lap 18 with Heidfeld also pitting at the same time. Webber came in two laps later at the same time as Klien, and Coulthard followed in one lap after that.
Fisichella and Montoya, who by this time was up to second in the McLaren having fuelled up heavy, both pitted on lap 23 and, with Barrichello and Alonso the final two top runners to stop two laps later, the order shook out to start the next static part of the race.
The cancellation of tyre changes proved to make little difference to the pitstops as they had always been limited by the fuel intake time rather than the mechanics' speed on the wheel guns, and the much of the positions in the second part of the race were based on the cars' relative fuel loads.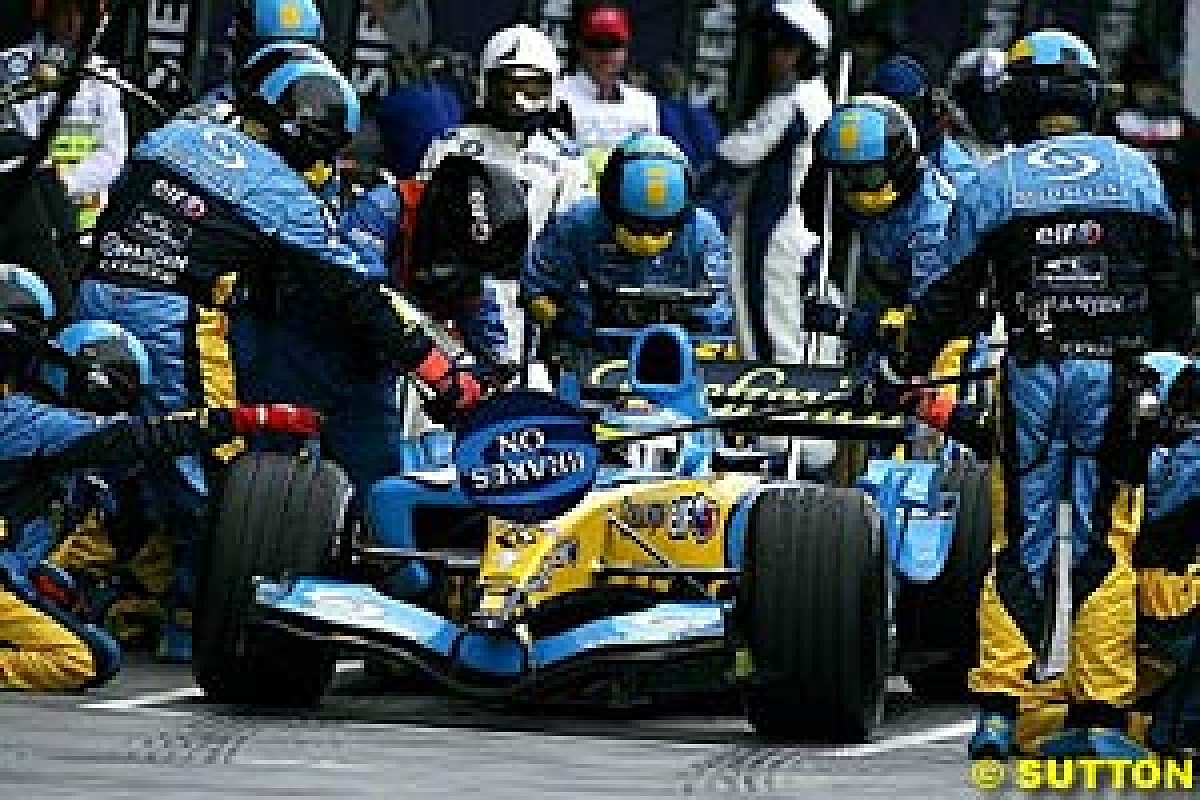 On lap 26, with all the top stops completed, Fisichella was back in front with Coulthard now in second after Trulli tumbled four places to sixth. Webber was still behind Coulthard while Barrichello had jumped past Heidfeld, Klien and Montoya and into fourth.
Montoya also passed Heidfeld and Klien during the stops and was up to fifth while Alonso, who had been just behind Barrichello throughout the early running, now had Montoya and Trulli between himself and the lead Ferrari driver.
Michael Schumacher was the last but one man to pit when he made a quick stop on lap 27 after climbing up to 11th place and he dropped back to 14th as the race headed into its second period with the leader Fisichella holding a comfortable 12-second lead over Coulthard.
Alonso managed to find his way past Trulli on lap 30 to move up to sixth but there was little he could to do reel in Montoya ahead of him and the gap remained relatively constant at around six seconds. Portuguese newcomer Monteiro then spun his Jordan on lap 37 but was able to continue.
Coulthard, incredibly, was able to maintain the gap to Fisichella but could do nothing more to catch him and he dropped three-and-a-half seconds on lap 39. "I think I lost a lot of time in traffic," he said afterwards. "It seemed like I had to overtake six Jordans out there!"
Webber, who had been running third, pulled into the pits to begin the second round of pitstops on lap 39 and was followed in by ninth-placed Raikkonen, whose team also dealt with some loose bodywork during his stop. "My deflector came off and went underneath the car," he said. "The team removed it but the loss obviously affected the handling of my car in the closing stages."
Heidfeld was in on the next lap before leader Fisichella, second-placed Coulthard, fourth-placed Montoya and Michael Schumacher, was had by now risen up to seventh place after a few of the runners had pitted before him, all made their second stops on lap 41 to leave Alonso in the lead.
Schumacher's stop put him out right in front of Heidfeld and in the run-in to turn three he pushed the Williams wide before the pair collided. "I made a good move," claimed Heidfeld. "Michael just came out of the pits and obviously he had a bad exit from the first chicane because he wasn't on the ideal line.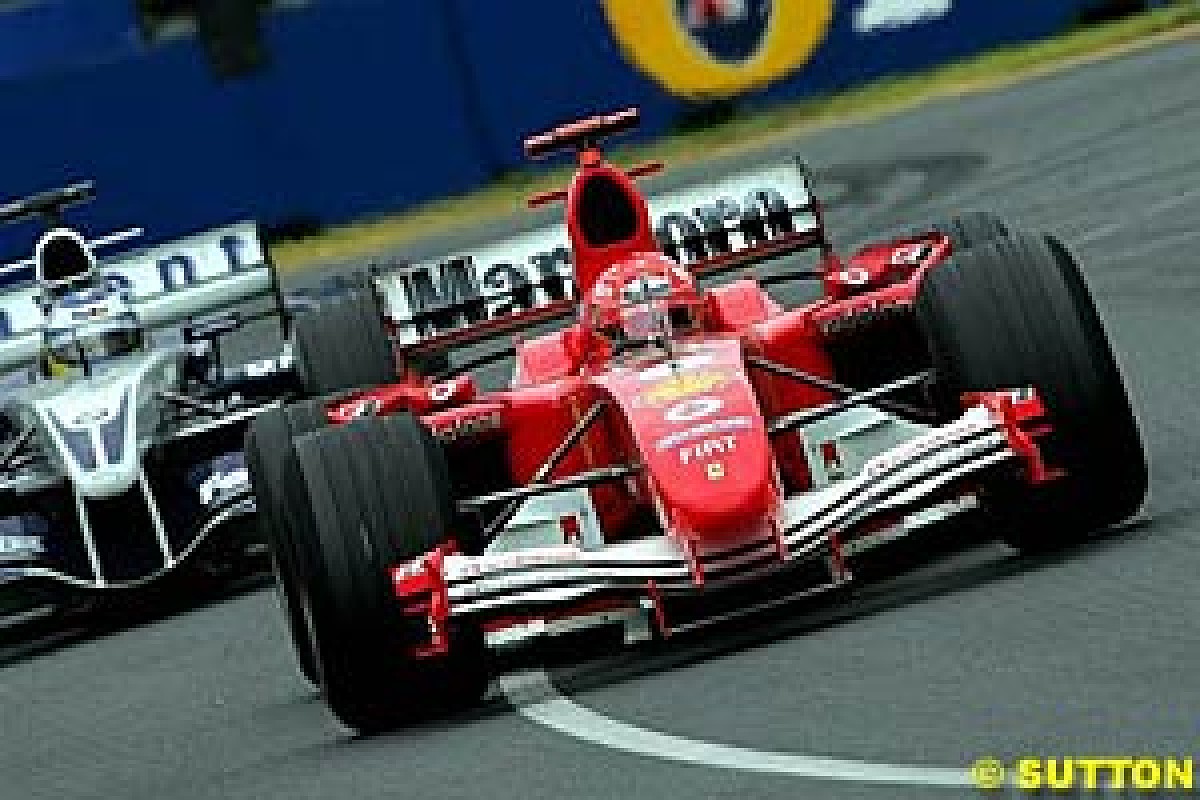 "I went alongside him and I could have out-braked him but he didn't leave me any space and pushed me on to the grass, where braking is obviously impossible. Apart from this unfortunate end to my race, we had a good weekend here, probably better than expected and Mark finished in the points."
"It is impossible to blame either one of us," retorted Schumacher. "I saw him behind me just as I came out of the pits and I made it clear I was defending my position. Heidfeld was on the grass and so was not in full control of his car, but I can't blame him for trying to overtake me."
The incident left both in the gravel, but Schumacher being Schumacher sat and called the marshals out to push him back onto the track. They duly did so, because he was deemed to be in a dangerous position, but his car was too badly damaged to carry on and his race had come to a disappointing end.
Barrichello pitted on the lap after the collision and his stop enabled him to gain a place and come out ahead of Coulthard. Alonso pitted from the lead on lap 45 and dropped back behind Barrichello but had been able to climb past Webber, Coulthard and Montoya to slot into third.
Barrichello set about pressuring Fisichella but the Italian never felt threatened. After the race, he admitted: "I never pushed to the limit, only at the end when Rubens was catching me and I drove a little bit faster and I drove a quick lap time."
The two BAR drivers Button and Sato both pulled into the pits to give themselves the option of fitting a new engine without penalty for the next race in Malaysia but both drivers were cautious when interviewed at the end of the race. "We were called in, we had a problem," said Button, steering away from controversy.
But team boss Nick Fry jumped feet first into the argument over whether their use of a loophole in the rules was fair or not by admitting the obvious. "At the end of the race we chose to bring both cars into the pitlane," said Fry. "As we weren't in the points, we might as well take advantage of the rules as we see them, and give the drivers a new engine for next time round."
Fisichella crossed the line 5.553 seconds ahead of Barrichello but it could easily have been much, much more, as the Italian had been ultra cautious to avoid over-stressing the engine that he will now have to use for the next race in Malaysia.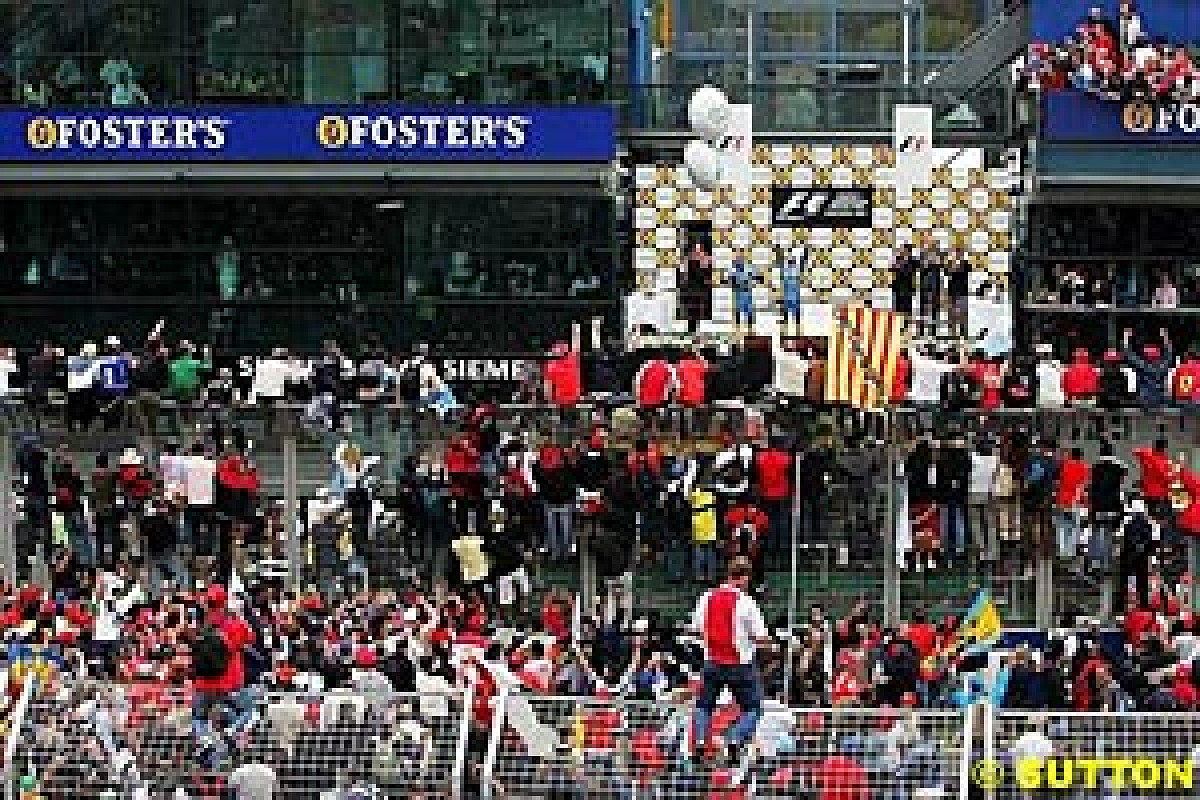 Coulthard was delighted to silence a few critics with a solid fourth place, Montoya upset team boss Ron Dennis for throwing away what he believed could have been a podium finish while Schumacher was left a little bemused in defeat.
The German insists he is up for the fight, however, and, remember, with the F2005 still on the test tracks Ferrari are yet to show their full hand. But despite the reasonable pace of the F2004M in Australia, there is no question they pushed the mini panic button at Ferrari.
Second place is no mean feat for a car that had its origins one year earlier than the rest of its rivals. But ignore the veiled pre-season talk: Ferrari would not go into a race without wanting to win. They failed. And the men from Maranello do not like to fail.
Renault did exactly what they needed to do. They put in a strong performance, kept Ferrari at bay in a time that the World Champions were expected to struggle and they got their Constructors' Championship challenge off to a near perfect start.
For Ferrari it was damage limitation, and second place more than meets that requirement. But it was clear after the race that with Renault on the pace and McLaren ready for the chase Ferrari cannot wait around. And that F2005 debut now looks more urgent than ever.

Race Results
Pos  Driver        Team-Engine                Time        
 1.  Fisichella    Renault           (M)  1h24:17.366
 2.  Barrichello   Ferrari           (B)  +     5.553
 3.  Alonso        Renault           (M)  +     6.712
 4.  Coulthard     Red Bull-Cosworth (M)  +    16.131
 5.  Webber        Williams-BMW      (M)  +    16.908
 6.  Montoya       McLaren-Mercedes  (M)  +    35.033
 7.  Klien         Red Bull-Cosworth (M)  +    38.997
 8.  Raikkonen     McLaren-Mercedes  (M)  +    39.633
 9.  Trulli        Toyota            (M)  +  1:03.108
10.  Massa         Sauber-Petronas   (M)  +  1:04.393
11.  Button        BAR-Honda         (M)  +     1 lap
12.  R.Schumacher  Toyota            (M)  +     1 lap
13.  Villeneuve    Sauber-Petronas   (M)  +     1 lap
14.  Sato          BAR-Honda         (M)  +    2 laps
15.  Karthikeyan   Jordan-Toyota     (B)  +    2 laps
16.  Monteiro      Jordan-Toyota     (B)  +    2 laps
17.  Friesacher    Minardi-Cosworth  (B)  +    4 laps

Not Classified/Retirements:

Driver        Team                  On Lap
M.Schumacher  Ferrari          (B)    42
Heidfeld      Williams-BMW     (M)    42
Albers        Minardi-Cosworth (B)    16


World Championship Standing, Round 1:                

Drivers:                    Constructors:             
 1.  Fisichella     10       1.  Renault           16
 2.  Barrichello    8        2.  Ferrari            8
 3.  Alonso         6        3.  Red Bull-Cosworth  7
 4.  Coulthard      5        4.  Williams-BMW       4
 5.  Webber         4        5.  McLaren-Mercedes   4
 6.  Montoya        3       
 7.  Klien          2       
 8.  Raikkonen      1     
      

Fastest Race Lap: 1:25.638, F. Alonso - Renault (M)
Click here for all fastest laps
Pitstop Times: Click here for all pitstop times
Lap by Lap
Lap 1: The initial race start is aborted after tenth-fastest qualifier Kimi Raikkonen stalls. The Finn's car is pushed to the pits while the remainder of the field completes an extra formation lap. Having qualified on pole position for the second time in his Formula One career, Giancarlo Fisichella makes a clean getaway to lead into the first turn. Jarno Trulli consolidates his front-row start and claims second from David Coulthard, up from row three. Williams team-mates Mark Webber and Nick Heidfeld head the chase, from Christian Klien, Juan Pablo Montoya, Rubens Barrichello, Jacques Villeneuve (a tardy start from row two), Fernando Alonso, Jenson Button, Ralf Schumacher, Felipe Massa, Takuma Sato, Michael Schumacher, Raikkonen (who joined in from the pit lane), Tiago Monteiro, Narain Karthikeyan, Patrick Friesacher and Christijan Albers.
Lap 2: Alonso and Raikkonen are all over Villeneuve and Michael Schumacher respectively, but there's no way through.
Lap 5: Fisichella laps in 1m28.387s - his best yet - and extends his lead to 1.8 seconds.
Lap 7: Alonso's pressure on Villeneuve pays off - but his tenure of ninth place lasts only fleetingly before the Canadian reasserts himself.
Lap 9: Trulli reduces the fastest lap to 1m27.682s but remains two seconds adrift. Alonso clips the grass in his pursuit of Villeneuve.
Lap 10: Fisichella ups his pace to 1m27.692s...
Lap 12: ...and 1m27.390s.
Lap 14: Fisichella catches the tail-end Minardis but laps them without significant delay.
Lap 15: The order remains as it was at the end of the opening lap. Fisichella leads by 3.3s.
Lap 16: Coulthard clips one of the Minardis during lappery. The momentum lost allows Webber almost to draw alongside, but he is teased towards the grass for his troubles. The order remains unchanged. Friesacher makes the season's first refuelling stop.
Lap 17: Alonso passes Villeneuve. Coulthard sets the race's fastest lap so far - 1m26.855s.
Lap 18: Trulli, Heidfeld and Albers pit - permanently in the latter's case.
Lap 19: Ralf Schumacher refuels.
Lap 20: Webber and Klien come in. Off the leash, Alonso laps in 1m26.573s.
Lap 21: Coulthard pits. Ralf Schumacher makes a second stop. Alonso ups the ante to 1m26.473s.
Lap 22: Villeneuve pits.
Lap 23: Fisichella and Montoya - now third on the road - come in. Barrichello temporarily inherits the led. Alonso laps in 1m26.066s.
Lap 24: Alonso is the first driver below 1m26s - 1m25.683s.
Lap 25: Barrichello, Alonso and Raikkonen stop. Barrichello rejoins fourth, Alonso just fails to pinch sixth from Trulli.
Lap 26: Michael Schumacher - still only 11th - pits. He rejoins behind race-long shadow Raikkonen.
Lap 27: Massa is the last driver to come in.
Lap 28: With the whole field having stopped at least once, Fisichella leads by 12 seconds from Coulthard, Webber, Barrichello, Montoya, Trulli, Alonso, Klien, Heidfeld, Raikkonen, Michael Schumacher, Villeneuve, Button, Sato, Massa, Ralf Schumacher, Karthikeyan and Friesacher.
Lap 30: Alonso passes Trulli for sixth and immediately starts closing on Montoya.
Lap 36: Trulli makes his second scheduled stop and drops to 11th. Monteiro spins at Turn 13 and rejoins.
Lap 39: Webber, Raikkonen and Villeneuve refuel. Webber rejoins sixth.
Lap 40: Klien, Sato and Ralf Schumacher come in. Button passes Trulli for 11th.
Lap 41: Webber locks up and almost cedes a place to Michael Schumacher. Button pits.
Lap 42: Fisichella, Coulthard, Montoya and Michael Schumacher all pit. Barrichello takes the lead for a bit.
Lap 43: Heidfeld and Schumacher clash at Turn Three. The Williams driver remains embedded in the gravel, the world champion retires to the pits.
Lap 45: Fisichella regains the lead as Alonso pits. The Spaniard rejoins third, just behind Barrichello - who has made tremendous, stealthy progress throughout the afternoon. With all drivers having completed their scheduled stops, Coulthard lies fourth from Webber, Montoya, Klien, Raikkonen, Trulli, Massa, Button, Sato, Villeneuve, Ralf Schumacher, Karthikeyan, Monteiro and Friesacher.
Lap 55: With Barrichello having reduced Fisichella's lead to 6.1s, the Italian posts a 1m25.994s - his fastest lap of the afternoon - to remind his pursuers what he has in reserve.
Lap 56: Sato pits.
Lap 57: Fisichella scores the second victory of his F1 career, from Barrichello, Alonso, Coulthard, Webber (who equals the best result of his grand prix career - fifth for Minardi in 2002's corresponding race), Montoya, Klien, Raikkonen, Trulli, Massa, Button (who pits on the final lap), Ralf Schumacher, Villeneuve, Sato, Karthikeyan, Monteiro and Friesacher.