Pacific '95: the runners & riders
Race report: Schumacher reigns supreme
He may only have needed three points to seal his second world title, but Michael Schumacher clinched the 1995 championship in emphatic fashion with a truly brilliant victory in Aida
By Nigel Roebuck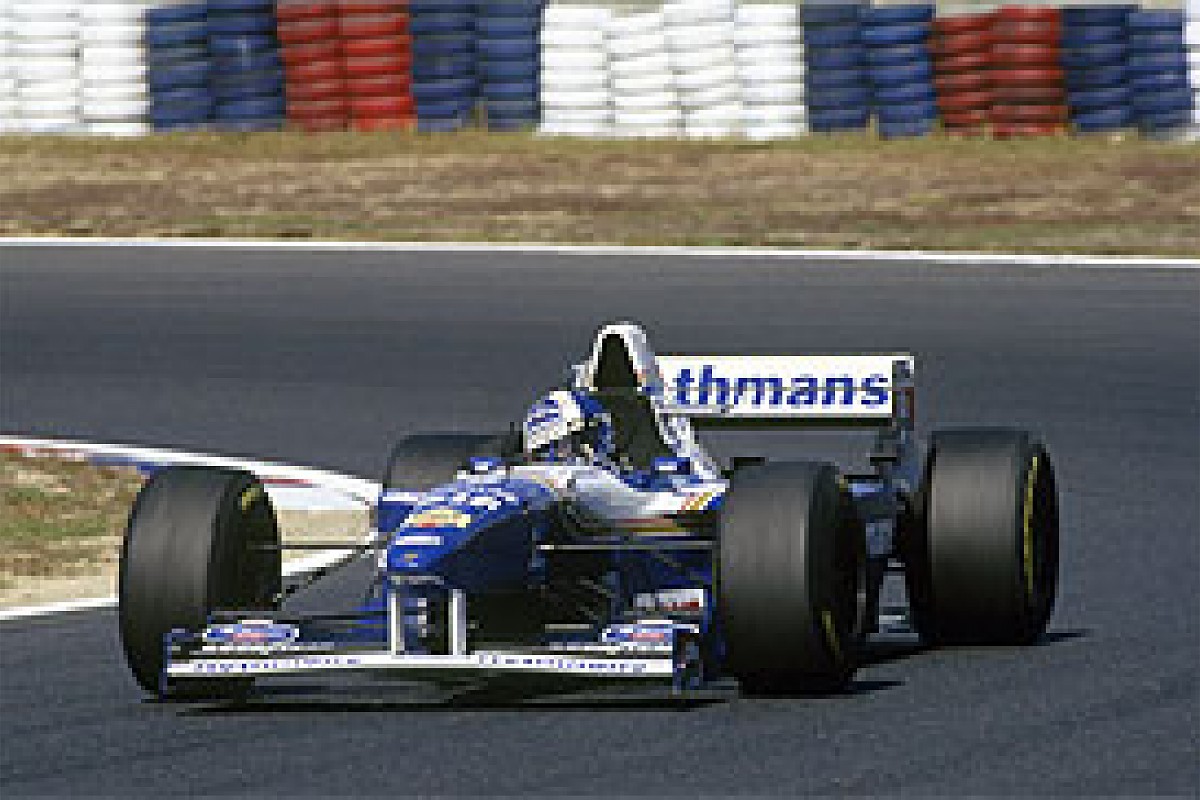 Before the race Michael Schumacher said that this time he would be happy with third place, with the points which would confirm his second world championship. Mind you, he added that he felt that the way at the Nurburgring and look what happened there. It was all a matter of circumstance, of how the race developed.
In fact, the European and Pacific Grands Prix - the two bastard races of the season - panned out exactly the same way, Schumacher taking a legitimate ten points from each and clinching his title in the most satisfying manner.
At Aida, as at the Nurburgring, qualifying confirmed that his Benetton was not the equal of the Williams, yet when it mattered, on race day, a combination of Michael's matchless ability and Benetton's unequalled operating skills came together in absolute and unbeatable harmony. Third on the grid, first past the flag, as we have come almost to expect.
Qualifying: Four on the trot for Coulthard
Make hay while the sun shines. That was the feeling that sprung to mind watching David Coulthard's serene progress around the confines of the Tanaka International Circuit on Friday and Saturday.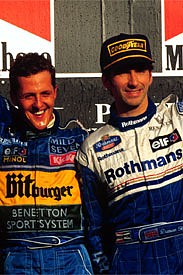 David Coulthard (Williams FW17B Renault) © LAT
For the moment, Coulthard is making the best of a Williams FW17B. He was not in Aida last year, but that seemed to matter little. He was quickest on Friday and then again in the final hour, taking his fourth consecutive pole position and fifth of the season.
Coulthard only had one regret - his final run on Saturday afternoon. Not that there was anything wrong with it. In fact, he trimmed 0.17s from his Friday time to make his pole position more secure. The point was, he could have spared himself the effort and, more importantly, the tyres.
"The tyres are going away so quickly here that I think you might even see some people stopping four times," one driver said on Saturday night.
Michael Schumacher set a 1:14.52 best on Friday and when his first couple of runs on Saturday afternoon produced nothing more spectacular than 1:16.0, you did not need to be Einstein to realise the world champion was on a rubber conservation exercise.
From the speed he was negotiating the pit entry as well, it was obvious that the Benetton stopwatches were out and strategy calculations were under way.
Schumacher eventually had one tilt at a qualifying run, but his 1:14.28 lap was 0.07s away from Damon Hill's second-placed Williams. The track/tyre situation meant that the drivers had one realistic attempt on each set of rubber, so Schumacher had to settle for third place.
"When I was quickest on Friday morning I thought I might be in with a chance of pole," he explained. "I haven't had one since Montreal but, as things turned out, the tyre strategy was more important."
Coulthard admitted he was possibly right: "With hindsight the last run wasn't really necessary, but I couldn't be too sure what Michael was going to do. My first run wasn't a very good lap and I had to do a time in case Michael improved.
Hill also played safe with tyres and didn't go for a final run: "There is a big advantage on new rubber here and Michael had saved quite a few sets by the look of it. He got close, but if he'd gone ahead it may have even been an advantage because I would have been on the clean side of the track."
Race
David Coulthard and Damon Hill started from the front row, and finished second and third, the only other drivers to complete the full distance. Gerhard Berger, flat-out all afternoon in the Ferrari, took fourth and was lapped, and with teammate Jean Alesi fifth, and Johnny Herbert's Benetton sixth. As usual, only three men were truly in contention.
After qualifying on pole position for the fourth consecutive time, Coulthard again set the pace in Sunday morning's warm-up session, running at first on a set of wet tyres, despite the fact that the new day was again sunny and warm, which served to remind us of the rubber problems presented by Aida.
So little grip is on offer from the track surface here that a set of new tyres gives a worthwhile increase in grip for only a handful of laps - but that increase, everyone recognised, could be gold in the right circumstances. A minimum of two, and more probably three, stops were anticipated by all the major teams, and he was a wise driver who had saved for the race as many mint sets as possible from the seven allocated for the weekend. Coulthard and Hill had two apiece, but Schumacher, significantly, had three.
In the warm-up, however, Michael was plainly struggling with an unwieldy looking Benetton, and eventually slid wide over a kerb, flattening his car's left-hand barge board, and slightly cracking the monocoque, which was repaired by the end of the session.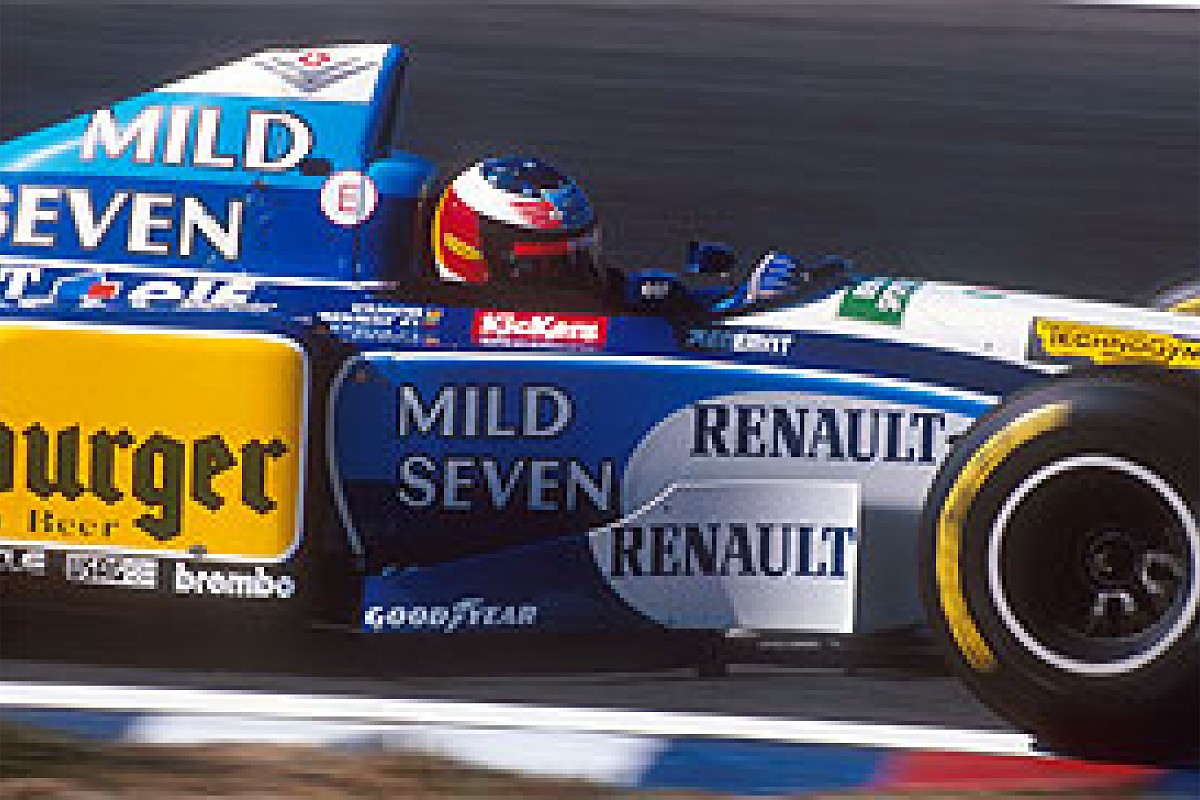 Michael Schumacher (Benetton B195 Renault) © LAT
He had another worry, too. "In the warm-up I had some unusual vibrations in the car, which seemed to disappear towards the end, but came back again in the installation lap. We checked everything, but I wasn't confident at the start of the race."
Second fastest in the warm-up, remarkably, was Jean-Christophe Boullion's Sauber, which just might have been running with less than a full fuel load, and Hill had the third fastest time, thoughtfully switching to the T-car late in the session, specifically to clean the 'dirty' right side of the pit straight from which he would be starting.
It had worried Damon that Schumacher, starting third on the clean line, might just get the jump on him on the run down to the first turn, and this Michael very nearly did, making an attempt to get by on the outside. Hill was having nothing of that, thank you, and the two very nearly touched. Ultimately, they sorted themselves out, but not without cost. Another spat was in prospect.
"I had a pretty good start," Schumacher said, "and went outside Damon at the first corner. He was very obviously pretty determined not to let me past and tried to push me out. I wasn't upset about it, because I expected it, but it was disappointing that he concentrated a bit too much on me, which let the two Ferraris get by us. At one point it was close, but if he'd then accelerated, we'd have come out of the corner second and third."
"My strategy early on," Hill said, "was simply to keep Michael from passing me." The upshot of all this was that Coulthard had a clear road before him, and no one to threaten his lead. At the end of the opening lap, he was already close to three seconds ahead of Alesi's Ferrari, with Hill third, Berger fourth, Schumacher fifth, and Herbert sixth.
For David, all this was a gift from the gods, for Alesi was unable to run at anything like his pace - and the only drivers truly a threat to him, Hill and Schumacher, were trapped behind the Ferrari. After two laps the Williams led by 4.2 seconds, then 7.2, 8.4, and like that. As early as lap four Coulthard went round in a remarkably impressive 1m16.674s while Alesi did 1m18.645s.
"It was great to have the opportunity to open up such a big gap in the early laps," David said. "And it was during this period that I decided to go for two stops rather than three. I thought it would be enough to win the race and I'd love to blame someone else, but it was all my decision."
For now, though, he looked well set. Schumacher got by Berger into the hairpin on lap five and quickly moved up to the tail of Hill, who continued to seek a way by Alesi.
At ten laps, Coulthard was over 13 seconds to the good.
On the 11th, Schumacher took a run at Hill on the approach to the right-hand hairpin: "I saw him coming," Damon said. "And moved right, which forced him to go the long way round - but also meant that I was off the normal line and on the dirty part of the track. I braked as late as possible and locked up, running a little wide - which meant that he, too, had to do the same."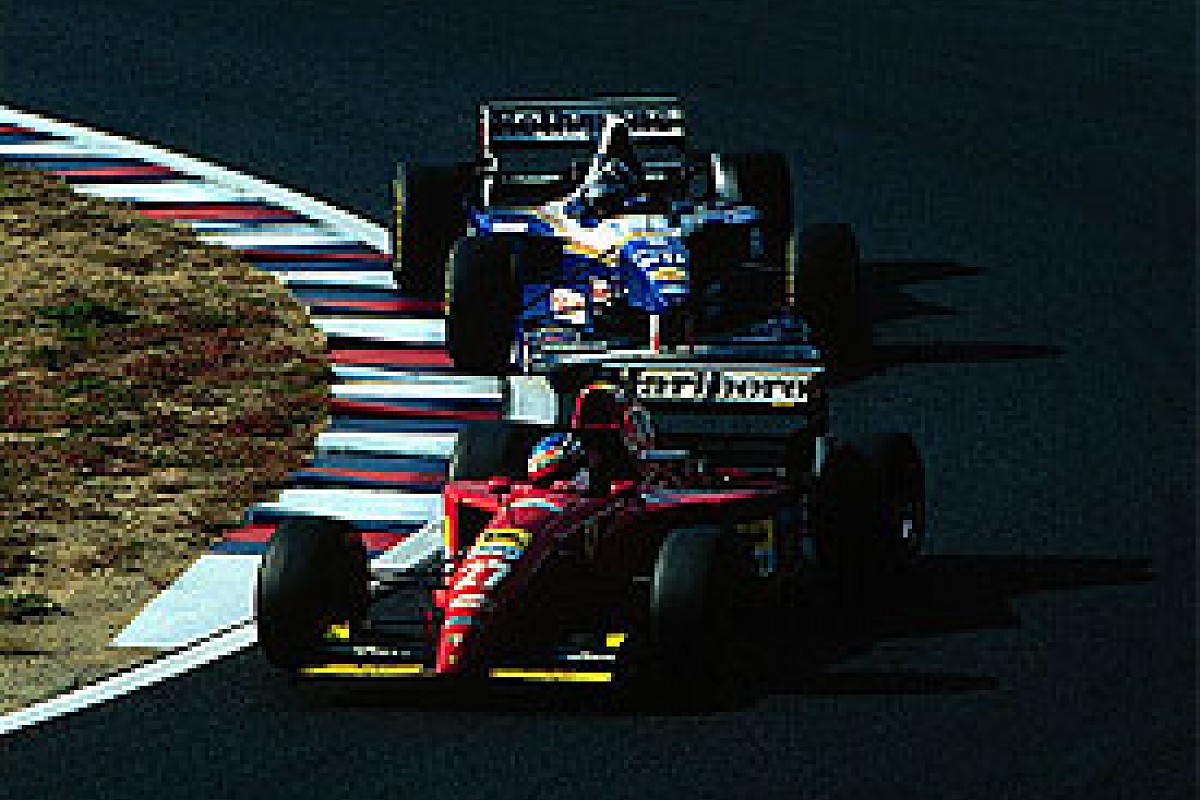 Michael Schumacher and Damon Hill on the podium © LAT
Hill had, quite legitimately, held his inside line, but his rival was not amused and told him so afterwards: "That was a bit of a surprise - from him of all people." Commented Damon crisply. "At the end of the race, I went over to congratulate him on his second world championship and he told me he was unhappy with my driving. I find that completely extraordinary.
"The FIA has made it clear that the situation is now that you're completely free to do what you like, as long as it's not deliberately dangerous. So I drove in that style - and he didn't like it."
Was this a new aggressive Damon Hill? "No," he replied. "Not at all, but apparently we're allowed to do that now, so Michael shouldn't have any complaints. I thought his attitude extremely hypocritical."
According to the original plan, Coulthard should have made his first stop on lap 18, but his decision to come in only twice through the race postponed this by seven laps, and the stops were begun on lap 19 in dramatic style, when Alesi, Hill and Schumacher, running nose to tail, pitted at the same moment.
They rejoined in the order of Schumacher, Alesi, Hill. As usual, Benetton's stop was the fastest (6.3 seconds), with Ferrari's a second longer and Williams's a disastrous 12.2. This was the fault not of the crew, however, but of the nozzle on Intertechnique's wretched refuelling rig, which refused initially to engage. Hill's already flimsy title hopes were being swept away; he never did see Schumacher again, and on lap 24 nudged the back of Irvine's Jordan at the hairpin.
"I thought perhaps I'd damaged the front of the car," Damon said. "I radioed the pits to ask them to have a look, but it didn't seem to affect the handling."
Coulthard's stop, on lap 25, was also long at 11.3 seconds, but this time there was an acceptable reason - making only two stops now, he had need of more fuel for the next segment of the race - and he rejoined without losing the lead, albeit now only six seconds ahead of Schumacher, who was on new tyres, and flying.
David, by contrast, was on Goodyears already part-worn and, with a heavier fuel load to boot, was swiftly reeled in by the world champion-elect. On lap 30, Schumacher set a new fastest lap and was only three seconds behind. Three laps later, he was on Coulthard's tail, but was not to pass at this stage.
"I got up behind David, but he was going too quick for me to pass him. However, I knew that I was going to make another stop soon and I had to then take my advantage out of our strategy. Before the race, we hadn't made a firm decision about two stops or three, preferring to see how the race developed first."
On lap 38 Schumacher was in for the second time (9.1seconds), keeping second place, but now more than 20 seconds adrift of the leader. This time he had taken on a set of used tyres, opting to keep his remaining new ones for the final stages, but it seemed to make little difference to his pace, for on lap 40 he set what was to be the fastest lap of the afternoon, and quickly he made new inroads into Coulthard's lead.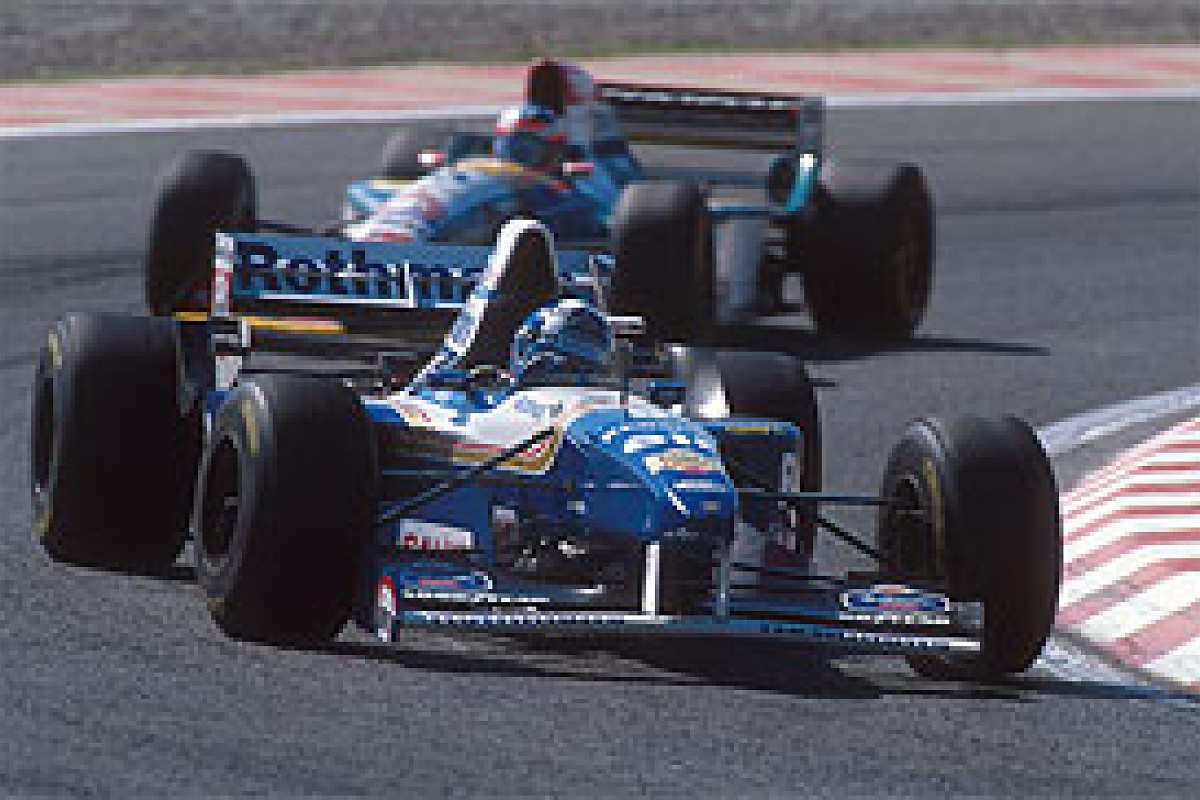 Jean Alesi (Ferrari 412) leads Damon Hill (Williams FW17B Renault) early in the race © LAT
Hill's wretched day continued. He had been trapped behind Alesi in the early stages and now, following his slow first stop, had been obliged to track the Ferrari again, losing endless time in the process. On lap 39 he made his second stop (a more respectable 9.6), and when Jean came in a lap later, their positions were finally reversed. If Damon was through to third, however, he was completely out of touch with Coulthard and Schumacher. "A rather frustrating race," was how he summed it up, with typical understatement.
So much was the focus of the Pacific Grand Prix on the two Williams and the lone Benetton that anything going on behind them was of but peripheral significance. The best of the rest were undoubtedly the two Ferraris, Berger getting the better of Alesi, but they were nowhere close to an absolutely competitive pace and Gerhard was dispirited afterwards.
"To drive your balls off all the way, and finish fourth - lapped! - makes you angry," he said. "The balance of the car was nice and, apart from a slight misfire, I had no real problems. It's just that Williams and Benetton are operating on an altogether higher level - faster everywhere around the track. The gap between them and us is much bigger than it was at half-season."
As the 50-lap mark approached, Coulthard came up to lap a tough bunch, which included Herbert, Irvine, and Frentzen, who were themselves scrapping over sixth place. Williams decided to bring him in for his second and final stop earlier than originally planned.
"Not to take anything away from Michael's drive, or his world championship," said David. "But I found it difficult today with some people on the track, particularly those who weren't involved in a race themselves and could easily have let me by.
"At my last stop, I took on board new tyres but when I came back out I found myself behind another group of three cars, which was even harder to overtake than the first. I don't want to develop into a whinger when it comes to traffic, but the people who held me up... it meant that when I came out on new tyres, I lost any advantage I'd have got from them.
"New tyres start to slide around after about four or five laps, but if you get those laps at the right moment - with a clear track - you can gain two seconds a lap. I had no chance to capitalise on that, and I think that was where I lost any hope of beating Michael."
The situation now was that Schumacher - with one stop to come - led Coulthard, Hill, Berger, Alesi and Herbert. Coulthard, as he said, should have been able to close on the leading Benetton at this stage, given that he was on new tyres, but traffic, particularly in the shape of Frentzen, hampered him so that the gap between first and second actually grew, from 14 seconds on lap 51 to a little over 20 by lap 55.
Still, it looked as if David just might get back into the lead when Michael stopped on lap 60. It was not to be, however. Schumacher was four seconds to the good, after his 8.2-second stop and this lead he proceeded to extend into something over 12 seconds.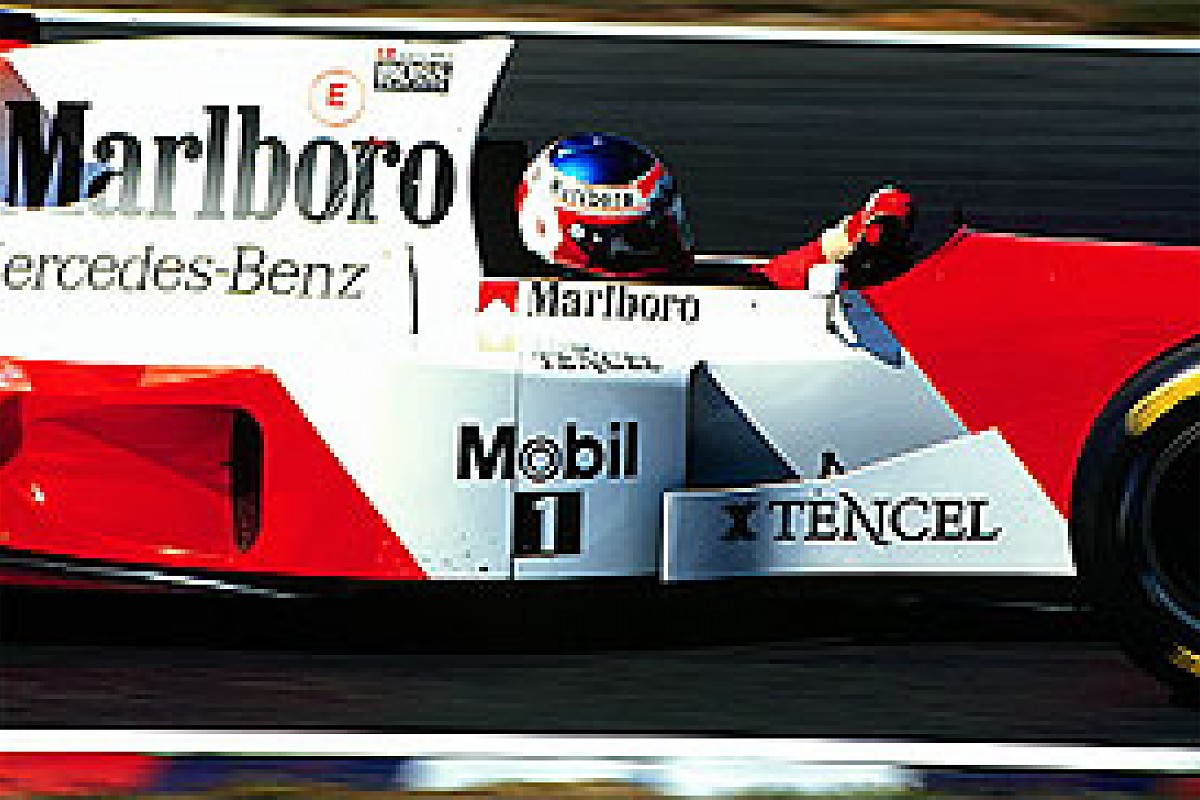 David Coulthard (Williams FW17B Renault) © LAT
In the late laps, he too had his irritations in the traffic and also experienced some problems with downshifting, but there never looked the remotest chance that Coulthard would catch him. By the flag they were separated by almost a quarter of a minute, with Hill a further 53 seconds back, the rest nowhere.
"If Michael had come out behind me, I think it would have been close," Coulthard said. "Yes, he would have been on fresher tyres, but we've got the same engine, so he wouldn't have been able to pass me on the straight, and my car's been good under braking all weekend.
"As well as that, I kind of figured Michel would have more to lose than I did - or, at least, I was hoping he'd be thinking that way! As it was though, it never came to that, unfortunately."
As is frequently the case, there was a strained atmosphere afterwards between Schumacher and Hill, but, for all his anger at Michael's expressed displeasure with him, Damon paid his rival a fulsome compliment. "I'm disappointed, of course, but I tried my best to get a better result than the one I ended up with. That's the way the dice rolled today.
"I will say, here and now, that I congratulate Michael on his second world championship. It's been a very tough fight this year, but I am truly respectful of his ability as a driver. On numerous occasions he's shown he has extraordinary talent."
No argument there. This was a day, frankly, when Schumacher and Benetton simply trussed up the opposition. "So much pressure has fallen off me that I feel completely groggy," said Michael. "But it's a beautiful feeling, particularly the way I've done it today - not just taking it easy and collecting the points I needed, but actually winning the race.
"I'm looking forward to the next two races," he added. "Because I'm free now, and I can fight in a different way, whereas today it was important to finish the race, in whatever situation, and get the points."
If the implication was that this had been a drive of some reticence, who knows what might be in store when the gloves are off?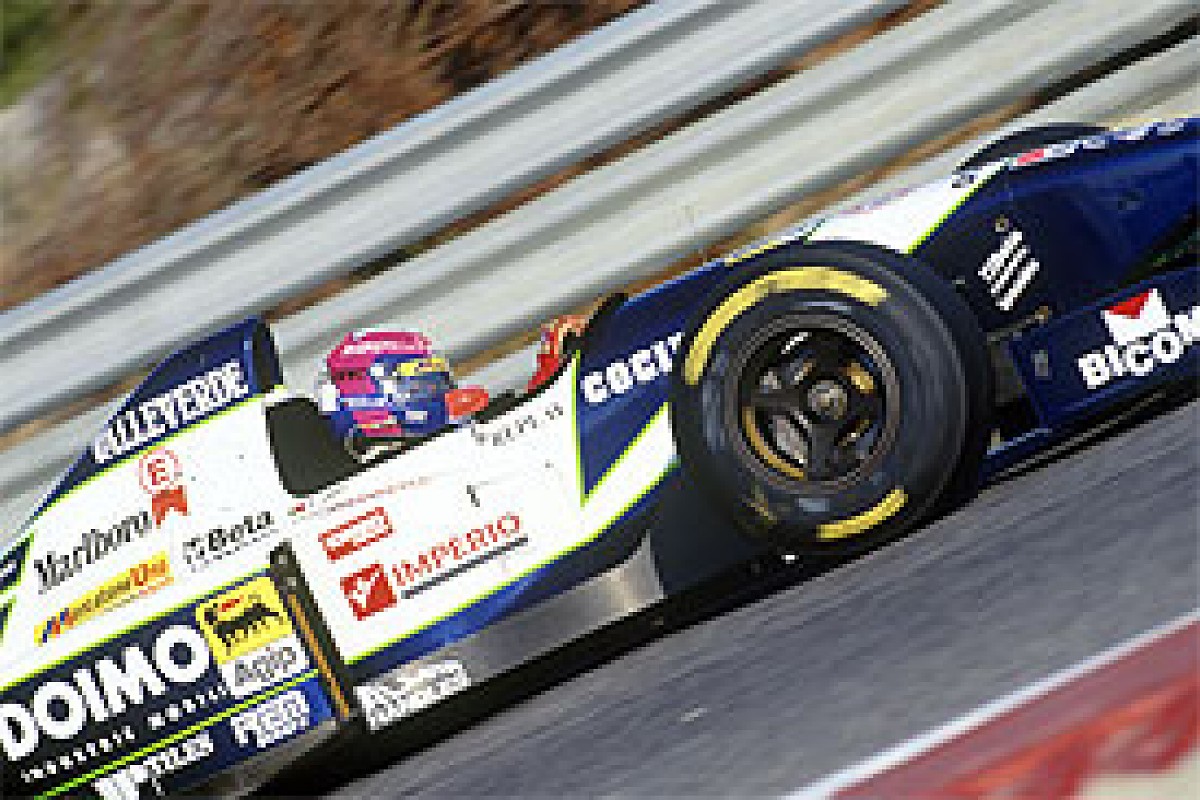 Jan Magnussen (McLaren MP4-10B Mercedes) © LAT
Magnussen unfazed on debut
Jan Magnussen, the 1994 British F3 champion and current McLaren test driver, made an impressive grand prix debut at Aida last weekend.
Magnussen has a reputation for his calm, unflappable approach and appeared to be totally unfazed by Formula One. On Friday morning, he played himself in gently, learning the Aida circuit and posting the 15th quickest time, some 3.3s from Michael Schumacher's pace and 1.4s down on Mark Blundell in the other MP4/10.
In first qualifying he resisted the temptation to overdrive, but elevated himself to 11th quickest, just 2.1s from David Coulthard's provisional pole and 0.6s from Blundell.
There were no mistakes on Saturday either, but the McLaren duo were second day non-improvers: "Mark's blown engine in the morning untimed session meant that we didn't get much set-up work done," admitted team manager Dave Ryan.
Ron Dennis, meanwhile, made it plain that there were no restrictions on Magnussen from the team: "He's done a pretty competent job and his only mistake was incurring the $7500 fine for breaking the pitlane speed limit (as did Ligier's Aguri Suzuki)," he said.
"It was difficult to have a level of anticipation as to Jan's performance but he is totally calm, totally unfazed, and has made no mistakes. I hope that continues. But I would rather he fought and made a mistake than just cruised. He was given a free hand by the team, and it was he who determined his pace."
Pedro Lamy (Minardi M195 Ford) © LAT
Minardi steps up the pace
The Minardi team were cock-a-hoop on Saturday: "To be so close to a Ligier is like a pole for us," said Pedro Lamy after qualifying 14th.
It may not sound spectacular, but think about it. Yes, Aida is a short lap, but a time just 2.5s from David Coulthard's pole time was a fine effort from both the young Portuguese and the Minardi team.
One estimate last weekend suggested that the latest Ferrari V12 is pushing out close to 735bhp, whereas for the Cosworth ED used by Minardi, a figure of 560bhp is more realistic.
The conclusion you have to come to is that there cannot be a lot wrong with Aldo Costa's M195 that some extra grunt wouldn't put right. Given a twisty circuit without a long straight, the car is always there. In Hungary, Luca Badoer qualified 12th and in Buenos Aires he was 13th.
At Aida, Lamy's best lap on Saturday morning was just 0.08 seconds from Aguri Suzuki's Ligier time. The top-speed measurements taken at the end of three sectors showed that the Minardi was 4.6, 6.3, and 5.4kph down on the Ligier. So obviously it wasn't looking so bad through the turns.
And, proving that the driver has a part to play in the overall equation, consider the figures for Olivier Panis in the other Ligier. He was just 3.5, 1.4 and 2.6kph quicker on top speed than Suzuki, but 0.89s quicker over one lap. It was a shame that one Martin Brundle was spectating.
View results, stats, quotes and images from the 1995 Pacific GP at FORIX