There are as many ways to win racing championships as there are drivers and teams. In the end, though, it boils down to the racers and the points-counters: those who believe that, if you win enough races, the championships will take care of themselves; and those who always seem to drive with one hand on the steering wheel and the other on the calculator.
Care to guess which is Scott Dixon's modus operandi? Hint, it dovetails with that of his Chip Ganassi Racing team, the squad whose alumni include such non-points-counters as Alex Zanardi and Juan Pablo Montoya. Small wonder, then, that after falling a thimbleful of ethanol short of the 2007 IndyCar Series title, Dixon looked not to last year's season finale but much, much earlier to see what cost him a second championship.
In effect, his failure to win a race before July had sealed his fate long before he ran out of fuel half a mile from the finish at Chicagoland Speedway.
"I felt we weren't aggressive enough in the first part of the season," he says. "Out of the gates we had to be aggressive. That's what we concentrated on this season."
The results speak for themselves. Dixon started the year with a win at Homestead. And by the time he left Indianapolis at the end of May as the Indy 500 winner - helped by an aggressive qualifying strategy - the Kiwi held a points lead he would never surrender.
"We won at Homestead although, to be honest, Dan [Wheldon, his teammate] had the quicker car," says Dixon. "St Pete was a bit dreadful but Japan, man, that was our race. It only came down to strategy that we got beat there. We were way quicker than anybody. Kansas was the same thing. We led nearly all the laps until we got screwed by one pitstop under yellow.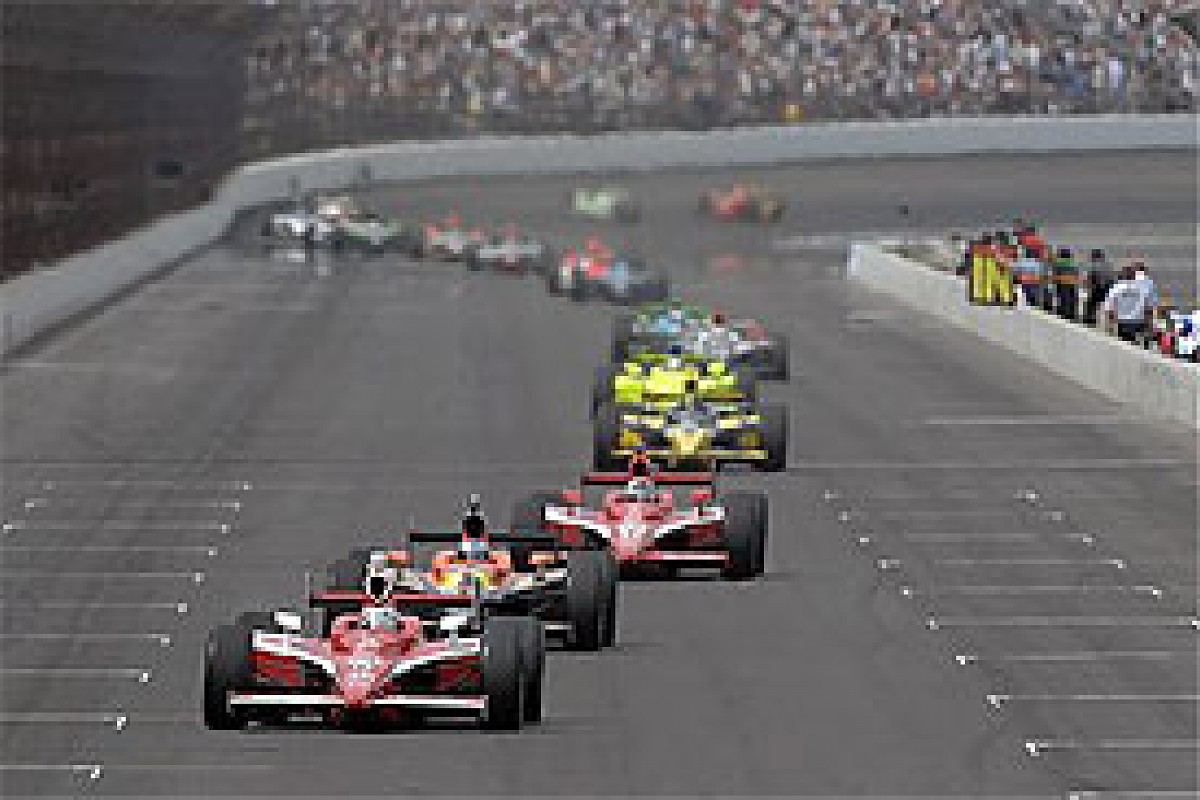 Scott Dixon leads the field down the front straight during the Indianapolis 500 © LAT
"To take that momentum into the 500 was definitely key to our success, and the whole month just went way too smoothly. I didn't think we would come away with the win because nobody ever has a month go that smoothly from start to finish."
Winning Indianapolis can do funny things to a team and driver. Occasionally, the victory proves to be an end in itself; as if the rest of the schedule is a coda, driver and team seemingly go through the motions of a season that already rates as a success. However, an Indy 500 win just whets the appetite of real racers.
"Everybody's fired up, because if you look at the past four seasons the 500 winner has gone on to win the championship," says Dixon. "For some people, winning the 500 - they think that's enough; that's all they're going to be able to do in a season. But for us, we had so much momentum."
By the time the sculptors had emblazoned his mug on the Borg Warner Trophy, Dixon had gone on an orgy of wins at Texas, Nashville, and Edmonton. He had not coincidentally, established a comfortable points lead over Team Penske's Helio Castroneves.
The lone blot on that record was a doozie, namely Watkins Glen, where Dixon collided with a blameless Ryan Briscoe while warming his tyres in preparation for the restart of a race he was leading ("That was me just being a dick," he readily confesses).
That pratfall aside, when Castroneves ran out of fuel in sight of the chequered flag at Kentucky on August 9 - handing Dixon a record-tying sixth win of the season - the championship appeared to be over.
That's when it all went pear-shaped for Dixon and Ganassi. With a chance to slam the door on Castroneves at Sears Point, they started counting points, forsaking the aggression that had carried them to within sight of the title.
"That was almost being complacent," Dixon says. "We were like, 'We only need to get this amount of points for this race, this amount of points for the next one...' And I don't think I pushed on the track. I don't think the team pushed on strategy and we just came up with such a crap day."
How crap? The previously snake-bitten Castroneves earned his first win of the year, while Dixon trundled home an unhappy 12th. A fortnight later, matters improved. Slightly. Dixon pulled a comfortable lead out at Detroit, but a fuel strategy that diverged with that of Castroneves relegated him to an eventual fifth. But for a controversial penalty for blocking Justin Wilson, the Brazilian would have scored his second win on the trot. As it was, second place gave the Brazilian a fighting chance for the title in the season finale at Chicagoland.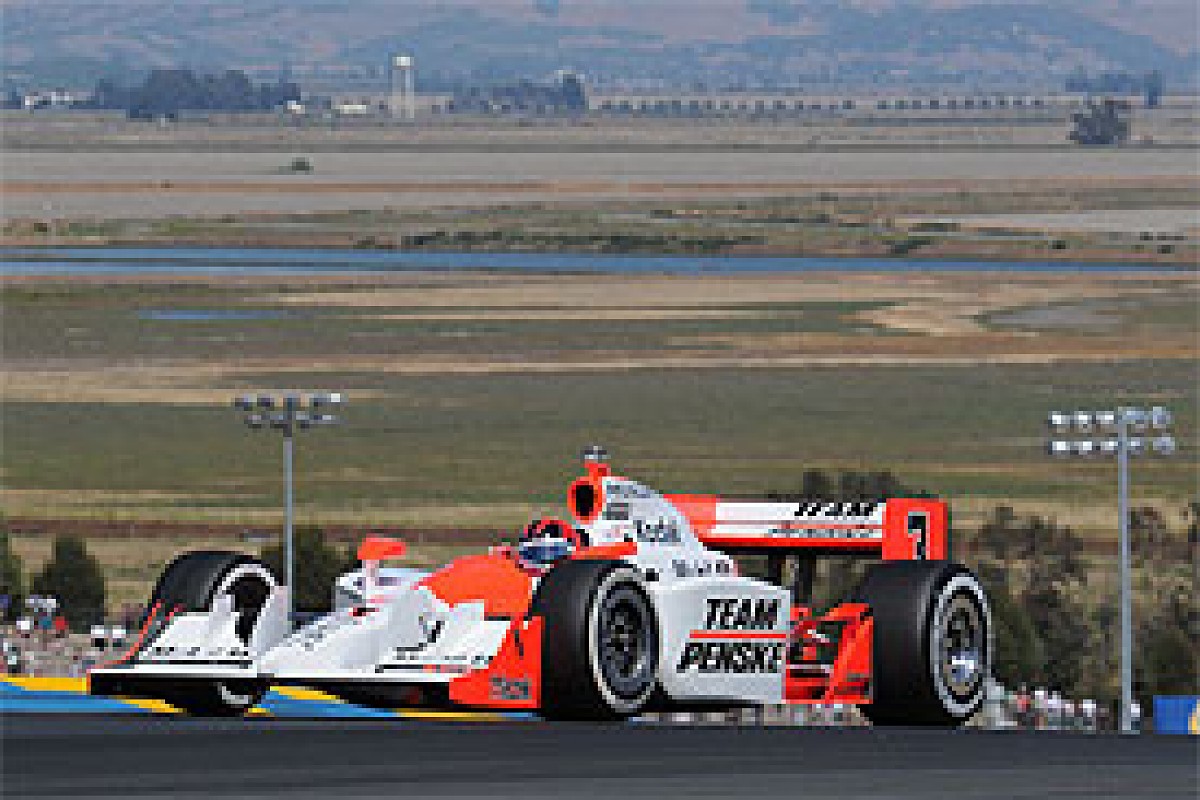 Helio Castroneves won in Sonoma as Dixon struggled, closing the championship gap late in the season © LAT
"I was so frustrated at the two races previous that all I wanted to do was go out and win at Chicago," he says. "That was the mindset of the team: we had to go back to what we had been doing all season. We'd won many races by being aggressive and not caring about what others were doing."
Things didn't work out quite as planned, but only by 0.0033sec, the margin Castroneves crossed the finish line ahead of Dixon. Indeed, so close was the margin of victory that Dixon's Dallara-Honda was initially waved into Victory Lane, only to be supplanted after officials examined the photo finish - presumably with the aid of an electron-microscope.
No matter for Dixon. The man who counts Milwaukee - where he and Briscoe traded the lead throughout the afternoon before the Aussie came out on top - as the most fun race of his season ("I couldn't keep from smiling the whole race") was back in his element at Chicagoland.
Dixon and Castroneves engaged in the sort of hair-raising duel that has become a trademark of the IndyCar Series, one that left Dixon smiling. Again. And not just because he clinched the title that slipped through his fingers on the same speedway a year ago, and by a margin that rendered Castroneves's Detroit penalty meaningless.
"One of the things that really annoyed me at a couple of those races was that we slipped into a team that was just going for points," he says. "That's not what it's all about. Chip pays me to win races and I expect the team to perform to enable me to win races.
"So that was the disappointing part but, on the other hand, that made Chicagoland a lot of fun. I felt we won the race, we were close and we didn't, but that's the way to finish it off - to go for the win rather than laying down and just going and collecting points."
Dixon will get a special opportunity to celebrate his championship next month when the IndyCar Series makes its maiden appearance in Australia at Surfers Paradise - recall that Dixon was actually born in nearby Brisbane. What's more, the race will be something of a preview to the '09 season, as he'll be paired with new teammate Dario Franchitti.
But most intriguing of all, it's a non-points race - just the thing for aggressive sorts like Dixon and Chip Ganassi Racing.