By September 17 I guess your summer vacations will be ancient history. That book you picked up at the terminal before you boarded the plane will have served its purpose and been tossed away. But I implore you, if you like motor racing and you enjoy a good tale, go and buy 'Crash and Byrned: The Fastest Driver You Never Saw' which will be launched by Icon books on the aforementioned date. Put it to one side for when you've got a spare few hours. Whatever you do, don't open it if you're busy.
Back in the early 80s, a young driver won the RAC and P&O FF1600 titles, then the British and European FF2000 championships, dominated the British F3 championship, and went on to do wondrous things in a McLaren. Ayrton Senna, you're thinking? Wrong. Ayrton did all that, sure, but a guy called Tommy Byrne did it a year before him.
I can remember wanting to be Tommy Byrne. Actually, I wanted to be Gilles Villeneuve, but Tommy would do for starters. If you wanted to be a racing driver in the late 70s, the path was clearly defined. If you were mega you went FF1600 - F3 - F1. You might do a year of FF2000 if the right F3 seat wasn't available, but you tried to miss out F2 where there was more scope to trip up if you found yourself in the wrong car or team.
"Crashed and Byrned" by Mark Hughes
But FF1600 was where it all started and the works Van Diemen team was the holy grail. Late on Easter Sunday night in April 1980, I'd just finished playing squash with a couple of mates and we were thinking about going to Croft next day. But I wanted to watch F2 and the serious stuff so, about 11pm, I decided we were going to Thruxton. Which was a fair old way from South Shields. We went home, begged a few sandwiches from my Mum and drove all night to Wiltshire. Sleep didn't seem to matter back then.
Flat-out all night in my Fiat 127, we got there about 5.30am, by which time enthusiasm had dimmed a little. It was misty, freezing and, unsurprisingly, there wasn't a soul around. So we found a hole in the fence, crossed the track, and started to wander conspicuously round the lifeless paddock. We hid from a black Alfa GTV that we assumed to be 'official.' When it parked by an awning and the driver got out and headed in our direction, we assumed the game was up.
"You guys look bloody freezing. Want a cup of tea?" Nick Jordan said. He ran Argo cars, didn't know us from Adam, and had Roberto Guerrero and David Sears in the F3 race that day. He also had a space heater and Mrs Jordan made three of the best bacon sarnies in history. We had a great racing chat and came out of Nick's awning about 90 minutes later, replete and totally re-enthused, by which time one or two people were starting to get up.
"Bloody hell, that was better than bumping into the Pope!" said my mate, a catholic lad with a fine sense of humour. Nick had saved the day because, as 'organiser' I was coming under a bit of light-hearted pressure as to why, with nothing happening on the track until 1pm, we were in the paddock, sleepless, at 5.45am... Sleep? Pah, who needs it when you can be in the inner sanctum!
When that first race finally ticked around it was the P&O FF1600 and Tommy Byrne walked it. He was a works Van Diemen driver, which was what I aspired to be. People like Tommy non-plussed me a bit. I knew all about the Nurburgring and I knew that Cadwell Park, in Lincolnshire, was called the mini-Nurburgring. I knew that sporting ambition and hard work often pay off. If you play tennis and you haven't got a backhand, get up at 7am every morning, hit basketfuls of balls and soon you will have. But what I didn't know was how anyone could go to places like The Ring and Cadwell and break the lap record on their first visit. That was freakish, the sort of thing that gave you doubts about whether you could ever do this. That's what Tommy had done. Not even with a Van Diemen either.
He'd come over from Ireland, where it's fair to say he was from the wrong side of the tracks. He'd been given a chance because PRS had been told about his ability.
"The PRS wasn't a great car but I'd won three races in it - races that it shouldn't have won," Byrne recalls in the book. "I was angry that this wasn't being realised. I was grateful to Vic and Steve Holman for giving me this drive - it was a massive deal for me - but I didn't have the time to waste; I needed to progress. It was that thing about respect again. I knew, coming from where I came from, that I had to win - and I wasn't. Well, not enough, anyway. Everyone's saying how I'm doing well, given that it was my first year and I had to learn all the tracks. Bollocks. I could learn any track within a few laps. They didn't think it possible that I could be as good as I was. To them, if a rookie was winning the odd race in it, it was a good car. It wasn't. It was uncompetitive, especially on the fast tracks like Thruxton and Snetterton, but these guys wouldn't listen to me. And that made me angry.
Pierluigi Martini (Ralt RT3 Alfa Romeo) leads Eje Elgh(Hayashia 322 Toyota) and Tommy Byrne (Anson SA4 Alfa Romeo) in the 1983 Macau Grand Prix © LAT
"Occasionally, the anger got the better of me, and the desperation and the frustration of not being appreciated led me to dangerous driving. At the Nurburgring I had the pole at 9m 01.1s, three seconds faster than the next quickest guy. I told Vic Holman that here was the ultimate drivers' track - and that's why we were on pole, not because of his car. It made me angry when Peter Krober tried to pass me on the first lap, so I put him in the dirt flat out in fourth gear at the Pflanzgarten. I didn't care he broke his teeth - but the organisers did and they not only disqualified me from the win but wanted to lynch me."
To understand Byrne's cockiness, desperation and hurry, you need to understand a bit about the world he had just escaped from, which, watching him at Thruxton that Easter Monday, I just couldn't have dreamed. He was a works Van Diemen driver, yes, but only sort of. Company boss Ralph Firman knew Tommy was quick enough to be a big nuisance and had given him a car, but he had to prep it himself, unlike rich Brazilians like Raul Boesel and Senna, who paid to drive. Tommy wound them up about that.
Byrne had just left his job as a chauffeur for an Irish meat buyer called Crawford. His first day in Crawford's employ had gone thus:
"I was to report at 6am. I walked up his driveway about 6.30, hung over and met a barrage of abuse: 'Hey boy, have you any idea what the feckin' time is?' 'Hey boy' became his name for me. 'B*****d, f**k, sh*t, hey boy. Open the door for me.'
This was to become second nature because he had some sort of sickness that made him shake when he tried to walk. He said his back hurt as well. So to get him into the car you had to get up behind him, hold him and then kind of lift and coax him all at the same time.
"The first morning I had some help from Ramona (his wife). 'Come on Crawford, you can do it,' she's shouting. He lifted his right leg and tried to put it into the car. He got it up about three-quarters of the way before the pain became too much. 'Come on Crawford,' she repeats. He tries again, gets his foot about a quarter of the way. Again the pain, again Ramona shouting. 'B*****d, f**k sh*t,' he replied. 'Shut-up, I'm trying.'
"What had I got myself into here? This was an odd situation even by the standards of Blackrock (from where Tommy hailed). Anyway, we eventually got him into the car. The seat had to be tilted all the way back on account of his bad back, with the result that he couldn't see much of the road - or the speedometer. Off we went north to Belfast, to Tunney Meats. This was the biggest meat factory in the country and Crawford was their best buyer. He would go to cattle auctions all over the country and buy for Tunney. He could just look at a bull and know how much it weighed and what it was worth.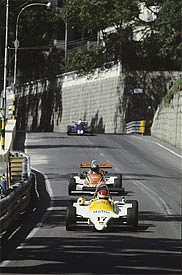 Tommy Byrne © LAT
"On our way there we stopped off at different auctions. Crawford would go in and 'Hey boy' would stay in the car. It was about 3pm in the middle of Belfast with lots of people around when Crawford said: 'Hey boy, pull over.' As I did, he kicked his door open and very swiftly got out of the car, suddenly looking much more agile than when we'd put him in. Then, to my utter horror, he squats down and just shits into his pants in front of God and nation, not to mention a load of girls coming out of school. I could not believe what I was seeing. This day was getting stranger and stranger.
'Hey boy, you go to the boot and get me some toilet paper.' I opened the boot and it was crammed full of toilet paper. It was at this point I knew I was in trouble. For the next six months I drove Crawford around and he shit himself each day, usually around four-ish - and I was the one who had to clean it up. 'Hey boy, pull over.' After a few days of this I figured how not to be in any cities at around four and made sure we were in the countryside, close to a field with a gate."
I won't tell you what happened when Tommy, just four years on from this, was sat down in front of Ron Dennis, trying to secure F3 funding in return for first option on his future services. His abiding misfortune is that Ayrton Senna was coming along a year behind him. Tommy it was who had sorted an Alfa Sud for Ayrton as a Van Diemen company car via a car dealer friend. When Senna retired at the end of '81, Tommy helped himself to the Sud's wheels. When Ayrton unretired and came back to race FF2000 in '82 he found his car on bricks, went apoplectic and Angie Firman had to break them up. There was probably more to it than the wheels.
Tommy believed he was just as talented as Senna. He did get his F1 break in 1982 but you can hardly call it that. It was for the Theodore team that wasn't serious and didn't appreciate what they had. They kept telling Byrne, who'd signed for three years, that with Keke Rosberg in the car they'd be on pole. At the end of the season he told them where to stick it.
The same season he won the British F3 title, earning himself a McLaren test. That was after Tommy's ill-starred meeting with Ron Dennis and Byrne was determined to fly - to prove a point to both Ron and to Theodore. He was stunning and the story of that test alone is worth the price of the book.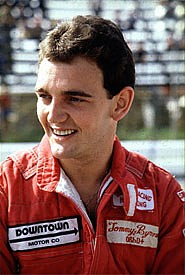 Tommy Byrne, Theodore TY02 Ford, 1982 Italian Grand Prix at Monza © LAT
"Had I made my grand prix debut with a McLaren or a Williams, I could have been in a position to win immediately," he says. "It's not rocket science. Last year people were amazed when Lewis Hamilton was able to run at the front immediately, win races, and fight for the world championship. Of course he was! He was the best driver in the best car. Twenty-five years ago, I was the best driver out there. Other people may have been amazed at the times I ran in the McLaren, but I wasn't. It was normal, it tallied with everything else I'd done whenever I was in a competitive car."
Byrne took a while longer to slide down the snakes than he'd taken to climb the ladders but the whole book is compelling. Tommy's story is told with the help and observations of Mark Hughes, Autosport's GP editor. Last year Mark wrote a well-researched book on Lewis Hamilton. Well, this is emphatically not the Lewis Hamilton story. It should have been but it's the polar opposite. It's hilarious, poignant and sometimes downright sad. For me, the uncomfortable bit is knowing there is no happy ending. There should have been and had Tommy come along today, there would have been.
Hughes himself says: "Tommy's story resonates hard with me, because of where he came from and where he got to, and how motor racing doesn't easily accommodate people without the 'correct' social mores. Even a devastating talent won't necessarily overcome that. Yes, he was part of his own downfall, but that part of his character also comes from his formative years. He's a fantastic character, you couldn't make him up."
I hate injustice. You put the book down and you think, come on someone, give the guy the couple of mill he always thought was just around the corner. He deserves it. And Tommy, don't piss it away! But please God, don't let that sound patronising. Tommy Byrne is not the kind of guy who should be patronised by the likes of me.