The Silent Witness: Bridgestone's Version
---
By Will Gray, England
Autosport-Atlas GP Correspondent
After getting all the flack for Ferrari's slump in form in the first races of the 2005 season, you wouldn't begrudge Bridgestone if they were to, say, gloat at the painful downfall of their competitor Michelin in the US Grand Prix last week. But that wouldn't be Bridgestone's style. The quiet, rather low key Japanese company has done everything to steer clear of the latest controversy, and in an interview with Will Gray, following the events at Indianapolis, the company's head of tyre development, Hirohide Hamashima, expresses his sympathy and sadness for the recent events. In an exclusive interview with Autosport-Atlas, he talks about Ferrari's tyre development, competition in F1, their return to form, and more
As the seven Michelin teams on the Grand Prix grid headed to Paris to face the repercussions from their actions that followed the French tyre supplier's massive mistake at Indianapolis, Bridgestone had their minds fully focussed on the track, plotting the latest move in their accelerated fightback.
The methodical Japanese tyre manufacturer, who suffered a setback this year when Michelin came out all guns blazing in the opening rounds, remained a silent witness over the controversial United States Grand Prix as their rivals were forced to pay the price for making a crucial and fundamental mistake.
Preferring to maintain their usual position out of the limelight, they simply went about their business, took the start, took the win, their first of an unusually dry season so far, and put themselves and Ferrari right back in the title race as the Championship was thrown right back up in the air.
It would, of course, have been foolish not to. Bridgestone had done their job, they had provided their teams with tyres that would last the distance. Michelin had provided tyres that would almost surely not last more than ten laps. And there was never any doubt in Bridgestone's mind that they were doing the right thing.
The company refused to comment on their rivals' situation over the weekend, preferring to leave the matter in the hands of the people who had to deal with it, and Bridgestone's head of tyre development, Hirohide Hamashima, was ready to react to whatever the powers that be had decided.
"It was always going to depend on the FIA," Hamashima told Autosport-Atlas, in an exclusive interview. "If it was the case of a safety issue, then, in that case, we would accept whatever decision they had made. I don't like to see tyre failures, not even when it is to a competitor.
"When we see a tyre failure for our competitors, our minds begin to worry a bit about our tyre, you understand? I don't know (if they pushed design limits too far). If I looked at the tyre maybe I could answer for definite, but it seems that the pressure of the tyre would be wrong.
"We were very surprised at what happened. In a very few laps they suffered problems, but last year they had no problems. In the beginning of last year's race, of course, Ralf [Schumacher] had a problem, but they could run in the race for quite a distance. So, yes, it was quite a surprise."
Michelin have been accused, not by Bridgestone, of course, but by some observers in the paddock of pushing the boundaries of Formula One tyre design too far this season in a desperate bid to overhaul their rivals and provide their partner teams with a product to win the world title. FIA president Max Mosley went as far as to warn that the French tyre maker could find itself thrown out of Formula One if further investigation will conclude that the company's tyre was unsafe well before Indianapolis.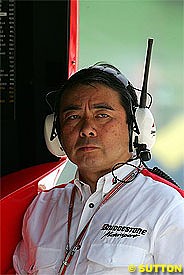 Hamashima is careful not to drag his company into the public debate - he would certainly not gloat at his rival's misfortune, or criticise them for their Indianapolis mistake (something Michelin, by the way, weren't shy of doing themselves, when, for example, Bridgestone and Ferrari had the lower hand in the hot summer of 2003).
Stating matters dryly on Wednesday, after the World Motor Sport Council found the seven Michelin teams guilty on two counts of bringing the sport into disrepute, Hamashima told Autosport-Atlas: "It's not really appropriate for me to comment on today's hearing other than to say the FIA has done what it feels is most correct.
"The US GP was a very disappointing day for F1 fans, and I can understand how disappointed they are. There are now plans [by Michelin] to compensate them and provide a quantity of tickets for next year to encourage the spectators to return, and I think this is a good thing.
"From our point of view, naturally we're pleased that all our teams have completed a full race distance and the durability of our tyres was demonstrated. We don't know the exact details of what happened to our rivals' tyres, so it would not be correct to comment. But what happened as a result, was not good for the sport, so now I hope we can look ahead more positively and continue the season.
"What is important now, is that the spectators can watch a race on Sunday with the full grid of cars. For us it is important to show that our teams have safe but competitive tyres, and it is better for us if our teams are successful if there's 20 drivers battling against each other, which is why we're looking forward to racing at Magny Cours this weekend."
Bridgestone have dominated Formula One over the last decade, starting their winning run with Ferrari by claiming the constructors' title in 1999 then adding the drivers' crown to their list of achievements the following year. Since then, the turn of the millennium, they are undefeated in both.
Michelin, who came onto the grid in 2001 for their second stint in Formula One, have enjoyed their successes, claiming their first one-two in Malaysia little more than a year after re-entering the sport, but they have been suppressed by the might of Bridgestone and Ferrari since their arrival.
It took a change in the regulations - the introduction of a single tyre to be used throughout the full race distance of each Grand Prix - to finally knock Bridgestone off their perch, but many believe Michelin grasped their opportunity a little too aggressively, as suggested in Indianapolis.
Hamashima, who certainly believes his company's rivals had a different approach, explained: "I was a bit sceptical on the new regulations, but we respect them because it is one of the big technical challenges so it is interesting to us, it is a big challenge, so it is enjoyable.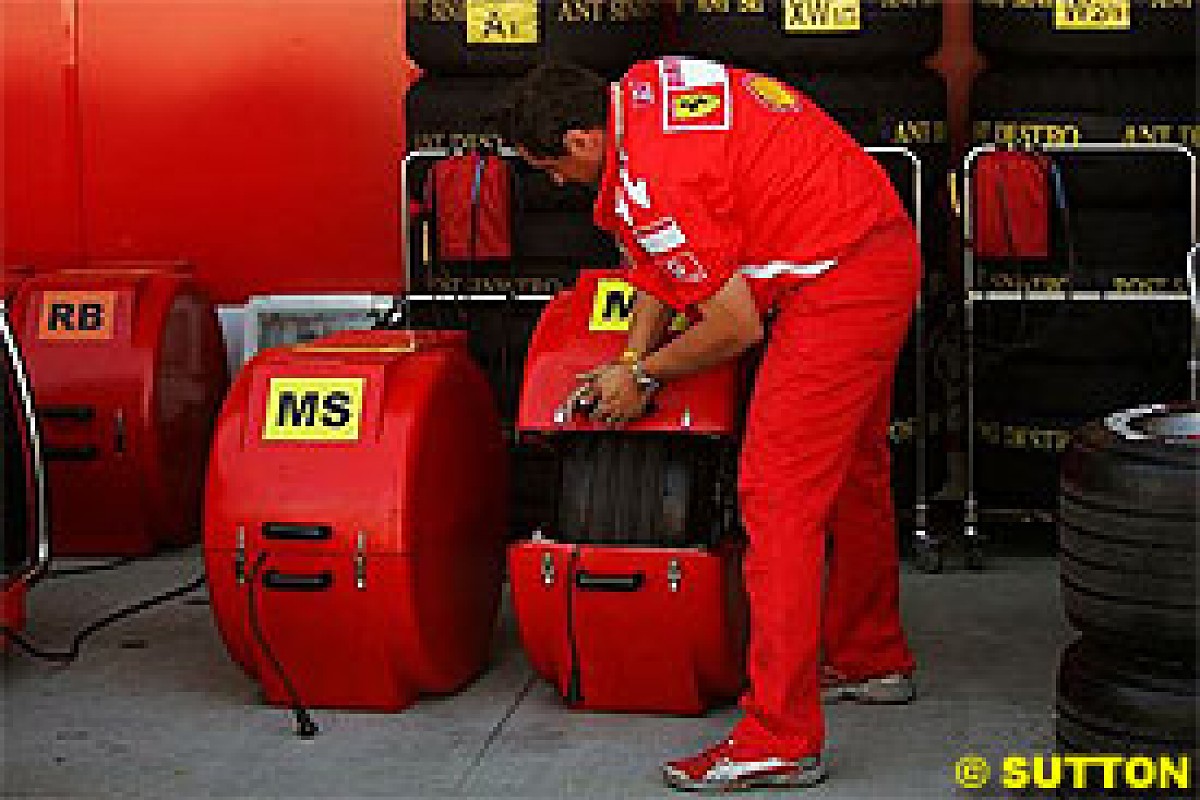 "I think, especially in terms of racing durability, their strategy is different to ours. They have many teams so they concentrated on developing the qualifying performance. If they had a grid with many teams in front of Ferrari, they could win very easily because Ferrari would not easily pass all those cars."
But Michelin's apparent concentration on maximum performance may have been what caught them out at the Indianapolis race, whereas Bridgestone has done their preparation correctly and taken a tyre that was well within the limitation boundaries of the circuit characteristics.
Not that Hamashima is even considering the thought that their rivals' mistake will open the door for a swing in the standing order. "I think they can find a solution easily," he admitted with a smile. "Even if it is a step back for them, they can go forward again."
Bridgestone and Ferrari, instead, must concentrate on moving themselves forward, which is what they have been doing for the last few months, working tirelessly on the test tracks of Italy and in the development labs of Japan to work on their problems and find solutions to put themselves and Ferrari back in the mix.
Nobody could have predicted the way things went at the start of the season, when the sudden slide of Ferrari brought a smile to the faces of those in the stands at the opening races and those watching in front of the television as fans soon realised the prospect of a season of competition.
But for Bridgestone, it seems, they suffered from their own success. It is difficult to improve on perfection, and while the Japanese manufacturer will never admit to having achieved as much, the fact that their tyres were, simply, very, very good, left them struggling to move further forward.
So, did Hamashima expect what happened at the start of the season? Had he seen any suggestion from Bridgestone's testing and their rivals' testing that, come the start of the season, the Michelin runners might have jumped Bridgestone and Ferrari in several areas?
"Michelin improved by reducing front graining so that made them stronger, but on our side we could not improve the qualifying performance over recent years, so that gap seems a bit bigger," he said. "Actually, maybe, the difference is very small, but as a result it is a bit of a bigger gap."
One of the biggest problems appears to have been Ferrari's bullish overconfidence in their F2004 machine, and the belief that, with a few small modifications to fit it into the new regulation package for 2005, it would continue to be strong at the head of the field.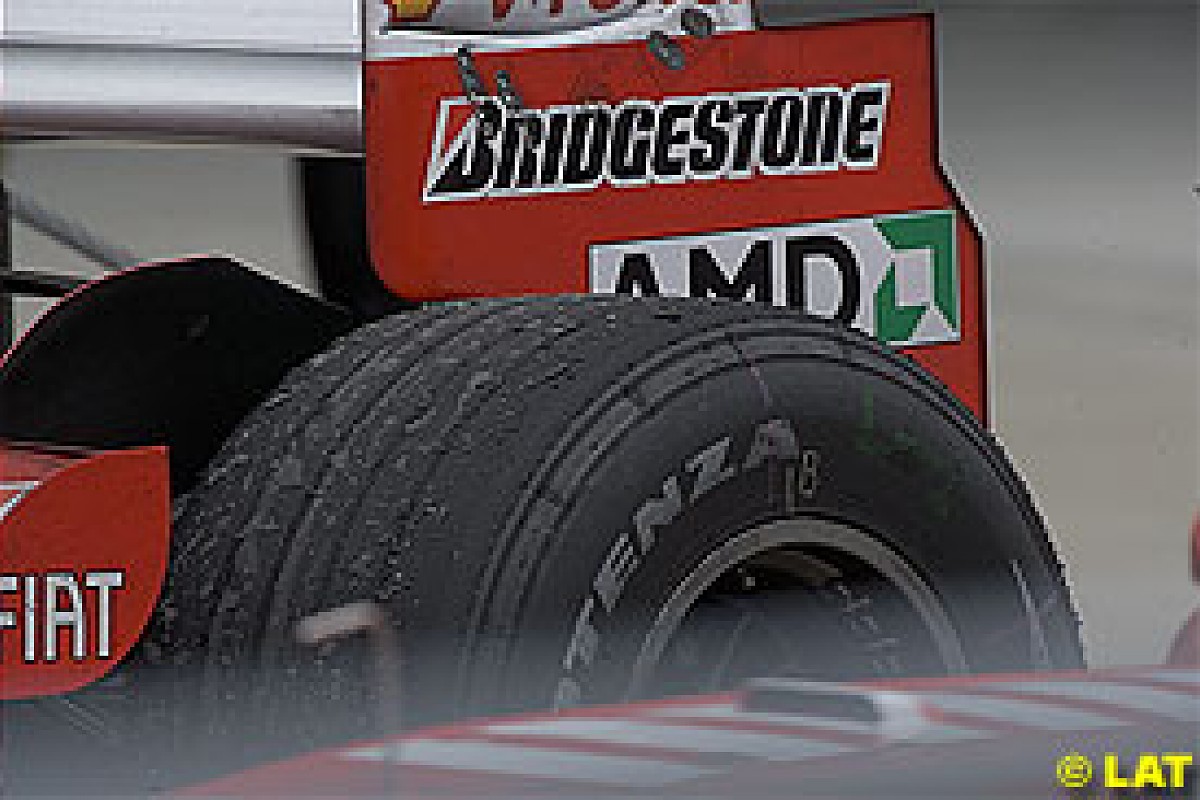 The Australian Grand Prix was a bit of a lottery thanks to heavy rain in qualifying, but there is no doubt the 'old' car that Ferrari started with, and that Bridgestone used to develop their initial designs for a single-race tyre, was not on the pace. So, how much did that cause problems with development?
Hamashima: "Of course, in the beginning, considering the performance of the 2004 Ferrari, we expected that car should be suitable for the current regulations. But unfortunately Renault and McLaren made some very, very good cars with the current regulations, so our competitiveness was not so good for the season."
WG: What else contributed to your disappointing start to the year?
Hamashima: "Last December we were concentrating on developing the durable construction, then after that we developed the compound, so this delay is still something we have. Ideally, we would have developed them together. Construction-wise, we are fixed for the durability for the current regulations. We fixed that problem. But compound-wise our development is a little bit delayed because we had to develop the construction first, because of safety. So then we are starting the compound."
WG: Why is that, why have you not developed together?
Hamashima: "Well, unfortunately our strong test team is only one, so we have to test step-by-step; construction, compound, like this. But our opposition has many strong teams so they can test things in parallel. Maybe one team can confirm the construction, one team can do the compound development, so then their development speed was quicker than ours in the winter. But now we are able to do our best and we are closer to the opposition now. But still we have a weak point of the qualifying."
WG: It was a difficult start but you are coming back now. Are you happy with the progress?
Hamashima: "Yes, we are very happy. Of course, numerically we can still get the Championship so we have to therefore do our best."
WG: How much development have you done in the last few months? A lot more than you normally would?
Hamashima: "Yes. We made many projects in parallel, so compound-wise, construction-wise and also different aspects of design of compounds, so there are quite a few programmes are going on at the same time."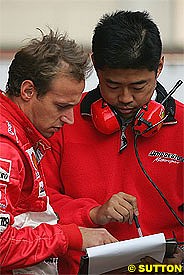 WG: How much have you increased testing during this part of the season?
Hamashima: "I think compared to last year the total testing mileage for the tyres is not that big a difference. But, you know, in the beginning, Ferrari used a modified car and we got the new car after Bahrain, so then our set levels were a little bit delayed for competition."
WG: Ferrari have gone against the other teams in testing for many more days than their rivals' limit. What is your view?
Hamashima: "Of course, Ferrari is controlling the mileage of the testing. Other teams would like to control the number of days. As you know, some of our competitors' strong teams use three cars in one day, so I don't believe the total mileage is very different."
WG: So, can you quantify the improvement you have made this
Hamashima: "I think racing performance-wise, we are very competitive and even some races we had an advantage. In terms of qualifying, at the start of the season we were maybe one second behind our rivals, now we are maybe 0.2 or 0.3 seconds behind."
WG: How much of the improvement recently is down to Bridgestone and how much has Ferrari moved the car forward?
Hamashima: "The car is getting better, especially since Canada, the car is much, much better, and tyre-wise the potential is better. So, I think it is about half and half improvement."
WG: So can you keep that rate of improvement going?
Hamashima: "Of course we can, and I hope that in the next few races we should have a better specification with a very, very competitive qualifying performance."
Bridgestone are finally beginning to suffer for their close relationship with Ferrari, which has slowly forced away all the top teams into the Michelin camp. BAR-Honda were the last to go, switching sides in the winter of 2003, to leave just Ferrari with back-up only from backmarkers Jordan and Minardi.
Bridgestone worked to develop the close relationship with the World Champions after citing the importance of developing tyres and car in tandem, but as Hamashima explained, the down side to that is the fact that there is only so many hours in the day for one team to go testing.
Michelin are enjoying a range of riches this season, with the top two Championship chasing teams Renault and McLaren both extremely competitive and ready to pool resources, certain information at least, for Michelin while Williams, Toyota and BAR-Honda all also run full test programmes.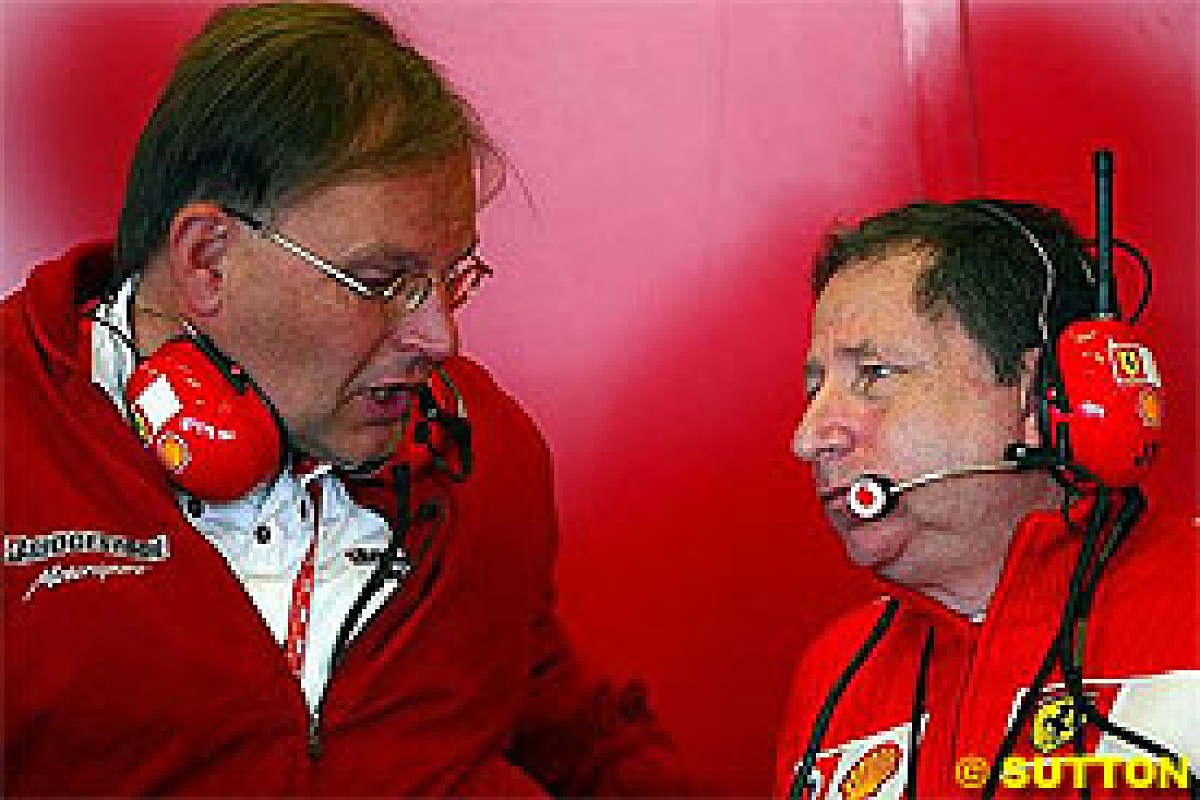 Asked if he is happy with that situation, Hamashima chuckled. "Um, at the moment we are very happy working with the three teams we have," he insisted, before adding: "But of course in the future if someone would like to use our tyre then they are very welcome!"
Much of the blame for Ferrari's performance has been placed firmly on Bridgestone this season, but the Italian World Champions have continually refused to pinpoint their partners as the reason for their troubles and instead blamed 'the package' they started the season with.
It is a notable display of the bond between the two companies, which has been developed over years of near-exclusive work together, and Hamashima insists that neither side is pressuring the other for a quick fix solution and said the only pressure that is coming is that from his bosses in Japan.
"Both Ferrari and Bridgestone recognise our problems, so we do not pressure and Ferrari do not pressure us," said Hamashima. "Both of us have collaborated to solve the problem and our collaboration makes many aspects to develop the tyre and the car together.
"I accept the blame for lack of performance in qualifying because we have recognised that. But, as you know, Ferrari have said it is not only the tyre problems, the car also has some problems. We are very happy with working with Ferrari because they recognise the problems.
"It is not only their current product department but also the research and development department that are very supportive of us, so it is very, very helpful. Everyone in Japan is strongly demanding for us to win a Grand Prix, but even so, the top management understands the situation.
"They know that this is a race, so sometimes you are not so good and sometimes you are very good. In the past few years we have dominated winning the Grands Prix, so then the board members have also understood what is the problem we have. So they are very, not kind, but very co-operative to us.
"They are sometimes asking me 'what do you need?', so they support us very strongly. For example, more resources, money, co-operating companies, something like that, and they gave us many proposals." But were they starting to say 'so, why haven't we won yet'? "Yes, of course!"
The pressure was mounting until the United States, where Bridgestone turned tables on Michelin to take their first top-six lock-out of the season. Of course, they were helped by all the teams from their rivals being forced to pull out, but they still insist they would have fought for victory in any case.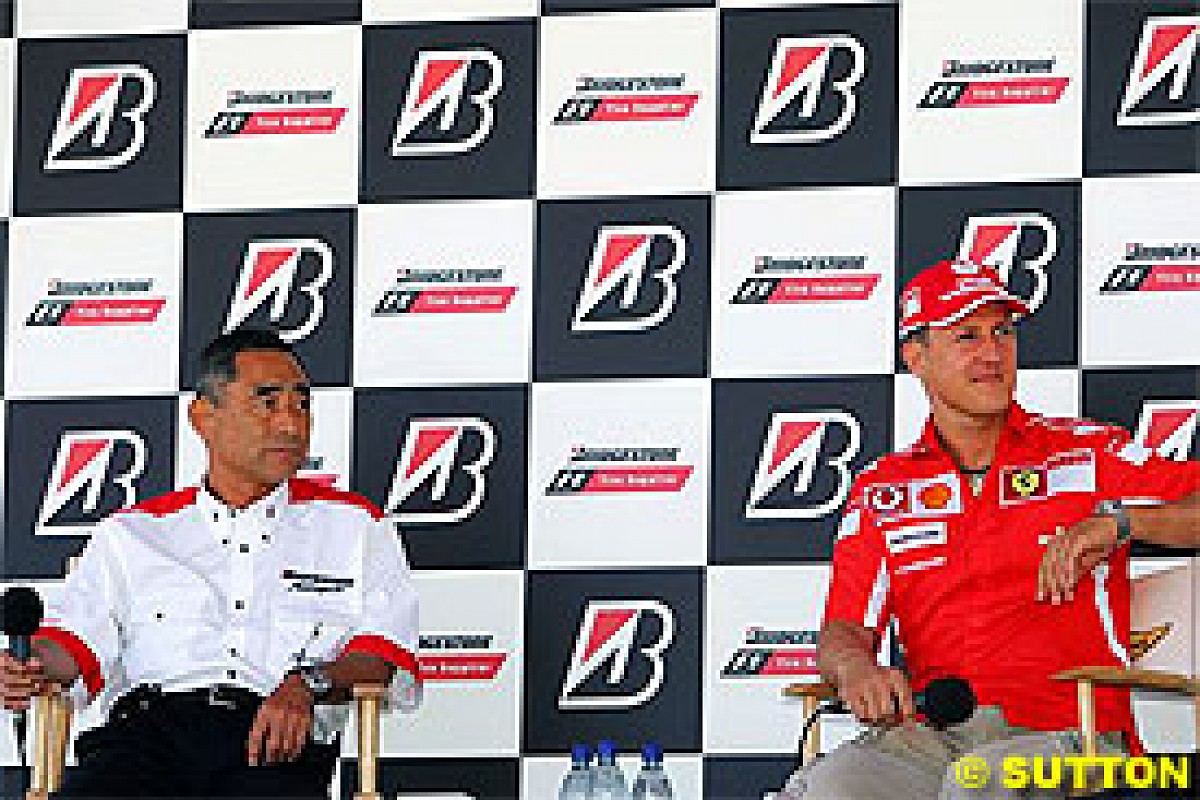 Schumacher said he was confident that Bridgestone and Ferrari's most recent developments would have allowed him to battle with regular front runners Fernando Alonso and Kimi Raikkonen at the Indianapolis Motor Speedway and was disappointed to be given a clear run to victory.
At this weekend's French Grand Prix, providing it goes ahead of course, the true position of Ferrari and Bridgestone relative to their rivals will become clear. They could be ahead, they could be behind, but as long as there is a chance of victory, Hamashima will never give up.
For Bridgestone and Ferrari, this season has so far been similar to the middle of 2003, when their rivals took the upper hand. Then, Bridgestone put in an intensive testing run to fight back with all their might and ended up helping Schumacher take the title by the narrowest of margins.
The same could apply again this year, with Bridgestone and Ferrari starting to fight their way out of trouble, but Hamashima admitted: "It is a more severe situation this year, because the number of competitive teams is much larger than it was in 2003, so I think that it is a more difficult situation for us.
"However, we recognise what is the problem so, once we get a good solution, we will come back again. It is lucky we have so many races this year! Ha! It gives us more time. And, so far, we have the possibility to get the Championship so we still don't think about not winning it."
One thing that is certain, win or lose this year, is that Bridgestone have earned and learned a lot from Formula One and, single tyre rule or no single tyre rule, they are not about to give that up at the possible drop of a title. You can never rule them out.
And as for the future, Hamashima added: "Of course, the single tyre idea is just a proposal so we will have to think about it a little bit more, but anyway, we would like to stay on the Formula One stage. I hope we would (bid for it) because Formula One gives us many high technology things.
It gives us things like car measurements, telemetry data, friction studies, and so on. It is very, very helpful and it helps us to develop our car tyres. We have had experience of being a sole supplier in the past and at that time every team appreciated our support so we know how to manage that."
But right now, they have a more important project to manage, at a vital time of the season. After scoring their first win in bizarre circumstances in the United States, they must pounce on the opportunity, hit Michelin on the wobble, and put Ferrari into the title race. And you wouldn't bet against it.