The 2005 United States Grand Prix Review

---
By Will Gray, England.
Autosport-Atlas GP Correspondent
The United States Grand Prix will go down as one of the most bizarre and controversial events in sporting history. On Sunday, Formula One embarrassed itself with a fiasco booed by the hundreds of thousands of fans that travelled to Indianapolis. Will Gray reviews the events and results from the ninth race of the 2005 season
Debacle. Fiasco. Shambles. Tragedy. Farce. All words used to help people around the world describe one of the most embarrassing events in Grand Prix history. But just was the Indianapolis 'race that was not a race' as crucially catastrophic as its critics claimed?
The race was, of course, complete comedy. The sight of six cars on the grid roaring off the line as if it mattered was enough to send fans from the stands and make television viewers switch channels but for once Ferrari, given a lack of competition, actually put on a race.
Those who continued to persist with the bizarre event were treated to a second helping of the Schumacher vs Barrichello war that is fast growing at the World Champion team as the pair nearly collided to hand what would have been an even more bizarre victory to Jordan driver Tiago Monteiro.
The reactions of the two Ferrari drivers after the race made it clear the clash, which occurred after the second set of stops and saw Barrichello pushed onto the grass, was not just for show. It was two racers, battling hard for the lead. How often have the fans seen that in recent years?
But that is the only minor positive that can be taken from the spectacle that unfolded on an historic weekend at the Brickyard. Formula One had begun to break America after five years and, considering a dull race is a rarity this season, Michelin's mistake came at the wrong place at the wrong time.
It all began when Toyota test driver Ricardo Zonta had an apparently innocuous tyre failure in practice, but problems escalated when his teammate Ralf Schumacher's tyre failed heading into the final corner, the banked turn 13, during the early part of Friday's second practice session.
Michelin tried hard to find the cause, but failed. Saturday's first morning session saw just eight cars run a lap, and although the Michelin runners all came out for the second session after modifying their cars, there were still problems brewing behind the scenes.
Qualifying went ahead as normal but when Michelin failed to prove the tyres they had brought to the circuit would be safe enough to use in the full 73-lap race the event turned to the meeting rooms with team bosses, technical directors, FIA chiefs and Bernie Ecclestone all trying to find a solution.
When they failed, the Formula one paddock, professionals in the knee-jerk reaction, were up in arms, fuming at the FIA for their inability to find a compromise and at Ferrari for apparently being the only team not to back the introduction of a chicane to slow the cars. But at the end of the day, it was all Michelin's fault.
Bringing in a new set of tyres was allowed, with a penalty, but they could not prove they would be safe. Running the qualifying tyres in the race and changing them before they failed would not work, because there was no guarantee they would not fail at any point they were run.
Creating a chicane was not an option because its construction would have been difficult and its introduction would have changed the circuit characteristics which could have subsequently caused other parts, like brakes, to fail. And just Michelin cars running slower through turn 13 would have been highly dangerous.
And so the race that was never a race went ahead with six cars. The American newspapers were critical with headlines like "Safe but Sorry" and "Grand Slammed", following up with comments suggesting Formula One should never return and that the fans should never back this 'European' racing in the future.
Many fans agreed, displaying their discontent by throwing bottles on the track, making gestures, leaving their seats, ripping up tickets, surrounding circuit offices and, occasionally, creating minor uprisings, which the rapidly-introduced police at the circuit were comfortably able to control.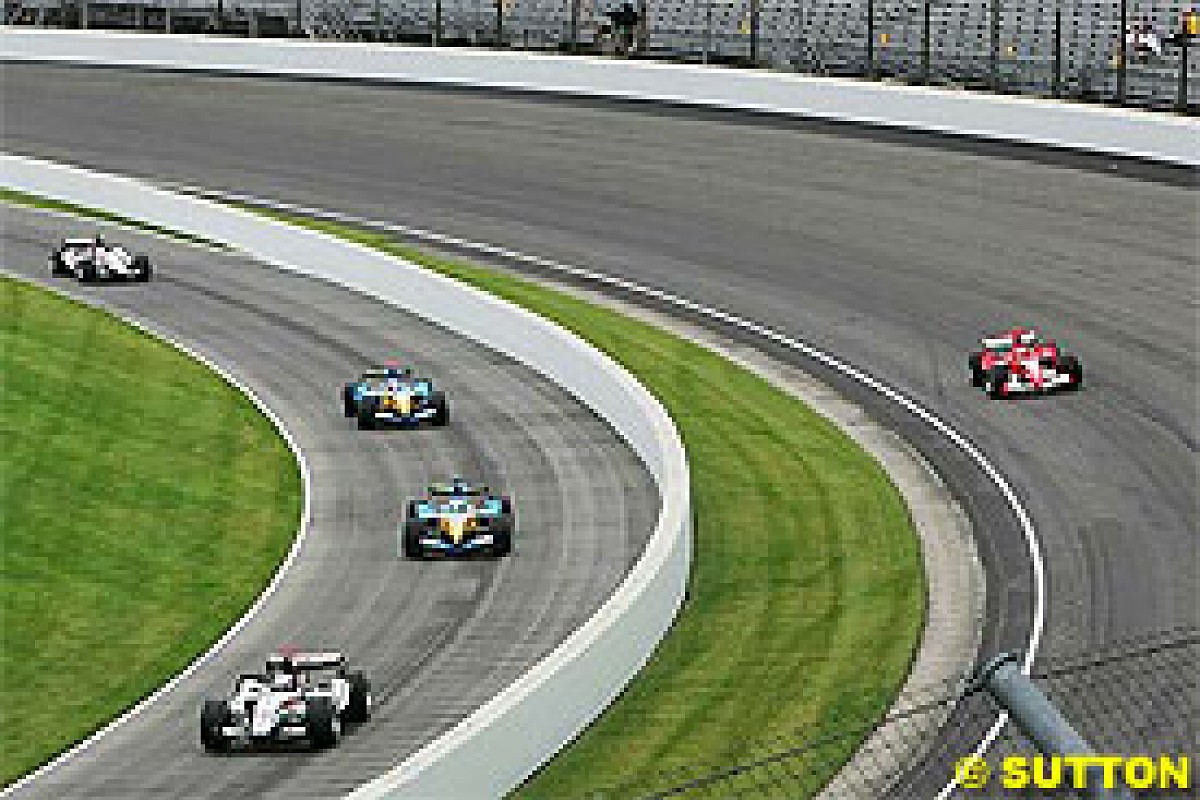 But there were still a lot of fans who, perhaps, understood the situation, watched a motor race, of sorts, and understood that it was an unavoidable situation that had developed over the weekend, due to a Michelin mistake, and that it will not happen again next year.
Yes, it hit Formula One in the United States, but it is difficult to believe, while the Speedway is angered by the situation and many fans have been done out of what could have been a thrilling event, that the sport will not be back at Indianapolis in 2006.
And it is also difficult to believe, as happened with the controversial Austrian Grand Prix in 2002, when Ferrari orchestrated the result, that, once Michelin is handed an expected punishment for bringing the sport into disrepute, Formula One will not be at least the same if not better for what occurred at Indianapolis.
The viewing figures for the next race in France are likely to be boosted, not reduced, by what happened in the United States and, as long as the long-term future of the race is not too badly damaged, Formula One can hope that the adage 'all publicity is good publicity' can be applied once again.
The weekend has many connotations for the future, of course, with the FIA's push for a single tyre manufacturer greatly boosted by the events in Indianapolis but also the reaction of the FIA and of Ecclestone in the pressure situation set to be called into question.
But it also has strong relevance to this season's world title race: Ferrari are back in it. Eighteen points with their rivals scoring none is just what the World Champions needed to bring them back up to the front just as they are getting to grips with their 2005 challenger.
Of course, it is all credit to Bridgestone, who unlike their rivals were able to bring a tyre to cope with Indy's unique banking and allow their partner teams to race, so there is no 'unfair' element to put to Ferrari for jumping at the chance to snatch maximum points from Michelin's mistake.
Ferrari will roar into the second half of the season on a high and those who wrote the struggling champions off after their early season drop in form could yet be made to eat their words. And if they keep improving, they may not even need the competition to pull out to claim victory.
Qualifying
The tyre debacle, which followed Toyota's tyre failures on Friday, began on Saturday morning leaving most of the Michelin runners unable to take part in the first 45-minute session as they made modifications to their cars to improve safety.
They all set times in the second practice session but their preparations were severely hampered for the afternoon qualifying session and while some appeared to gain from the changes they were forced into, others took a tumble. But still the Michelin runners went fastest.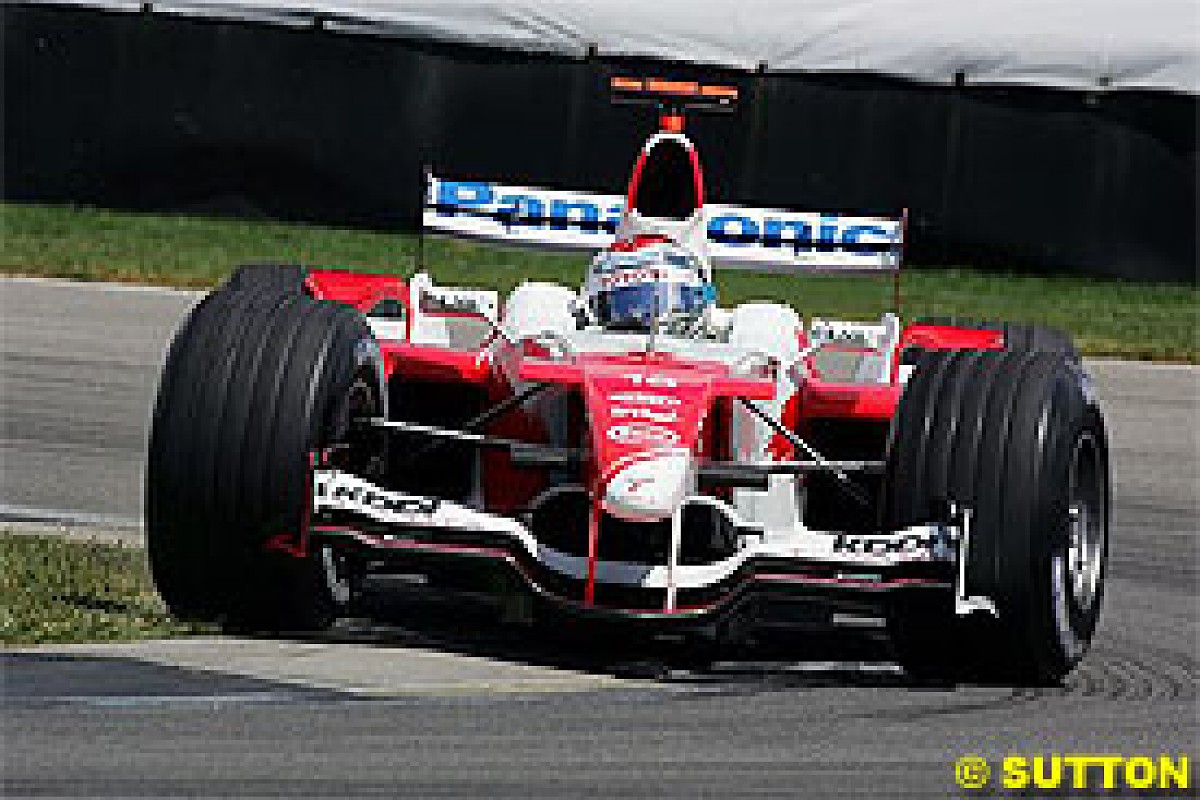 1. Jarno Trulli (Toyota) 1:10.625
Trulli was thrilled to secure his third career pole and brighten Toyota's weekend with their first ever pole in four years of Grand Prix racing. He put in a good clear lap and although he went out early in the session his time was never beaten.
2. Kimi Raikkonen (McLaren) 1:10.694 + 0.069
Raikkonen, who had run well all weekend, had a good try at topping the times but he just narrowly missed out to Trulli. Running last in the session, having won in Canada, the Finn admitted his lap was "pretty good" and suggested that his team had fuelled up more than Toyota so he was happy with the front row.
3. Jenson Button (BAR-Honda) 1:11.277 + 0.652
A disastrous practice saw BAR down in 15th and 16th positions on Friday but the team appeared to be one to benefit from the modifications to the tyres and Button was able to even surprise himself with a time good enough to claim third place despite struggling with low grip and understeer.
4. Giancarlo Fisichella (Renault) 1:11.290 + 0.665
Fisichella was happier with his car after the changes in the morning gave him more consistent handling and despite running early in the session he was still able to secure a place on the second row.
5. Michael Schumacher (Ferrari) 1:11.369 + 0.744
Schumacher was actually happy to be in fifth, the pole side of the track, rather than fourth because of greater grip. He suggested that he was on a heavier fuel load than he was in Canada, where he stopped early relative to his rivals, and tipped himself for a podium finish.
6. Fernando Alonso (Renault) 1:11.380 + 0.755
A small amount of understeer helped push Alonso behind teammate Fisichella on the grid but he still claimed his lap was a good one and he was less than one tenth of a second behind the Italian.
7. Rubens Barrichello (Ferrari) 1:11.431 + 0.806
Barrichello, like Schumacher, showed good pace in the Friday practice sessions and managed to finish just 0.062 seconds behind Schumacher in qualifying, despite Ferrari's poor one lap performance. He was happy with his spot, confident that his car would be stronger in the race.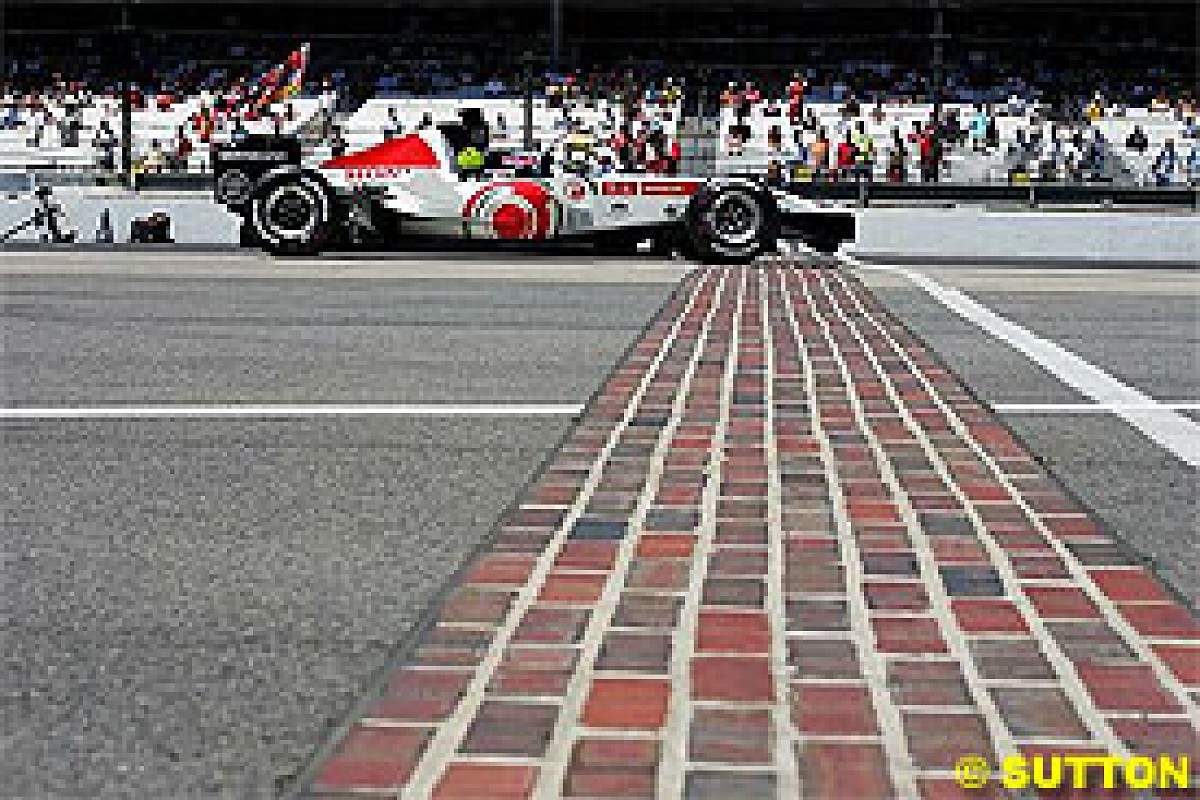 8. Takuma Sato (BAR-Honda) 1:11.497 + 0.872
Sato was forced to change his set-up from final practice after the team tried different set-ups on their two cars. Button's car was best, so Sato's was changed before qualifying and he did not know how it would handle, so he was more than happy with a fourth-row place.
9. Mark Webber (Williams) 1:11.527 + 0.902
Webber admitted his lap time was the best he could do with the car he had and he appeared more active in working to get the drivers together to plan the strategy over the tyre problems than he was concerned with his grid position.
10. Felipe Massa (Sauber) 1:11.555 + 0.930
A poor third sector cost Massa time on his lap and he complained of a lack of grip in the last few corners that put him in tenth spot. It was an improvement on practice, however, and it beat Villeneuve again, so he was happy with his position.
11. Juan Pablo Montoya (McLaren) 1:11.681 + 1.056
Montoya was always going to struggle as he was forced to run second in the session because of his disqualification in Montreal. He complained of a complete lack of grip, not helped by the Porsche Supercup running previously, and locked up a few times as he finished almost a second slower than teammate Raikkonen.
12. Jacques Villeneuve (Sauber) 1:11.691 + 1.066
Villeneuve admitted he was not aggressive enough on his lap after failing by just one hundredth of a second to beat Montoya's time. But he was happy with a clean lap and claimed unknown tyre degradation made him unsure of how hard to push.
13. Ricardo Zonta (Toyota) 1:11.754 + 1.129
When Ralf Schumacher was given doctors orders to stay away, Zonta was given the chance to race and, having already practiced on Friday, he was up to speed in time for the session. But the changes suggested by Michelin took time out of practice and he admitted he was not well prepared for his first qualifying run in eight months. He suffered a lack of grip and finished more than a second down on his pole-sitting teammate.
14. Christian Klien (Red Bull) 1:12.132 + 1.507
Klien did not suffer from the changes made to the Red Bull cars in morning practice and he was satisfied with a time that beat his teammate Coulthard by more than half a second.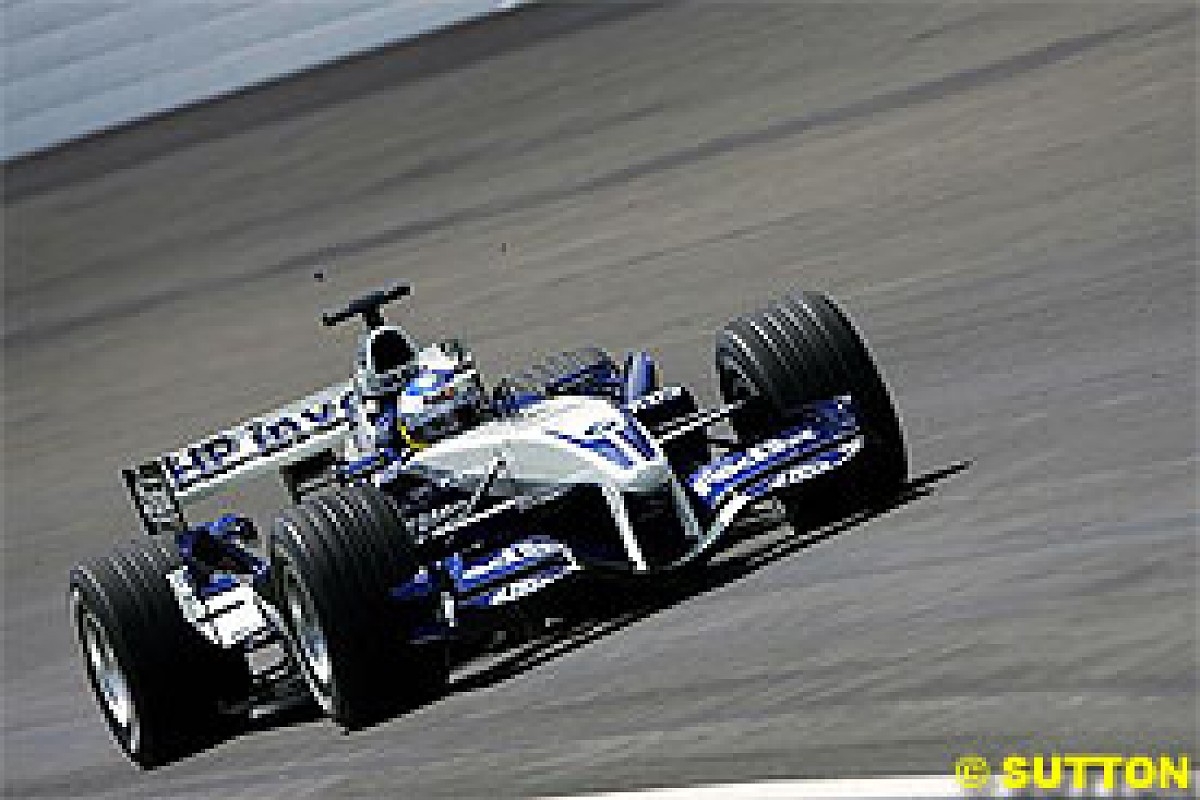 15. Nick Heidfeld (Williams) 1:12.430 + 1.805
Heidfeld complained of very bad grip and was not happy about his lap. He claimed his car felt better in Friday's practice and blamed his drop down the field on the changes suggested by Michelin.
16. David Coulthard (Red Bull) 1:12.682 + 2.057
Coulthard claimed of a loss of balance after the tyre pressures on his car were increased for safety reasons but his poor qualifying time, and his half-second deficit to Klien, could be explained by a mistake at turn eight, where he lost the back end of the car and cost himself a chunk of time.
17. Tiago Monteiro (Jordan) 1:13.462 + 2.837
After a clean lap Monteiro would not have known how important it would become to have finished top of the backmarker battle. His car was much improved over Friday practice and he admitted he was confident for the race. But he could never have imagined what would happen next.
18. Christijan Albers (Minardi) 1:13.632 + 3.007
Albers was already pondering the chance of fortune working in his favour after qualifying eighteenth, satisfying team boss Paul Stoddart by setting a faster time than one of the Jordan cars.
19. Narain Karthikeyan (Jordan) 1:13.776 + 3.151
An early start in the session and a strong wind, Karthikeyan claimed, hampered his performance and his lap was three tenths slower than his teammate Monteiro's effort.
20. Patrick Friesacher (Minardi) 1:14.494 + 3.869
Friesacher complained of understeer and a lack of traction on his qualifying lap and he struggled in every sector, eventually setting a time some 0.867 seconds slower than Albers and more than a second off the lead backmarker.
The Race
When last-minute efforts to implement a solution to Michelin's safety concerns failed just 20 minutes before the race, the fate of the event was already sealed even though all the cars lined up on the grid.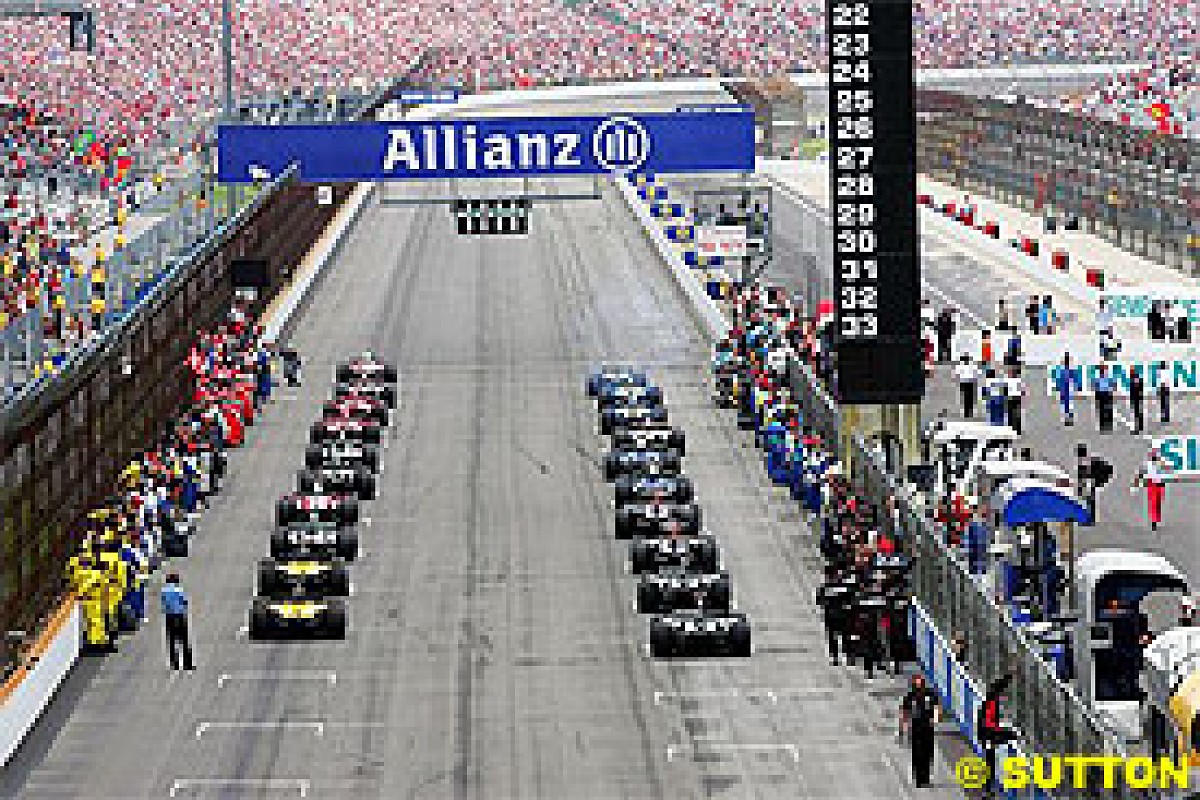 All the cars set off on their parade lap when one o'clock arrived but only six were destined to complete it as the 14 Michelin runners peeled off into the pits to retire, unable to race on their tyres without changes to the track.
The crowd, the teams, the journalists, and the television viewers all sat aghast as just six cars lined up on the grid while all the Michelin teams returned to their garages to pack up, their weekend over.
The most bizarre start in recent Formula One history even baffled Barrichello, who said: "After the parade lap I went to rest, like we normally can, woke up thinking okay, someone is going to tell me something. There was nothing.
"There was really nothing. I came with my car on the grid and there was really nothing. Then they had positioned their cars and the public got excited and all of a sudden they pulled into the pits."
At the start, Schumacher, who started from fifth but effectively from pole, made a clean get-away to take the lead from Barrichello into the first corner as the Jordans and Minardis trailed behind.
Monteiro secured third with Albers slotting into fourth, Karthikeyan fifth and Friesacher sixth, but the crowd were not impressed and began gesticulating their anger from the stands. Then Barrichello ran over a water bottle.
"I could see the bits flying," said Barrichello. "If I had had a microphone at that time I would have quite rightly explained the situation to the guys. It's just sad."
Schumacher, who was also aware of things being thrown onto the track, added: "It was mainly bottles, a bit of beer, as far as I could smell, in the first corner, but conditions were okay, no problem."
The order of the top two Ferraris, which ran nose to tail, remained the same until the first set of stops when Schumacher pitted on lap 26 and lost the lead because of a long stop.
He explained: "We had a long pitstop to make sure the tyres were okay. In the situation we were it was comfortable to do that and for whatever reason my stop took quite a bit longer than Rubens' one.
"After leading by whatever seconds, I found myself three or so seconds behind, which meant it would be very difficult, because Rubens was pushing very hard to maintain the lead."
Albers made his stop from fifth on lap 31 and dropped to sixth when he almost stalled coming out of his pit but Friesacher, making his second stop on lap 45, was in the pit for 21.2 seconds with a fuel nozzle problem.
Karthikeyan pitted on lap 47 and Monteiro on lap 48 but the final action of the bizarre and relatively uneventful race came on lap 50, one lap after Barrichello had made his final stop of the race.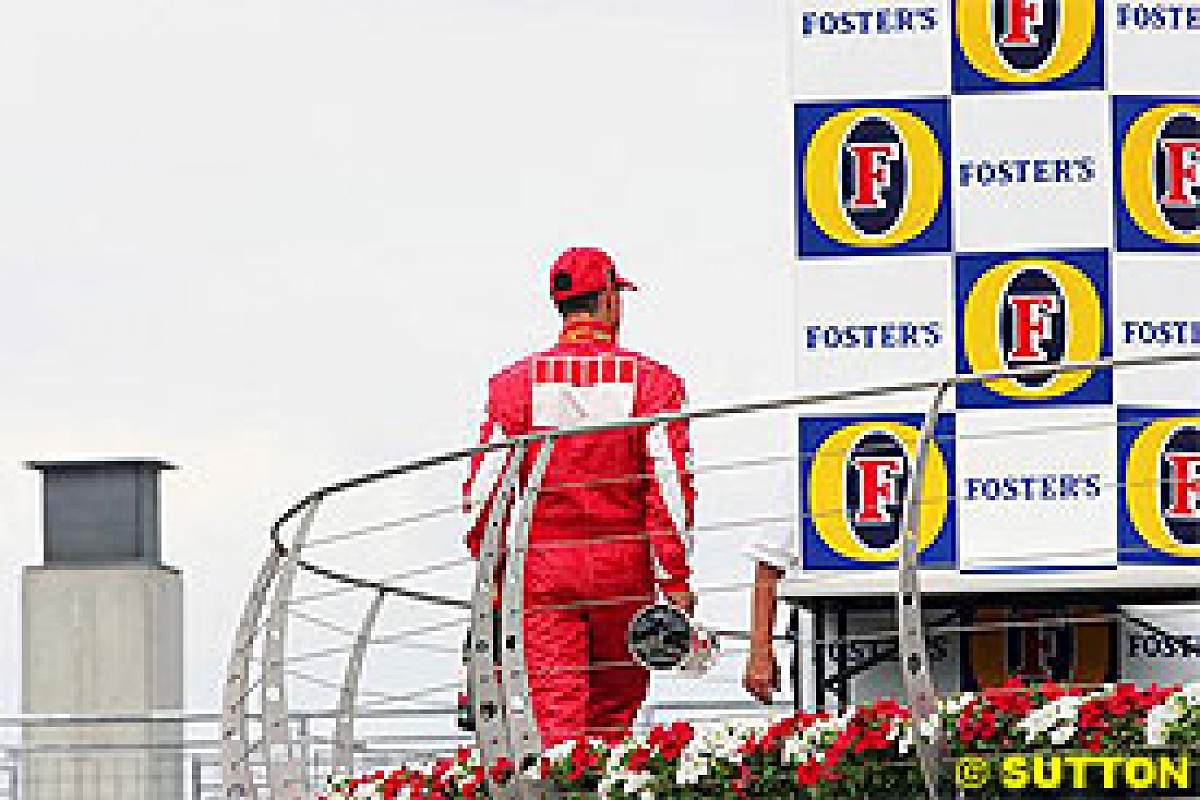 Schumacher stopped one lap later and came out just as Barrichello was coming into the first corner. "It was very close, but no contact. Both of us make sure we race up to the limit but try to avoid contact."
Barrichello was not so happy. He was forced onto the grass as Schumacher shot out of the pits in a desperate attempt to re-gain the lead, which ultimately worked to his advantage. But it did their fragile relationship no good at all.
"I am disappointed, obviously," frowned Barrichello. "I pushed quite a lot and could maintain the pace and open the gap by 0.1 or 0.2 per lap so that at 3.1 I thought I had it covered.
"I had a tremendous out lap and obviously when I saw he was already on the inside and he was going to be very close I tried what I could and it was very close but obviously I had to try to keep in front.
"I couldn't make the corner, basically, and I went straight through. I was pushing like hell and I was pushing Michael. Unfortunately I couldn't have the right strategy at that time, but I had a good race and a sad race."
And that was it. Every car that started, finished, because none of them had to push too hard. Schumacher secured his fourth victory at the Indianapolis Motor Speedway, and Ferrari put themselves right back in the title race.
Race Results
Pos  Driver        Team                  Time   
 1.  M.Schumacher  Ferrari          (B)  1h29:43.181
 2.  Barrichello   Ferrari          (B)  +     1.522
 3.  Monteiro      Jordan-Toyota    (B)  +     1 lap
 4.  Karthikeyan   Jordan-Toyota    (B)  +     1 lap
 5.  Albers        Minardi-Cosworth (B)  +    2 laps
 6.  Friesacher    Minardi-Cosworth (B)  +    2 laps

Fastest Lap: M.Schumacher, 1:11.497

Not Classified/Retirements:

Driver        Team                  On Lap
Trulli        Toyota            (M)    0
Raikkonen     McLaren-Mercedes  (M)    0
Button        BAR-Honda         (M)    0
Fisichella    Renault           (M)    0
Alonso        Renault           (M)    0
Sato          BAR-Honda         (M)    0
Webber        Williams-BMW      (M)    0
Massa         Sauber-Petronas   (M)    0
Montoya       McLaren-Mercedes  (M)    0
Villeneuve    Sauber-Petronas   (M)    0
Zonta         Toyota            (M)    0
Klien         Red Bull-Cosworth (M)    0
Heidfeld      Williams-BMW      (M)    0
Coulthard     Red Bull-Cosworth (M)    0

World Championship Standing, Round 9:

Drivers:                    Constructors:             
 1.  Alonso        59        1.  Renault           76
 2.  Raikkonen     37        2.  McLaren-Mercedes  63
 3.  M.Schumacher  34        3.  Ferrari           63
 4.  Barrichello   29        4.  Toyota            47
 5.  Trulli        27        5.  Williams-BMW      47
 6.  Heidfeld      25        6.  Red Bull-Cosworth 22
 7.  Webber        22        7.  Sauber-Petronas   12
 8.  R.Schumacher  20        8.  Jordan-Toyota     11
 9.  Fisichella    17        9.  Minardi-Cosworth   7
10.  Coulthard     17
11.  Montoya       16
12.  Massa          7
13.  Wurz           6
14.  Monteiro       6
15.  Villeneuve     5
16.  Karthikeyan    5
17.  Klien          4
18.  Albers         4
19.  de la Rosa     4
20.  Friesacher     3
21.  Liuzzi         1


Fastest race laps: Click here
Pitstop times: Click here
Lap by Lap
Lap 1: On pole position for the third time in his Formula One career - a first for Panasonic Toyota Racing - Jarno Trulli peels into the pits at the end of the installation lap. The other 13 Michelin runners - Kimi Raikkonen, Jenson Button, Giancarlo Fisichella, World Championship leader Fernando Alonso, Takuma Sato, Mark Webber, Felipe Massa, Juan Pablo Montoya, Jacques Villeneuve, Ricardo Zonta, Christian Klien, Nick Heidfeld and David Coulthard - follow suit.
The six Bridgestone cars take the start. Michael Schumacher takes the lead from Rubens Barrichello, Tiago Monteiro, Christijan Albers, Narain Karthikeyan and Patrick Friesacher.
Lap 2: The Ferraris streak away from the remaining quartet. Schumacher leads Barrichello by 1.2s.
Lap 7: Barrichello cuts the deficit to 0.9s..
Lap 8: ...and 0.7s.
Lap 9: The two leaders are 0.4s apart but the remaining cars are fairly well spaced.
Lap 10: Albers makes the first scheduled pit stop and drops to sixth.
Lap 14: Schumacher leads Barrichello by 0.3s - the closest the two cars have been since the start.
Lap 19: Friesacher pits and rejoins behind Albers.
Lap 20: Barrichello records a personal best lap - 1m 12.850s - but remains 0.7s adrift. Karthikeyan pits but remains fourth.
Lap 21: Schumacher laps Friesacher.
Lap 22: Monteiro refuels but retains third on rejoining.
Lap 24: Barrichello pits and resumes in a comfortable second place, almost half a minute adrift.
Lap 26: Schumacher pits. Mechanics take a good, hard look at his left-rear tyre and the delay drops him to second, 3.6s adrift of Barrichello. For the time being, all six cars are on the same lap.
Lap 28: Schumacher cuts the gap to 3.4s.
Lap 31: Albers makes his second stop and drops to sixth, a lap adrift. The Ferraris are 2.2s apart.
Lap 34: Barrichello sets another personal best - 1m 12.758s - and extends his lead to 2.5s.
Lap 35: And again: 1m 12.773s. His lead grows to 2.7s.
Lap 36: Both Ferraris lap in the 1m 12.6s bracket. The gap stabilises.
Lap 38: Barrichello sets fastest lap of the race: 1m 12.384s. He leads by 2.8s.
Lap 39: The gap extends to 3.0s.
Lap 40: Barrichello laps in 1m 12.203s.
Lap 42: Schumacher laps in 1m 12.183s but remains 3.0s adrift.
Lap 43: Barrichello ups the ante: 1m 12.026s. He leads by 3.3s.
Lap 44: Schumacher laps in 1m 11.848s. Friesacher refuels and drops behind Albers.
Lap 45: Both Ferraris are in the 1m 11.7s - but Schumacher is slightly faster, on 1m 11.704s.
Lap 46: Karthikeyan makes his second stop.
Lap 48: Schumacher laps in 1m 11.497s as both Ferraris set personal bests. Monteiro pits.
Lap 49: Barrichello makes his second scheduled stop.
Lap 50: Schumacher leads by 23.1s. Only the Ferraris are now on the lead lap.
Lap 51: Schumacher pits and rejoins almost alongside Barrichello, who ploughs straight on at the first corner at the start of his 52nd lap in a failed bid to retain the lead.
Lap 52: Schumacher leads by 1.8s...
Lap 53: ...and 2.3s.
Lap 54: Barrichello closes to within 1.3s...
Lap 55: ...and 0.7s. The Jordans are third and fourth, half a minute apart. Both Minardis are two laps adrift.
Lap 59: The Ferraris are now just 0.5s apart.
Lap 61: Barrichello is right on Schumacher's tail.
Lap 63: The gap between the Ferraris settles down, with Schumacher a couple of seconds to the good.
Lap 73: Schumacher wins by 1.5s from Barrichello. Monteiro secures his first F1 podium - and points - in third, ahead of Karthikeyan. Albers retains fifth despite a short, scheduled refuelling stop late in the race and Friesacher rounds off the finishers as all six starters last the full distance.