The 2005 Canadian GP Review

---
By Will Gray, England.
Autosport-Atlas GP Correspondent
Fernando Alonso had it all in his hand to extend his Championship lead with a win in Canada, but the Spaniard made a rare mistake and ended up gifting victory to main rival Kimi Raikkonen, who got back what he had lost in the Nurburgring two weeks earlier. Will Gray reviews the events and results from the eighth race of the 2005 season
Just two weeks ago Kimi Raikkonen was left with an uphill challenge to snatch the World Championship away from almost-certain victor Fernando Alonso after he threw away a vital victory at the Nurburgring. Now, at the end of two weeks in North America, he could be right back in the title race.
Raikkonen heads to Indianapolis this weekend in full confidence, after seeing his rivals fall around him in the Canadian Grand Prix to give him a clear victory, and put the Championship positions back to where they were before the European Grand Prix, with the Finn trailing the Spaniard by 22 points.
It is still a large margin but, at a circuit where McLaren have a history of performing strongly, success in the second back-to-back North American event could send the team back to Europe on the up with Renault facing a pressured return to their homeland for the French Grand Prix at the start of July.
What the Montreal race did prove is that the current battle between those two cars and those two drivers is so evenly matched they run the same strategies, have the same ideas, and are equally capable of making the mistakes that will see the Championship advantage change hands many times yet.
McLaren were dominant again in the early running, their third driver Pedro de la Rosa topping both Friday practice sessions, but Renault, without a third driver this season, proved their might in the race and despite McLarens claims to the contrary, the win would have been hard fought if they stayed on the track.
But for the first time with their lead car this season they did not. Alonso's mistake, putting it into the wall while running in the lead, proved that both he and Raikkonen are equally capable of cracking under pressure, be it coming from themselves or from a chasing rival.
And the failure of Giancarlo Fisichella's car, causing his fourth retirement of the year, coupled with the confused move from McLaren not to bring Juan Pablo Montoya into the pits from the lead when the safety car came out a few laps from the end, also proved the teams are both fallible and unpredictable too.
McLaren threw away their chance of closing right in on the Constructors' Championship when the team called Montoya in after Raikkonen, effectively handing their World Championship-chasing driver the win. At least that is how Montoya will have seen it.
The Colombian, whose Latin temperament McLaren promised to calm this season, showed his weaknesses in the incident, driving past red lights at the end of the pitlane, and also displayed his hot-headed approach earlier when, faced with the chance of snatching second out the pits, he went off on the grass instead.
It seems that the pressure of real racing this year is forcing the drivers into more and more mistakes and even Raikkonen, the Iceman as he is marketed, lost his cool in the closing stages of the race and almost let eager racer Schumacher pounce for victory.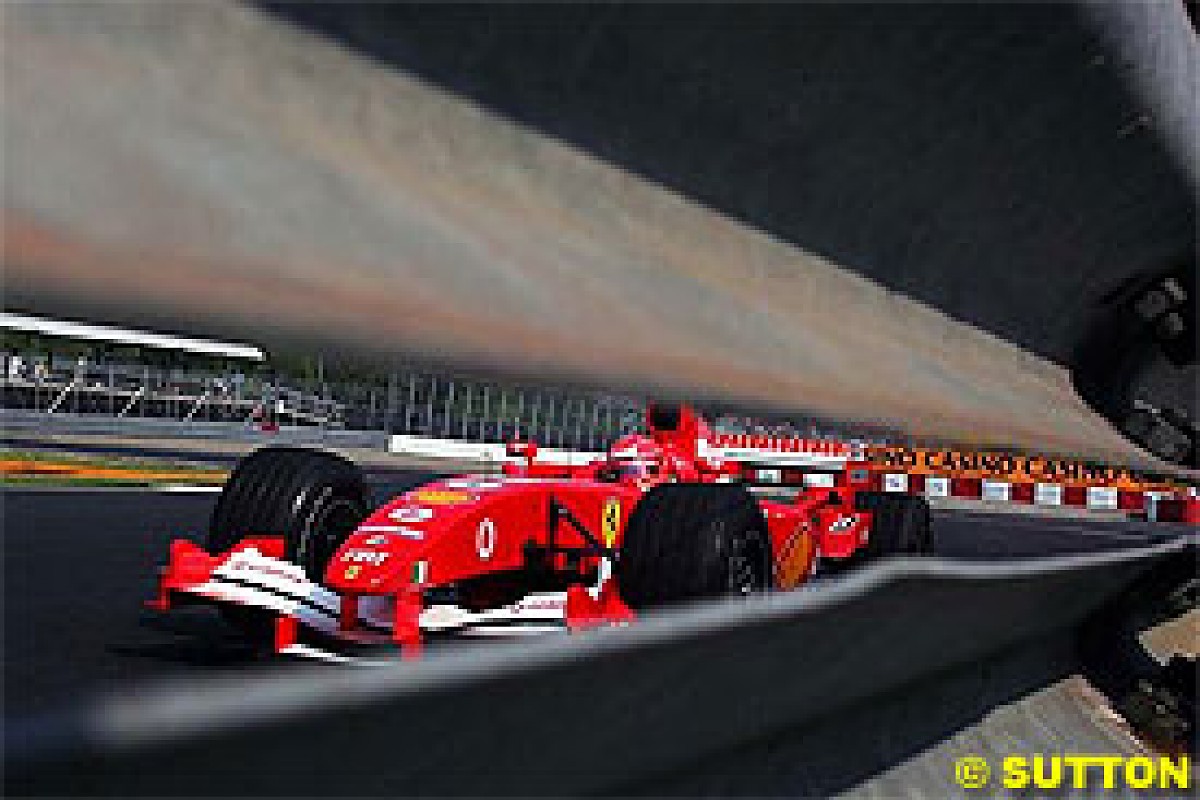 Schumacher has been quietly plugging away in recent races and, after being discounted as no-hopers early in the season, Ferrari started to prove people will be wrong to write them off this early on. They are still 31 points behind Renault, but that can change very quickly.
Last year the Italian team was scoring one-two finishes for fun and while their second and third places in Montreal were down to a fair slice of luck, they were also down to their re-discovered ability to remain consistently race reliable while their rivals fell apart with problems and driver errors.
Barrichello's chase from the pits to the podium was one of his best achievements to date and with three finishes in the last three races World Champion Schumacher is now just three points away from third place in the title race as he heads to one of his favourite venues this weekend.
Williams, currently in turmoil with BMW, appear more concentrated on their future than their racing but Mark Webber capitalised on a long first stint to claim fifth and their disappointment to see Nick Heidfeld retire would likely have come with a smile at the fact it was caused by an engine failure.
Toyota, too, are dropping back after early season form and it could be left to BAR-Honda to supply the surprise package at the front after they returned to the pace they have been expected to show when Jenson Button claimed pole and ran in third before throwing it all away.
With no points on the board yet getting some would be their expected target for the next race at Indianapolis but the team have declared an all-out attack on the top spot and promised to push to mix it with McLaren and Renault for victory rather than settle for a lowly points score.
Their strategy and performance looked more on a level with Ferrari than the two top teams out at the front in Montreal, but if they can get in the zone at Indy then that will only spell more trouble and more pressure for Raikkonen and Alonso, begging the question of which one will crack this time.
Qualifying
The Circuit Gilles Villeneuve threw up a range of strategies for the teams to play with and consequently the grid positions bore little resemblance to the times shown in the four preceding practice sessions.
McLaren had dominated proceedings on Friday with test driver Pedro de la Rosa setting the fastest time in both sessions, each time finishing just ahead of Toyota test driver Ricardo Zonta.
Raikkonen continued the trend by going fastest in the final session after Renault topped the times in the third, but strategy put McLaren back down the grid when it came to qualifying as BAR-Honda came to the fore.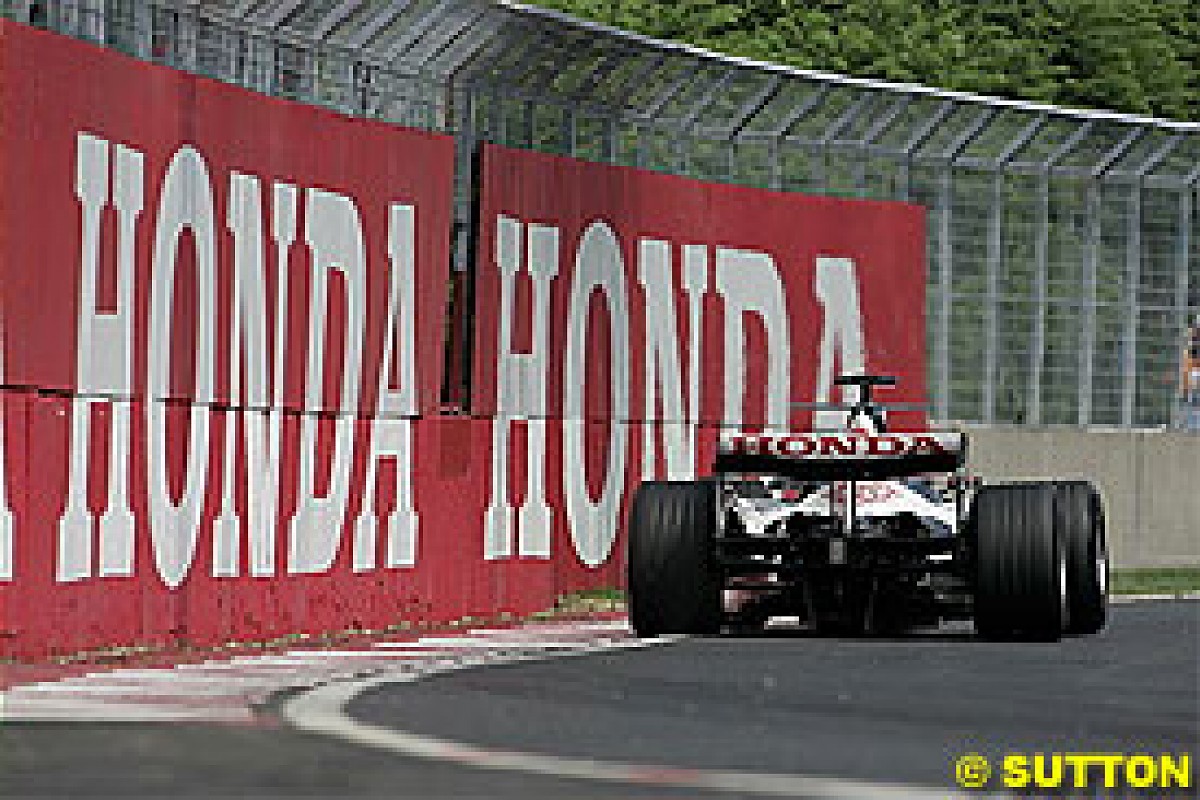 1. Jenson Button (BAR-Honda) 1:15.217
Button surprised even himself when he set a stunning time, finishing fastest in the first two sectors of the lap, to claim his second career pole position despite going out midway through the session. The Briton's BAR car was clearly running light and he complained about low grip despite appearing to have a downforce-heavy car that was the 16th slowest through the speed trap.
2. Michael Schumacher (Ferrari) 1:15.475 + 0.258
The struggling World Champion team's tyre suppliers Bridgestone appeared to have found the secret of single lap performance when Schumacher set the second fastest lap, delighted after improving his ill-handling car significantly following a disappointing Friday practice run. His tactic of running light allowed him to be third fastest through the speed traps and set the second fastest second sector time and third fastest third sector time.
3. Fernando Alonso (Renault) 1:15.561 + 0.344
Alonso was the last car on the circuit in the session but he could not make the most of the track conditions and despite setting the fastest time in the third sector and the second fastest speed trap time he missed out on a front row grid spot and had to hope for a strong start to jump the men in front of him.
4. Giancarlo Fisichella (Renault) 1:15.577 + 0.360
Things finally came good for Fisichella as he lined up alongside Alonso on the second row. The two Renault drivers appeared to have taken similar strategies with car set up as both were fastest through the speed trap and both had strong third sector times. Fisichella also set the second fastest time in the first sector, but dropped time in the second part of the lap.
5. Juan Pablo Montoya (McLaren) 1:15.669 + 0.452
Let down by a slow first sector, Montoya recovered time in the second, setting the third fastest time behind Button and Schumacher, and managed to out-qualify teammate Raikkonen for the first time since the season-opening Australian Grand Prix.
6. Takuma Sato (BAR-Honda) 1:15.729 + 0.512
Sato blamed his failure to push hard on the warm-up for his flying lap as a reason for finishing half a second off his teammate's time but he remained delighted that the team had improved enough to put him on the third row of the grid for only the second time this season.
7. Kimi Raikkonen (McLaren) 1:15.923 + 0.706
Like Button, Raikkonen was very slow through the speed trap, around 10km/h slower than Fisichella, but he failed to set a particularly strong pace in either of the sessions and gave the impression of running a very fuelled-up car to maximise the length of his first stint in the race to the detriment of grid position.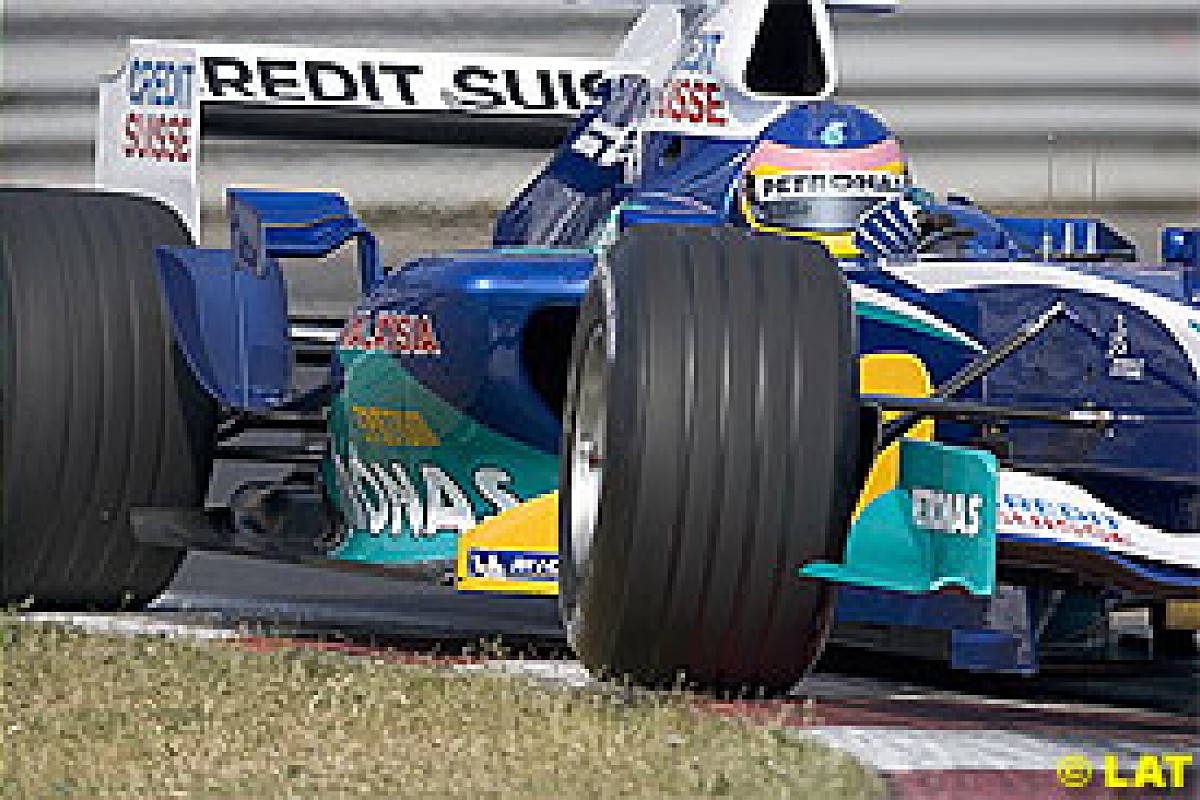 8. Jacques Villeneuve (Sauber) 1:16.116 + 0.899
After being bombarded with criticism on his way to his home Grand Prix Villeneuve reacted in perfect fashion to leave Sauber singing his praises as he claimed eighth fastest time and out-qualified teammate Felipe Massa for the third time this season. He admitted to a few mistakes on the lap, noticeably locking up on one occasion, but a strong final sector pushed him up the grid and he declared his lap the most satisfying of the season so far.
9. Jarno Trulli (Toyota) 1:16.201 + 0.984
After suffering electronics problems in practice, which limited his running time, he was happy to get into the top ten. He complained of difficulties in getting heat into his tyres on the warm-up lap and was left hoping for a good race strategy to climb into the points.
10. Ralf Schumacher (Toyota) 1:16.362 + 1.145
Schumacher was out early in the session and admitted the track was difficult to handle, particularly after the resurfacing of some parts with concrete following Friday practice, as he put in a middle of the road performance to claim a middle of the grid position.
11. Felipe Massa (Sauber) 1:16.661 + 1.444
Massa hinted that he was out-qualified by teammate Villeneuve because of different strategies for the race itself. He lost a tenth to his teammate in the first two sectors but was four tenths off the Canadian's pace in the final sector and was left insisting he could turn his mid-grid position into a points-chasing race.
12. David Coulthard (Red Bull) 1:16.890 + 1.673
After the highs of scoring more points at the last race in the Nurburgring Coulthard was once again brought down to earth by an ill-handling Red Bull machine in Montreal. Despite setting the sixth fastest speed trap time he complained his car was slow on the straights and also slow in the corners, leaving him praying for another lucky break at the start of the race.
13. Nick Heidfeld (Williams) 1:17.081 + 1.864
Heidfeld admitted he made a big mistake at the hairpin that cost him dearly. He set the 11th and 12th fastest times in the first two sectors but was down in 14th in the final third of the lap, a full second slower than that 30-second sector's fastest time. He insisted the lap did not reflect the potential of the car but hinted that his position was not down to strategy.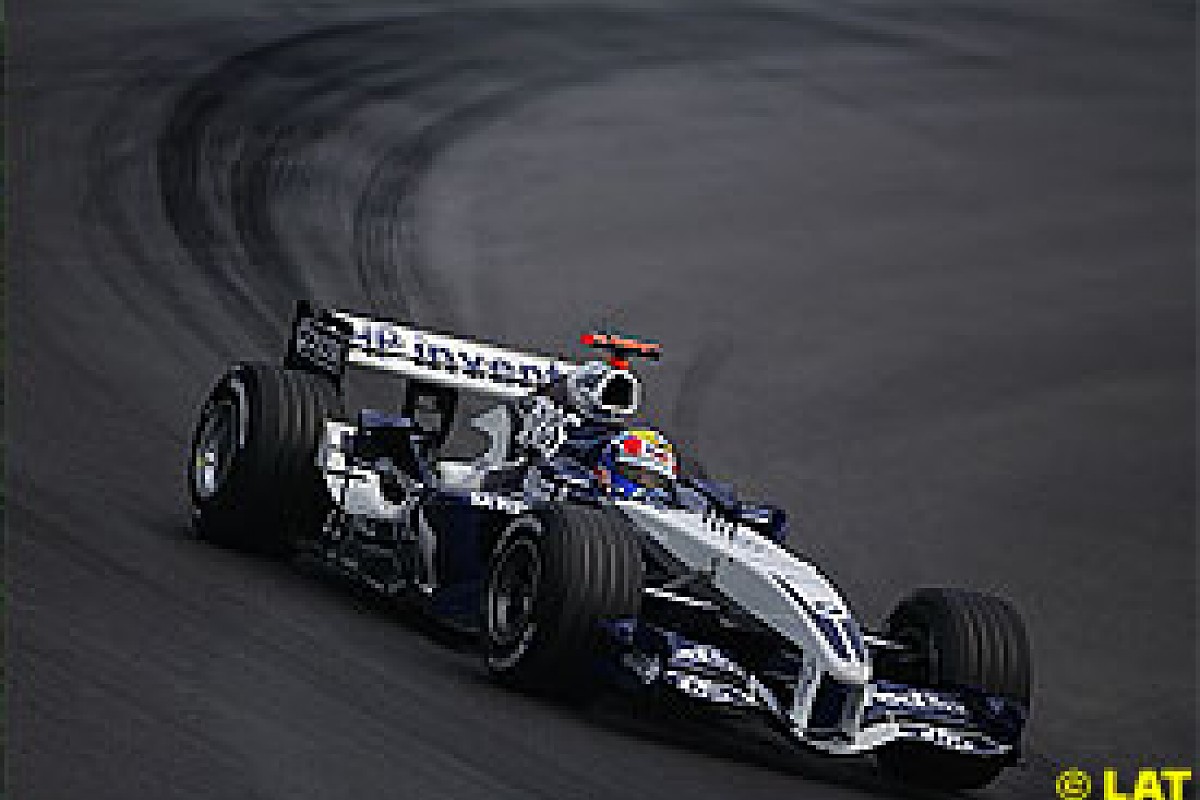 14. Mark Webber (Williams) 1:17.749 + 2.532
Webber had to go out second in the session and suffered the consequences. He braked too early into turn six and set the second slowest second sector time of the drivers who completed a full lap, only two tenths faster than Friesacher's Minardi. Aside from that mistake, mid grid was all Williams could hope for as their run of three consecutive Montreal poles came to an end.
15. Christijan Albers (Minardi) 1:18.214 + 2.997
The team were visibly stunned by Albers' lap, which team boss Paul Stoddart described as "mega", and the Dutch driver was thrilled to out-qualify not only his teammate and both Jordans but also the Red Bull of Christian Klien.
16. Christian Klien (Red Bull) 1:18.249 + 3.032
The Red Bull car clearly does not like the Circuit Gilles Villeneuve and Klien, who returned to the car after Liuzzi's race spell, suffered for running first in the session. The excuse held little strength, however, nor did his claims that the track was two seconds slower after the preceding Formula BMW race, but he insisted he made no mistakes and claimed there was little more he could do.
17. Narain Karthikeyan (Jordan) 1:18.664 + 3.447
Karthikeyan was under pressure from boss Colin Kolles, who expressed his disappointment of the Indian's performances in the last two races. Karthikeyan could not understand the criticism and although he looked cautious he proved himself with a clean lap to out-qualify teammate Tiago Monteiro to square up the qualifying at four-all.
18. Tiago Monteiro (Jordan) 1:19.034 + 3.817
A mistake in the final corner cost Monteiro two tenths on Karthikeyan but although he matched his teammate in the second sector he was already down two tenths after a cautious first sector and finished firmly second best in the Jordan camp.
19. Patrick Friesacher (Minardi) 1:19.574 + 4.357
Friesacher could not match his teammate's impressive lap and finished where Minardi would normally expect to be. But the team have improved and Friesacher knew he should have done better, but claimed the car "felt strange" and complained of oversteer in the corners as his practice pace deserted him.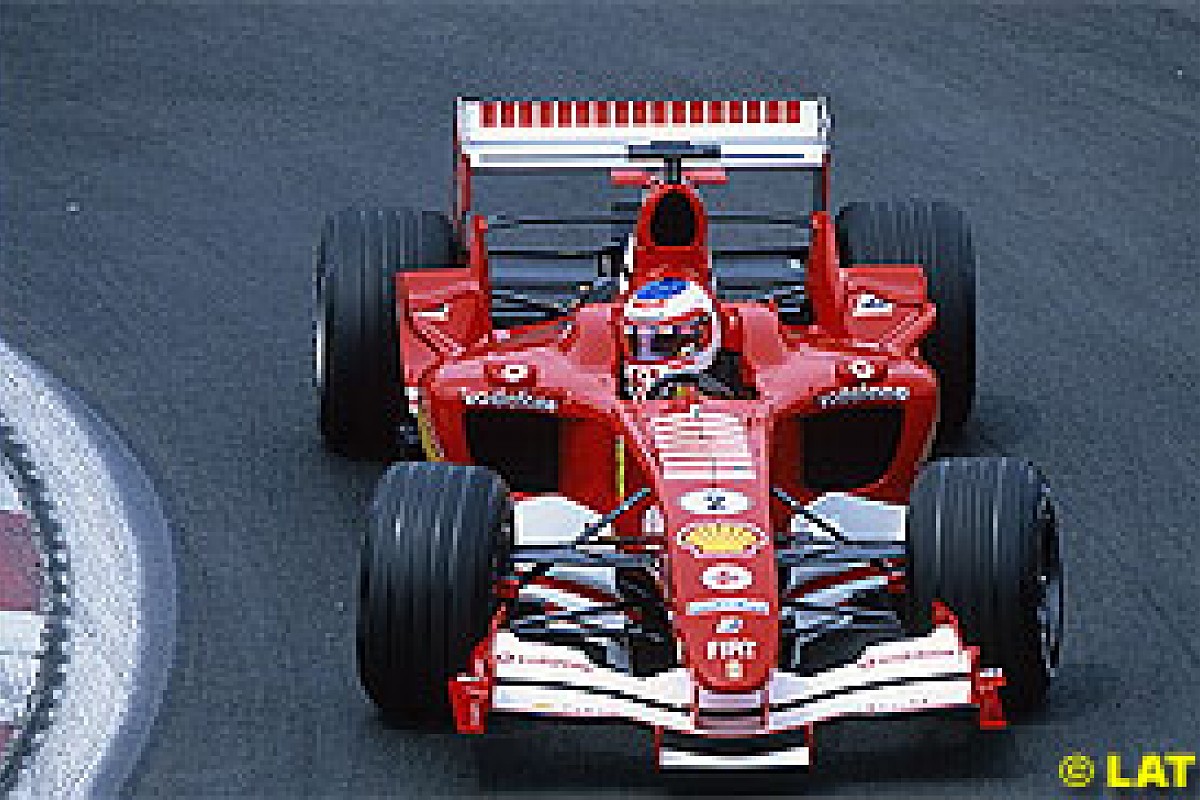 20. Rubens Barrichello (Ferrari) No Time
More gearbox woes left Barrichello on the bad end of the Ferrari comeback and, as has happened all too often for the Brazilian, he watched Schumacher claim a front-row grid spot then, with potential to do even better, ground to a halt before even completing his own lap. Had he not, the smiles at Ferrari could have been even broader.
The Race
The final place on the grid was left empty after Ferrari chose to start Rubens Barrichello from the pit lane and, in doing so, grasp an opportunity to change their strategy and fuel him up for what would be the longest first stint of all the runners.
His teammate Schumacher, meanwhile, lined up on the front row alongside Jenson Button with both cars expected to make a strong start because they had clearly lightened their fuel loads to gain early track position with a good qualifying performance.
But when the lights went out the two lead drivers got bogged down and both Renaults shot by in a pincer movement. Schumacher said: "Maybe the cars behind were on a cleaner line than we were. We were the first cars, we had to put the line for everyone and then everyone can follow on a good one."
Fisichella, starting from fourth on the grid, behind Schumacher, made the break, and stayed to the inside, getting ahead of Alonso, who took more time to find a way past Button and eventually found himself wide on track heading into the first corner.
Button held onto third but Schumacher slumped down to sixth when Montoya passed him by the first corner for fourth and then, crucially, Raikkonen passed to claim fifth in the second part of the turn. Schumacher admitted: "There was not much I could do. There is no reason to do crazy things in the early stages."
Takuma Sato also had a poor start, dropping from sixth to eighth, and said: "I had a problem when the car didn't pull away and then I struggled into turns one and two, then one of the Saubers hit me from behind and I lost my diffuser, which made the car very difficult to drive."
The Sauber driver that hit him, that of home favourite Jacques Villeneuve, had tumbled down the order at the start but blamed Sato for the collision and said: "I lost ground at the start then Sato came across me in the second corner and damaged my front wing."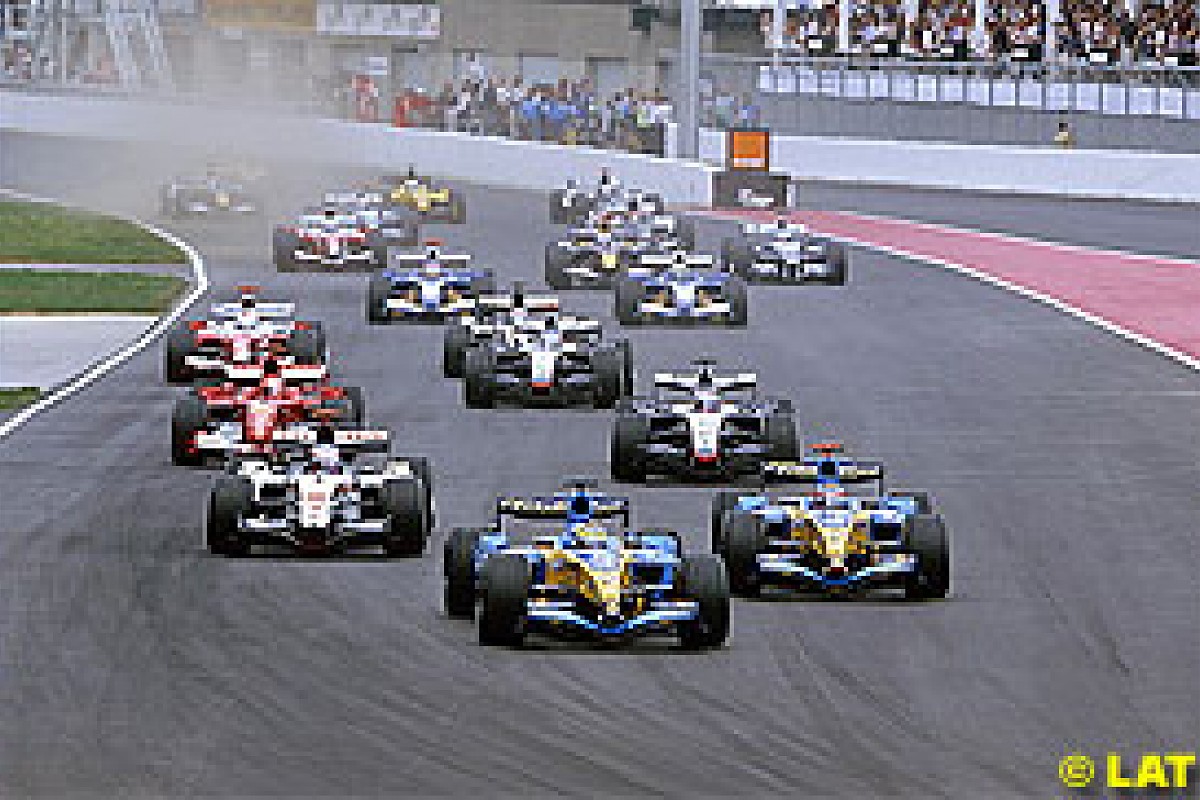 Sato, frustrated by his drop on the grid, tried to have a go at Trulli, who had moved past him to seventh, but was firmly fended off to the delight of the Toyota driver. "Sato pushed me wide but I kept flat out over the kerbs and got ahead of him," said Trulli. "I really enjoyed that one."
Villeneuve, who never has the luck he needs in his home Grand Prix, was far from enjoying his afternoon as he toured into the pits for a new nose cone to be fitted. He later admitted: "That was effectively it for me, because I lost so much time."
The Renault pair pushed hard, nose to tail, and stayed separated by a second as they built up a cushion over Button while at the other end of the field Karthikeyan, who had passed Friesacher and Monteiro after dropping back with a slow start, threw his good work away when he spun at the start of lap eight.
Schumacher was the first of the leaders to stop for fuel when he pitted from sixth at the end of lap 12, and pole man Button was the second early stopper when he came in on lap 15, by which time Barrichello had only made his way up to 14th place.
Sato, who pitted on lap 16, made what looked like a terminal second stop in the pits at the end of his 22nd lap but, with the result of the previous race counting towards the qualifying position of the next, BAR were not about to give up and call it a day and began working to try and repair the car.
The Renault pair continued to push on a relatively long stint, and after Trulli pitted from third on lap 15 it left McLaren duo Montoya and Raikkonen to push on with the chase, and the two teams were so closely matched that their pit stops came in perfect synchronised sequence.
Second placed Alonso and fourth placed Raikkonen stopped first, on lap 24, and Fisichella and Montoya stopped the following lap. Montoya came out of the pits ahead of Alonso but made his first mistake of the race when he went wide onto the grass and threw away the opportunity to jump into second.
Webber stopped on lap 28 and Barrichello finally made his first stop on lap 31, returning to the field in 12th. "We changed our strategy at the start to put extra fuel in the car," explained Barrichello. "It would not have made sense to pit at the same time as everyone else."
On lap 33 the lead changed hands when Fisichella was struck by bad luck again. "The gearbox had started not working properly and it was a hydraulic failure so the only thing I could do was go into the pits and retire. I could have won, and that made it very frustrating."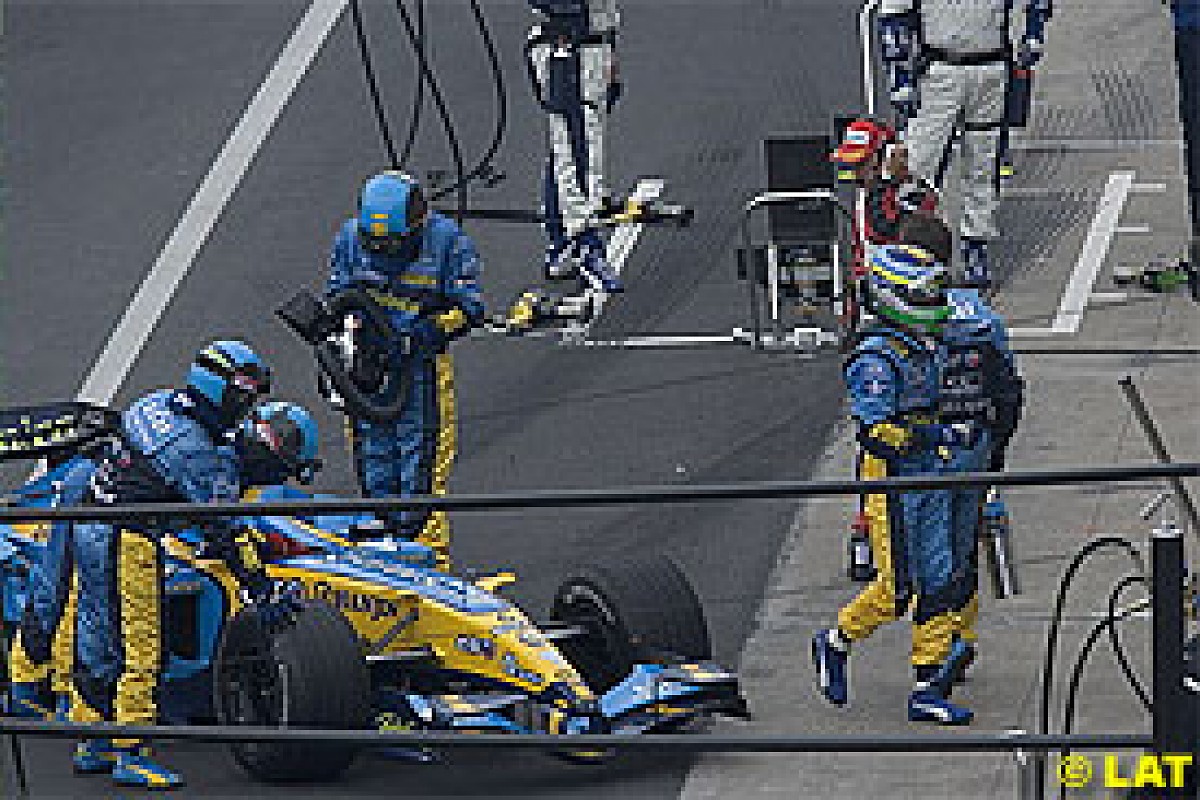 Button and Schumacher both made their second stops on lap 34 as Montoya set off in chase of Alonso with Raikkonen 5.6 seconds behind him in third and Button 23.3 seconds further back in fourth and Schumacher fifth and the pressure from Montoya, just one second behind, appeared to get to Alonso.
Alonso upped his pace to extend his advantage to more than two seconds, but he pushed too hard. "I went too wide, touched the wall and damaged the car," he admitted. There was nothing the team could do to repair the car and boss Flavio Briatore was left shaking his head at their first double retirement of the year.
The departure of Alonso left Montoya four seconds clear of Raikkonen at the front and Button in a potential podium position in third, with Schumacher 3.6 seconds behind the BAR-Honda driver in fourth, Trulli fifth, Massa sixth, Heidfeld seventh and Ralf Schumacher eighth.
But Heidfeld retired when smoke plumed from the rear of his Williams on lap 44 and the German blamed Massa for the engine failure. "I was following him for too long trying to overtake him," he said. "That limited the cooling of my engine and caused it to overheat and fail."
Sato returned to the field after 46 laps after the team did an astonishing job to replace the rear end of his car. "The guys changed the whole back end in 27 minutes," said team boss Nick Fry. "That just shows how determined we are and we managed to move the car up a little bit for qualifying in Indianapolis."
The team's quick work to get Sato out meant the mechanics were freed up in time to glance up at the screens on lap 47 and watch Button throw his car into the wall. "I got onto the marbles in the hairpin and went a bit wide because the rear locked up and got the tyres dirty," explained Button.
"When I got to the chicane I had big understeer and hit the wall off the second kerb. It was completely my mistake." And to paddock insiders it was a completely embarrassing one too, after Button had mocked claims that the very kerb he hit, introduced for this year, was too low to cause any problems.
The safety car was brought out immediately and caused a flurry of action in the pits which saw every car on track pit except Ralf Schumacher, who had already made his final pit stop. But it was the timing of the pit stops that would ultimately be crucial.
Barrichello, Coulthard, Klien, Villeneuve, Monteiro and Albers, who had all been lapped, pulled in for their stops as soon as Button hit the wall and when the leaders came round McLaren called in Raikkonen, but not Montoya, as Schumacher, Trulli, Webber and Massa all pitted.
"Nobody is perfect, but not being told to stop immediately after the safety car was deployed made things worse," said Montoya, who was forced to trundle round for a lap before being called in on lap 49 and, enraged by the whole incident, he then shot out past red lights at the end of the pitlane.
"Throughout the race we had to make some difficult decisions, which only increased the pressure on pit wall," explained McLaren boss Ron Dennis. "We made a mistake not calling Juan Pablo in, but that was compounded by him driving through the red light."
Montoya has never been one with a cool head and team chief Martin Whitmarsh admitted: "In fairness to him, there were circumstances to why that happened because the frustration of being in a position to win one minute then really having it screwed up is going to give you some frustration and distraction."
The safety car came back in at the start of lap 52 and Raikkonen pulled clear but Montoya was disqualified one lap later and pulled into the pits, the team a picture of frustration with mechanics gloves flying across the garage and Montoya so enraged he had left the track by the end of the race.
With Raikkonen in the lead, struggling with a steering problem, thoughts must have also been going through the heads of the McLaren mechanics as to whether another last lap calamity could hit the team but, while there were more twists to come, they were to come further down the pit lane.
Trulli was running in a podium position in third, one place behind Schumacher with Barrichello now up to fourth ahead of Massa, Webber, Ralf Schumacher and Coulthard but disaster hit him on lap 62. "The brakes had been fine up to that point," he said. "There was no wear problem, just a failure."
Then Sato, who had been running last but hoping to get a finish, spun off the track at turn 10. "The hydraulic pressure was too low," said Sato. "In the end the rear brakes locked up and I lost the car completely and it was a pity we were not able to finish in the end."
Raikkonen almost threw his win away for the second time in two races when he made a mistake a few laps from the end. "I was going as quick as I could but I didn't want to push too hard and I was relaxing a bit too much and went straight on the chicane," said Raikkonen.
"I went a bit too quick, maybe I was looking at something else. I went through the grass and lost some time but at least I had enough time to come back and it didn't cost me too much. After, I tried to go pushing more because otherwise I might end up somewhere in the wall."
He didn't, and he came home just 1.137 seconds ahead of second-placed Schumacher with Barrichello making it a happy day for Ferrari on the podium. "It was a very pleasing day, especially after the last few races," said technical director Ross Brawn. "I think we will be strong in the next few."
Race Results
Pos  Driver        Team                  Time   
 1.  Raikkonen     McLaren-Mercedes (M)  1h32:09.290
 2.  M.Schumacher  Ferrari          (B)  +     1.137
 3.  Barrichello   Ferrari          (B)  +    40.483
 4.  Massa         Sauber-Petronas  (M)  +    55.138
 5.  Webber        Williams-BMW     (M)  +    55.779
 6.  R.Schumacher  Toyota           (M)  +     1 lap
 7.  Coulthard     Red Bull-Cosworth (M) +     1 lap
 8.  Klien         Red Bull-Cosworth (M) +     1 lap
 9.  Villeneuve    Sauber-Petronas  (M)  +     1 lap
10.  Monteiro      Jordan-Toyota    (B)  +    3 laps
11.  Albers        Minardi-Cosworth (B)  +    3 laps

Fastest Lap: Raikkonen, 1:14.384

Not Classified/Retirements:

Driver        Team                  On Lap
Trulli        Toyota           (M)    62
Montoya       McLaren-Mercedes (M)    52
Button        BAR-Honda        (M)    46
Heidfeld      Williams-BMW     (M)    43
Sato          BAR-Honda        (M)    40
Friesacher    Minardi-Cosworth (B)    39
Alonso        Renault          (M)    38
Fisichella    Renault          (M)    32
Karthikeyan   Jordan-Toyota    (B)    24

World Championship Standing, Round 8:

Drivers:                    Constructors:             
 1.  Alonso        59        1.  Renault           76
 2.  Raikkonen     37        2.  McLaren-Mercedes  63
 3.  Trulli        27        3.  Toyota            47
 4.  Heidfeld      25        4.  Williams-BMW      47
 5.  M.Schumacher  24        5.  Ferrari           45
 6.  Webber        22        6.  Red Bull-Cosworth 22
 7.  Barrichello   21        7.  Sauber-Petronas   12
 8.  R.Schumacher  20
 9.  Fisichella    17
10.  Coulthard     17
11.  Montoya       16
12.  Massa          7
13.  Wurz           6
14.  Villeneuve     5
15.  Klien          4
16.  de la Rosa     4
17.  Liuzzi         1


Fastest race laps: Click here
Pitstop times: Click here
Lap by Lap
Lap 1: On pole position for the second time in his career - but the first since Imola 2004 - Jenson Button is swamped by the Renaults at the start. Giancarlo Fisichella grabs the initiative from World Championship-leading teammate Fernando Alonso. Button takes third while Michael Schumacher (who is making only his second front-row start of the season - he's not managed it since Bahrain) is engulfed by the McLarens and slips so sixth, behind Juan Pablo Montoya (who edges the German towards the grass at Turn One) and Kimi Raikkonen. Jarno Trulli takes seventh after forcing Takuma Sato into a grassy mistake, but the Japanese resumes in eighth ahead of Felipe Massa, Nick Heidfeld, David Coulthard, Ralf Schumacher, Jacques Villeneuve (down from eighth on the grid), Mark Webber, Christian Klien, Christijan Albers, Patrick Friesacher, Narain Karthikeyan, Rubens Barrichello (who started from the pits, after being condemned to the back of the grid with a gearbox problem yesterday) and Tiago Monteiro. Fisichella leads Alonso by 0.7s at the end of the lap, with Button another 0.7s adrift.
Lap 2: Ralf Schumacher passes Coulthard at the hairpin. Barrichello overhauls Friesacher. Villeneuve pits for a fresh nose and slips to the tail of the field. Fisichella leads by 1.1s.
Lap 5: Alonso sets fastest lap for the first time - 1m 15.984s. The gap is 1.0s.
Lap 6: Alonso laps in 1m 15.935s.
Lap 7: Fisichella responds: 1m 15.455s.
Lap 8: Karthikeyan spins at Turn Two and drops behind Monteiro. Barrichello moves up to 15th after passing Albers.
Lap 12: Michael Schumacher is the first leading runner to pit. He drops to 12th.
Lap 13: Fisichella laps in 1m 15.135as - his best yet.
Lap 15: Button and Ralf Schumacher pit.
Lap 16: Sato and Albers come in.
Lap 17: Raikkonen sets fastest lap: 1m 15.011s.
Lap 18: Coulthard pits.
Lap 19: Montoya goes quickest: 1m 14.665s.
Lap 21: Massa, Heidfeld and Klien pit.
Lap 22: Karthikeyan refuels; Sato retires to the pits.
Lap 23: Trulli pits. Raikkonen laps in 1m 14.384s. Alonso wags a finger at Klien after being held up while lapping him.
Lap 24: Alonso and Raikkonen pit. They resume in the same order. Karthikeyan clips the wall at Turn Four and retires to the pits.
Lap 25: Fisichella - a quick stop - and Montoya come in. Montoya rejoins inches ahead of Alonso at the start of his 26th lap, but then runs onto the grass and slips back to third.
Lap 26: Webber pits.
Lap 30: Webber slips from ninth to 12th after running wide at the hairpin.
Lap 31: Barrichello pits.
Lap 32: Fisichella leads Alonso by little more than a second. Montoya, Raikkonen, Button, Webber, Trulli, Alonso, Heidfeld, Ralf Schumacher, Webber, Coulthard, Klien, Monteiro, Albers and Friesacher complete the order.
Lap 33: Fisichella slows and retires to the pits. Alonso leads by a couple of seconds from Montoya.
Lap 34: Button and Michael Schumacher make their second stops.
Lap 35: Alonso begins to edge away from Montoya.
Lap 39: Alonso clips the wall at Turn Four and crawls back to the pits. Montoya leads. Friesacher retires.
Lap 40: Montoya is several seconds clear of Raikkonen, with Button, Michael Schumacher, Trulli, Massa, Heidfeld, Ralf Schumacher, Webber, Barrichello, Coulthard and the lapped Klien, Villeneuve, Monteiro and Albers trailing behind.
Lap 44: Heidfeld's engine expires in a cloud of smoke.
Lap 45: Ralf Schumacher makes his final stop.
Lap 46: Raikkonen has reduced Montoya's lead to 2.6s.
Lap 47: Sato rejoins; Button retires after crashing at the final chicane. The Safety Car is deployed.
Lap 48: Everybody pits bar Montoya and the recently-refuelled Ralf Schumacher.
Lap 49: Montoya pits. He rejoins behind Raikkonen - but jumps a red light at the pit exit in the process.
Lap 51: Race restarts, with Raikkonen ahead of Montoya, Michael Schumacher, Trulli, Barrichello, Massa and Webber (tied together), Ralf Schumacher, Coulthard, Klien, Villeneuve, Monteiro and Albers (oh yes, and Sato's still running).
Lap 52: Montoya receives the black flag for his pit indiscretion.
Lap 55: Raikkonen leads Michael Schumacher by 2.6s - but the gap is fairly stable.
Lap 62: Trulli suffers a technical failure approaching the final chicane. He misses the corner and pulls off to retire shortly afterwards.
Lap 65: The gap between the leaders comes down to 1.6s,
Lap 66: Sato - not on his 66th lap, although many of the others are - spins into retirement at Turn 10.
Lap 67: Michael Schumacher closes to within 1.5s.
Lap 68: Traffic helps Raikkonen extend his lead to 1.9s.
Lap 69: It is back down to 1.3s.
Lap 70: Raikkonen wins by 1.1s from Michael Schumacher, Barrichello, Massa, Webber and the lapped Ralf Schumacher, Coulthard, Klien, Villeneuve, Monteiro and Albers. Webber's last-lap dive at the final corner comes to nothing. It is Ferrari's first double podium of the season - and the first time neither Renault has scored.