The BMW Spin

---
By Tony Dodgins, England
Autosport-Atlas Contributing Writer
There's nothing to get a press conference going than asking the motorsport director of a high-profiled automaker if he happens to be dishonest. Dr Mario Theissen found himself facing such a question in Montreal, after Williams co-owner lashed out at his German counterpart in an interview leading to the Canadian GP. It was the climax of a strained relationship that is playing itself in the public eye and will reach a conclusion one way or another in the following weeks. But why did it become so personal? Tony Dodgins investigates the latest Grove-Munich controversy
"Mr Theissen, Patrick Head said that you are a bit dishonest. Are you?"
Good opener! Nothing like straight and to the point. It was the first question for Dr Mario Theissen, BMW's motorsport director, as he and Frank Williams conducted their Montreal media briefing on Saturday afternoon.
The background was an interview Patrick Head had given to an Italian and a French journalist in which the Williams co-owner had given his thoughts on some of the opinions attributed to Theissen in the press recently. The gist of which tends to be that those godawful British shitboxes are preventing our wonderful German engines from winning the World Championship.
It is of course no secret that the Williams/BMW relationship has been strained of late, not helped by rumours that BMW is going to buy the Sauber team and go its own way, with Theissen as team principal.
Frank himself was back-pedalling furiously in Canada.
"I can assure you that in all my time with Mario I have never ever wanted to say he is dishonest, because he isn't," Frank stated. "Remarks made by Patrick are private and absolutely do not reflect the position of this company in respect to Mario or, just as importantly" - make that more importantly - "to BMW."
But, someone said to Frank, haven't you been telling the press that you had 150 BMWs blow up in one year?
"Not 150," Frank said, "One-one-five, 115. And it was 1999/2000 - the first year of testing before BMW began racing and then the first year of racing. And the point I was making was, so what? That happens with a brand new engine and it's quite normal. We never complained about it. Full stop. We are strong supporters of BMW. I have persistently said, and so have Patrick and Sam Michael, that we always wanted and wish to see ourselves for many, many years into the future with BMW. That is 100% clear in my mind. And it is fact."
So there you have it from the horse's mouth.
When Theissen himself was asked what he thought of Head's words, the response was predictable.
"It is certainly not helpful to have comments like this. If it was from a commentator you could just ignore it but Patrick is a part-owner and he carries responsibility for his people and for the team. Sam Michael has to do the real job out here and he does it very well - his engineers and our engineers are working together and are making progress together. The working relationship is really good and I think those guys deserve support rather than stumbling blocks."
And, laced with sarcasm: "Maybe it was intended as an attempt to foster the relationship and motivate all the people here at the track, to encourage BMW to extend the partnership and to promote me personally..."
The "me personally" bit was interesting. Normally, when a relationship has gone sour enough to be taking pot shots at each other in the press - whether it's a marriage, a footballer and his club, a race outfit and its engine supplier, whatever - then you know instinctively that it's over. Unless there's a hidden agenda.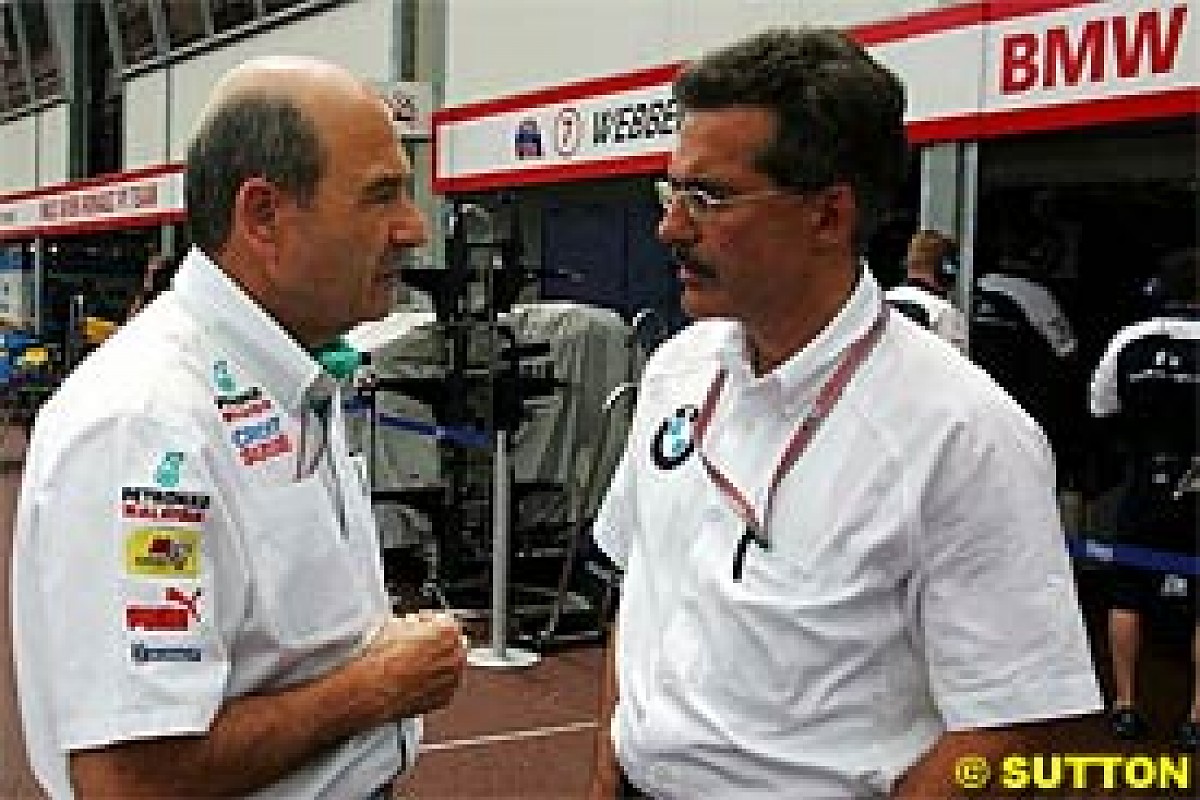 The BMW board will meet later this month to consider proposals and options tabled by Theissen.
"We are in negotiations with Sauber and I expect an agreement by the end of the month, but I can't tell you more at this point simply because the decision isn't there," he explained for the umpteenth time this year.
And might the decision be to take over the Sauber team?
"It is up to the board to decide what they want to do."
And do you have ambitions to run a team?
"I've read about this," he smiled. "Repeatedly. Almost daily. We are talking about a strategic decision and at BMW strategic decisions are not affected by personal issues. It is purely about what the board thinks is good for BMW's future. I have always taken the task I was given and I would do that again."
As close to a "yes" as you are going to get.
You don't have to dig too deep before you find people suggesting that Theissen himself is the root of the tensions between Williams and BMW. You'd have thought that Theissen and Head, engineering men both, would be peas in a pod, but apparently not. Last year, Head made the difficult decision to stand down as technical director and hand over the reins to Sam Michael. This was apparently in response to operational changes desired by BMW.
Patrick Head is renowned for telling it like it is, but one wise paddock sage told me in Montreal: "Frank and Patrick have been around the block a few times. They are not stupid men and they are not impulsive men. And you guys (the press) are not stupid. There's a BMW board meeting coming up and I'd say that Theissen's position is pretty close to untenable."
On Saturday morning a group of us were a few yards behind Mario Theissen as we started to cross what was the 1976 Olympic rowing basin.
"Let's wait a bit," came the suggestion, "I bet Patrick's dynamited the bridge!" Cue lots of Butch and Sundance safe-blowing one-liners starring Frank in the Redford role, Patrick as Newman, his 'dishonest' label as the dynamite and Theissen as the safe.
Is the intention, perhaps, to light a fire under Theissen ahead of the board meeting in an attempt to have a new man in the role and, hopefully, a better working relationship? In the film, Butch and Sundance are a bit cack-handed with the dynamite and almost blow themselves up along with the safe, while all the bucks disappear down the railway track leaving them to clutch at any that flutter in their general direction. Not a bad analogy as it goes!
I can't vouch for the accuracy of these figures but one team principal suggested in Canada that BMW is contributing around $240 million (USD) to the Williams budget as a partner, whereas for $270 million they could buy Sauber outright and run their own show.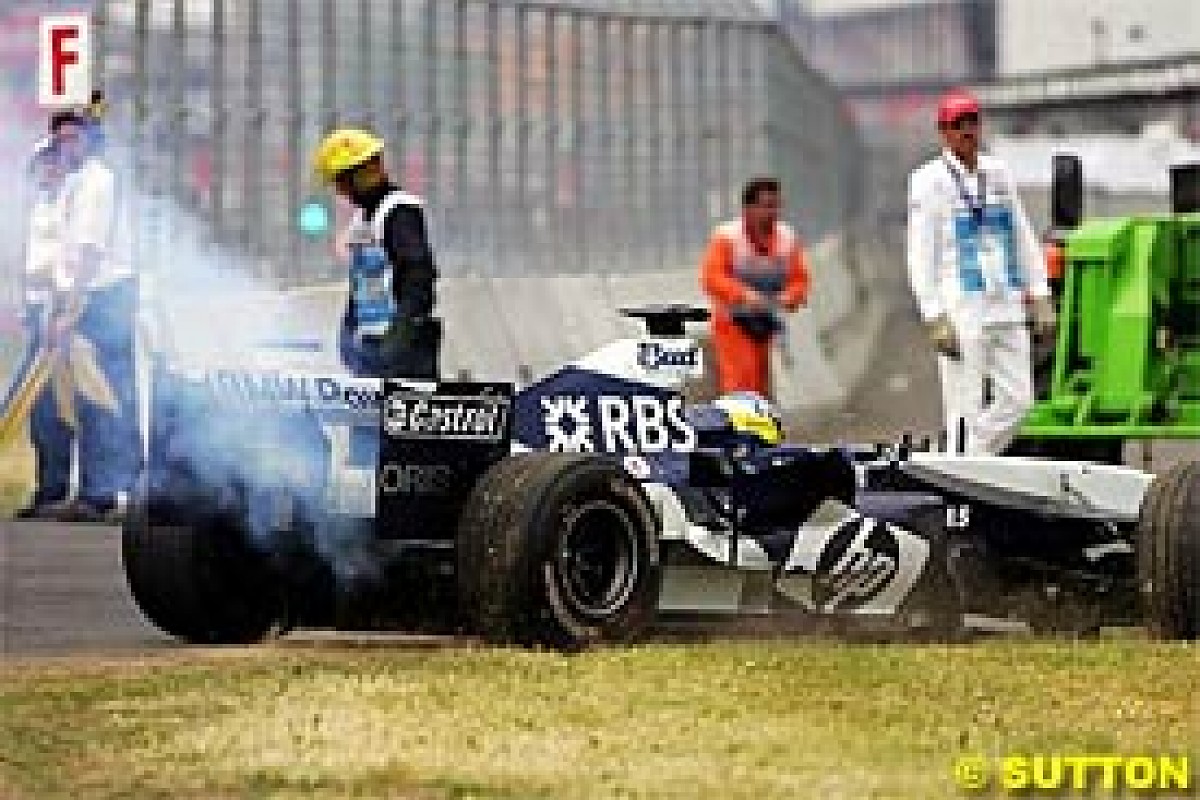 How sensible would that be? Well, Peter Sauber has always done a commendable job with a budget that is middling at best, but the team have no history of being Championship challengers. In fairness, though, Sauber have never had the kind of dough that wins titles. So you have to conclude that it's an unknown quantity.
Against that, Williams have the pedigree. Together, Williams-BMW finished third in the Constructors' Championship at the first time of asking. And with a handful of races to go in 2003, Juan Pablo Montoya looked favourite for the drivers' title. But last year was a disappointment and not in line with Munich's targets.
But look at Mercedes and McLaren. There was pain before pleasure in that relationship. They joined forces in 1995 and it was not until '98, the fourth year of the partnership, that they won a drivers' title with Mika Hakkinen. And that was a nip and tuck affair with Michael Schumacher and Ferrari, much like '03 for Williams and BMW, when Kimi Raikkonen and McLaren-Mercedes were also in there pitching. Hakkinen followed up in '99 but then came more pain for McLaren-Mercedes before their recent re-emergence as F1's pace-setter.
My point? Simply that these things are cyclical and here are McLaren and Mercedes doing the business in 2005 some decade down the line. Stability and continuity, usually, makes a compelling argument. Lack of it used to be the reason that Ferrari and their famous prancing horse couldn't win a donkey derby, until Jean Todt, Ross Brawn and Rory Byrne applied some decent methodology, built on it and Schumacher reaped the benefit.
Yes, Williams have had some problems in their aero department of late, but it would be wrong to assume that the chassis side is the sole reason that the team are not winning races.
People who know about these things suggest that if you stand at the exit of a slow corner and listen to a BMW traction control system, it is neither the smoothest nor the most progressive. Likewise, the team are clearly behind in their ability to get the car off the line, another area governed by electronics. There have apparently been requests for a rethink to both systems that have fallen on deaf German ears. The word arrogance has been muttered.
Another pattern this year is that the FW27s are seldom prominent on Friday in comparison to their qualifying/race performances. You might speculate that the engines are marginal and are being turned down.
Some in the press room have suggested that Mark Webber has made a clown of himself a few times this year. They point to the shunt with Giancarlo Fisichella in Malaysia, an excursion at Imola, the first corner incident at the Nurburgring and then a straight-on moment at the hairpin in Montreal.
But if you're objective about it, is Webber simply trying to compete at a level that his car/engine package won't allow? This, after all, was supposed to be his big opportunity. Up until Canada he had never qualified outside the top five. But he inevitably goes backwards off the grid, through no fault of his own. With a relatively long run to Turn 1 at the Nurburgring, after qualifying third, he was trying to achieve damage limitation, which sucked him into the first corner shunt.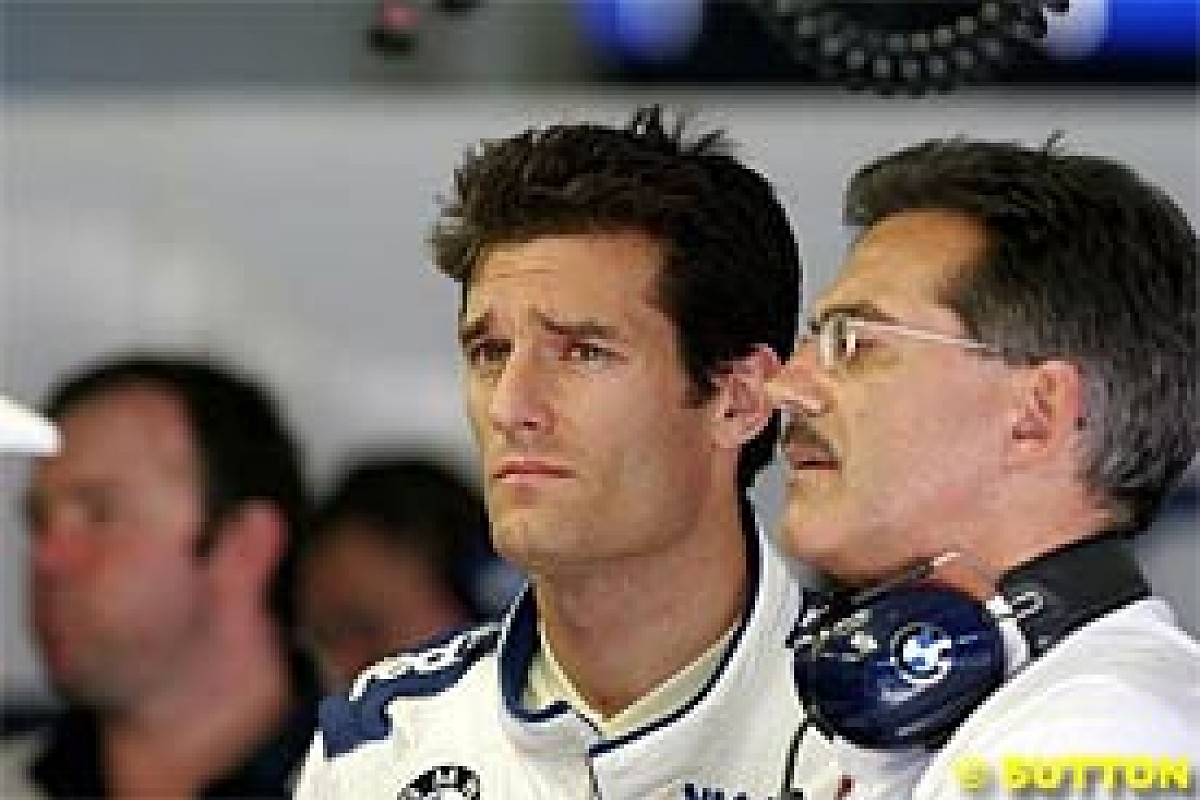 The knock-on effect was an early, gripless qualifying slot in Canada. Trying to overcome that, he pushed too hard and cost himself three-quarters of a second in Turn 6. That meant 14th on the grid, one slot ahead of Christijan Albers in the Minardi. And I'm being totally serious when I tell you that the Minardi would have been the bookies' favourite to be first through Turn 1. Sure enough Albers did beat Webber away and Webber had to scrabble past him on the brakes into T1. The Minardi budget is probably 15% of BMW Williams's. Which makes you think.
Both Williams drivers drove the Montreal race in the knowledge that their Bee-emm V10s were operating in the outer reaches of their temperature range. Admittedly, it was hotter than anticipated over the three days of the Canadian GP but it was the same for everyone. Nick Heidfeld's eventually blew despite repeated attempts to pull out of the slipstream of the car he was following to achieve some engine cooling.
How secure is Theissen's position at BMW? I quietly asked a couple of people in the Montreal paddock who I figured might have an idea. One said that Mario was rock solid and the other wouldn't figure on him being around too much longer in his current role.
If, as everyone suspects, Theissen's preferred route is the Sauber one, and if the BMW board backs him, where does that leave Williams?
Well, no contract between a racing team and an engine supplier would give the manufacturer the right to leave its team in the lurch as late as June, and so you would assume that Williams would have a supply of BMW V8s alongside Sauber next year, or else a nice chunk of severance money to go and buy themselves a new motor.
The latter might be more likely. Motor racing is a people business and would Frank and Patrick want to continue working with a set of people who, by going the Sauber route, had effectively given them a vote of no confidence and relegated them to second string? Probably not.
What would the alternatives be?
No matter what the BMW board might decide, Williams Grand Prix Engineering is a thoroughly competent race team and you might imagine that the likes of Toyota and Honda would be a little nervous about taking them on with the same engine. No works team want to be beaten by a customer. It's one thing for Toyota to recoup a bit of money by supplying Jordan, quite another to bolt their engine into the back of a Williams. Much the same applies to Honda which, effectively, also have their own team.
Which leaves Cosworth. Red Bull, of course, have signed a Ferrari deal for next year and, at Minardi, Paul Stoddart has confirmed that he will use V10s again in 2006, with whatever form of restriction the FIA applies to make them a bit less competitive than the new generation V8s. Cosworth, therefore, has no outlet for a V8 as yet and Bernard Ferguson admitted in Montreal that he was monitoring the Williams situation with interest.
It could yet turn out to be Frank's best option. After all, who has more experience of building V8s? Cosworth is owned by Kevin Kalkhoven and Jerry Forsythe. The company has fingers in more than one pie and is not desperate, but race engines is what it is known for and you can take it as read that Cosworth would be highly enthusiastic about a link-up with Williams.
For Williams it would be a bit of a comedown - from a partnership agreement that provided engines and cash, to a paying customer situation. Cosworth V8s, I'm told, could be had for something in the region of nine million pounds. Some Williams sponsors might get a bit sniffy about a 'Munich partner to Northampton customer' shift, and some commercial deals are sometimes dependent on 'works' engine deals. But such things can usually be worked around.
One way or another, it will all wash out in the next few weeks. For Cosworth, it doesn't get any better than the idea of developing a new 2.4-litre V8 with a BMW cheque! Stranger things have happened.