Whatever outcome eventuates from McLaren's twin forthcoming FIA Court of Appeal appearances (September 13 and September 19), most observers now reckon that the team are unlikely to field the same driver line-up in 2008 as they have this year.
If, indeed, events transpire that way, and McLaren's Ron Dennis is forced to relinquish one of his newly-signed dream duo, then he will of course be absolutely gutted, and understandably so. But I expect it to happen.
The fact is that, although Fernando Alonso and Lewis Hamilton haven't always enjoyed explicit number-one status in their teams (of the kind that Michael Schumacher always insisted on, for example), they've always been primus inter pares, or first among equals, simply by virtue of their evident superiority over their teammates.
Usually, joint number-one status isn't a problem for Formula One teams - as, indeed, it isn't currently an issue at Renault, Ferrari, Honda, BMW Sauber, Toyota, Red Bull Racing, Williams, etc. And that's because, for joint number-one status to be a problem, three specific conditions must be met:
Fernando Alonso and Lewis Hamilton © LAT
Both drivers must be exceptionally capable and utterly self-obsessed;
Both drivers must be extremely well-matched in terms of qualifying and racing speed;
Their cars must be of regular race-winning quality;
And those three conditions are met quite rarely, in fact. Discounting Schumi - whose magnum opus was achieved in part as a result of his having insisted on unequivocal number-one status over less capable teammates whose appointments he had personally authorised - most world championships have been won by drivers whose teammates were less able than they.
In fact, not since the Ayrton Senna/Alain Prost era have two teammates of equal brilliance and equal status fought for a drivers' championship together, and that was at McLaren, too. And it ended in tears.
(And before any fools out there hurry to berate me with foul-mouthed nonsense about Damon Hill and Jacques Villeneuve in 1996, attempting to discredit my thesis as a result, re-read the first condition. Thank you.)
Should McLaren's solution therefore be to dispense with the policy of equal number-ones and adopt Ferrari's tried and tested policy of hiring an ace and a good number-two instead?
In my view, yes, they should. Too many times (e.g. in 1986, when Williams's warring duo, Nelson Piquet and Nigel Mansell, both failed to become champion because one took points off the other throughout the year; and in 1973, when Lotus's Emerson Fittipaldi and Ronnie Peterson did the same thing) have teams chucked away drivers' championships by running equal number-ones.
(And, while we're on the subject, don't talk to me about the constructors' championship, which Williams duly won in 1986 and Lotus also won in 1973.
Why not? Because no one gives a damn about it, that's why not. Put it this way: when, in 2000, Schumacher won the drivers' championship for Ferrari, there was an enormous hue and cry about his having ended Ferrari's 21-year drought since Jody Scheckter's 1979 drivers' championship.
The Ferrari mechanics celebrate their 1999 Constructors Championship © LAT
Little mention was ever made of the fact that Ferrari's 'drought' had in fact ended when the team won the constructors' championship in 1999, and the reason for that was that the only championship that anyone gives a tinker's cuss about was won that year by Mika Hakkinen, for McLaren.
Equally, Ferrari's 'drought' should by rights have been backdated only to 1983, in which year Ferrari won the constructors' championship - a victory eclipsed entirely by their drivers' failure, for various reasons including injury, to prevent Nelson Piquet winning the only championship that anyone gives a tinker's cuss about for Brabham. Thank you again.)
Anyway, as things pan out, the decision may well be made for McLaren, for the simple reason that Alonso may vote with his feet - and, contractual obligations notwithstanding, McLaren may not seek to prevent him from so doing.
Why not? Because Dennis surely now knows that the only way to retain the biggest prize in 21st century F1 - i.e. Lewis Hamilton - is to give him exactly what he wants, just as Ferrari gave Michael exactly what he wanted, and for the same reason.
The most urgent task now facing Ron, in fact, Court of Appeal hearings included, is to prevent Ferrari, and more particularly Philip Morris (Marlboro), from poaching Hamilton from under his nose.
McLaren's partners - and especially their title partner, Vodafone, whose marketers now intend their company's global advertising efforts to be centred around Hamilton (replacing David Beckham) for years to come - are depending on the McLaren chairman to succeed in that endeavour.
Surely, however, Ferrari's Jean Todt must already have begun his 'get Lewis' campaign, albeit covertly.
Put it this way: how could a team whose success has been more driver-focused than that of any other in recent F1 history not now be gunning hell-for-leather for Hamilton?
Do you honestly think that, quick and hard-working lad though he is, Felipe Massa is discharging Schumacher's job description to the satisfaction of those at the Scuderia who remember what it was like to work with - and, yes, be inspired by - the maestro himself?
Do you seriously believe that, however freakishly talented he may be, the hard-drinking and monosyllabic Kimi Raikkonen is still Ferrari's long-term idea of 'the new Schumi'?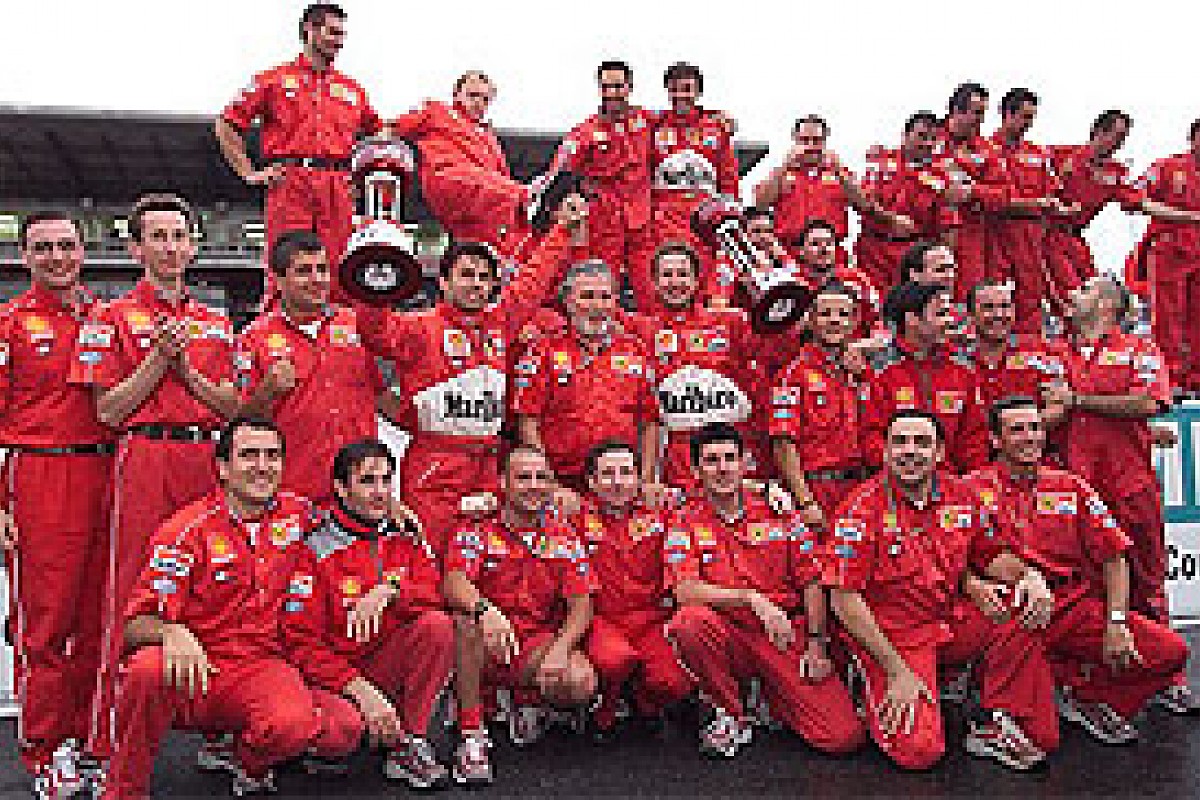 Kimi Raikkonen and Felipe Massa © LAT
And do you think Philip Morris regard either of them as the megastar they need?
No, no and no again. And 'no' a fourth time, for the stark reason that, staring Ferrari and Philip Morris in the face, Hamilton is everything that Massa and Raikkonen are not.
Make no mistake: Lewis is as hard-working as Massa, as talented as Raikkonen, and an infinitely bigger star, already, than either of them.
And think of this: Philip Morris's current US$1.1 billion Marlboro title sponsorship of Ferrari runs until the end of 2011. It may not be able for legal reasons - and/or reasons of corporate social responsibility, which amorphous attribute all tobacco companies are having to take increasingly seriously these days - to extend beyond that date.
Do not therefore underestimate the efforts that Philip Morris's marketers will make in order to maximise their enormous investment in Ferrari (and in F1) for what may well be their last big marketing push.
And, lest we forget, Lewis is black. And if Philip Morris can use his ethnicity to open up markets that have previously been effectively closed to Marlboro, which has always been seen as a white man's cigarette, then they will move heaven and earth to do so.
And who pays the drivers' salaries at Ferrari? Philip Morris, that's who. Go figure.
So, bearing all that in mind, the only way for McLaren to retain Hamilton, which they must, is to allow Alonso to slide gracefully away. Now.
Where to? To Enstone (Oxfordshire) perhaps. For if McLaren block his return to Renault's still-not-to-be-underestimated F1 operation, then Ferrari and Philip Morris will only redouble their efforts to bag Hamilton, certain in the knowledge that he (Hamilton) will get ever-itchier feet at McLaren as 2008 wears on, alongside the equally uncompromising, unremittingly competitive and increasingly liverish Alonso.
The phrase "this town ain't big enough for the two of us" was never more apt, in F1 circles, than when used to describe Hamilton, Alonso and McLaren.