Roberto Nosetto's office is Italian-modern. One filing cabinet - black. One desk - no drawers. Carpet - beige. Six hanging pictures - all racing Ferraris, all frameless, all glass covered. And Nosetto himself is Italian chic. Always in green, always with big-cuffed trousers and small-collared shirts.
Jody Scheckter is in baggy corduroys and hand-out Ferrari jacket. About the classiest side of his act is his briefcase, and this he always tells you about. It has these great twin combination locks, with special compartments for all his credit cards - and it has zipped-up pockets in the back. A work of art, Scheckter calls it.
Gilles Villeneuve doesn't carry a briefcase. Instead he whips on the handbrake of his Ferrari 308 GTB and does a Waldegaard turn into the parking lot. He steps quietly out of the red car and suppresses a smile as he opens Nosetto's door. "Three and a half hours from Nice,'' he declares. "What kept you?" asks Scheckter.
They are here for a Grand Prix collaudo. Collaudo is the Italian word for "prepare'', and it's used routinely in the Ferrari man's vocabulary. The phone will ring in the Scheckters' Monte Carlo flat, and it will be Piero Lardi, asking Jody to be at Fiorano on Tuesday for collaudo.
Scheckter will know that there will be no tyres to try, no records to break. Rather, he will be driving the cars slowly, checking gear ratios, bedding-in pads. It is a routine precaution - one that was adopted in the Lauda days. It gives you confidence from the beginning of Grand Prix practice.
Scheckter will leave his flat at 9 o'clock French time and arrive at Fiorano three hours later. He will average 88 mph for the journey, which points to the performance of his chocolate brown Ferrari 400GT automatic - and also to the autostrada that helps him. Scheckter will spend most of the trip braking heavily - behind meandering Renaults, behind smoking trucks, and he will drive precisely, with both hands on the wheel and thumbtips poised over his special air horns.
He won't be keyed-up about the day ahead. It will mean absolutely nothing to him - another day, another car to test. He will think about the last race, and about the next race and about the latest in Michelin tyres, but mostly he will be thinking about his standing as a professional, as his idea of a professional.
He will be wondering if he did the right thing in buying those bonds. Or if he should be organizing the drivers more in matters of safety. They need a leader and, now that Jackie Stewart has gone, someone has to lead them.
He will be thinking about his next flight connection - whether it will be better to stay put for a few hours and get the direct flight, or whether he should rush away to get the connecting flight to Paris. His secretary can sort that one out - or, can she? Better check tomorrow morning. Anyway, how would Jackie approach the problem? That's the key question.
Scheckter will not, in short, allow an element of romance into his life. He's there, in his Ferrari supercar, driving to Italy to test the Ferrari Grand Prix car, but he could just as well be on the A413 to Silverstone. He's not - which is nice, because Ferrari do everything better - but the attitude is the same. Do the job. Use the facilities. Test and test again.
If he has any doubts, they are about the way Ferrari test. They've got every chance to be systematic and orderly, yet ultimately it usually comes down to Mauro Forghieri trying four rear wings and Michelin six new tyre types. At the same time. And Michelin are secretive. They'll tell you you're running a new front in a new compound, but they won't tell you how it fits in with the others.
Then there's the language problem. Mauro will translate the testing notes, but in the middle he'll be interrupted and then Gilles will say something and by the time he's finished then Mauro will have gone for some lunch.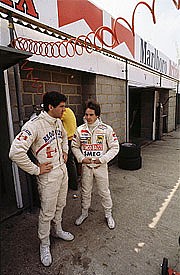 Jody Scheckter and Gilles Villeneuve © LAT
"Eh, Jody," a man will say at the toll booth, "Forza, eh?"
"Yeah, forza," he'll reply with a smile. At least that keeps them happy.
Scheckter will visit the factory first. He'll go and see Piero about the schedule and the travel and then he'll make a few calls. Today, it turns out, Enzo Ferrari is back at work after a spell in bed; and, sure enough, the blue Fiat 132 arrives soon afterwards, with Ferrari in the passenger seat, dark glasses and light raincoat standing out a mile. He is helped into his office by two thick-set bodyguards.
Then it is lunch time. If there is anything Italian about Scheckter it is in his taste for pasta. Thus there is nowhere else to eat but in the Cavallino, the restaurant opposite the factory. It is typically Italian. White tablecloths, bunches of those stick things you eat while you're waiting and no menus.
"Tortellini eh, and let's make it better than last time."
"Si, Jody, special for you. Only one week old."
During the meal, waiters will nervously shuffle past the tables and squeeze through sliding doors and into the room beyond. Enzo Ferrari is dining, and he wants to be alone. Alone except for his big-shouldered friends.
Scheckter will drink no wine and will saunter into the warm afternoon, still in his normal gear. His overalls and helmet are at the test track, so from home he has brought only underwear. He spots a few of his mechanics standing by the roadside. They're using up their lunch hour, so at least they're not on strike.
He will drive the mile or so to Fiorano, and ask the man on the gate about his bambini. Then he'll point the 400 under the flyover and drive slowly into the quadrangle offices and garage space on three sides, Fiorano's pits on the fourth. English teams, eat your heart out.
From Nosetto's office, the two drivers walk to their private locker room. Here there's a television, with videotapes of the year's Grands Prix, but time is running short and overalls must be donned.
Like footballers emerging for the game, Jody and Gilles walk to the pits. Jody is in his blue Brooklyn chewing gum overalls, Gilles is in a brand new pair of silver Simpsons and his mechanics gesture accordingly. Gilles laughs. There are two cars in the Fiorano pits - Gilles' T4 and a workhorse T3 fitted with electronic equipment. Scheckter walks quickly over to the newer car, notices - by way of its large seat padding and maximum pedal adjustment - that it is not for him, and swears. Why is it that his car is the one that's always late?
By the time Scheckter's T4 arrives, Gilles has his helmet on and is being strapped into place. Around the back, Bellentani and the boys are lowering the ramps of the trailer and unstringing the latest T4 - and it is here, you reflect, that Fiorano is in greatest need of improvement.
The racing department and the test track are separate, and the cars have to be delivered on trailers tied to Fiat jeeps. Better, everyone knows, to have the entire Ferrari racing department moved to Fiorano. Track manager Nosetto says that the move is simply a matter of time. It is also a matter for union consultation, workshop facilities - and finance.
Gilles accelerates out of the pits with new pads, new engine and new gearbox. Unlike Scheckter, he still feels aroused by the job. Two years ago he was following a route that no-one took to the top. Formula Atlantic and a bit of Can-Am.
He was a Canadian with a funny name, funny English and a wife and two kids. Now he was all that - plus a Ferrari driver. He'd been turned down by McLaren in 1977, and perhaps that had been the best thing that ever happened to him. Ferrari had signed him instead - and given him more test miles in two years than most drivers managed in five. Today he is not only sure that he is as quick as he needs to be - he has also won three Grands Prix, proved a match for Scheckter and kept his own ways.
He has moved his family to France, to a pink-walled villa in the mountains overlooking Grasse. You approach it on a narrow, pot-holed road that moved Gilles into buying a nice, thrashable, Fiat 124 Spider. You turn right at the bar named Chez Bernard, and if you stop there for a drink you see the poster on the wall: Gilles at Long Beach on full, unrepentant opposite lock.
The villa is a little overgrown and a little untidy - but then it is also lived-in. Gilles is pictured in the French magazines with his training suit on and beach runs in front of him, but actually, he knows only one physical sport, and that's driving. He doesn't train in the Scheckter sense of the word. Instead he goes out in his four-wheel-drive pick-up truck and throws it up bits of land that would leave motocross riders gasping.
He doesn't lead a briefcased, packaged showman's life. Instead, he eats steak and chips, drinks a lot of milk shakes and soaks himself in racing. He'll drive into town at the absolute ten-tenths maximum, spinning wheels at every traffic light and using the handbrake where there's no power to boot the tail out. Wife Joanne will sit there impassively; son Jacques will laugh his head off.
Gilles wants to buy a good, well-finished Shelby Cobra and - for the Fiorano trip - he also owns a 308 GTB. A truck ran into it the other week, so Gilles applied some sound, Canadian panel beating: he punctured the damaged door with a spike and levered it back into place. At Fiorano, on today's trip, he'll leave the car for repairs.
Last year the Villeneuves used a giant camper for the European races. They towed it up the pot-holed road and then spent six and a half hours manoeuvring it into their driveway. Gilles has since fashioned some special pivot blocks for the operation, so now there are no qualms about taking it there and bringing it back then.
At the circuit, it provided a quiet, carpeted base for Gilles and the family. Jacques and Melanie could watch the race from the roof, Gilles could sleep early and be up early, with no traffic to worry about. The only problem is the next-door neighbour in Grasse. She raises hell about this damn caravan ruining the outlook.
The afternoon is crammed with 10-lap runs and longish periods of silence. Villeneuve comes in, Scheckter goes out. In between time, the bedded pads are changed and gear ratios are discussed. Forghieri, in suit and tie, consults his assistant, Antonio Tomaini. Nosetto rushes from pits to office, answering phone calls. There's a loud buzzer in the pits, but you can only talk effectively from the office.
A fire truck, with suited drivers, waits by the pit exit. And Enzo Ferrari's Fiat 132 is parked by the office adjacent to Nosetto's. He's in there, preparing for a drivers' meeting later that afternoon.
Villeneuve goes out in the work-horse. It's wired up with sensors to measure tyre temperatures, engine temperatures and rear wing pressure - and, as well, it is fitted with Ferrari's automatic gearbox. Well, semi-automatic. There are two buttons on the steering wheel - one for upchanges, one for down. Villeneuve accelerates out in first, the revs soar in neutral - and he trickles slowly round to park the car in the pits. "Transmission problems."
The meeting, held at the conclusion of testing, is between Ingegnere himself (he must not be addressed by any other title), Forghieri, Piero Lardi and the two drivers. They discuss recent performances, Michelin tyres, handling, and pit work. Scheckter attempts to drop the hint that he would like more engine power - and Villeneuve, who knows the Ingegnere better, quickly changes the subject.
Strangely, perhaps, the exotic closed-circuit television cameras are little-used. This has been a collaudo, which means that no records have been set - but, even so, the gadgetry has seemed a little superfluous. Perhaps it will be more important when the drivers are out testing tyres. When they next attempt to break 1 min 8.5 sec - the record that stands to Villeneuve.
At 6 o'clock they change out of their overalls and make plans for the return trip. Gilles is without a car, so Jody will take him to Monte Carlo and lend him his Fiat. They'll stop at the Cavallino to pick up some fruit.
"Well, that was a good day's work,'' says Scheckter as he drives out into the Modena rush-hour traffic. "We seemed to get a lot done." He curses as he gets stuck behind a truck that wants to turn right.
Sweeping south, with light rain pelting hard at 120 mph, Scheckter and Villeneuve are the perfect teammates. Gilles starts playing with all the switches, including the gearbox selector, while Jody overreacts to the traffic. If there is any rivalry, it is in their not taking advice from one another.
"Fuel gauge looks bad, Jody. Maybe we should stop for gas. Look there's a station ahead."
"No, you can never trust the gauge. Long way to go yet. Besides, I'll keep me money longer."
A few minutes later the 400 coughed, coughed again, and died. Scheckter slammed the selector into neutral, swayed the car from side to side, and coasted silently down the autoroute. Gilles failed to supress a laugh.
Scheckter being Scheckter, the Ferrari came to rest beside another parked car - a French-registered Fiat. Gilles sauntered round to ask the man about his puncture - and returned with a fuel can, much to Scheckter's delight. We drove away again, with Scheckter remarking smugly that we should have pinched the man's wallet, just for good measure.
He was driving quickly for a wet road, but Gilles sat back in comfort and almost fell asleep. Keeping him awake were bursts of braking and incessant requests for new cassettes. We were now on the dual carriageway that runs parallel to the coast from Ventimiglia to Nice. Tunnels through the mountains every minute or so. Concentration required, even for Scheckter.
Two-thirds through one of them, we saw a flashing light. There was a truck on our right and a parked car - in front of a police car - on our left. We were doing about 120 mph at the time, and Scheckter hit the brakes hard. They locked and he hit them hard again, but by this time there was no more room.
Scheckter twitched the wheel, made an apex on the left-front corner of the truck and slid through the gap, literally slid. We were doing no less than 90 mph, and such was the change of direction that we came out with big oversteer. Big, even for Scheckter.
In the Ferrari, Villeneuve had done nothing nor said nothing, which is as big a vote of confidence that Scheckter is ever likely to get. But you could see it had been a moment, even by their standards.
Because at first there was outrage:
"D'you see that bloody policeman! Parked there with no warning at all. That's unbelievable."
And then, as they realized how close it had been, there was nervous laughter.
"Why did you leave such a gap on your apex Jody? Must have been at least two inches away from it ..."
The trip was slower after that, but we reached Monte Carlo soon enough. Scheckter parked the 400 underground and the three of us trudged up to the elevator, Jody with his briefcase and underwear, plus a supply of Ferrari scarves, Gilles with his track bag. It was 11 o'clock, and it wasn't time for dinner, but Pam Scheckter was waiting anyway, with casserole and salad.
Scheckter lives on the top floor of a giant block of flats, and isn't short of space. He has his office on the first floor, and he even has a roof garden. In his living room he has his Sony tape equipment and his weights and bars. About the only thing missing is Jackie Stewart's Guide to the Modern Racing Driver.
"Here are the keys to the Fiat, Gilles, and don't thrash it. Pam needs that car."
"Don't worry, Jody, you know me. Besides, I bet you haven't left any fuel in it."
"Hey, that's right, I haven't. Look, sorry about this Gilles, but I ..."
Gilles made it back to Grasse, but had to drive slowly all the way. It was past midnight when he arrived, the Ferrari driver at the end of a Ferrari day. And he slept soundly, deep into the following morning.