How MotoGP stands at its milestone 1000th grand prix event
OPINION: This weekend's MotoGP round at Le Mans has been a celebration of grand prix racing's 1000th event since the world championship's inception in 1949. It comes at a time when the series has arguably never been better, but at the same time seems to be struggling with identity and popularity
Of all the places to celebrate a milestone like a 1000th grand prix event, Le Mans is a pretty damn good one (certainly compared to Formula 1's 1000th race being run at Shanghai International Circuit in 2019). The Circuit de la Sarthe oozes with history and a passion for motorsport. Thus, it marks a symbolic place to reflect on motorcycle grand prix racing and look to its future.
Grand prix racing has come a long way since the very first event that counted towards the world championship. That 350cc race at the Isle of Mann TT on 13 June 1949 bears no resemblance to what I've been looking at out of the window of the Le Mans media centre this weekend.
It's good to appreciate the past, but it is merciful that all of that is history. The world championship we have now is much faster and much safer.
Insight: How grand prix bike racing has evolved over the last 999 races
"The great thing about today is that we had the same tension, but in addition [in the past] we had the thought of death," grand prix legend Giacomo Agostini told Autosport's French language sister website fr.Motorsport.com. "Unfortunately, when we fell it was more the serious damage than the little damage. Today, fortunately, you can fall, get up, start and go ahead. This has been the great evolution of safety."
It's also vastly more popular and available now that it was in 1949. But, as MotoGP headed towards its 1000th GP event, it's clear that most within the series' sphere think two things: the spectacle is still fantastic, but the popularity of the championship has collapsed in recent years.
"Something a bit special happened with me, because there were a lot of people who didn't follow motorcycles and then became fans," MotoGP legend Valentino Rossi told Autosport in an exclusive interview at the Spanish GP – the 999th grand prix event. "People both from Italy and the rest of the world.
"Now, let's say that the popularity levels of the world championship have returned to normal, to the stage before I came along. They are looking for formulas, like sprint races, to attract more people, but in sporting terms I think the championship is working. It's exciting to watch MotoGP races, from the stands or on TV."
Rossi's retirement at the end of the 2021 season was a seminal moment in MotoGP's recent history
Photo by: Gold and Goose / Motorsport Images
MotoGP's decline in popularity has not gone unnoticed by the championship's promoter, Dorna Sports, and definitely not series owners Bridgepoint.
Jerez and Le Mans are, unfortunately, outliers when it comes to MotoGP's popularity, with this weekend's 1000th grand prix set to be a sell-out on race day of well over 100,000 fans. Last year, Le Mans welcomed 225,000 fans across the weekend – the highest ever in the period covering 2006 to 2022 (which is the data sample range from Dorna).
But take a race like the Spanish GP at Jerez: in 2015, 243,570 fans turned up across the weekend, while in 2016 that number fell to 120,255. It rose to 129,890 in 2017, continued to grow to 144,771 in 2018 and 151,513 in 2019 before dropping to 123,101 in 2022 then rising again to 163,479 in 2023.
The loss of superstar names like Rossi, Jorge Lorenzo and Dani Pedrosa, as well as injury woes for Marc Marquez in recent years, hasn't helped. But the spectacle on-track is still wildly unpredictable
There are some caveats to consider, like the COVD pandemic forcing almost two years of spectator-less events and an economic situation in the wake of the crisis that has obviously changed spending habits. However, the F1 Miami GP this year welcomed 270,000 fans across the weekend and the cheapest weekend ticket, which was general admission, was $590. For MotoGP's 1000th GP at Le Mans, a three-day general admission ticket costs €98 (with free access for under-16s accompanied by an adult ticket holder).
At Mugello, the same ticket is €160; at Germany it's €109; and at Silverstone it's £100. MotoGP isn't exactly unaffordable, yet a lot of events are struggling to get fans through the door.
The loss of superstar names like Rossi, Jorge Lorenzo and Dani Pedrosa, as well as injury woes for Marc Marquez in recent years, hasn't helped. But the spectacle on-track is still wildly unpredictable, with the addition of sprint races bringing about chaotic Saturday contests to create a double bill on grand prix weekends. Qualifying at Le Mans saw the top 12 covered by 0.891s, with the top three split by 0.137s and pole decided by 0.058s. And that is standard now in the premier class.
How fans access the series is something new CCO Dan Rossomondo, who was previously vice president of global partnerships and media at the NBA, is starting to work towards as outside influence has finally penetrated Dorna's ranks.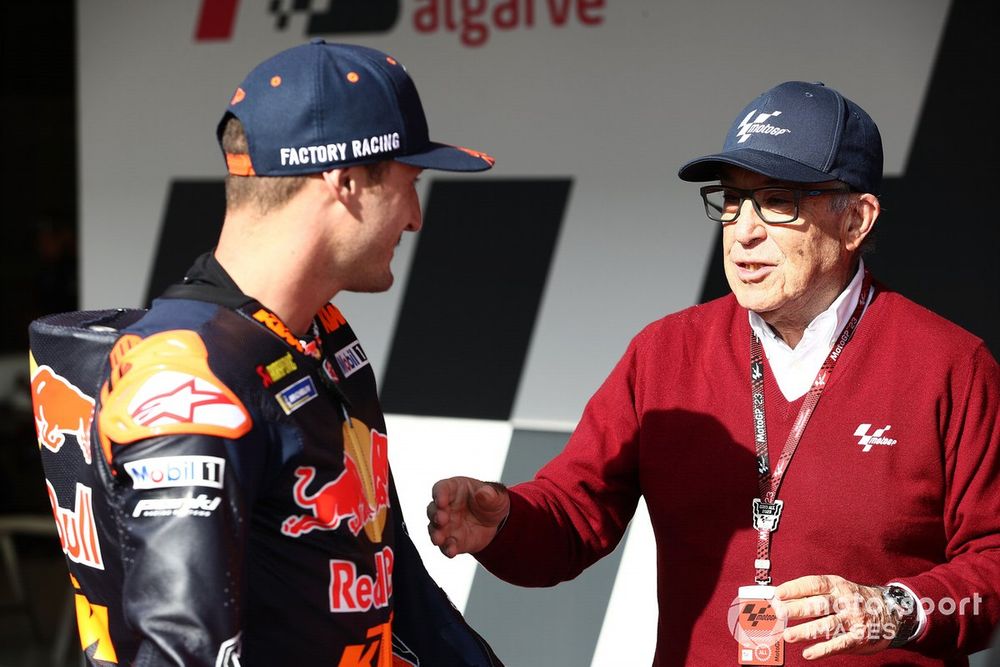 Dorna Sports CEO Carmelo Ezpeleta has overseen MotoGP as it the reached new competitive heights
Photo by: Gold and Goose / Motorsport Images
But, for all of its flaws, the fact MotoGP is still here at its 1000th GP event is testament to Dorna. When it took over as commercial rights holder in 1992, it steadily built the championship up as a mainstream presence. It navigated MotoGP through the 2008 financial crisis and helped propel the series into new competitive heights – first with the CRT rules in 2012 to boost grid numbers by allowing production-based platforms to allow new teams to run cheaper bikes, before bringing in the unified electronics to level the playing field between factory and satellite teams.
Dorna brought in financial aid to help satellite teams stay competitive, guided it through COVID, and – until this season – had six winning manufacturers on its grid.
It's clear that MotoGP isn't in the best of health right now. Introducing sprint races and creating docuseries to help bring in a new audience are solid ideas – but ones which aren't unique to MotoGP. It seems like it is trying to copy from the F1 playbook on how to improve the series' mainstream appeal, and right now it's not working.
Rossomondo's arrival will help the series figure out a lot of things about itself. And while he isn't shy about copying good ideas from elsewhere, he wants to ensure MotoGP is seen as uniquely its own thing.
Unquestionably, a push to engage a new audience will ultimately lead to the alienation of an older generation, and the seemingly eternal 'it was better in my day' debate will never go away. But, after 1000 GP events, we can say this: while MotoGP is not where it should be, its brilliance as a racing spectacle remains strong.
"Some people will say they love two strokes, others like four strokes, other people will love the '90s more… it's difficult," Aleix Espargaro, who has competed in 30% of all grands prix, said of the state of MotoGP now. "These are just opinions and everyone has their own opinion.
MotoGP at 1000: Autosport's favourite races
"For sure it's different, it's changed quite a lot over the years. But I think we are in a good moment of technology, a really high moment also of level of the riders. We always try to compare, but sometimes this is a mistake. Sometimes we just need to try to improve and have fun with what we have now."
While flaws remain, the on-track product is good to watch
Photo by: Gold and Goose / Motorsport Images
Subscribe and access Autosport.com with your ad-blocker.
From Formula 1 to MotoGP we report straight from the paddock because we love our sport, just like you. In order to keep delivering our expert journalism, our website uses advertising. Still, we want to give you the opportunity to enjoy an ad-free and tracker-free website and to continue using your adblocker.
Become a subscriber.
Disable your adblocker.