Le Mans MotoGP pole-sitter Marc Marquez said that his qualifying crash was a consequence of his strategy, as he fell on the lap where he went all-in.
Due to rain ramping up, track conditions during qualifying gradually got worse, meaning the early laps in the session proved decisive in the pole battle.
Marquez recorded what eventually ended up the pole position time on his first try, and then suffered a crash on the next lap, sliding off into the gravel at La Chapelle.
He elaborated that it was his strategy to push on his second lap, after having already set a time.
"It was a difficult qualifying because it was not only about speed - it was about strategy, being smart, understanding track conditions," said Marquez.
"Immediately when I went out I saw that we made the correct decision, that was to start with the wet [tyres], and then immediately I saw that light rain becomes heavier and heavier.
"In the first lap I pushed a little bit, it was enough to be on pole, and then on the second lap - [that] was the strategy, on the first lap to push a little bit and on the second lap it was give everything.
"When I give everything, it was just three corners [that were] very good, but then in the fourth corner I fell down."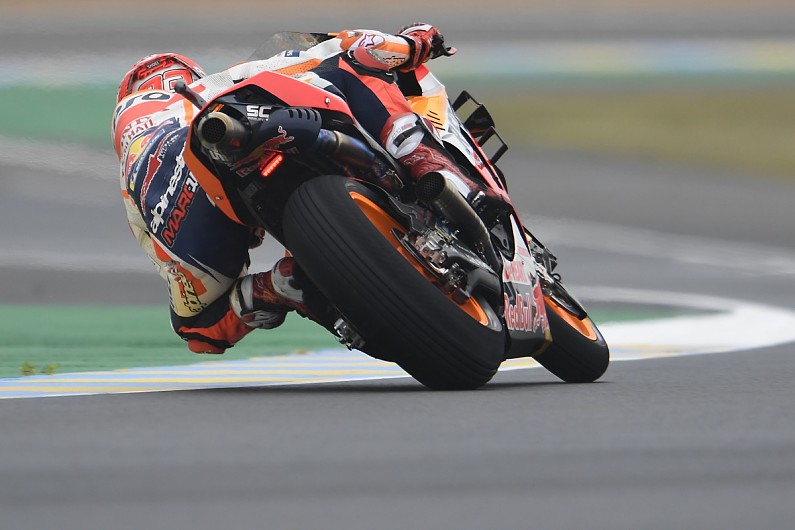 Following his crash, Marquez was able to remount his Honda and continued to log laps without coming into the pits.
"When I crashed, I saw that the bike was pretty good," he said.
"And then I immediately understood that the track was a little bit more slippery, and it was very difficult to be faster than 1[m]41[s].
"Tomorrow maybe [we will race] in these conditions, so I stayed out to understand the way to ride, the way to set up the bike, and still we need to improve a few things, but yeah, I stayed out for prepare the race."
Marquez also had a crash in the pre-qualifying FP4 sessuib, when he entered the damp circuit on slicks but fell while taking Turn 9 at low speed.
While Marquez was confused by the incident, he said it didn't take away any of his confidence.
"I was not pushing, even I was not touching the knee on the floor, but maybe the tyre was too cold, was from yesterday, used, and then Michelin tyres when are used, the first two laps are difficult to warm [up the tyre].
"But the track was dry, I don't know what's happened on that crash, it was very strange, but it didn't take off confidence from myself because I knew that was something strange, so I kept going later."