Honda MotoGP team boss Alberto Puig has challenged KTM to keep its MotoGP riders "until 2031" in response to KTM CEO Stefan Pierer's comments about Dani Pedrosa's Honda exit.
Pedrosa was dropped by Honda last season to make way for new signing Jorge Lorenzo, and opted to retire from grand prix racing altogether rather than pursue options to stay on the grid.
Pierer, who once described Honda as his company's "most hated competitor" due to its fierce rivalry with KTM in both Moto3 and other disciplines such as the Dakar Rally, said the Japanese marque's decision to ditch Pedrosa was "narrow-minded".
"Unlike the Japanese, we take [the idea of] family literally," Pierer told selected media during KTM's MotoGP launch last month.
"We stand by our people in good times and bad times. When a rider gets hurt, you stand by him.
"You have to imagine that Dani Pedrosa was released overnight after 14 years with Honda. How narrow-minded can you be? He is a hero! He is the ambassador!"
In response, Puig highlighted the number of years that Honda had supported Pedrosa, who spent his entire grand prix career on its machinery and picked up three titles in the lower classes.
He said that if KTM wishes to show similar loyalty, it will have to keep factory riders Pol Espargaro and Johann Zarco for more than a decade to come.
Puig told Autosport: "If anyone has supported Pedrosa throughout his journey, it has been Honda.
"In 2003 it offered him a bike to win the 125cc championship and Dani, with his ability, did it.
"In 2004 and 2005 it provided a bike to get two 250cc titles in a row and Dani, with his talent, did it again. After that, in 2006, Honda put him in its MotoGP factory team.
"In 2007, after [Nicky] Hayden was crowned champion, Honda tried to radically change the design of its prototype in order to adapt it to Dani's size [pictured below].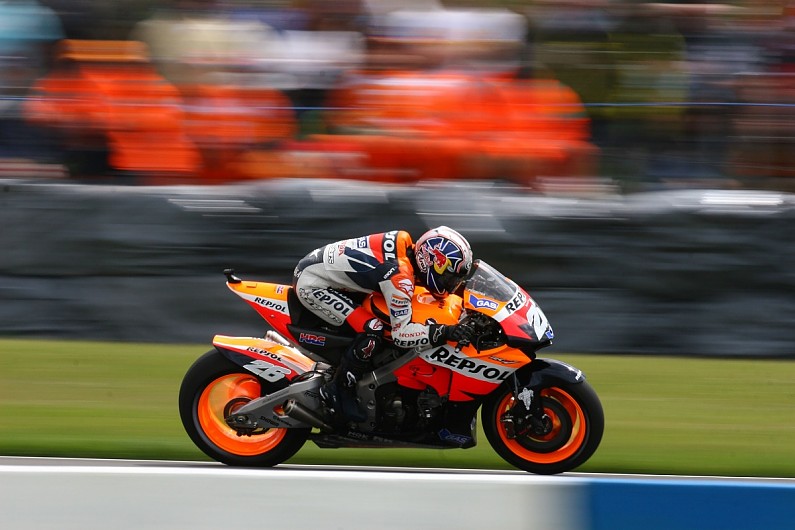 "Overall those numbers meant 13 years in MotoGP, during which the support was unconditional in good moments and bad.
"To get to that level, KTM has to keep Espargaro and Zarco in its official team until 2031, and I would like to see them do that."

Full exclusive interview with Puig on Motorsport.com

Puig also emphasised that Honda had offered Pedrosa a test and ambassadorial role of the kind Pierer had mentioned, but it was Pedrosa's own decision to leave for KTM instead.
"We would have loved to have Dani as a test rider and Honda ambassador, but he decided to take another way which, obviously, we respect 100%," he said.
Pedrosa got his first taste of the KTM RC16 last December in a private test at Jerez, but had to sit out the first official running of 2019 as he recovers from a recent operation on his collarbone.
He is expected to be unavailable for testing duties for another two months.