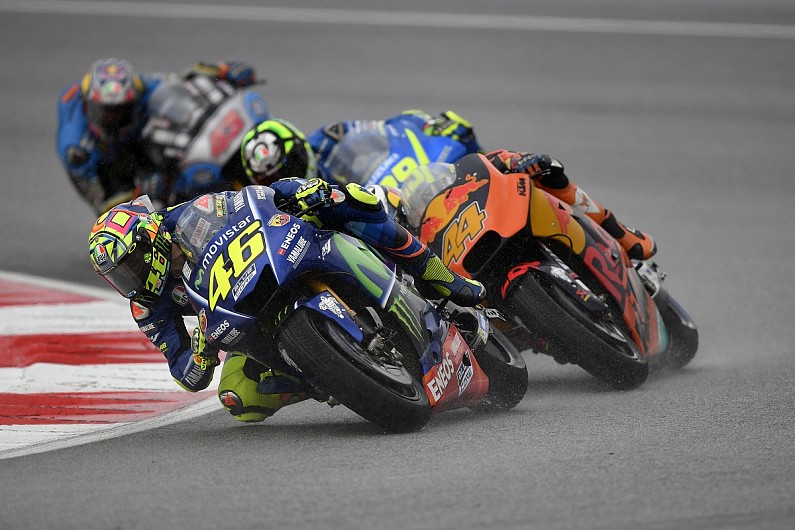 Valentino Rossi said riding his Yamaha MotoGP bike in a wet Malaysian Grand Prix was "very dangerous" and he could have easily crashed.
Rossi and team-mate Maverick Vinales have struggled with the 2017-spec Yamaha bike in the rain all season.
They qualified fourth and fifth in the dry at Sepang, but fell back into the midfield in what Rossi called a "frustrating" race and could only finish seventh and ninth.
"We didn't have any grip, it is very difficult to ride the bike, also very dangerous," said Rossi.
"You had the clear feeling that if you try a little bit more you crash, like I did in Motegi.
"On Friday in the wet I had some problems but I was sixth. We modified the bike a lot and I was optimistic that would work but unfortunately I had exactly the same problem as on Friday.
"This bike in the wet is very difficult to ride. It's impossible. We don't have grip and to go like this, you risk very much.
"It is a shame because we need a good result to confirm Phillip Island and I think that in the dry I was competitive. During all the weekend I was quite strong so I could have done a good race.
"But unfortunately [there was] rain. You have to be ready in all the conditions and I hoped to do a step compared to Motegi, but in reality, no."
Vinales recovers "pre-season feeling" in the dry
Vinales echoed Rossi's complaints after finishing ninth, but said he expected to do an "incredible race" in the dry as he felt like he had during his dominant pre-season form.
"Actually this morning I was very happy and confident because we found a better set-up and I recovered really the feeling I had in the pre-season," said Vinales.
"After warm-up, I said if it is dry, I can do an incredible race because with a 20-lap [used] tyre I was able to do 2m00s, and I was very happy and thirsty.
"[In the rain] I tried and already I felt on the sighting lap, I was sliding everywhere so I said 'no way'.
"Today was a very bad race. I didn't even check the position in the beginning because I thought I was last."