Marc Marquez is the greatest grand prix motorcycle racer of all time. Twelve months ago, such a statement might have seemed a touch premature, when Marquez clung on for a fourth MotoGP title in a final-round showdown with Andrea Dovizioso at Valencia.
And now? The jury is still out, but to describe Marquez as the proverbial 'G.O.A.T.' after he wrapped up his fifth premier class crown with three races to go seems a lot more plausible, especially because this year has arguably been the most impressive of his title wins.
His 2016 triumph certainly took some beating. After all, that year it was the Yamaha that was clearly the benchmark bike of the field, and yet Marquez was able to defeat both Jorge Lorenzo and Valentino Rossi, scoring five race wins along the way.
But with one round still to go in 2018, Marquez has stood on the top step of the podium nine times - and if his engine hadn't shut down on the grid in Argentina, we can safely say he would have already doubled his '16 win tally. Another strong chance to win at Phillip Island also went begging when Johann Zarco hit his rear wheel.
Argentina antics aside, his only major error of the year has been his crash at Mugello. Besides that, the only races where he hasn't come out on top - Qatar, Barcelona, Austria, Misano - have been at tracks where Ducati's superiority was simply overwhelming.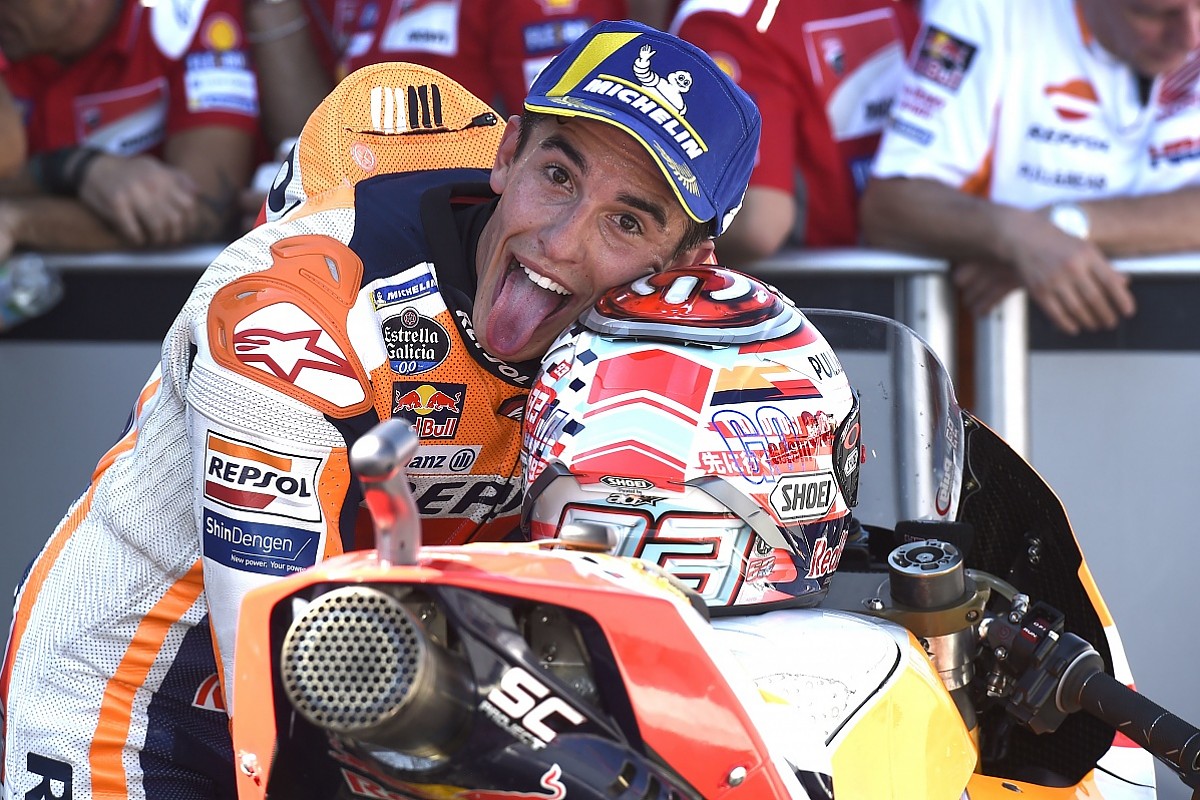 Marquez has now found the perfect equilibrium between knowing when to settle for points and when to go on the attack. His victory at Aragon, which was significant in that it ended a three-race win streak for Ducati, was the perfect riposte to those who felt Marquez had given up on trying to win races after building such a large cushion early in the year.
As much as Marquez was keen to pay tribute to his Honda team in the wake of his title triumph in Japan, it's clear that he has outperformed his machinery handsomely in 2018. Team boss Alberto Puig even admitted that much in a recent Autosport interview, and a glance at the statistics confirms it.
If you eliminate Marquez's contribution, Honda not only falls well behind Ducati and Yamaha but also loses out to a resurgent Suzuki
Admittedly, the soon-to-retire Dani Pedrosa has probably been on the most lacklustre form of his whole career this year, and Cal Crutchlow, prior to his season-ending injury in Australia, has not always had access to the latest material on his satellite LCR bike.
But if you eliminate Marquez's contribution from the manufacturers' standings (that particular title was sealed last weekend at Sepang), Honda not only falls well behind Ducati and Yamaha, but also loses out to a resurgent Suzuki.
Marquez has now drawn level with another Honda great, Mick Doohan, in the most titles stakes, and this has naturally invited comparisons between the Spaniard and the Aussie, who dominated what was then the 500cc division of grand prix racing in the 1990s.
Doohan is often underrated when it comes to weighing up the all-time greats. Not only was he nigh-on unbeatable from 1994 to '98, without two major accidents he would have very likely picked up two more crowns (1992 and '99). The 1998 crash ended his career, so it's hard to say how he would have fared in 2000 and beyond had he remained fit.
Still, there are a couple of parallels to draw between Marquez's successes and those of Doohan. The first is that they were all achieved on Honda machinery. The second is that both have the genius of their respective crew chiefs to thank in part for elevating them to such lofty heights; Jerry Burgess in the case of Doohan, Santi Hernandez for Marquez.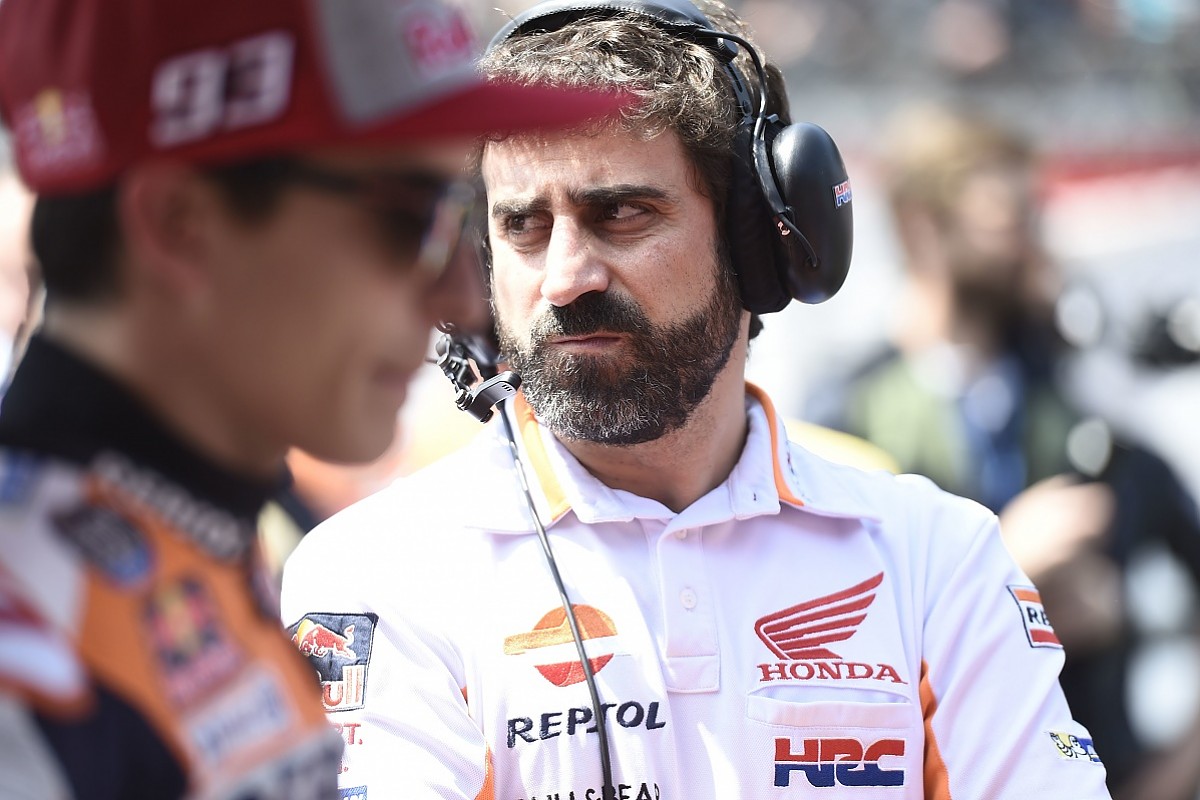 But perhaps the main difference is the parity of machinery that exists in MotoGP now compared to the final years of the two-stroke 500cc monsters.
Doohan's most dominant campaign came in 1997, when he won all bar three races and romped to title glory by a massive 143 points. But if you look at his main challengers - Tadayuki Okada, Nobuatsu Aoki, Alex Criville - you will notice they were all also on Hondas. The NSR500 was the best bike on the grid by a significant margin.
The same can't be said for today's RC213V. It has its strong points - which are exploited to maximum effect by Marquez - but it is not the rounded machine that the Ducati has evolved into under the auspices of Dovizioso and technical chief Gigi Dall'Igna, or that the Yamaha YZR-M1 was until the last two seasons.
In addition to that, the field is generally far more compressed than it was 20 years ago. At the 1998 Spanish GP at Jerez, the spread between first and last in qualifying was 6.4 seconds. This year, at the same venue, it was 2.3s. That means mistakes are much costlier.
Then there's the quality of the opposition to consider, and this is one area in which Marquez's feats surpass not only Doohan but also Rossi, the man whom for many remains the most deserving recipient of the 'greatest of all time' label.
Doohan hit his stride just as a golden generation of talent, comprising the likes of Wayne Rainey, Kevin Schwantz, Eddie Lawson and Wayne Gardner, faded. His chief rivals from 1994 onwards, such as Luca Cadalora, Darryl Beattie and Criville, were not on his level. Not until the explosive arrival of Max Biaggi in 1998 did he have a serious rival in talent terms.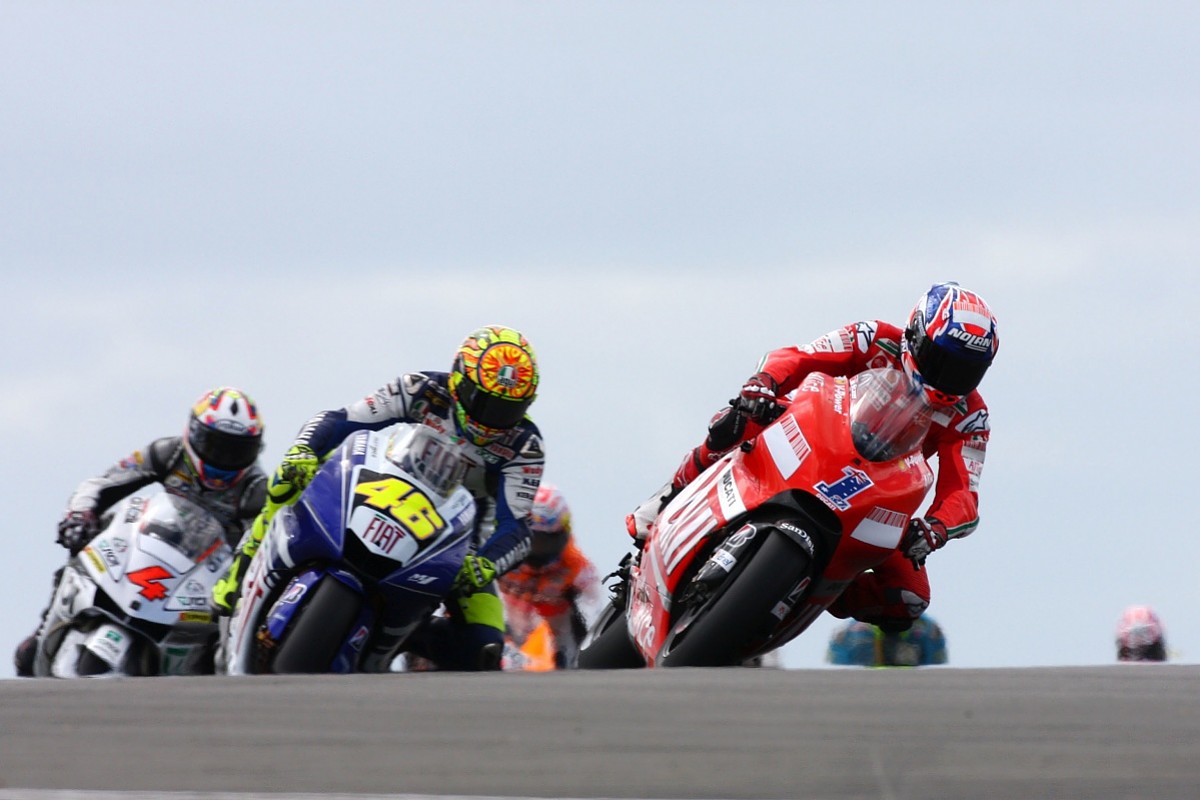 Likewise, Rossi saw off Biaggi, Sete Gibernau, Alex Barros and Loris Capirossi pretty easily in his peak years. The late Nicky Hayden might have been first to dethrone him in 2006, but it wasn't until the prodigious talent of Casey Stoner burst onto the scene that 'The Doctor' was faced with a long-term threat to his hegemony.
Marquez's success, on the other hand, has been achieved in probably the strongest era ever in terms of top riders being on the grid at the same time.
Rossi, Lorenzo and Pedrosa are all comfortably inside the top 10 all-time winners' list, while Maverick Vinales probably has the potential to break into that club in future. Dovizioso, too, has now beaten Marquez in straight fights just about as often as anyone else.
Of course, Rossi still maintains numerical superiority over Marquez, both in terms of top-class titles (seven vs five) and race victories (89 vs 44) - although the Italian himself recently admitted he can foresee both of those being broken at some point in future.
Then there's the question of winning titles on multiple marques of bike, which depending on who you talk to is either the hallmark of a true great or a total irrelevance.
Supposing Marquez does prevail against Lorenzo, that would be on a par with jumping on a Yamaha or a Ducati and winning yet another title
Rossi was the role model in this regard, proving that he - and not Honda - was the main factor behind his dominant title wins in 2001, '02 and '03, as he switched to the hitherto underperforming Yamaha and continued his streak as if nothing had really happened.
You might therefore think that Rossi would try to encourage Marquez to ditch Honda in favour of a rival brand to really prove his mettle. But when quizzed on that very topic following Marquez's 2018 championship win, Rossi didn't take the bait.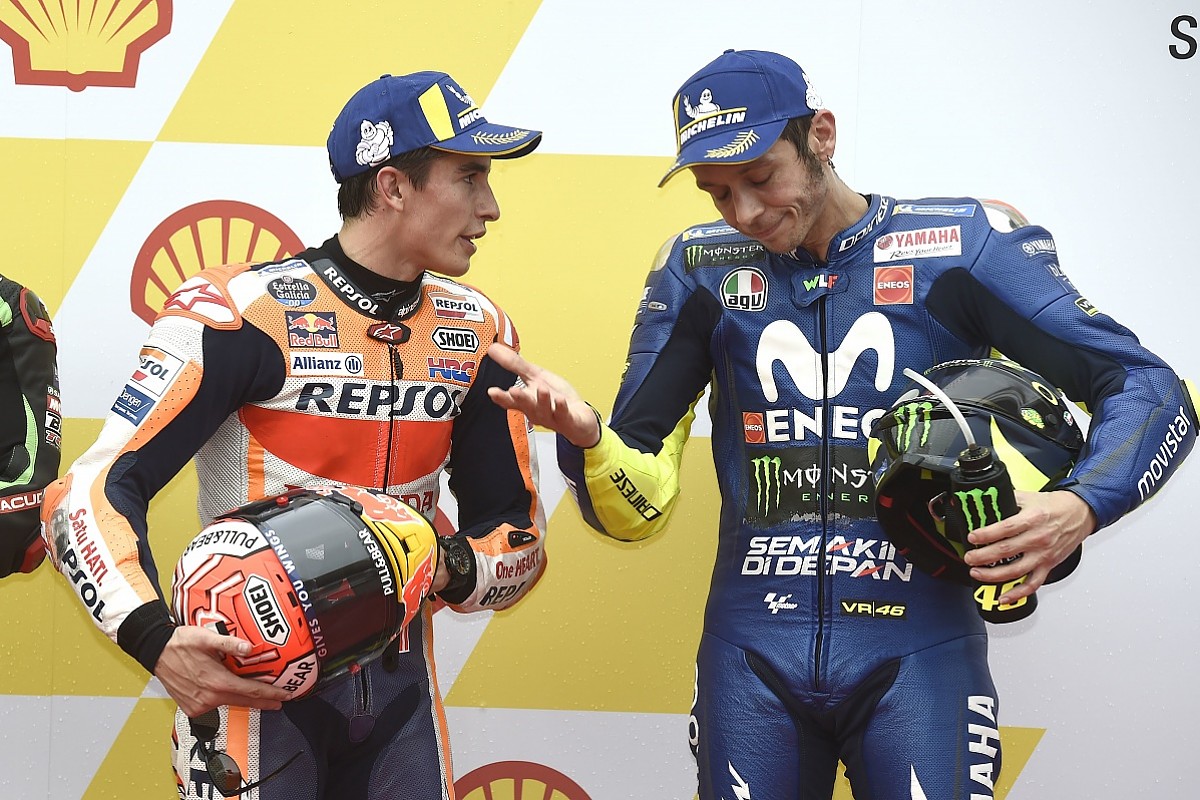 "It's something very personal," said Rossi. "He doesn't have to change the bike. If he feels good with Honda, he can make all his career with Honda."
Although rumours have already commenced that Ducati has its eyes on poaching Marquez when his Honda contract runs out at the end of 2020, the champion has already dropped a subtle hint he could be prepared to remain loyal to Honda to the end.
After Motegi, HRC president Yoshishige Nomura told the Spanish press he would like to keep Marquez within the fold for all his career. When that was put to him, Marquez quipped: "We can speak about it, no problem!"
The message was simple: carry on providing me the equipment I need to win, and there's no reason for me to leave. And in 2019, Marquez is unlikely to need any extra motivation, as he is joined in the Honda garage by none other than Lorenzo.
Who will come out on top in that particular match-up promises to be the storyline of next season. But supposing Marquez does prevail against Lorenzo (which, let's face it, is the most likely outcome), surely that would be a feat on a par with jumping on a Yamaha or a Ducati and winning yet another title.
Perhaps what is most impressive about Marquez is not what he has achieved so far in just six seasons of premier class competition, but the thought of what he could yet go on to achieve. After all, he is still only 25 years old, which means he could easily have another 10 years in MotoGP ahead of him provided that he remains both fit and motivated.
It's not hyperbolic to suggest that, in that time, Marquez could double his current haul of five titles and eclipse Giacomo Agostini's benchmark of 122 grand prix wins in all classes (he's currently on 70, while Rossi is seven short of Ago's tally at present).
Such has been Marquez's prowess in the last three years, you get the feeling that the rider that eventually curbs his dominance is probably not yet on the premier class grid.
Of course, one day, another once-in-a-generation talent - the Doohan, Rossi or Marquez of his age - will come along and add another name to the eternal 'G.O.A.T.' debate.
Whether that person is one of 2019's exciting MotoGP rookie crop, is currently plying their trade in the lower categories or is only watching on TV in short pants right now, time will tell. But for now, Marquez is the king, and it's going to take a heroic effort to stop him.