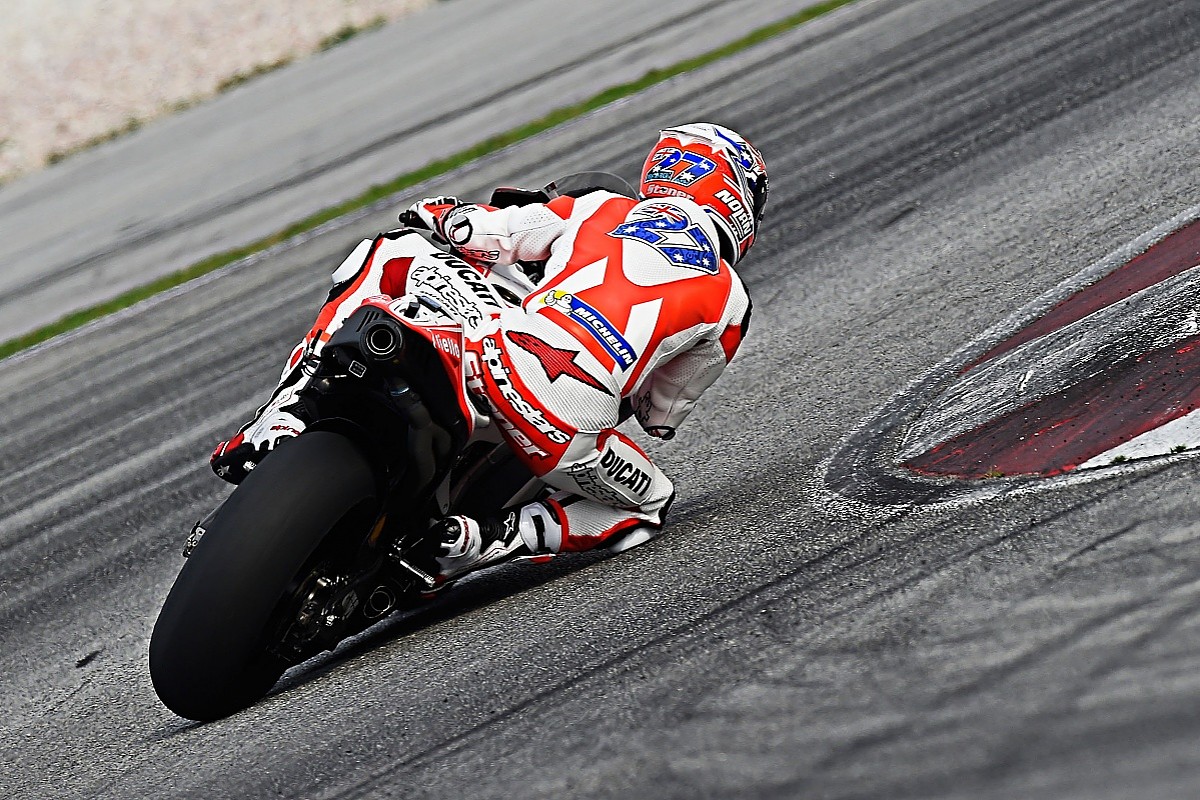 It's fantastic being back with Ducati this year, adding to the great memories I have from working with the people and the brand between 2007 and 2010. Ducati has been such a big part of my career and life, including winning my first MotoGP championship, so it's a special feeling to be here at such an exciting time for everybody involved.
I have taken part in two tests so far this year and the biggest thing I noticed when I got on this Ducati for the first time is the sheer power, sheer grunt. First time out of the pits at Sepang, down towards Turn 4, I opened it up a little bit and it scared the hell out of me! I thought, 'gosh, I've spent too long away from bikes'. It was a bit of a shock to the system. I've still never really got used to how much grunt this thing's got. It's really impressive and it's really fun to ride.
Compared to when I last raced in MotoGP, and when I was last with Ducati, they still feel like motorbikes. But of course tyres are a massive thing for me, everyone else as well but they've had many tests on this year's new Michelin tyres, I've only had a couple of tests.
Michelin is making things interesting, and not only for the racing. Engineering-wise and with everything else, people are having to rethink the way they ride, rethink the way they develop a bike.
Things have changed and I like that, to a certain degree. I like having to rethink things that people aren't really comfortable with, and they're all still trying to find their feet with that.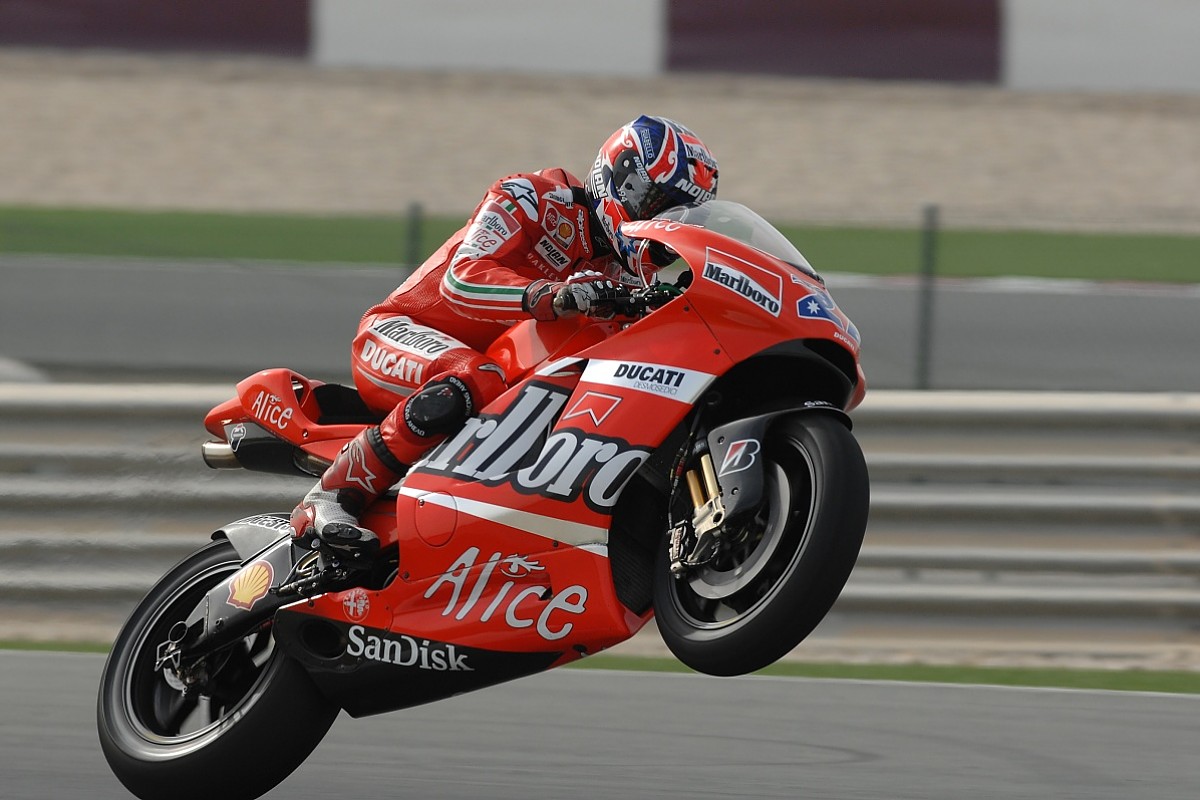 I actually did expect the change in tyres to have as much impact as we have seen, to be honest. When I went to Bridgestone in 2007, nobody was running the tyres that I ended up running. They all ran different constructions, different compounds, and I was the first rider to go with the very hard compound with the wider construction that was better for braking and corner entry.
We sort of changed the form of Bridgestone and the direction they went, and when Bridgestone became the single tyre supplier in 2009, everyone went in that direction. And, because they went in that direction, they basically forgot about how to ride a Michelin tyre.
Michelins tend to not be so front-reliant, so you have to be a little more gentle on the front tyre. They are very, very good on the rear, for the exit and middle of the corners. I think a lot of crashes are happening because people are putting so much emphasis on the front - people believe that the championship has developed in a way now that everything is braking.
Riders are putting so much importance on braking and when I went to the official test at the beginning of the year at Sepang, I think in a lot of ways I proved that the championship hasn't moved forward in this braking era. I think it's just changed.
People are making time up on the brakes, but they're essentially losing it in another part of the corner. The Michelin is not the tyre to gain tonnes of time under brakes, but you can gain a lot of time mid-corner to exit.
So they just need to learn to adapt to this, I suppose. But after so many years on Bridgestone, and having that direction, it's going to take a lot of time, along with the new control electronics.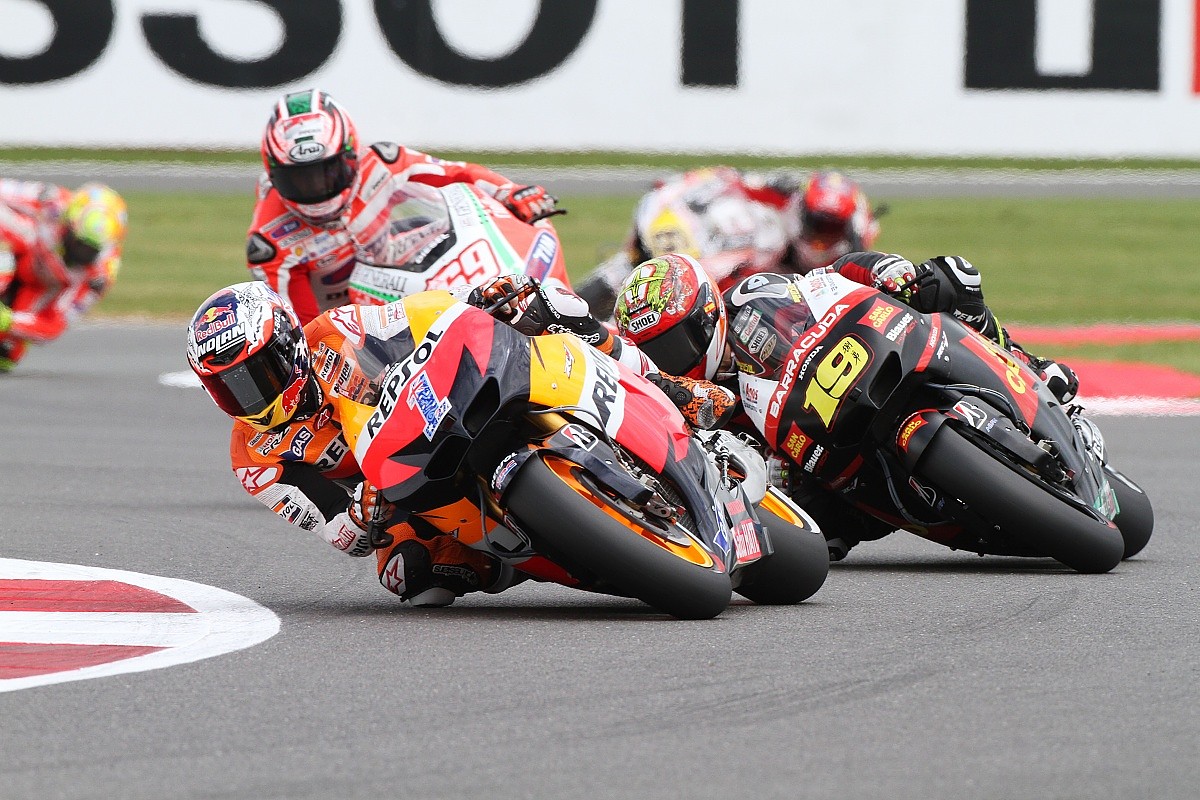 Realistically, from what I felt of the electronics in testing, it's very similar to what I last raced in 2012. In my opinion it's still too high. There's too much electronics-influence still and it's still a very sophisticated system that I think we should be able to reduce a little bit in the future. Putting more in the rider's hand again, I think this would be a better thing.
So far this year, the racing's been good, the championship's tight. There's been a couple of runaway races because people seem to get it right on the day with the Michelins and other people have struggled.
We've seen some races where there's been a heap of people at the front and then spread-out races, where we've had people dropping in between like we saw at Le Mans, with a lot of crashes. Riders and all of the teams are still really trying to find that balance with the tyres, that they can actually understand them a little better.
At Le Mans it was incredibly impressive from Jorge Lorenzo, to go and dominate by that far, at a track where that sort of thing doesn't normally happen too much. Valentino Rossi at Jerez was very, very competitive, too. And Mugello - that was a great day of racing at one of the world's most-iconic tracks.
I've loved what I've seen from our Ducati riders this year, too, as far as pace is concerned. But it just hasn't gone quite our way, whether it's been a slight mistake, we've had, unfortunately, mechanical issues and then very unfortunately Andrea Dovizioso's been wiped out a couple of times.
It's really hampered his chances, he was having a fantastic season. I feel very, very sorry for him, but at the same time it's great to see how we've been able to progress. Considering the regulations for this year have moved against Ducati - from what it was last year with the extra allowances, now it's equal - we've actually still improved on what our performances were in 2015. So that's a really, really big positive for us.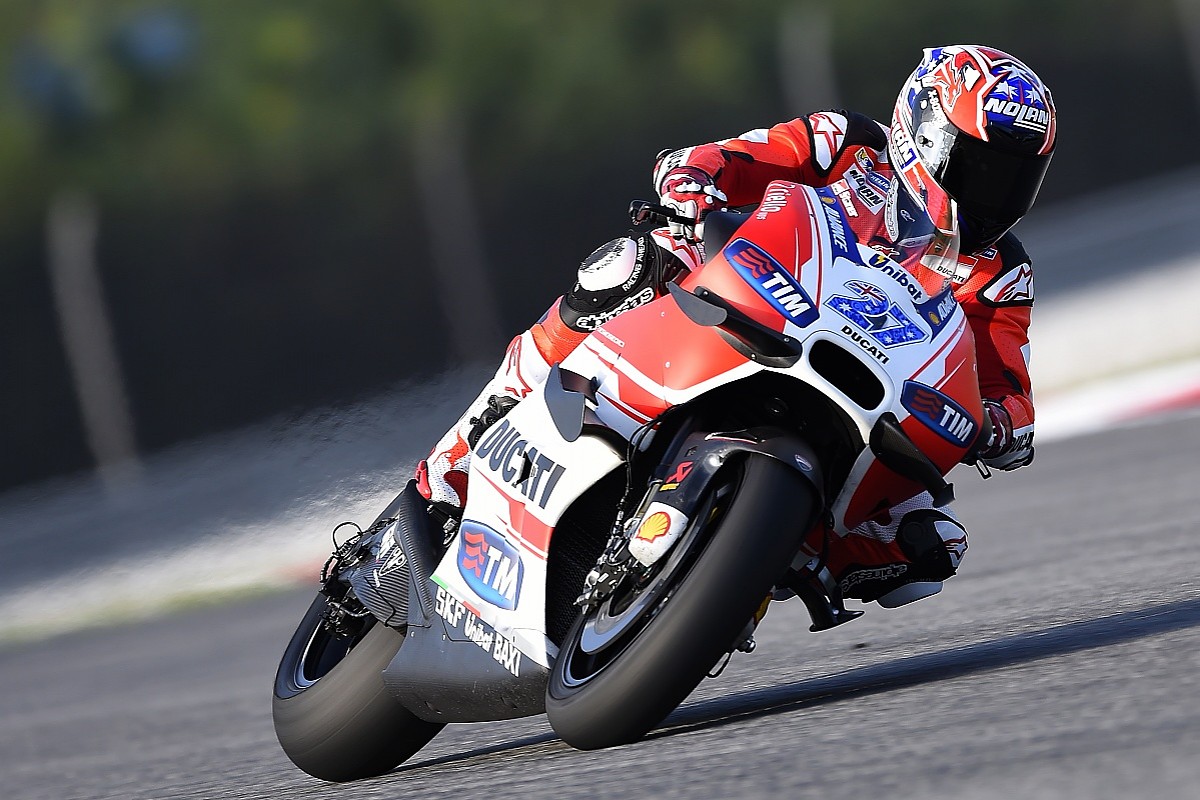 My first test at Sepang was on that 2015 Ducati, and I have still had just the one test on the 2016 Desmosedici GP, at Qatar after the first race. We had a heck of a lot to do in a very short period of time, and we had rain and dust storms - we kind of got unlucky, it rained in Qatar!
Both days it rained, but we were lucky we had the second part of the second day. We got enough done to be really positive and sure with direction, but we'd still like to have some more good track time on the bike.
Compared to the GP15, I think the '16 bike is just a little bit more compliant, a little easier to ride and to get the most out of. I think the '15 still had a lot of potential in there but the '16 seems just a little easier to get everything, it gives you a little more feedback.
And, honestly, we didn't have a lot of time to really try any different set-ups on the '16 either, we were literally doing part comparisons back-to-back. Almost every exit it was with something different, something new, trying to get as much as we could done in a very short amount of time. It's not like you get a day in Qatar, you get a few hours at night, and that's it.
Everything's just a slight progression everywhere. The gains are probably more than one percenters, probably two percenters - two or three - but just a little bit everywhere. The bike was really, really good, there are a couple of areas where we made some big improvements.
We're still yet to really find out how far we can take it, because the test was so short we couldn't really confirm everything as well as what we would have liked.
When Jorge joins Ducati from Yamaha for next season, of course at the beginning it's going to be very tough for him. He's had so many years on the Yamaha, which is a very, very different machine. And the Japanese and Italian styles, essentially, are very, very different.
It will take a little bit of time to adjust, there's no doubt about that. But we know Jorge, we know how he just keeps slogging things out. He's very, very smart, he'll figure things out and then we'll do our best to work for the direction he wants as well, and we want to get as much direction from Jorge as we can.
I think having someone else with his amount of expertise and his level of riding will really help Ducati extract more from the bike.
Personally, we have no plans for me to race or do anything like that. First and foremost, it's test riding, getting our guys and our bikes towards the front more and not only for this year, but especially for Jorge coming across next year.
We're going to be working as hard as we can to try to make sure we've got it as close as we can before he gets on, and enjoying watching the races.