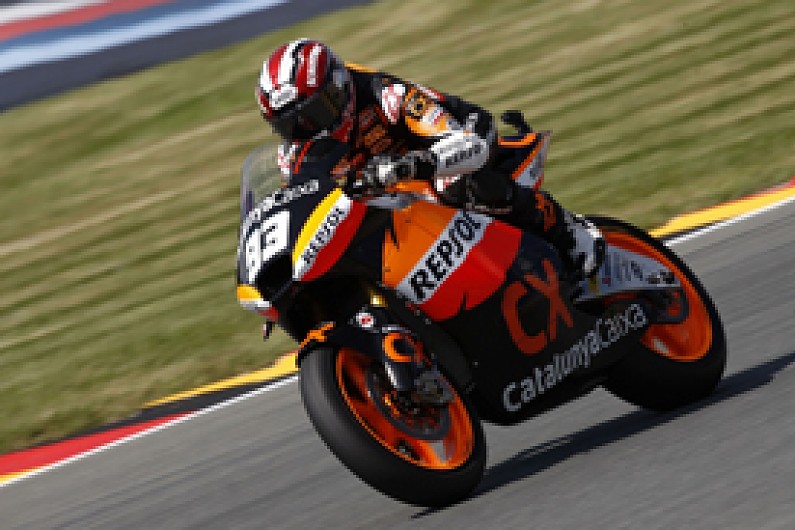 Marc Marquez continued his Moto2 title charge by taking his sixth pole position of the season on home ground at Aragon.
The reigning 125cc champion dominated the session on his Repsol Suter, leading by nearly a second at one stage, before Aspar Suter's Julian Simon got Marquez's lead down to 0.684 seconds.
The result was Simon's best qualifying position since Estoril in May, but he ended the session with a high-speed crash at the crest on the exit of Turn 13. He escaped without serious injury.
Scott Redding continued his strong Misano form to put his Marc VDS Suter on the final front row spot.
Championship leader Stefan Bradl was edged down to sixth as others improved late on, before salvaging fourth place thanks to a last-lap push. With Marquez having won five of the last six races, Bradl's lead in the standings is down to 23 points.
Bradl will be joined on row two by two ex-MotoGP men in JIR's Alex de Angelis and Pons rider Aleix Espargaro.
Jules Cluzel tailed Marquez on what proved to be his pole lap and took seventh.
Both Espargaro brothers are in the top 10, with Pol starting eighth.
Redding's team-mate Mika Kallio had one of his stronger performances of a tough year and claimed ninth, followed by Speed Master's Andrea Iannone.
Pos  Rider                Team/Bike            Time       Gap
 1.  Marc Marquez         Catalunya Suter      1m53.296s
 2.  Julian Simon         Aspar Suter          1m53.980s  + 0.684s
 3.  Scott Redding        Marc VDS Suter       1m54.004s  + 0.708s
 4.  Stefan Bradl         Kiefer Kalex         1m54.075s  + 0.779s
 5.  Alex de Angelis      JIR Motobi           1m54.174s  + 0.878s
 6.  Aleix Espargaro      Pons Kalex           1m54.220s  + 0.924s
 7.  Jules Cluzel         Forward Suter        1m54.289s  + 0.993s
 8.  Pol Espargaro        Speed Up FTR         1m54.358s  + 1.062s
 9.  Mika Kallio          Marc VDS Suter       1m54.385s  + 1.089s
10.  Andrea Iannone       Speed Master Suter   1m54.390s  + 1.094s
11.  Thomas Luthi         Interwetten Suter    1m54.413s  + 1.117s
12.  Simone Corsi         Ioda FTR             1m54.518s  + 1.222s
13.  Michele Pirro        Gresini Moriwaki     1m54.574s  + 1.278s
14.  Yuki Takahashi       Gresini Moriwaki     1m54.599s  + 1.303s
15.  Bradley Smith        Tech 3               1m54.619s  + 1.323s
16.  Claudio Corti        Italtrans Suter      1m54.625s  + 1.329s
17.  Max Neukirchner      MZ                   1m54.753s  + 1.457s
18.  Mattia Pasini        Ioda FTR             1m54.793s  + 1.497s
19.  Mike di Meglio       Tech 3               1m54.889s  + 1.593s
20.  Esteve Rabat         Blusens FTR          1m54.946s  + 1.650s
21.  Anthony West         MZ                   1m55.047s  + 1.751s
22.  Jordi Torres         Aspar Suter          1m55.084s  + 1.788s
23.  Dominique Aegerter   Technomag-CIP Suter  1m55.175s  + 1.879s
24.  Xavier Simeon        Tech 3               1m55.283s  + 1.987s
25.  Randy Krummenacher   Kiefer Kalex         1m55.324s  + 2.028s
26.  Ricard Cardus        QMMF Moriwaki        1m55.395s  + 2.099s
27.  Alex Baldolini       Pons Kalex           1m55.445s  + 2.149s
28.  Yonny Hernandez      Blusens FTR          1m55.560s  + 2.264s
29.  Raffaele de Rosa     Forward Suter        1m55.593s  + 2.297s
30.  Tomoyoshi Koyama     Technomag-CIP Suter  1m55.608s  + 2.312s
31.  Ratthapark Wilairot  SAG FTR              1m55.735s  + 2.439s
32.  Santiago Hernandez   SAG FTR              1m55.867s  + 2.571s
33.  Valentin Debise      Speed Up FTR         1m55.926s  + 2.630s
34.  Kenny Noyes          Avintia FTR          1m55.948s  + 2.652s
35.  Joan Olive           Castello FTR         1m56.613s  + 3.317s
36.  Sergio Gadea         G22 Moriwaki         1m56.636s  + 3.340s
37.  Robertino Pietri     Italtrans Suter      1m56.691s  + 3.395s
38.  Mashel Al Naimi      QMMF Moriwaki        1m57.197s  + 3.901s
39.  Elena Rosell         Aspar Suter          1m58.806s  + 5.510s