There's a fine but crucial line between assertive driving and simple negligence, a duality that raised its head again following Romain Grosjean's contribution to the first-corner crash during last weekend's Belgian Grand Prix.
In this week's AUTOSPORT magazine we analyse the Frenchman's subsequent one-race ban and place his penalty within the context of the FIA's stance across the past decade. While reprimands, fines and grid penalties have been the primary methods of discipline in recent years, Grosjean's ban - the first since Jacques Villeneuve's at the 1997 Japanese GP indicates a far harder, and perhaps necessary, intervention.
We also look at the by-product of that ban: the return to grand prix racing of Jerome d'Ambrosio. He speaks exclusively to AUTOSPORT about his hopes and expectations for a weekend in which he will be thrown in at the deep end, facing a near-impossible task to be competitive in a car with podium credentials.
What constitutes reasonable expectation from the 26-year-old Belgian? We hear his own views, and look at famous cases of when stand-ins have succeeded, and equally when they haven't.
Belgian Grand Prix: Of course, we have comprehensive analysis of this year's Belgian Grand Prix, from the set-up decisions that shaped qualifying, to the first corner crash and Jenson Button's dominant victory. Plus exclusive technical analysis by Gary Anderson.
Sauber in the hunt: In another AUTOSPORT exclusive we speak to Sauber chief designer Matt Morris about the team's chances of closing down Mercedes in the constructors'' championship. We also reveal the surprise name in the frame for a potential 2013 seat with the squad.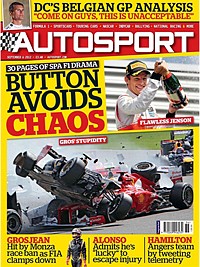 David Coulthard: In his Straight Talk column, the 2001 world championship runner-up derides the driving standards on show - and not just at the top level - at Spa, and calls for drivers in general to learn from Grosjean's ban.
Mark Hughes column: In his weekly column, AUTOSPORT's grand prix editor can't hide his incredulity at Lewis Hamilton's Twitter faux pas in Belgium. As Hughes analyses, it wasn't simply the revelation of team telemetry, but also the impulse to do so that was breathtaking.
Grand-Am buys rival ALMS: Billed officially as a merger, the Grand-Am/ALMS deal represents a massive moment for the American sportscar scene. We look at how the US racing landscape might change following a deal that could be the best, or the worst, in North American sportscar history.
BMW to expand DTM programme: BMW's return to DTM has been nothing short of sensational, with the marque winning the second round of the season and still having one of its roster of drivers in contention for the title. We hear from its motorsport director Jens Marquardt about plans to expand in 2014.
GP2 Spa: F1 wasn't the only series racing on the iconic Belgian circuit, and nor was it the only race that provided controversy and provoked debate about driving standards. In among the questionable standards on display came Marcus Ericsson and Josef Kral to take their first wins of the season.
GP3 Spa: The customary Spa drama-thons were repeated this year, even if a massive crash for Robert Cregan in race one left it declared after just four laps. Daniel Abt and Matias Laine won as the title goes down to the wire at Monza.
World GT1 Moscow: The Moscow Raceway was the latest destination for the GT1 World Championship. Frederic Makowiecki and Stef Dusseldorp shared victory in the championship race to keep the Hexis McLaren team's title hopes alive.
IndyCar Baltimore: Everything was going to plan for championship leader Will Power - until the rain came and allowed rival Ryan Hunter-Reay to claim victory and set up a showdown for the Fontana finale.
World of Sport: Action from the NASCAR Sprint Cup, American Le Mans Series, Intercontinental Rally Challenge, TTA, Indy Lights and V8 SuperTourers.
Sports extra: Factory Ginetta outfit Team LNT is returning to British GTs while our national team brings you a full run-down of all of last weekend's domestic action.
From the Archive: Jerome d'Ambrosio is not the first man to be dropped in at the Monza deep end. We look back to when Mario Andretti stood in, for Ferrari no less, in 1982.
Rally of my Life: Two-time grand prix winner Patrick Tambay picks the best event of his career. It wasn't at a racetrack either...
Read this week's AUTOSPORT digital magazine