Few drivers on today's Formula 1 grid toe the line between explosive and reckless like Pastor Maldonado. Few have had as many flash points: think Spa-Francorchamps in 2011, and Monaco earlier this year. Such moments were true transgressions, and way over the limit of acceptable standards.
They also taint an otherwise exciting and talented sportsman, cut from a similar non-conformist cloth as past Williams legends like Alan Jones and Keke Rosberg. The Spanish Grand Prix in May marked the day when Maldonado seemed to come of age, but while he proved he is able to mix it with the best in the world, he has since proved he is also able to undo his own hard work.
Since that breakthrough victory, Maldonado is yet to score another F1 point. From zero to hero and back, we speak to a man from whom we have seen the best - and worst - in the opening 11 races of 2012.
Ferrari's turnaround: Much was made of Ferrari's apparent problems in pre-season testing this year, and its subsequent struggles to break into Q3 in the early races. But come the summer break Fernando Alonso leads the championship by 40 points, having scored in every races.
So how did Ferrari achieve such a turnaround? Some of its success of course owes to the brilliance of the Spaniard, but a new exhaust concept and a substantial upgrade package have also been key in helping Ferrari buck expectations and even surprise its own personnel.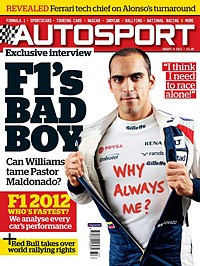 Red Bull rides to WRC rescue: After months of speculation and concern about the future of the World Rally Championship, Red Bull looks set to step in and take over as the new promoter of the series.
The energy drinks giant beat two other bidders to seal the promotion rights, a deal that will likely be announced at the forthcoming Rally Germany. Given Red Bull's penchant for not doing things by halves, it could be just the shot in the arm the WRC has been crying out for.
Motorsport's Olympic dream: As Olympic fever grabs the UK, we look at whether motorsport could ever join the greatest sporting show on offer, from the barriers to its entry to the stipulations and most prescient solutions.
New focus for Toro Rosso: After a disappointing start that led to technical director Giorgio Ascanelli being sidelined after Silverstone, Toro Rosso has effectively declared 2012 a write-off and will instead switch its focus early to next year's car.
New senior personnel including ex-Sauber man James Key are in the team's sights as it bids to bolster its aerodynamic department and expand its facilities.
Mark Hughes column: Grand prix editor Mark Hughes takes an in-depth look at how Romain Grosjean has gone from the scowling, troubled character of 2009 to become this year's revelation. Whether he can continue such form across the season's second half - starting at Spa, where Raikkonen's track record is immense - will be an illuminating test.
IndyCar Mid-Ohio: Scott Dixon made it four wins in his last six Mid-Ohio starts in a caution-free race. Overtaking may have been in short supply, but in the championship things couldn't be tighter, with just 26 points to choose between the top four heading into the undulating Sears Point.
WRC Finland: It was perhaps fitting that victory in the 500th points-scoring WRC rally went to Sebastien Loeb. It was also apposite that the Frenchman had to put in a sublime performance as the internecine battle between himself and Citroen team-mate Mikko Hirvonen produced a thrilling climax through Ouninpohja.
British F3 Snetterton: Seven different men visited the podium at Snetterton as changeable conditions provided action in all three F3 races. After Jack Harvey and Harry Tincknell claimed the honours in the first and second contests, rain brought out the best in Carlos Sainz Jr, who took his fourth win of the season in emphatic style.
From the archive: Lewis Hamilton's insistence that a new contract must involve keeping the silverware isn't the first time McLaren's policy has become an open issue - as Alain Prost's celebrations at Monza 1989 proved.
Race of my life: - Triple Grand-Am champion James Weaver enjoyed a long and illustrious career, but his greatest race came in his more formative years, and on this side of the Atlantic.
Read this week's AUTOSPORT digital magazine.