The World Rally Championship reaches a milestone this weekend, and what better a place for this thrills and spills series to celebrate its 500th event than the ultimate thrills and spills blast, Rally Finland.
In this week's AUTOSPORT magazine, David Evans trawls through the history of the WRC back to its inaugural rally in 1973, circumnavigates the Ford v Porsche v Alpine battles of that decade, delves into the stomach of the Group B and Group A eras and arrives at the current World Rally Car generation all the better for it.
Hungarian Grand Prix report - It wasn't so long ago that Lewis Hamilton's ability to nurse a car over a race distance, rather than simply drive it flat-out, was being questioned. But while his blistering one lap pace was once again clear for all to see in qualifying, it was the measured nature of his race that truly impressed, and ultimately paved the way for his second win of 2012 and a renewed optimism in drivers' championship.
If Hamilton and McLaren were the nonpareil pairing of the weekend, Lotus wasn't far behind. The cars' beautifully supple ride helped propel Romain Grosjean and Kimi Raikkonen into the hunt for victory, with the pair's on-track tussle a welcome tonic to what was otherwise a rather underwhelming grand prix.
Winning the title might still seem ambitious for Hamilton or Raikkonen given Fernando Alonso's current lead, but with the Spaniard admitting Ferrari is struggling for outright performance, the endless surprises of the opening 11 races might just continue after F1's summer break.
Ferrari or bust for Massa - The Brazilian's form may have improved in recent grands prix, but a paltry return of just 25 points - less than 15 per cent of Alonso's total - means he is by no means assured of extending his Ferrari contract. There's no shortage of potential takers for one of the most prized seats in F1, but for Massa it might be a case of Ferrari or nothing.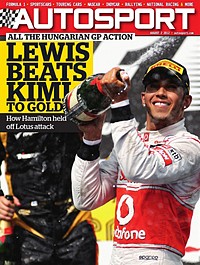 Mark Hughes column - In his weekly column, grand prix editor Hughes analyses how designing a car around its tyres is by no means a new phenomenon - but how standardised sizes and compounds have made finding the sweet spot that much harder for teams.
Spa 24 Hours - Another 24-hour race and another Audi win. The German marque's addition of the Belgian event to its Nurburgring and Le Mans crowns might bring home its domination, but once again it chose to let its lead cars from the Phoenix and WRT teams race, to the benefit of itself and the event. Gary Watkins was there to document the action.
GP2 Hungary - On his 55th start in the category, Max Chilton claimed his first GP2 victory in the Hungaroring feature race, giving Carlin its first series win in the process. Esteban Gutierrez won the sprint, while Luiz Razia claimed a brace of podiums to maintain his slender championship advantage. Simon Arron reports.
British/European F3 Spa - There was rain, there was sun, and there was passing throughout the field. There was also a surprise leader in the championship, as Felix Serralles claimed British F3 victory in the opening race and a podium in the third - the second having been washed out - to move four points clear of Jack Harvey. Marcus Simmons reviews a thrilling weekend in Belgium.
Tom Kristensen at Spa - Audi's 'Le Mans Winners' entry for the Spa 24 Hours included Tom Kristensen, Andre Lotterer and Marcel Fassler - victors of the great race a collective 12 times. Far from cruising, the Dane was on a charge all weekend, as he tells Gary Watkins.
From the archive - AUTOSPORT speaks to John Surtees about his journey into becoming an independent F1 constructor, starting with the Surtees TS7.
Race of my life - Roy Salvadori raced for myriad teams during his spell in F1, but also won at Le Mans and acted as Cooper's F1 boss from 1965-67. He told AUTOSPORT about his greatest ever race, before passing away on 3 June this year.
Read this week's AUTOSPORT digital magazine.